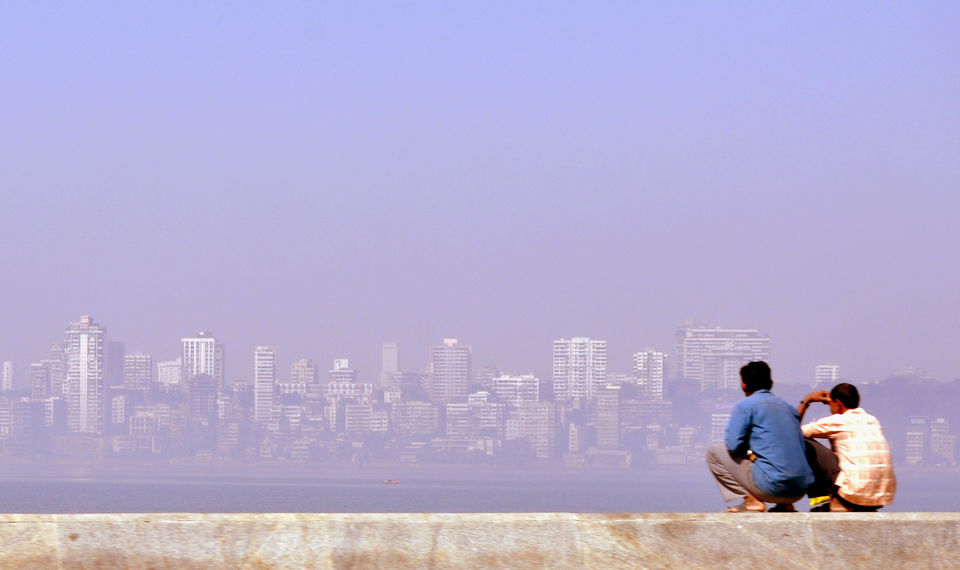 They are hidden! You'll find them only if you ask around or maybe overhear a few insiders, talking whilst on the Mumbai local. Each of these spaces are unique and are as much a part of this charming city's heritage and cultural mosaic, as it's iconic counterparts. Next time you're in Mumbai, be touristy, but with a slight edge.
You'll be transported to a mini Goa when you find yourself in this tiny hamlet located in Girgaum. Time stands still as you walk through narrow lanes home to Portuguese-style, colourful houses with verandas, intricate column designs and arched doorways. This old locality has managed to survive amidst the concrete jungle, that is now Mumbai. The most fascinating among these is Khotachi wadi in Girgaum. A paradise for photographers, the village was founded in the 18th century when a local called Khot sold plots of land to East Indian families. There were around 65 houses then, but the number has since come down by more than a half to 28 houses. The village was declared a protected historical precinct in 1995, but the order was reversed in 2006 – a decision which saw much opposition and protest from the residents and activists.
Once upon a time, there was a China Town in Mazagaon. Back in the early 1900s, Mazagaon was home to Mumbai's thriving See Yup Koon community. Originally from Canton in Southern China, they moved to India when they were working for the British East India Company. They settled then, in what is now known as Dockyard Road, Mazagaon. The community of merchants, traders and sailors moved back to China in 1962, when the infamous Ind0- China war took place. However, a few families decided to stay on in what had become their home. The Kwan Kung Temple is the only Chinese temple in Mumbai and is dedicated to the Chinese deity, Kwan Kung. It is tucked inside a narrow lane and you'll almost miss it if you are not looking out for it. Apart from lighting incense sticks and candles while praying, devotees also roll the Chinese fortune sticks before making a wish. If you happen to visit around the Chinese New Year you'll be treated to some traditional fanfare.
Not as celebrated as the famed Haji Ali, this gorgeous mosque located in Mazgaon, will remind you of the Taj Mahal. It is dedicated to Shah Hasan Ali Shah, who passed away in India in 1881. With four corner minarets and a blue dome, the Hasanabad Dargah is one of the prettiest mosques in the city. It is the resting place of Aga Khan I, the 46th Imam of the Nizari or Ismaili Muslims and was built in 1884 by Aga Khan II and the local Khoja community. The gorgeous monument is illuminated after sunset and makes for a breathtaking site amidst chawls, high rises and shops in a bustling street in Mazagaon.
It may not be as clean as it looks in this photograph but the Banganga Tank, located in the Walkeshwar Temple Complex is certainly worth a visit. It is believed that water sprung up from the ground when Laxman shot an arrow in the ground to get water for Lord Rama who was thirsty. A tributary of Ganga is said to have emerged from here, hence the name, baan-ganga. The sacred water tank, whose origin dates back to 12th century was constructed in 1127 A. D under the initiative of a minister of Silhara dynasty that ruled Mumbai from 9th to 13th century. The tank and the temple was destroyed by the Portuguese and was rebuilt in 1715 utilizing a donation made by Rama Kamath, a rich philanthropist and businessman in Mumbai. The rectangular pool is surrounded by steps on all sides. Devotees take a dip in the holy water and offer flowers at the Banganga temple.
Built by Elias David Sassoon in 1878, the graveyard was set up to cater to Bombay's Baghdadi Jewish community. A plaque near the entrance explains that the cemetery was built in memory of Elias's son, Joseph, who died in Shanghai in the 1860s. The most striking architectural features are two matching mausoleums, a familiar sight for Mumbai local commuters,taking a ride between Byculla and Chinchpokli stations. These house the remains of Sir Jacob Sassoon, and his wife Lady Rachael. Sir Albert Sassoon is buried in a third tomb a few feet away.
This grand hospital building was once David Sassoon's home. There's an interesting story about how he fled Baghdad with a few family members and arrived in India in 1833 after he heard that the British government was giving religious freedom here. In 1864, when he died, he was the richest man in Bombay. In the 1800s, Byculla was home to the first social club and the turf club. Sassoon's business flourished, especially with the opium trade. He built schools, hospitals and funded the Dr Bhau Daji Lad Museum. The gorgeous building is now a hospital belonging to the eponymous trust and serves the community through various out-patient and in-patient services. It was built in memory of Jerbai Masina by her family and descendants.
A several hundred years ago, a Japanese monk, Maha Bodhisattva Nichiren, had made a prophecy that humanity's only hope lies in India. Following that, in 1931, Japanese monk, Nichidatsu Fuji arrived to fulfill that divination and built a small temple in Worli Naka. Located on a crowded road, which witnesses traffic and honking sounds throughout the day, the temple is small yet spacious. The paintings on the wall depict scenes from Buddha's life, and the marble statue of Buddha, with beautiful lamps lit all around it, brings an immediate sense of peace. Today, the temple is looked after by Bhikshu Morita, the resident monk who took to the streets in a peaceful manner even when the city witnessed its most violent riots in 1992-93.
If you know of any such hidden gems, write to us and share your experience. For interesting travel videos, check out our YouTube channel. If you enjoy what you see, hit like and subscribe.
Frequent Searches Leading To This Page:-
weekend getaways from mumbai, weekend holiday trip from mumbai, weekend trip cost from mumbai, weekend holidays from mumbai, weekend tour cost from mumbai