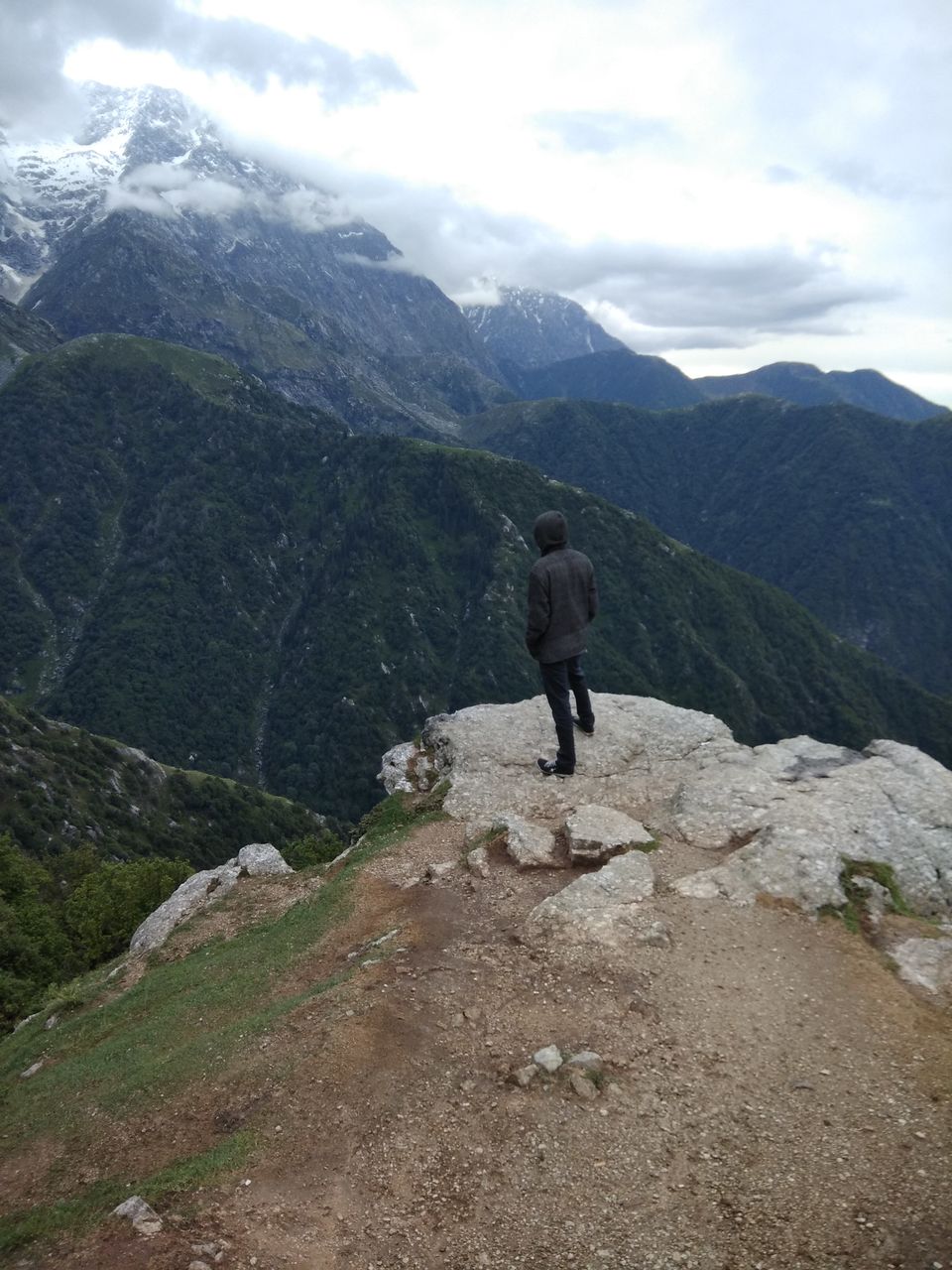 There is a pleasure in the pathless woods, there is a rapture in the lonely shore, there is a society where none intrudes, by the deep sea, and music in its roar; i love not the Man less, but Nature more.
-lord Byron
I am a small town boy, where generally travel is considered as a luxury not part of life, if you tell your parents that you want to travel to x place they will say that do it after you start earning, not while you study. Therefore, i had not traveled much but only to few religious places. I always had a fascination for mountains, may be its because i have never been to many. The concept of solo travelling in India is not alien but new, there are lots of things people tell when you travel solo like you should take someone with you or it is not safe, etc. But there are numerous advantages if you prefer to travel solo like you can meet new people and listen to their stories and experiences which sometimes you miss out if you travel with group of friends, you will be making your decisions all by yourself without any outside influence that will make you stronger and less dependent as you can do whatever you want, you can go wherever you want and the most important of all you will see the nature in a more observant manner and may be you will fall in love with it.
Therefore, I decided to the travel to Himachal Pradesh. Then there was a question that where in Himachal? , so i researched a bit and decided that, i should start with Kasol. I wanted my trip to be full of adventures and surprises, so i decided to not book anything in advance such as Hotels, Buses and other things. The basic idea was, i will travel until i run out of the cash( i had only ten thousand rupees in my pocket).
Reaching Kasol via Bhuntar
So, here my journey starts. First, i took a passenger train from Guna to Bina as there was no direct train to delhi on that day. Then from Bina, i boarded Bhopal express and in the morning around 9.00 A.m. , i reached Hazrat Nizamuddin station and from there i went to the nearest metro station and then took a metro to ISBT( Inter State Bus Terminal) Kashmiri gate station. From there i booked a ticket to Bhuntar as there are no direct buses available to Kasol. I took HRTC ( Himachal Road and Transport Corporation) bus as it was cheap, it only cost me around Rs. 650. But, you can also board VOLVO, AC buses which are operated both by HRTC and Private Operators, they cost around Rs. 1200. These buses are available at regular intervals.
From New Delhi it took me around 13 hours to reach Bhuntar. But these thirteen hours gave me a brief that to expect in the following days as i met new people in the bus, first i met a girl, she was sitting beside me and she was going to Sundarnagar from Chandigarh. We discussed about the places to visit in Kasol, then we talked our lives, hobbies and passion for traveling, it was a unique experience as it was first time that i opened up with a stranger. I also met a guy who was traveling to Kasol, we decided to catch up later. Then we reached bhuntar around 2.00 A.M. But, it was so late that there were no buses available, so we decided to book a cab which costs us a lot, the guy took Rs. 300 from each passenger as it was too late. But you can easily find a bus from Bhuntar to Kasol for around Rs. 50 in daytime. It took us an hour to reach Kasol. It was around 3.00 A.M and now we have to search for accommodation in night. i met a guy in the cab, his name was Rajiv, he was also traveling solo, so we decided to put up together. we searched for a bit and found a good home stay for around 300 bucks per head. After a long and tiresome journey, i reached Kasol and then took a good night sleep.
Trek to Rasol via Chalal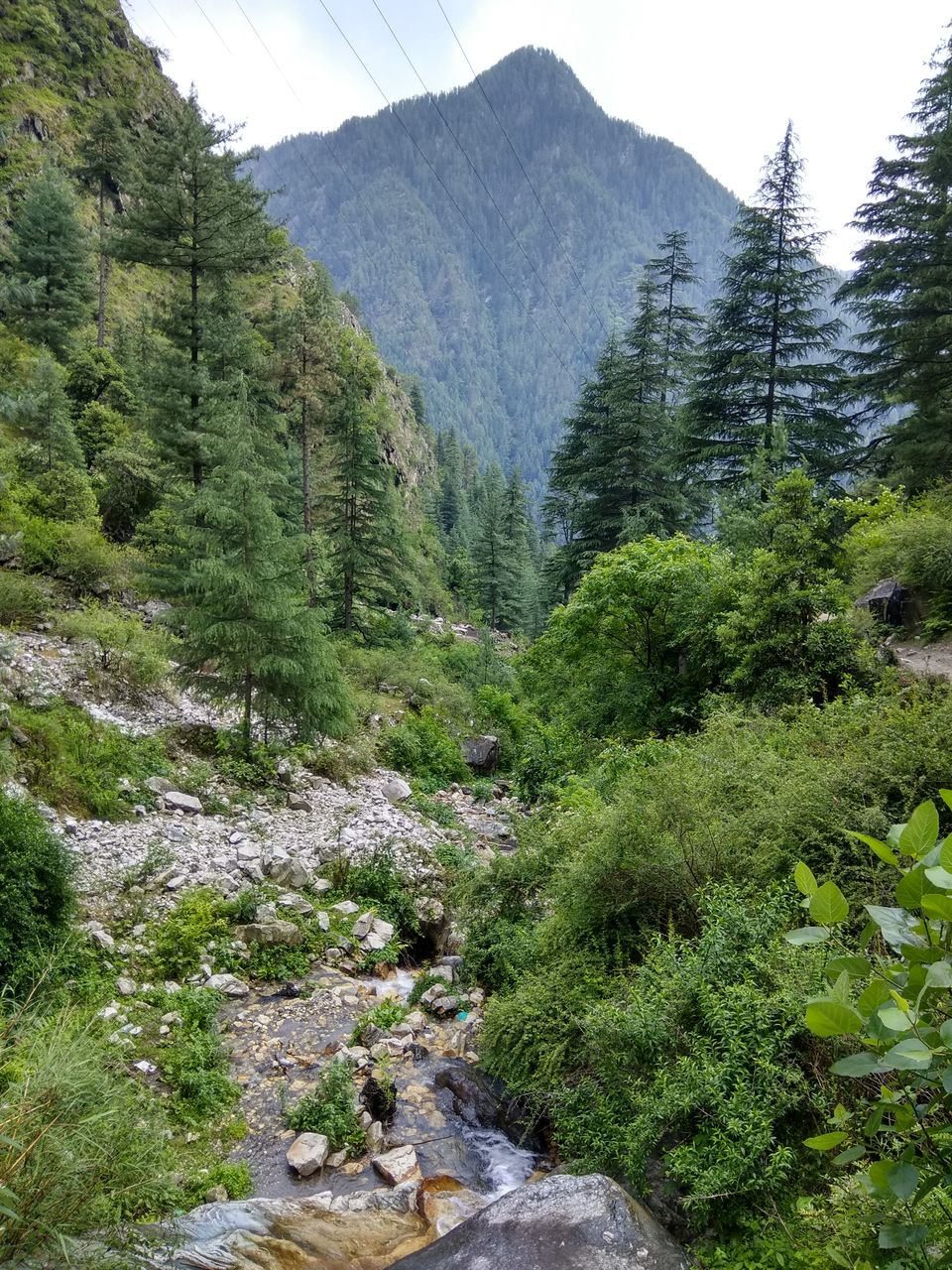 We didn't have any idea about what to do in Kasol, so we asked around and people suggested us to visit Chalal. It is around 3 to 4 Kilometer far from Kasol. We did our breakfast in a nearby restaurant and started our trek to Chalal. When you start trek to Chalal, you will cross Sarawati river, then you will walk by the river for a while before you reach trails that lead to Chalal. Then in an hour we reached Chalal, and it was around 12.00 noon and we had lots of time to kill. Therefore, we asked the locals that where the trail after Chalal leads to, and they told us it will lead us to Rasol. Rasol was around 4 to 5 Kilometers upwards from Chalal, and the trek to Rasol was moderately difficult as it was comparatively steeper than the other nearby treks. It was my first trekking experience and indeed a great one. You can find small and big water streams, scenic views and and bridges which are made of small wood logs(not big ones). You can find a lots of Cafes to relax a bit, food at most of the places are good though a bit expensive. But the best part was the view in the evening when you reach Rasol, as you can see in the pic blow it was mind blowing. i had never seen a such a scenic view in my life( may be because i hadn't traveled that much). We reached Rasol in around 3 hours and as i described the view from the top was amazing, so we decided to put up in Rasol and we found an amazing place, they gave us a room to both of us for 100 bucks only. These guys also served us dinner which was also worth every penny, they also made bonfire for the people who was staying at that place as it was too cold. We also met a group of guys who was from Punjab, they were staying with us in the same place, we hanged out and shared our experiences and had a great time together.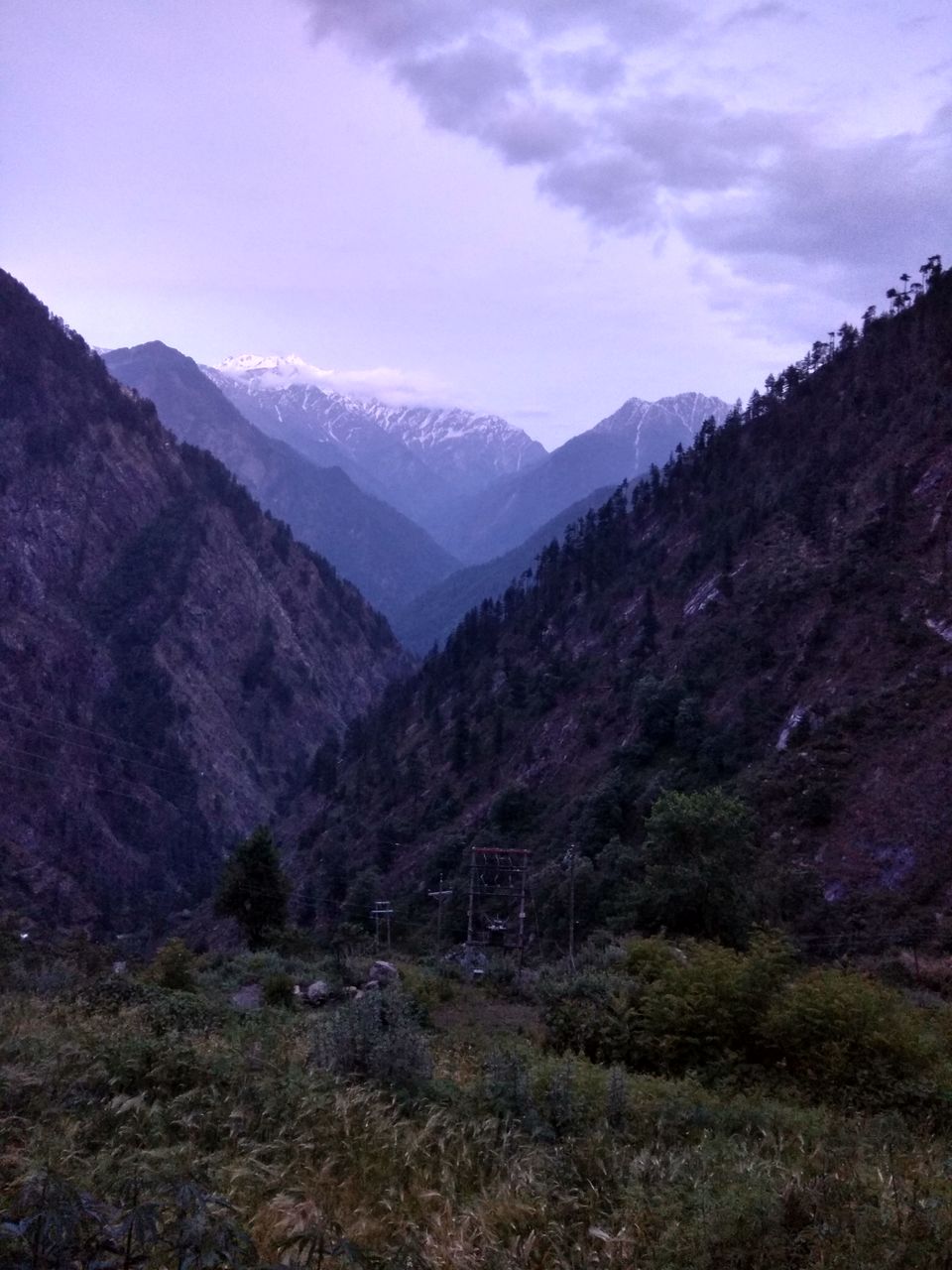 Next morning we started to trek back to Kasol, it only took around 2 hours to reach back there as we didn't stopped anywhere in between. after reaching our home stay we refreshed ourselves and planned to leave for Manikaran and then to Tosh. So, we had our lunch in Kasol and took a bus for Manikaran. We reached Manikaran in around 2.00 pm and visited Gurudwara and temple nearby, Gurudwara is situated on the bank of Parvati river and it is exquisite. it was quite peaceful and relaxing experience. In Manikaran, you can see natural hotwatersprings and you can also take a bath in it. They had made a little pool(Kund) for the pilgrims to bath. You can also have lunch in the Gurudwara in Langar for free and they also offer you place to stay for free.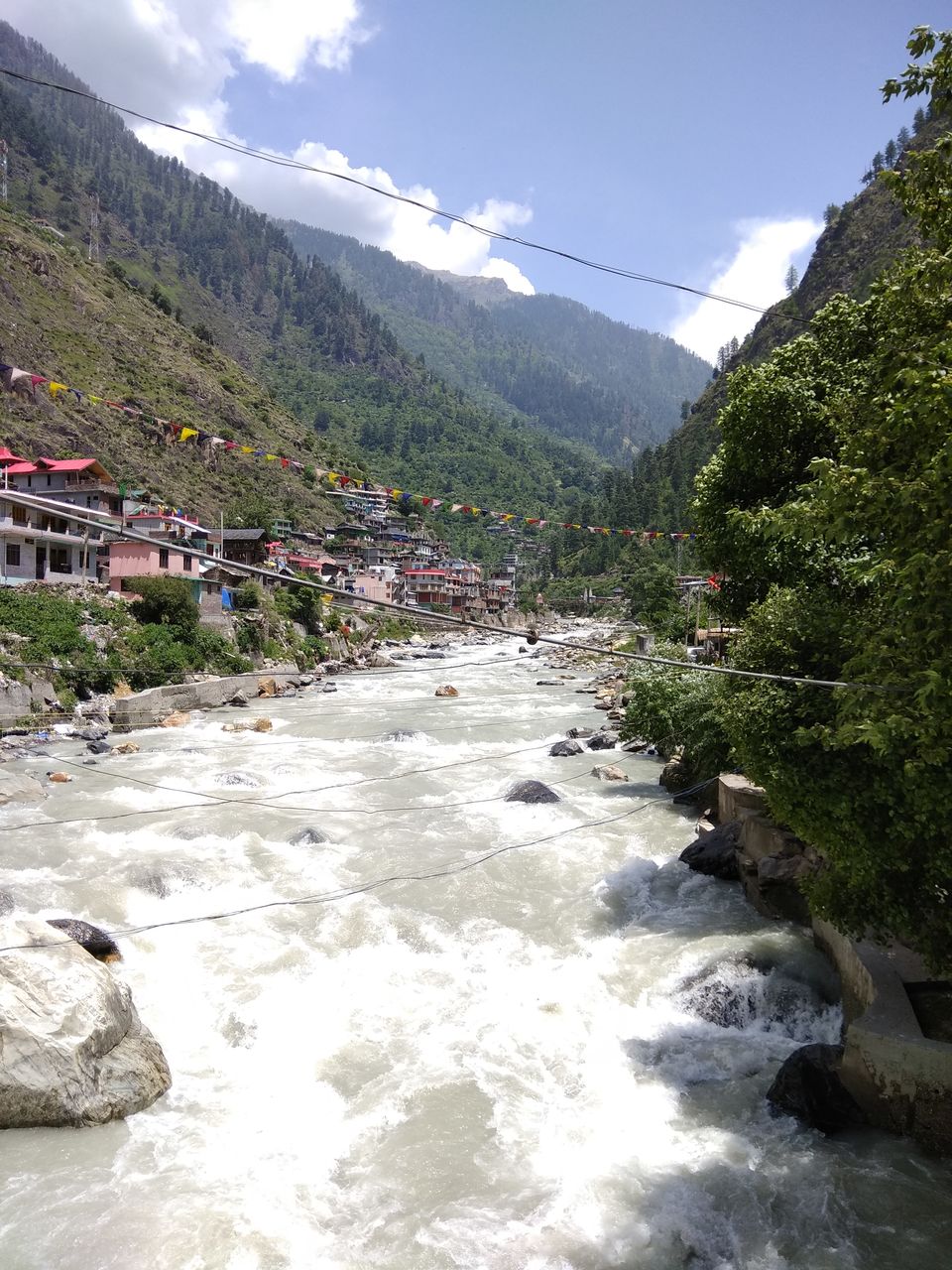 After Manikaran, we planned to go to Tosh, therefore we took a bus for Varseni. The bus journey from the Manikaran to Varseni was itself an experience as the road up to varseni has quite a few of dead turns which will instill both fear and amazement in your mind for sure. We reached Varseni in half an hour, but it was around 4.00 PM and the last bus from Varseni to Kasol was around 5.00 pm, so we dropped the plan to visit Tosh and took a bus back to Kasol and spend our night there by having Isreali cuisine and planning what to do next.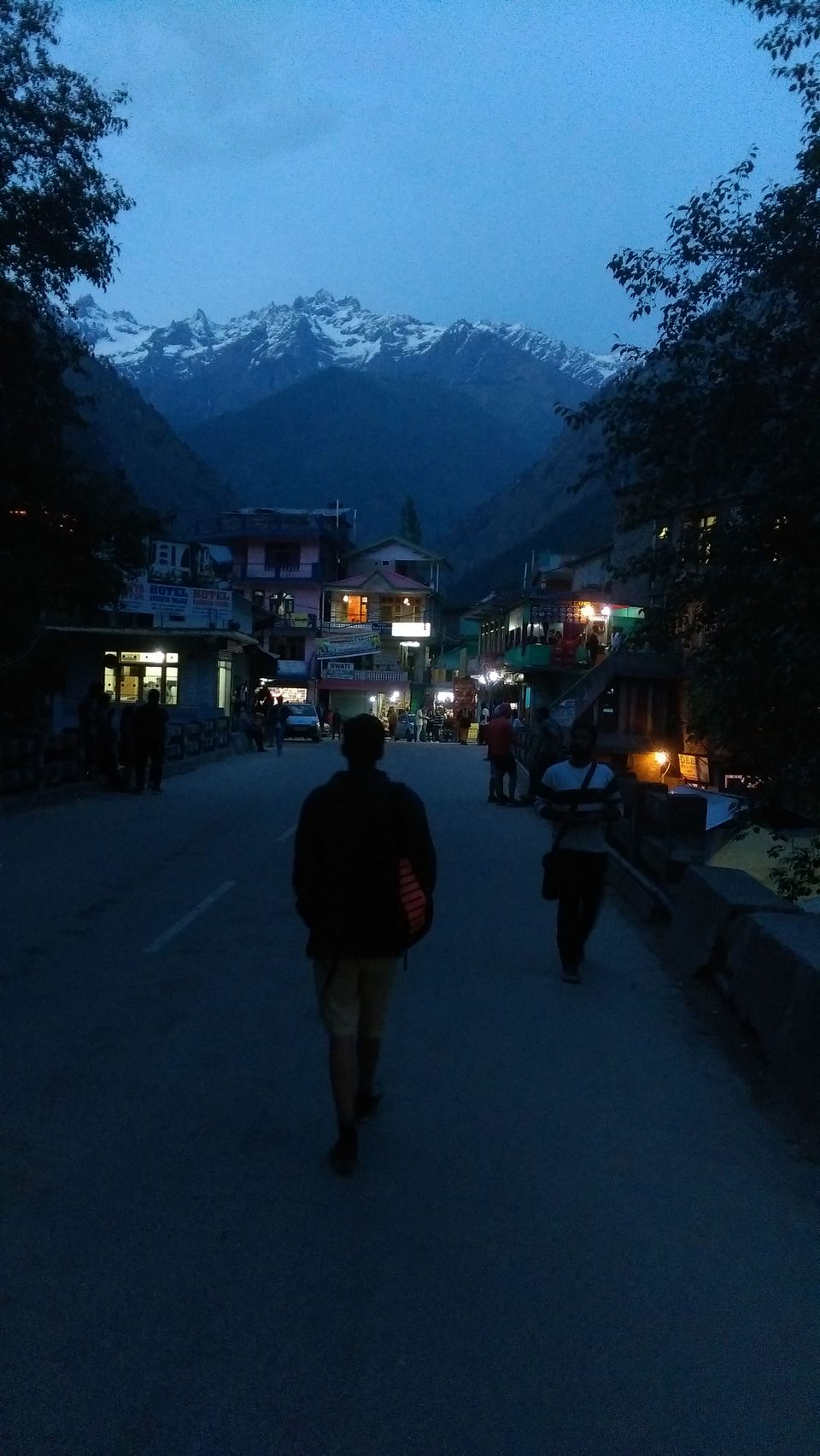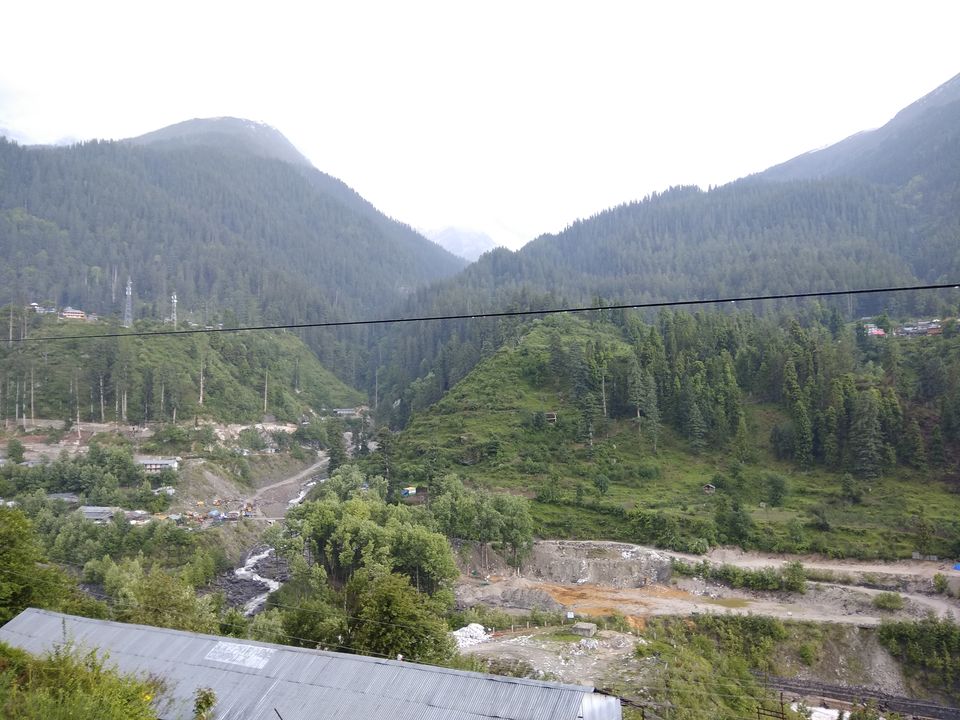 Accidentally we reached Pulga
Next morning we decided to leave for Kheerganga, so we took a bus from Kasol to Varseni, and then planned to trek to Kheerganga from there. But in the bus we met a guy who was from Israel, he told us that there was a party in Pulga, so we decided to head there. Pulga is a village which is situated remotely at top. Therefore, you have to trek to reach up. I planned to stay there but other guy(Rajiv) who was with me decided to leave for Kheerganga as he had to go back to his place next day. I searched places to put up in Pulga and found a decent place for 200 bucks. Then in the evening, i left for the party, it was on a secret location in the forests which was not far from Pulga. There were many things in the party like good music, location and other things which i cannot mention here. But as i am not a party animal, so i decided to come back to my hotel to have a dinner. I can assure you, the food in the most of places in Himachal is awesome. The party went on until next morning, if you are a party animal then you can find many parties in the Parvati valley to have fun.
Trek to Kheerganga via Kalga
Next day i trekked down from Pulga early in the Morning as i have to start trekking to Kheerganga, but i didn't know the way therefore, i asked around and decided on a way via Kalga which is more challenging in comparison from the Varseni one. Trek up to Kalga was also a bit steep, so it took me around 3 hours from Pulga to Reach Kalga. I stopped for a while in Kalga as i found the guy whom i met in the bus. He was there in Pulga from last two days, he told me he came up in Kalga for Rainbow gathering which was going on from last fifteen days. It was like a hippie gathering where people gather, listen to music, dance, bonfire and everything is free. i regretted that i missed on that as it was the last day of gathering. Then i continued my trek to Kheer Ganga, this trek is around 11 to 12 kilometers and is moderately difficult. But you can find everything in between the trek, waterfalls, streams, bridges, steep climbs and many more things. it took me around three and half hours to reach Kheer Ganga from Kalga.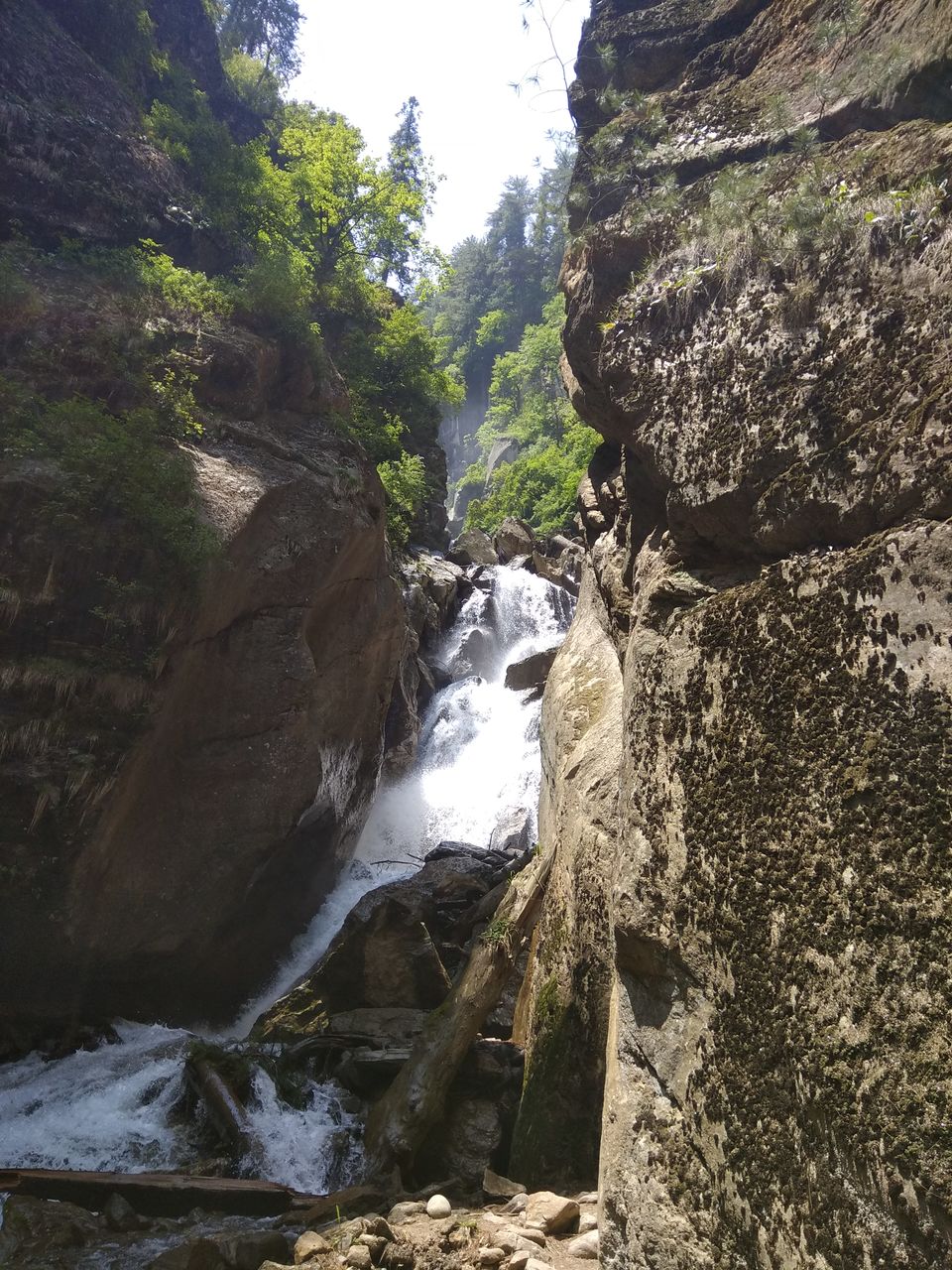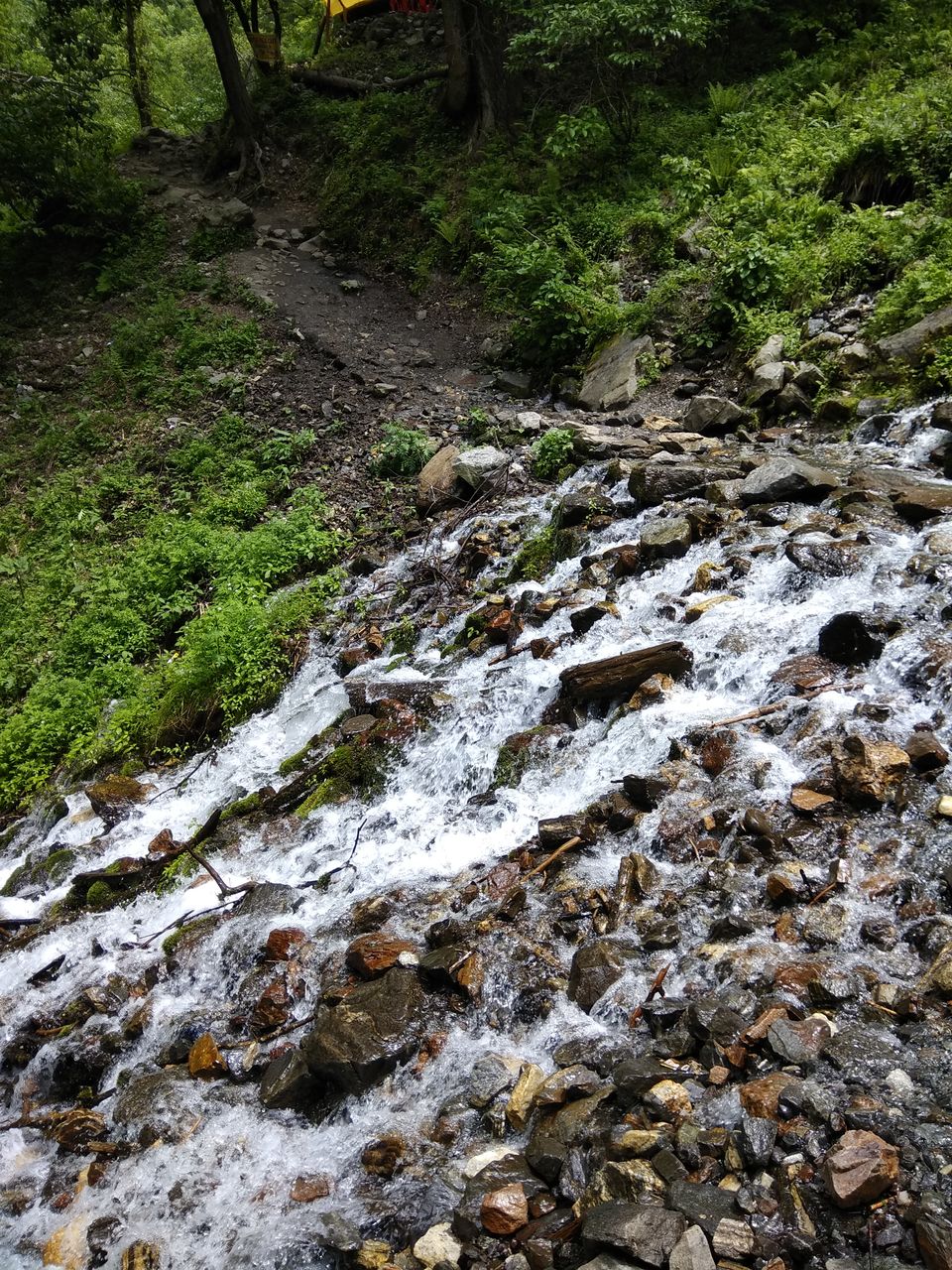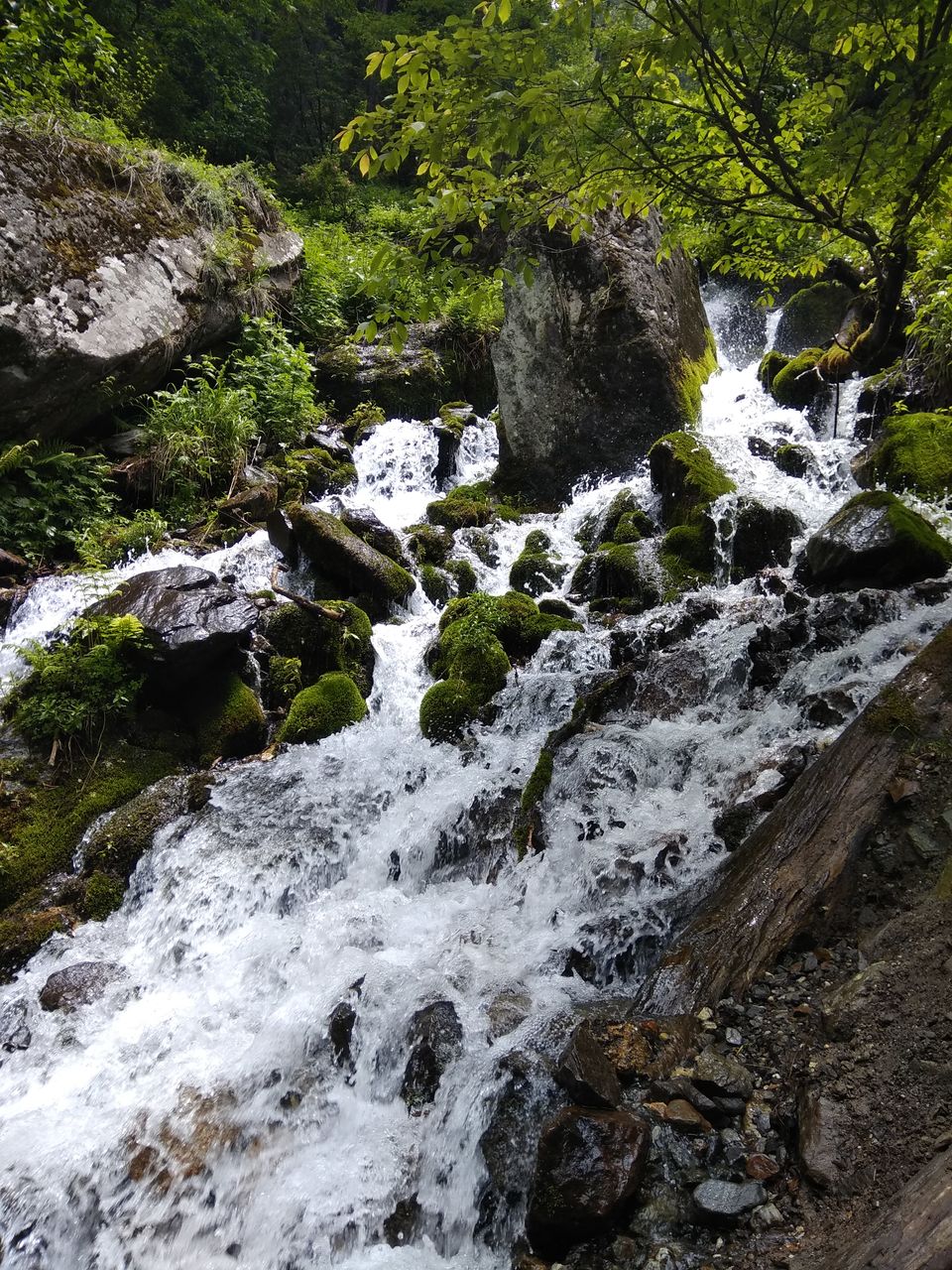 Someone said you get best view when your reach the top, and indeed it is true. I reached Kheerganga around 3.00 P.M. and then went to bathe in the hot water springs. This experience was unique as the place where you bathe is in open, so you can see the snow clad mountains, forests and clouds. It is cold up there, so when you are in the Kund(pool) you feel cold on your upper body and the part which is immersed in hot water feels the warmth of hot water. After 20 Kilometers of trekking i couldn't have expected more to relax, i sat in the pool for around 3 hours seeing the mountains in the lap of nature. Then i went to the place where i putted up, it was a dormitory which i took for 100 bucks only. They set the bonfire near so i sat there for a while then went inside the dormitory, where i met a group of guys who were from Himachal only, they asked me about my solo travel experience and i also asked about their trip. These guys were heading for Mantalai trek which is one of the difficult treks, it is around 55 Kms far from Kheer Ganga. Then after dinner i again went back for bonfire as it was too cold. I thought this was the perfect day, nothing better could have happened than this but i was wrong. At Midnight, they switched off all the lights in Kheer Ganga and most of the people were inside. As lights went off, the view of the stars became clearer and also there was enough moonlight which made snow clad mountains look even more beautiful, now this was the perfect day. This experience convinced me to stay in Kheer Ganga for one more day.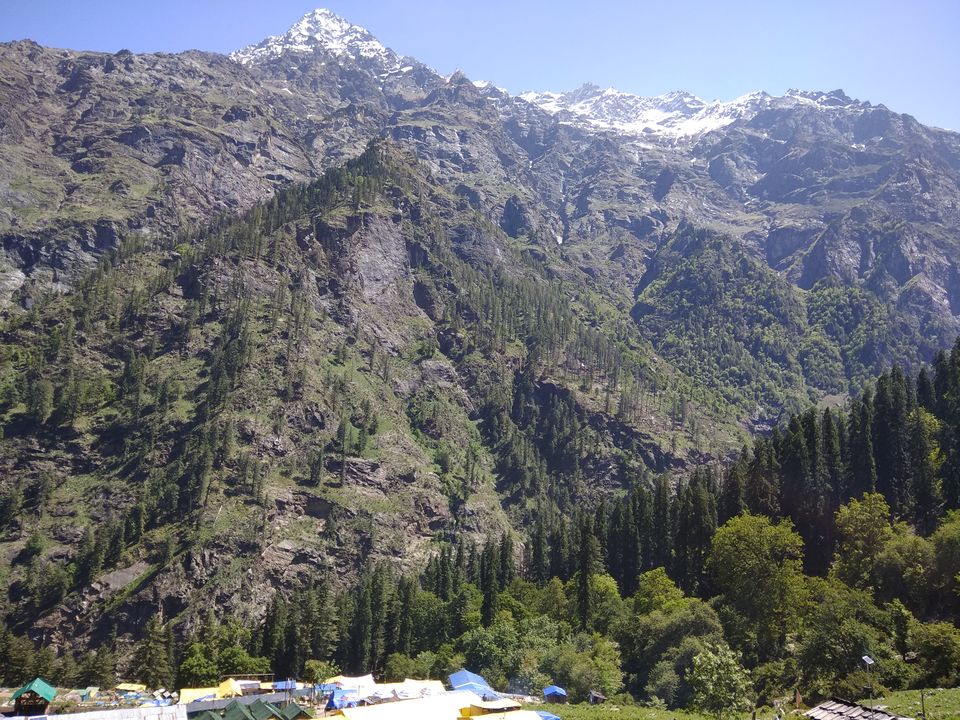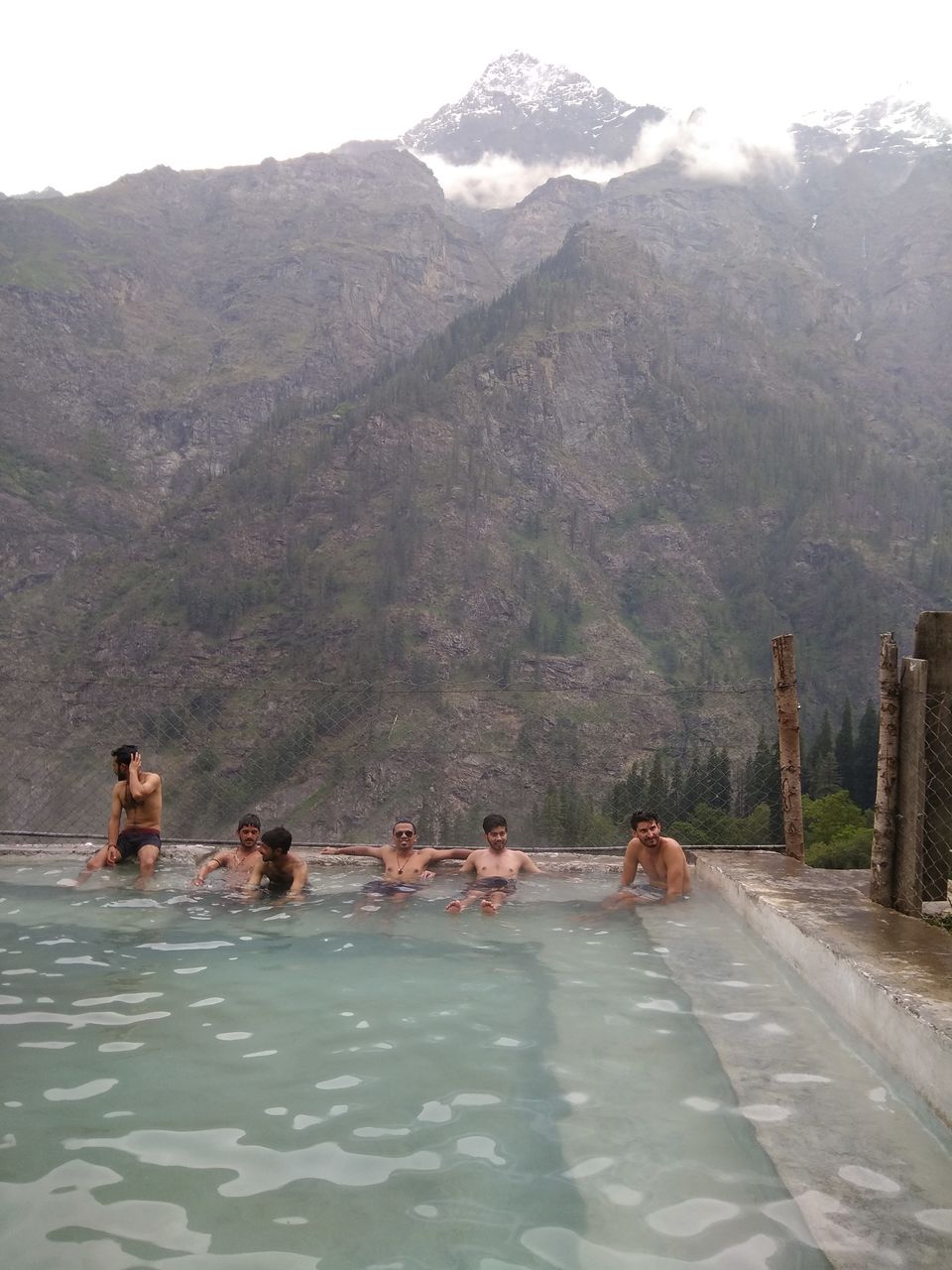 You can see snow clad mountains from the Kheer Ganga and everyone who comes to Kheer Ganga thinks to visit these snow clad mountains once. I was among these people, so in the morning i started my trek to these mountains. Initially, i didn't knew the way so i asked my dormitory owner, he told me how to reach snow. He told me its around one hour from Kheer Ganga, but when i started my trek i went to the wrong way. But in between i found out the dorm owner again in between the forests, he told me to go upwards following the trail on which i was walking. This trek was difficult because firstly, i didn't found anyone who was doing the same trek, secondly, it has wide variety of terrains to cover like initially i went through forest which was quite dense, then i reached the top of mountain which was plain and lush green, then i have to climb down that mountain, next i have to go through small snow streams, then i have to climb side by side of big snow waterfall. I didn't reached the top of mountain but i did reached the snow which i wanted to see. Later, i found out the name of place, it was in Bunbuni.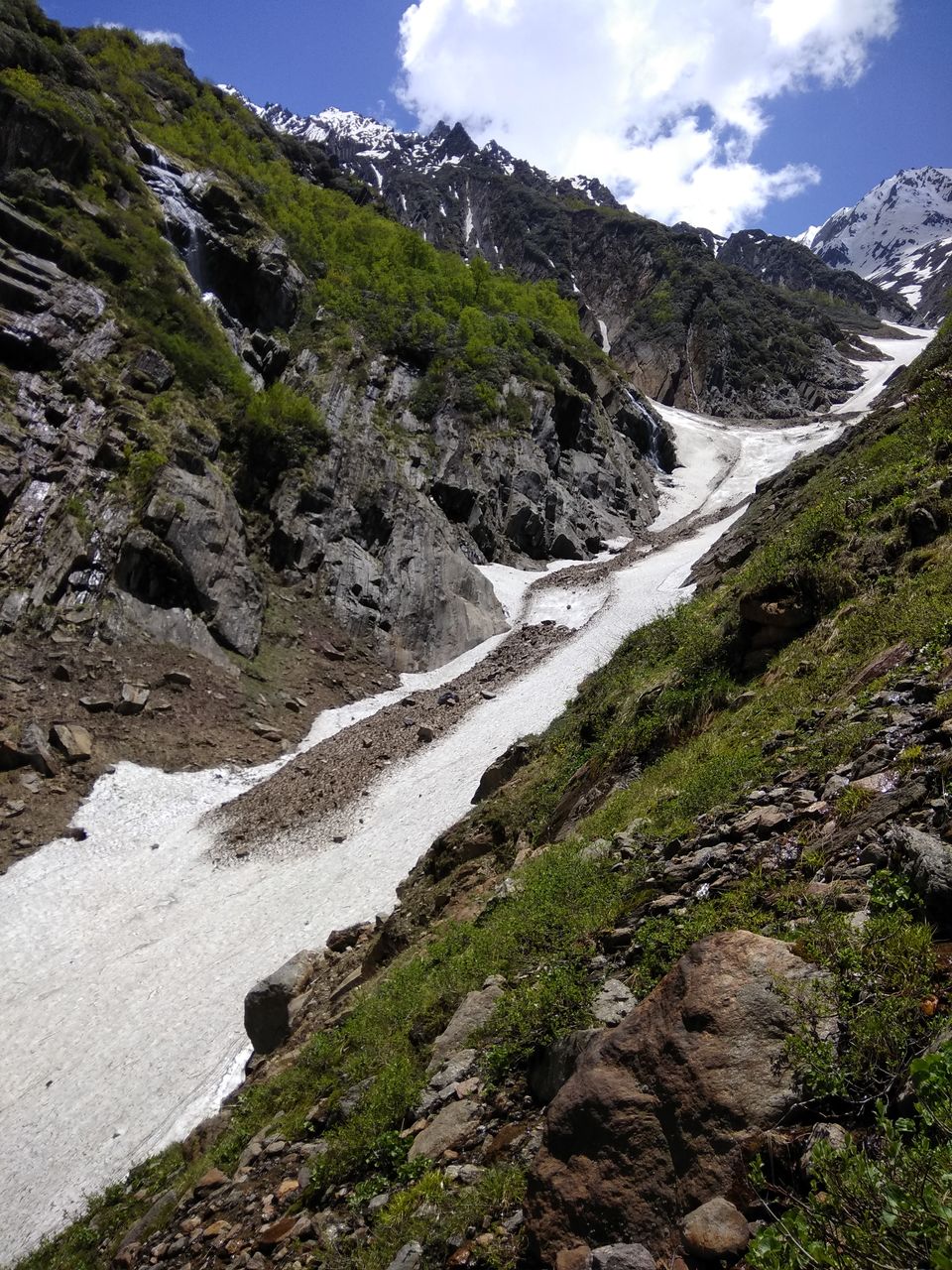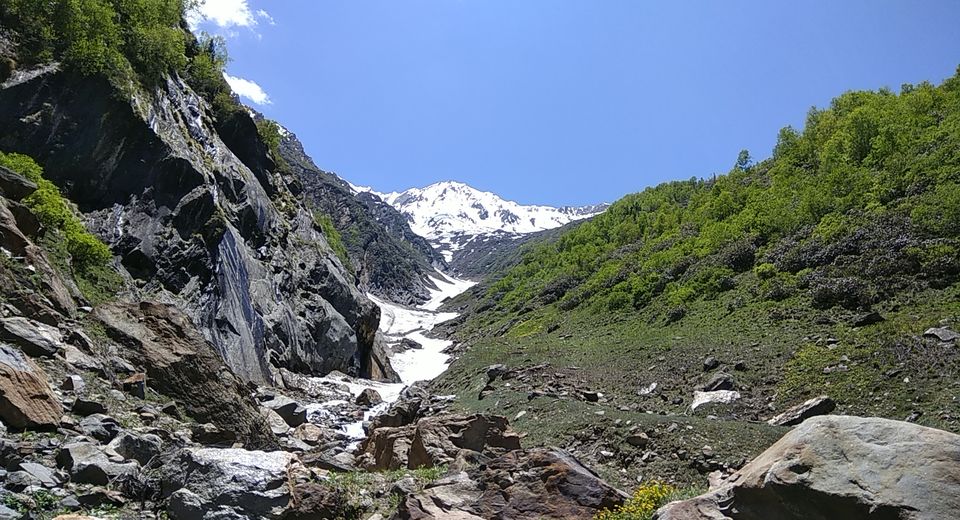 Though, i didn't reached the top of mountains as i didn't have necessary equipment but i did reach snow. Now it was time to come back, it was around 2.00 A.M., i started trekking back to Kheerganga. At a point i forgot the way back, and there was nobody to ask around, so i decided to carry forward, after a point there was no trail but only a waterfall which was dry but fairly steep, so i decided to climb up on it. I was afraid about going wrong way and climb was also risky and there was nobody to help in close proximity. But at the end when i reached the top of the waterfall, i found the right trail and reached the top of plain mountains. I met two guys there who clicked a photo for me which you can see blow. They were also thinking to go to same place, i told them the way and then carried on my way back to Kheerganga. In around two hours, i was back to Kheerganga and then i went back to hot water spring and took a bath, and in night we did bonfire and again that view at the midnight. It was a thrilling and spine chilling experience.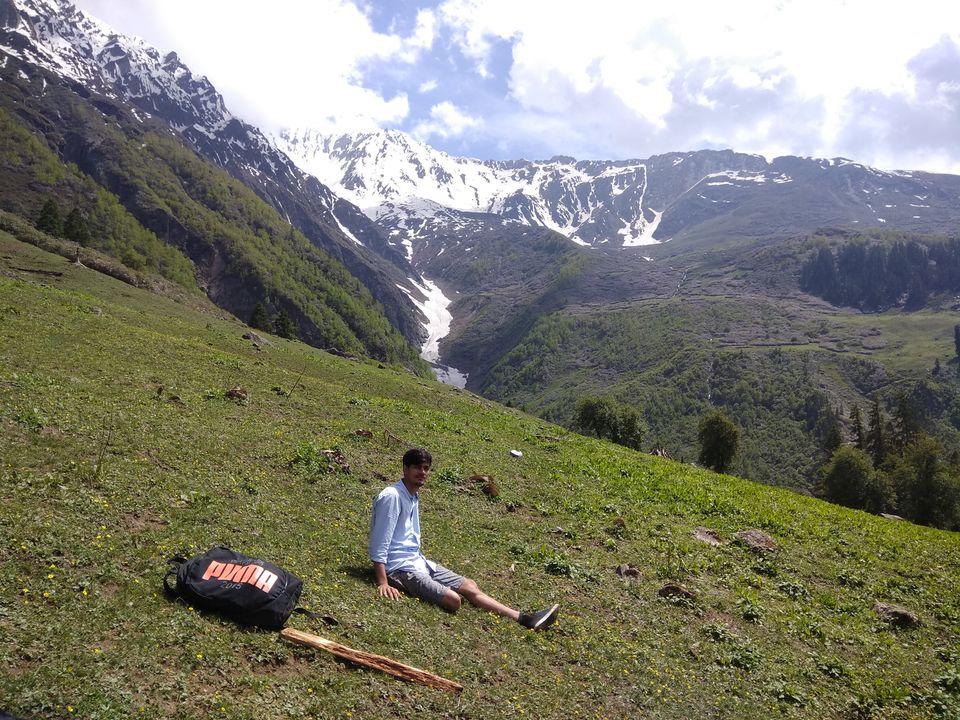 Reaching Parashar Lake
Time in Kheerganga was amazing, now it was time to leave. But the question was where i should go now as i was exhausting my cash limit. I had two options, either go to Manali or Dharamshala via Mandi. So, decided on the latter one as i wanted to visit Parshar Lake and Triund hills. So, i trekked back from Kheerganga to reach Varseni, then i took a bus for Bhuntar and another one from Bhuntar for Mandi. It took me around 11 hours to reach Mandi from Kheerganga. It was really tiresome as i traveled in the locals only. When i reached Mandi, i decided on visiting Gurudwara, i had dinner there in Langar. Then, i started searching for accommodation which was hard to find, i finally found a place for 350 bucks which was not that great but i was tired and desperately needed a good night sleep. So, i stayed there for a night and next morning at 6.30, i left that place.
There are two ways to go to Parshar lake, first you take a bus directly from Mandi to Parshar, it leaves in the morning at 7.30 from Mandi bus stand for Parashar, or you take bus to Baggi Village and then you can trek to Parshar, it takes around 4 hours to reach parshar lake from Baggi village. I took the Morning bus and reached the lake by 12.30, all the bus rides are amazing in the Parvati valley as you see picturesque locations, beautiful mountains and lush green forests. I visited the Parshar temple and lake, it is a three storied pagoda temple dedicated to Rishi Parshar, and the lake is surrounded by mountains from all the four sides. I also had lunch there, in lunch i tried aloo Parathas in the temple canteen, it was really good and cheap, they only took 35 bucks for 2 parathas and a tea. It was the cheapest food that i had in whole Himachal. I would suggest to do this trek in winter as Mountains are covered in snow and the lake looks even more beautiful surrounded by white snowy mountains.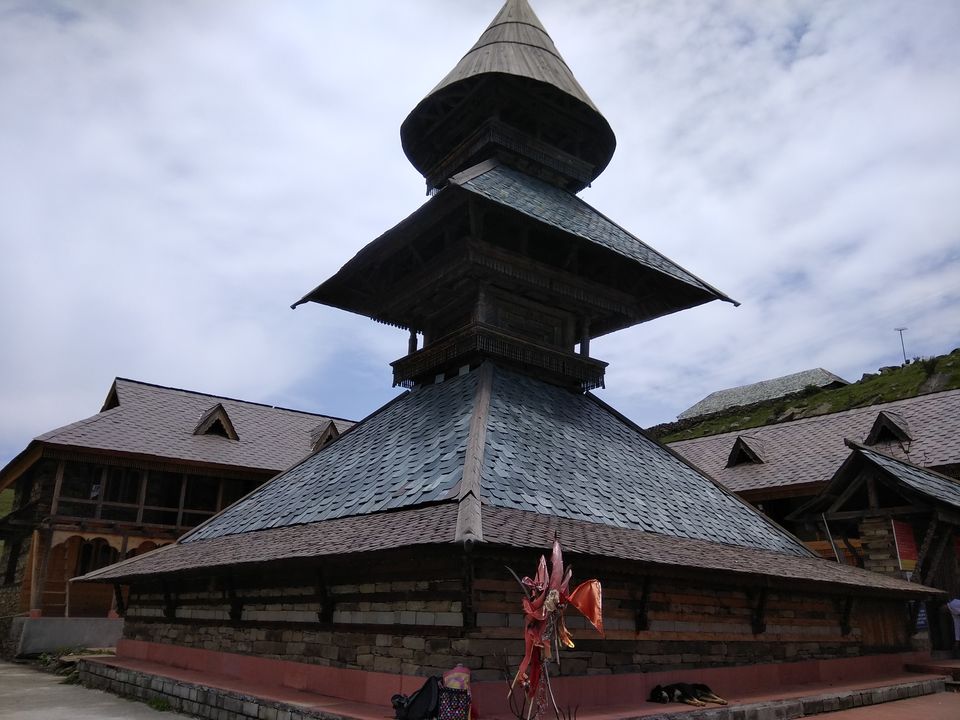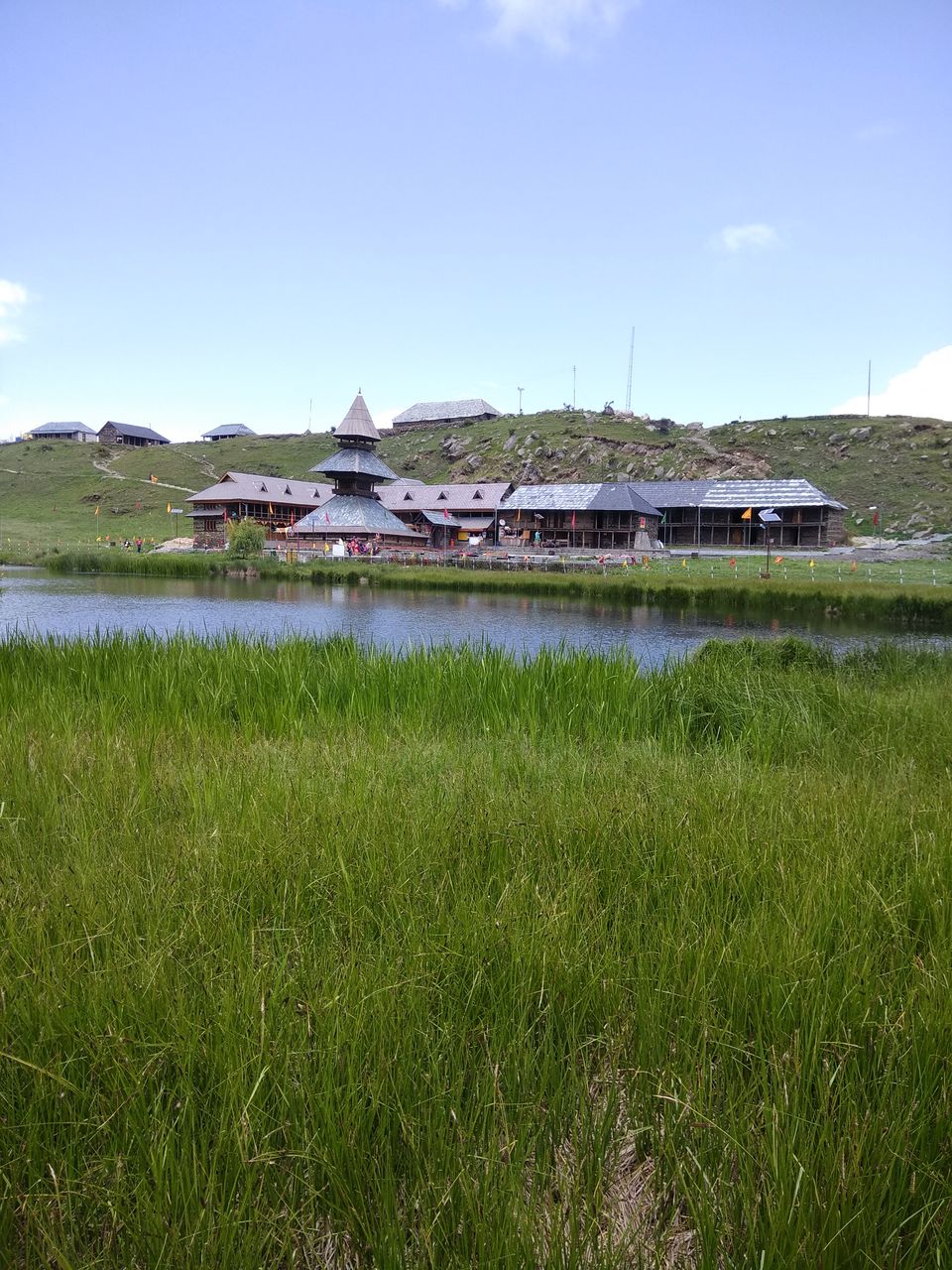 Now, it was time to go back to Mandi as i have to take a bus for Dharamshala, the same bus that took us to Parshar leaves at 1.30 pm, so i took that one and reached Mandi, around 5 in the evening. Then from there, i took a bus for dharamshala at 6.00 and by 1.00 am, i reached Dharamshala. Then, i searched for a place to spend the night and found a shitty place for 600 bucks in Dharamshala, it was really not worth the money but as i have no better option, so i decided to stay there. I traveled in a bus for around sixteen hours and it was really tiresome, so i just wanted to sleep. I spend the night there and next morning left for McLeodganj. I would strongly suggest, if you ever visit Dharamshala, don't ever take accommodation in Dharamshala, its too expensive, you can lodge at better and less expensive places like Mcleod and Dharamkot which are near Dharmshala.
Trek to Triund hills
The main reason for which i came to Dharmshala was Triund hills, a friend of mine suggested me to definitely trek to Triund. So, next morning, i took a bus for McLeod, there i had my breakfast and started my trek from there only. One can also go to Dharmkot and then start the trek but i preferred to start by Mcleod. Initially the trek was very easy, so in search of adventure i went through the forest and lost the way, after walking for an hour in between the forest i reached the same spot twice, i was confused and little afraid, luckily i found a local who told me the right way and he told me that you will find a cafe in the way, and he suggested me to ask the way from there, but when i reached that cafe, there was no one and when i knocked on a door and a dog started to bark, in fear i came out of that place. after walking for a while i found a small house where a guy lived with his dog, i asked him the way, from there i found the right trail and kept walking on it. But after walking for an hour, it started raining cats and dogs but i continued my trek. But after reaching half way through, Hailstorm started and now it was tough going forward. I stopped at a cafe for tea and really tea in that whether felt amazing, then hailstorm slowed but rain continued, and i also continued my way up, i saw many people coming down, they told us that there are chances of storm and there are no places to stay as guest houses are full and tents flew due to storms and it is not possible to set up the tents in this whether. A group who was trekking with me decided to return but i didn't had enough money to lodge again and then again return for the trek next day, so in heavy rain i continued my way up and reached the top in around two hours. Then i have to search for place to stay in night, so i talked to a shop owner, we agreed on 400 bucks for a tent. It was a good deal considering the circumstances, i had 3 cups of tea, there i met a group from Indore and few girls from Delhi. It was really cold up there and we were also wet due to rain, so it was worsening our condition. That shop owner made food for us, as it was not a hotel, he made same food for everyone and it was like homemade food, and weather made food taste even better. Then we talked for a while about various things and listened to music. The view from Triund Hills is exquisite, on one side there are mountains which are covered with snow, and on one side you can see Dharamshala, and up in the skies there are good view of the stars. Triund is also famous for the view during sunset and sunrise but as it was cloudy so we missed it in the morning. I will remember this trek for my life because i completed this trek in so much hardship and at last when i reached the top,it was all worth it.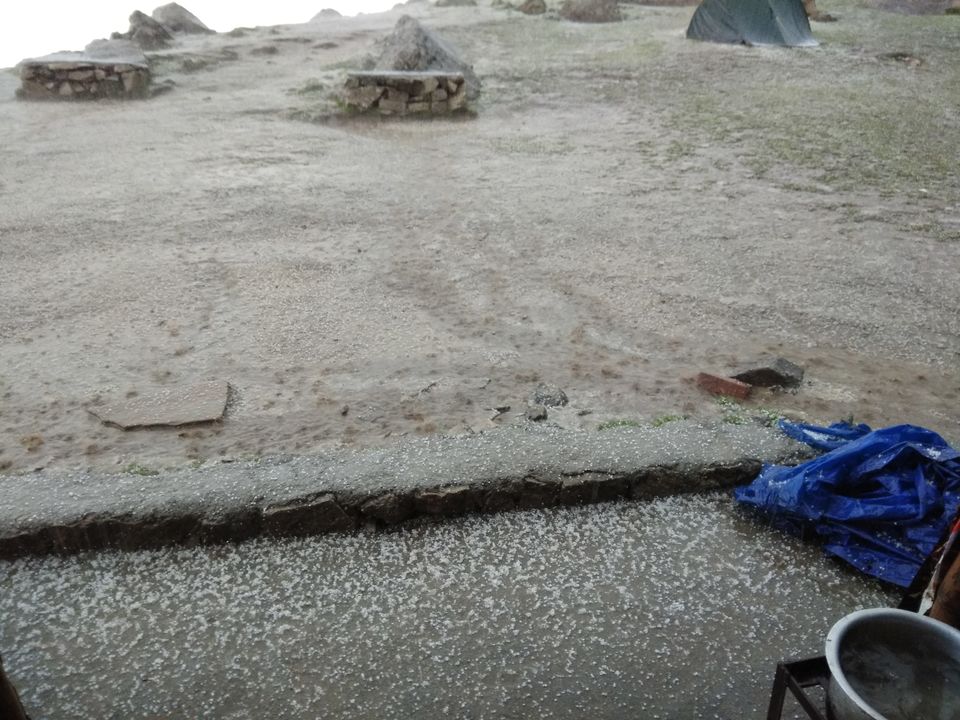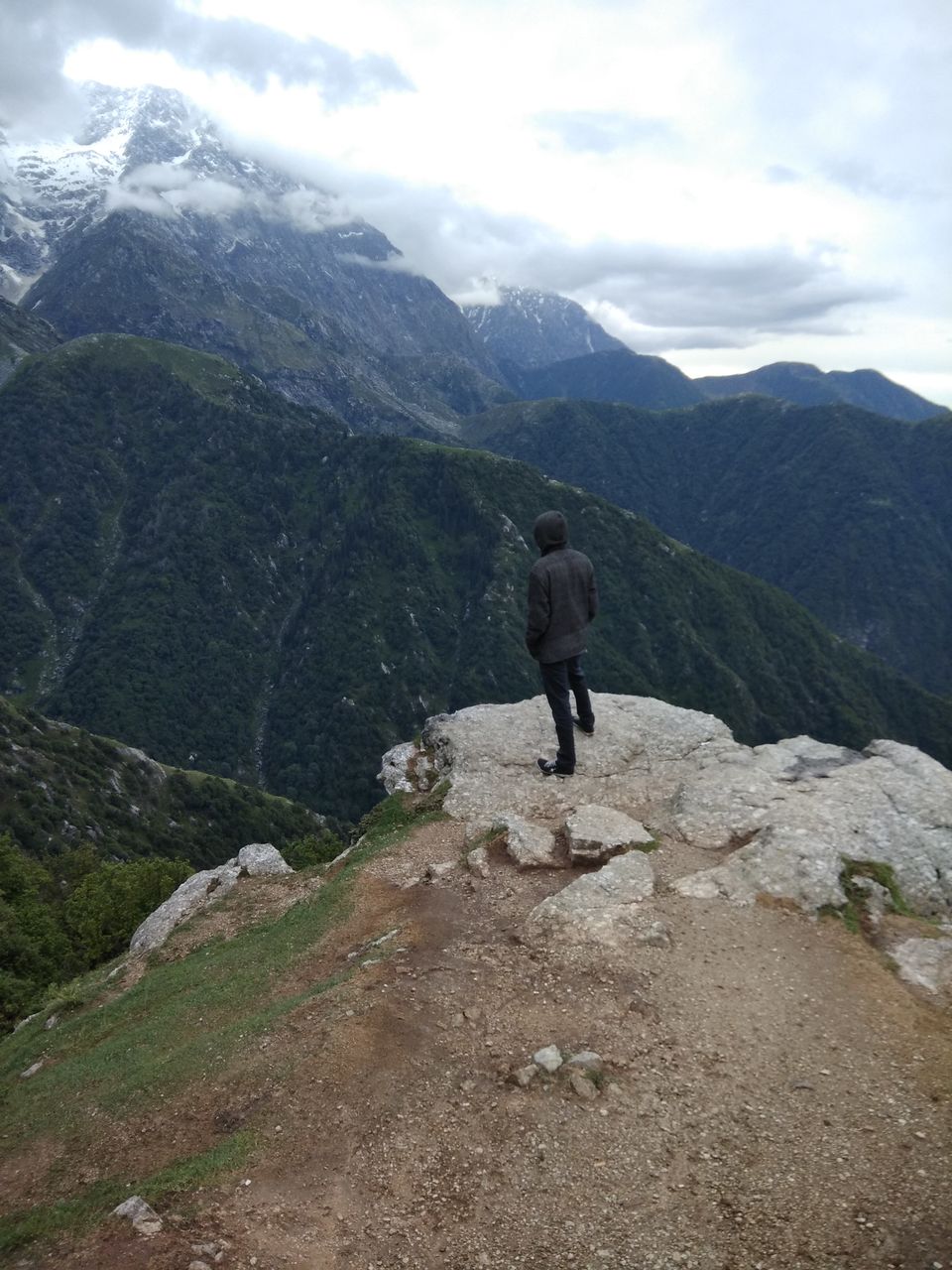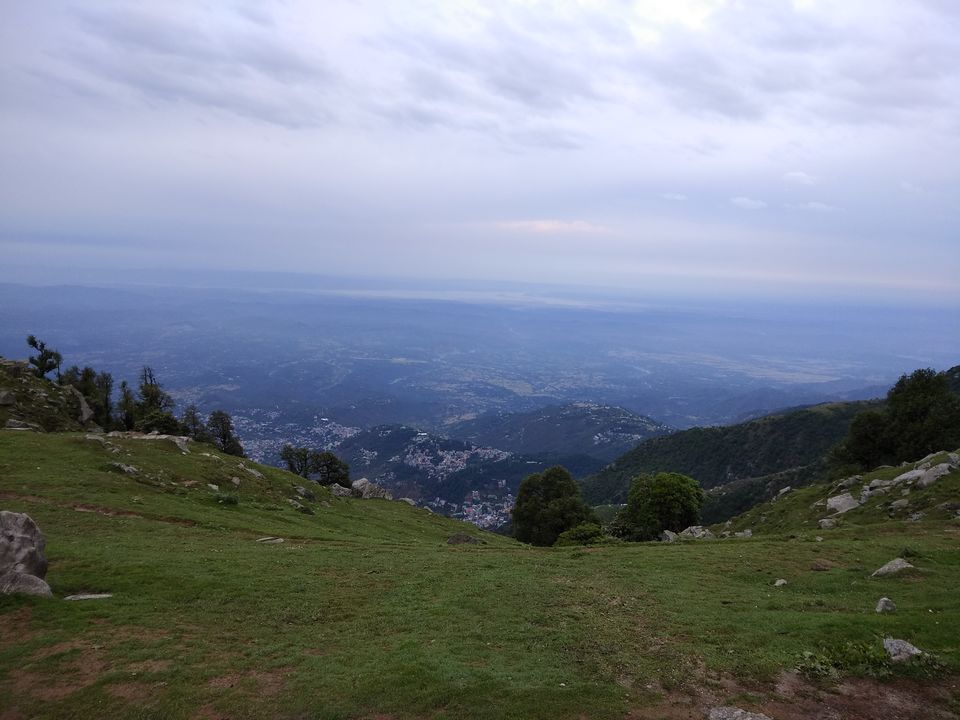 Coming Back home
Next day, we started trekking back from Triund to Dharamkot, from there we reached Mcleod, where we had our lunch, we had amritsari kulcha, it was delicious. Then, i took a bus for Dharmshala, and booked a ticket for Delhi, i reached Delhi next day in the morning, from there i took the train to Guna and reached my place in the evening. It was a perfect solo trip, i had never imagined i would gain so much from this solo trip. I got way more than what i expected, there were lots of surprised and adventures, and in a way i discover something new inside me which cannot be described in word but can be felt only. I want to suggest to those who want to travel solo in their life and are confused, that please don't think only do one thing just pack your bags and leave as fast as possible. You will definitely have a experience that you will cherish for all your life.