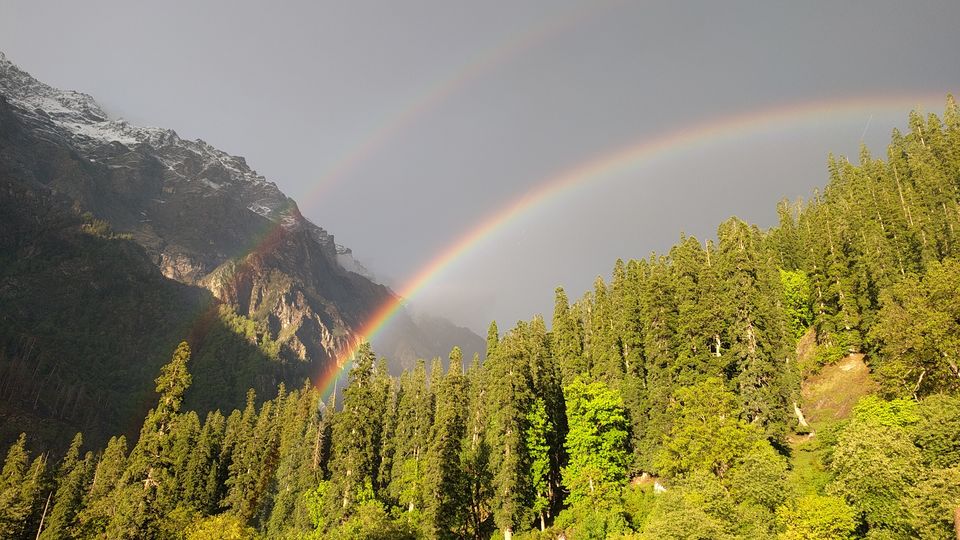 After a lot of introspection on which trek to go on from Delhi in just 3 days, I was left with few options to be chosen. To make this one my most memorable experience Kheerganga was the one which I chose to explore.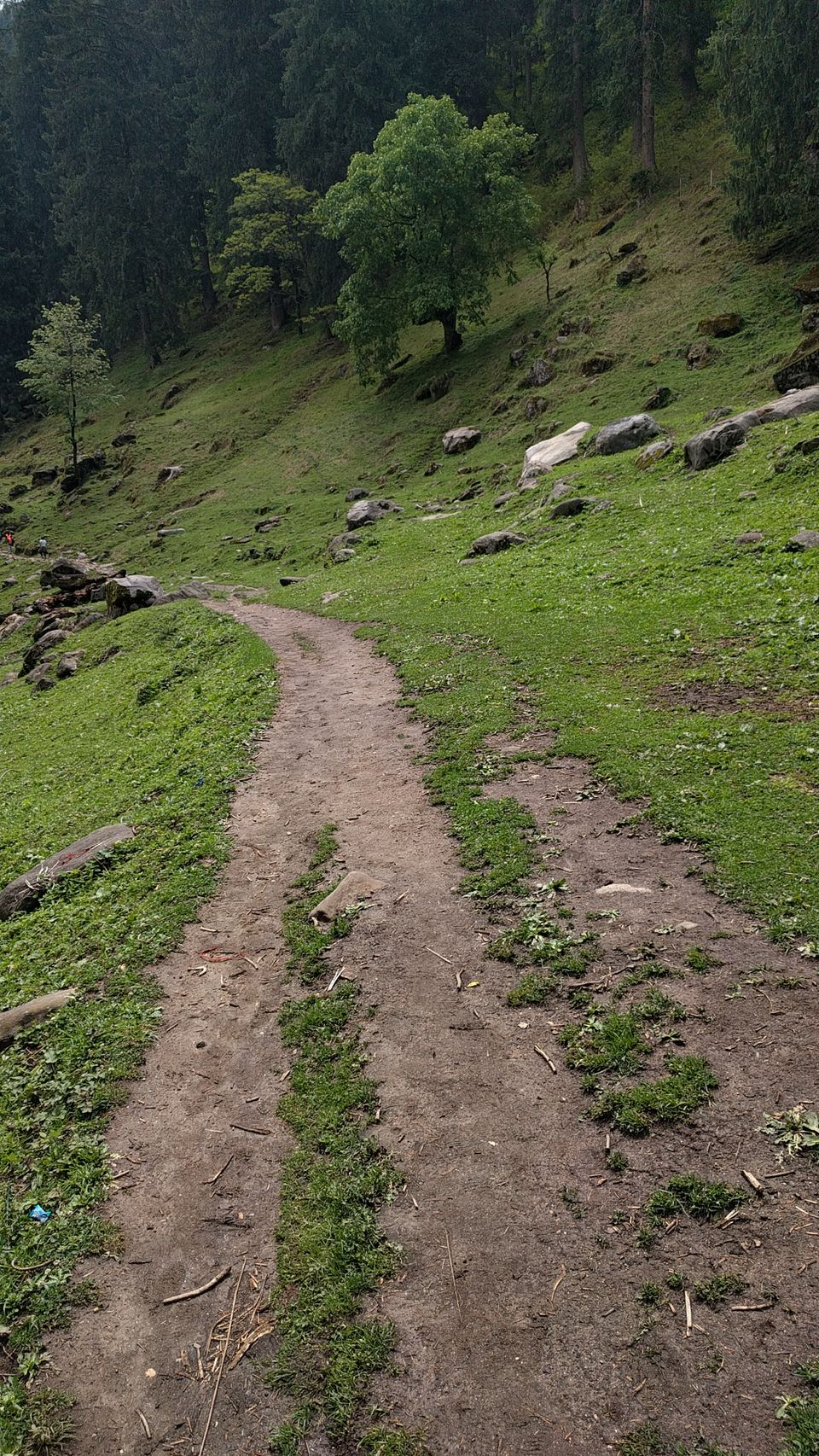 Background
Kheerganga is located in Himachal Pradesh at an altitude of approximately 3000m. It starts from a small village called Barshaini.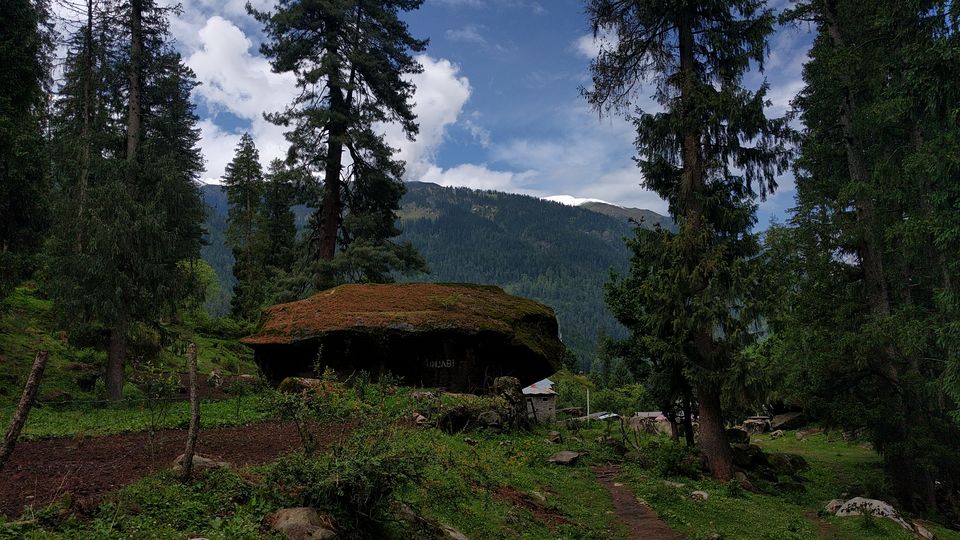 From Barshaini – the base to Rudra Nag, Kalga and Pulga, opt from two routes:
Rudra Nag (13 km): It's a steep climb, laced with stunning views; perfect for photography enthusiasts and easier to descend.
Kalga (17 km): Easy climb with longer descends, suited for occasional trekkers and those low on stamina. Not a good option for photographers looking for beautiful landscape.
I took Rudra Nag route while ascent and kalga route while coming back.
One can reach Barshaini via Kasol( also famous by the name Israel of Himachal) and Manikaran (Famous sikh Pilgrimage) by de-boarding any bus going to Manali from Delhi at a small town called Bhuntar.
So I took HPTDC volvo at 6PM from Delhi and reached Bhunter around 6 AM next day. From Bhunter one can easily reach Kasol by frequent local buses or shared cabs which will charge you around Rs200/ person.
Kasol and Manikaran
It is recommended that you stay or take a small halt at Kasol to explore the various food options such as Pizza at Little Italy cafe, Sandwiches at Moondance and also the cakes and Pastries at German bakery.
Some of the good hotel options you can consider are Alpine Guest house, riverview and Parvati Kuteer which are situated on the banks of Parvati river with stunning view of snow capped himalayas.
Manikaran is also very nearby and situated at just 4 kms from Kasol. One can take a local bus or taxi but I think the best way to reach there is by walking down the breathtaking landscape experiencing chanting sound of Parvati river and having some hands -on camera if you are an photography enthusiast.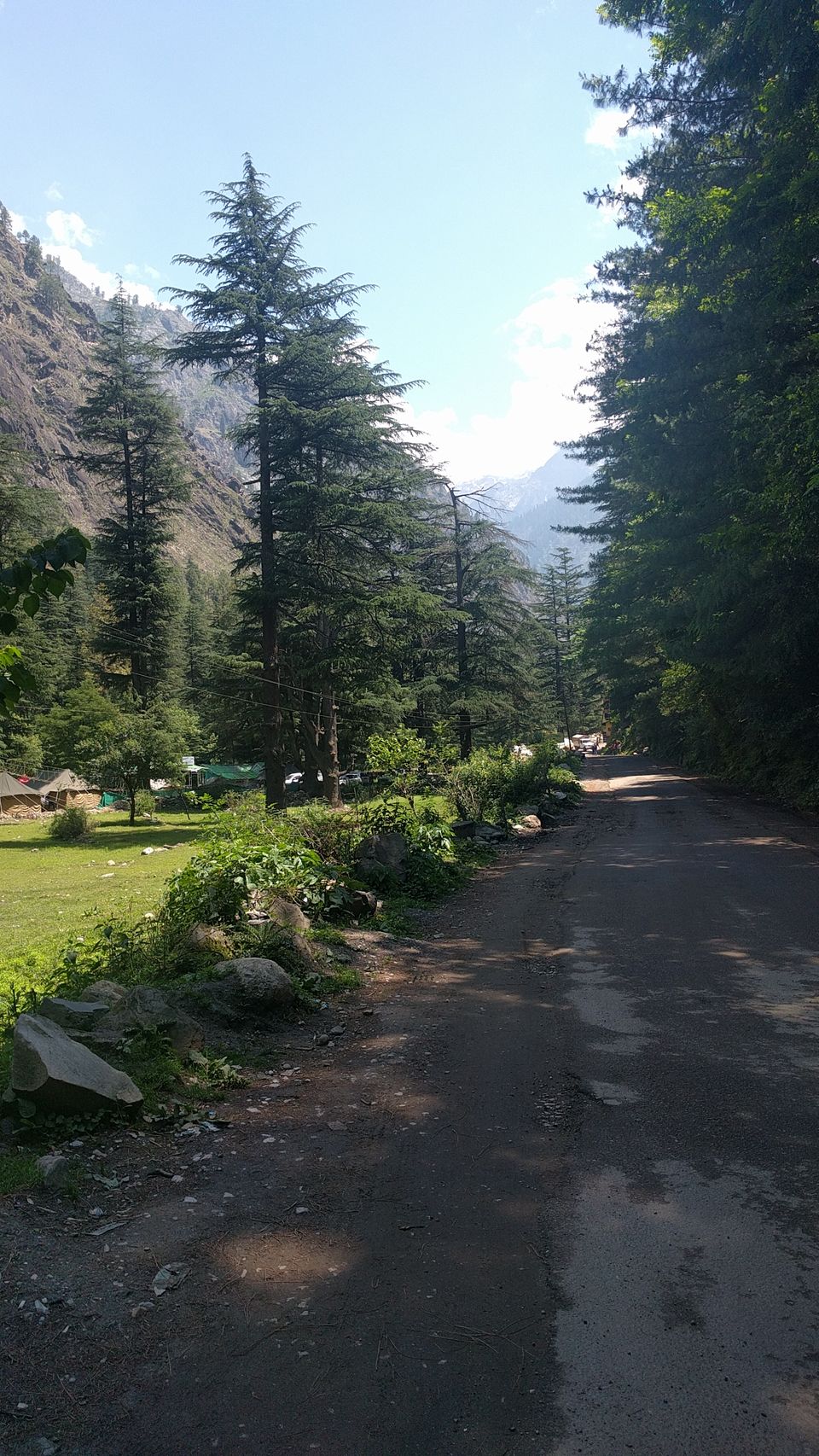 Also Manikaran is famous for its hot water spring in which rice and various vegetables are cooked which are than served as langar.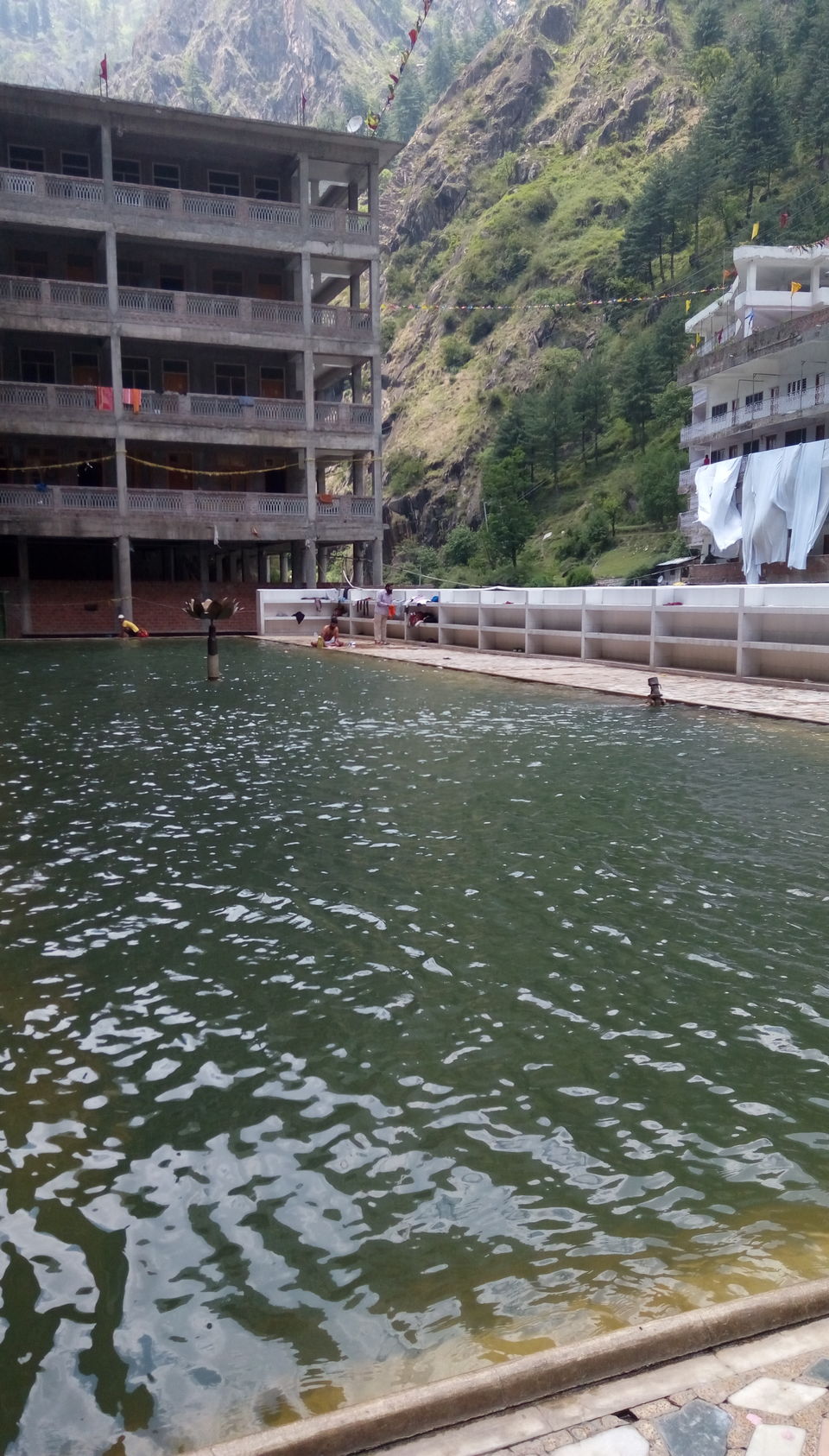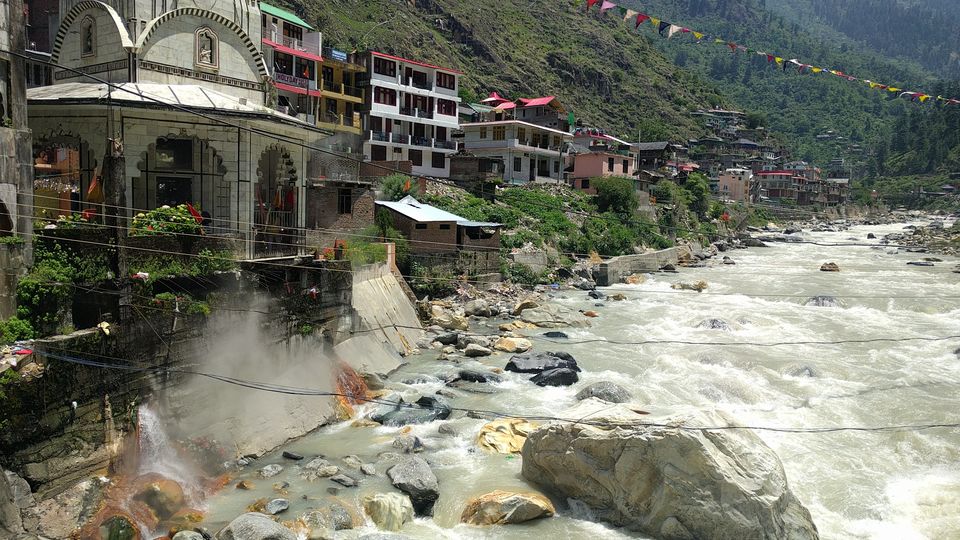 The Trek
Next day after a lot of suspense and excitement we reached Barshaini early in the morning around 8. I was very excited and afraid at the same time since it was my first attempt for such a long walk and that too in the wild. I had questions in my mind about the trail, weather, mobile network and was curious at the same time to know what's there at the top. Hence I started my trek with the full swing with a wooden stick in hand.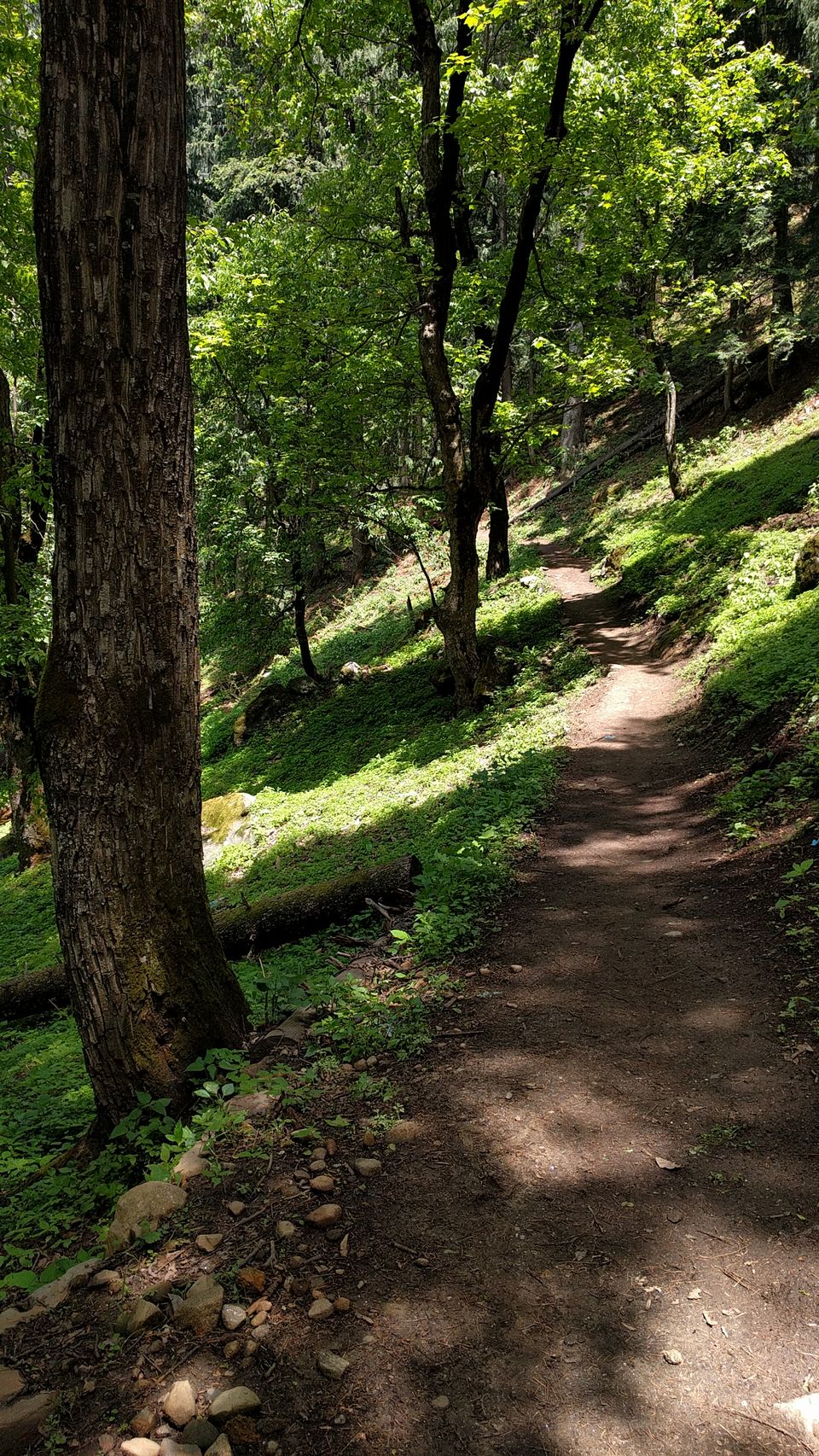 The first few kilometres were hardly a climb. Our trail went through lush farms, small hills and villages along the Parvati River. We couldn't help but stop on many points to let the beauty of our surroundings sink in. With not a single soul in sight, we thought we'd taken a wrong way until we reached the first village.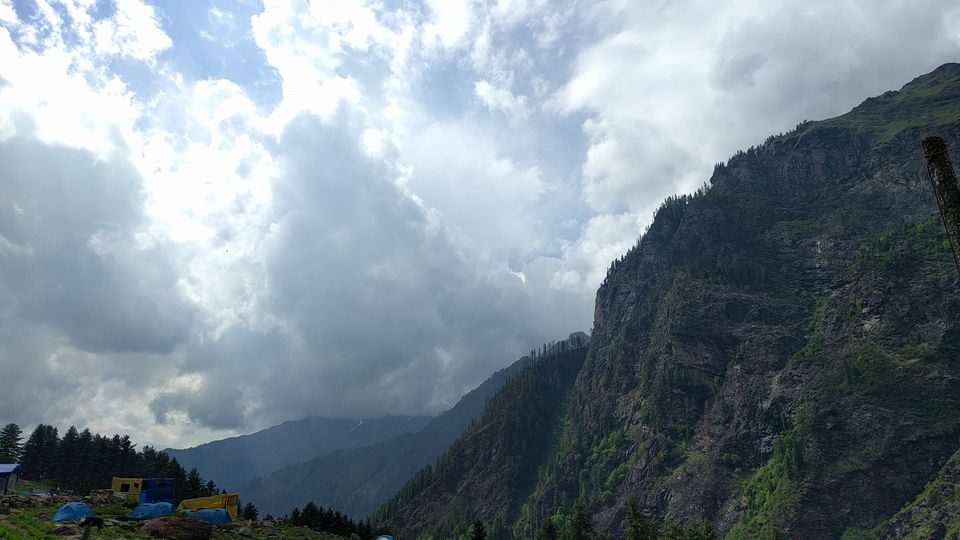 The trail is really awestruck with lot of waterfalls and one of the most famous one's being Raudra Nag waterfall. Also while on the trail one can easily find various eating/ halting points which will ensure that you are on the right path.We decided to take a little break and eat Maggi noodles near the waterfall. Beyond Rudra Nag, the woods became dense and the path became steeper.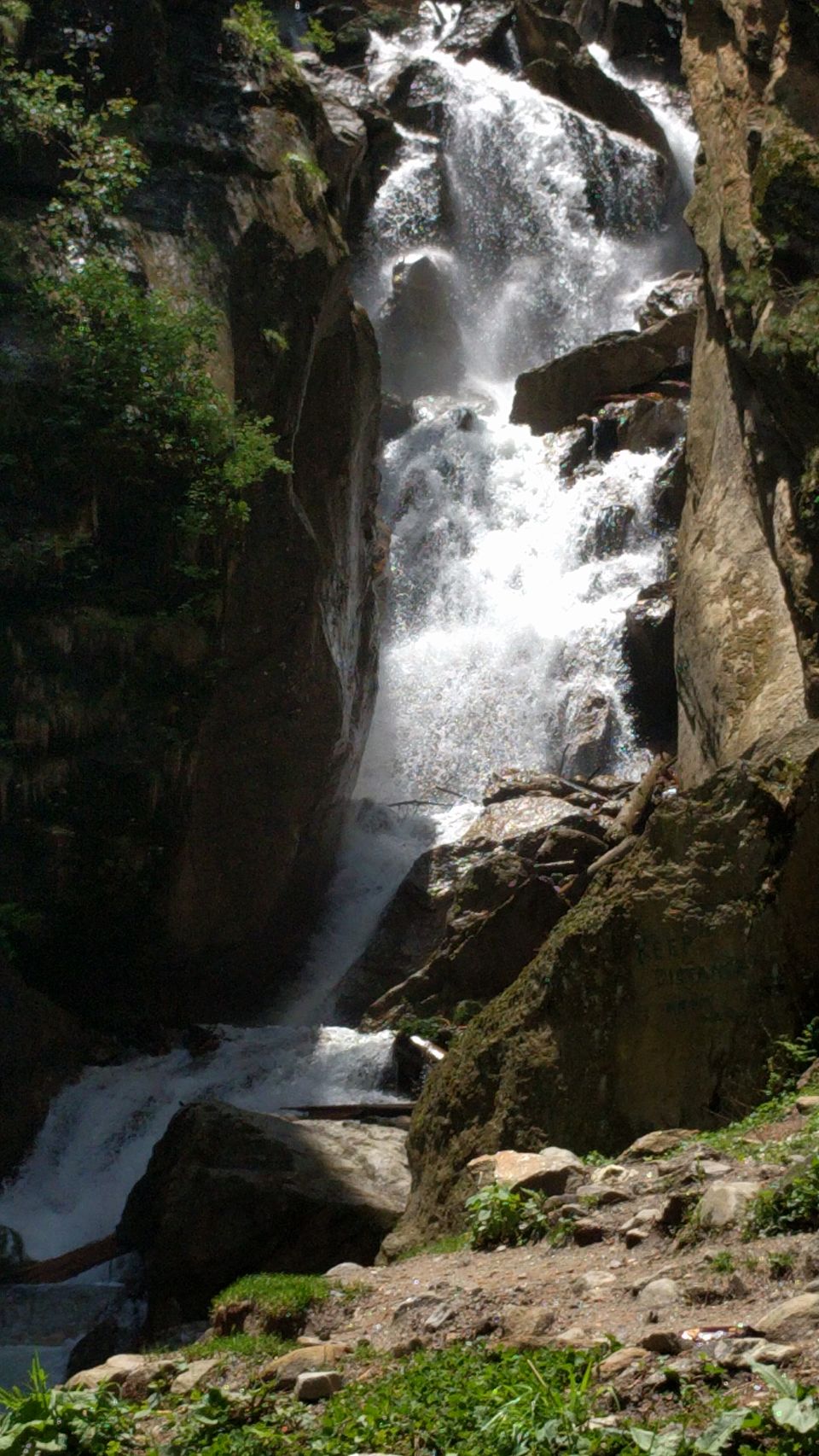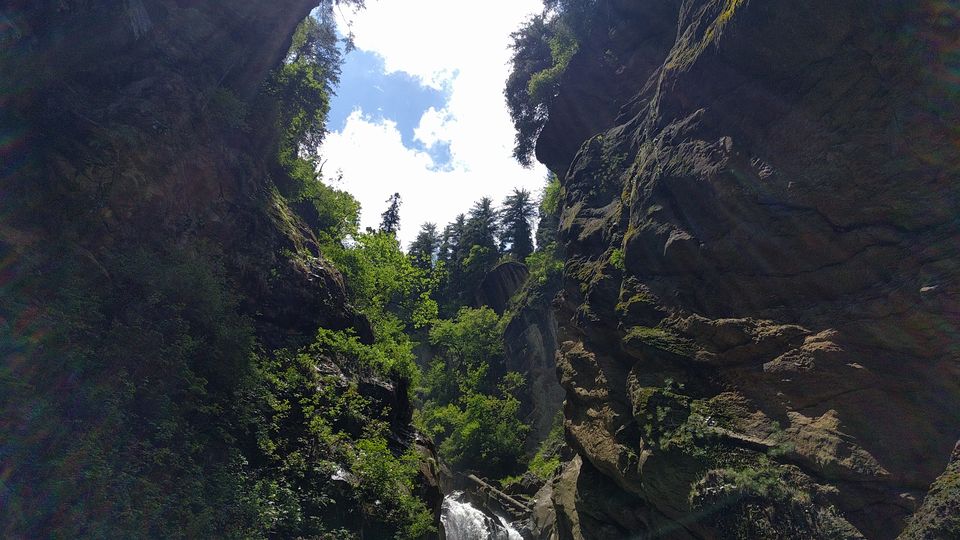 After walking for straight 5 hours and covering almost 12 km of the distance, it was the time when we were able to see the kheerganga valley which was surrounded by the himalayas and was full of camps and greenery.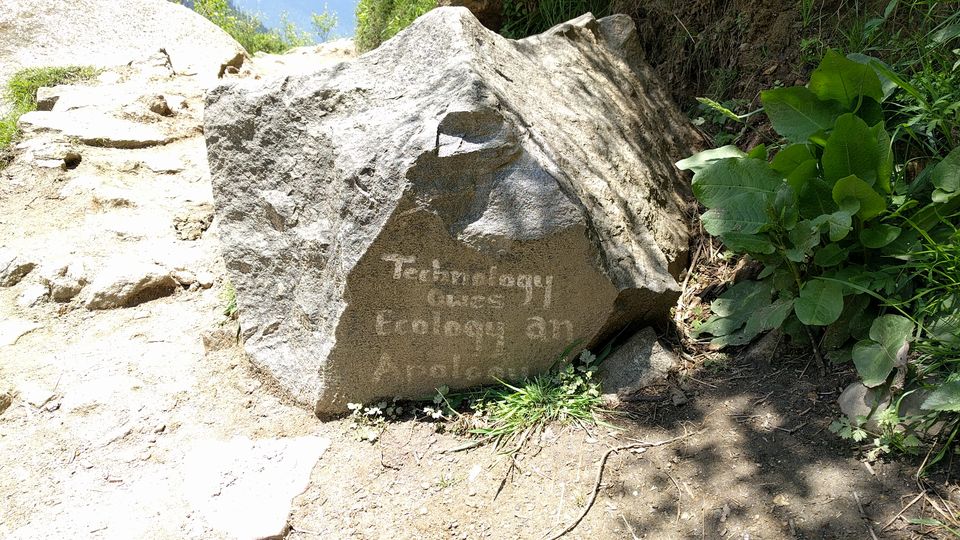 At Kheerganga there are a lot of options one can get for the accommodation ranging from private tents which is around Rs 200/ person to Dharamshala which cost's around Rs 100/ person.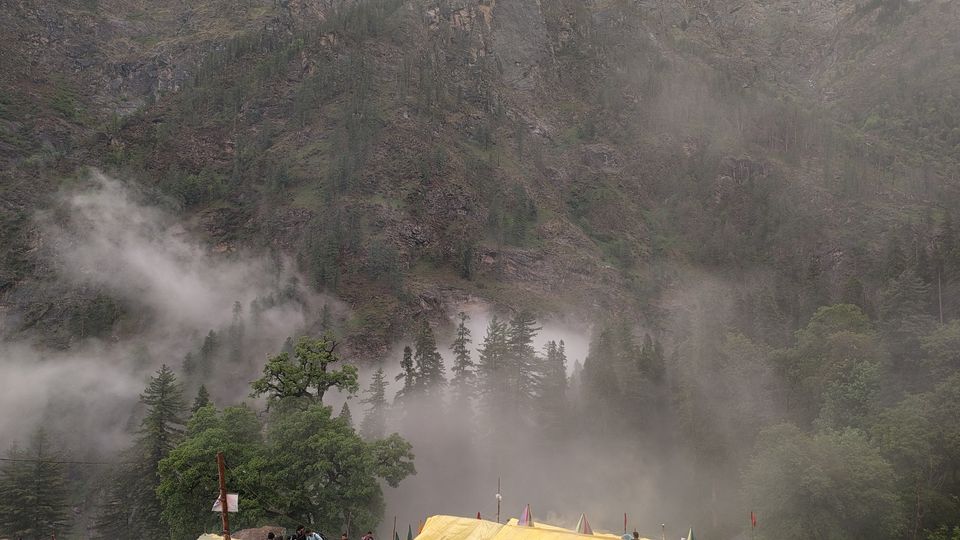 There are a lot of food options available be it Paranthas, omelette, Indian and Israeli food. The locals are really helpful and friendly and are always ready to guide and help in case of any issues. One of the most important thing to keep in mind is that there is no mobile phone signals at Kheerganga apart from BSNL which is actually good in a way and keeps you away from rest of the world and helps you indulge in natural beauty.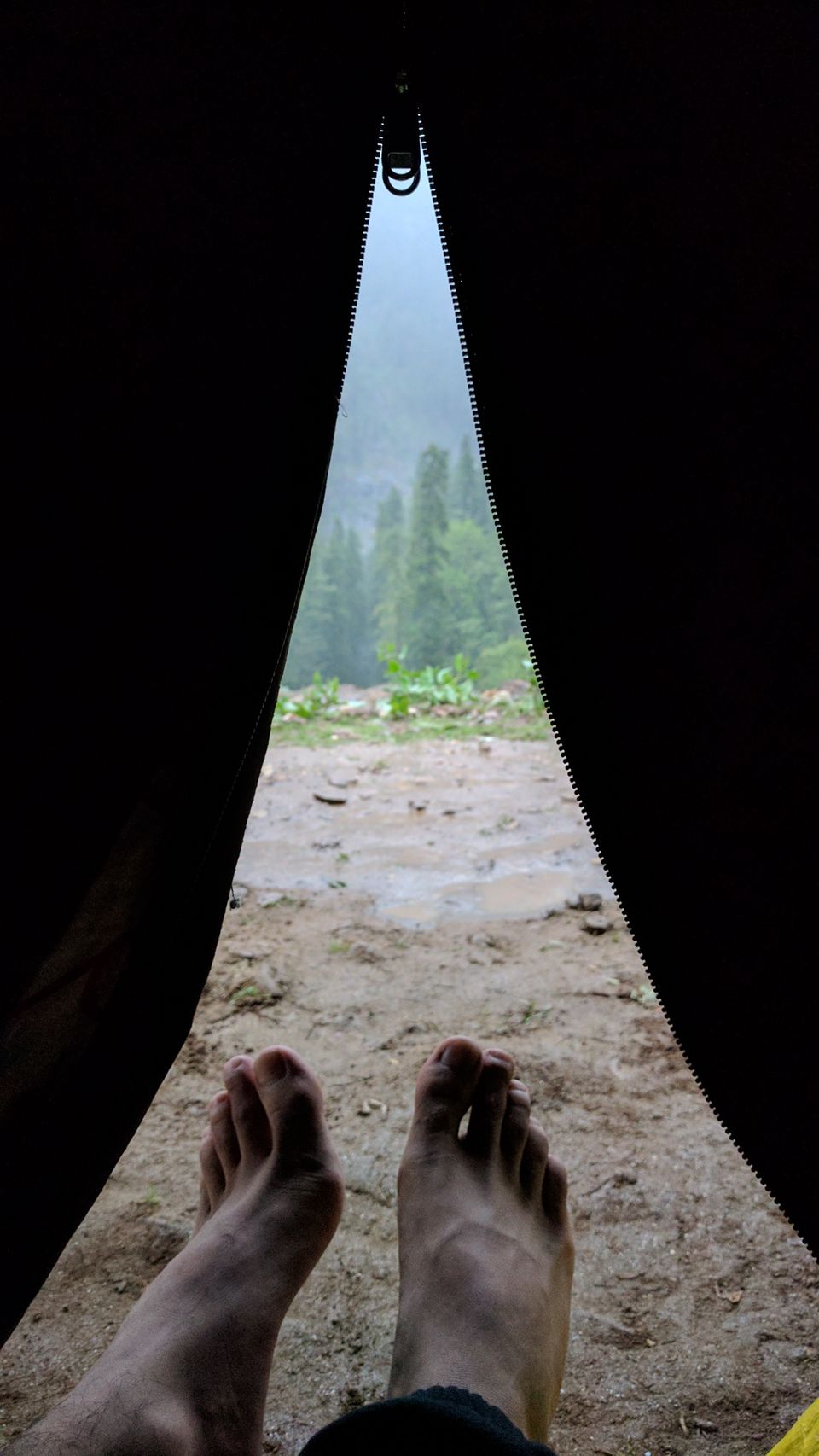 Kheerganga is a spiritual site where Lord Shiva is believed to have meditated for 3,000 years. There is a little pool on the highest point here with warm spring water. The water from the hot springs is believed to be "holy" with healing properties.
The tiny pool of Kheerganga is what the village has been named after – which roughly translates to 'milky water of holy nature'. This pool is divided into two sub pools with one section for men and the other for women.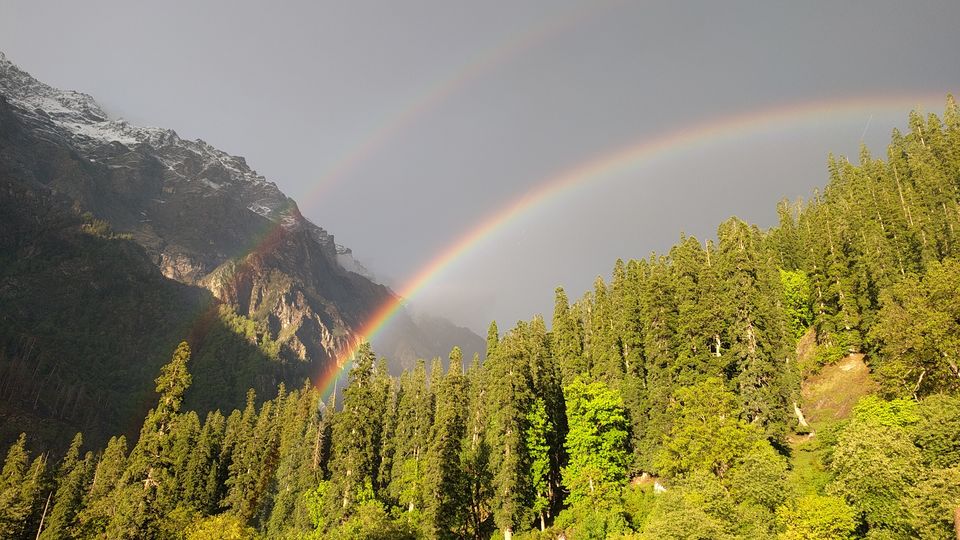 The Best Part
It was the twin rainbow which appeared after the heavy rains whose one end was touching the parvati river and other was ending at the himalayas.
As the day progressed and the sun started setting in the mountains it was the cold breeze which made made us shiver and the mercury dropped at less than 10 degrees but the bonfire on the ground and spectacular starry sky overhead kept us out of our tents.
Descent
Next morning, we went back to the pool for another dip – before starting our trek back to Barshaini . After a heavy omelette , it was time to say goodbye to Kheerganga. While the climb up took between 4-5 hours, the way back was only 3 and there was a sense of achievement after finishing this trek.