This post is all about a solo travel experience, heading to Kasol, better be said the Traveller's Paradise.
It was the month of November last year when after a lot thinking and planning, I realized that it's not worth it, so better just pack my bag and start travelling. Had fernweh for Kasol from a long time and no constraints from office as now a 5 day leave was in front of me which I really did not want to waste.
After a bit of research, got details of how to reach Kasol.
For reaching there, you need to book a bus to Bhunter, which is en route Manali, just an hour or two before that.
There is no direct route by train. You will have to book a train till UNA station and then take a bus to Kasol from there.
Started from Delhi in a volvo at 9 in the evening and reached Bhunter at around 9.30 a.m. The resfeber for my first solo trip was too high.
And yes, you will get to see the elegant Beas river if you are an early bird.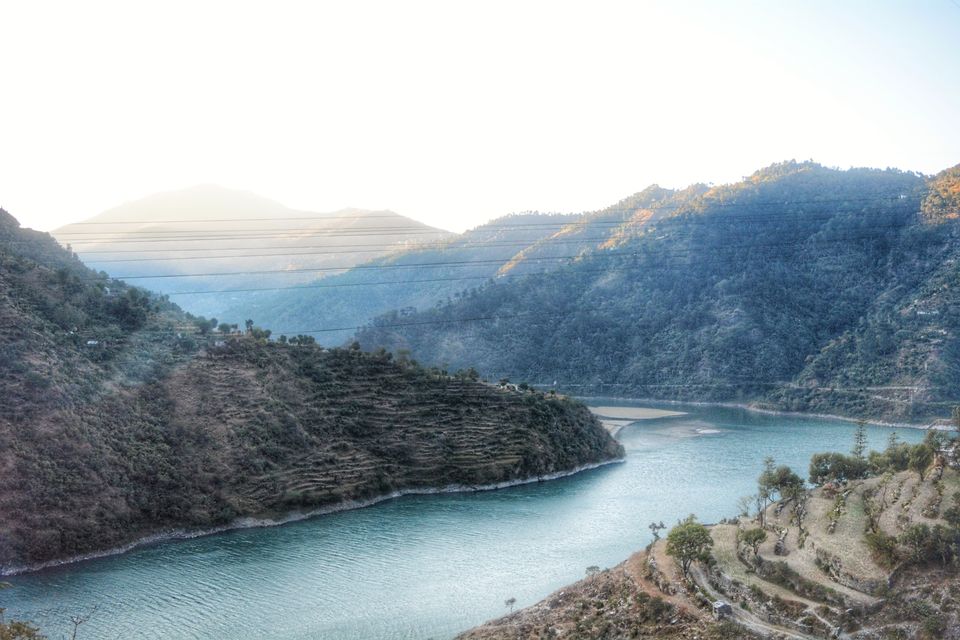 From Bhunter, you can opt from a number of local buses to Kasol with reasonable rates of 30-40 bucks.
Asked the driver to drop me at Kasol, I guess he was too busy in the local song that he was listening, result of which I was dropped at Manikaran, a place 2 kms away from Kasol.
Though I didn't think of going to Manikaran in the first place but did not have any option. So meandered around the place for an hour and traversed it in detail.
The place is known for gurudwara called Manikaran Sahib along the Parvati river with hot water spring inside the sanctum which is used for cooking rice for Langar. On the other side of the river lies the small town of Manikaran with a dharamshala and temples of Lord Shiva, Vishnu and other deities. There is also a small market for basic necessities and also an ATM.
Since Kasol was my priority, I took a bus from Manikaran and was dropped in the main market of Kasol, in front of a guest house. Got a room for 200 bucks!! I also could not believe at first but the room was a huge one which could easily fit 6-7 people in it, with double bed and extra blankets, with Parvati river roaring in the background, location was way better than a 5 star hotel in the cities. Since it was an off season therefore got the things at an unbelievable low price.
Far away from my daily office life in that forest of concrete to the life which seemed like a page from a poetry book was what I came here for and got better than expected.
Finding solace in this enticing place was all that I wanted, surrounded by the pine trees all over the place and a river curving through the forest.
Day 1: I decided to explore Kasol, as unlike my expectations, it was a small place which could be covered in half a day.
In the afternoon, it was sunny but was cold as there was snowfall in the mountains the previous night.
There are a lot of reasonable food joints alongside the Parvati river, with good food.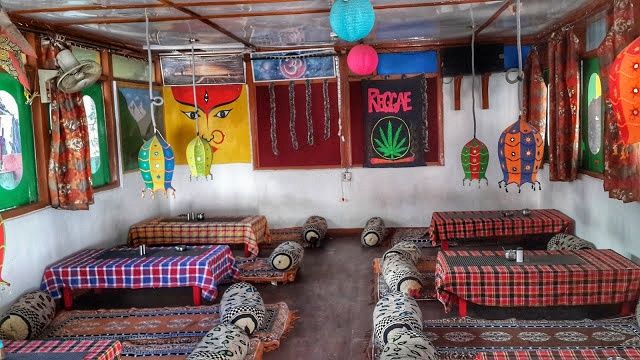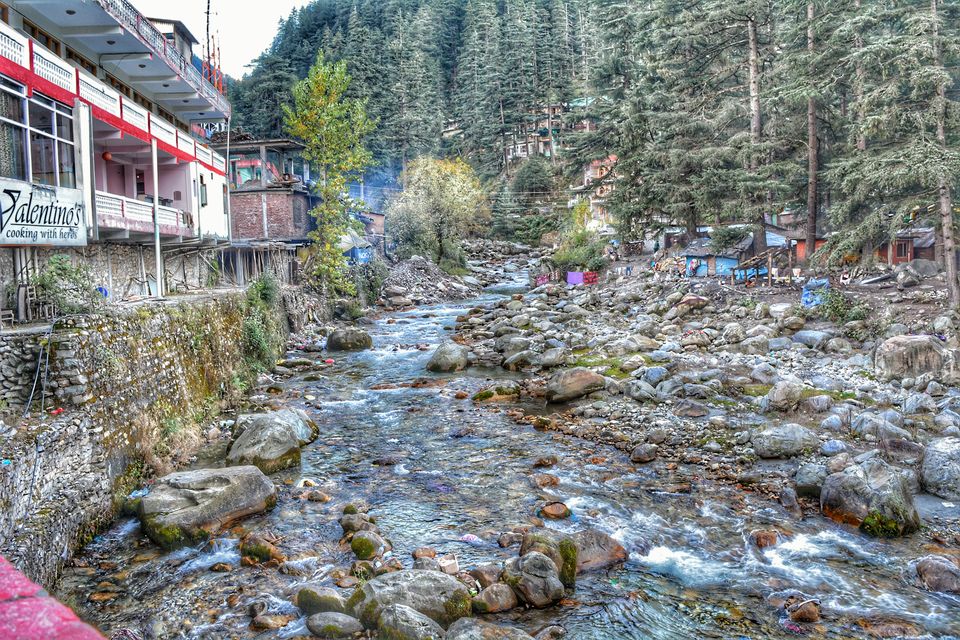 The next day I left for Barshaini at 8 in the morning which is a 2 hour drive from Kasol by bus. Barshaini is one of the two places from where the trek of Kheerganga starts, the other being Tosh from where you have to trek an additional 2 kms.
The fare of bus was Rs 25, which was reasonable. Reached Barshaini at 10 and after having some breakfast of chai and parathas, left for Kheerganga.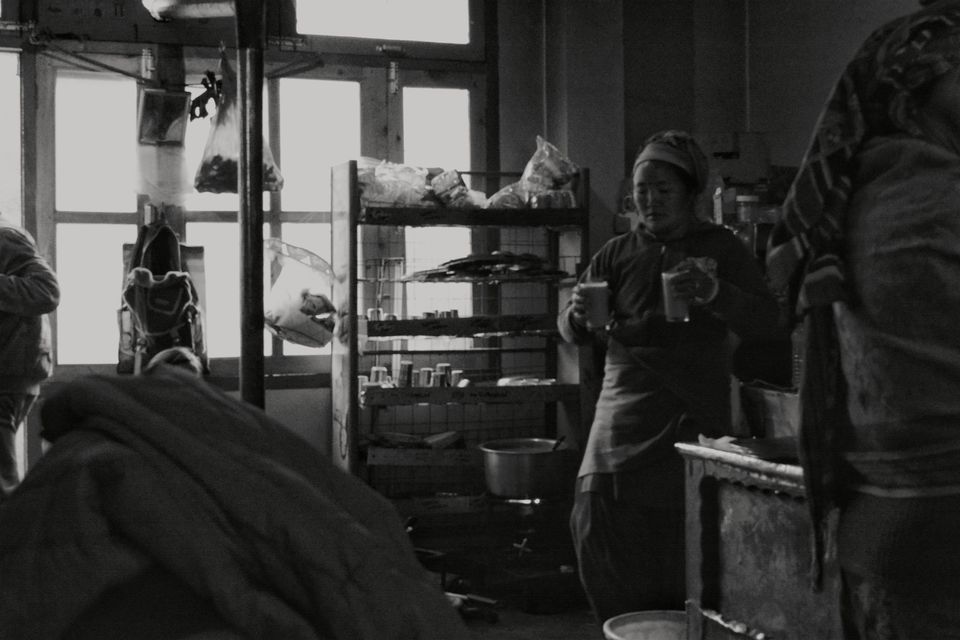 Kheerganga is a 10 kms trek from Barshaini which takes around 6-7 hours, if you are a beginner. However a 10 kms trek is a bit hard for a beginner but it can be completed if you have the will.
On the foothill was the river Parvati surrounded by snow capped mountains with the clearest and purest water which I have ever seen.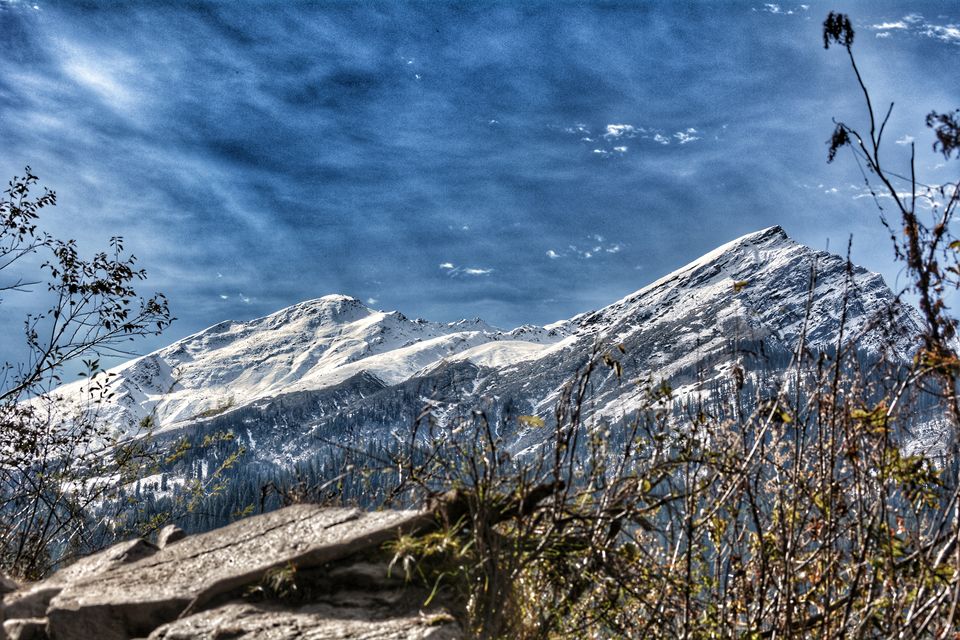 After trekking for almost 30 minutes, stopped at a shop to purchase some bottles of water and biscuits. Asked the shopkeeper how far was the peak and he replied that its 9 kms more.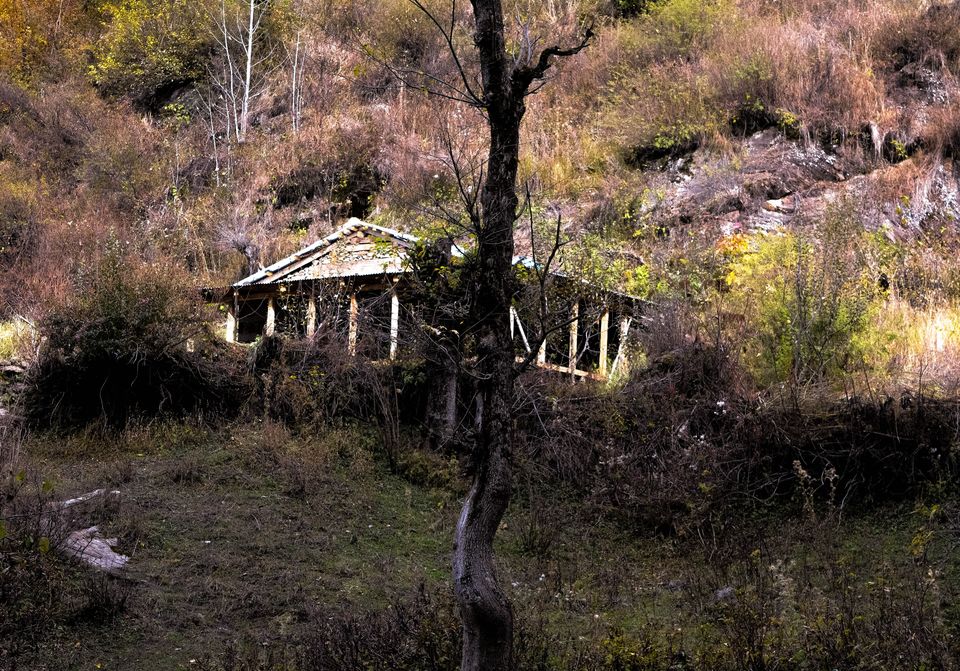 I was in shock at my speed as it was already too tiring due to the steepness of the slope. However, met a group on the way who were also going in the same direction. We were at the same food joint so conversations were bound to happen. It was not long when we were like best friends and travel buddies. We started trekking again and stopped at the 4 km point to have some food and juice. The fresh orange juice, after 3 hours of trekking seemed like it came from heaven itself!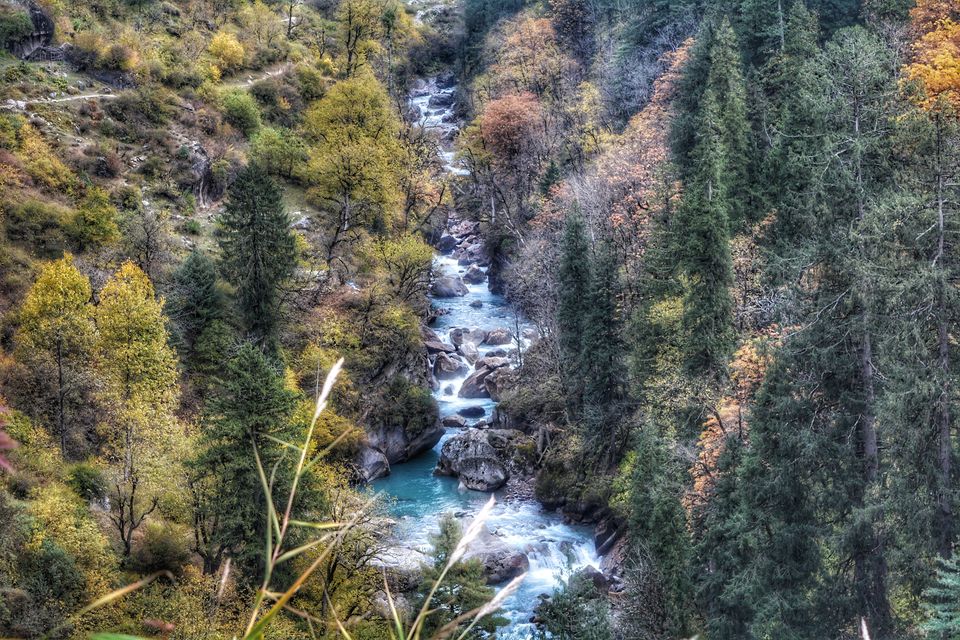 Considering the time we were taking to move uphill, we decided not to wait much and left early from the restaurant, and in the way found a couple returning from Kheerganga who gave a tip that the difficulty level starts from here as there was no definite path after the 5 km mark. It was a point where we can't even think of going back and continuing seemed to be not a good decision, but as this is with all the groups, there was this over enthusiastic soul who compelled us to finish what we started.
The 5 km mark happened to be a halting point, known as Rudra-nag, which had a waterfall and a small temple made up of rocks.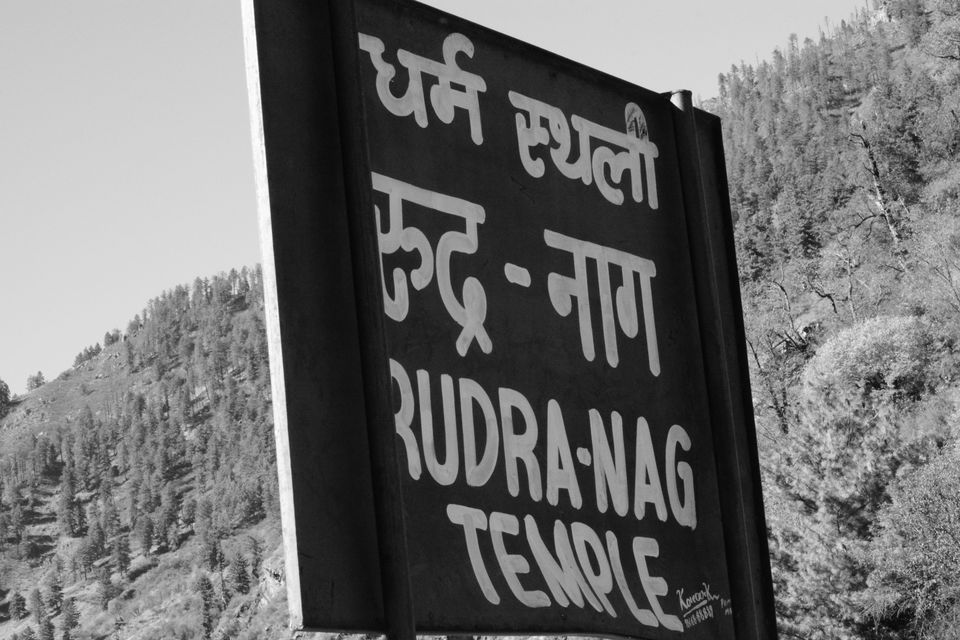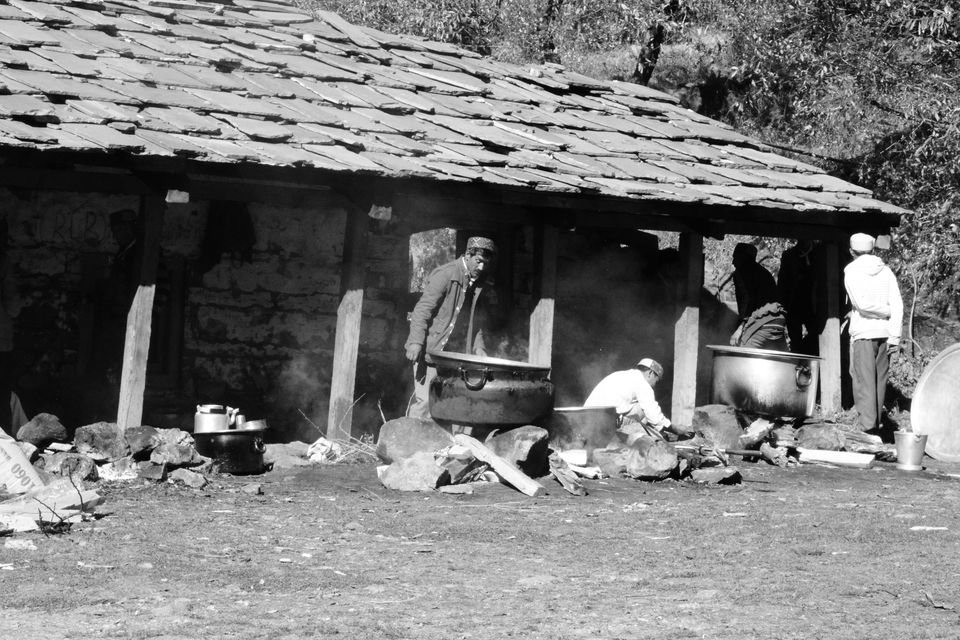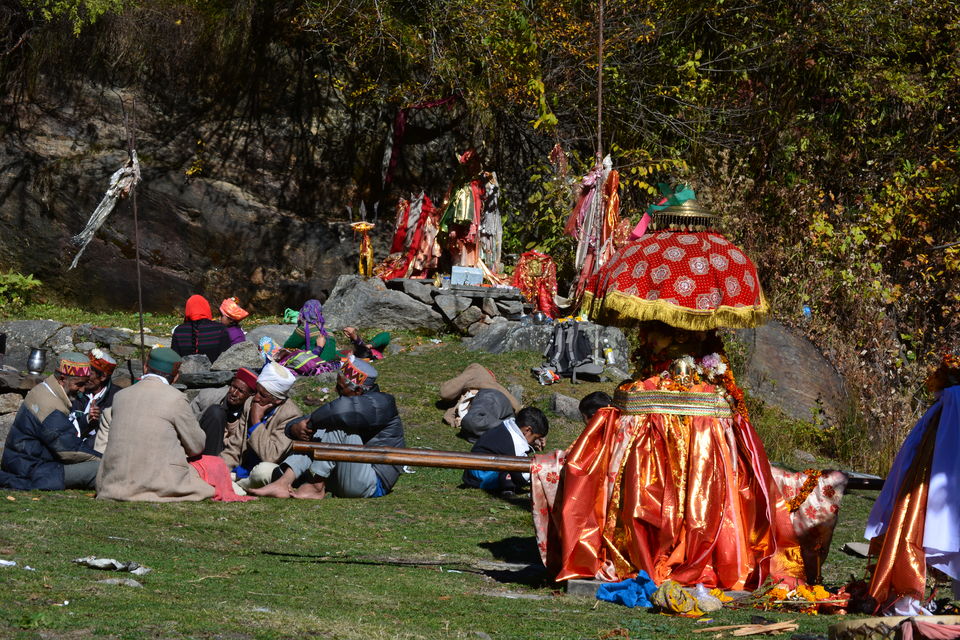 Just after the Rudra-nag temple, we had to cross a rocking wooden plank joining the next mountain just above the thunderous sound of the gushing water in Parvati river. For some people, it was a nightmare, and for some adventure lovers, a perfect spot for their profile pictures.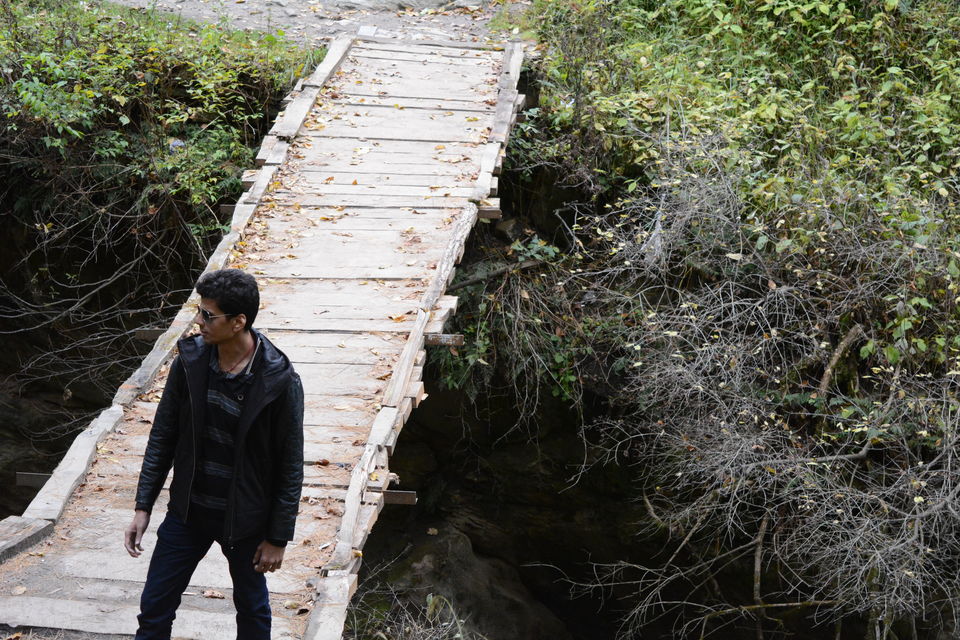 We continued walking on the path and now had to be too cautious for the next steps that we were about to take for 3 hours as the terrain was a bit tricky and steep.
One of the strange things that I noticed that aftter the Rudra Nag point, some dogs had started following us. After enquiry from one of the locals we came to know that they were there to help with the path and warn us in case any wild animal came into our way. After a trek of an hour, came across a maggi and chai point which we desperately needed, as the winds were getting stronger and mercury was dipping.
The food is expensive in the joints like this but considering the altitude at which they serve, makes it totally worth the price.
We completed the trek at 4.30 in the evening and were awestruck by the beauty of nature. It seemed I had come to a land of wonderful tranquility where you can feel your each and every heartbeat and realize that you are still alive.
It was too cold to even take your hands out of pockets and the hot water pool was perfect cure for this. One of the most soothing experiences for anybody, a hot water pool under a billion stars at 5000 feet. The pool is separate for men and women. We, along with some German students who had come on an exchange programme in one of the colleges were in the pool for almost 4 hours
Had dinner, played some games till late night and wished each other a good night's sleep after a hectic but beautiful day.
Leaving in the morning was a compulsion, but the hardest thing to do as nobody wanted to trek 10 kms downhill, leaving this beauty behind.
Reached Barshaini bus stop at 2 in the noon and left for Kasol, spent a night in the same guest house. When you travel solo, connecting to new people is a phenomenon which is unavoidable. In the local bus which I took to Bhunter, met a guy from Kathmandu who was living with the villagers in Challal, a small village near Kasol from the last one month, and what he got on his departure was a carton full of apples from the village as a farewell gesture.
With a heavy heart, took the bus to Delhi, only to return to the mundane life, but this time the monday blues were substituted by the memories which this place gave me in this short period of time. Hoping to visit this place again, I sign off...