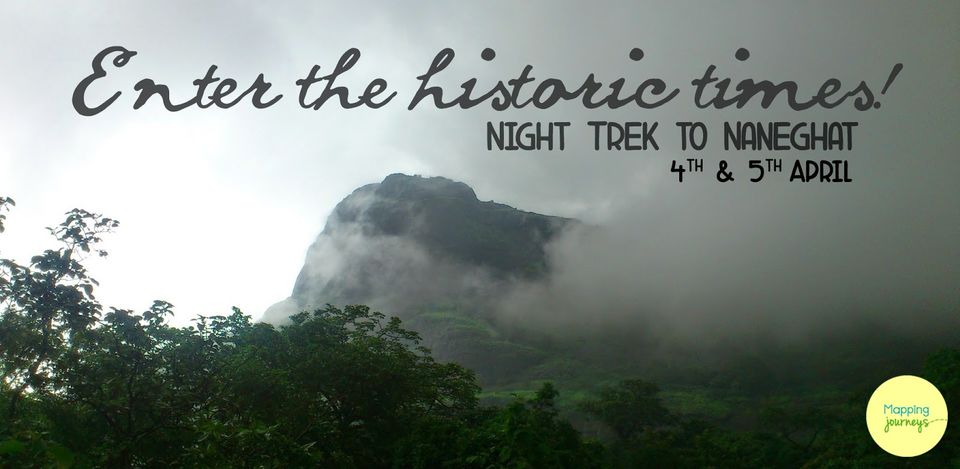 Height: 2750 feet
Base Village: Vaishakhare
Difficulty Level: Easy
Endurance Level: Medium
Region: Malshej
Date: 4th - 5th April
Naneghat is one the most well-known passes of its time. Literally, the name nane means "coin" and ghat means "pass". The name is given because this path was used as a tollbooth to collect toll from traders crossing the hills.
This sheer cliff is a well know landmark, very clearly visible from Konkan region as you pass on your way from
Kalyan
towards Malshej. The walls of this pass come out from the main range and hence command a magnificent view of the great bend in the Sahyadri. This is a pass, which once in history, enjoyed prime importance. The inscriptions, the steps, the rock-cut rest houses, and the cisterns all point out the historic fact that this route was frequently used as far back as the 1st century B.C. The Naneghat area and the caves are now very popular due to an easy access from Malshej ghat road. 
Day 1

09.30pm: Kalyan ST Depot (Meeting Point)
09.40pm: Proceed towards Naneghat 
11:30pm
: Reach Naneghat entrance
11.45pm: Introduction and start trek Via Vaishakhare route!
Day 2
03.00am: Reach at the Naneghat Caves and rest till morning.
06:30am
: Wake up for an amazing sunrise by the Ghat! 
07.00am: Explore the top
09:30am
: Start descending 
02.00 hrs: Kalyan ST depot
Note:
In case you want to opt for sleeping bags, they are available on rent subject to availability.
1 Sleeping Bag: Rs. 250/-

Cost: Rs. 500/- per person

Minimum Participation: 10 people

Inclusions:
Transport from Kalyan to Kalyan
Breakfast in the morning
Professional expertise

Exclusions:
Travel till Kalyan station
Meals during travel
Personal expenses
Insurance of any kind
Medical hospitalization, evacuation and related expenses
Any item not covered under "inclusions"