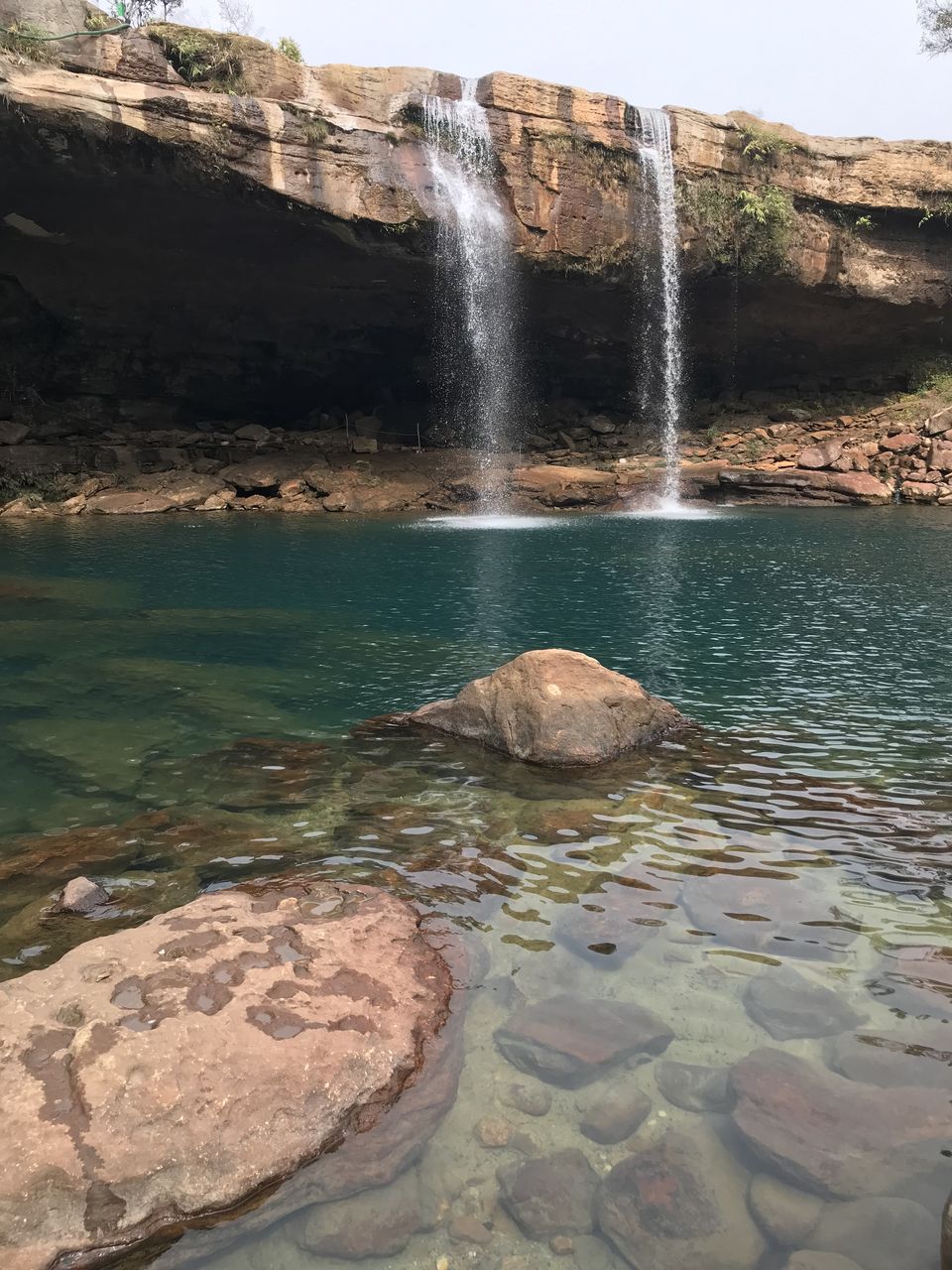 "The journey not the arrival matters" that was the thought we had in mind when we started our one day road trip to Krang Shuri. Taking in mind our budget and time constraint, we checked Ahija for a cheap but powerful ride that can keep up with the uphill climb. After checking the website we picked our ride which was Ntorq. After picking up our rides from their we left Guwahati at around 5.30 in the morning. From the beginning we were sure that we can't complete the journey in one go, so we have to take short brakes in order to give our bikes and ourselves a little rest.
Not after very long we took our very first brake, it is a dhabha situated in the outskirts of Guwahati which serves delicious rajasthani food. We spent almost half an hour there, each one of us taking our own time in eating breakfast and clicking photos.
Our next stop was almost after 80 kms, it is a beautiful lake situated outside the city of Shillong named Umiam lake. It wasn't a very long stop as we stayed there for only 15 minutes in order to fill the tank of our bikes and empty our own.
After that we were on the road again, in the entire journey there won't be a single minute where you won't find the road beautiful and tempting, filled with lush greenery and small villages that are built so well that even they are worth watching. After riding for another 60 kms we took our next stop which was at place which is famous for hosting NH7 Weekender in Meghalaya. There we went to a resort named Highwinds, where we washed of the dirt from our faces and had our lunch.
Next up was our final destination, but before that was a beautiful town named Jowai. Our destination was 28 kms away from that place, but the hard part starts from there. There was a patch of around 7 kms from Jowai to Krang Shuri, just from reading it might look like a small distance but that road was not meant for someone who i driving a car or a bike for the first time in the mountains. In our case we were all safe, as scooters like Ntorq don't take much of experience you just need to be a bit careful on the turns and make sure you use horn, but as I have stated earlier not even that road was boring even it had its own beauty. After crossing that and finally after travelling for almost 190 kms we reached Krang Shuri. Right after getting off our scooters came a photo session as there was a rock placed between three standing rocks which was looking like a throne and a perfect place for a perfect picture. But the struggle doesn't end there as after that comes STAIRS. Not many but yeah for those who hate them, YES! they are there. But our struggle finally got paid off when we reached the waterfall. That place is just difficult to define in words. Right after you will reach down from the stairs you'll find big boulders which will make a perfect spot for those who don't like to swim. Right in front of those boulders is a big blue lake filled with crystal clear blue water, water so clear that one can clearly see the rocks inside the lake. Next comes the part where I'll give you a free tip, If you ever visit Krang Shuri you should swim in that water or else your entire trip is a waste. They charge 30 Rs. per person and will provide you with a life jacket and a guy from their team will always be there till there are people inside the lake. While swimming in the lake just try and go near the spot where the water is falling from above and just float there facing the sky and looking at the water falling from above, at that point of time you will forget everything and will feel like you are the richest person on this planet.
After taking a nice swim in that water we finally set back for our way back to our place, Guwahati. Though it was tiring but it was worth every minute we spent on the road reaching that place after all the best view comes after the hardest climb.
TOTAL EXPENDITURE- Rs. 6,000.
SIX PEOPLE- 1,000 PER HEAD.
INCLUDES BIKE RENT, PETROL, FOOD AND OTHER EXPENDITURES.
Frequent searches leading to this page:-
Guwahati-Shillong-Kaziranga with Cherrapunjee, Kaziranga Wildlife Tour Packages, Kaziranga and Meghalaya Trip in One week, Guwahati-Kaziranga-Shillong Itinerary