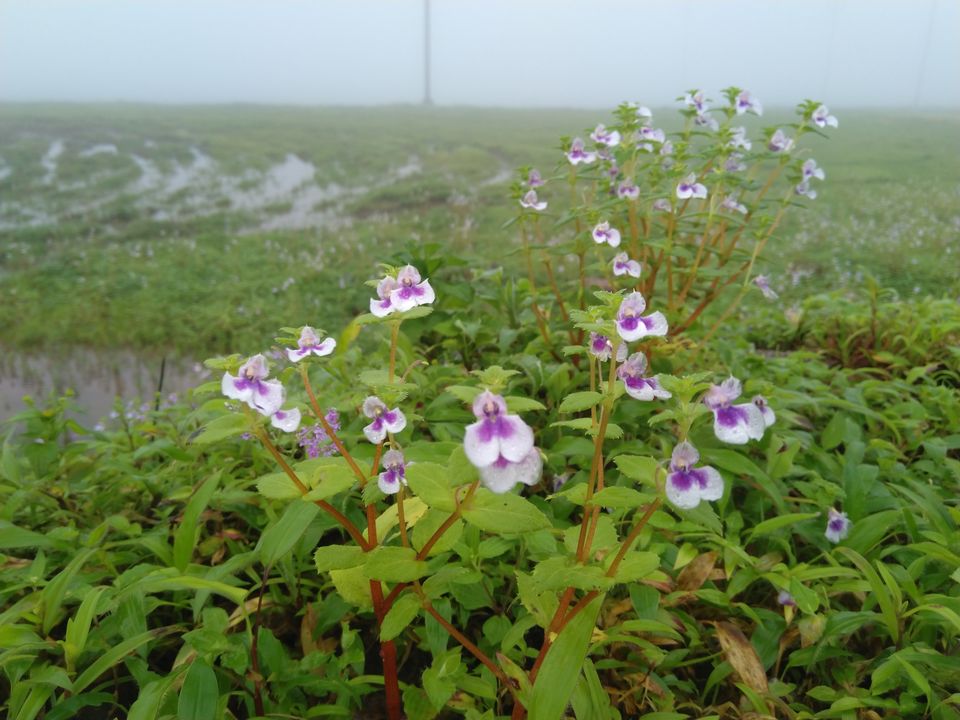 Best visiting time: Late September and early October.
Arrive in the beautiful city surrounded by 7 hills(hence SATara) in the early morning from wherever you are starting (Mumbai/Pune)
Begin your journey first with
1. Thoseghar Waterfalls
Enter the title in your Google maps or just start asking anyone in the city for directions... (28Kms from NH4)
Spoiler alert, you'll reach a small tunnel at the end of the city in the mountains after crossing which, thou shall enter the paradise...
Enjoy the scenery while heading towards Sajjangadh fort( you can exchange these two places for order of visit) and continue towards Thoseghar waterfall.
Get stunned by the breathtaking view of the valley.
2. Chalakewadi Windfarms:
Head further from thoseghar Waterfalls to see the first big windfarm of our country which is by the way is also surrounded by beautiful flower plateaus little different than kaas, but equally beautiful. This area is not very crowded by people and you can let yourself run wild in these fields below huge windmills( like they show in Bollywood movies shot in Europe).
Here you can spot small basket shaped flowers bushes locally known as 'Topali Karavi' which blooms once in 3-4 years at a place. You can Head further in to clouds but remember the road back because chances are you won't get any mobile network out there.
3. Sajjangadh Fort: Resting place of Swami Samarth Ramdas
Head back towards the Satara city and on the way you will find a sign board to head towards the Sajjangadh fort. park your vehicles at the entrance and start climbing on to serene stairs towards samadhi. you can get a nice afternoon meal and very famous dish with the locals 'Lapashi' (for free) near the temple.
4. Kaas Plateau
Start towards the Satara city and after crossing the small tunnel take immediate left and head towards Kaas plateau. (25KM) Please book your visit through official govt. site (details shared below)
You can have lunch on the way towards Kaas (amazing treat options for non- vegetarians)
AT the entry point of Kaas plateau you will have to show your booking info or else you can buy tickets (very unlikely on holidays) then park your vehicles at the parking space allocated and board the buses towards the plateau site.
photographers go wild and selfie clickers, avoid stomping onto the flowers or else you will be charged fine for any destruction you cause.
Walking trails are prepared to roam around the plateau.
Enjoy the scenery and do not litter.
Take back amazing memories.
https://www.kas.ind.in/booking.php
The entry Fee charge is Rs. 100/- No entry fees Children below age 12yr. No entry fees for Senior citizen ( age above 65 yrs ) please carry your age proof ID. Note:Only 3000 visitors per day will be allowed to visit. Parking Free. ST Bus Service available from Parking place to Kas plateau and from plateau to Parking place @ Rs.10/- per person from parking & Rs.10/- per person from plateau. Guide Charges Rs 100/-. Free Entry for working soldiers and Ex-soldiers with spouse.
Online booking is compulsory on Saturday, Sunday and Public Holidays.
5. Kaas Lake:
Only two kilometers ahead of plateau is the kaas lake which is slightly shaped like India's map naturally(as the locals say)
ask the locals for fish and enjoy the corn and tea.
Head back towards the Satara city, buy yourself a box of Kandi pedha as souvenir.
6. Other attractions:
a. Ekiv Waterfall
b. Vajarai Waterfall
c. Ghatai Devi Temple
d. Navra-Navri Hills