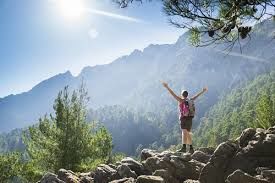 The best part of any vacation is its backpacking phase,specially when it is a DIY vacation.Wrenched over the same tidious mundane affairs of work life,the weary soul seeks an escape to some unknown abode,just then the perfect facebook post pops up on your screen and you seemed to have made a virtual tour already.
Bingo!Your adrenaline rushes to its peek,you browse through random travel websites,your soul gets more hungry for picking up the perfect place,you calculate,you plan,you spend hours in finding that 'perfect destination' that will sweep your feet off and reincarnate the traveller in you.
Yes...lets talk about this wonderful yet uncertain backpacking phase in a DIY vacation.The first thing that ponders over a travellers mind is the destination.Well for some opting for a road-trip,you might just set into an uncertain destination to some unknown sojourn and let your trip be booming with fresh new twists.But for others seeking for a preplanned trip,deciding over a destination is tough,as there might be a whole lot of places in your wishlist and choosing one among them may seem apparently arduos.Though I face a similar conundrum,but 5 suggestions from a novice traveller like me:
1.Choose a place which suites your mood at that very moment.
2.Choose wisely over the expenses covered.
3.Decide on the number of days available for you to take a vacation,and choose a place that can be covered best in that while
4.Do a vivid research on the safety,conveyance,localites
5.If none of the above theoritical points work out for you,just close your eyes and drill down within yourself to prioritize your wishlist and deduce your favourite spot
Once a place is decided half a work is done,you feel relieved,but then begins the second half of your planning;hotel,food,transport,cost. You may check some hotel/flight/train booking websites but if cost cutting is one of your agenda then do some coupon hunting and lock your chosen hotel at the cheapest price possible.Some of these websites do provide huge promotional discounts but to bring out the best of that you need to do a bit of comparisons and researches,but once you crack the correct code you are sure to get the best deal.Sometimes booking your entire travel package can save you some more bucks.
When you are here,you have already ticked off place,hotel,food,transport in your to-do list.Just then your eyes fall on the last item of your to-do list: COST CUTTING.If its a DIY backpacking trip then cost cutting is an important criteria which if pre-planned can save some serious bucks.Cost cutting certainly doesnot mean you cutting down your luxuries but choosing your luxuries in a pocket-friendly way,some tips which might be useful here:
1.Lock your hotel in the best deal using coupon codes available throughtout the internet.
2.Pay online through mobile wallets which provide some good cashbacks these days.
3.If travelling solo or in small groups try to avail shared modes of transport to avoid giving away huge sum.
4.Make a cost chart from beforehand,to have a idea where you are putting your money.
5.Having saved much all these while,enjoy the last day of your tour by gifting yourself a lumpsum brunch.
Have a wonderful trip...and do drop in comments if you have some more backpacking ideas/experiences.