On 15th Sept. 2021, Wednesday morning at 9.40 we started from Kanyakumari to Rameshwaram. Kanyakumari to Rameshwaram distance is 310 Km. On the way we had coffee, samose then at 2.30 PM lunch and reached at 4 PM to Annai Indira Gandhi Road Bridge to see famous Pamban bridge. We stopped on the bridge for a while, took photographs. It was a marvelous scene - road bridge and rail bridge parallel to each other. Pamban bridge is a great example of engineering. Also sea site is very beautiful... lovely place. View from bridge is awesome. One can't avoid taking pictures of lovely bridge and sea.
Pamban bridge is India's first sea bridge and also longest till 2010, opened on 24 feb 1914. Until 1988, the Pamban bridge was the only surface transport that connected Tamil Nadu's island of Rameswaram to the mainland. In 1988, a road bridge was also constructed parallel to the rail bridge. This road bridge is known as Annai Indira Gandhi Road Bridge.
Then we searched for lodging and found that in Rameshwar there are so many Matths and ashrams, where you can stay for a nominal charges and we found Shri Krishna Pranami Mangal Mandir which is just 1 km away from Rameshwar bus stand. Stay is not lavish but neat and clean. After putting our luggage and taking bath we went to Ramnathswami temple.
The Rameshwar temple is located on Pamban Island ( Rameswaram Island), an island located between peninsular India and Sri Lanka, on the Adam's Bridge Ram Setu). The Rameswaram temple has the longest corridor among all Hindu temples in India and World famous third corridor having 1212 pillars. The presiding deity, the Lingam of Ramanathswamy (Shiva), was established and worshiped by Rama before crossing his bridge to Lanka to rescue the Goddess Sita. The temple is one of the holiest Hindu Char Dham (four divine sites) sites comprising Badrinath ( north) Puri (east), Dwarka (west) and Rameshwaram (south) and also one of the auspicious and holy 12 Jyotirlingas. There are sixty-four Tīrthas (holy water bodies) in and around the island. Bathing in these Tīrthas is a major aspect of the pilgrimage to Rameswaram and is considered equivalent to penance. Twenty-two of the Tīrthas are within the Ramnathswami Temple. But now a days due to pandemic 22 tirth bathing is not allowed but you can take a dip in Agnitirtham. We took darshan of Ramanathaswamy (Shiva) and Parvatavardini (Mata Parvati). There are many shrines inside the temple. Mobile phones and cameras strictly not allowed inside the temple. Mobile lockers are available outside the temple, charges are Rs 10/- per mobile. On the way coming back to our stay we had famous Jigar Thada, an ice-cream scoop with basundi.. was so yummy. My daughter liked very much and asked for another one and skipped dinner at night.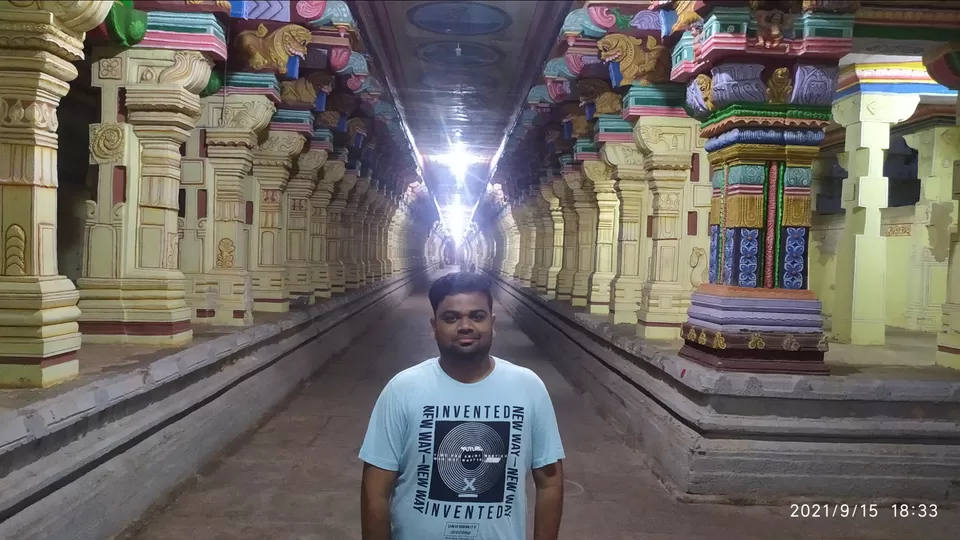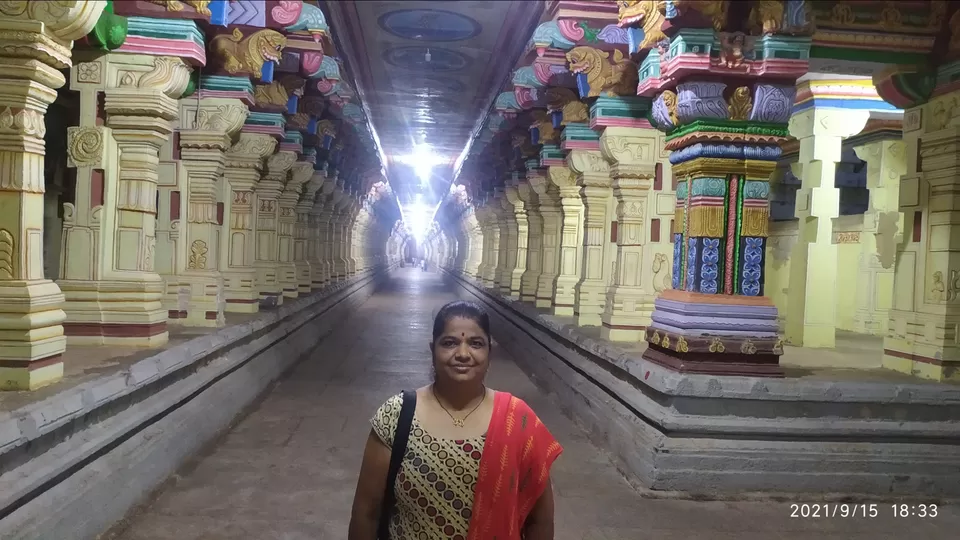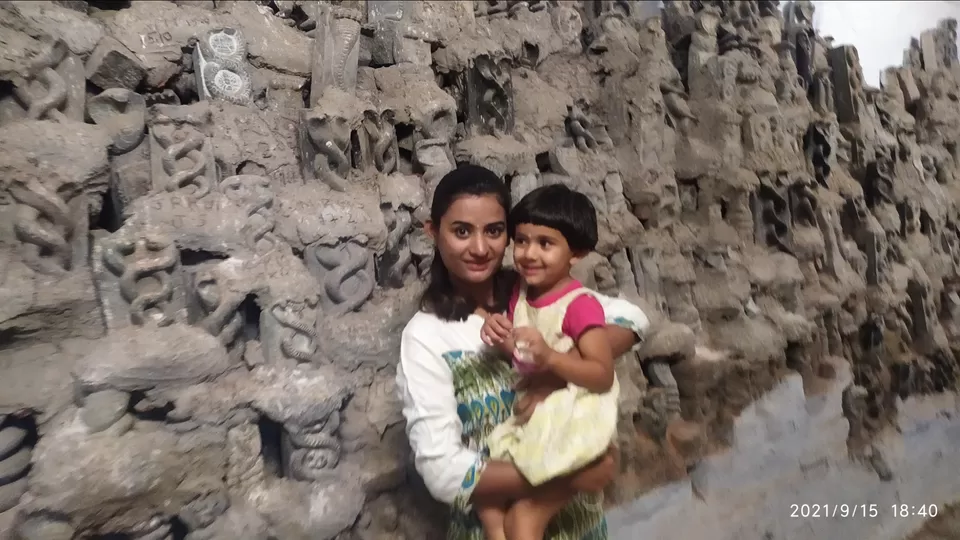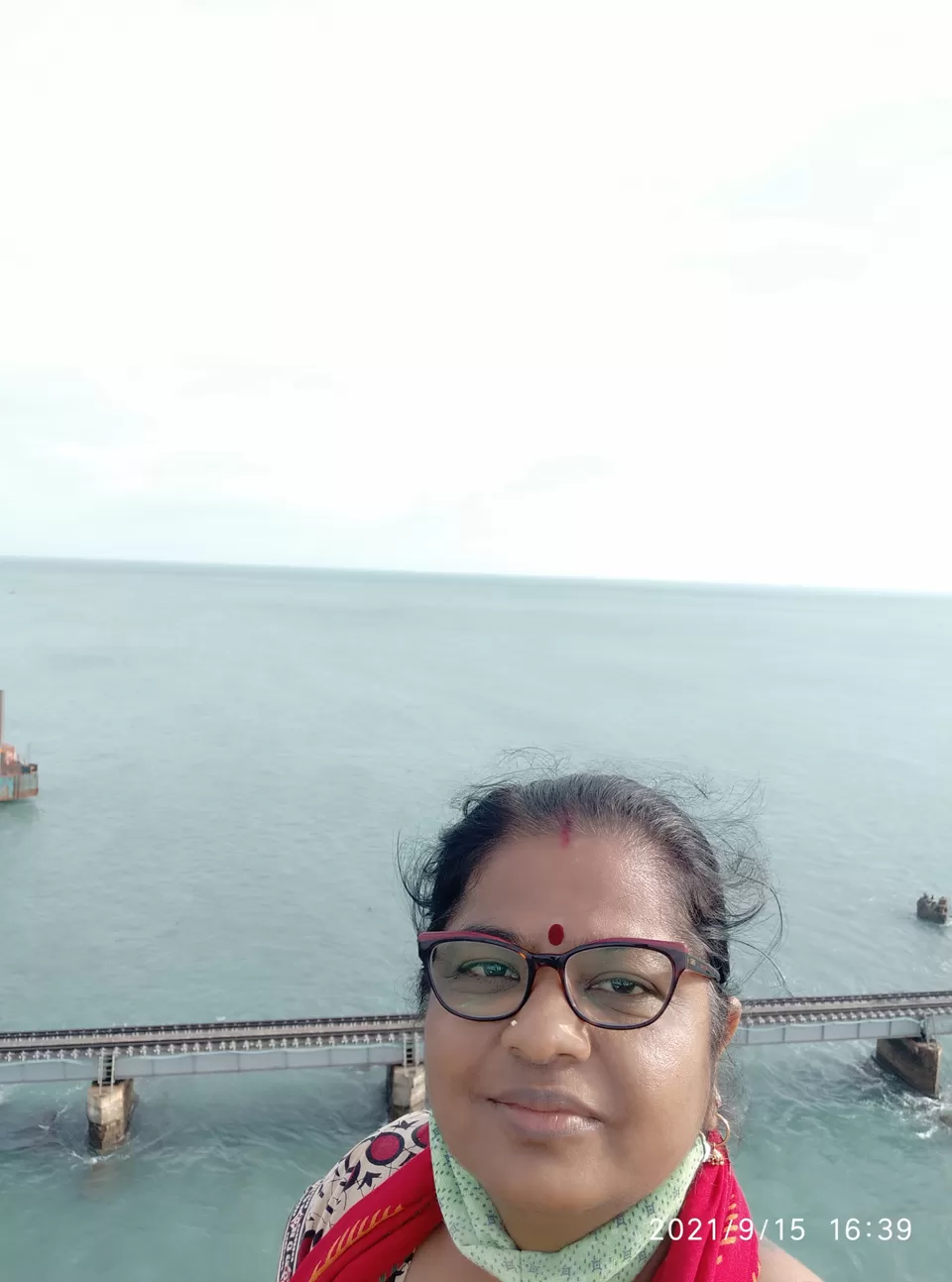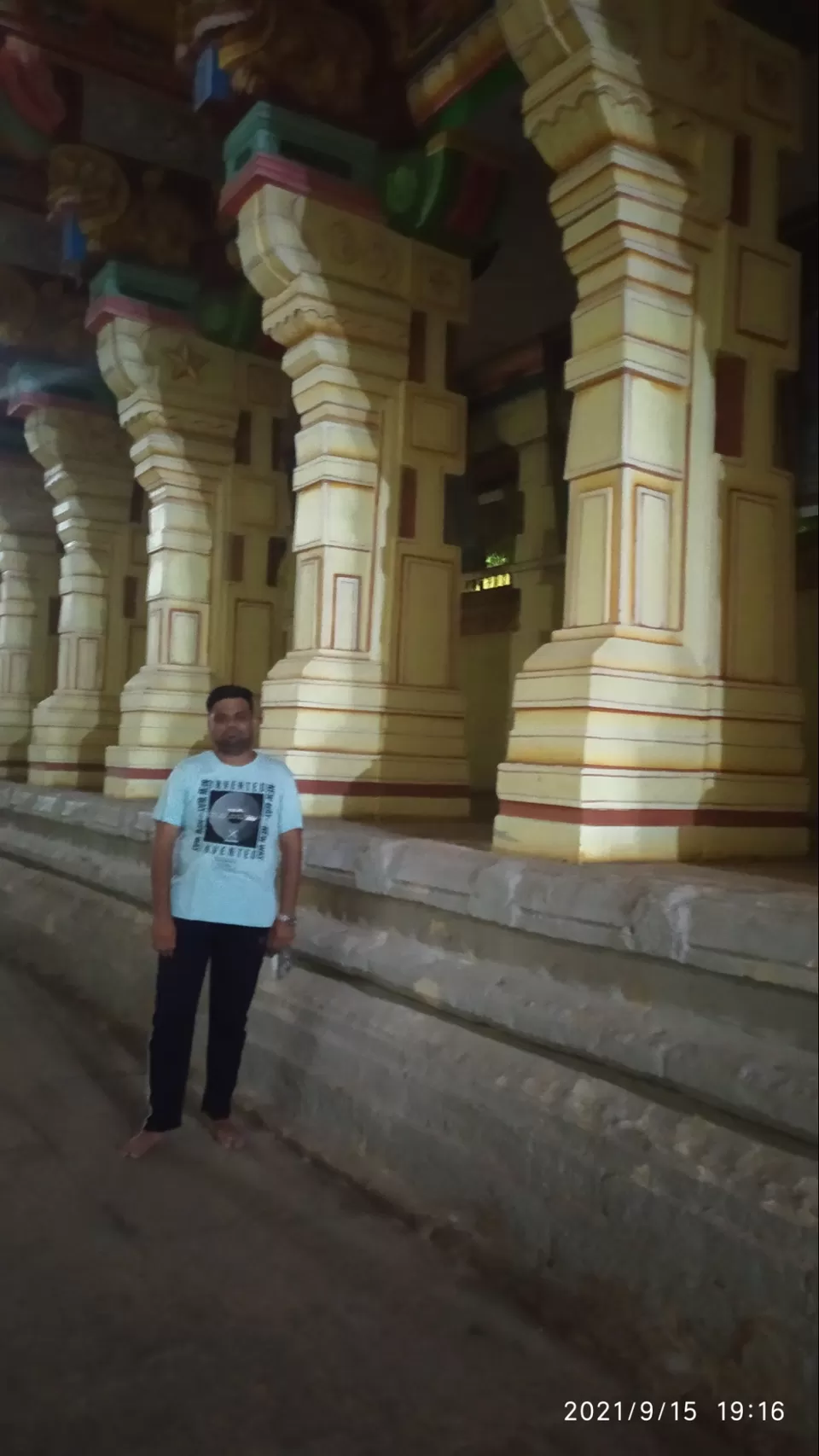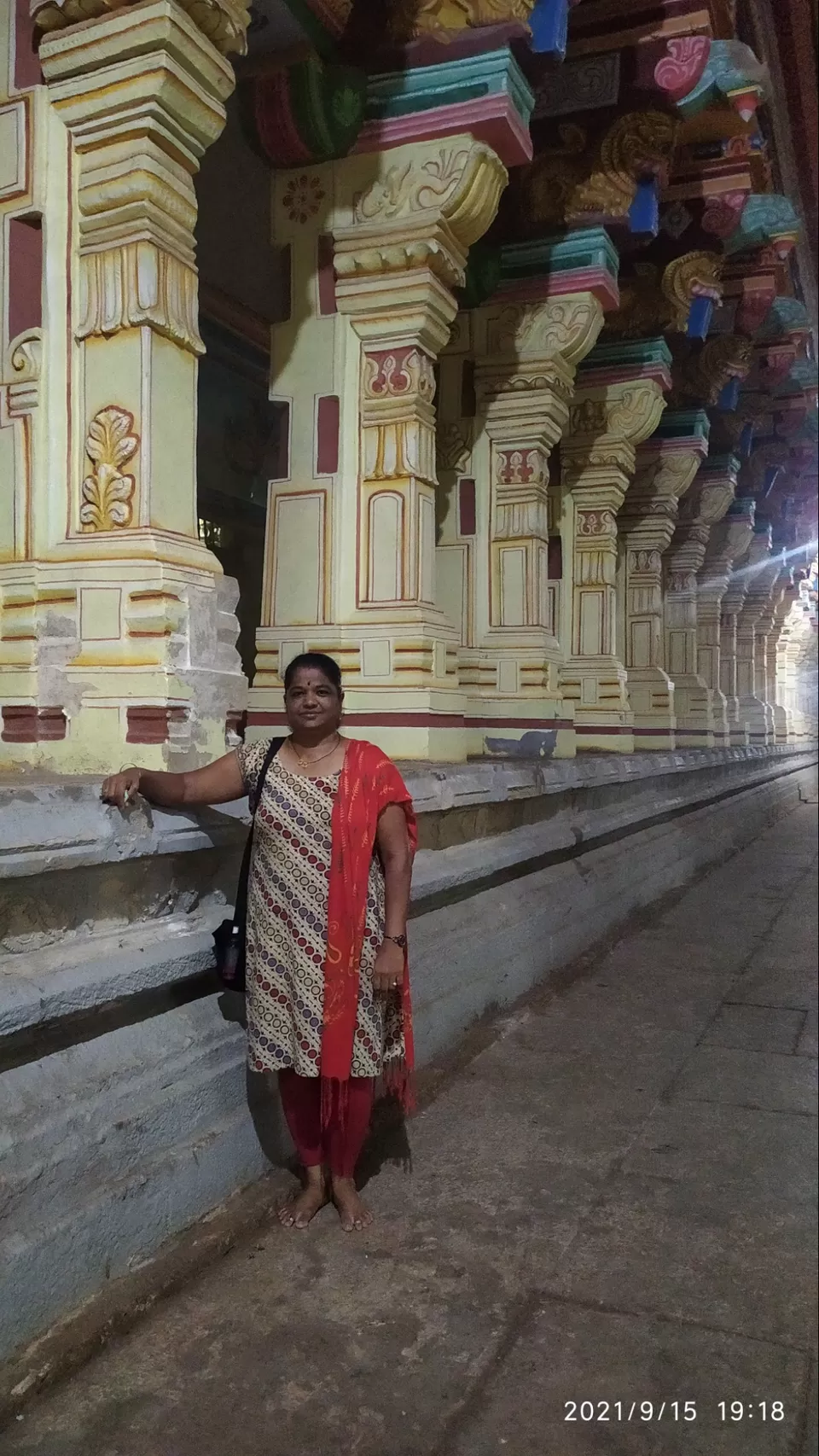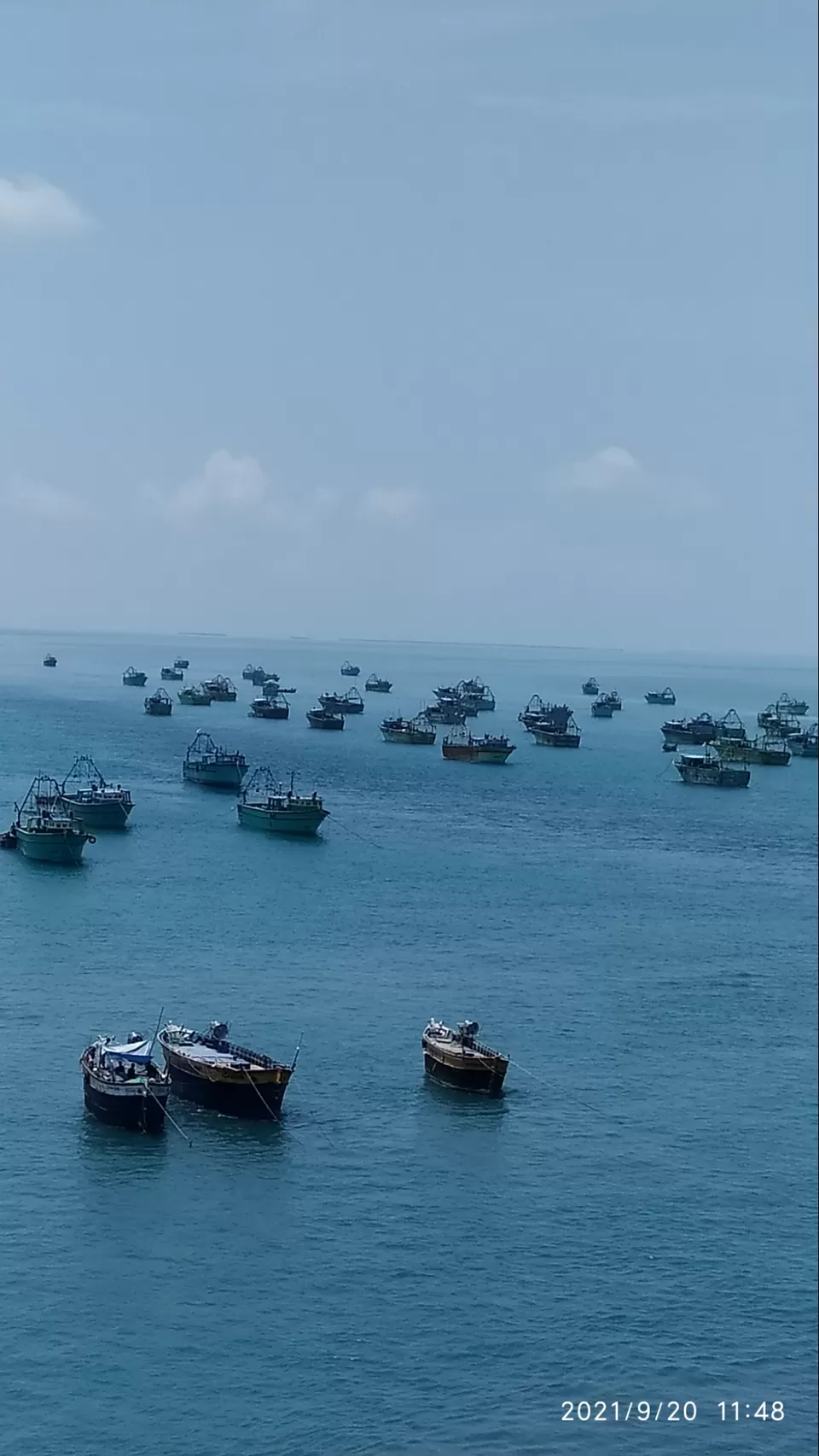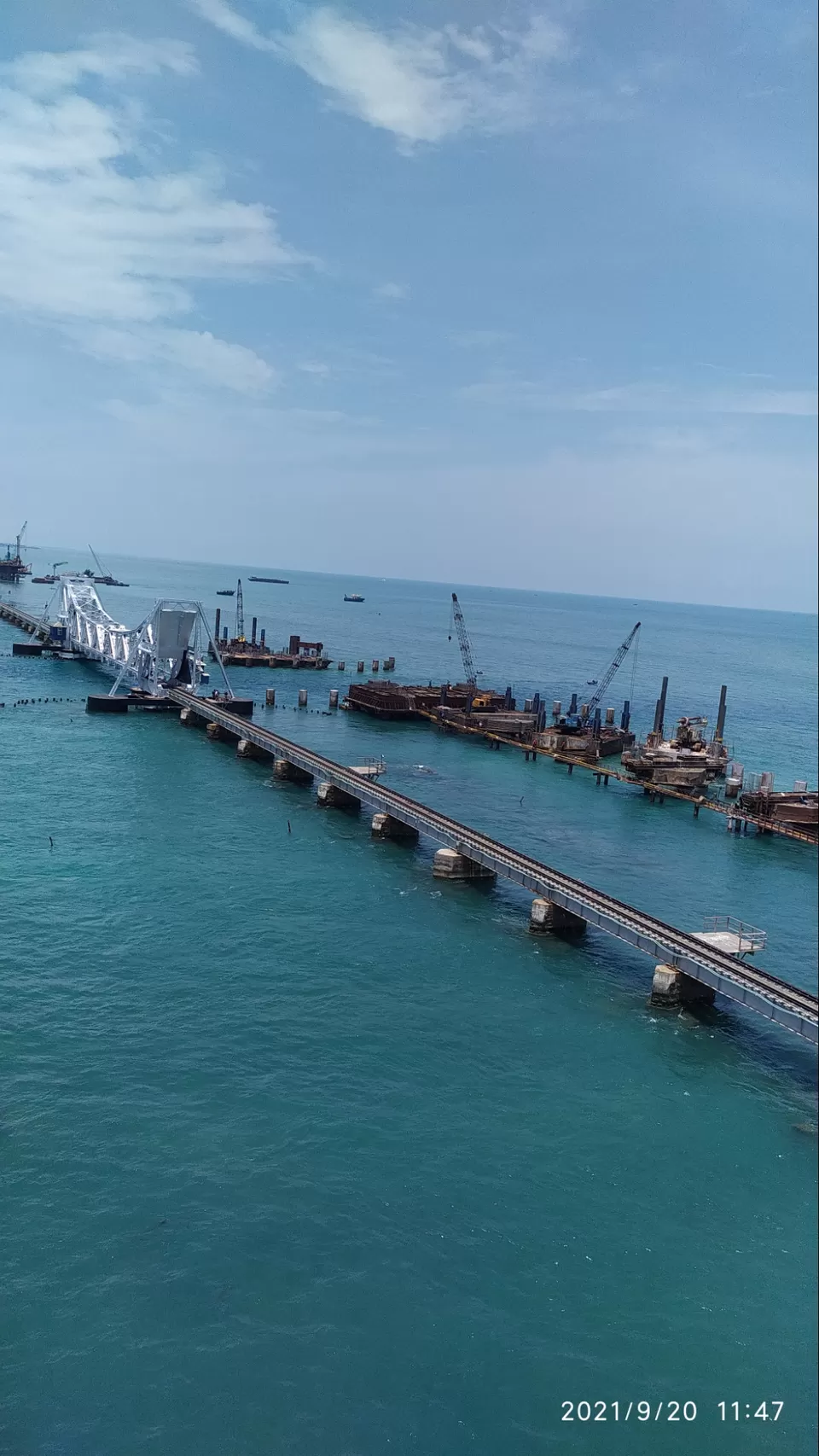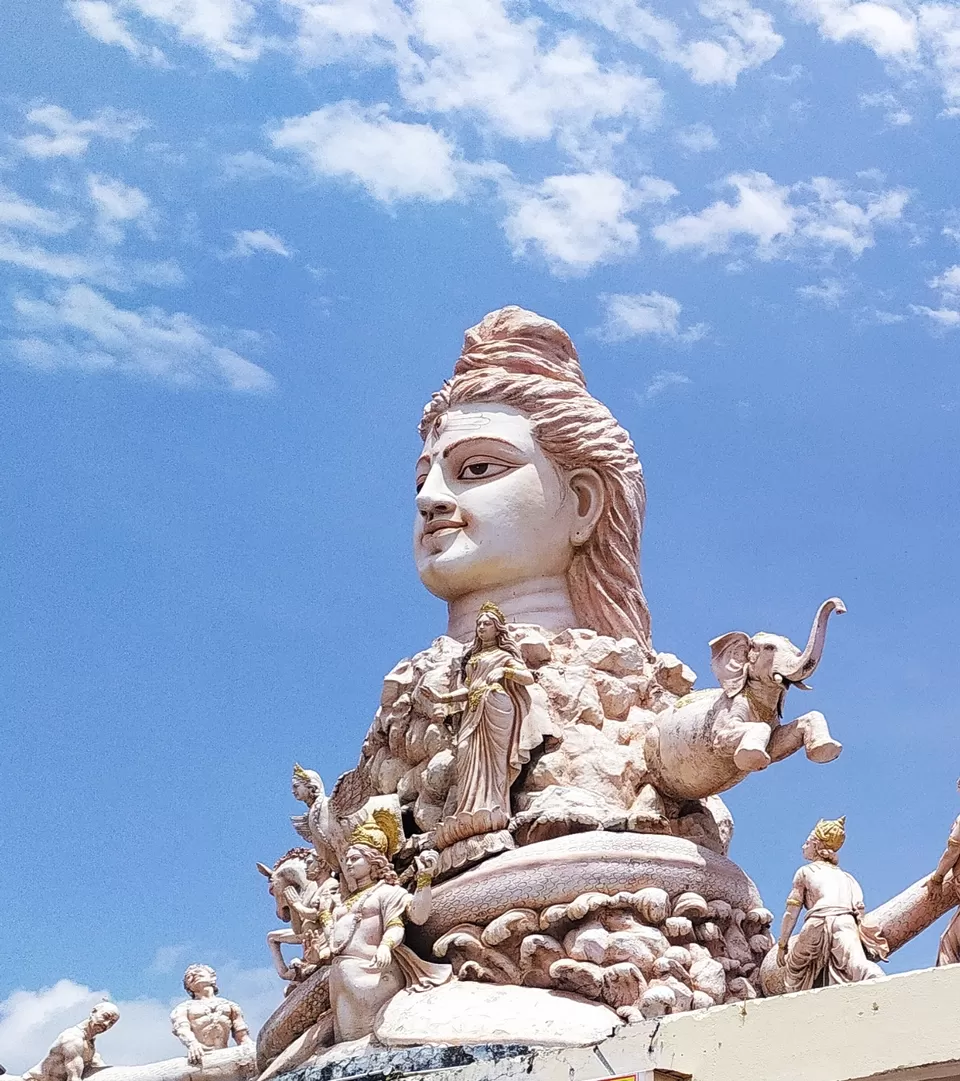 On 16/09/2021, in the morning we went to Dhanushkodi which is 20 km from Rameshwar bus stand. It took 30-40 minutes to reach us at Dhanushkodi. Dhanushkodi is on the tip of Pamban island, separated from the mainland by the Palk Strait. An estimated 1,800 people died in the cyclonic storm on 22 December 1964 including 115 passengers on board the Pamban - Dhanushkodi passenger train. The entire town was marooned and Govt. declared Dhanushkodi as a ghost town, unfit for living. Dhanushkodi is very small village. We saw people there are very poor, they don't have basic facilities to survive at all. There are few stalls of items like garlands, moti, door torans etc and eatables (only fish varieties).
Tourists can visit by their own vehicle and end up with Pillar of Ashoka. But it is super wow Scene, blue sea on both the sides of the road. An unforgettable place. Dhanushkodi is such a place, which is the end of India, the last road of India. ... Dhanushkodi is the only terrestrial border between India and Sri Lanka that exists on sand dunes in the Palk Strait. While returning we had lunch at Mr.Fish which is @ 5 Km away. The place is a just a hut but food was very tasty. Rice plate with a fried fish at Rs 100/-. Prawn fry plate & squid fry plate at Rs.90/-. Also we can select fish and ask them to fry. Main thing is that, the cook over there can speak in english otherwise in Tamilnadu it is very difficult to converse with the people. They don't understand hindi and very few know english.
If you come to Rameshwaram you must visit Dhanushkodi to experience road which has bluish sea on both sides.
In the evening we went to beach park where story of Ramayana is depicted in form of paintings across the inside walls. It is a calm place to have morning or evening walk. But it must be maintained much better than it is. But overall it is a good place to spend time with family and friends with kids.
After beach park we went to Agnitirtham which is a holy place to take a dip, but we only washed our hands and dipped our feet. But beach at Agnitirtham has been polluted so much. No cleanliness at all. People doesn't have any responsibility. Restaurants and food stalls are not upto the mark. Then took darshan of Sri Ujjaini Maha Kali which is on the shores of Agnitirtham. It is believed by Rameshwar people that Ujjaini Maha Kali is one of the 8 protecting Durga's of Rameshwar Island. Then again we went to RamnathSwami temple to take darshan. Yesterday we went by West tower and today by east tower. Feel very blessed. Then had dinner and back to stay.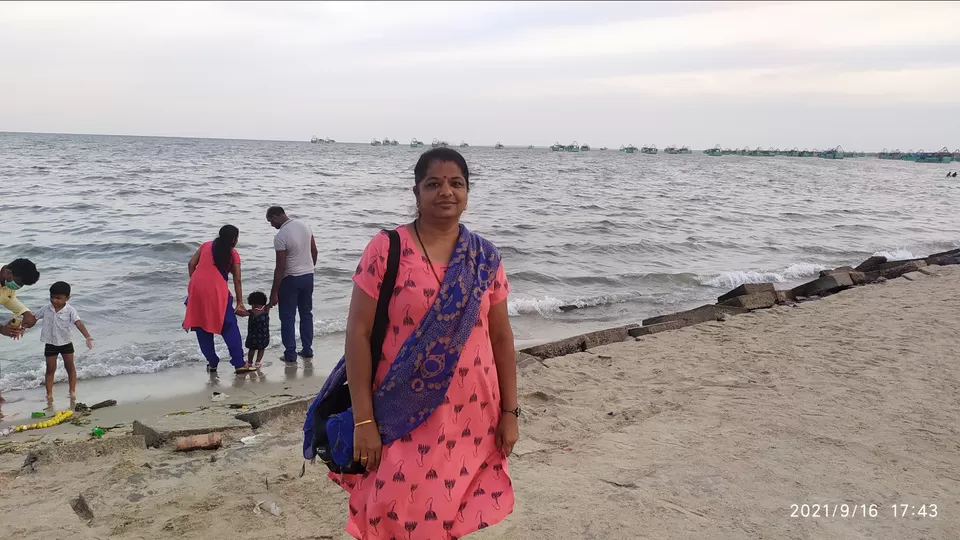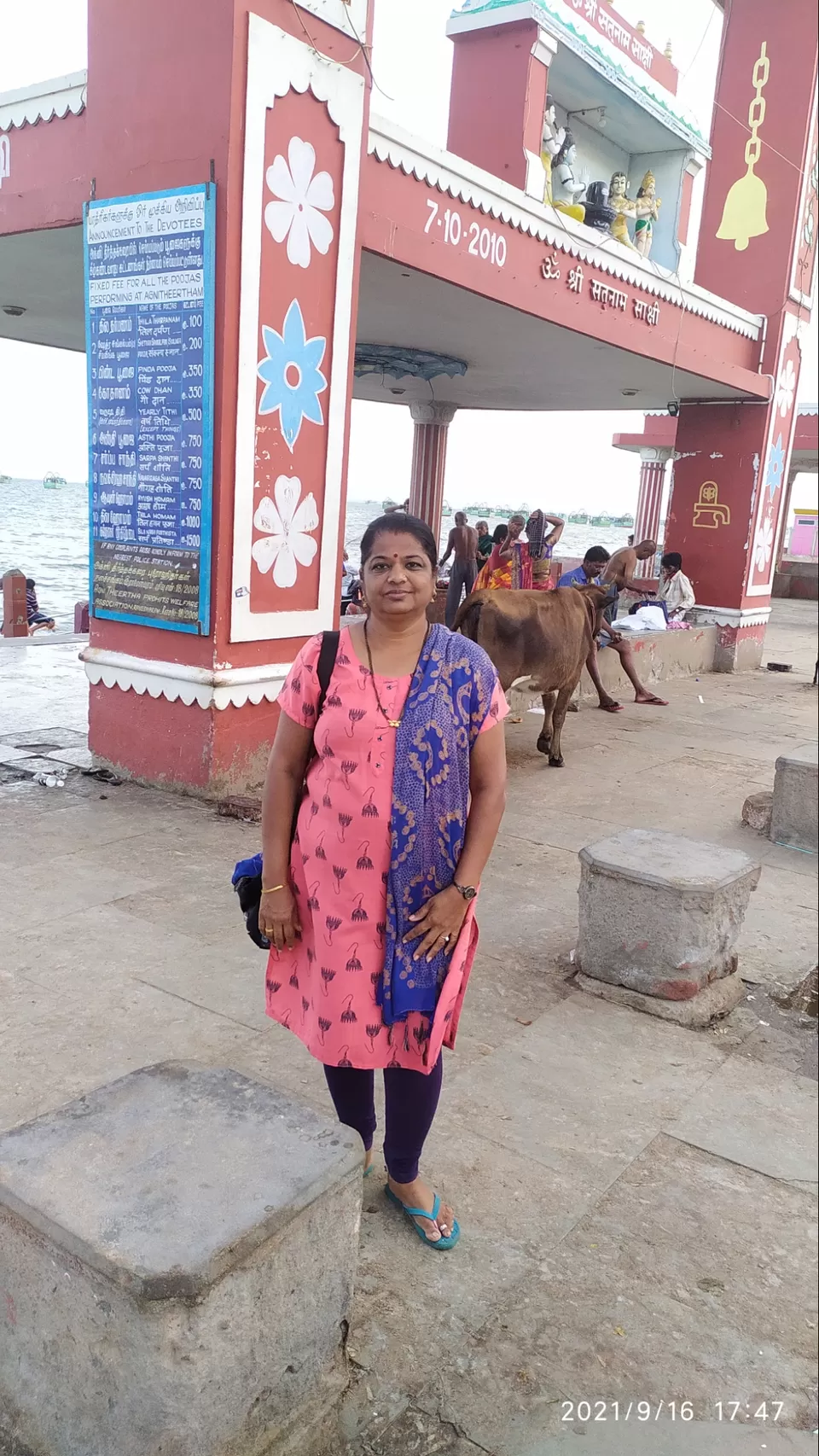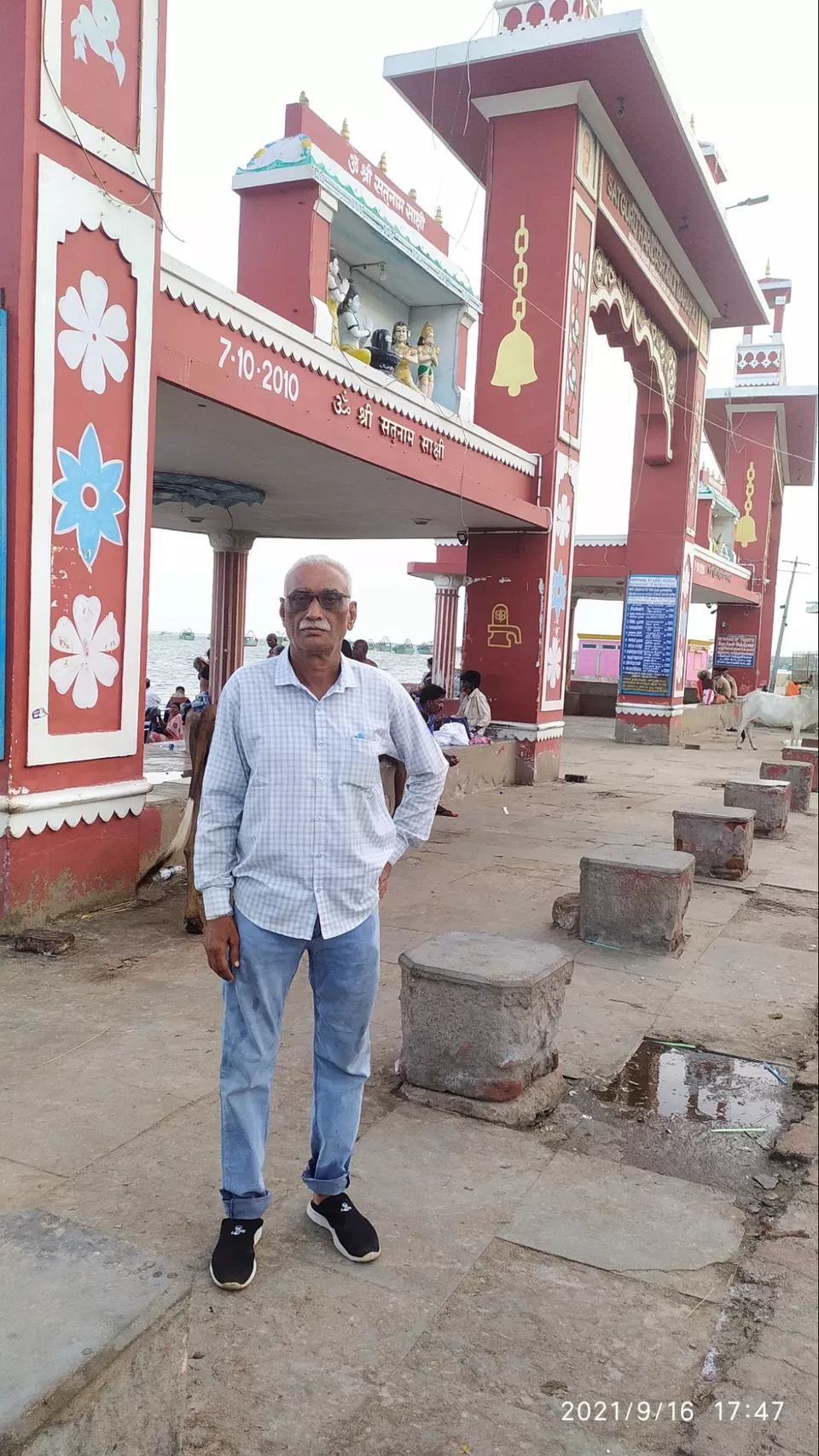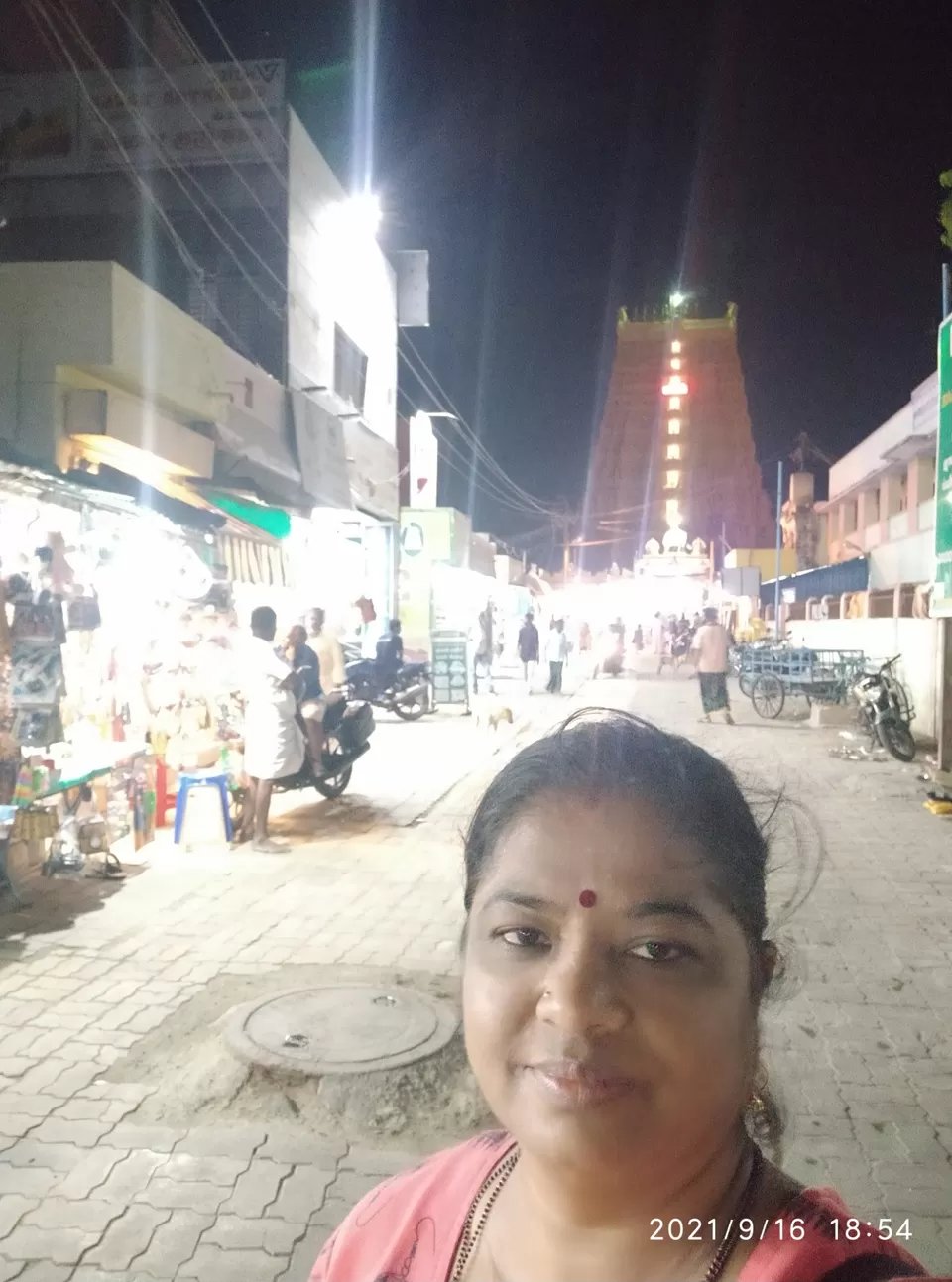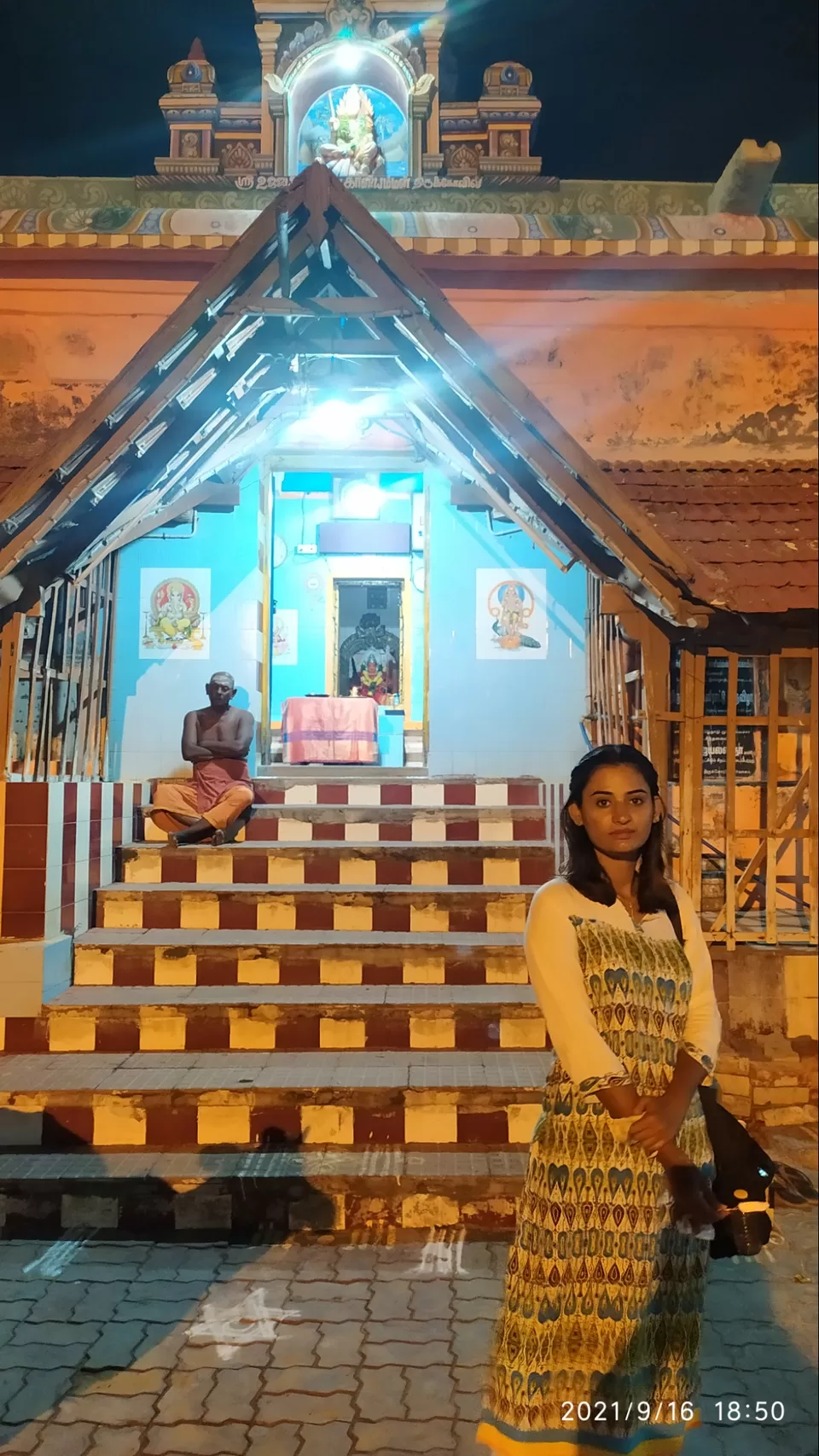 17th September 2021, we went to Holy Island water sports by auto Rs.100/- and had a wonderful experience. We enjoyed Kayaking (Rs.300/-), Surfing Rs. 1500/- and swimming. It took 3-4 hours. Kayaking is very simple but for surfing you have to take training for about 30 minutes then only you are able to stand up paddle boarding. Staff is polite and helpful. There is also children's play area. I must say that Rameshwaram trip is incomplete without enjoying water sports at Holy Island water sports. While returning we couldn't get a rikshaw and had to walk till beach park entry point. Then we had lunch and back to stay by auto.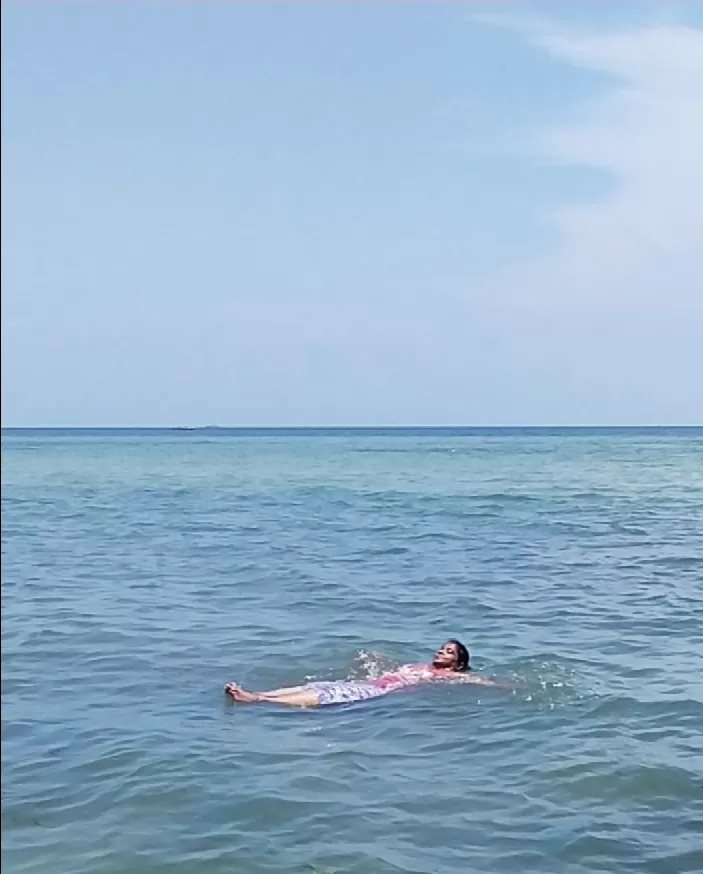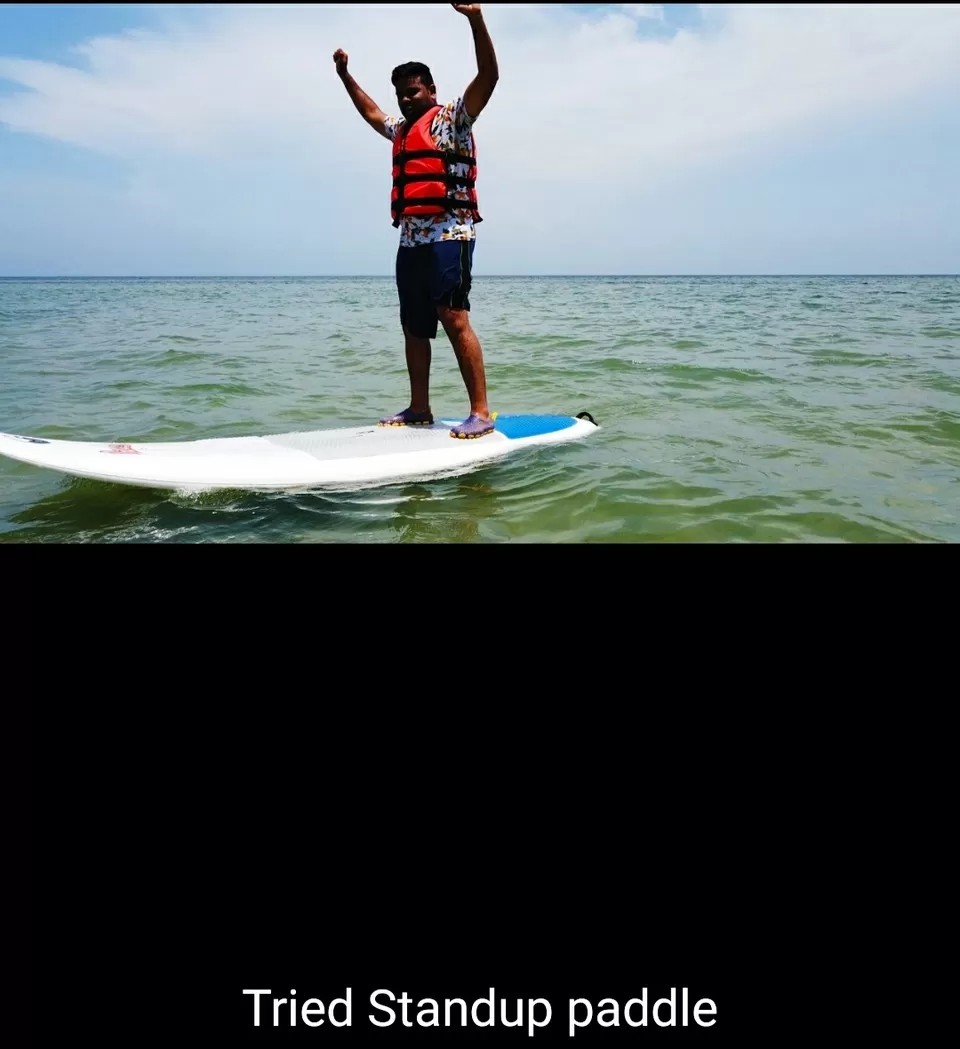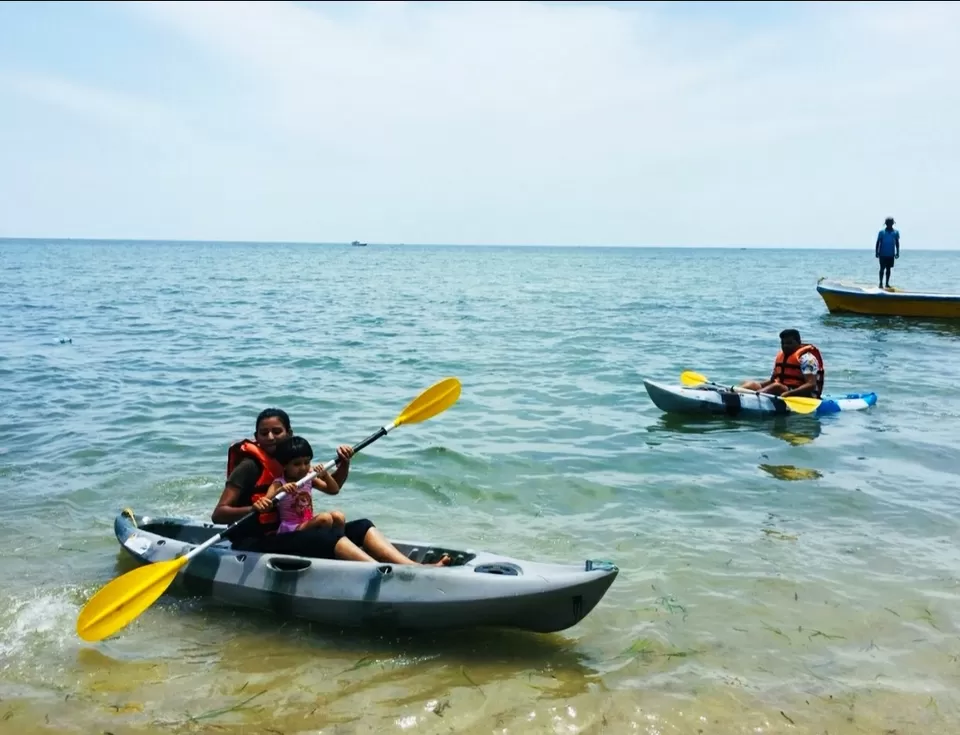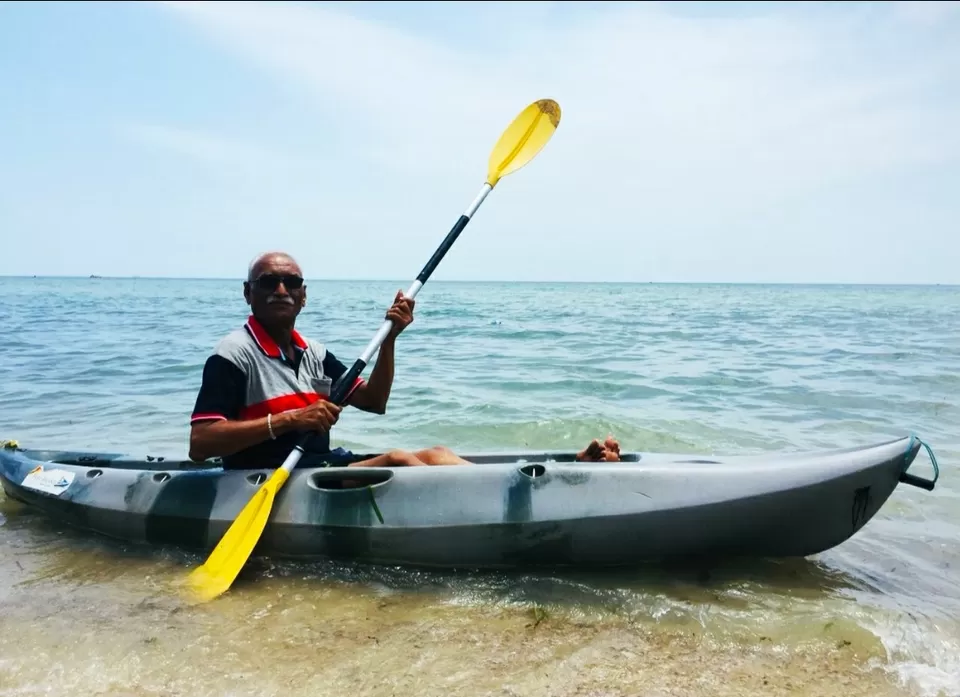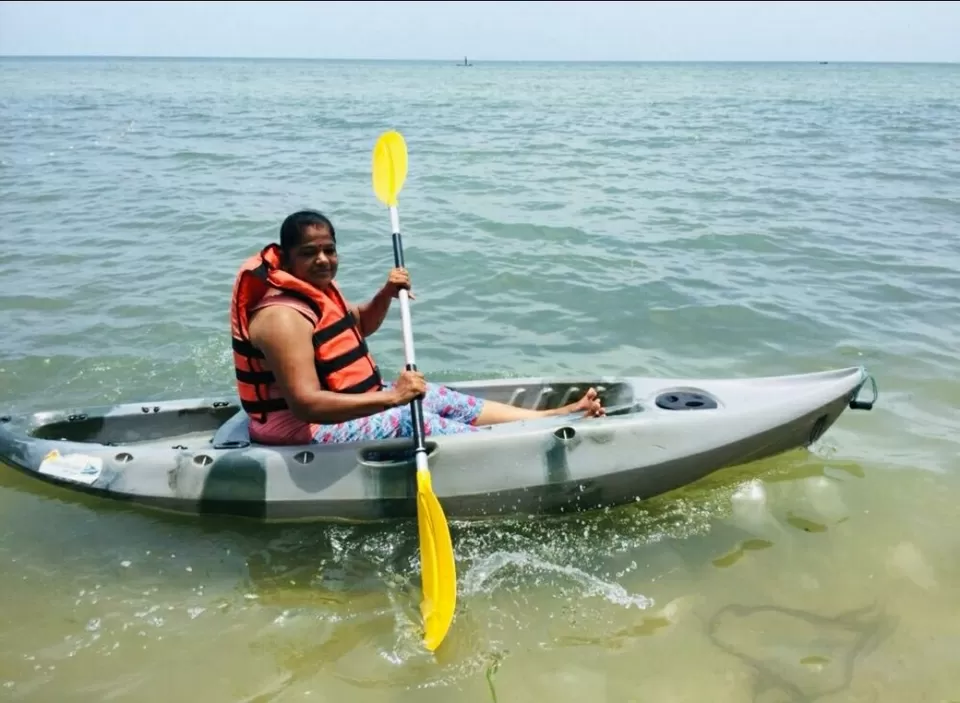 On 18th September 2021, as we are hungry to see again Dhanushkodi and missing to eat fish at Mr.fish, again we went to Dhanushkodi. We want to go Thanjavur but as we are observing from last one month, we came to know that mostly on Saturday and Sunday temples are closed in Tamilnadu, so we decided to stay here 2 more days. On the way there is strict checking by police officials, as they forced us we gave sample for RTPCR. (On 4th August when we entered Karnataka, that time also we have given sample.) After that on the way we went to Vibhishan temple which is known as Kothandaramar temple, which is a holy place where Lord Ram conducted pattabhishek of Vibhishan (Ravana's brother). It is neat, clean and small temple, road to temple has scenic beauty. In temple there is a shrine dedicated to the Hindu deity Rama. Temple is located at a distance of 13 kilometres from Rameswaram, it forms the southernmost tip of the island.The temple is the only historical structure to survive the 1964 cyclone that washed away Dhanushkodi. The temple has the deities of Rama, Laxmana,Seeta, Hanuman and Vibhishan. The temple is surrounded by sea and remains a tourist attraction.
Next we went to tip of the Pamban island, end point of the mainland India, Dhanushkodi. After watching sea on both sides of the road, returned to Mr fish, gave order for cooking fish and went for swimming. I think this is most beautiful beach I have ever visited. The water is so clear and clean, I enjoyed swimming over there. But as waves are big and pulling inside the sea, waters are dangerous and we were alone on that beach, I came out of sea only after 15-20 minutes. Then had yummy lunch and while returning saw an ATV Biking on the way, enjoyed ATV BEACH BIKE ride at Rs. 100/-. It's the only activity available at Dhanushkodi. A very short ride but good experience. Then we returned and rested.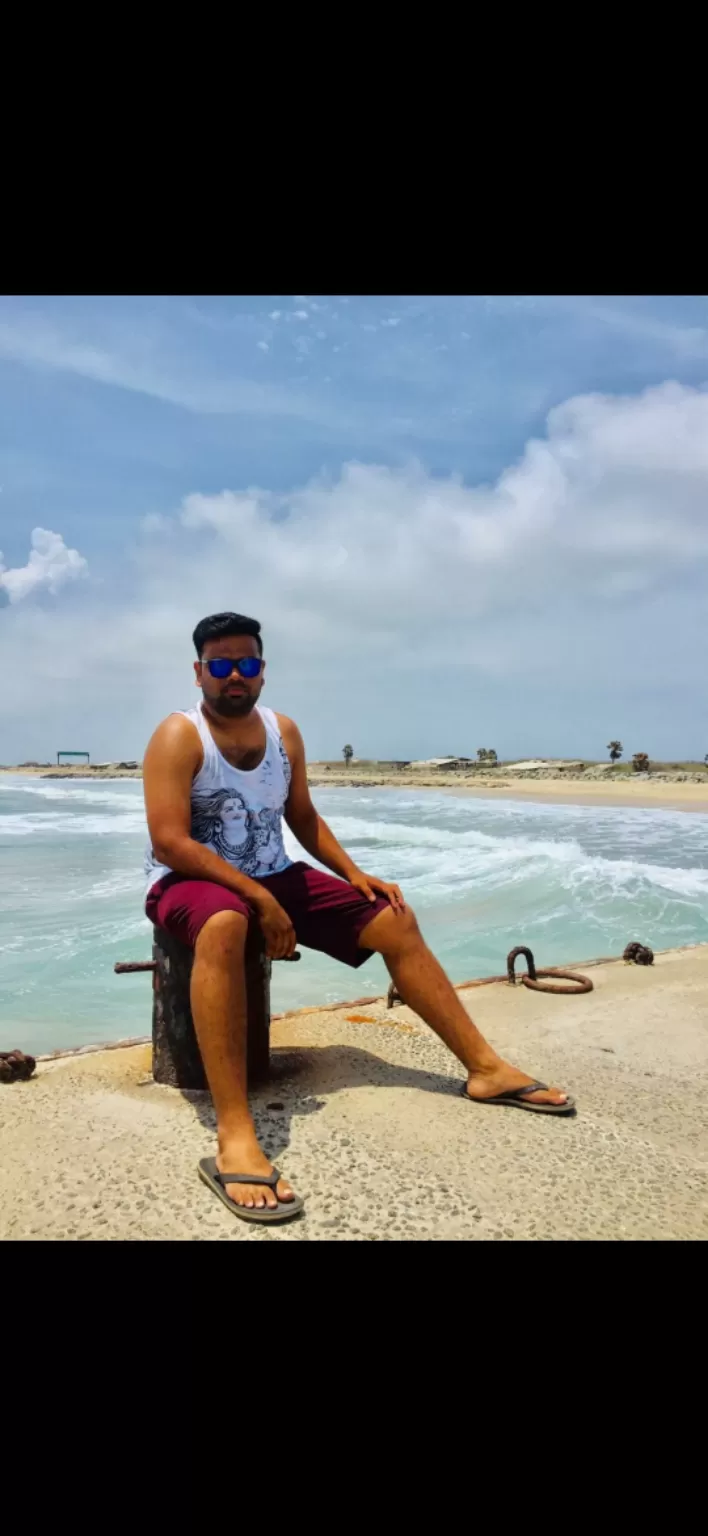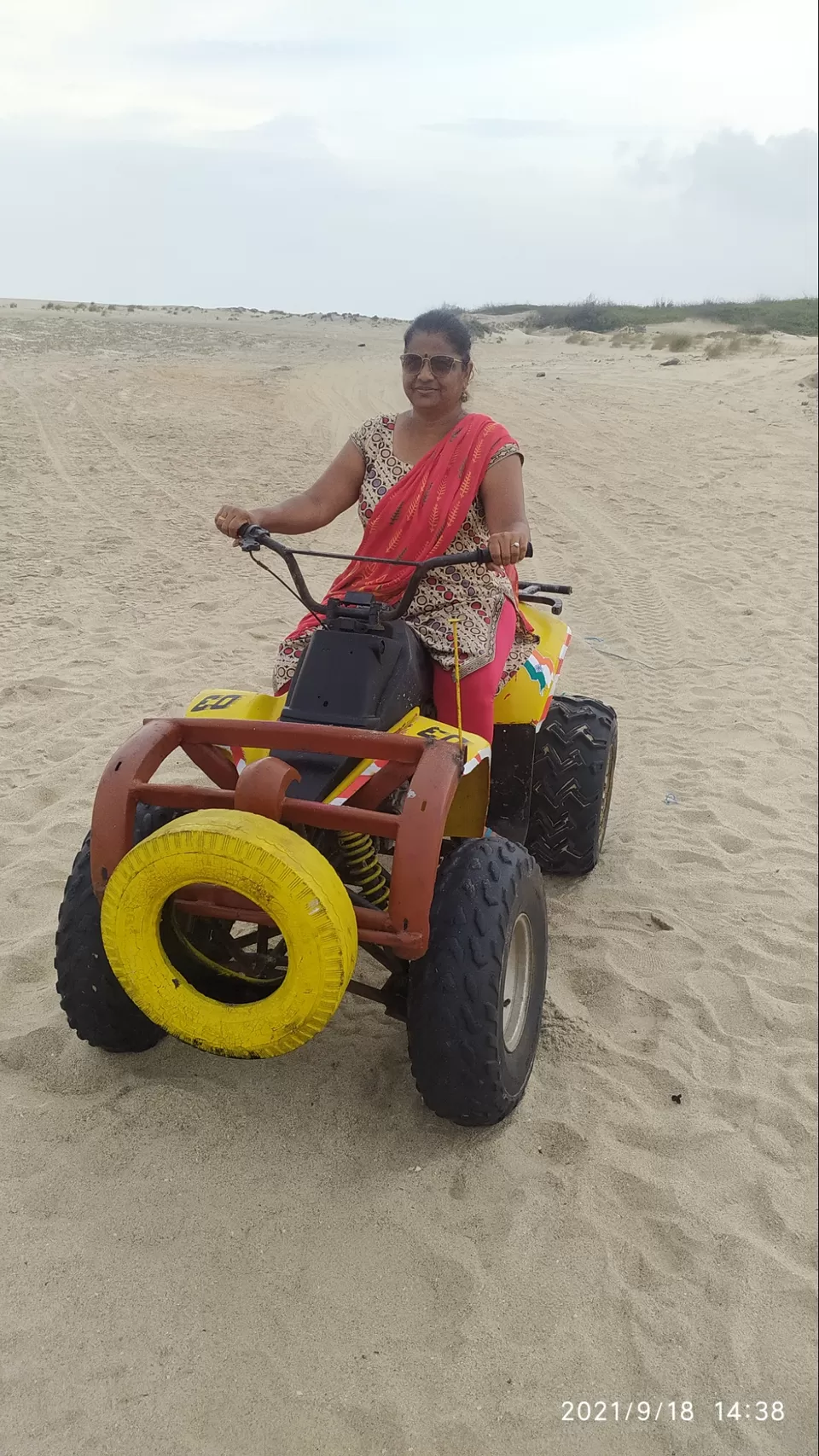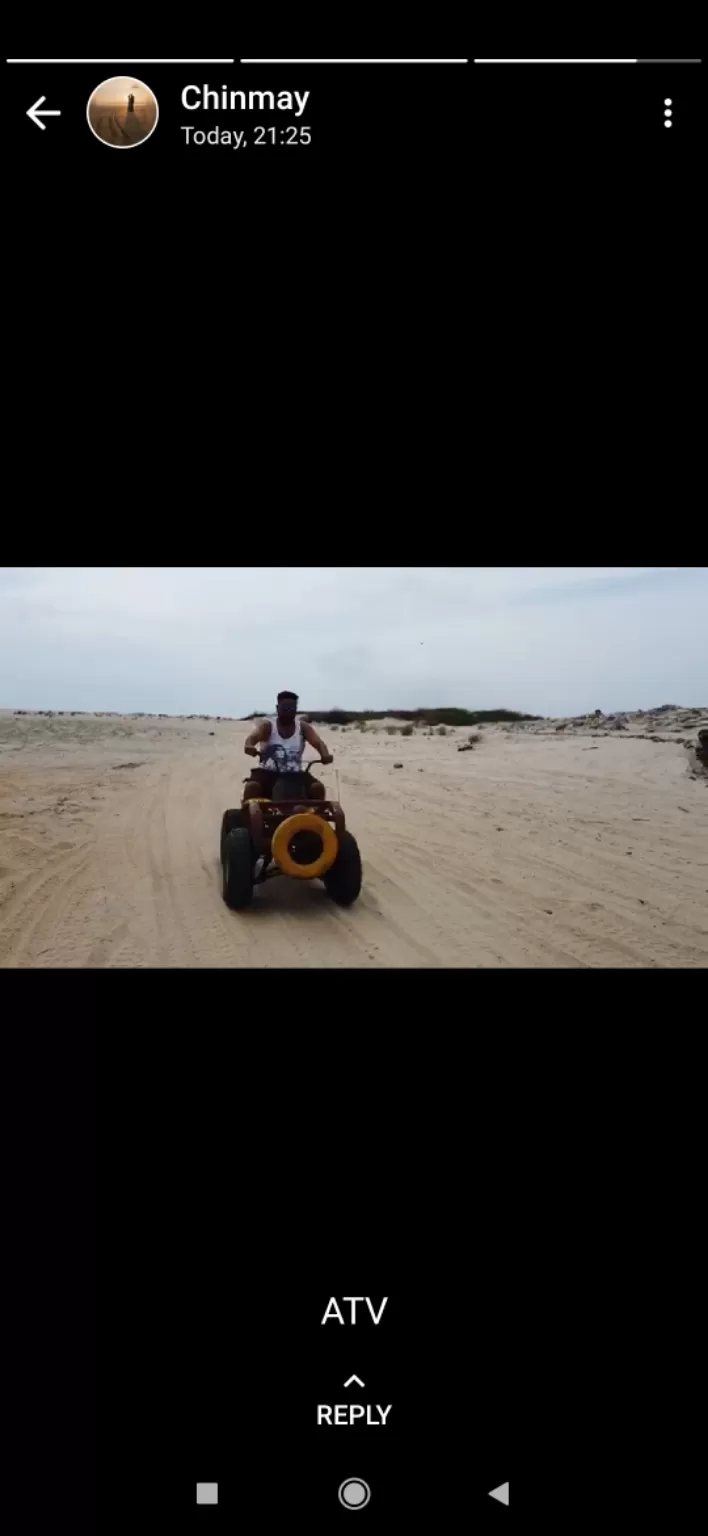 19th September 2021 in the morning we done nothing just went near the Ramnathswami temple, had lunch at hotel Neelashri while coming back went to Sri Panchmukhi Hanuman Mandir, which is just 2 Km away from Ramnathswami temple and 1 km from Rameshwar bus stand and is on the main road. Mandir has black single stone carved out five faces Hanuman Murti which is said to be 700 years old. In temple there are floating stones, same stones are used in building Adam's bridge (Ram Setu). Only Nal and Neel had the power to turn these stones to float on ocean. The stones they touched only can float. Taking photos and videos not allowed at the temple.
On 20/09/2021 early in the morning we went to Ramtirtham, temple and Laxman tirtham and then started for Tanjavur after having breakfast.