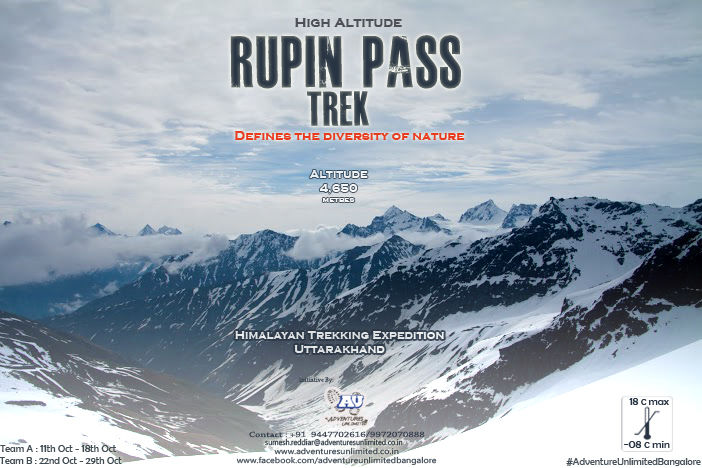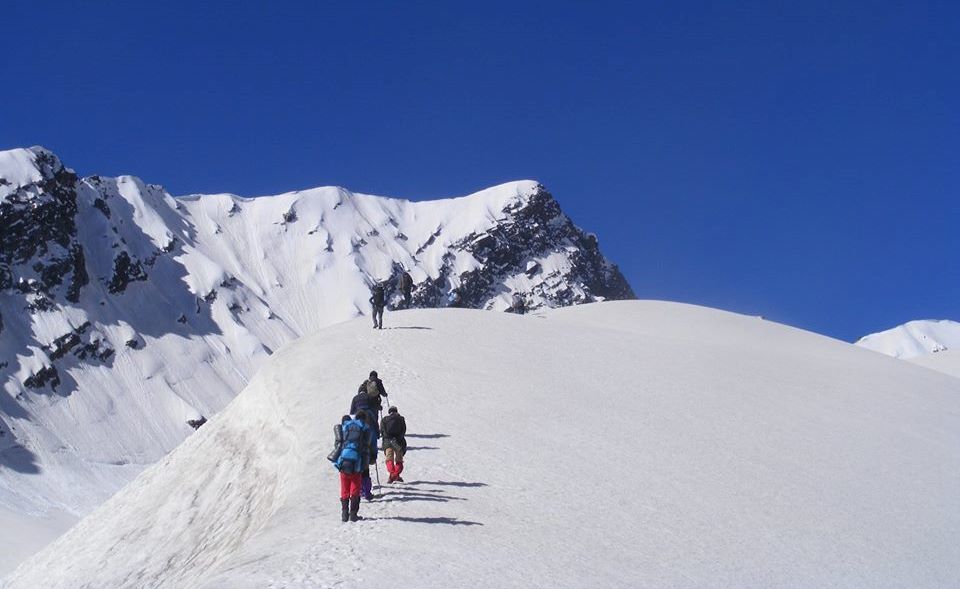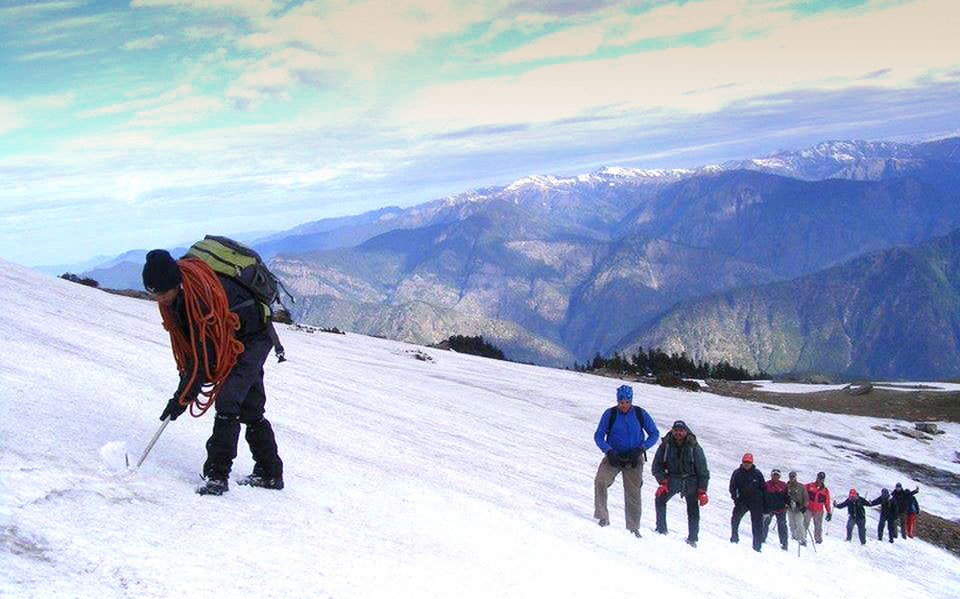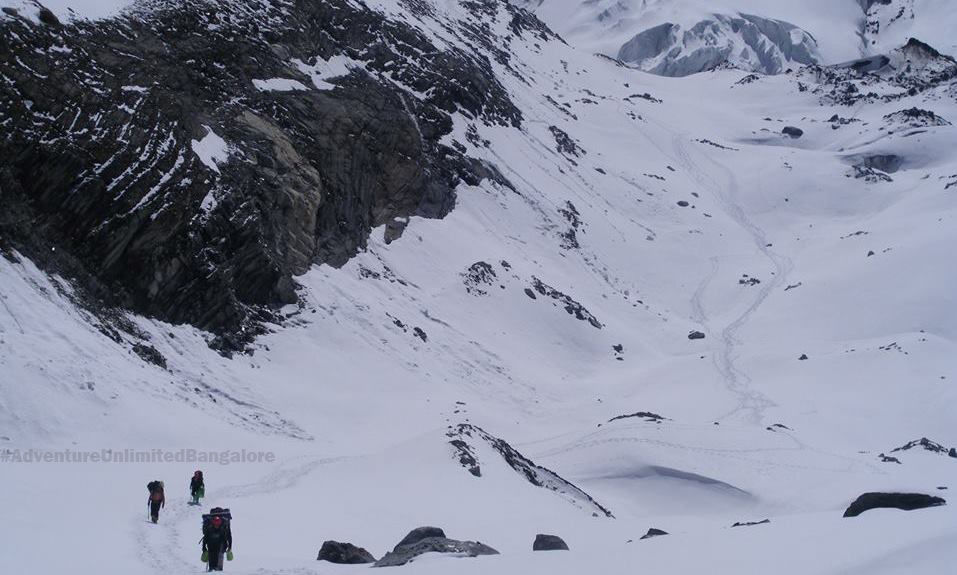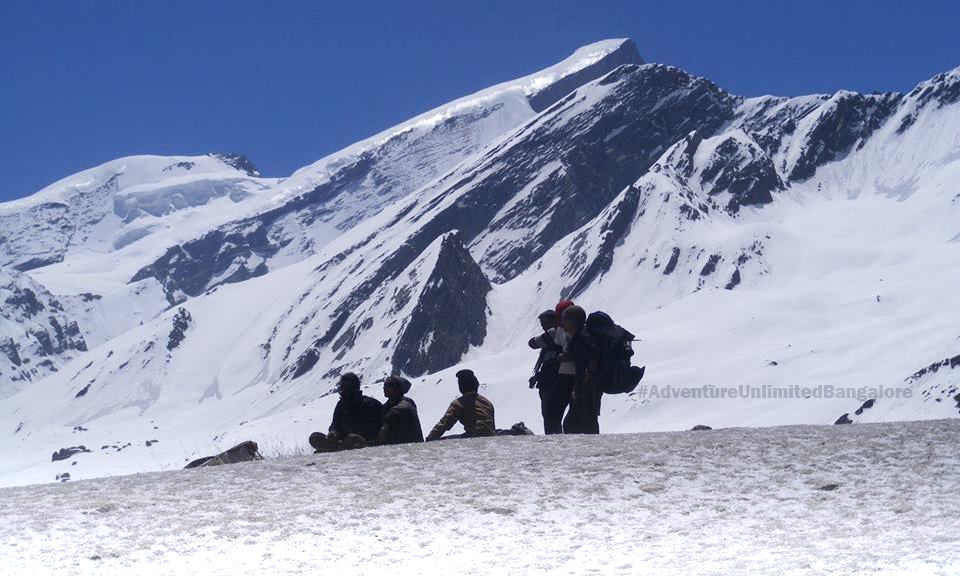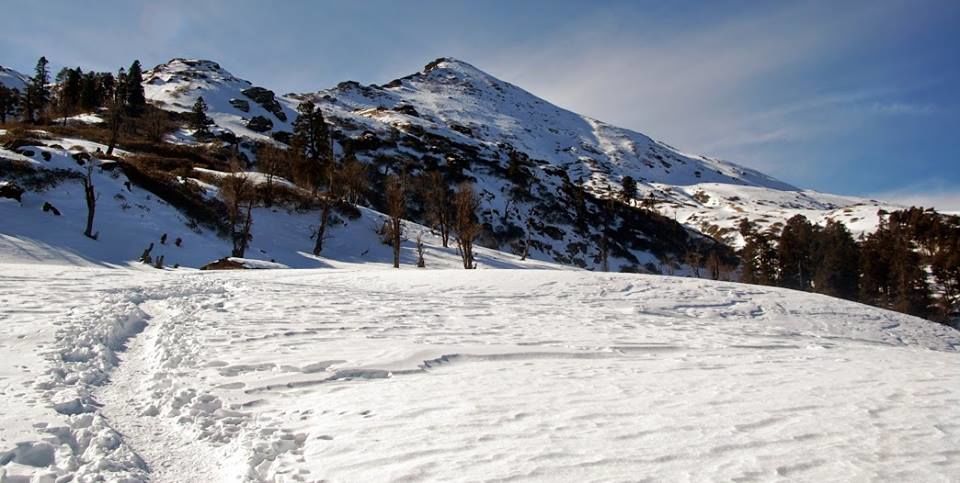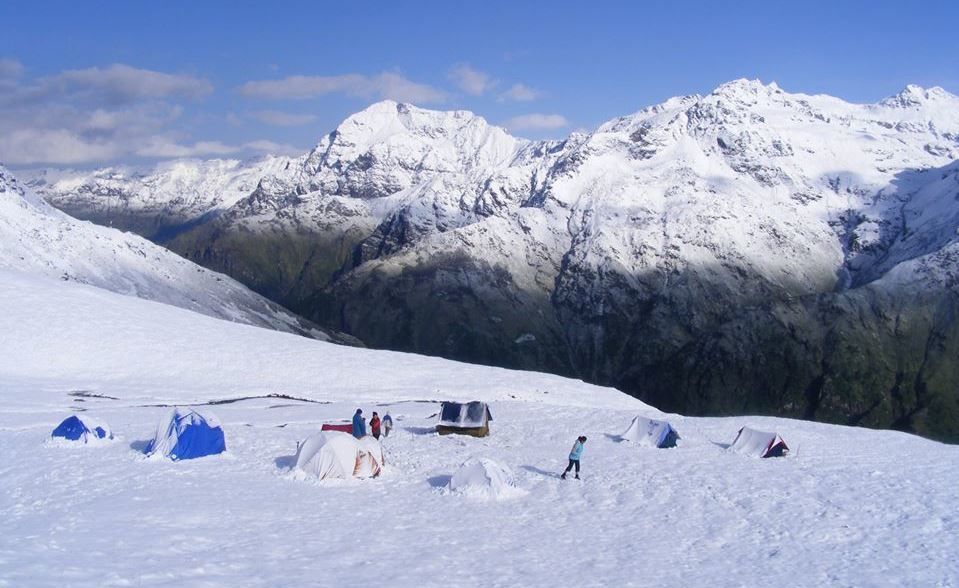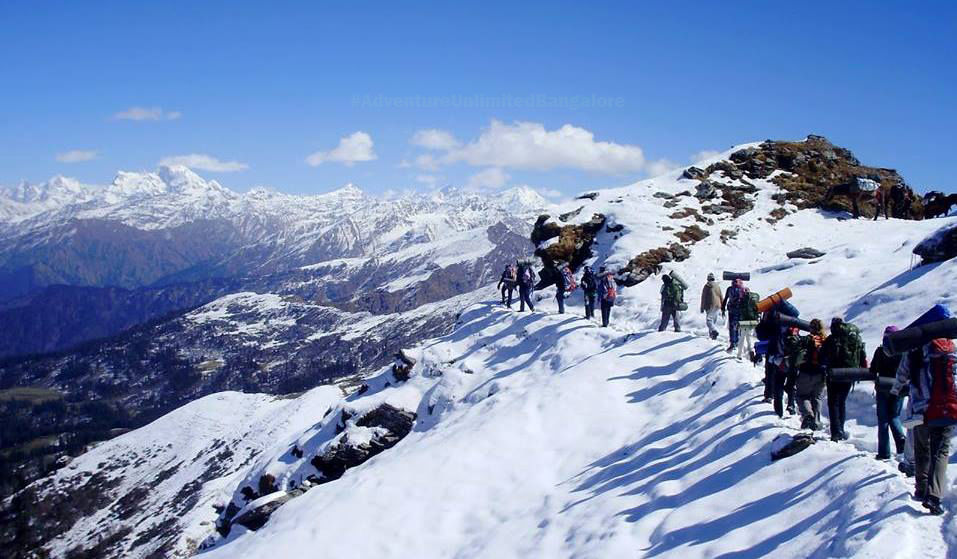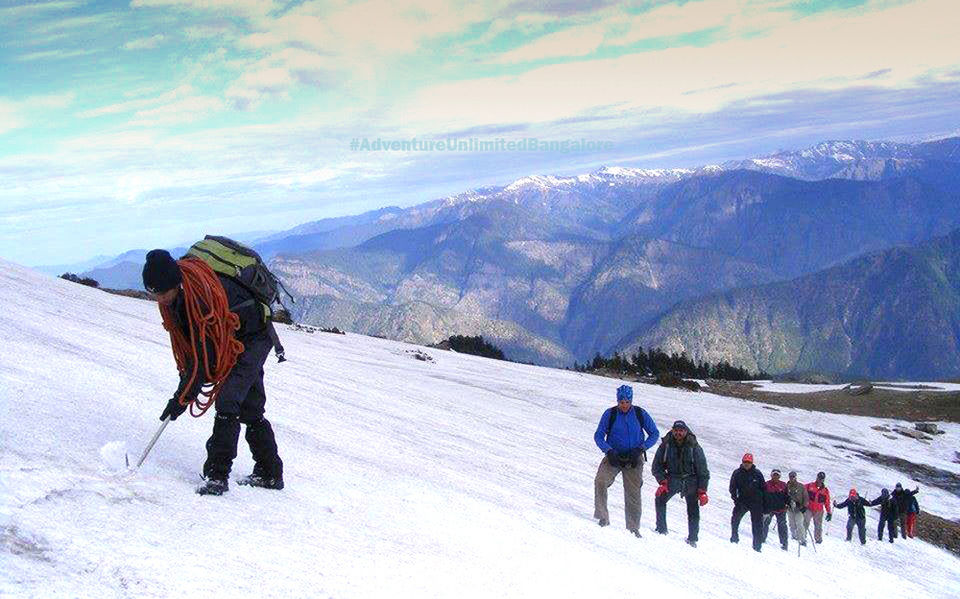 Event : Rupin Pass Expedition
Best Season : Mid of March to Mid of June & Mid of Sept to Mid of Dec
Altitude : 4,650 metres
Difficulty : Medium
Overview:
Rupin Pass is a high altitude (4650M) mountain pass located across the Rupin river. The diversity that nature has to offer is seen on this trek, a towering waterfall on one side, a beautiful meadow full of palms, yellow flowers and maple trees on the other, a fir forest, alphine meadows,snow clad mountains and numerous waterfalls cascading the valley accompanied by Rupin River. Its not easy hike, one has to cross the various obstacles like dusty track, wooden bridges, glaciers, icy slopes, snow bridges and soft snow fields, but this is the best part in this trek. This trek takes you through some untouched places in Garhwal & Kinnaur Valley where one can witness the Garhwali culture as well as the kinnauri culture. This trek offers a panoramic view of the Kinner Kailash & other Himalayan peaks.
Day 1 : Dehradun to Daula Camp(235km)
Reach Dehradun on your own convenience, Everybody has to be there at our Meetup point by 8 a.m. During breakfast don't forget to introduce yourself to your fellow trekkers, after introduction and induction speech by our trek leaders, van will take you to Daula Camp, route will be passing through Mussorie - Nainbagh - Damta - Natwar – Dhaula, 235 km(6 hrs) travel filled with fun through the evergreen confir forest, along the Rupin River side to reach Daula which is small hamlet in Uttarkashi district of Uttarakand , which is the starting point of our Rupin Pass trek. Over night stay in Camp on the bank of Rupin River. During stay make friendship with those Garhwali bhai log who will be working hard to make our trek more exciting.
Day 2 : Dhaula to Godangsu/ Sewa(2000M) by trek (10 km)(7 hrs)
The First day of your trek. This trail will be having quick ascend and dusty tracks. After 200 metre hike from Daula on the dusty track, you will be accompanied by Rupin Valley until Dantadhar, where you will move inside from a cliff and the view of the valley is replaced by pine forests. You can relax for few minutes in Dantadhar along with Lunch. Another few minutes of trail passes through the colourful forest to Sewa, another 1 Km descent to the bank of river is our Campsite. Don't forget to take a short walk to the wooden temple nearby, which is on the border of two states Himachal & Uttarakhand. There are many rituals and belief on this temple for that you need to meet those locals out there. Overnight stay in Campsite.
Day 3 : Sewa To Jhakha(2400M) by trek(12 Km)(8 hrs)
This day will be toughest and grueling one with uneven Rocky terrains, rock slides, steep climbs and edge of the cliff walk. From River bank ascent trail to reach the motor able road which connect two states. Another 5KM hike on the dusty and rugged road (Careful here landslide will be very much) and edge of the cliff walk will be having just couple of feet to walk and on the other side deep valley, lead you to the Bauta, you can relax along with lunch here. Now the steep ascent which will be very much grueling but you will refreshed by scenic beauty of snowy peaks (but this is nothing compared to one you are gonna encounter for next few days) Reach Jhakha also known as the hanging village is the highest and last village in Rupin Pass trek. Do visit the village, interact with people and learn there culture.Overnight stay in the campsite
Day 4 : Jakha to Saruwas thach (3300M) by trek (9 km)(6 hrs)
This day is more about acclimatizing yourself to the height and thin air. It's a very short trek on slippery slopes. From Jhakha it will be further more ascent for a while and it will be descent to reach the Rupin River side where you can relax along with lunch. Post lunch, you have to cross a very tricky trail on the slopes of the valley. There will be boulders, slippery slopes, streams to cross to reach our Campsite in Saruwas Thach during late afternoon.
In the evening you will be taken for acclimatization walk and ice trekking training will be given by our Trek instructor. Training will include climb up and down the steep slope of frozen snow, since you have to cross lots of snowy patches like this, this training along with acclimatization exercise is mandatory. Bonfire and Overnight stay in the campsite.
Day 5. Saruwas thach to Dhandras thach(3600M) by trek (6km)(5 hrs)
This is the day where you endure lots of snow crossing, snow walks and snow bridge over the River, for that you use all your clairvoyance plus creativity in crossing the snow without slipping. Starting from our campsite you will encounter the first snow bridge upon the river. After snow bridge it will heavy ascent for a while here you will be accompanied by scenic beauty of Rupin Valley and Rupin river, Relax on the river bed along with lunch. Post Lunch, from here you will endure lots of snow crossing where there will some places where snow will be very soft even it immerse down to your knee level. After few kilometers of snowy adventure, you will reach out campsite in Dhandras Thach. This campsite will be having amazing view of Rupin Waterfall and snow clad peaks.
In the evening you will be taken for second stage snow climbing training where we will teach you some basic snow walking techniques like duck steps, side stepping, kicking, plunging and sliding without the use of crampons. Do practice the technique perfectly because next climbs will be more tougher than the earlier one. Bonfire and Over night stay in Campsite.
Day 6: Dhandras thach to Upper Waterfall (4000M) by snow trek (4 km)(5 hrs)
This is the shortest trek but toughest than the earlier. There will be multiple climbs today that pass through 2 waterfalls. As if the snow will be melting the slippery will be much higher. You need to hike vertically from Lower Waterfall to the Upper waterfall amidst beautiful scenery. This 4 km hike will be the toughest.
This is the day you can feel more colder climate, it can dip to minus at night. Overnight stay in campsite. Do go for a short acclimatization walk to avoid being the victim of AMS. Next day you need to wake up early by 5 a.m to avoid the snow melting and hard Sun.
Day 7: Upper waterfall to Rupin Pass (4600mt) by Trek(12 km)
This is the day you are gonna conquer the frontier – Rupin Pass is higher than any European Summit. This day you will encounter 75-80 degree steep climb. The trek will start early morning, there is not option of halting as you need to capitalize the hard snow as much as you can before the sun shine, also that slope will be avalanche prone. But chilling wind with snow dust will make you climb harder. After reaching a plain surface, you could get a glimpse of Rupin pass above . The whole place will be snow-clad and you need to follow in line till the final climb to ensure that you maintain a rhythm. Final Climb to the Rupin Pass will be the toughest that you can encounter from earliest. At one point it will become very steep, so the instructors will tie a rope to help you get some grip/balance.
The last 30 minutes climb will be more agonizing. But when you reach the summit of Rupin Pass, the feeling of accomplishment will be immense, you will bubble with joy, you will be all reveling at the Altitude of 4650M with panoramic view of Kinner Kailash & other Himalayan peaks. This achievement and experience cannot be explained in words, its way beyond that !! for that you need to witness it….
Overnight stay in Campsite .
Day 8: Rupin Pass to Sangla Valley by trek (11km) same day to Shimla by cab.
This day is the last day of this trek where you can relax at hotel in Sangla and after noon cab will take you to Shimla. It will be gentle trek along the slope and you see the picturesque view. Small streams, gentle breeze, warm sun, herbal aroma, snow clad mountains at the backdrop, stone houses, lone trees and mini ponds lined up to welcome the trekkers after a successful and arduous expedition. Today you can have hot water bath at hotel, relax and head back to your home town from Shimla.(Don't forget to book your return ticket from Shimla)
Package include:
• 8 days stress buster from professional life restricted in 4 walls.
• Local Transportation from Dehradun to Daula & from Sangla to Shimla
• Accommodation in Hotels, Tent- Double/Triple sharing bases.
• Food & snacks while Trekking(3 meals a day)
Package Excludes:-
Everything which is not included in the Package.
Things to Bring:-
• 50 - 65 ltr backpack with sturdy strap and supporting frames. Light weight recommended.
• Trekking Shoes – sport shoes are not allowed. Quechua, Wildcraft, Woodland are the best brands available in India even you can check with CAT & Timberland
• Atleast 3 track pants (at least one should be synthetic (quick-dry) kind). Track pants are light and we highly endorse them. Plus when things get cold you can wear one over the other.
• 2 Full sleeve light sweaters or 2 fleece jackets
• 1 pair of thermal inners (useful when we are on snow) but optional.
• 3-4 pair of usual sports socks, at least one woolen pair.Woolen socks are to be worn inside the tent at night to keep the feet warm.
• Sun cap and/or head-scarf.
• Trekking pole is mandatory.
• Rain Coats
• Hand Gloves
• Sunglasses – are manadatory for this trek.
• Woolen monkey cap/balaclava
• Cold cream & sun screen lotion (SPF 40+). While sun screen help prevent sun burns, a better option is to stay covered.
• Toilet kit
• 2 Water bottles (1 L each). Do not get any packaged water bottle like Bisleri, Aquafina and others.
• Carry a plate, spoon and coffee mug.
• Torch with 2 extra set of cells. Buy LED torches. They last longer, are more durable and give good light.
• Personal Toilet kit
• Medical Kit can be shared by 2-3 memebers, should contain following:-
· Crocin - 5 tablets
· Avomine - 4 tablets
· Avil 25mg - 4 tablets
· Diamox - 8 tablets
· Brufen 400 - 5 tablets
· Combiflam - 5 tablets
· Disprin - 10 tablets
· Norflox - 10 tablets
· Crepe bandage - 3 to 5 meters
· Band aid - 10 strips
· Digene - 10 tablets
· Gauze cloth - 1 small role
· Leukoplast - 1 small roll
· Cotton - 1 small roll
· ORS - 5 packets
· Betadine cream
· Moov spray
• Some trekkers feel loss of energy more than others. While there is adequate food provided on the trek, carry lots of dry fruit combinations as snacks.
• While packing, use plastic bags to compartmentalize things and carry few extra plastic bags.
• Sandals ( For walking around campsite)
Other Condition:-
Booking has to be confirmed atleast 2 weeks before event date with 75% advance payment.
25% cancellation charges will be applied if you are cancelling in between.
We expect every Adventurer to be humble towards Nature, localities and tribal.
All our events are built on Teamwork methodology.
Our instructor/Guide/coordinators presence in the event is to lead the event, make sure that things are going as per plan, schedule, and safety.
In case of circumstance out of our control like, natural calamities, law and order situation, etc, may result in change in itinerary, additional booking of accomdation, transport, logistics, etc. causing an increase in expenses. The additional cost thus incurred shall be borne by the participant.