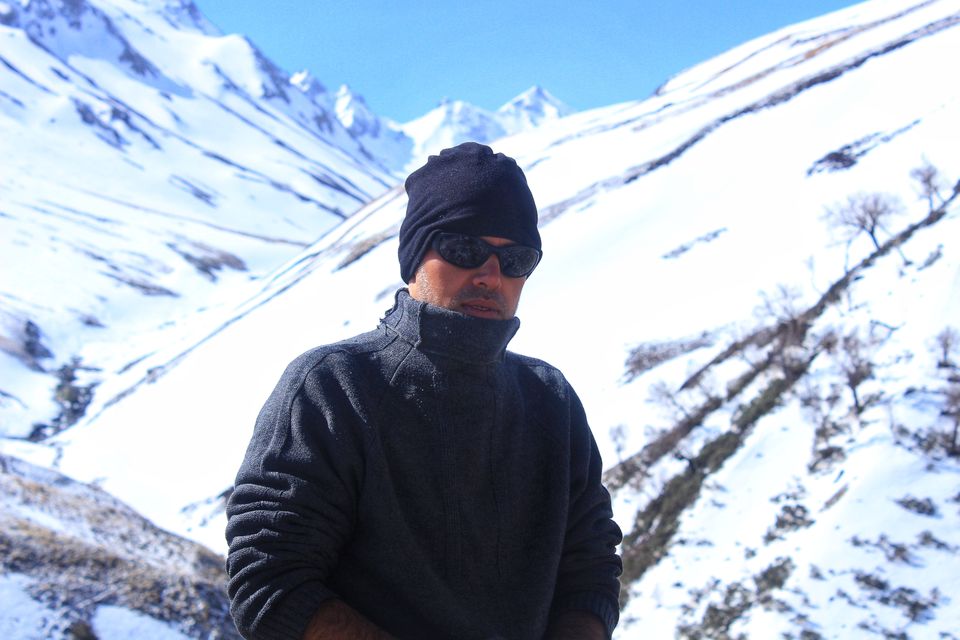 apr 2017, my plan was to celebrate april 9th (birthday) somewhere in the mountains, but after a word with my travel buddies, plan shifted towards the end of the month, with rupin pass trek was on card… my friends Kinshuk and Satish managed/arranged guide, porters, supplies and other essentials… on 19th of apr we met up at dehradun railway station, few hundred meters from station, there is a small bus stand (for private buses only), from where about at 07.30 am we boarded a bus to naitwar, which is in district Uttarkashi, and is about 170 km from dehradun. this 8-9-hour journey to naitwar was bumpy but picturesque beauty along the river Yamuna and Tons made is pleasant. at many places, the riverbank was so beautiful and tempting that we wanted to get out of the bus, but we restrained because of the obvious reasons (limited bus service on route). reached at naitwar about at 4 in the evening, it is a small town at the confluence of rivulets Rupin and Supin (after this you call it river Tons), which is a major tributary of Yamuna. after catching up with our guide and porter, we spent some time here, explored locality, arranged some supplies and about at 6 pm we hired a cab and started to dhaula (12 km extremely bumpy and rough road along Rupin) and reached there about at 7 pm. at dhaula we had an arrangement in a small guest house right at the bank of Rupin.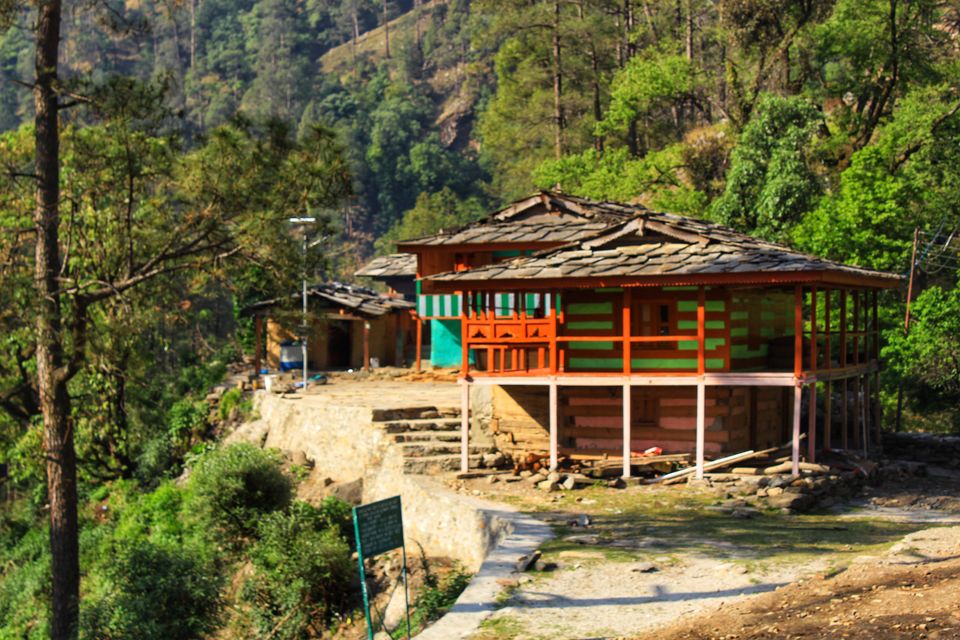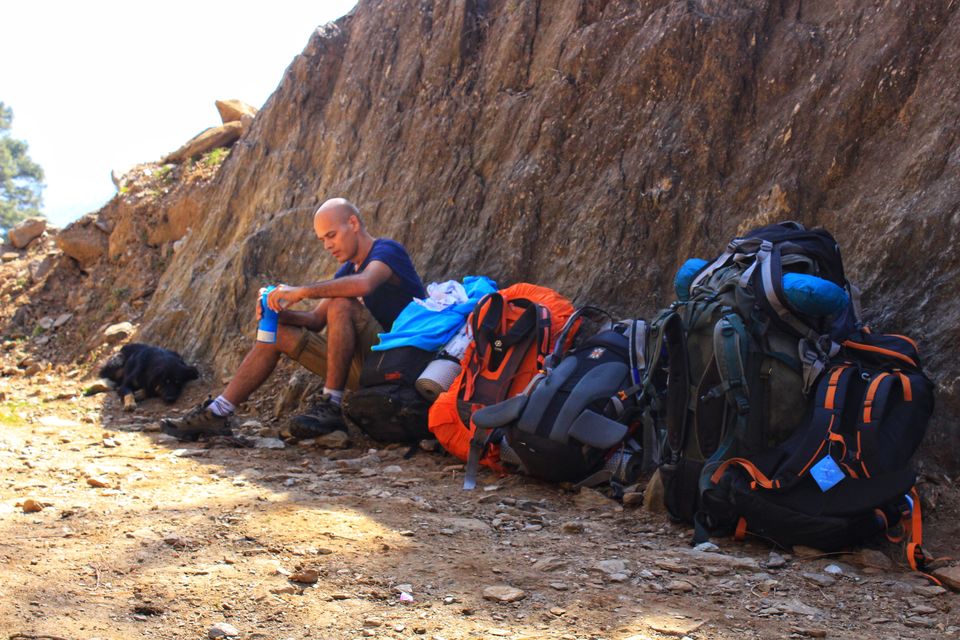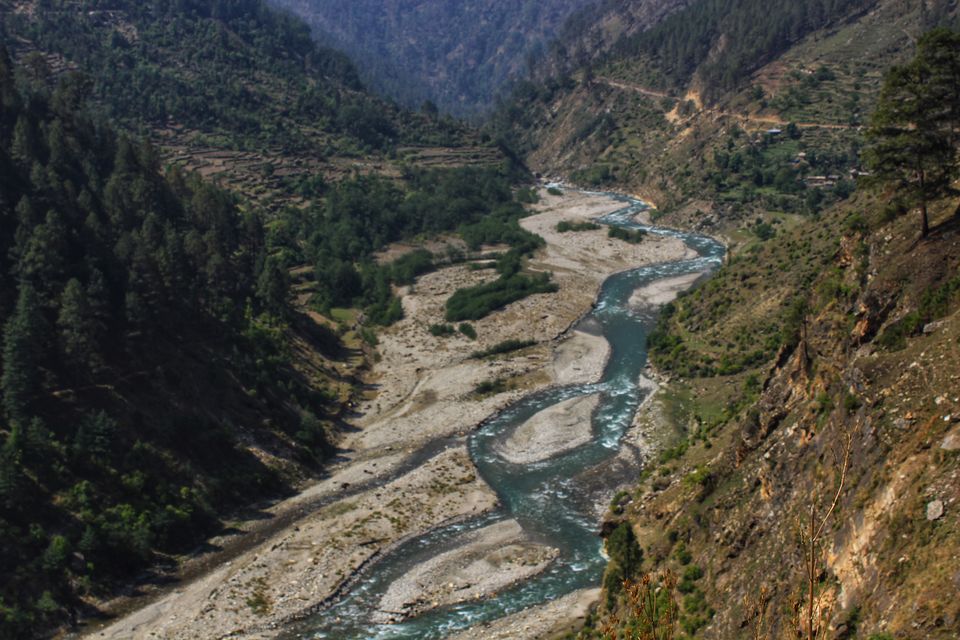 a session with owner, staff, and two other locals till late in the night was informative about the route and local culture. though i love peaceful and calm surroundings, but i realized that thundering Rupin was not disturbing at all (matter of fact – louder the river thunder, peaceful is the effect), in fact i enjoy river thunders a lot. the next day early morning, after exploring surroundings/bird-watching and small photographic sessions, we had breakfast and started trek about 9 am along Rupin (upstream). after two hrs of easy walk along the Rupin, there was a vertical climb against the face of the mountain… which was an easy walk a few minutes ago, become strenuous and extremely demanding. there were few houses scattered here and there and people were generous to help with water, and small chitchats about your adventure coming on the way. after this climb, again we started parallel to river but high up in the mountain, instead of the riverbed. and while on the way we found a small shop offering tea and other basic stuff. it was about 1 pm and the sun was high up in the sky when we reached Sewa, a small hamlet, with a beautiful temple at canter-stage. though there were enough options of camping in the village, we had time so headed further and after a decent of 1 or 2 km, we again reached at level of riverbed. it was 4 in the evening, we decided to pitch our camp along the river at a place usually used by shepherds. here we spent a good amount of time bathing in glacial cold waters of Rupin, everything was as planned till we slipped into our sleeping bags. but it was the next day morning when i felt the heat of last evening's adventure in icy cold waters… it was fever and bad throat.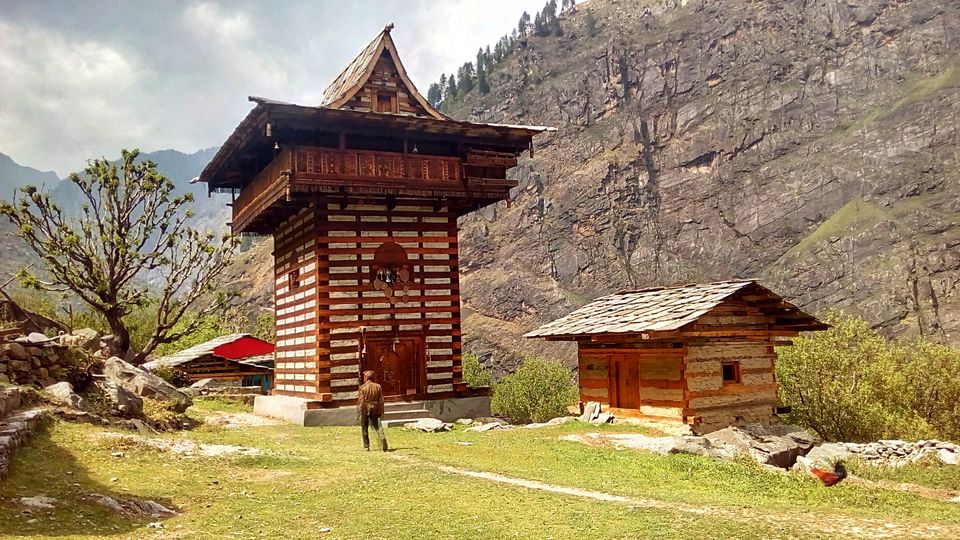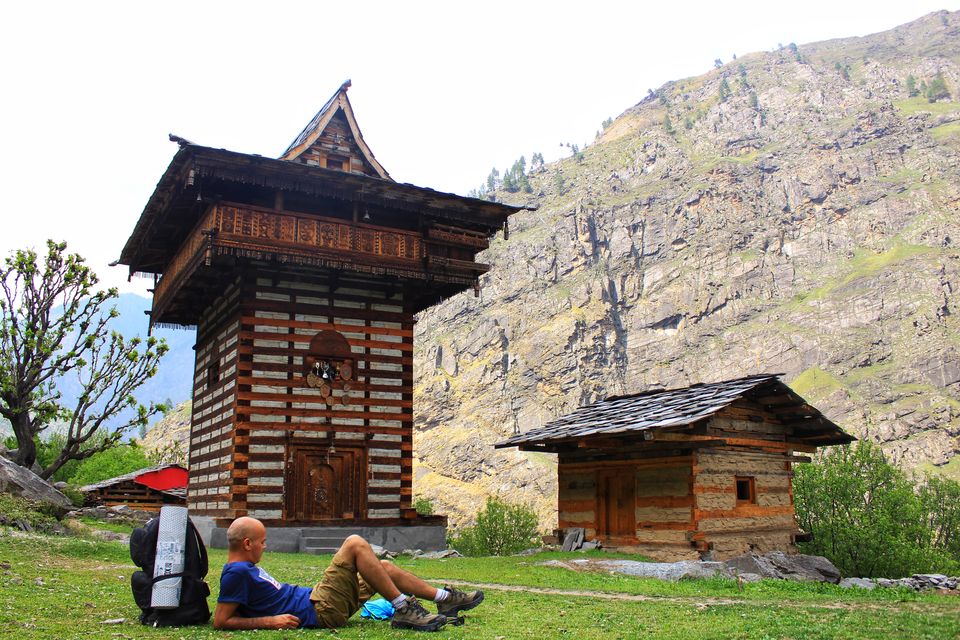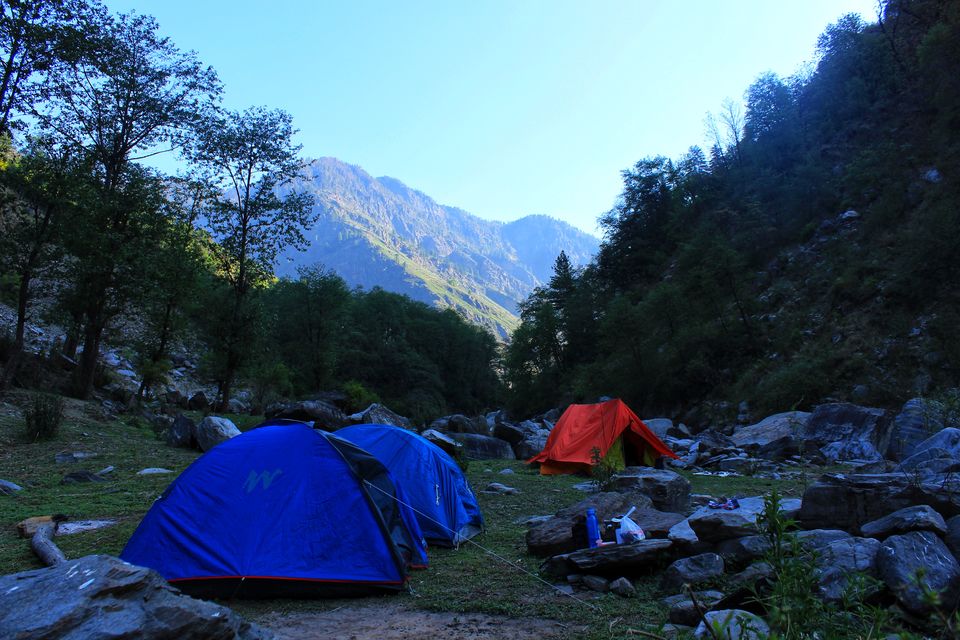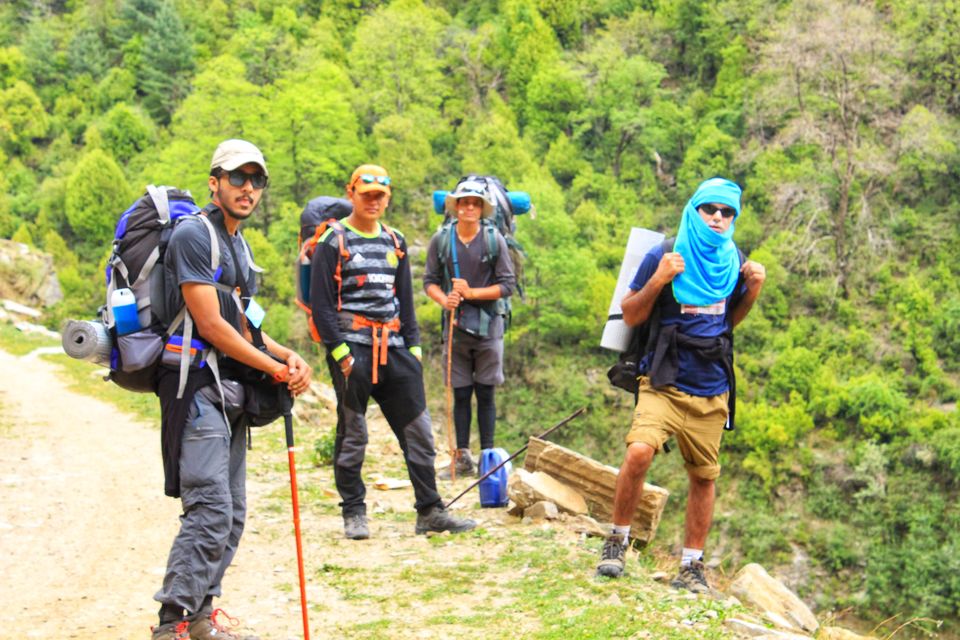 in the morning after light breakfast, we traveled along the riverbed (upstream) for an hour and reached at a place from where we could have got an option for hitchhiking for 5 km but we opted to walk, though it looked like a cakewalk as we were on a dusty road, the scorching sun was taking toe. last one km of this travel was literally vertical climb to village Jiskun, where we had a good sitting with locals, who were worried as we were on this trek too early than that of normal timing and on the top of that "winds were not kind". from here we saw Jakha village (also known as a hanging village), last habitation on this trek, and our next stop for stay, but reaching there was a different story altogether. it took about 2 hrs and a sudden gain of altitude to reach Jakha. there were two shops in this village, so we refilled our supplies for the next 5 days. as this is the last village on this trek, so instead of camping we opted for a homestay. here we got useful inputs for the trek from George, the owner of our homestay and had delicious homemade food, but by now my condition was worsening and i had to have medicines.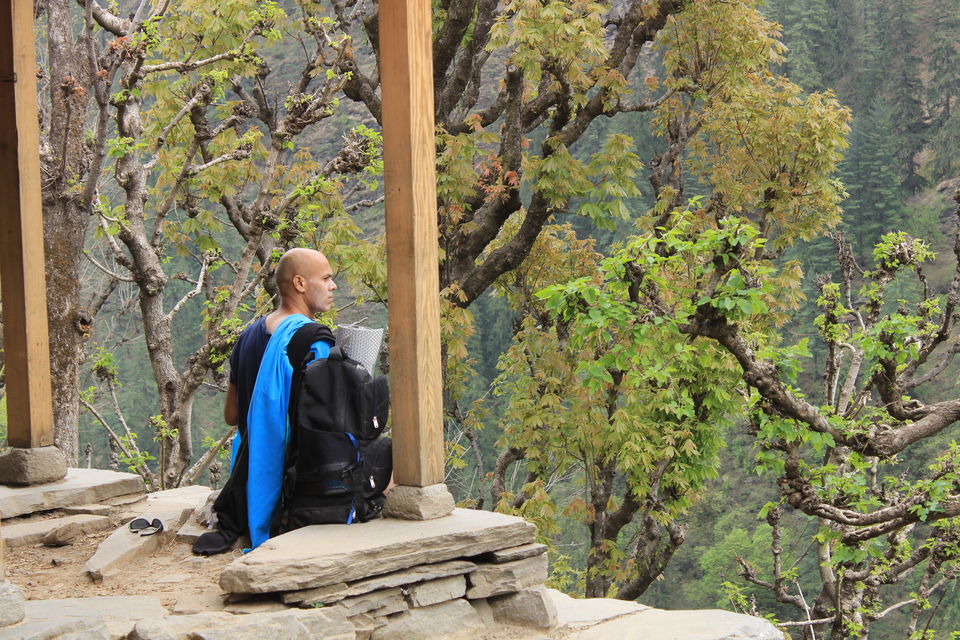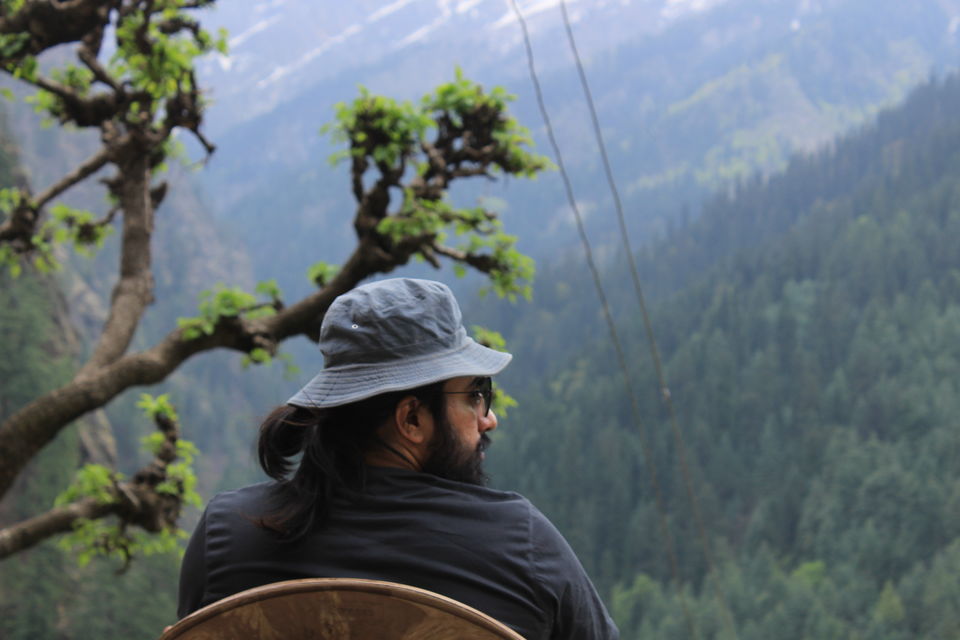 the next day morning when i woke up i was burning with fever and got a thought to quit for a while, but after this village real adventure was about to begin, so somehow i managed to get rid of this alien thought of quitting. we started a little bit late (about 10 am) plan was to stop at Buraskandi (5 km from Jakha) for lunch. when we reached at Buraskandi, it started raining heavily, and we had to camp there right at the bank of Rupin. in the middle of the jungle it looked like a good spot for wildlife spotting. slop at one side of the river was covered with rhododendron justifying the name of the place buried under heavy snow (Rhododendron - Buras, and Jungle - Kanda). despite heavy rains, we got enough scope to scan the surroundings. till late night, back to back sessions, followed by tea, and lastly by dinner in the middle of the jungle at riverbank cannot be explained here. don't know how, but somehow by now i started feeling better and had no fever.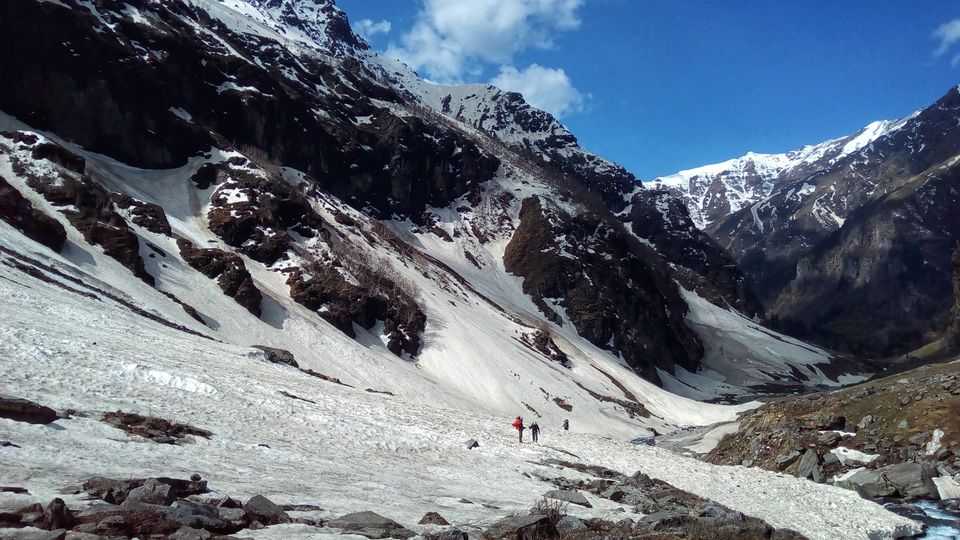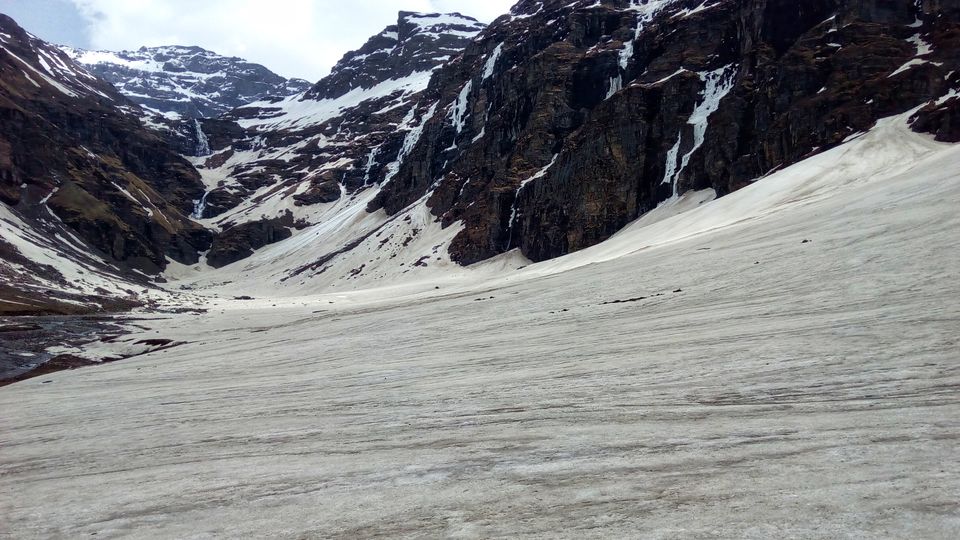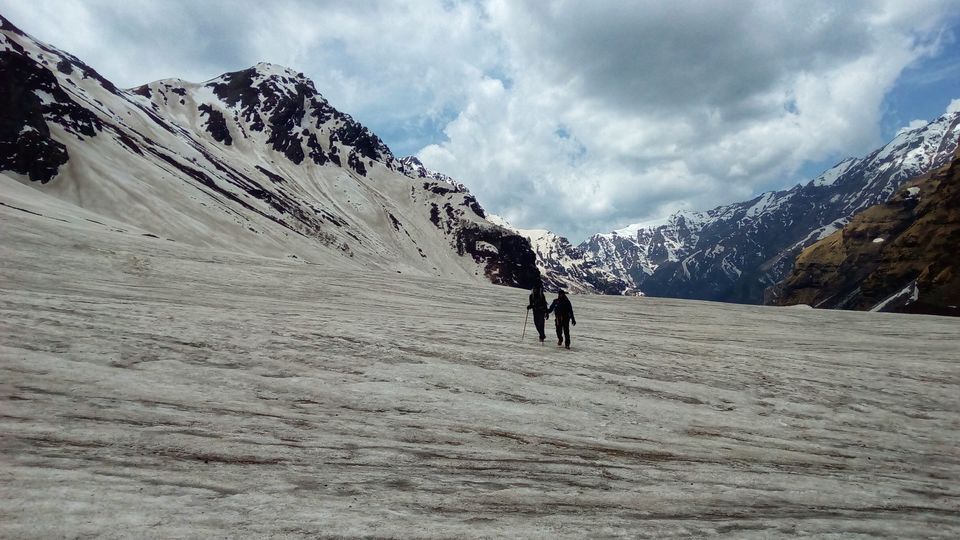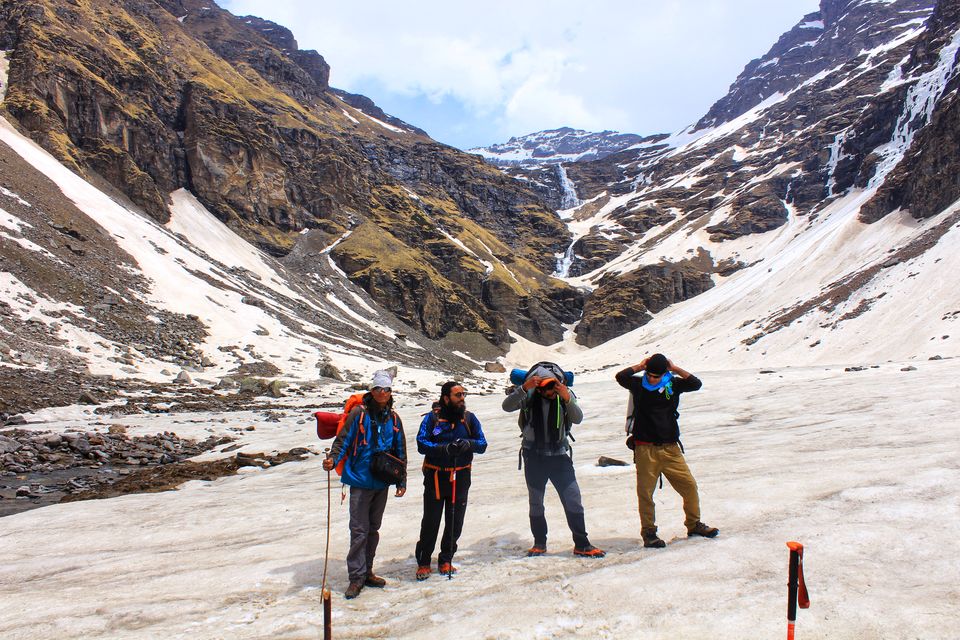 next day easy morning walk from Buraskanda to lower waterfall (about 4 KM) was picturesque. however, after that we realized we were on the most dangerous section of the trek. While climbing up, one must be vigil for snow chunks/segments (sometimes few meters big) falling from side slopes. after reaching the upper waterfall i realized that it had to be demanding because the view of the whole valley from here was mesmerizing. a am lacking words now to describe the sheer beauty and power of raw nature. everything happened on time, as soon as we pitched our tents here, snowfall started. we did not get a window to explore surroundings, by late evening we got to feel the altitude effect as we felt little headache and dizziness, because in the morning we were at 11000 feet and by early evening we were at about 14000 feet above mean sea level, that is a good gain for altitude sickness. our tents were on a small clear patch of ground. But in the morning i saw snow was about more than a foot and was still piling up, somehow i managed to scan the area as maximum as possible and found myself at a place looked like "borrowed from same fairytales". given the clear whether we were supposed to start early in the morning but started at 10 am.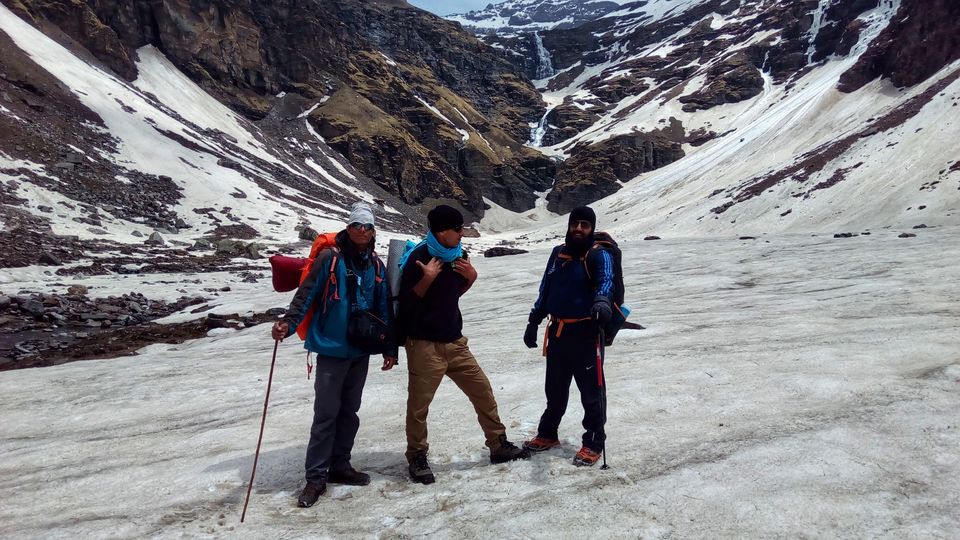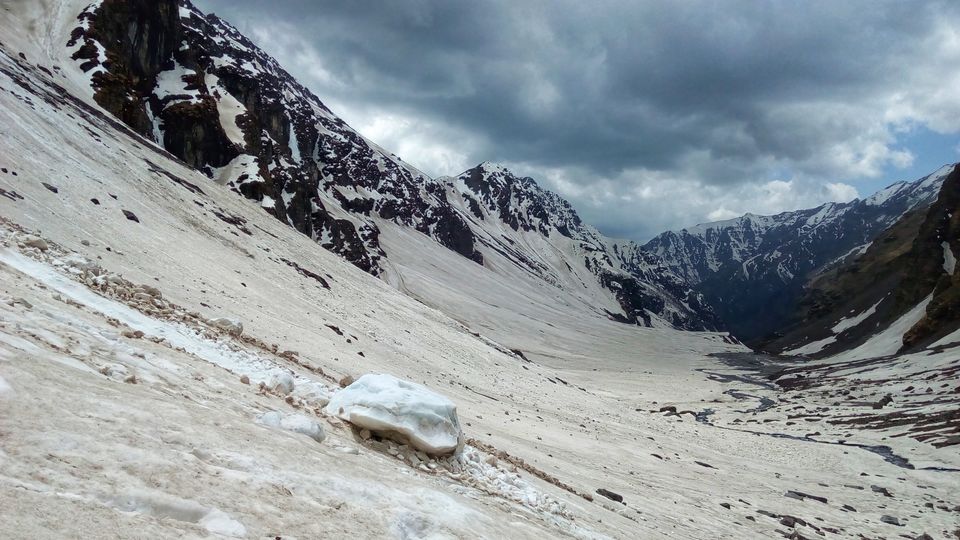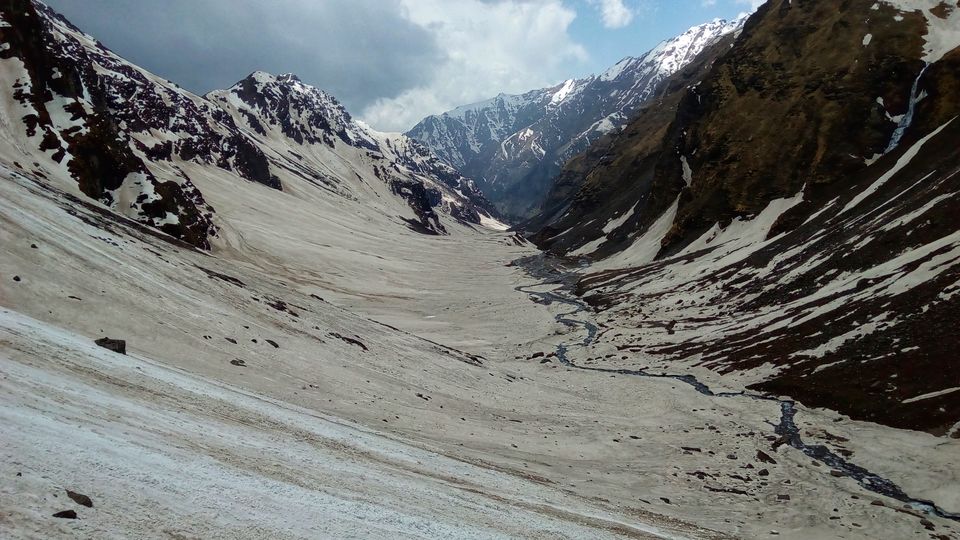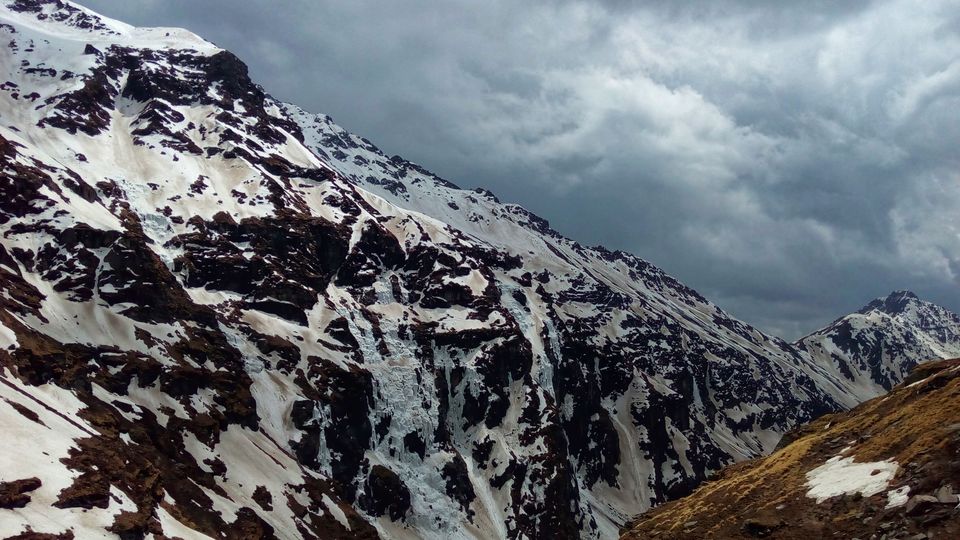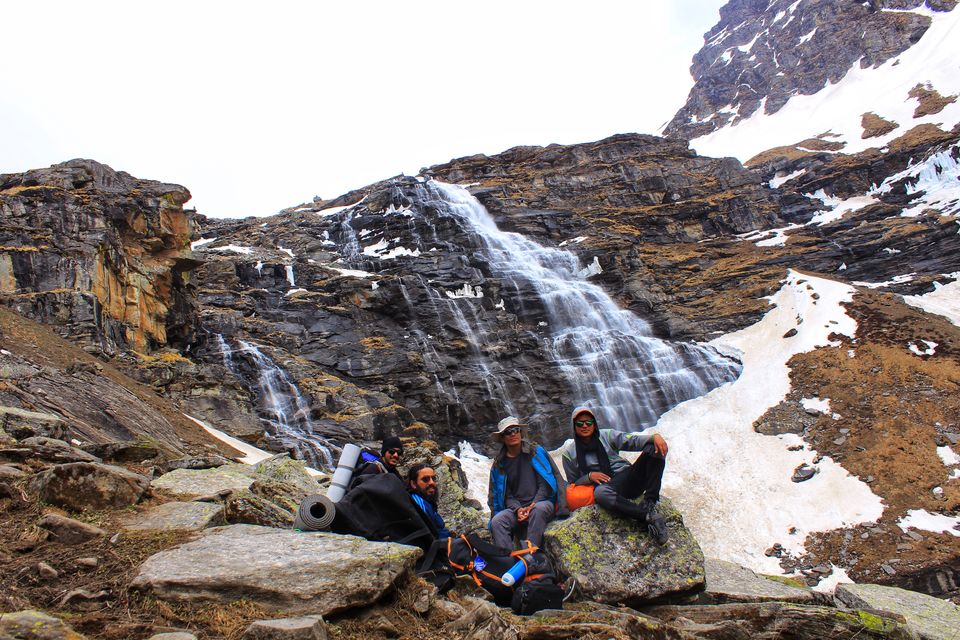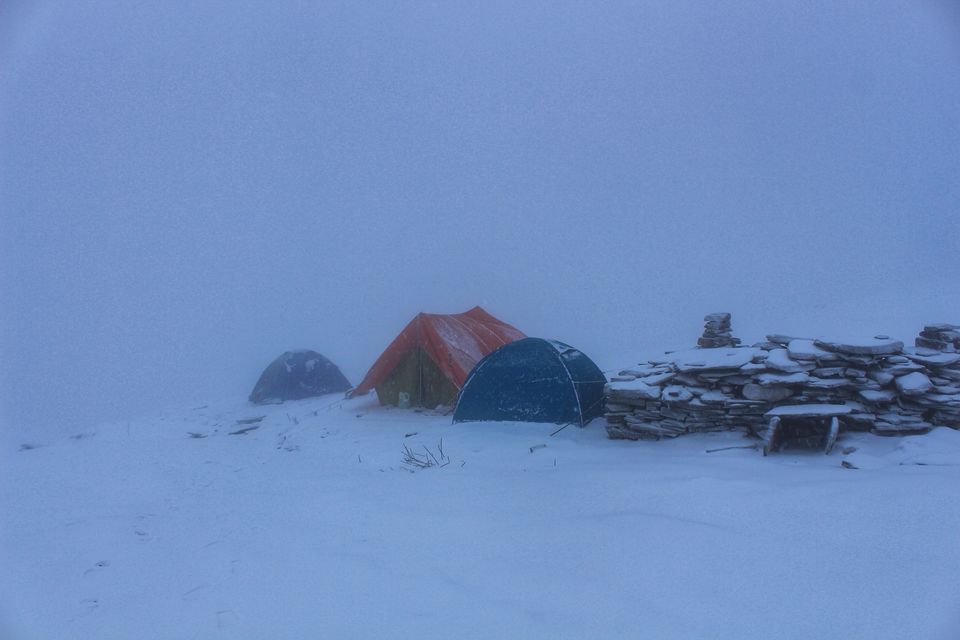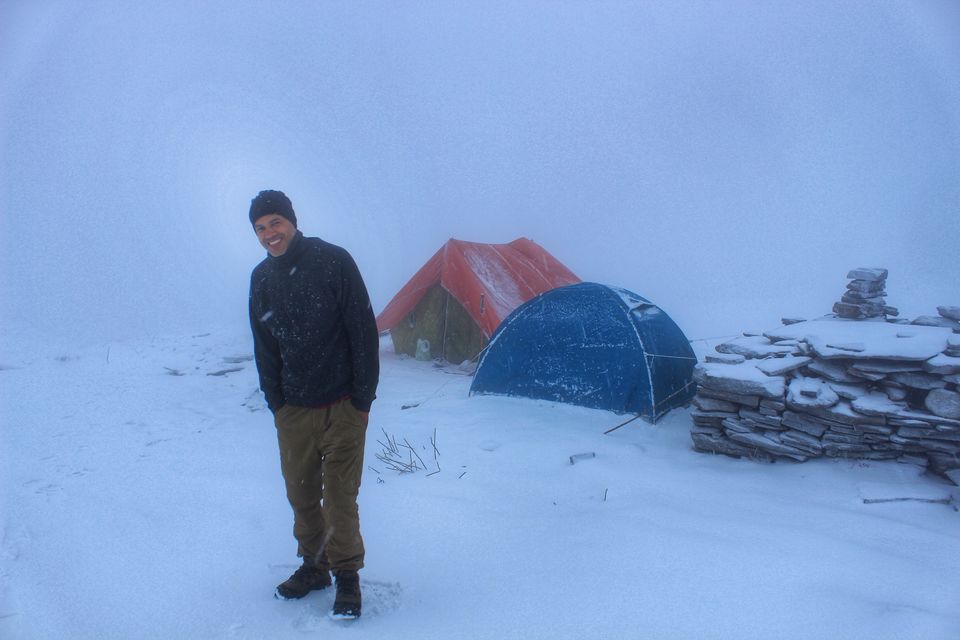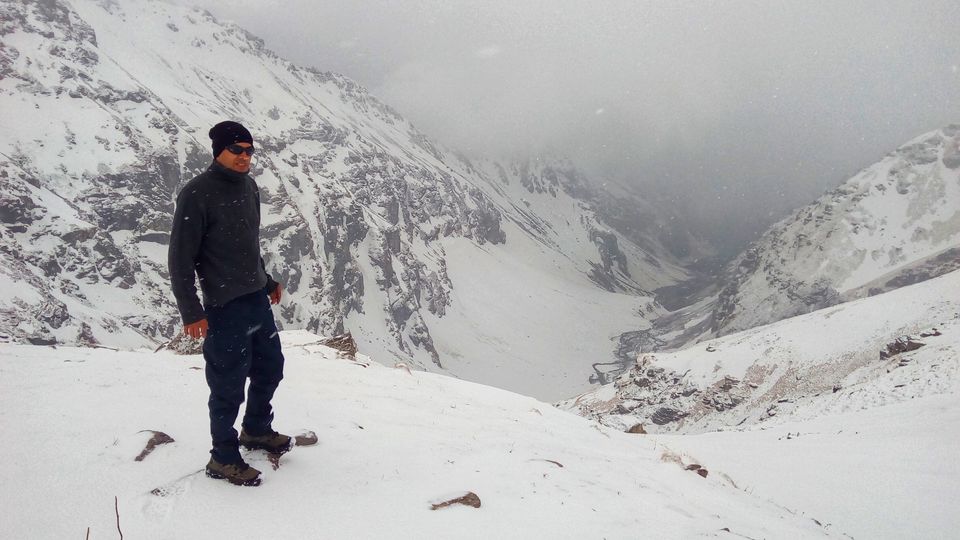 while on the way ahead to pass we had to use ropes and ice axe at times to cross few sections, one of the two porters felt snow blindness (not that severe), though he was there to help us but now it was our turn to help him out (things happens, so be ready for everything)… after continuous vigil walk for 3 hrs on endless snow sheet from few feet to few meters deep we reached at a point from where we could see the epic "gully" and Rupin Pass top. i used to see this place in blogs and it always looked like an easy climb. but here i realized that "pictures never give you a complete picture". gully is about 200 feet wide and about 1000 feet long section covered by deep snow is at the inclination of 60-70 degrees and is surrounded by vertical cliffs. here your first fall/slip can be the last one, so be aware... it took us about 1 hr to climb this 1000 feet in knee-deep snow. after climbing the "gully" we are at Rupin Pass top (15300 feet) the highest point on this trek. we did not stay there for long, because it started raining, which was ok, but the next expected thing was snowfall, which we could not have managed. with "RataFeri" the next camping site in our mind, about at 3 pm, we started walking again on endless white carpet and reached at Rata Feri about at 6 pm. as we were reaching at the end of our adventure, not only physically but we felt tired mentally as well with a thought that all this is coming to an end. After having dinner, by 9 PM, we were in a dead sleep in our tents. it was morning when we realized that we were visited by some unknown visitor. we saw a trail of pugmark very close to the campsite, for sure it was not any mountain goat as they are not solitary creatures at all.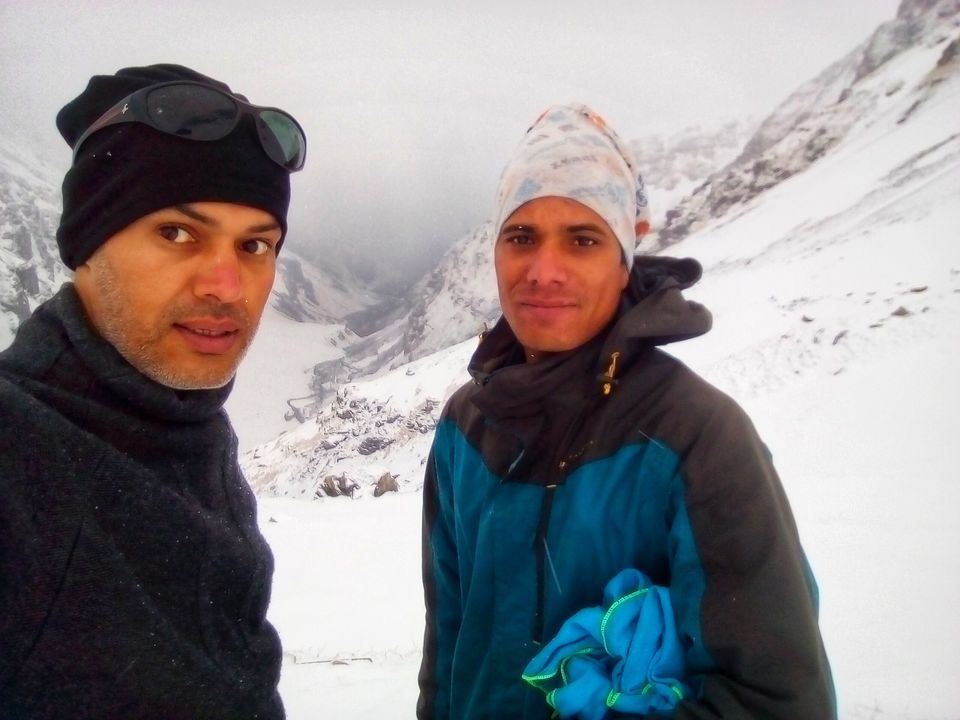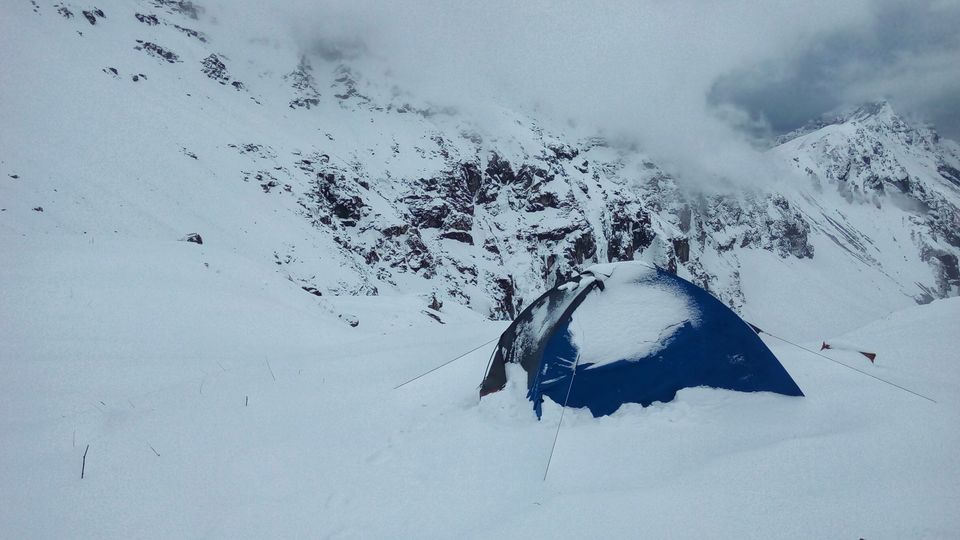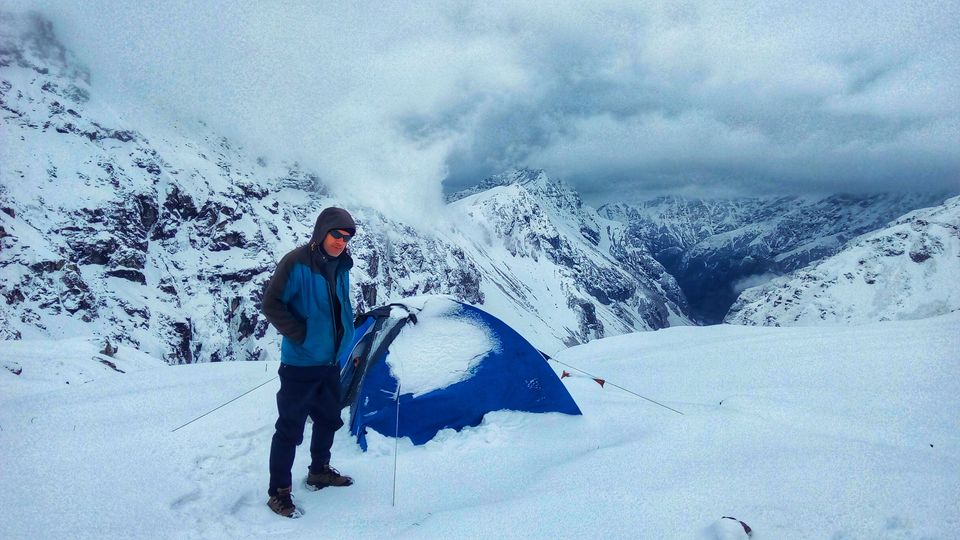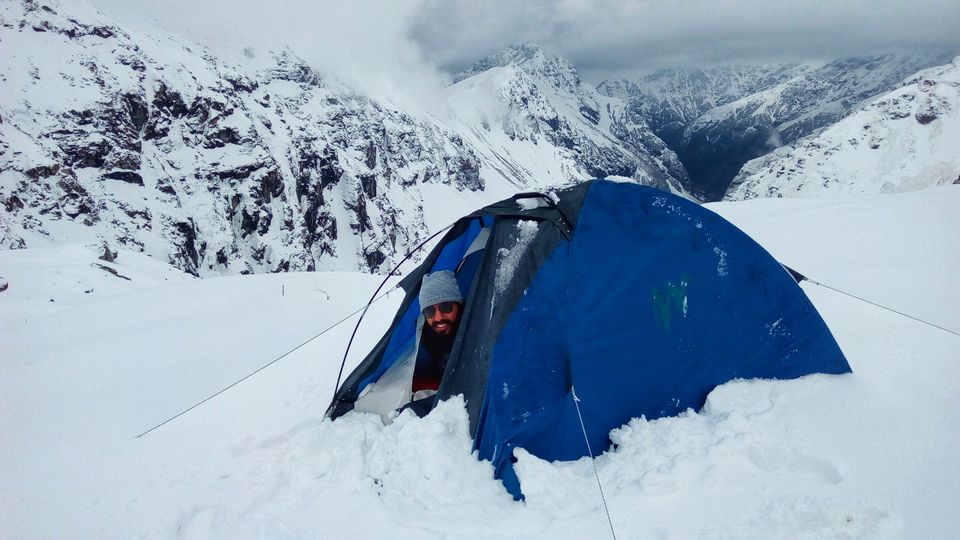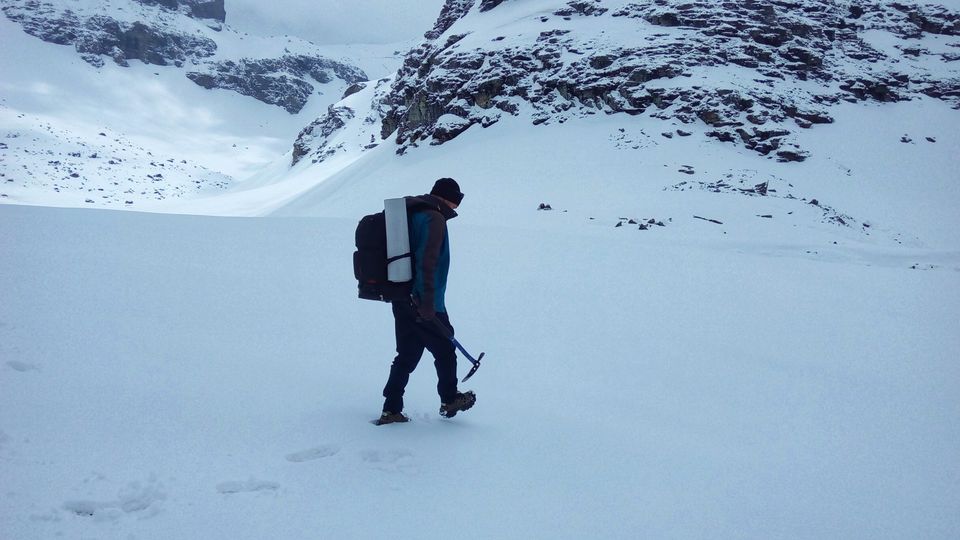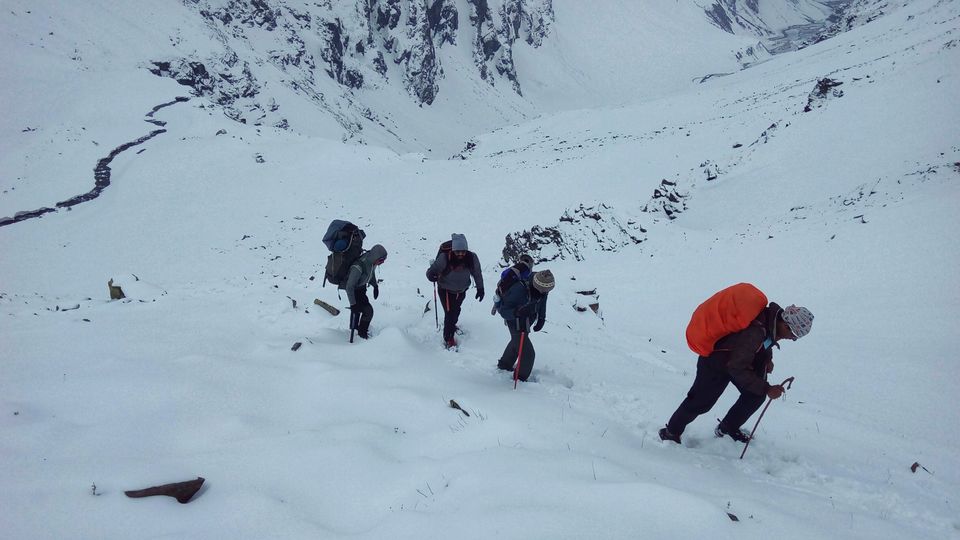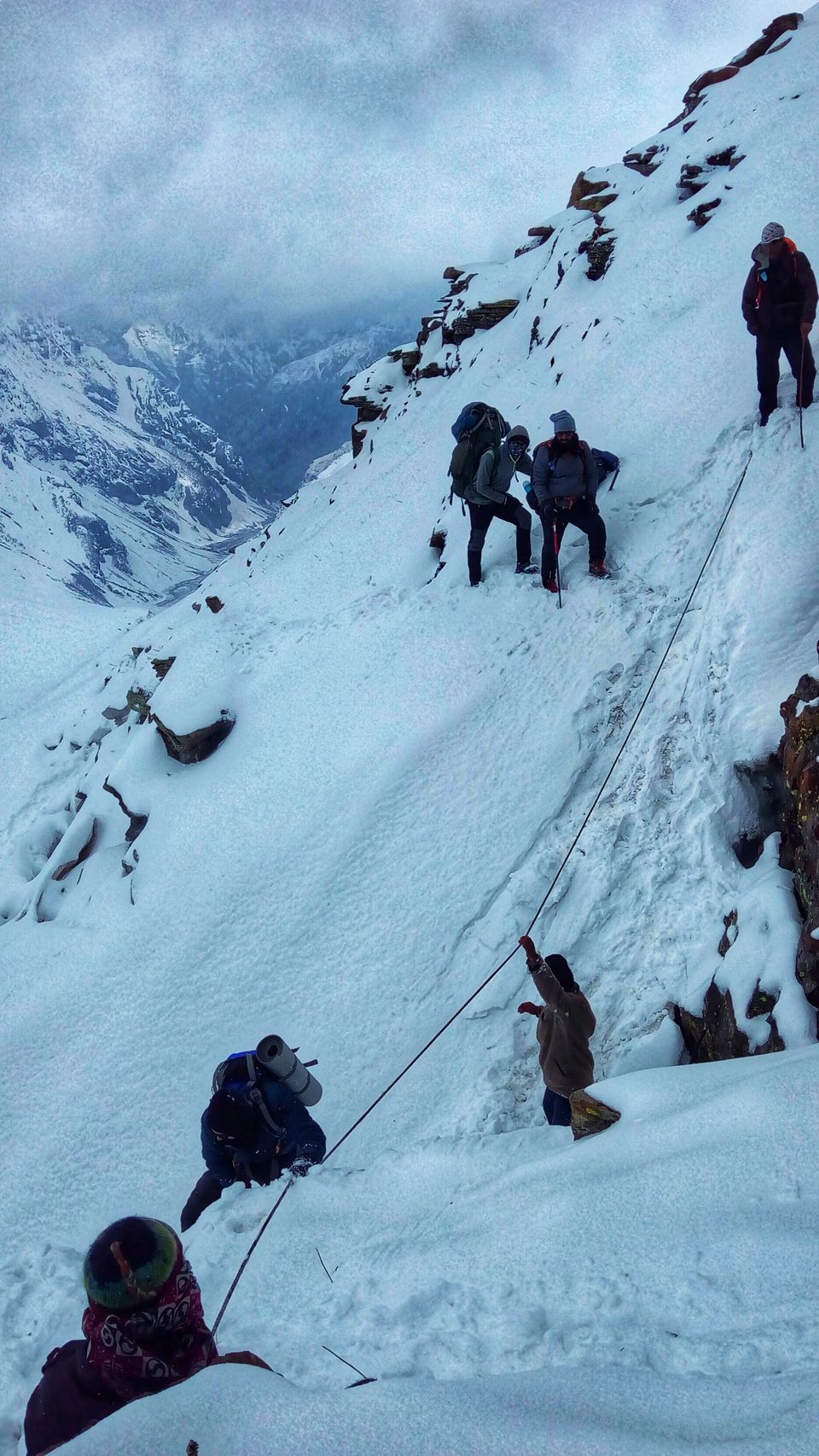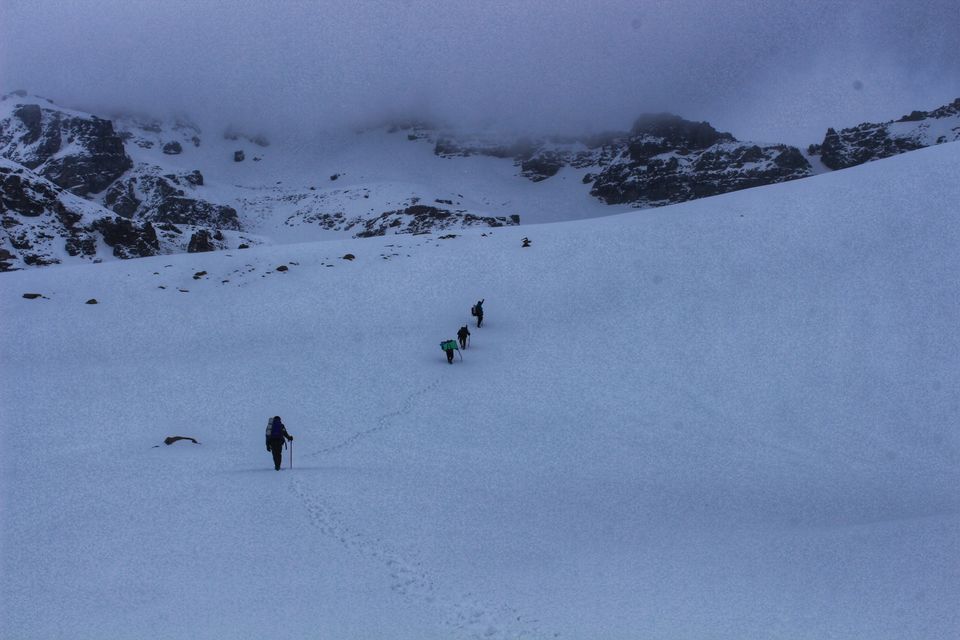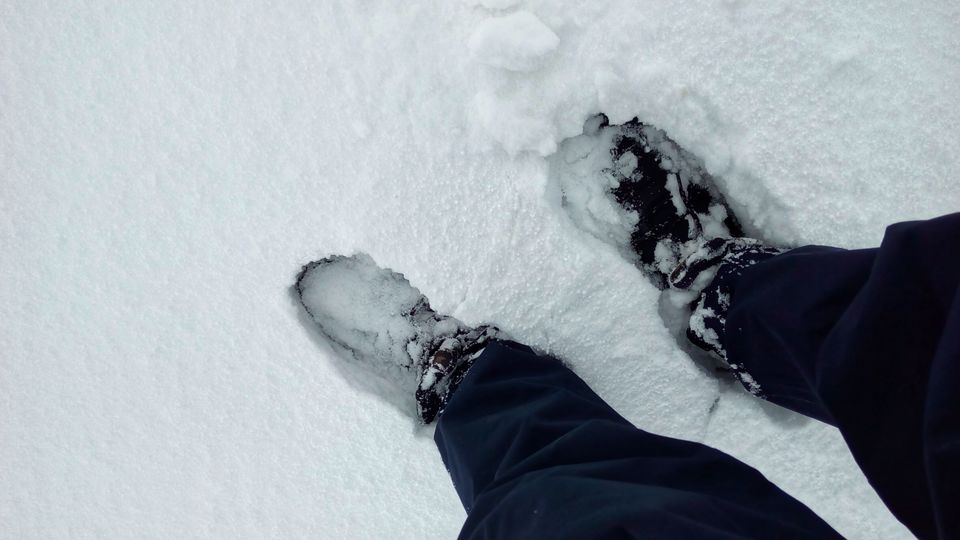 late morning after breakfast and exploring the surroundings we started towards Sangla Kanda, which is temporary settlement, though as it was late april, this hamlet was completely abandoned, shepherds from Sangla had not moved in yet as it was still coved with snow. they move in here with their sheep heard in the month of may, because by than snow melt away and it's all green pastures around. we reached there by early evening, we could have stayed in any of the huts or could have pitched our tents, but we decided to continue walking as we had enough time. after crossing this place, we were back in thick green forests of pine and deodar and far away was river Baspa and across river we could see town Sangla, our next and last destination on this trek. we reached there late in the evening and got settled in a govt hotel. next day morning after departing our guide Meghraj, Sudhanshu, and porter as well, we were at our own. as we were left with one extra day so decided to explore Chitkul, also known as the last village of Himachal towards Tibet. for me, it was the second time in Chitkul. just within three years i observed a lot of changes in this place. it used to be a lazy place but now things have changed… still it was good to be here again. the next afternoon, we headed back to delhi.