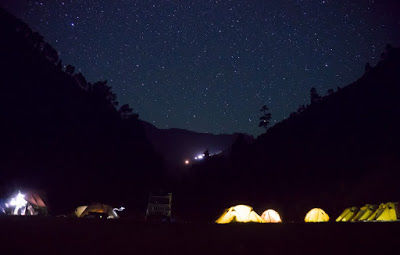 'The mountains are calling and we must go !!!'
This is how me and my wife Suchita had been answering anyone in our family if they asked us 'Why Trek ? You should plan Europe or Sri Lanka or Sikkim instead '
The truth was- We had always been intrigued by Himalayas, the treks - always considered it impossible for us; that we were too civilized to take up the challenge.
We chanced upon a website by Indiahikes and the different treks they were organizing throughout the year. While scrolling through the website our eyes fell on a line written about one trek specially- Rupin Pass. It read 'This trek is like an orchestra, building up momentum with surprises in scenery every hour or so'.

Something inside up suddenly clicked and we knew we had to go.
We paid for the trek, booked our flights to Dehradun (starting point) and thought that was it. Started day dreaming of being on mountain top, making friends, parties (basically like in movie Yeh Jawani Hai Deewani)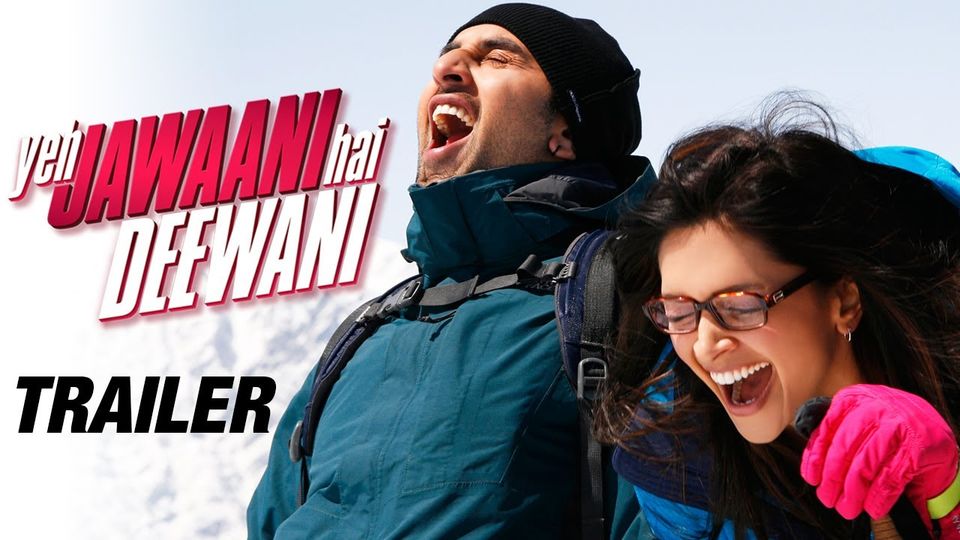 Imagine the surprise when we started receiving mails from Indiahikes - The amount of fitness required, the altitude sickness problems, the daily walking, stories of trekkers who took it very easy, etc.

As first time trekkers , what had we got ourselves into !!!! However, the money was paid, the news of us undertaking a trek spread like wildfire on our comfort loving family and now it was a matter of self pride for me and my wife.
Believe it or not, the resolve to climb a mountain (or do anything) does always bring out the best in us. The resolve to climb this challenge made us exercise daily, eat healthy and we were moderately fit by the day trek began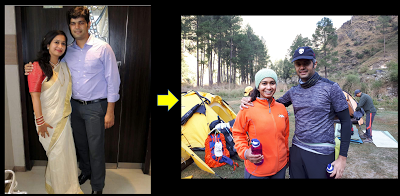 A few weeks prior to the trek we purchased all our prescribed items (trek poles, shoes, etc) from Decathlon Pune (where else :) !!!!! )
We had taken up the trek for the month of November, supposedly when there is least possibility of rains. The journey commences from Dehradun (Delhi connectivity) and ends at Shimla.
For the trek to commence, one needs to reach Dehradun from where jeeps take you for a 10 hour journey through curvy mountains to base camp site of Dhaula. The transport in our case was organized by Indiahikes team.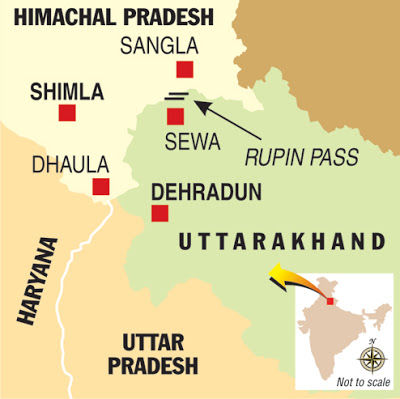 The trek moves along the course of Rupin River in the picturesque Rupin Valley right up to its source in the glaciers near the Rupin Pass in Himachal Pradesh

Day 1: Reach Dhaula; 10-11 hours drive from Dehradun.
The day of 11 hour tiring ride
Reached Dehradun railway station, the decided starting point for vehicles. Vehicles parked right outside the station.'Good, am on time. One website said punctuality is first indication of great trekker. I must be great' I thought.
Met with my fellow trekkers but the trek leader was no where visible. Saw a teenager in his early 20's with a huge trekking bag 'Haa !! Ignorant fool, does not know how to pack stuff' I chuckled a bit thinking about his plight.
'Hey do you need help with that bag' I asked him
'Hey no thanks' replied the boy 'These contain emergency medical kits, oxygeny cylinders and ropes. Bit heavy for you maybe'
'By the way my name is Himanshu, your trek leader' he continued.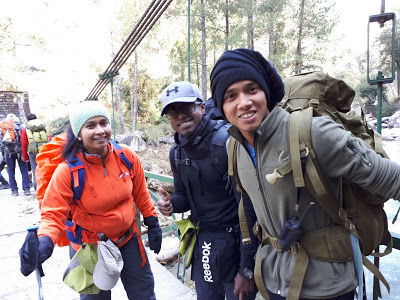 We adjusted ourselves in one of the transport vehicles arranged by Indiahikes and we were off. (A word of caution...never ever take Suzuki Ertiga on windy paths unless you have super strong stomach).
We adjusted ourselves in one of the transport vehicles arranged by Indiahikes and we were off. (A word of caution...never ever take Suzuki Ertiga on windy paths unless you have super strong stomach).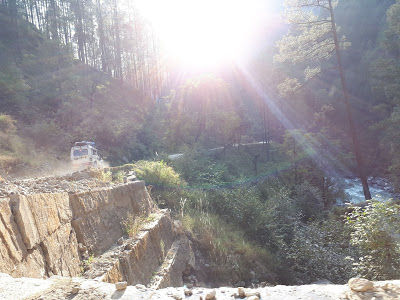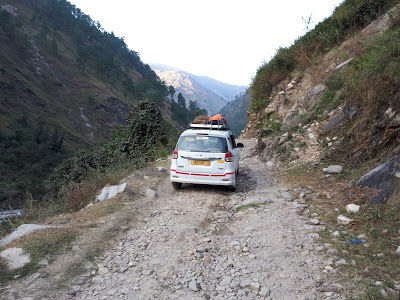 Dense pine forests with the Rupin assisting us along the ride provided the perfect setting for the start of this unforgettable journey.
We finally reached our base location at about 4 PM and adjusted ourselves in respective tents. An early night sleep to ensure we all were in best of shapes for the commencement of trek.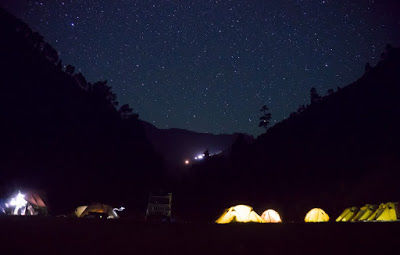 Day 2: Dhaula (5,100 ft) to Sewa (6,300 ft); Approximately 6 hours
The day of the rude awakening !!!!
We got up early by 5.30 AM and proceeded to complete our 'chores'. After learning of Green Initiative run by Indiahikes (they provide pouches to collect plastic along the way...pretty neat effort) and explaining on how tents and sleeping bags are packed, we were on our way.
And we walked. We climbed. We panted.
The views of the gentle inclining mountains, clean flowing rivers and the trails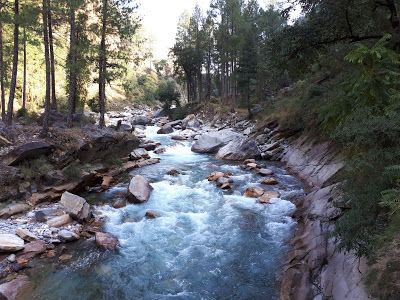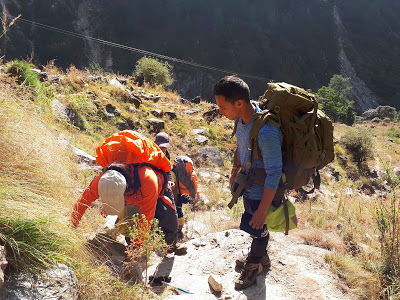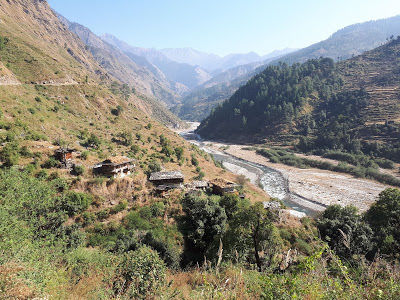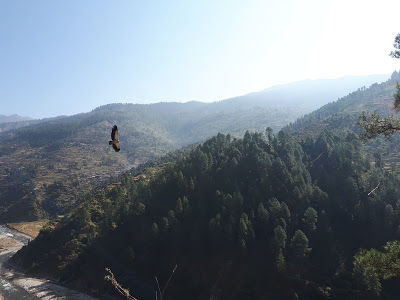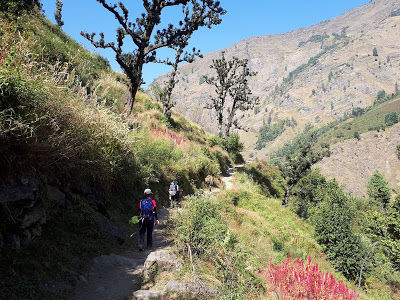 The day ends at Sewa village. The accommodation was at a wooden guest house with all men in one room and women in other.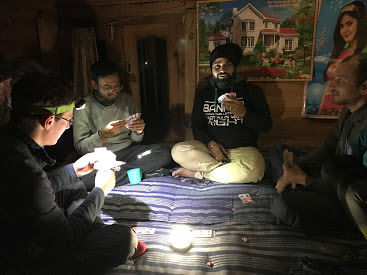 There are some other interesting things about this accommodation in Sewa which we discovered at night. At about 2.30 AM, there was a loud screaming type voice of a lady from inside our room. It continued for about 10 seconds before one of us mustered the courage to shout 'Enough !'
Though we dismissed it merely as a prank or wind and slept again, the story told to us by one of the locals was of the place being haunted by a ghost :O
It is said the ghost has been heard almost by everyone and seen by few, but is harmless. It is said to be of former resident of the place who expresses discomfort of new people at the residence.
'Koi mehemano ka aisa swagat karta hai kya ? (Does anyone welcome guests like this ?)' I smirked but hoped ghosts do not read minds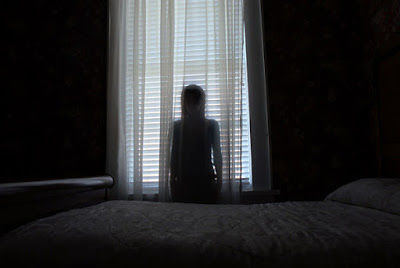 Day 3: Sewa (6,300 ft) to Jiskun (7,700 ft); Approximately 6 hours
Aaaahh my Aching body !!!
All the arrogance of working out for 4 months was now down the drain. Each and every part of body which was used during the hike on second day was screaming in pain.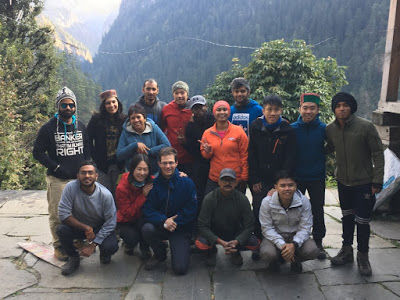 The village of Sewa has a temple which is adorned with trophies and medals. These trophies are dedicated to god by villagers for blessings to win at their respective goals.This temple marks as a starting point for the day trek.
However, the temple doors were closed on our day of vist. On asking the villagers they said that the idol was common to the 12 surrounding villages and the idol moves to each village each month.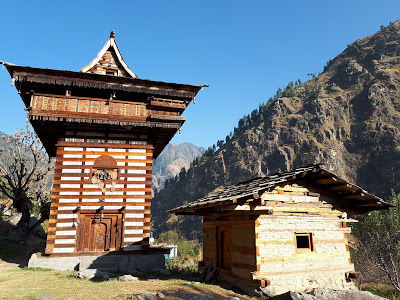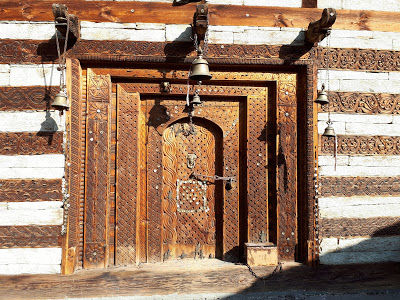 The trek commences trough the village and immediately after some time the rivers begin gretting you along the way. From Sewa onward, we filled up bottles of water directly from river itself.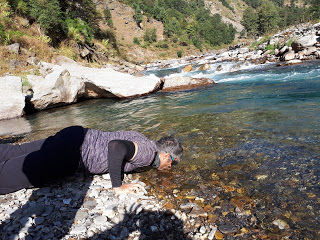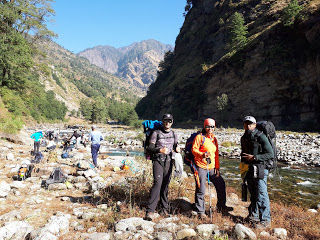 The day gives you an opportunity to cross the state border on foot. The bridge below connects Uttarakhand to Himachal Pradesh. How many times in your life do you get to brag of crossing state borders on feet !!!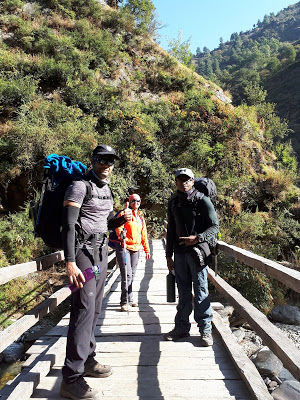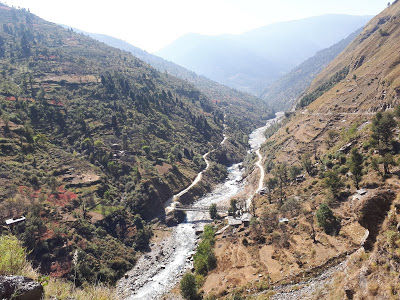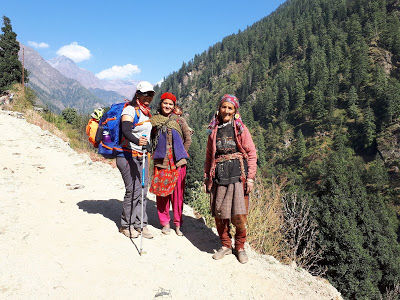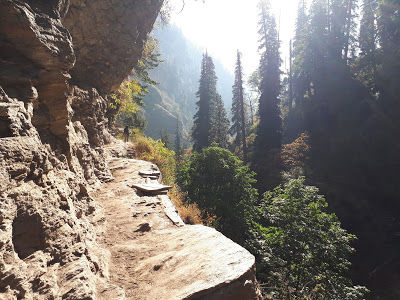 After approximately 6 hours of walking, the village of Jiskun appears on the horizon. This is the last location of staying in wooden house post which all the stays will be in tents.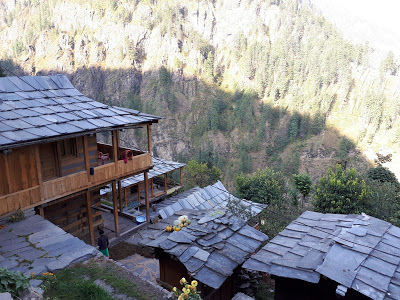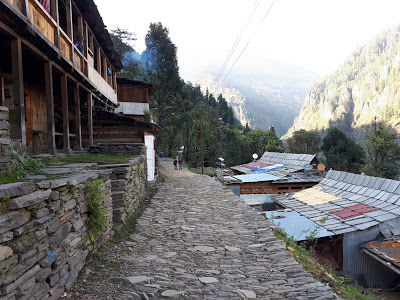 There were no ghostly instances after Sewa, however the combined snoring has said to have caused some minor earthquakes at Jiskun :P
Day 4: Jiskun (7,700 ft) to Udaknal (10,100 ft); Approximately 5 hours
The day we walked and walked and walked !!!
This is probably one of the most difficult days on the trek. The amount of gradual incline and sudden declines along with the distance to walk makes it one of the tiring days during the trek.
However the day also gives some wonderful views- The streams, the forests , picturesque locations for clicks, rocky patches,etc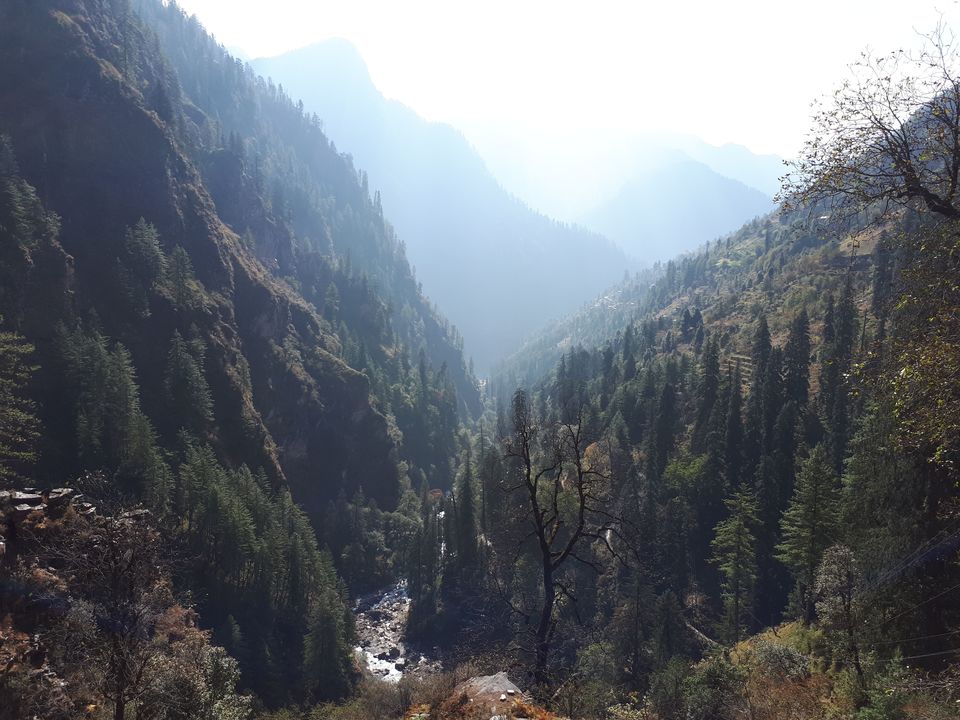 The trek has a break mid way for Maggi/Buttermilk/Lassi refreshment. Though the food served is excellent and refreshing many of the trekkers seemed mesmerized by the person who served it to us :)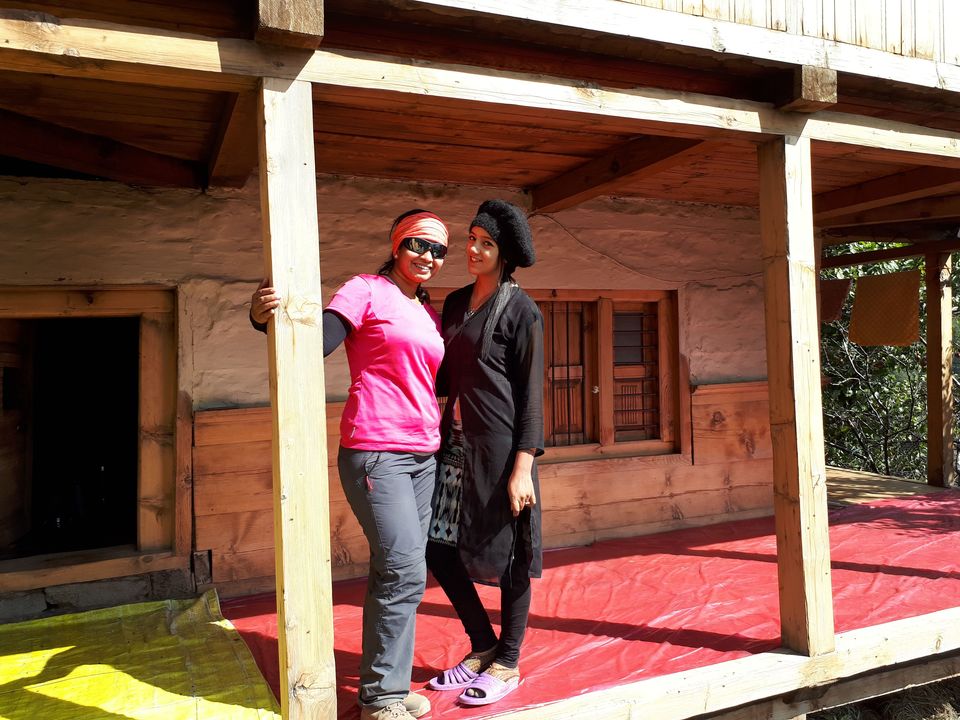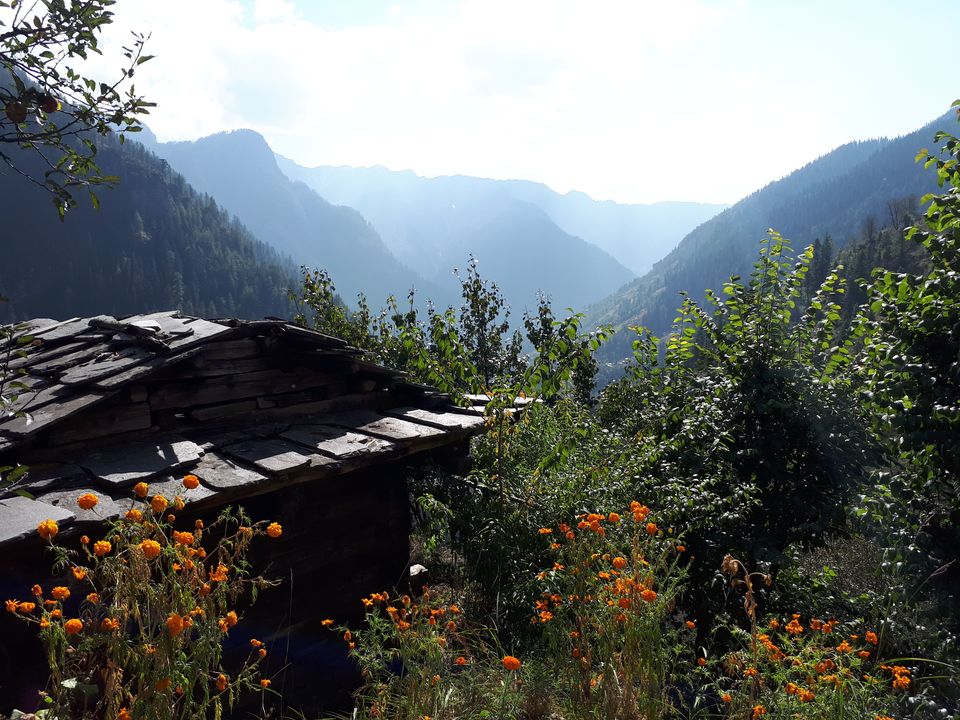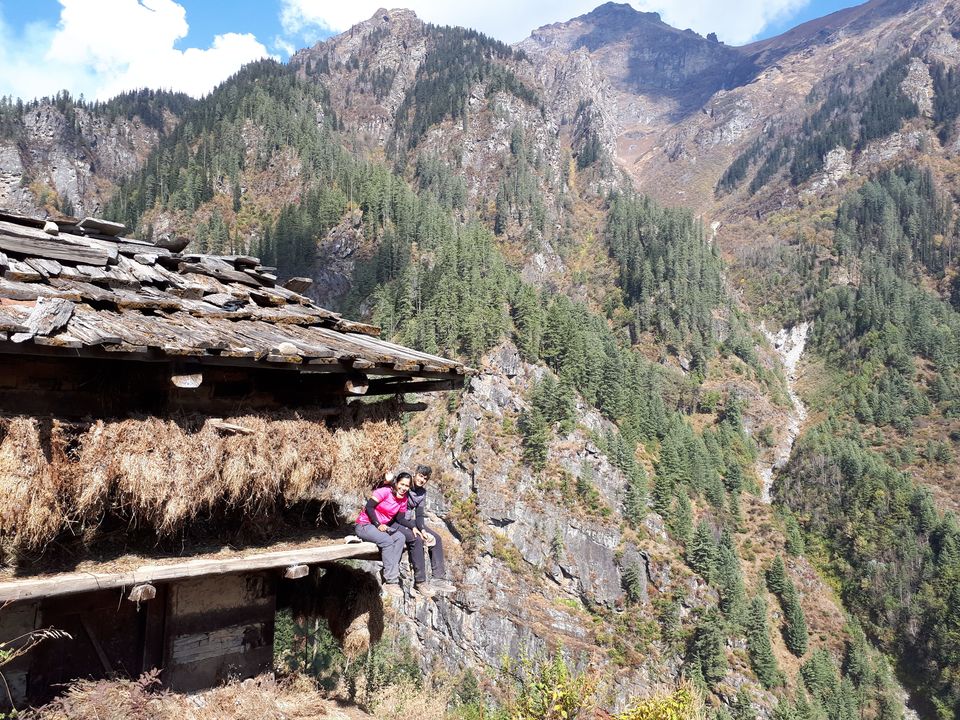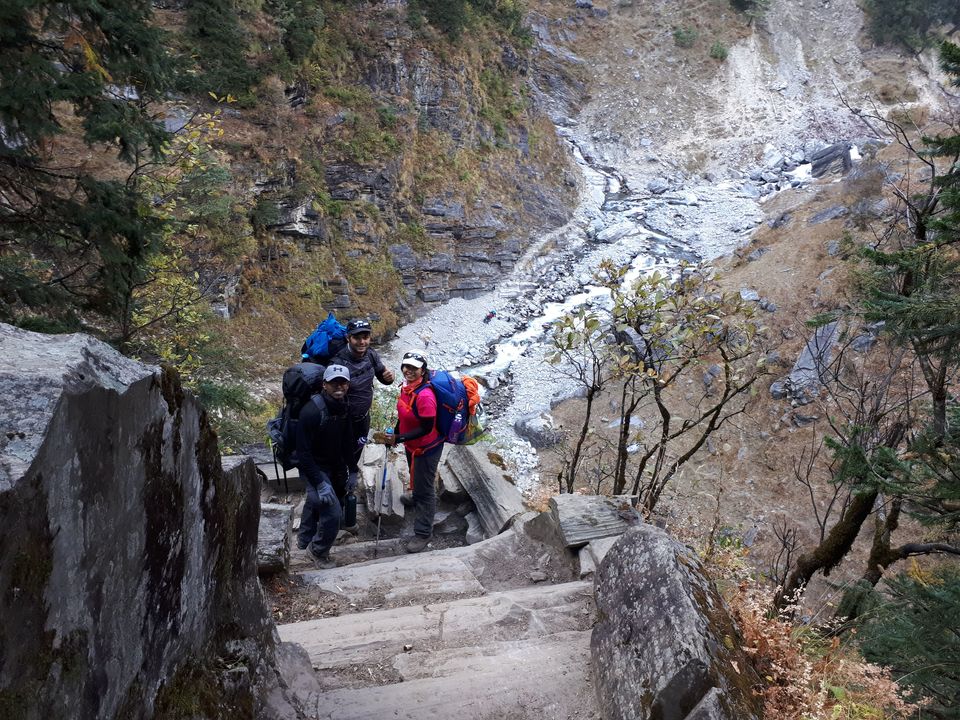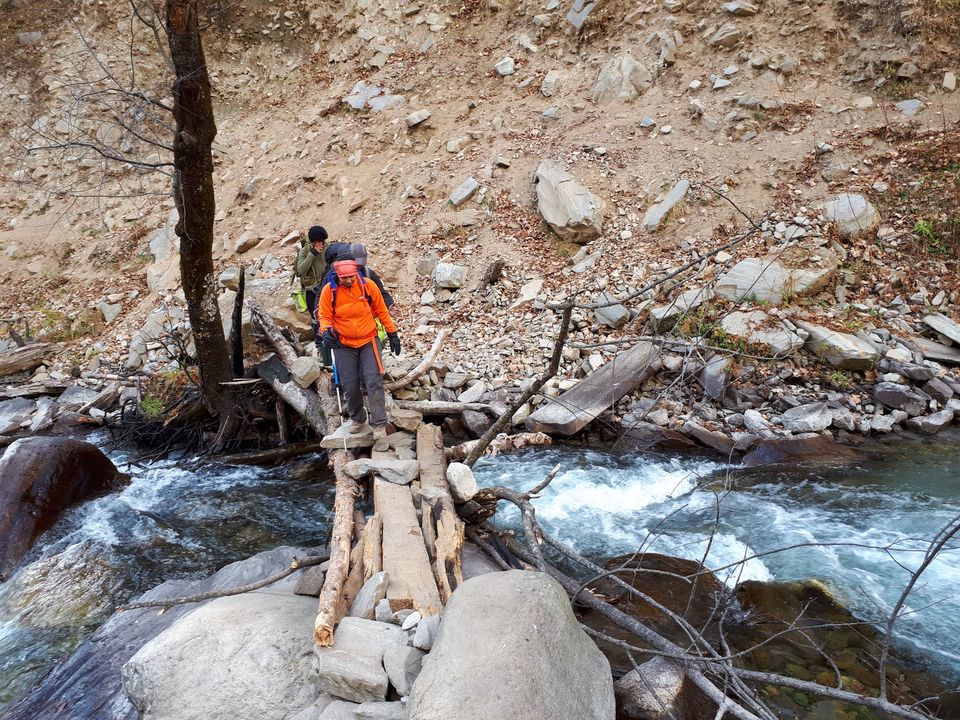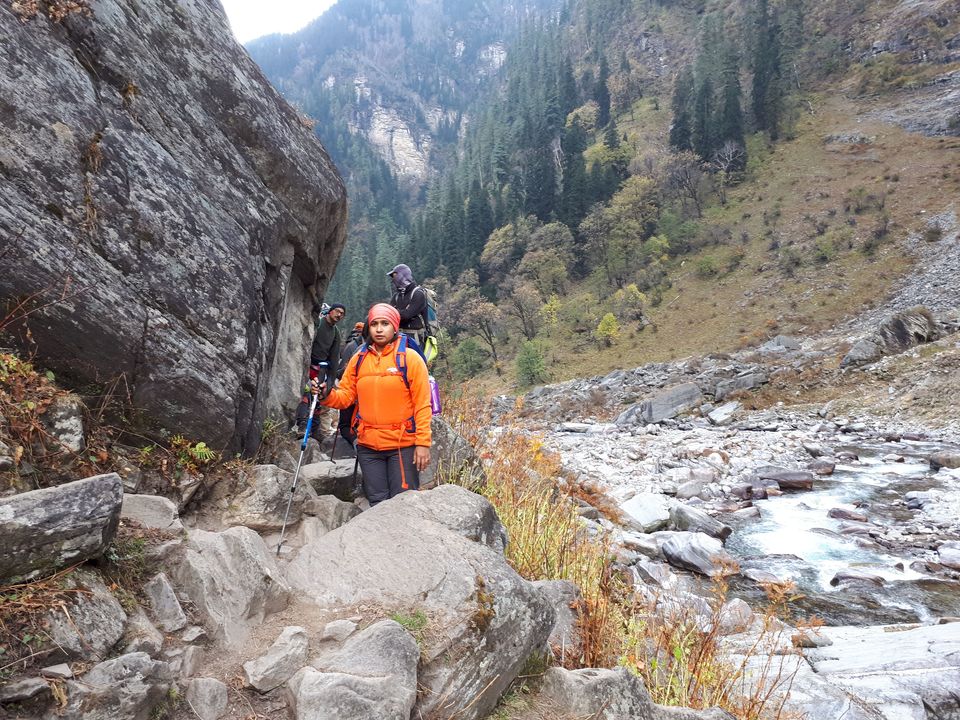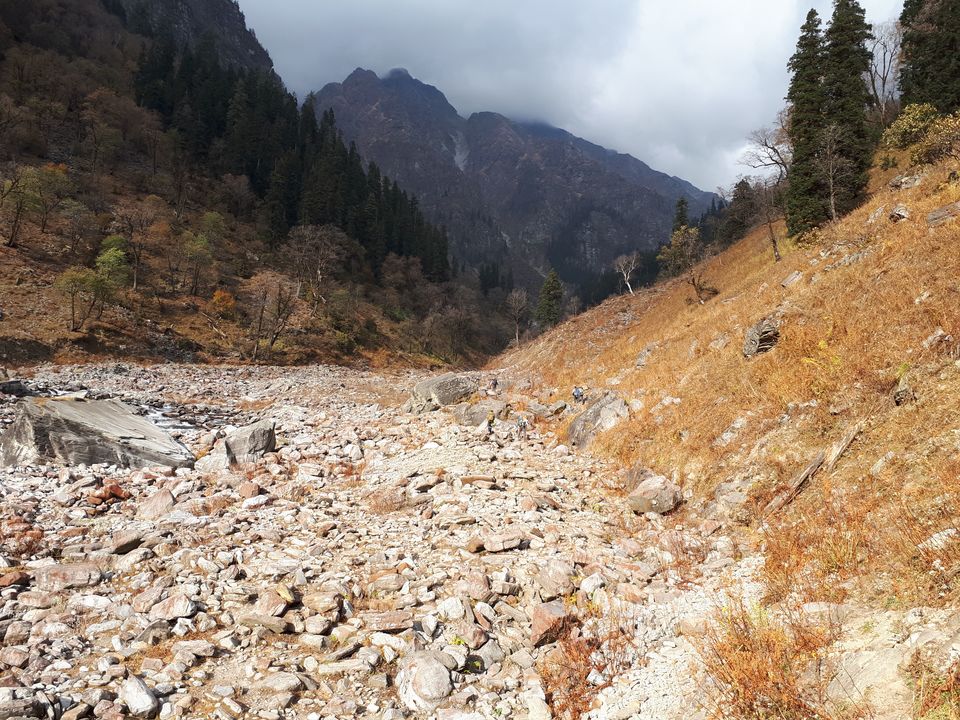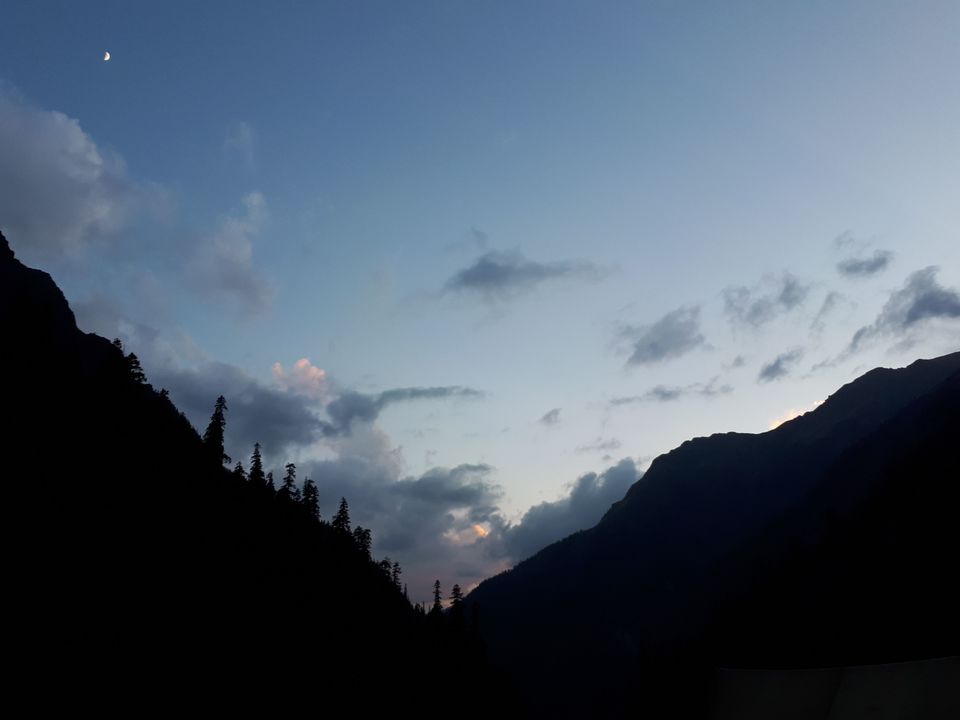 The day ended with us completely exhausted. The weather had also started to get cooler and we could feel the need for additional layers of clothes at night . We tucked ourselves into our warm sleeping bags happy about the sights that the magnificent valley had shown us; unaware of the fact that the real beauty of the trek will unfold in next few days.
Day 5: Udaknal (10,100 ft) to Dhanderas thatch (11,700 ft); Approximately 5 hours
It is at Udaknal that the real cold starts to set in. The temperature drops at night and mornings are chilly. It was just the start of much more cooler days.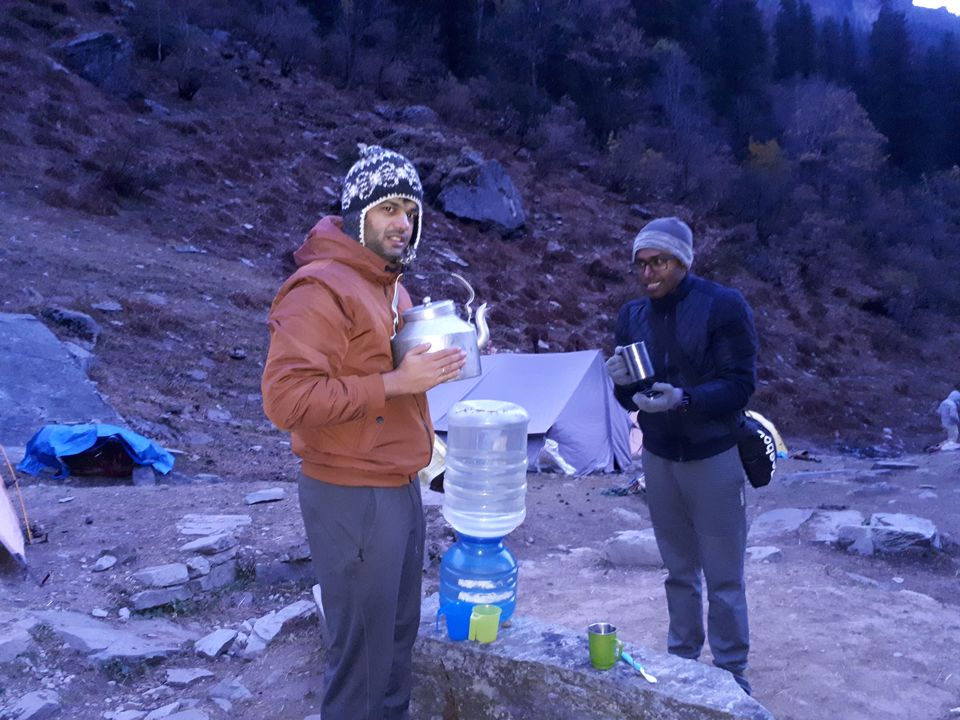 It on from this day that the real beauty of Rupin Pass trek becomes strikingly visible. The landscape changes every hour and you truly begin to appreciate nature in all its glory.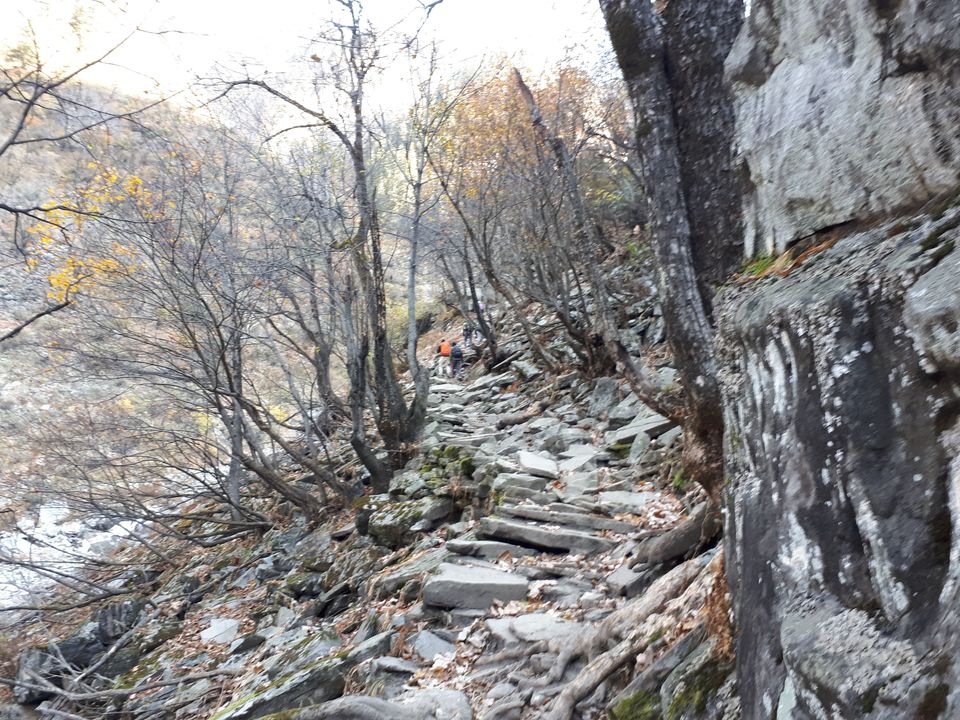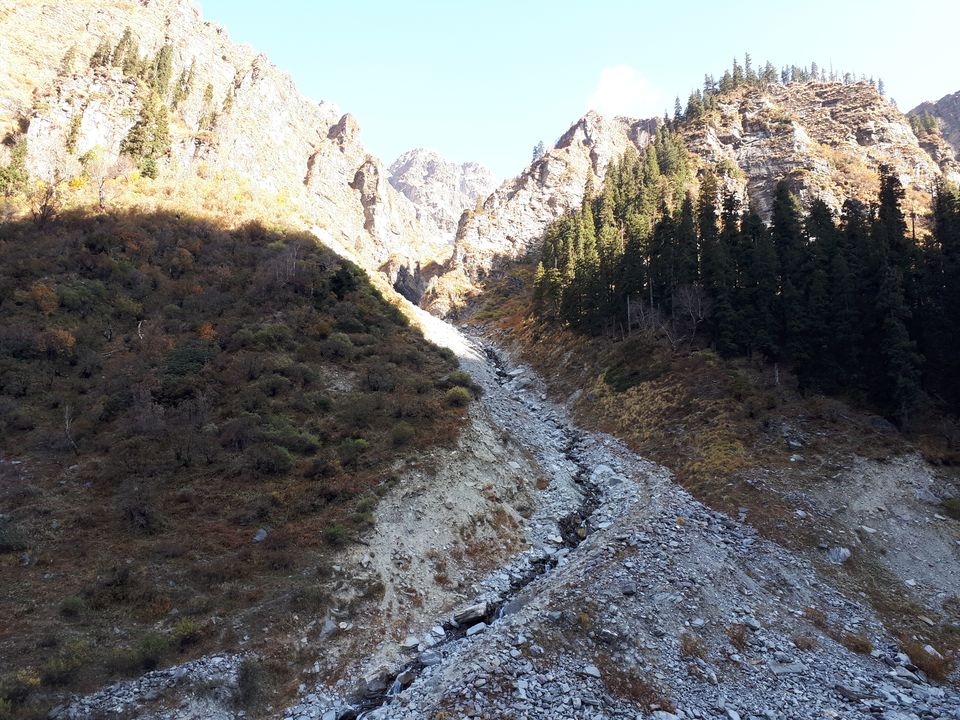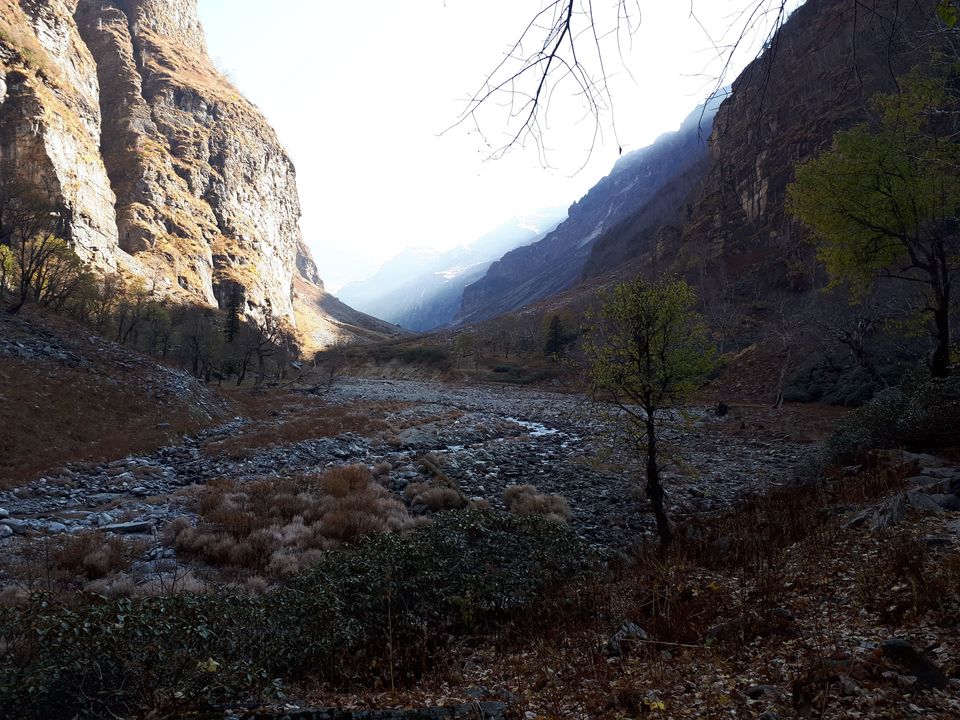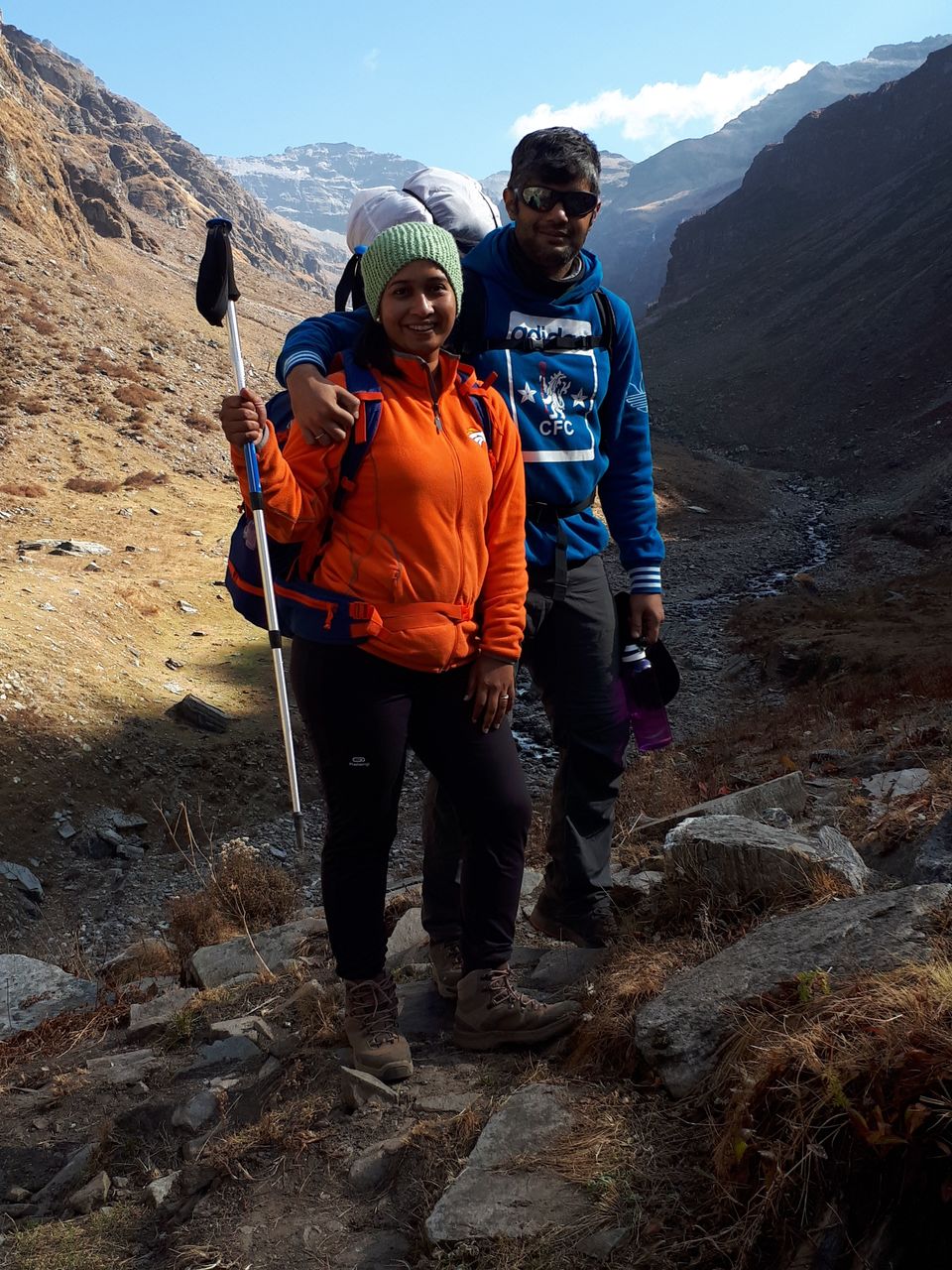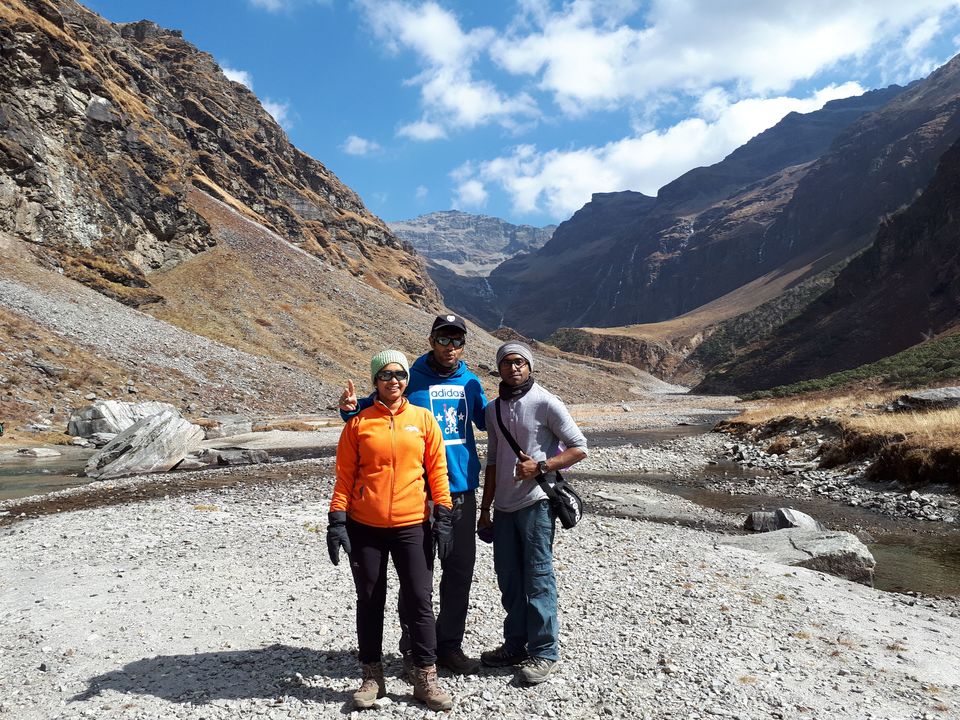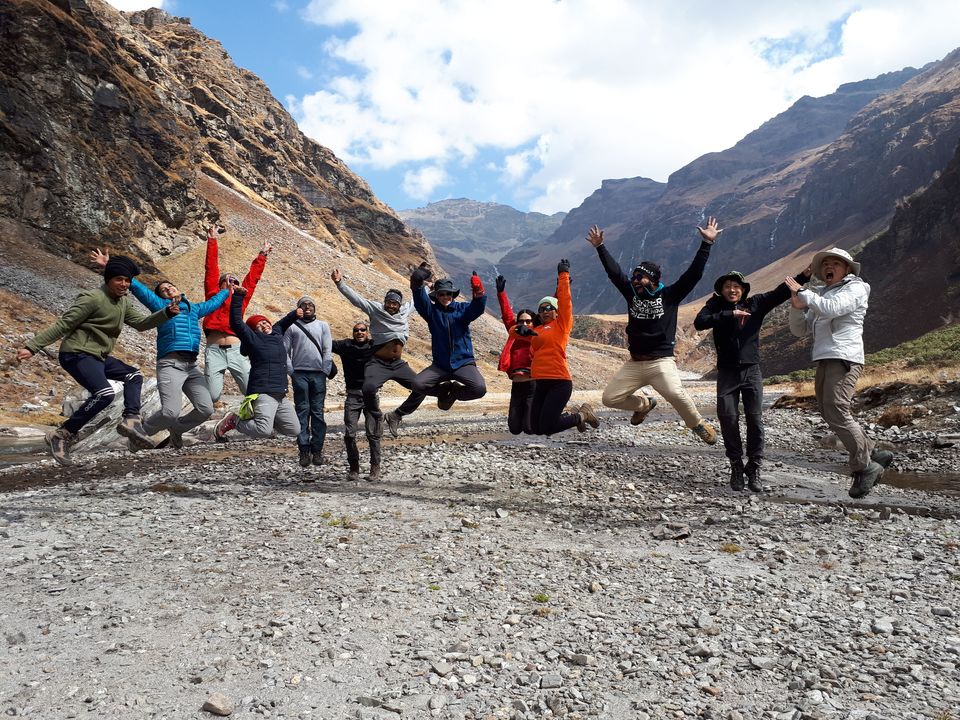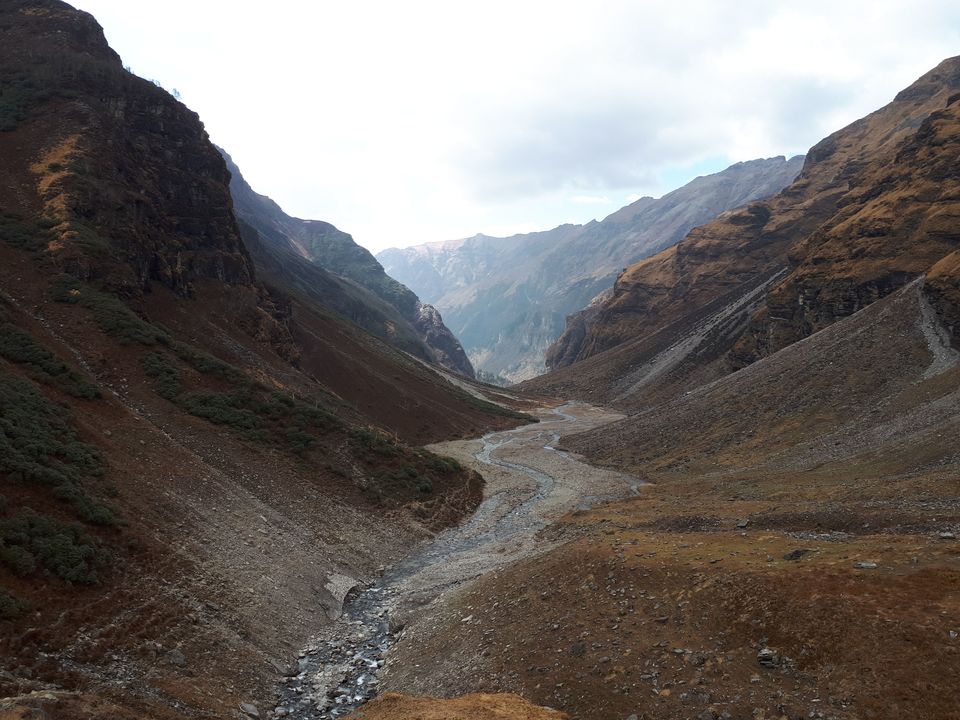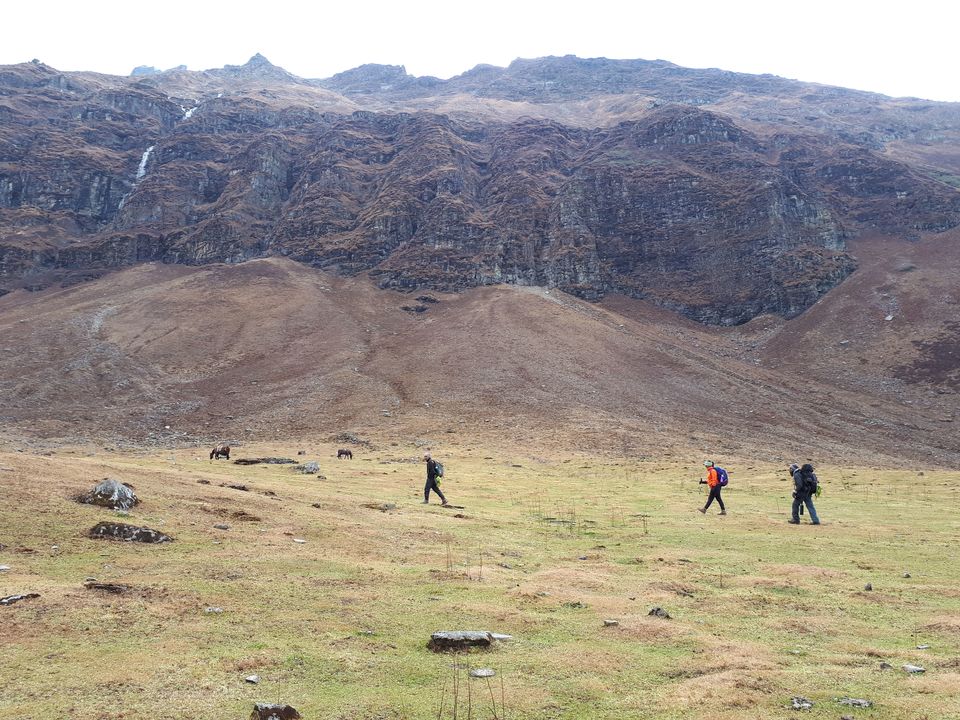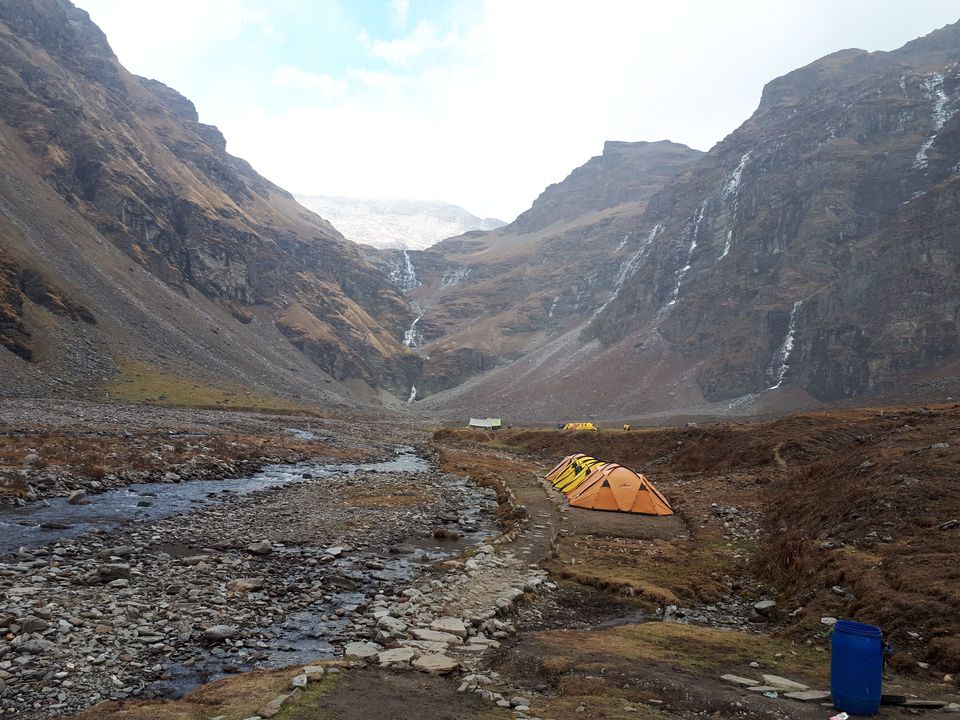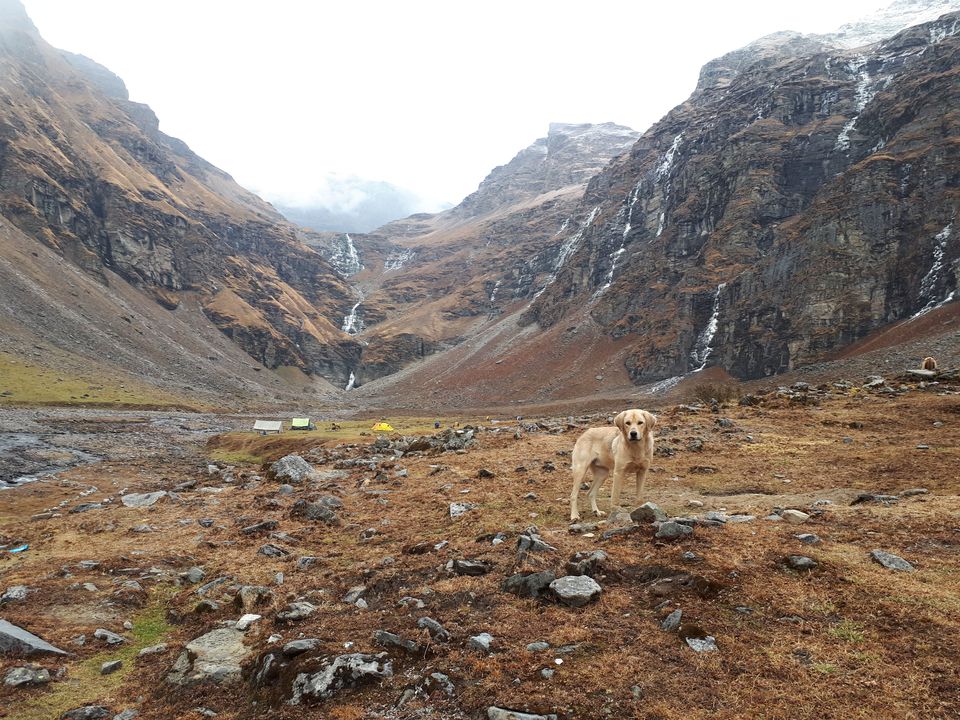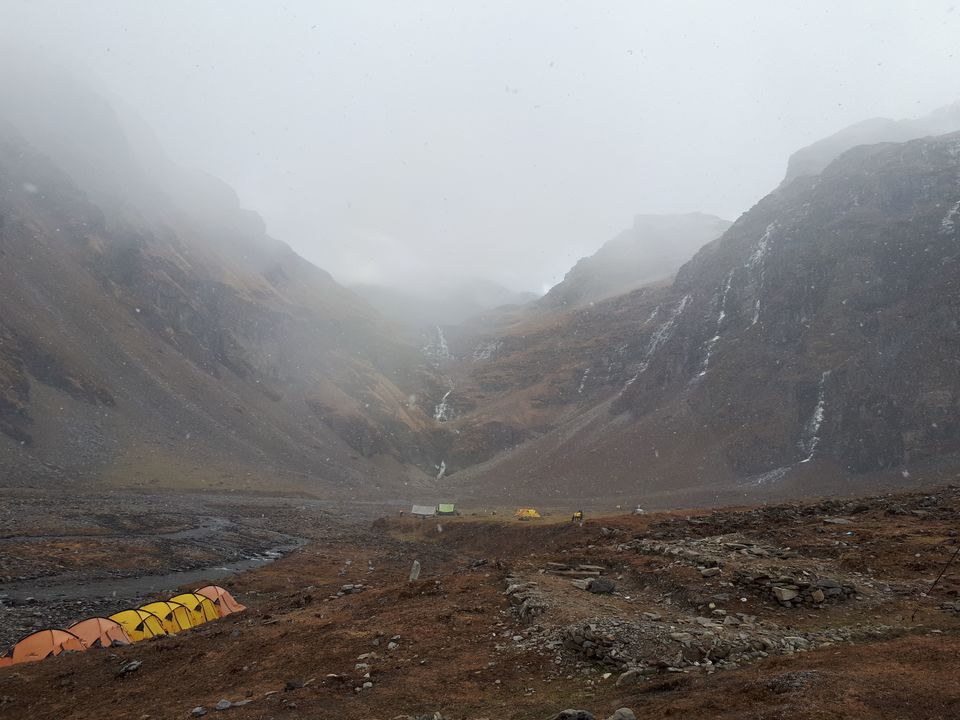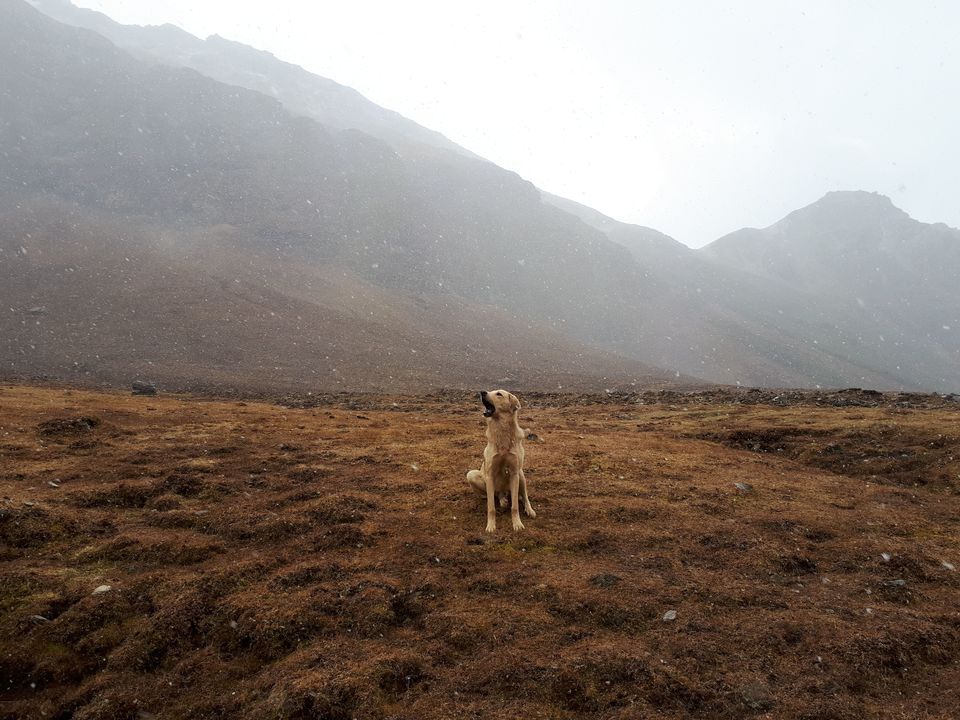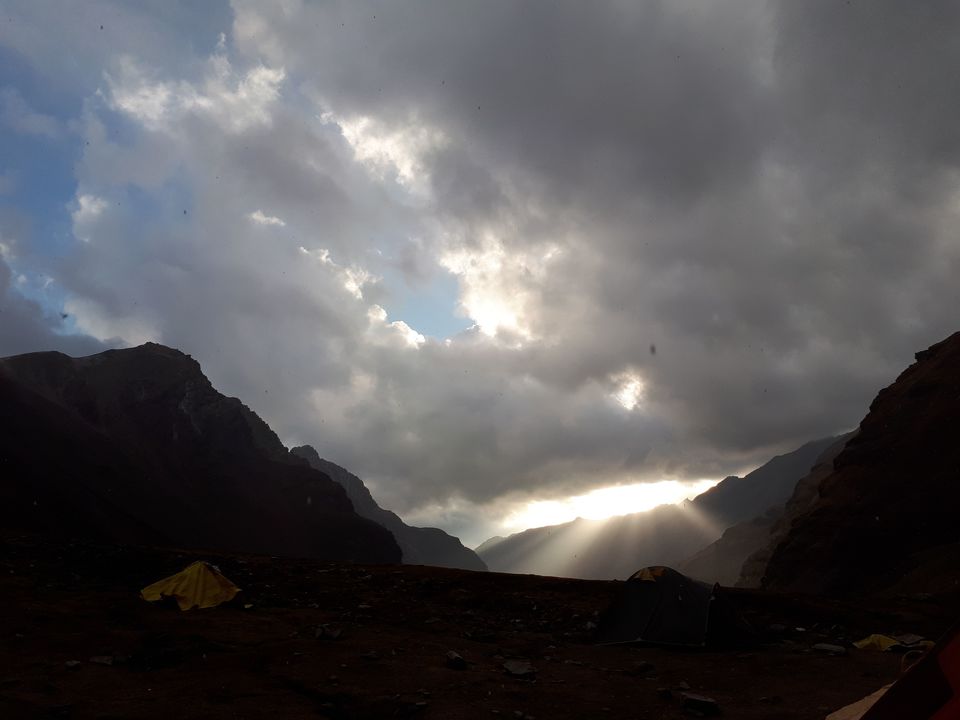 The few glimpse of unexpected snow made us super happy as we had not expected any on this trek. However, it was time for weather gods to enhance the beauty of this valley...and it began to snow at night.
Day 6: Acclimatization Day
We woke up to this :)
Nature had decided to bless us with some of the grandest views the valley had to offer. And to top it up, this was an acclimatization day meaning we could relax and enjoy the beauty for the complete day!!!!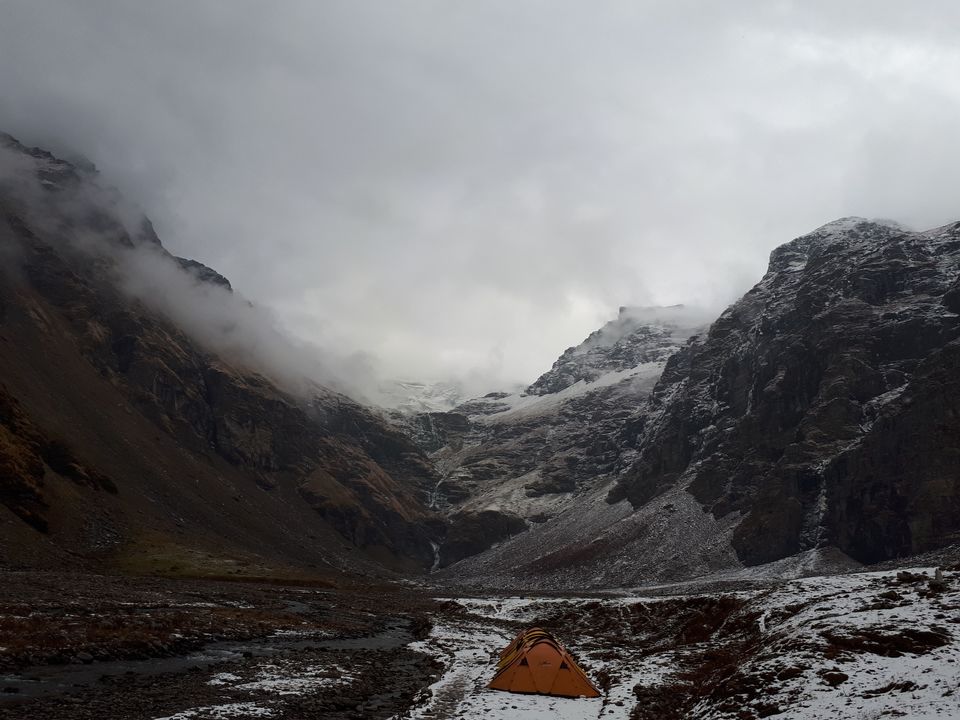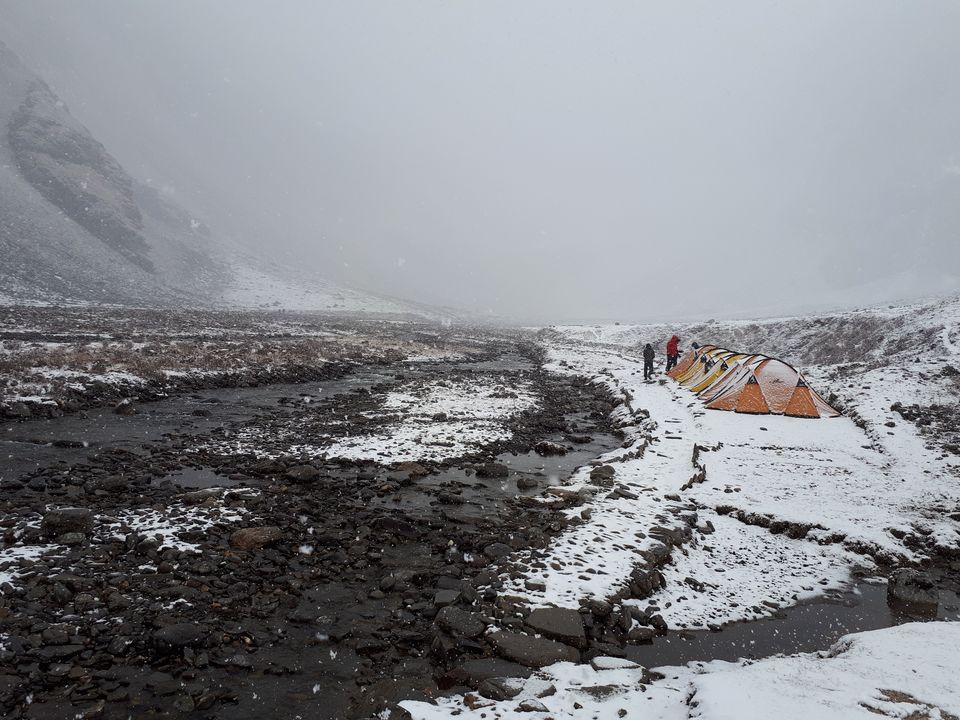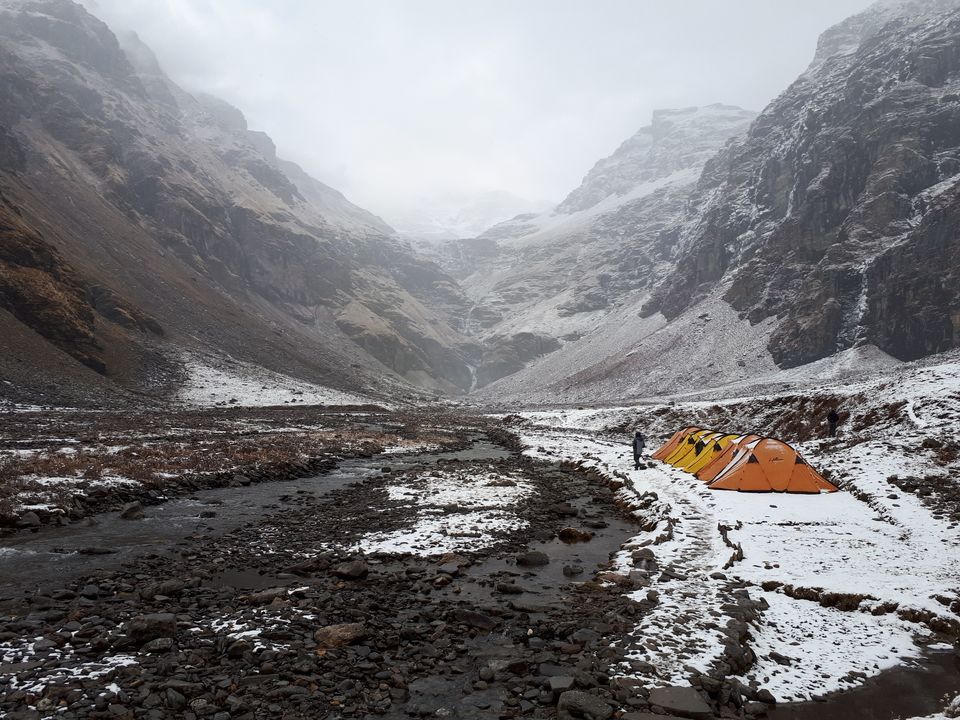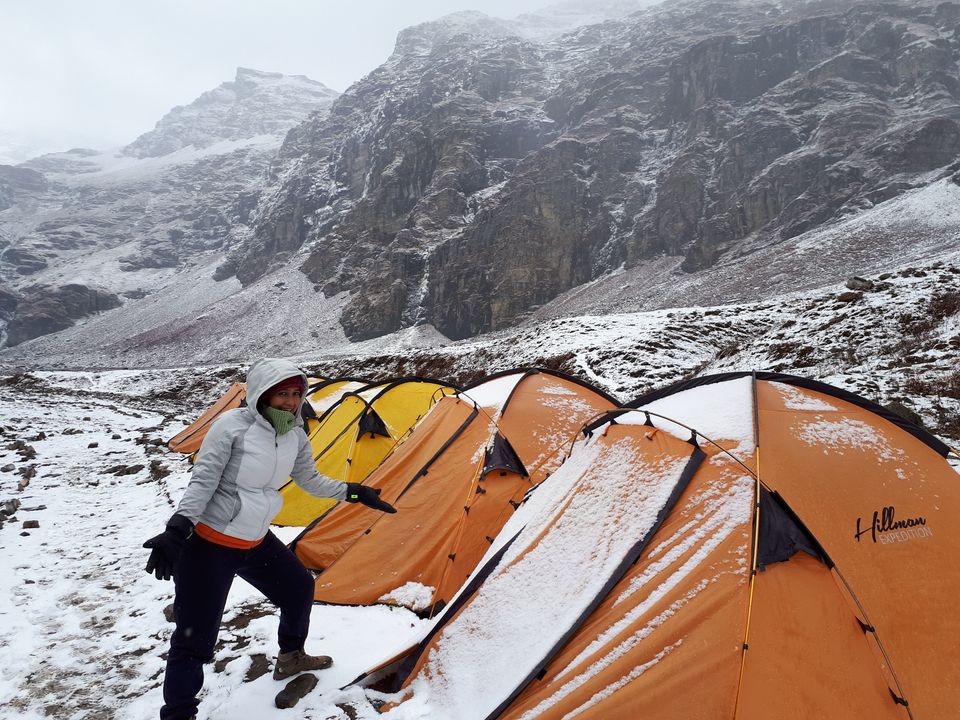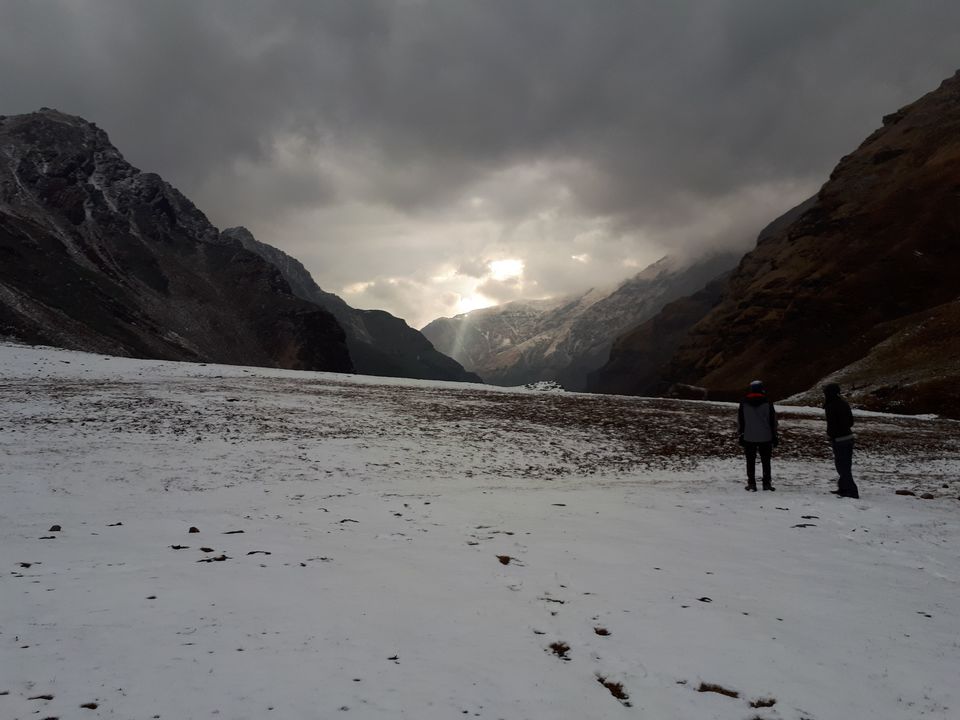 Day 7: Dhanderas thatch (11,700 ft) to Upper Waterfall camp (13,100 ft); Approximately 3 hours
3 Hours of climb and a photographers paradise!!!!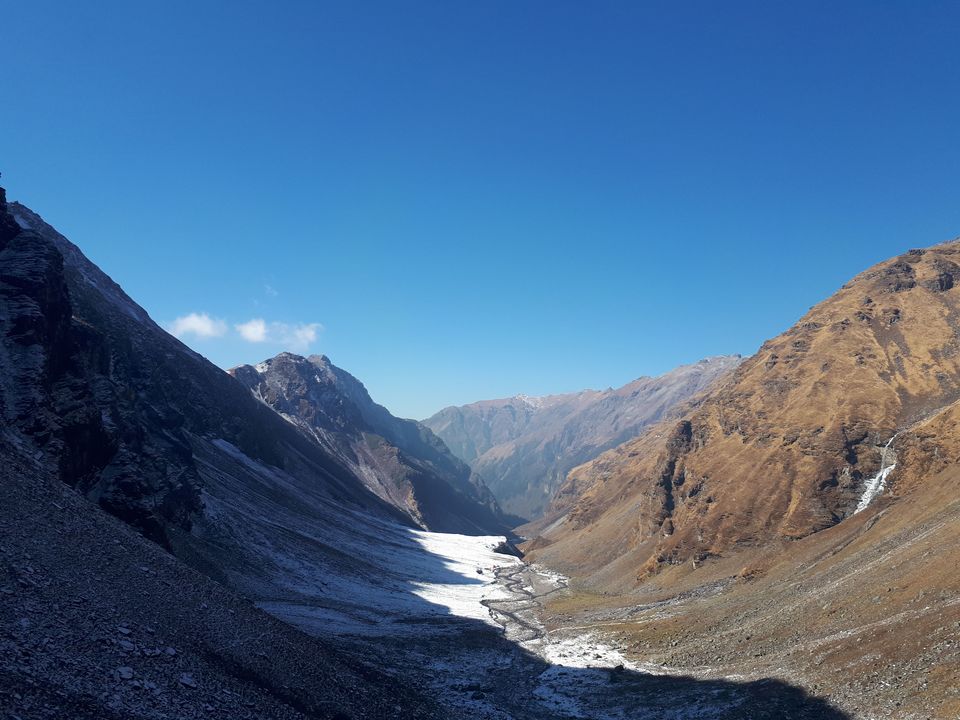 The snowfall from previous day had frozen part of the waterfall. Ice had formed over the flowing water, hence crossing the waterfall was bit extra tricky. A slip and slide could result in person plunging down the waterfall into the valley blow. Luckily for us, we had the best of the team from Indiaikes who ensured our utmost safety and guided us to the other side safely.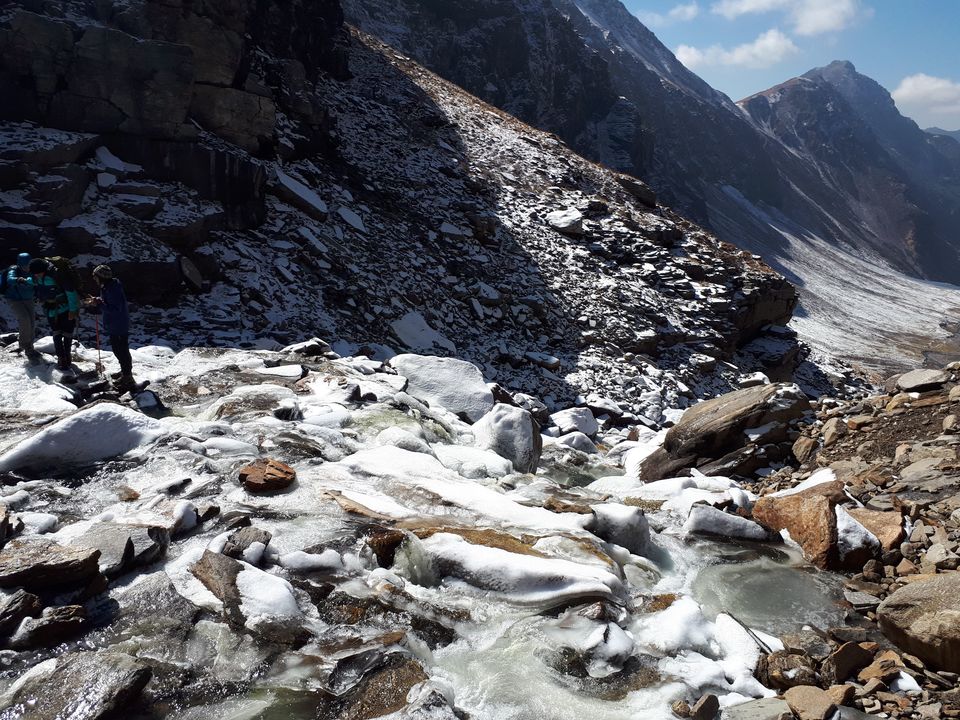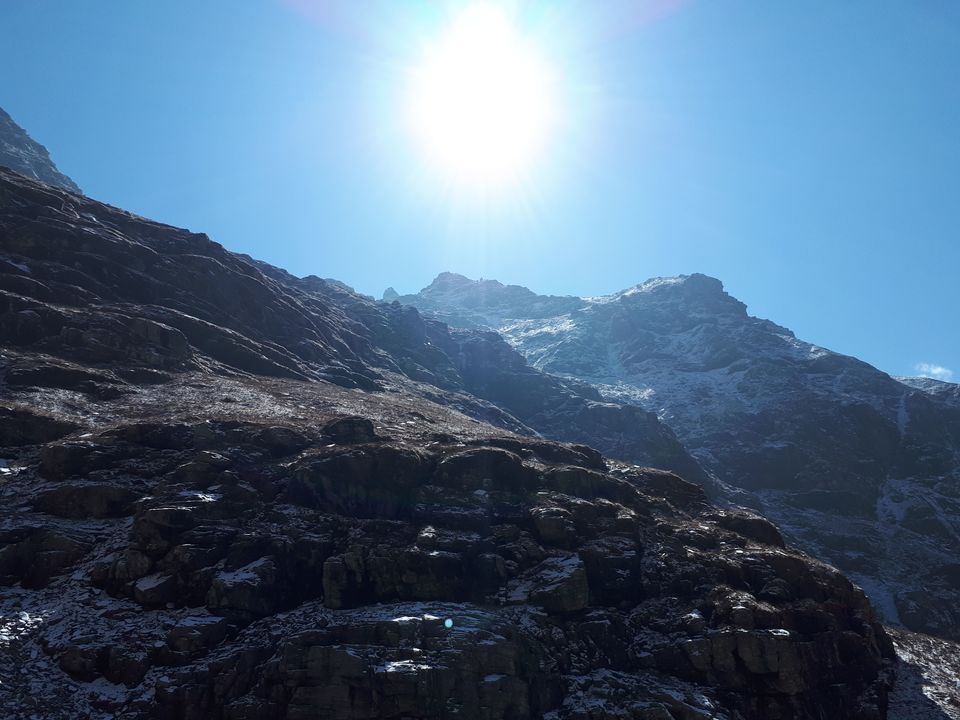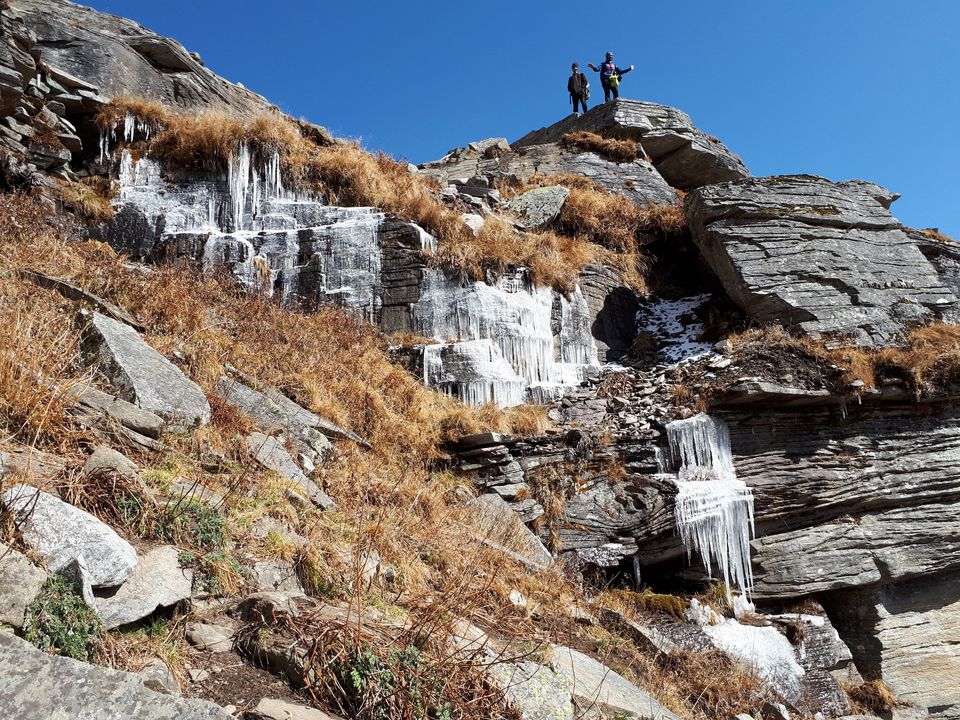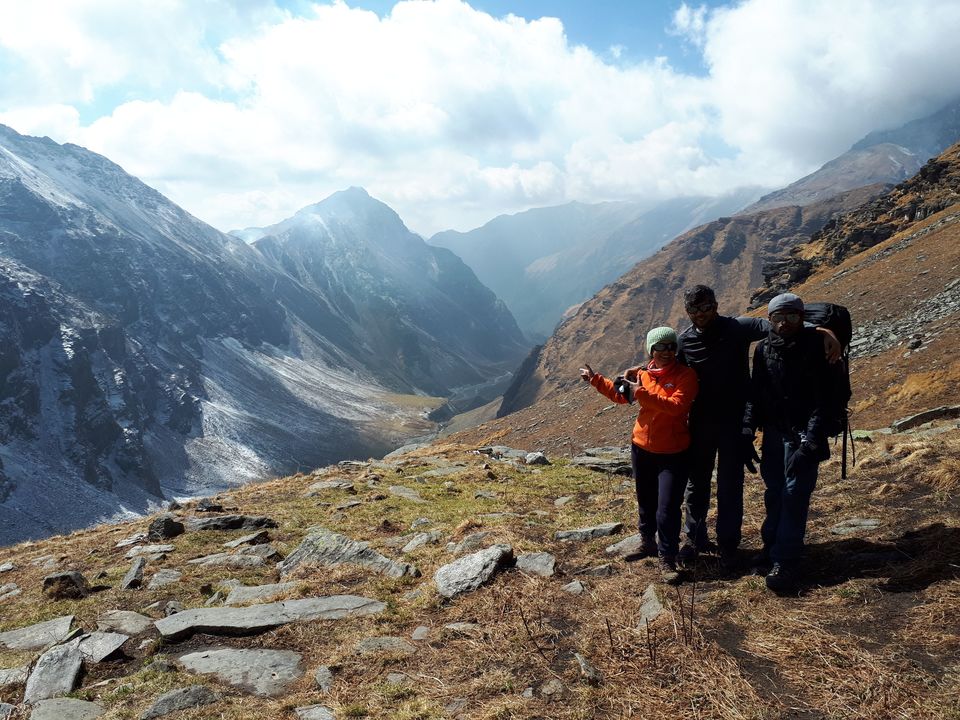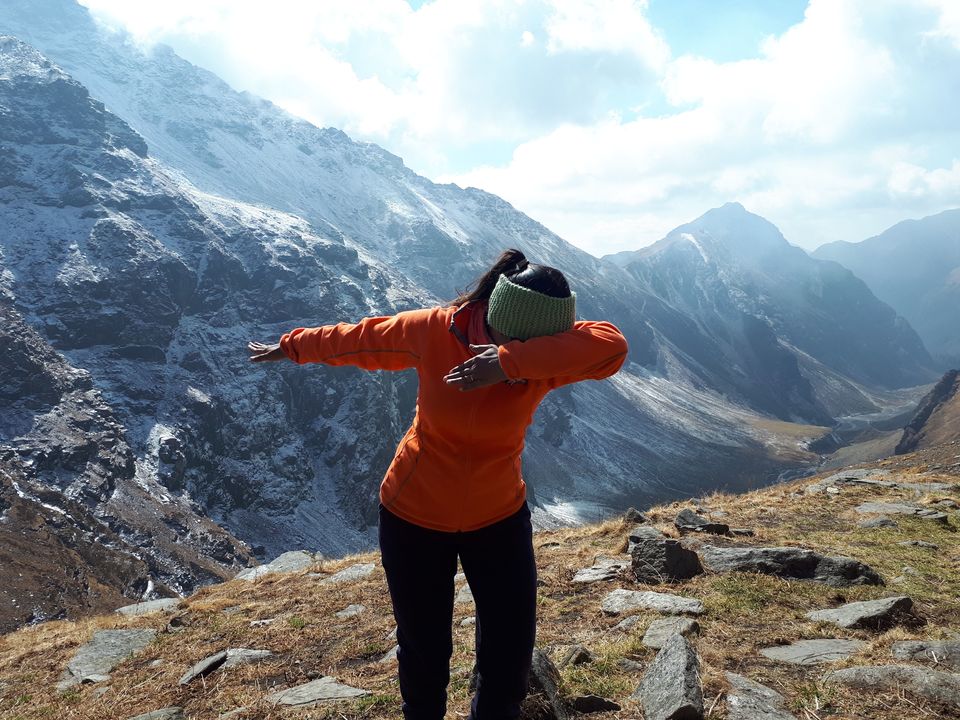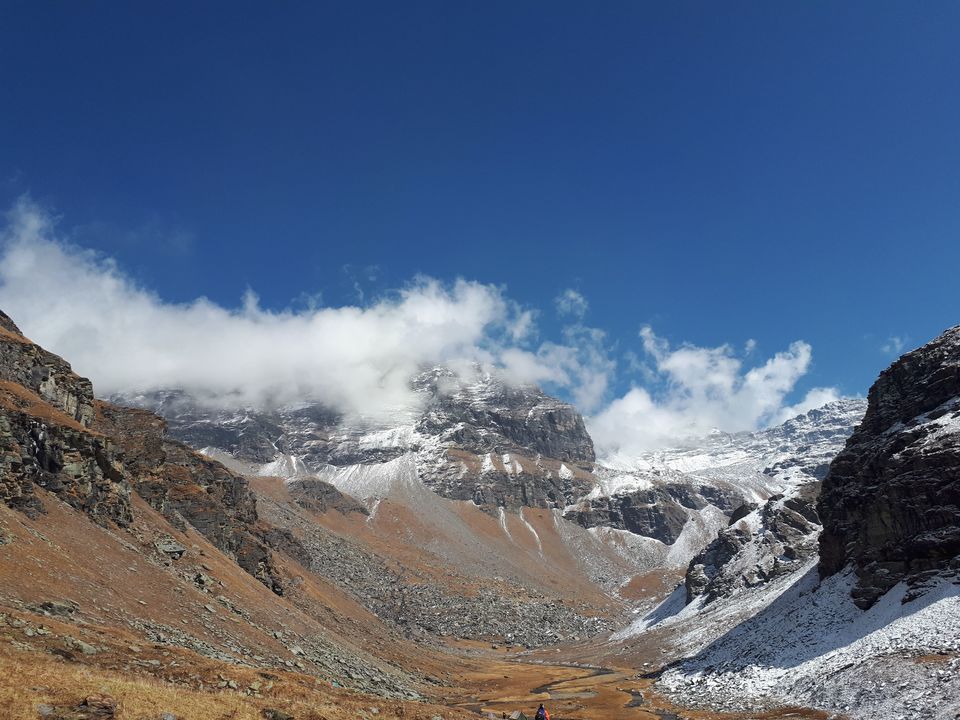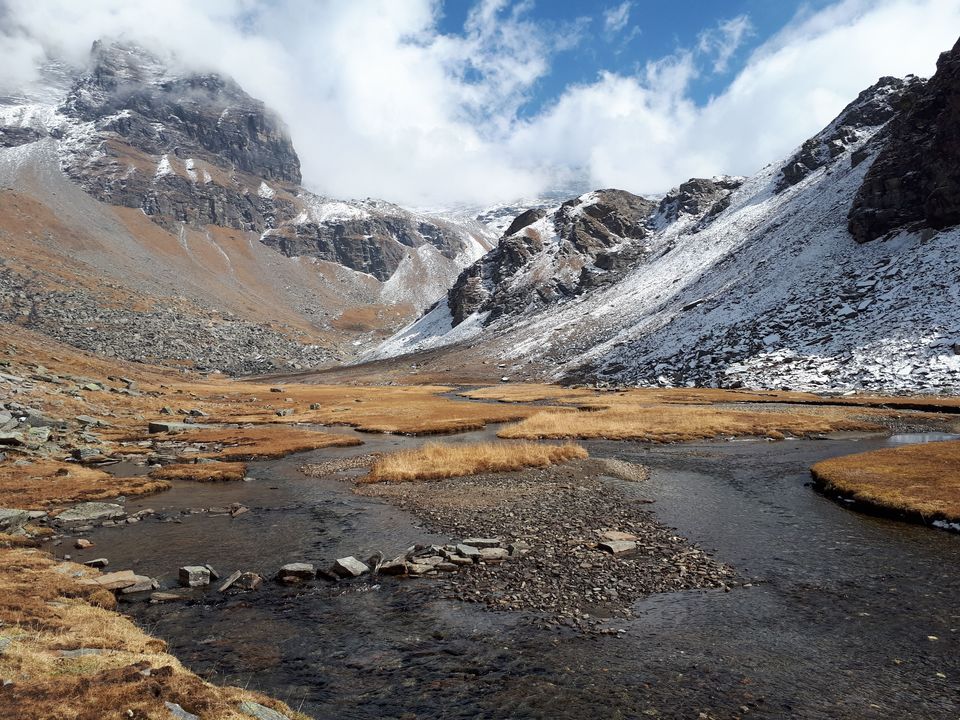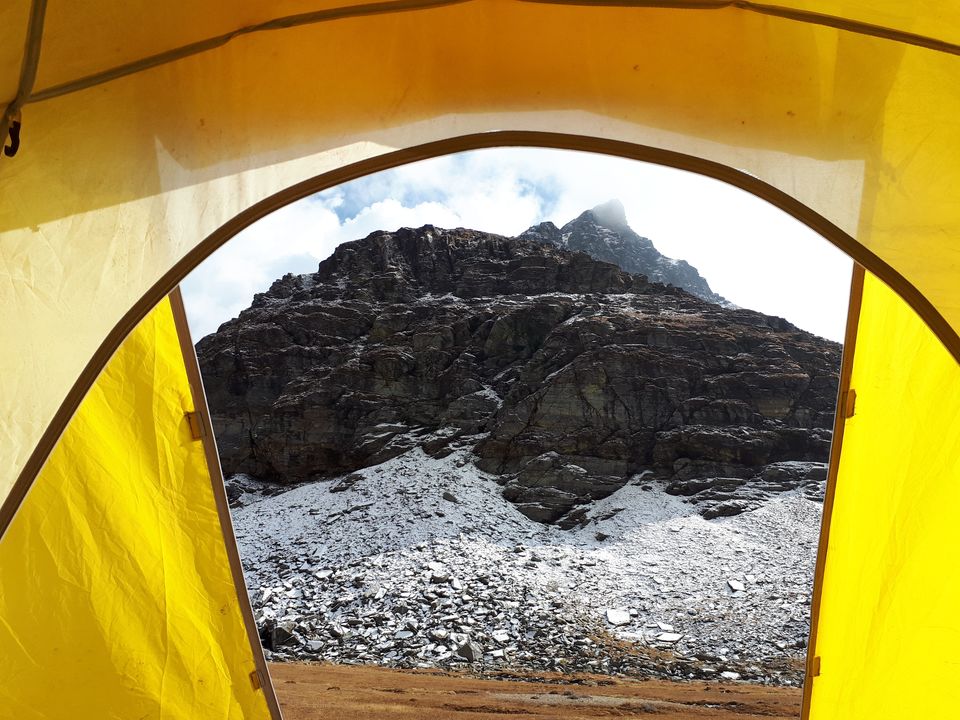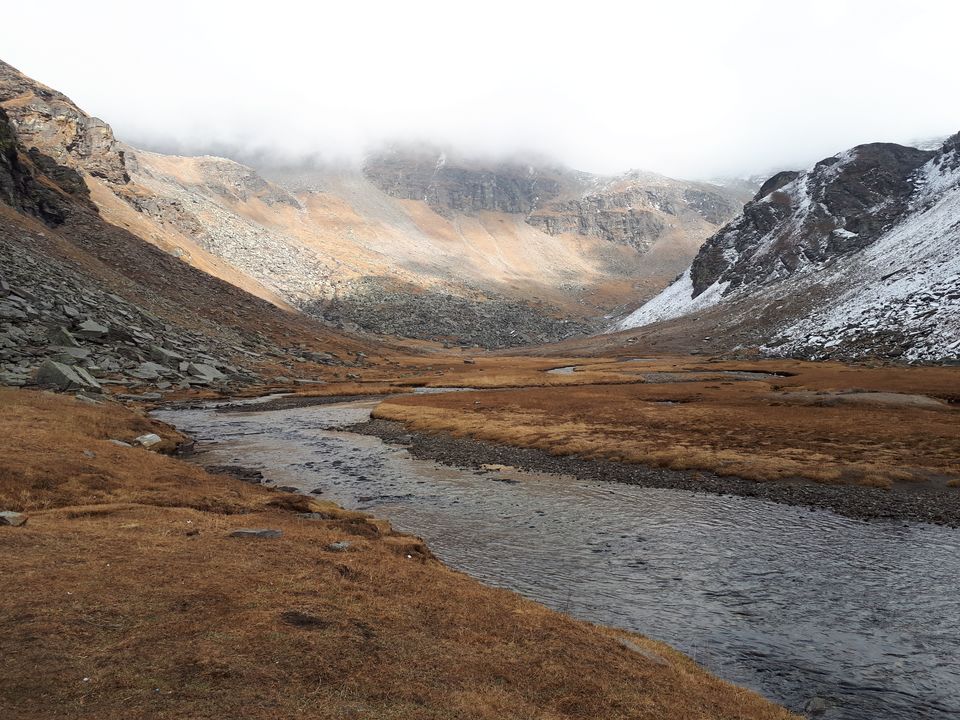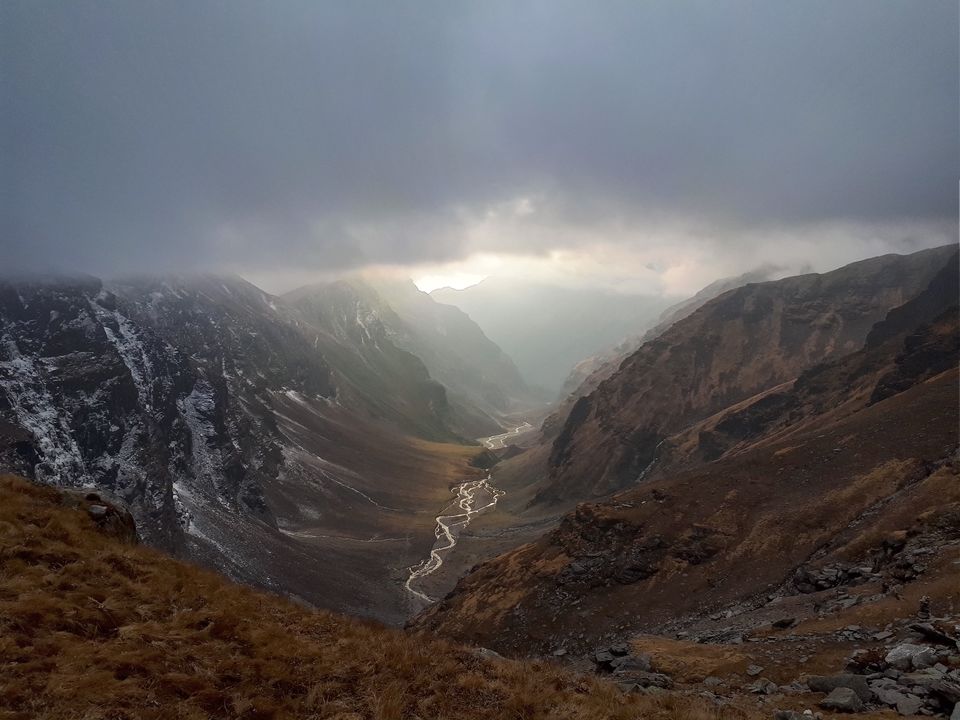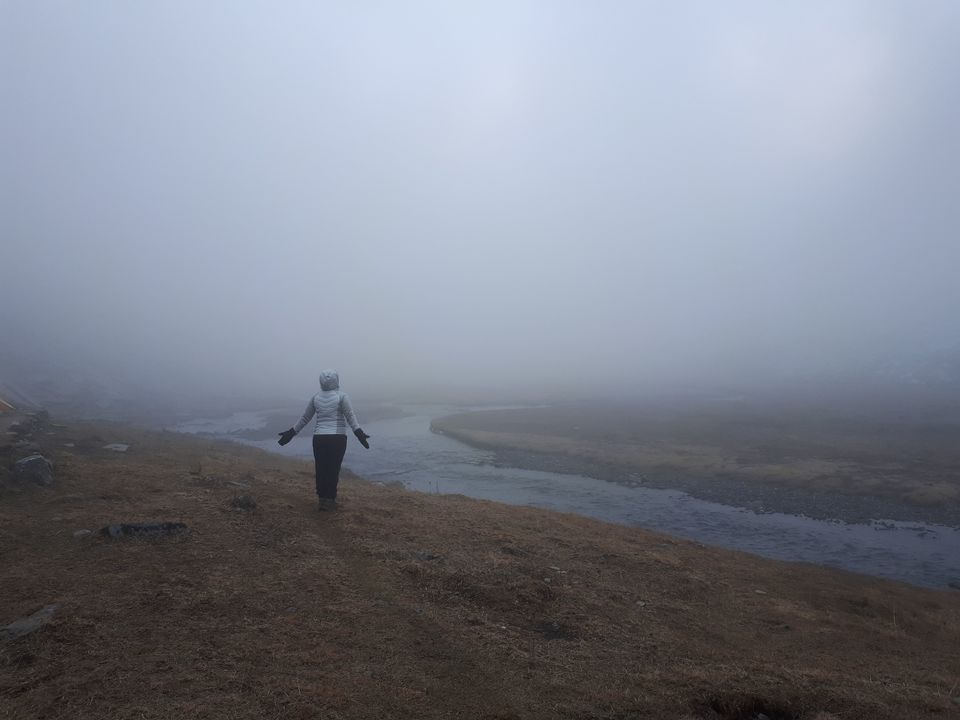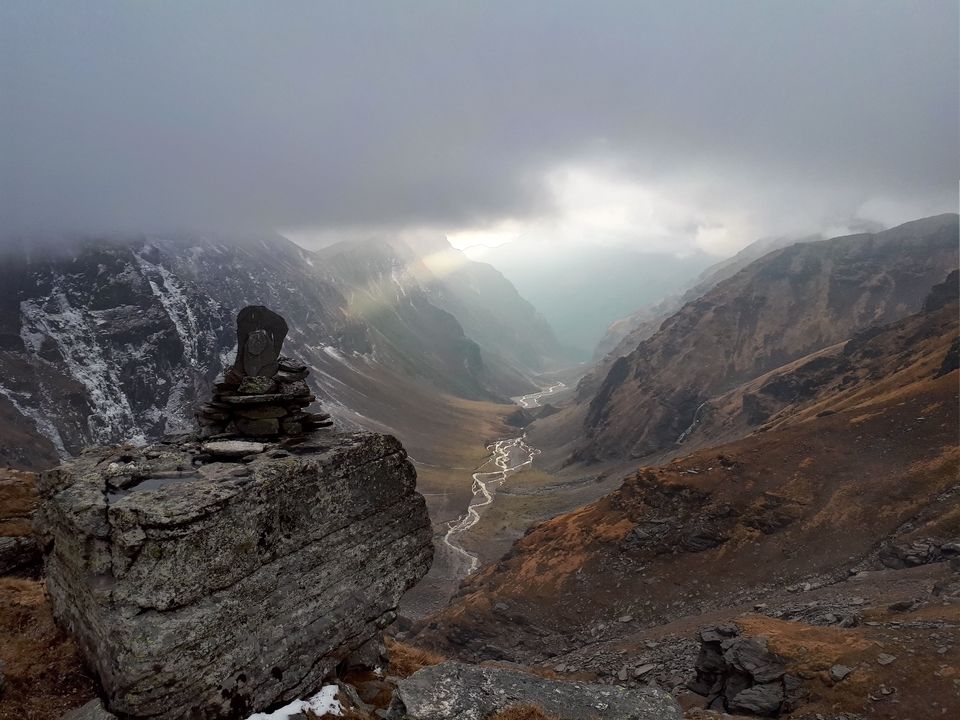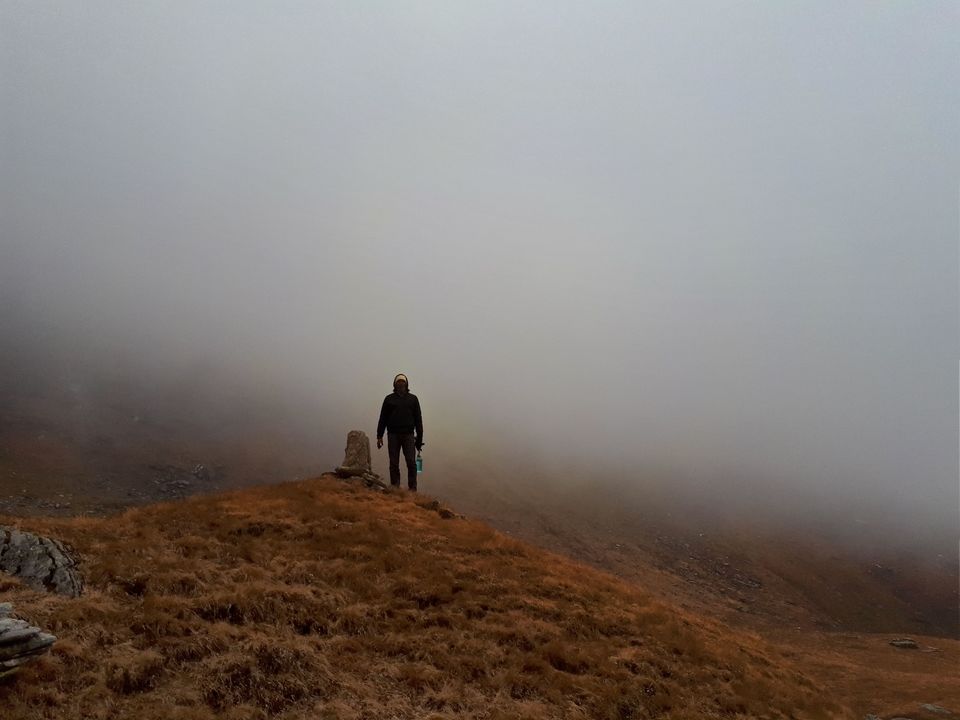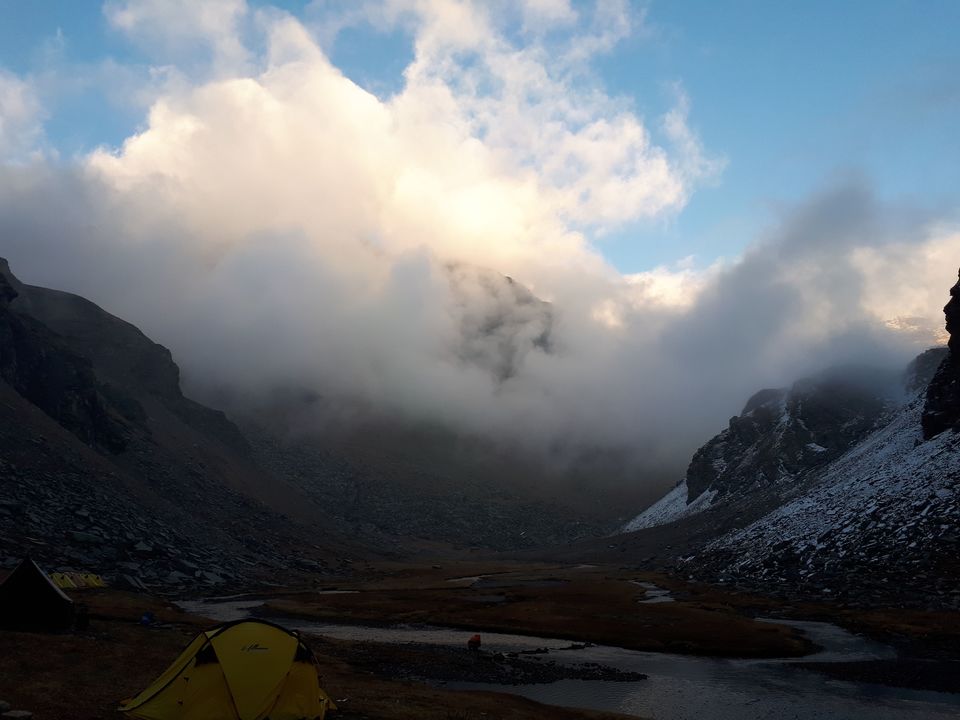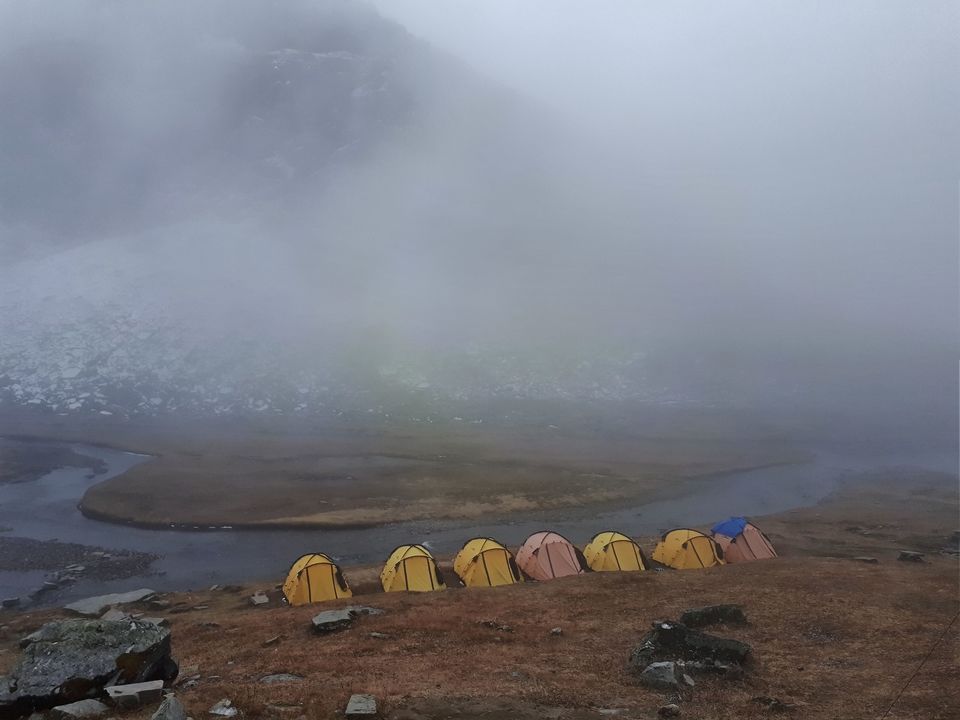 We were briefed about the next day of the trek which will commence early morning at 5 AM. Each and every soul who was in the group was excited about Day 8; as we would be crossing the Rupin Pass :)
Day 8: Upper Waterfall camp (13,100 ft) to Rupin Pass (15,380 ft) via Rati Pheri, further on to Ronti Gad (13,100 ft); Approximately 10 hours
Emotions, pride, satisfaction, amazement !!!
A day which will be ingrained in our minds and hearts so long as we are on our beloved planet Earth.
Crossing the Rupin Pass was a process which had been initiated 5 months ago- right from registration, to daily exercise and healthy diet. It was an emotional moment for many and we could not control our tears.
The valley too greeted us with one of its best views, as if congratulating us and warmly hugging us from coming all the way up to meet her.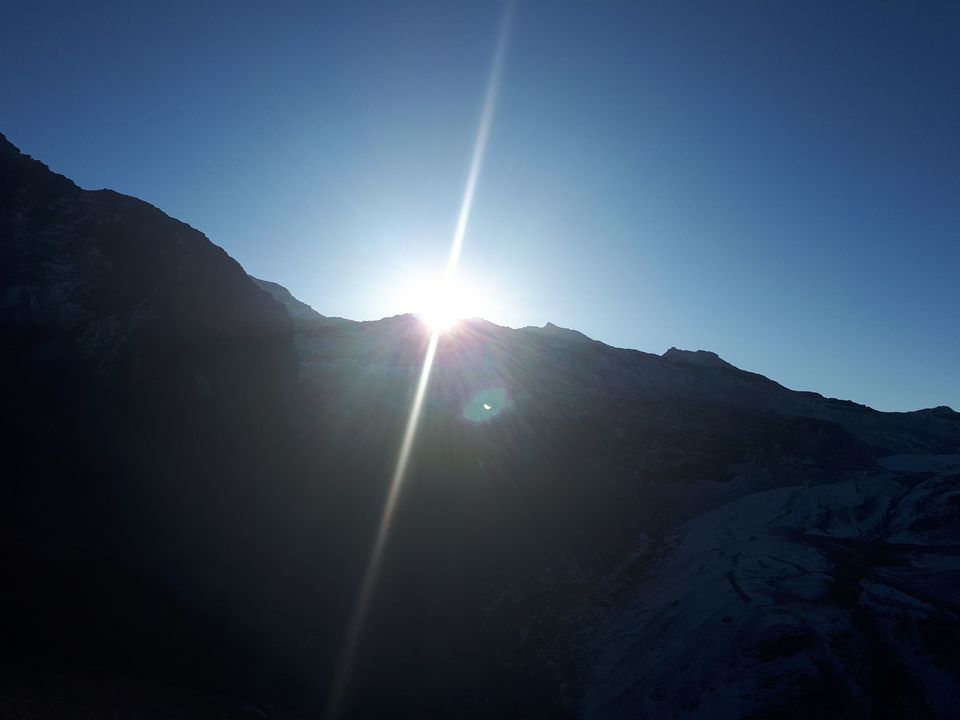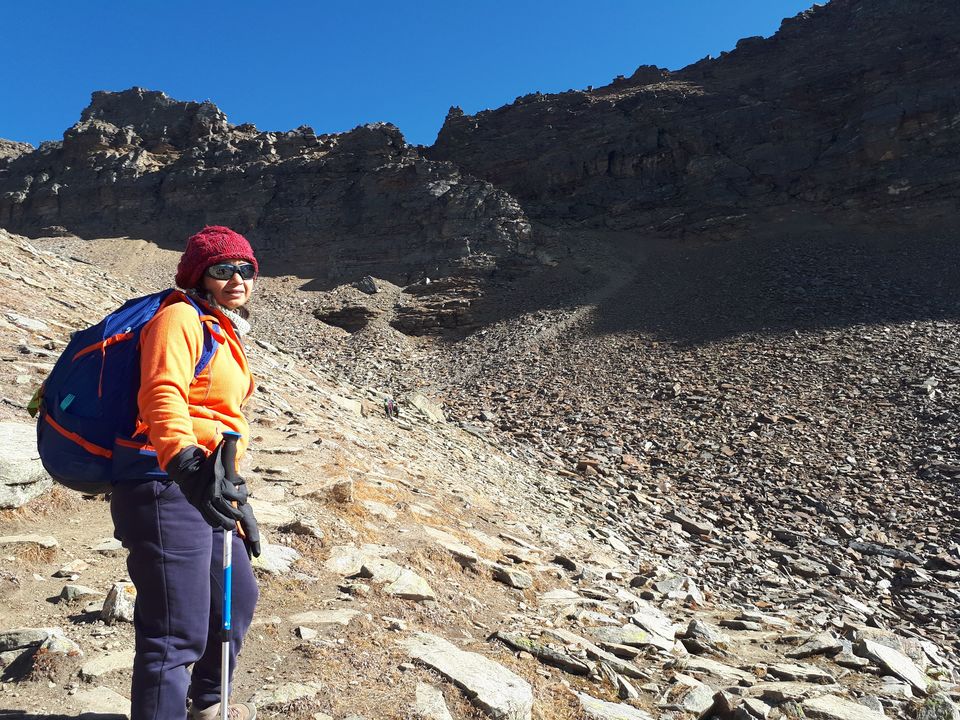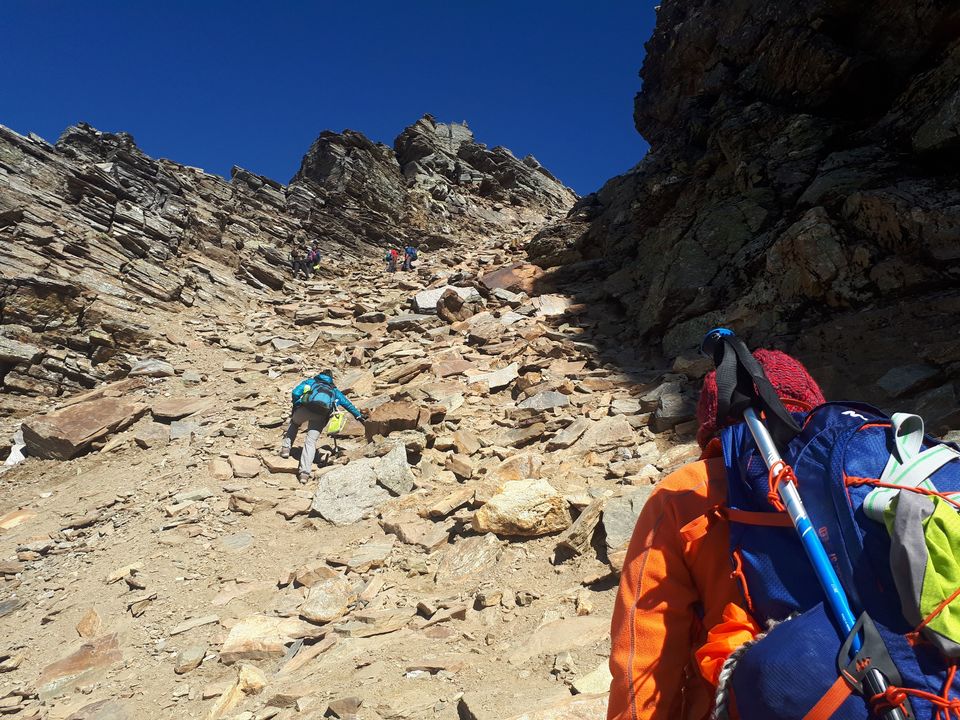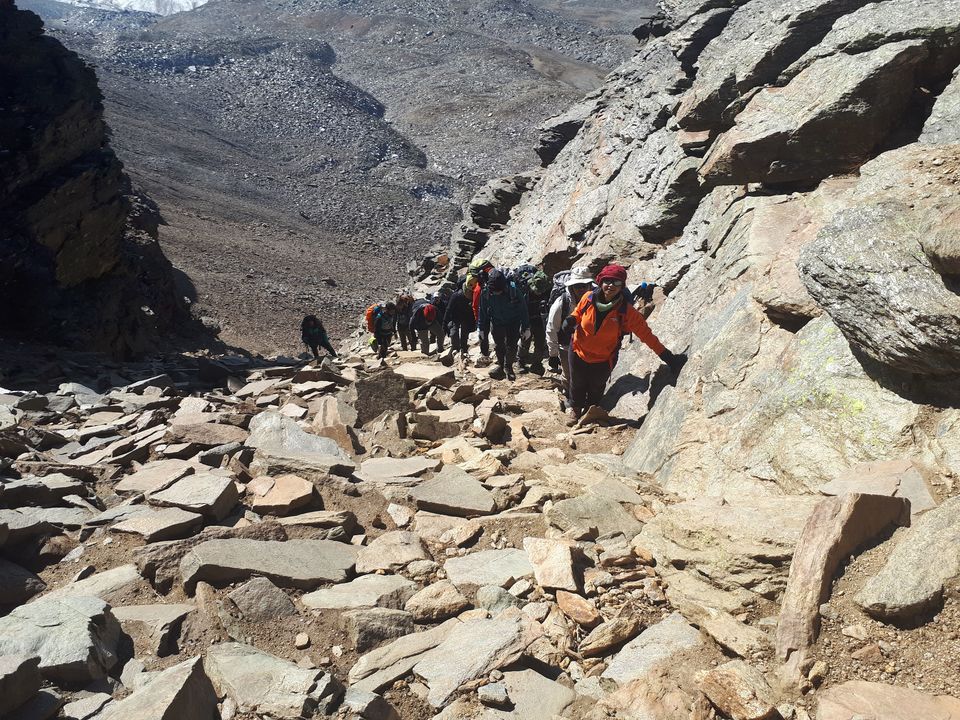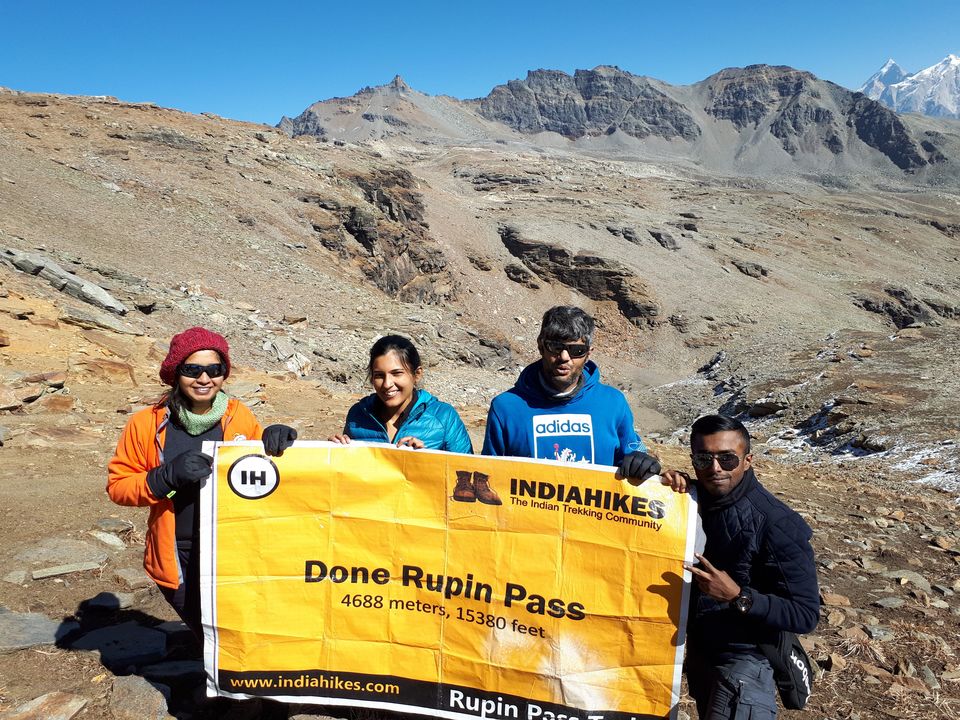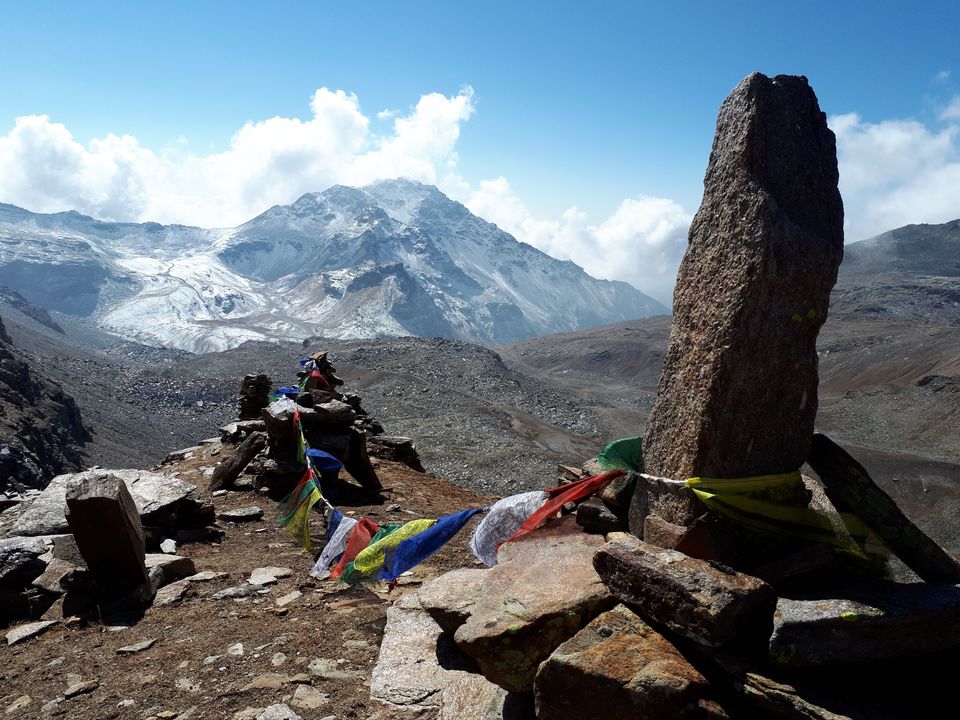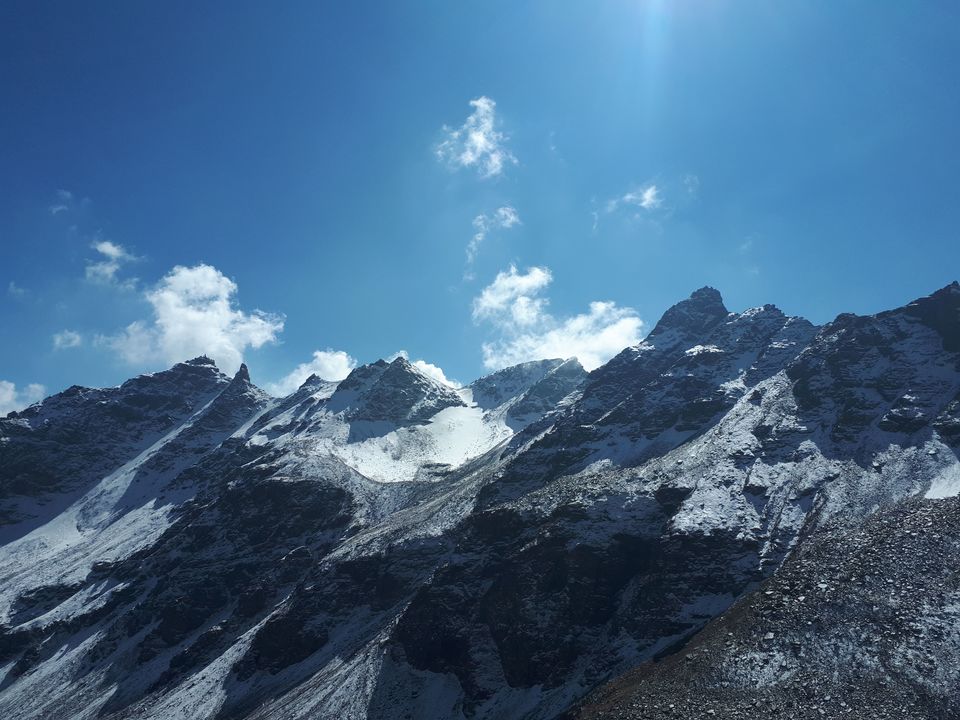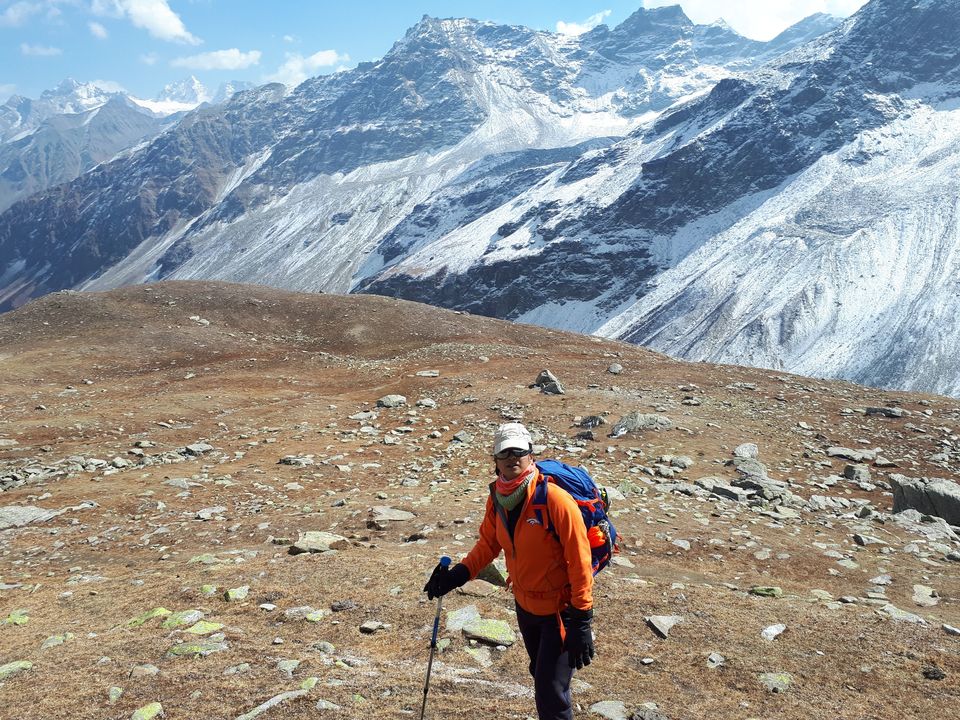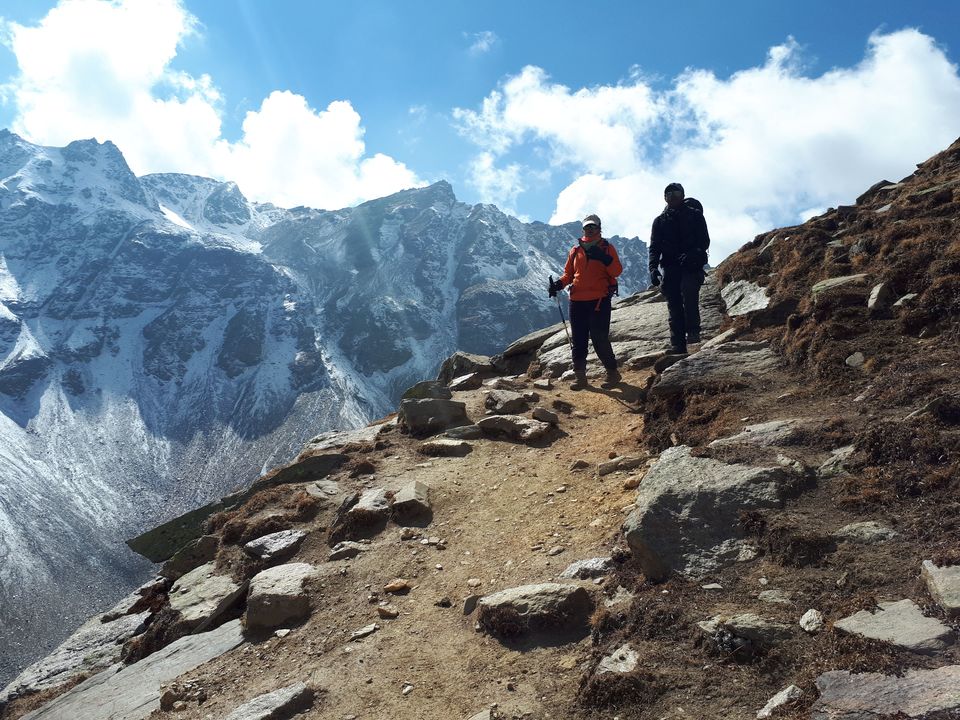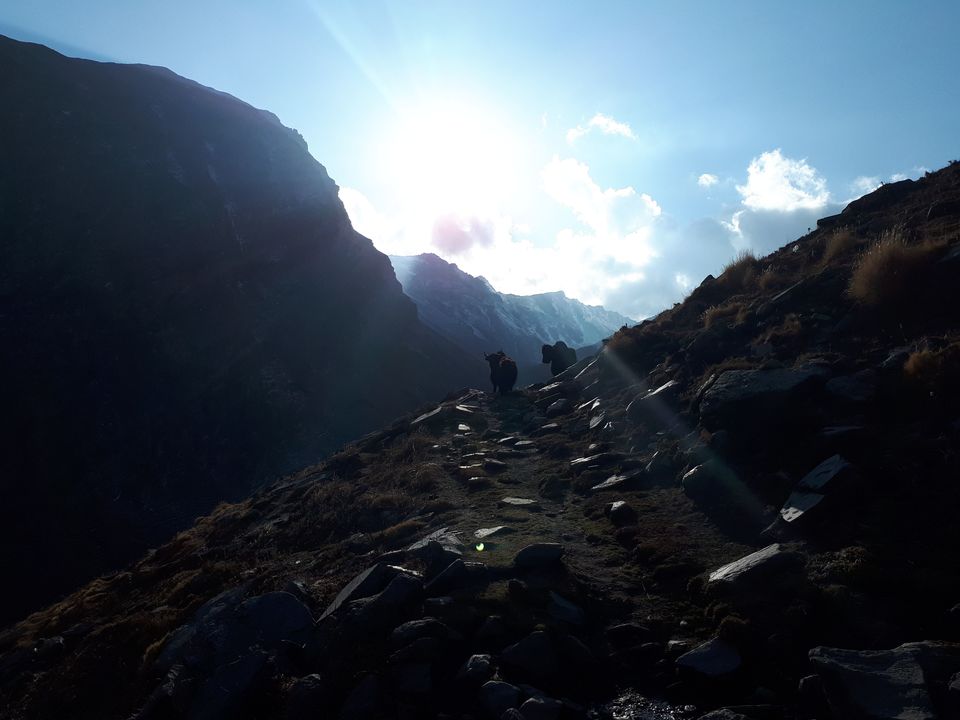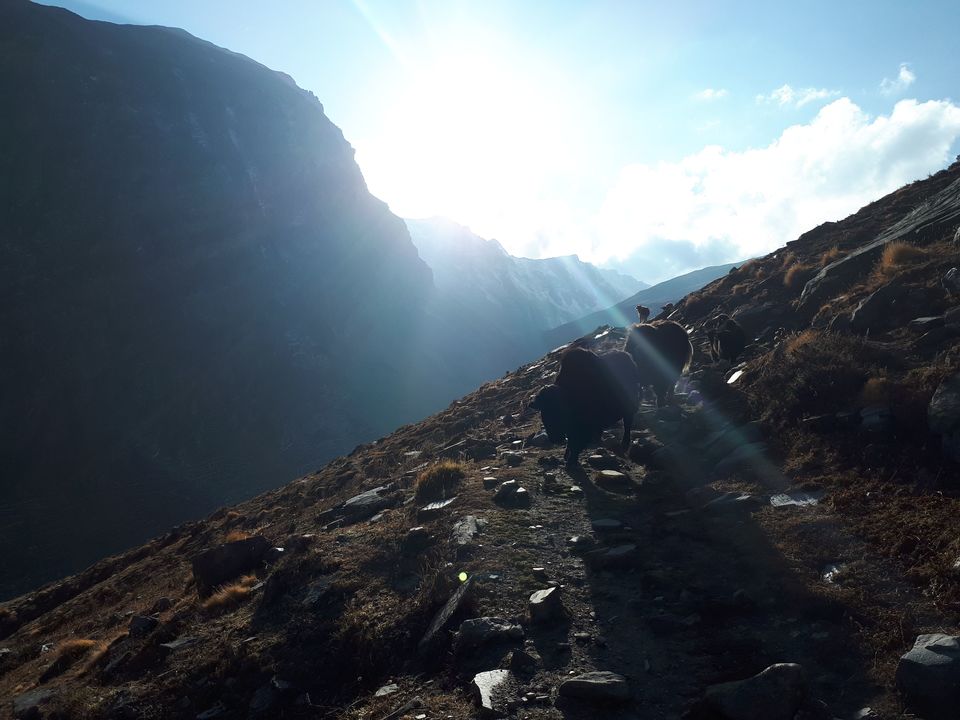 Day 9: Ronti Gad (13,100 ft) to Sangla (8,600 ft) Via Sangla Kanda (11,427 ft); Approximately 6 hours.
End of the trek but memories remain. Day 9 is a mixed bag of emotions- while there is sense of relief of completing the trek, there was also a sense of sadness knowing that we will rarely get a chance to meet most of the 13 people in our trek group who feel like family now.
The trek ended at Sangla village where we had a celebratory drink, bid goodbyes to everyone and headed towards Shimla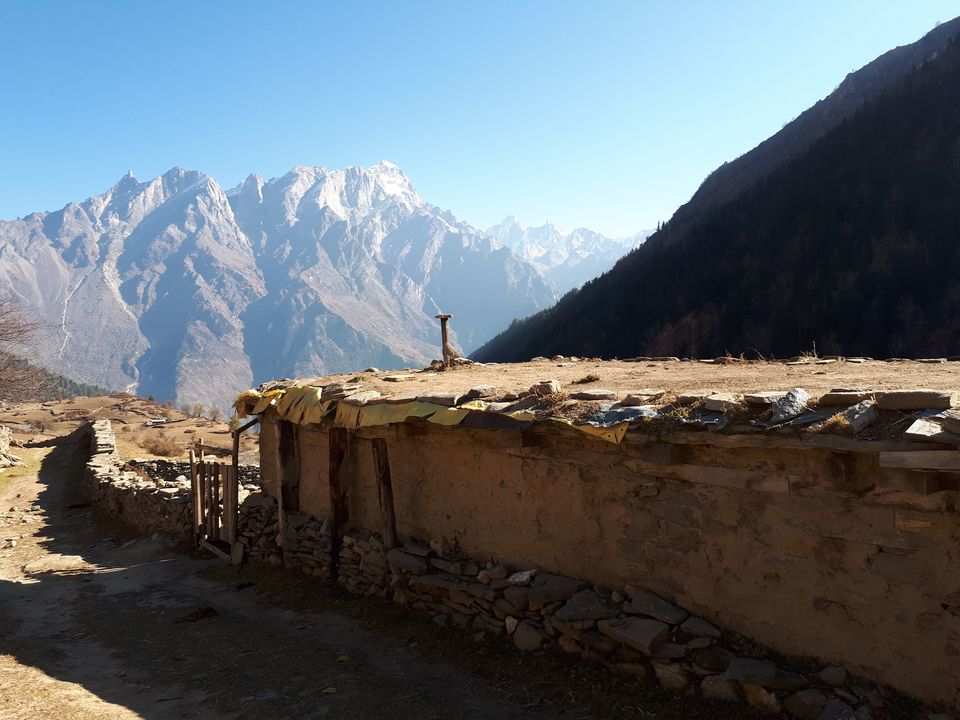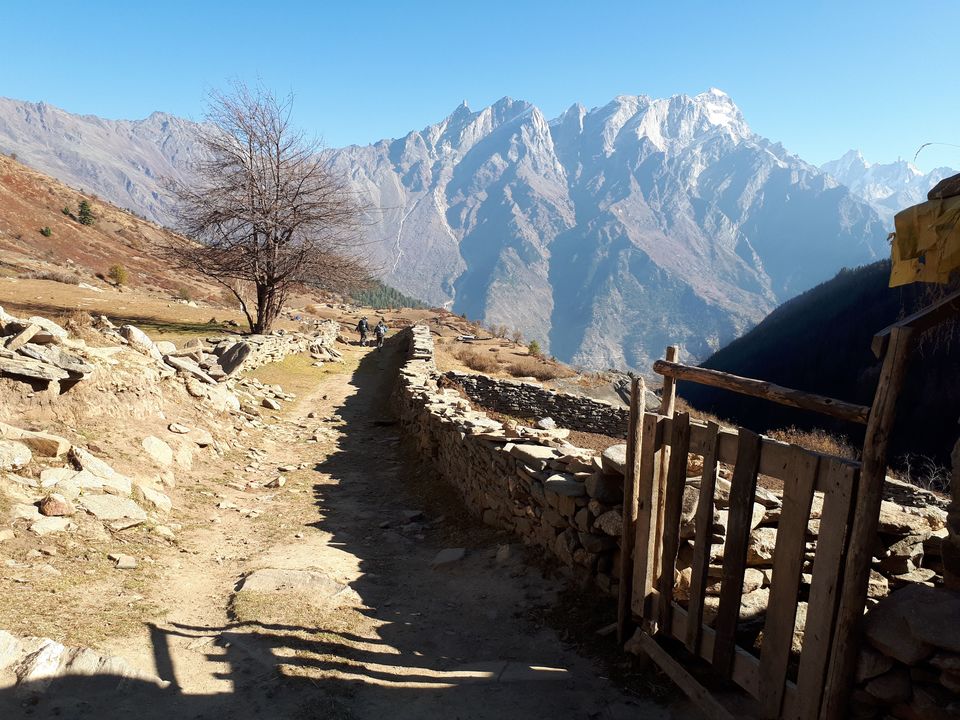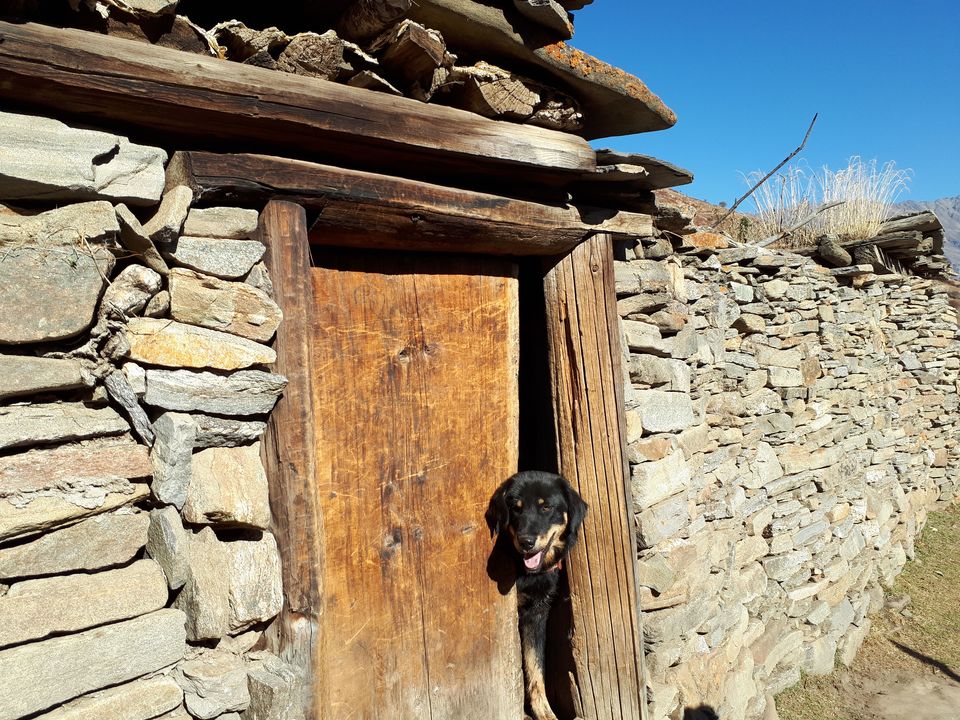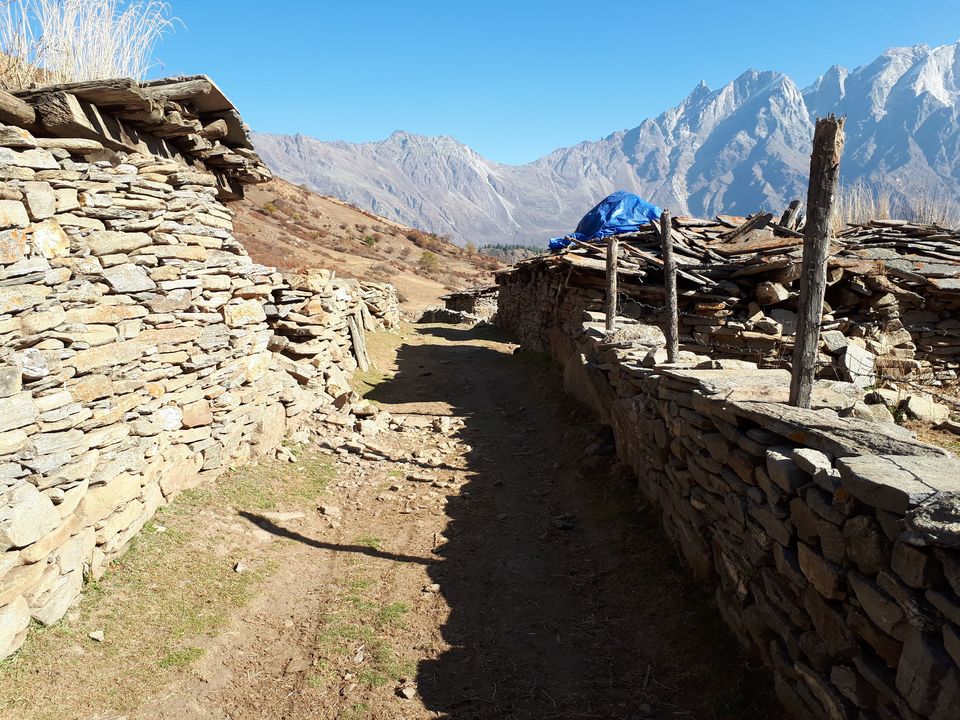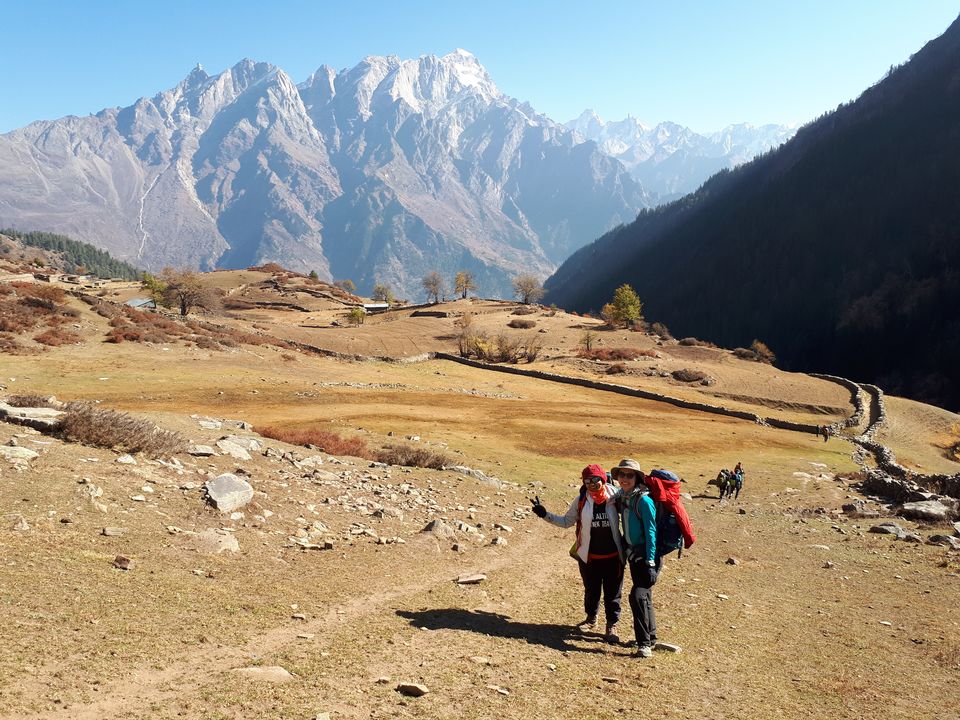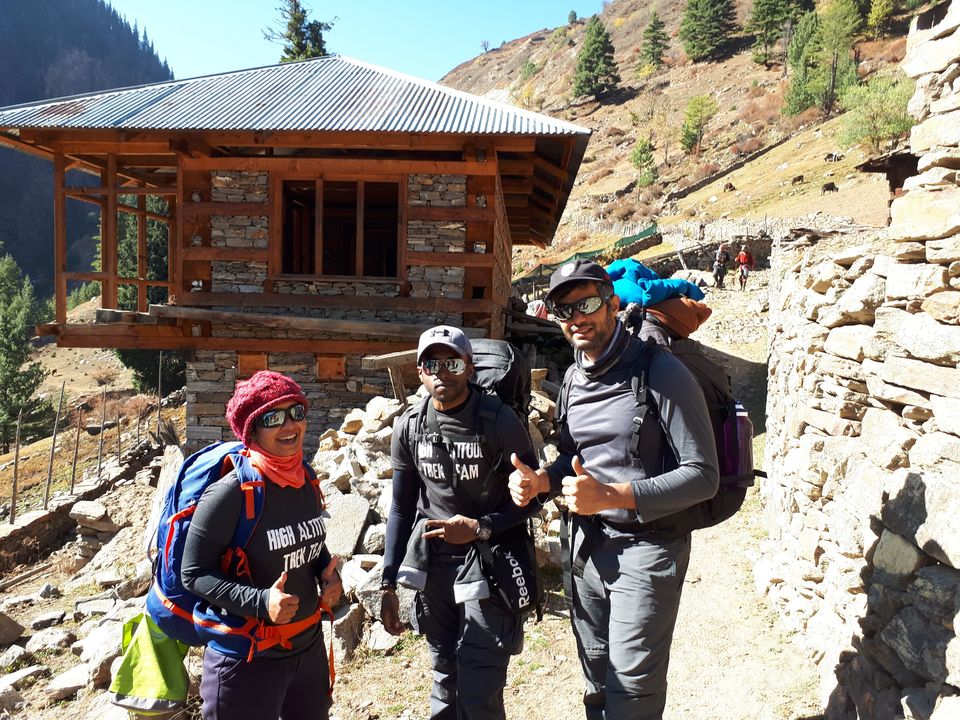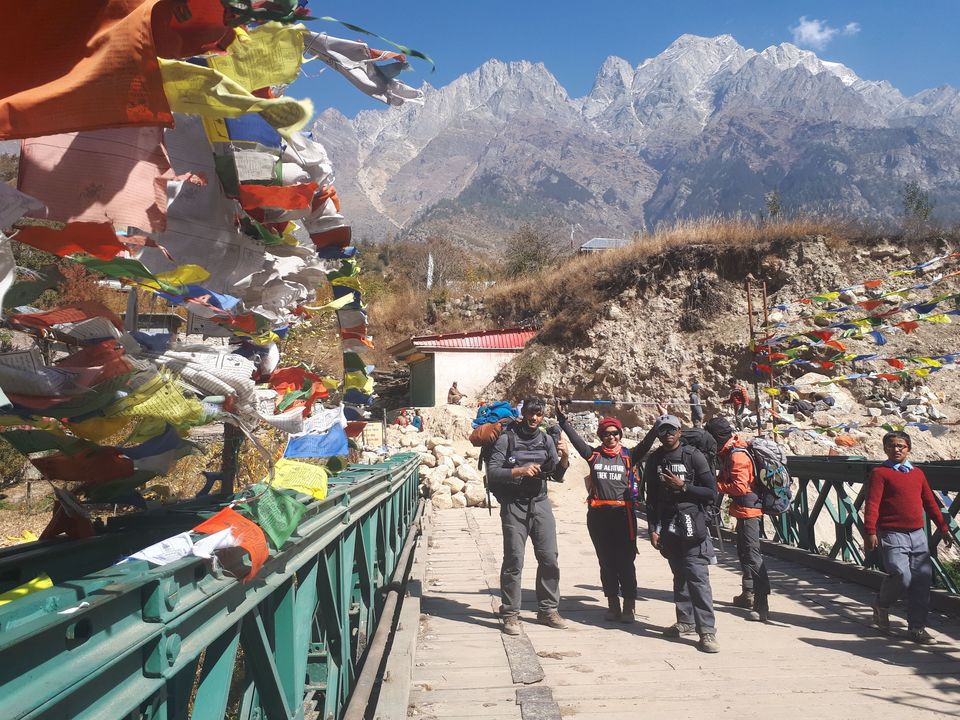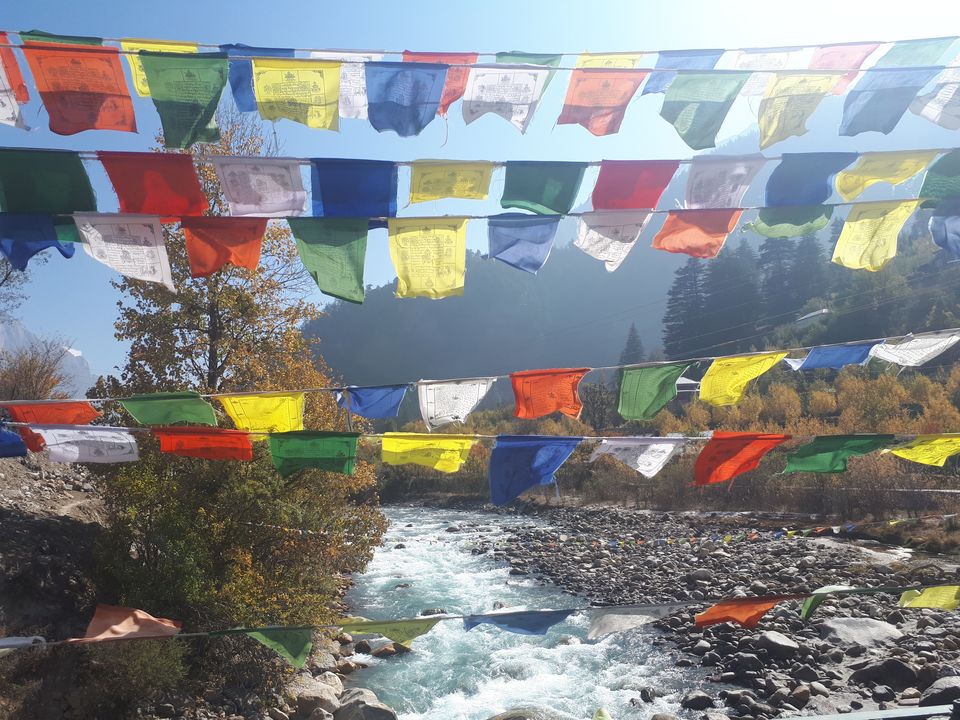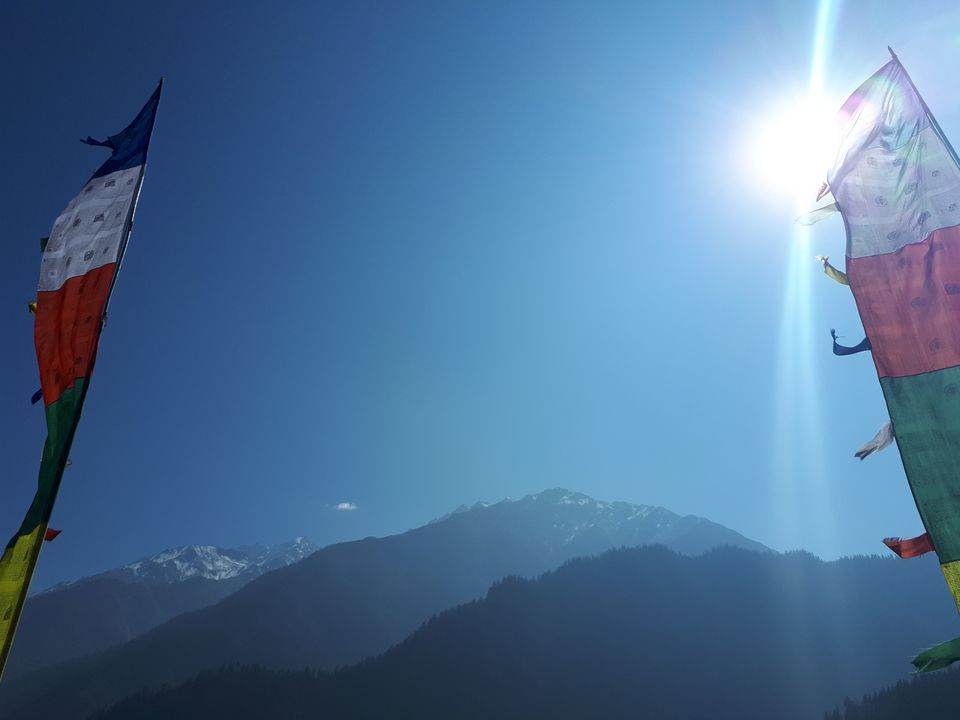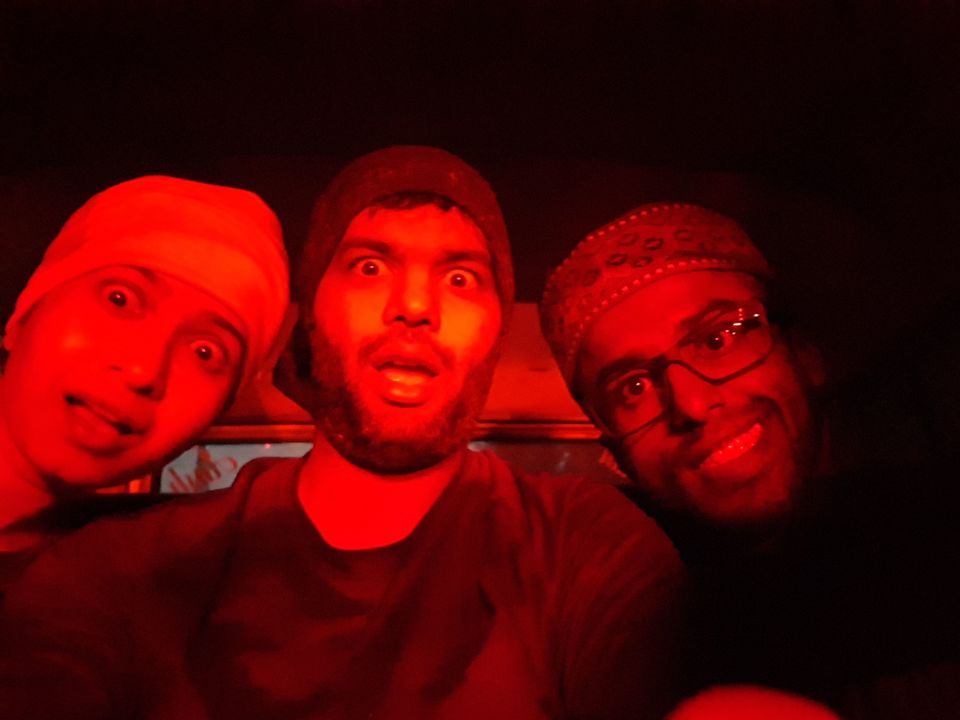 We returned back to our 'civilized world' but left a part of us back in the mountains....
Read the complete story on our blog :)
Frequent searches leading to this page:-
best time to visit in dehradun, dehradun roaming places, dehradun travel packages, places to visit in dehradun with family, site scene of dehradun