Sakleshpur- one of the wettest places in Karnataka.
First we visited the Manjarabad fort (a star shaped fort built by Tipu Sultan). The fort is in good condition. You should climb few steps to reach the top. Very nice view of surrounding.

From there we went to the resort. We stayed at Stream-edge resort, where they had a water-stream flowing just behind the cottages. There are numerous resorts in the Sakleshpur.

The next destination in our itinerary was Bettada Byraveshwara temple (betta means peak in Kannada). The road condition here is so bad that we had to park our vehicle around 500 mts before the temple and walk from there. It is a beautiful small temple. The temple was closed at the time and nobody was there to give any information. From the temple we can see a mud road heading towards the Jenukalu Gudda peak. After a walk for about 20-25 mins we saw one homestay "Vasant Paradise Homestay". The owner of the homestay, Mr. Babu, told us that Jenukalu gudda is another 8 km walk from there and suggested us not to go further as it was already 5 PM.
If you are planning to go for trekking, carry some salt to remove leeches. Be careful as the road is very slippery in rainy season. And plan with a group of at least 4-5 people as the road is very lonely.
The next day we went to Magajhalli waterfall. Very clean and beautiful waterfall. We reached there early morning, hence no one else was there and we could enjoy playing in water.

Then we headed towards Bisle view point. It was raining heavily and valley was completely covered with clouds. And suddenly just for a few minutes raining stopped, and the clouds started revealing the beautiful valley. Amazing!!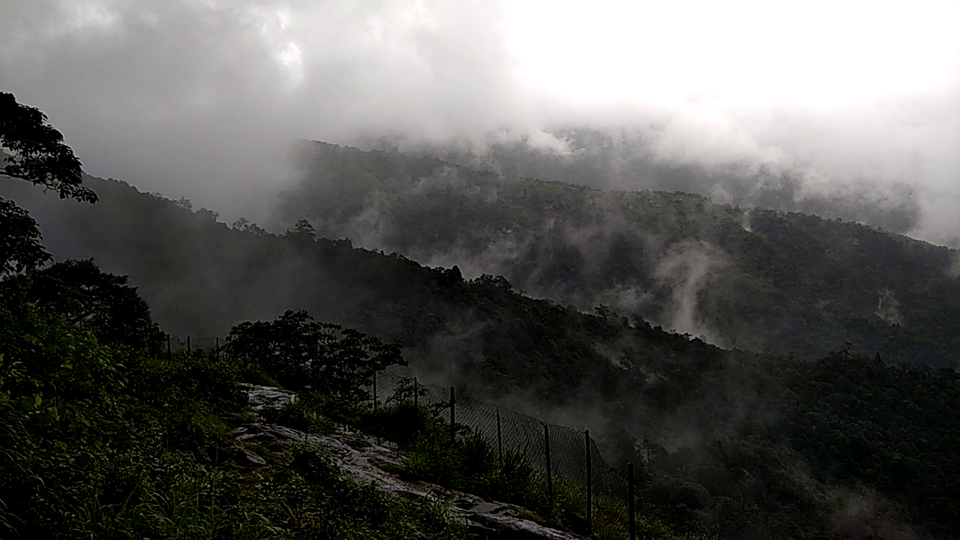 We did not find any restaurant on our way back. One of the forest guards at one forest check-post showed us one house, where one old lady served us the home cooked vegetarian food. They had just 2 tables and few chairs arranged in one room for guests.
Then we visited Donigal Railway station, one of the railway stations on the Green route trekking route. A small and clean station.
And we started our return journey to Bangalore.
For curious minds:P
Someone told us that there is one train tunnel made by Britishers near current Sakleshpur railway station and it is one of the tourist places in Sakleshpur. But unfortunately no one else could give the information about where exactly it is located. We spent more than one hour near the Sakleshpur station asking people about this tunnel but nobody knew anything.

Not sure if it is really there :P Do try to find out.