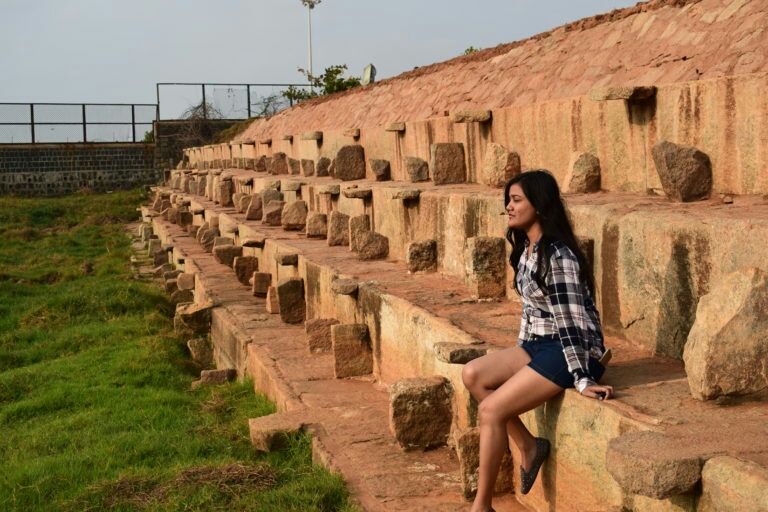 MAHABALIPURAM: Taking a print, Leaving a print by Ruchi Acharya
"The sea was ornamental blue starving the beachgoers to their endless desire. I remember how long I stood there in the humid light of Sun, tanning my skin until I satisfied myself completely. I was staring at the sea waves, it seems like melodious wave was welcoming On-seers, calling them to dive into the emerald blue water and get lost into the heart of ocean. Another world of enchanting paradise! Everything seems so quiet. It felt really good. All you can hear was the rhythmic waves dashing the golden sand."-Ruchi Acharya
It all begin with the floating of cotton clouds and an hour bike ride to Mahabalipuram from Chennai. The city of stone carvings and world heritage sites. I was so amazed by the simplicity of this place that now I am writing my first travelogue, delivered straight from South India.
It was a Saturday morning when the roads were empty and Chennai streets were muted. I was tucking my rucksack inside the trunk of my scooter. Just when my friends showed up and we were soon out on a road trip to Mahabalipuram. As the wind swept by, my hair entangled the threads of happiness and freedom. The journey to reach Mahabalipuram was so mesmerising. It gives such a great satisfaction to explore the countryside and embrace your soul with green farmlands. Out into the nature's bower our minds heal and we were speechless.
I remember we were not counting the minutes of the clock. Just spending the moment along with each other and breaking the limit of ecstasy. Finally, we reached Mahabs within an hour. Consequently, our feet dragged us like little hatchlings towards the Beach. The alluring sea-waves was so captivating that it made us dance gaily in the sunny beams. We walked, we talked, we played and we splashed. All together it was fun!
TIP#1: I must recommend, the morning visits are the best because you can find the whole beach empty, peaceful and windy. Otherwise, beware of scorching Sun and busy crowd.
Mahabalipuram is the beautiful trinket of the world heritage site. A piece of land between the Bay of Bengal and the Great Salt Lake. We came out of the sea, tanned and thirsty. It turned hot afternoon, the streets were chaotic and covered with mini lemonade stalls to cheap sea-shell ornaments. From Ancient temples to shipwreck, Sea-food to Museum, Granite sculptures to rock-climbing, Mahabs wins the heart of million tourists. As far as I remember, me and my friends spends hours doing recreational activities in Mahabalipuram. Some of them I listed down below in STRIKE-OFF LIST, hope it will be useful!
STRIKE-OFF LIST:
VISIT FOREIGNER'S BEACH
NOTICE MINOR DETAILS OF SHORE TEMPLE
VISIT WORLD'S HERITAGE "PANCHAS RATHS"
CLICK PICS WITH ENORMOUS "KRISHNA'S BUTTERBALL"
HIDE AND SEEK AT KRISHNA CAVE TEMPLE
SURFING AT MAHABALIPURAM BEACH
INDIA SEASHELL MUSEUM
ADMIRE MASTERPIECES AT SCULPTURE MUSEUM
VISIT "TIGER CAVE"
CLIMB TOP OF THE LIGHTHOUSE
TIP#2: Always carry a water bottle during after noon. The temperature is hot and humid and you will get thirsty in duration of every half-an hour. So, keep in mind!
By the afternoon we come across the Shore Temple. Every Indian temple has its own story. So, here's the one. This temple was built in 700AD with a solitary granite. Unbelievable! Just imagine the era where everything was done manually. How difficult it would be to cut-in and cut-out the accurate symmetrical structures out of a single stone? By the mid 7th Century, a king named Narasimhavarman II of the Pallava dynasty built this amazing temple under his supreme reign.
Marco Polo along with other European Merchants came across these temples and often called it as Seven Pagodas (Probably acts as a navigation site). The tragedy occurred in 2004 when Tsunami hits the city Mahabalipuram and submerged this marvellous temple into the Indian Ocean-bed. This revived the assumption that yes indeed, Mahabalipuram was the part of Seven Pagodas as mentioned in the script of European Merchants. Probably, the rest six Pagodas might still be asleep under the deep-dark mysterious ocean. However, due to Tsunami many other ancient rocks of monolithic lion, dancing peacocks and small shrine of boar got exposed. On the other hand, the solid-hard granite stood still and sound even after the Tsunami.
Well, that's all I know. (I recommend you to take a guide available at Tourist Information Centre). The timings are so perfect from 6:00AM to 6:00PM. So there's no hurry-bury.
We took a stroll around the temple. From every angle it wins the charisma of vintage architect. The crown of the temple was a cluster of mini sculptures and figures. You will find several patterns of flowers and animals. Their contribution add more detailing to the temple plus every symbol or miniature statues has its meaning. It was so much to take in all the information at once. Consequently my feet lead me to other historic places. I wanted to finish off the monuments list first, before splashing the sea-water again. What could be better reason to go to beach with sweaty pits?
TIP#3: A Sunhat or Sunscreen is recommended if you don't want sunburn or terrible skin-tanning.
TIP#4: Don't forget your flip flops. People don't think much about foot-wear but when it comes to travelling, your feet runs and burns. One's feet must be comfortable all the time. However, High heels or stilettos are not recommended because you've to climb the rock and sleek stairs on the way to lighthouse.
I was there at the time when nobody was there with me except the Sun, waves and open bright sky. So, I closed my eyelids and could hear the rhythmic waves pulling the sand with an ease. One after another to and fro waves were so hypnotic and mild. I love coming to this place with my friends rather say it comes back to us. Mahabalipuram Beach is truly tremendous depicting the beauty of Bay of Bengal. Today, this east-coast beach is widely used for tourism. Several fishing motor boats can be seen resting on the shore. All the saturated hue of boats gives an imagination of Beach Carnival.
The beach is among one of the few places for wind surfing on the shore of Bay of Bengal. A Hub station for all the tourists and localities. Since, it is located on the city's outskirts; you can find enough peaceful vibes far away from the city's hustle-bustle. The Sunrise is beautiful. Don't forget to take photographs as the return tickets for your trip because this place has its own natural effects. You can take an immense advantage of bright exposure during sunrise or sunset.
TIP#5: Above all, If you're Surfer don't forget to get a Surfboard. Probably, you can buy from local shops as well. The price is negotiable. A strong bargaining will do. It's worth spending, since it's the only recreational activity to do on the beach.
Most noteworthy, when we are travelling no doubt that Food is our main Hero and hunger is our greatest Villain. You can find several local sea-food restaurants nearby. Howsoever, I urge the readers if you really want to dig in tasty sea-food maybe you can visit Chennai rather wondering on street of Mahabalipuram. But howsoever, local restaurant nailed it when it comes to evergreen Tamilian cuisines such as Idli-Sambhar and Masala Dosa. You can also opt for a Shell-fish or Prawns, it's your call.
"The lost shells by the sea,
speak to me their stories
of sailors and shipwrecks,
Mermaids and a Treasure chest.
Sandcastles and tender walls
Spade-buckets and coloured balls are
the trinkets of beaches in the stretched-out horizon,
whooping splash of waves adjourned the Sun,
My life has just begun,
I am like a turtle'd hatchlings
out of the nest,
or a Jelly fishes floting on the amaranthine crest.
Now, I tell Summer as my feeble mind stalls,
I am old man who lived his life and
Not afraid to fall.
Just desired a more rested beach,
Sand grains hearted the nature's call"
-Ruchi Acharya
Therefore, in the end the state of Tamil Nadu is truly amazing. Above all, it captivates the adrenaline rush for wildlife photography and shows nature's bold facade. The more you explore the further it gets away. It's very hard to capture all the beauties of this Tamilian land. The discovery is never ending. Although, due to plain flora and fauna, it conjointly constitutes the whole wildlife veracity. So, fellas, do spend a day or two among the localities and fishermen. Try to get to know about their culture and lifestyle for the reason being made, some unheard tales has got to come out. It feels good to be lost in the right direction. So keep exploring!