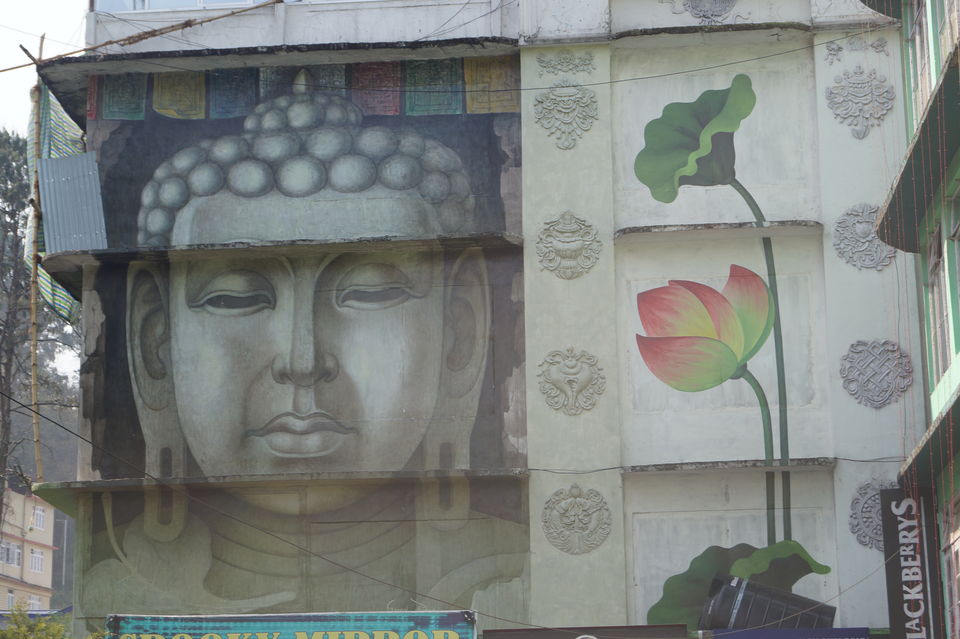 Solo travel was on my mind since a very long time- not because I cannot get along groups, it's just to experience how it feels to be completely on your own, in a new place, avoid the "groupism" that we usually tend to get into and explore the place however you want. We all are so used to have that safety blanket of family, friends and known faces around us that unknowingly, we develop a fear of the world outside this safety circle of ours. But, once a while, if we step out and explore what is beyond, we will see that world out there is not so unsafe after all. And even if it is, we will learn to deal with it our way!
So, once I knew I can get a week off from my work in April, I started exploring on all the options I have. It had to be somewhere in the mountains to escape the summer. Few hours of browsing on places most friendly for solo travelers and I could shortlist two options – Himachal Pradesh or Sikkim. The factors I considered to select these places were - safe for female travelers, fit my pocket, good food, stay and transport options and of course, most important, places to get out of this concrete jungle and unwind. Finally, Sikkim got lucky as it offered me cheaper flight options  – Himachal Pradesh, be good next time! ;)
Sikkim does not have an airport or a railway line yet, Bagdogra airport or New Jalpaiguri Railway station in West Bengal offer their services to be the entry point to Sikkim. There is a pre-paid taxi stand arranged by Sikkim tourism to take you from Bagdogra to Gangtok – but if you have done your research well, then you know that this is where you can save up some money – so, I go straight out of the airport and there are a bunch of taxi drivers waiting for customers and I strike a deal with one of them for one third of what pre-paid taxi would have charged me- a great start!
It is a 5-hour drive from Bagdogra to Gangtok. 2 hours into the drive, you arrive at a bridge dressed up with bright and colorful flags with religious hymns printed on them and you know you are entering the Tibetan land. These flags follow you all through Sikkim and they are the first memory that come to my mind when I think of Sikkim – flags in red, yellow, white, green and blue flying high all along, to bless and protect all those who are travelling on these steep and curvy roads.
Though it is the smallest state we have, Sikkim has a lot to offer in terms of tourism – a fortnight in Sikkim and you will still not be able to see all of it. 80% of Sikkim has mountainous terrain which means lot of travel time to reach one place to another. (That also means you get to spend more time in the company of lush green trees, fresh unpolluted air, deep valleys, soothing sounds of a flowing stream, stress-free and smiling local faces – Is there any chance of getting bored during the travel then? No way!!) Also, most of the tourist attractions close by 5 PM due to early sunset and as you travel to higher altitudes, the timings are much more restricted. One must surrender to the nature when it comes to Sikkim, nature has drafted the rule book and without a choice, everyone must abide by it.
There are 3 places I visited that were just out of this world, highlights of the entire trip for me and I would go all the way back, any number of times, just to relive those moments.
1. Tsomgo Lake (conveniently called Changu Lake)
Located at 12000 ft., Tsomgo lake is a glacial lake which is mostly frozen, except for the summers. It takes about 2 hours and a mere 250 rupees in a shared taxi to reach this beautiful and serene lake. One needs to take a permit to go here as it is very close to the Indo-China border at Nathula Pass, I was lucky that my hotel could arrange the permits for me a day ahead.
You are already in the constant company of the mountains, but as you start ascending and the snow-clad peaks are in the view – it is a totally different high!!
It is no more about the deep valleys or lush green trees – you are now at an altitude the mountains want to show off their real beauty. Every turn the vehicle takes, a new landscape is spread out in front of you. Never ending range of snow capped mountains all around you, white clouds just grazing them through and the blue skies offering the perfect background. Changu lake is right at the center of this scene – water is totally still and as clear as it could ever be, chilly breeze blows across your face reminding you to just blow away all your thoughts and soak in all the beauty and calmness around you to the fullest. Nature at its best!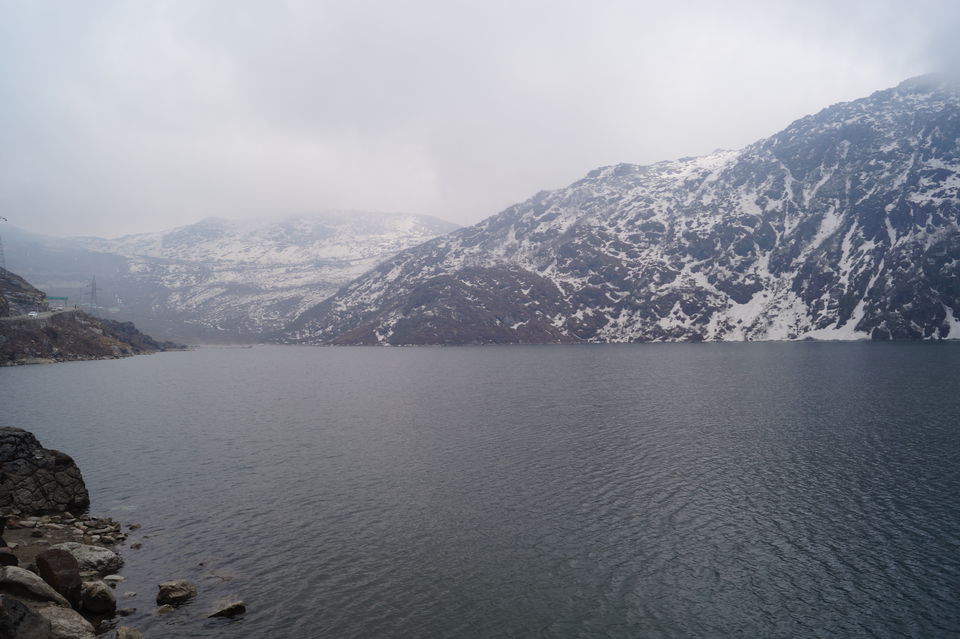 2. Ravangla - Tathagata Tsal
My initial plan was to go to Darjeeling from Gangtok, but suggestions from the hotel travel desk and other locals made me change it and I decided to make this a Sikkim-only trip. So, my journey ahead was Gangtok to Ravangla to Pelling and back to Bagdogra to catch my return flight to Hyderabad.
Ravangla is in South Sikkim and it is host to "Tathagata Tsal", a Buddha Park that was built in 2013 on occasion of the 2550th birth anniversary of Gautama Buddha. The park is tastefully constructed with green lawns and colorful flowers that grow in this region. At the center of the park, stands a 130ft tall golden statue of Lord Buddha which is so magnificent that you can feel the presence of a supreme power around. Ravangla is at an altitude of 7000 ft., a status so huge at this location is a heavenly sight and adding to it, are the Himalayan peaks that can be seen behind the Buddha statue.
After a few customary photos, I found a right spot to sit, closed my eyes for few minutes and enjoyed the peace.
3. Khanchendzonga Peak (Commonly known as Kanchenjunga Peak)
My final stop for this trip was Pelling, in West Sikkim. Pelling has some tourist places like the Khechepolri Lake, Rimbi Waterfalls and few monasteries, but the unforgettable experience in Pelling was the view of the Mount Kanchenjunga. 28000 feet high, the third highest peak in the world, highest peak in India – none of these metrics can describe how high and magnificent it is.
What do we do when we usually see something unbelievably beautiful or amazing, pinch ourselves? Run out of words? Blank out? All these expressions hit me together when my cab driver stopped at one of the locations and said "Madam, wo dur samne dikh raha hai na, wo Kanchenjunga hai" – I try to look for it among the fog and the clouds and it suddenly appears royally before me, way above the clouds. I look at it and am filled with a sense of wonder and belief. My thoughts in that moment – "this cannot be true… how can anything so high have its origin at the very ground where we stand everyday…may be somebody from the heavens had leaned in and placed it from the top…It is absolutely unreal!!!" But when I finally came to terms with the reality, I couldn't do anything but surrender to this bliss.
Sikkim was my first encounter with the mighty Himalayas and It was my first solo trip. So, it holds a special place in my heart. Nowhere in the week-long trip did I have any kind of discomfort or safety concerns as a solo female traveler. The people of Sikkim are very welcoming and helpful; variety of accommodation options are available and no problem with food too. The local delicacies momos, chowmein, wai wai, thupka and the local chai were a delight and they perfectly compliment the weather.
It's been 2 months since I came back from Sikkim, all the memories are fresh in my mind and I already miss the place! I am back to my routine now, but places like Sikkim and the whole travel experience is what keeps me going – I think "Let's go back to the routine, earn more money, pack bags again and leave for another awesome destination." 
Few other pictures from the trip :