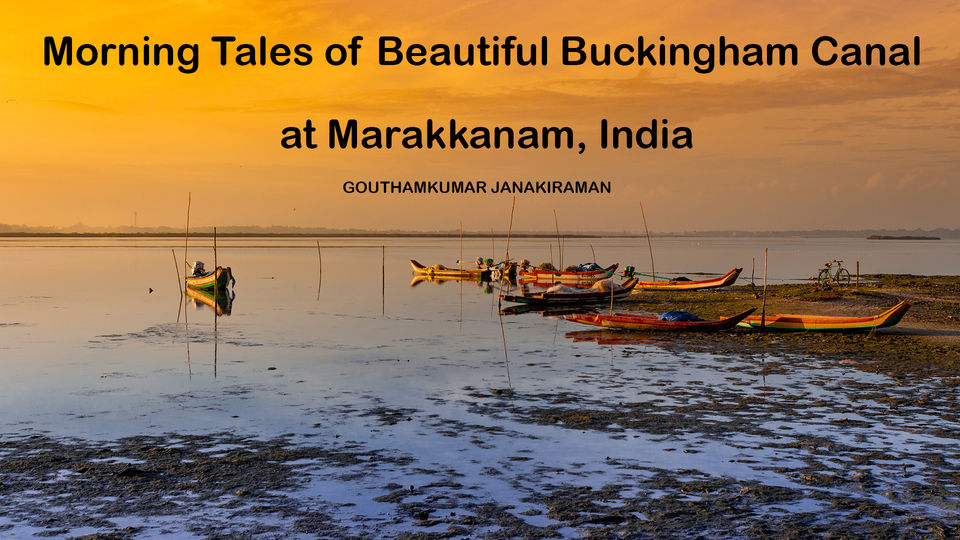 Marakkanam, a coastal town by the East Coast Road just few miles before Pondicherry from Chennai. It is generally famous for its Salt Pans which has the second largest salt productions in India.
But, apart from that there's also another face for Marakkanam which majority of us would have missed to witness. When you ride along the East Coast Road from Chennai to Pondicherry or vice versa, you come across a specific road at ECR which passes the Buckingham Canal at Marakkanam and that's where I'm taking you through my virtual world.
Coastal areas are always the best place to witness either Sunrise or Sunset and anyone would love to see that right...?? To encounter the same, I started out along with my co-photographers an hour before the first light comes out. It was a pretty chill breeze and as we just reached the spot, the light began to appear and we were able to see a small part of the Sun raising. Without any further stand by we grabbed our cameras and started clicking out the mesmerizing beauty of the Dawn. Here's an image captured at the very first moment,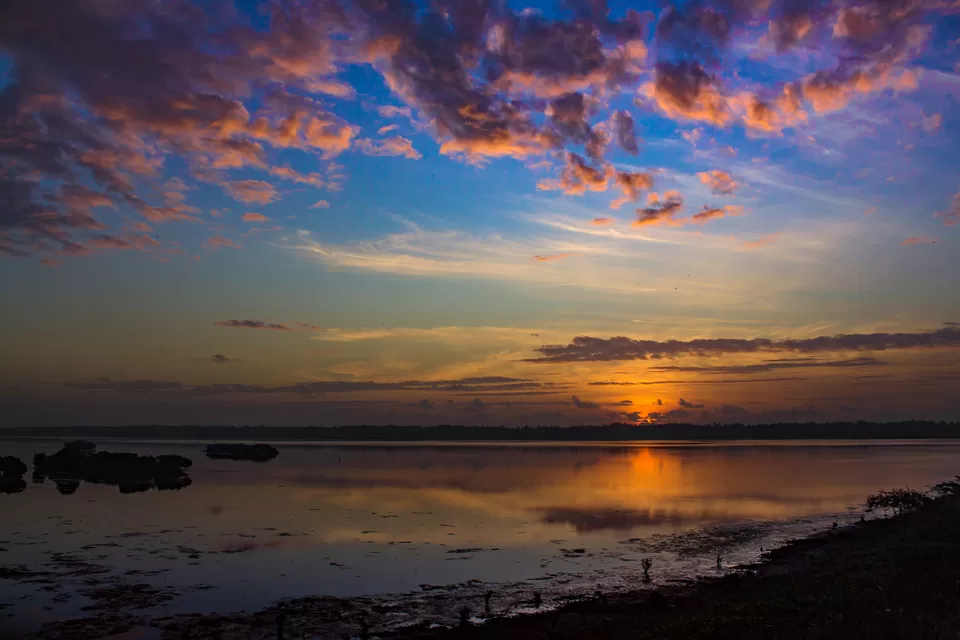 And just when I went to the other side of the road (the direction behind me when I took this shot), one of my friend was shooting out something between the trees.. When I asked him, he told me to just come right behind and him and pointed out this and just between these trees I found a doorway to this scenic view and this brought out a whole lot of classy frames got into my mind..! Seriously.. this frame wouldn't have been caught if my buddy had not told me..! Just have a look at it below,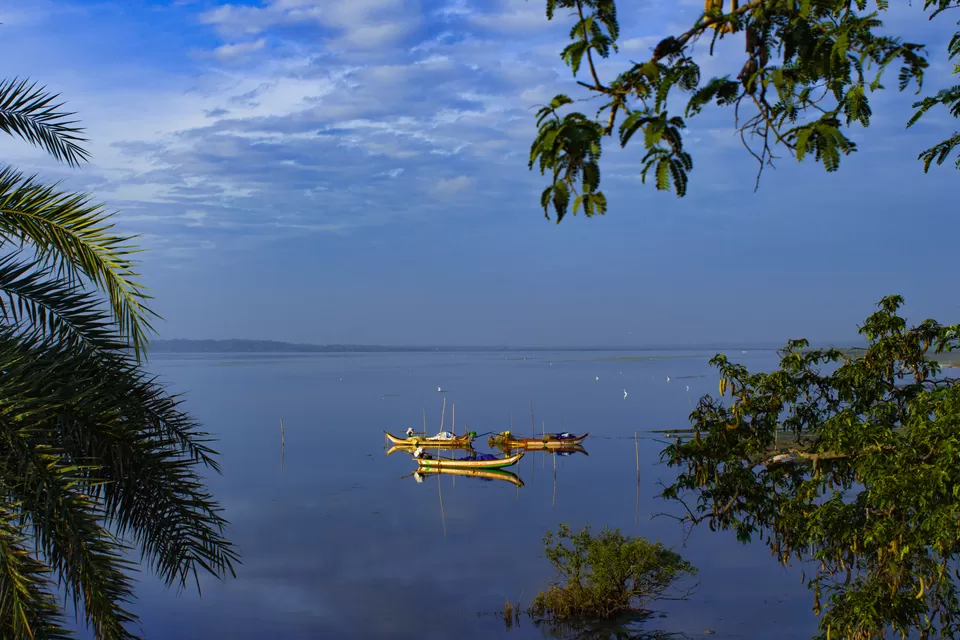 A Paradise view right...??
After clicking this shot we went down to get more closer shots of those boats and imagine walking on a wet salt marsh without any support having camera on one hand and your slippers on the other. So tough right..? and that's how we walked till we reached those boats. Just have a look at those salt marsh below,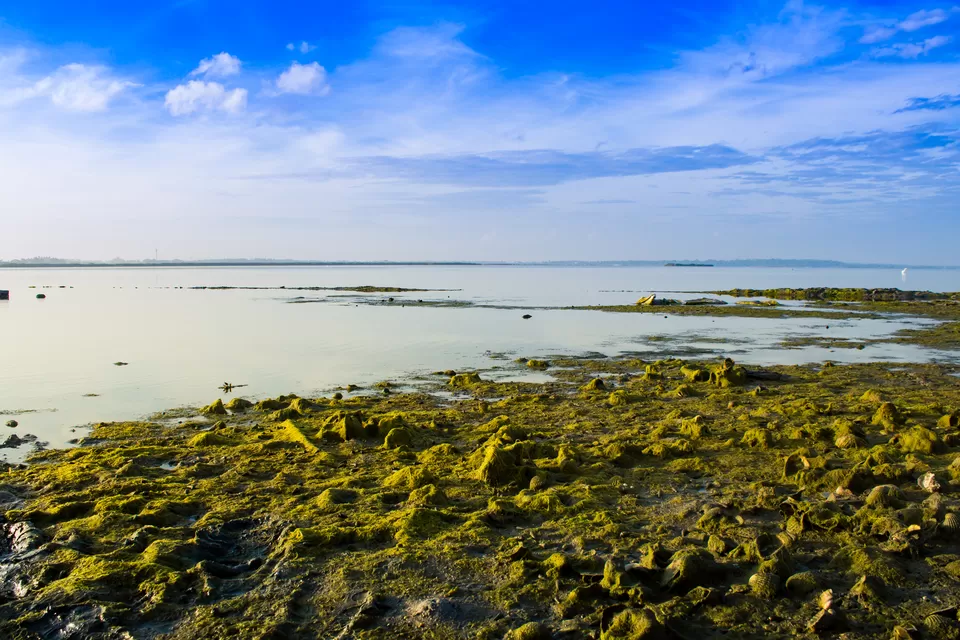 Looks beautiful isn't it..? But, at the same time it's a bit risky. So now, let's see some of the sunrise images taken at that spot which was much earlier than the above picture. And then I'll tell you how I felt at that moment.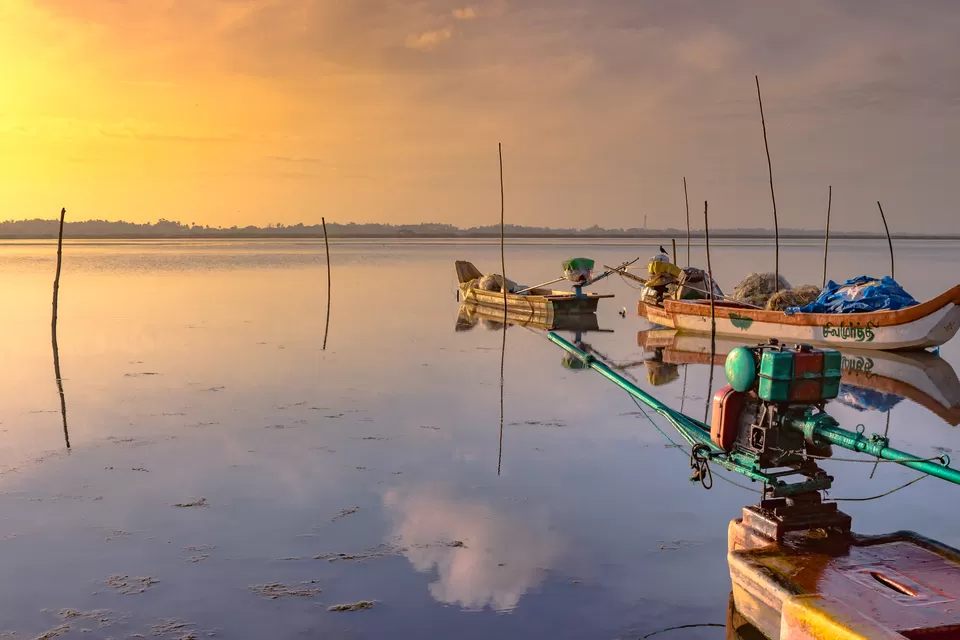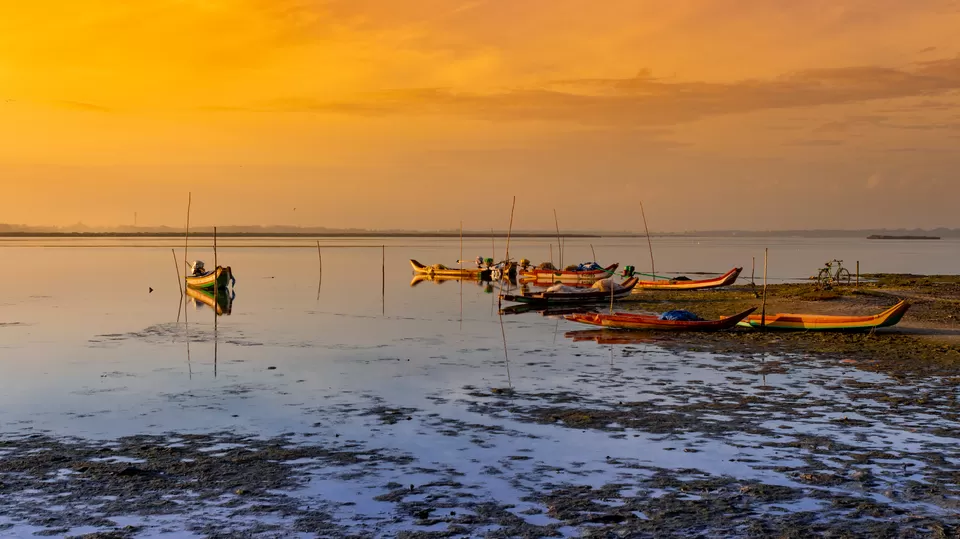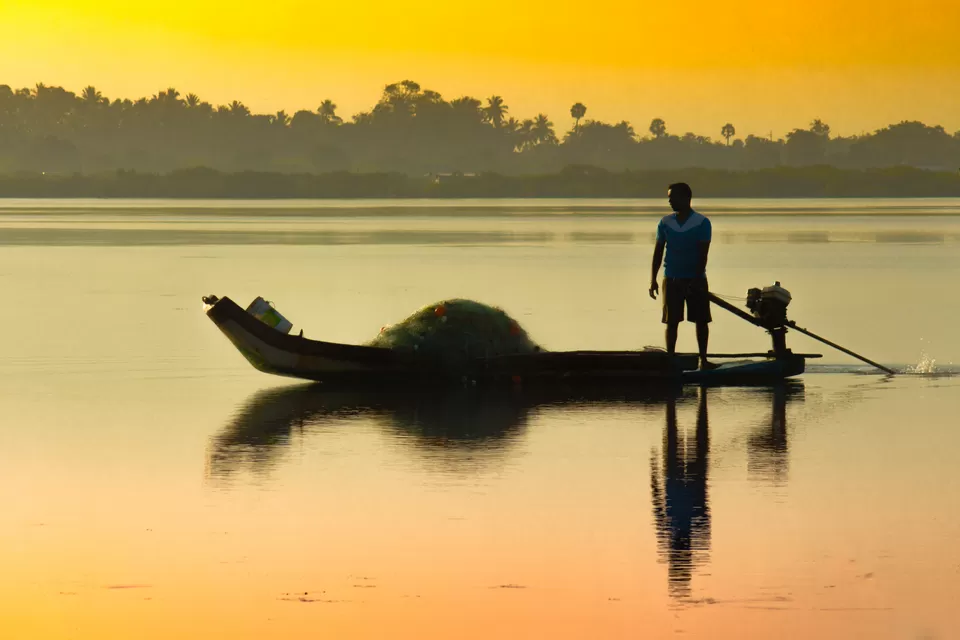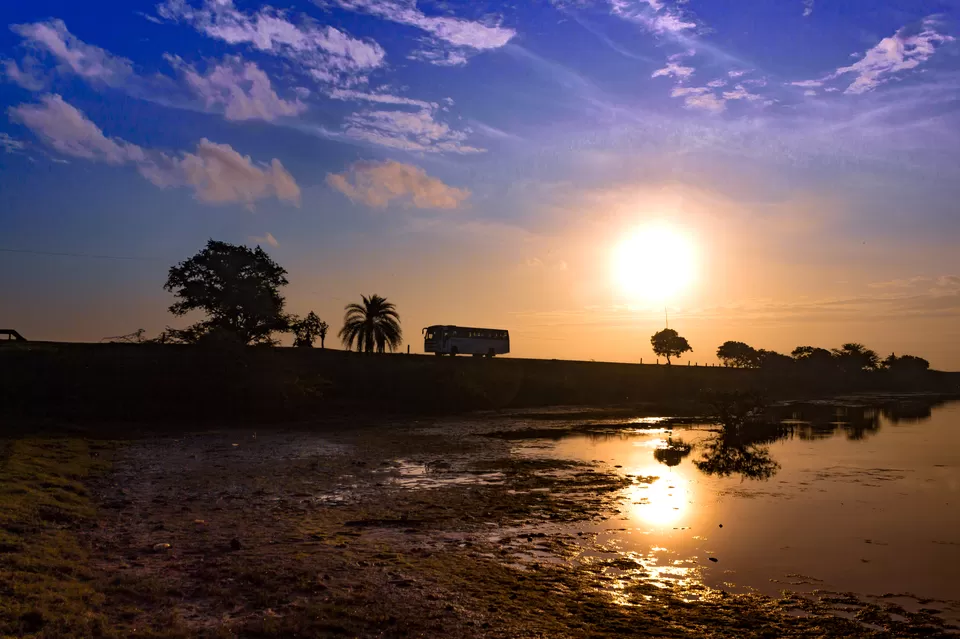 Breathtaking view of the beautiful Buckingham Canal is only complete when the Sunlight kisses it.
You might wonder how the color of sky varies between the previous images and these set of images. To explain this in a general manner it is to show the respective locations in it's own way, but to explain it in a technical way the areas where I wanted to show the sunrise as prime scenes the temperatures were kept according to it and the scenes where I want to represent only the location or frames as the prime element those were kept in a cooler way.
Anyone who travels across this place, whether you're a biker who takes a morning ride at ECR or who's on their way to respective locations, do not miss out this mesmerizing scene at this specific spot.
After taking enough images of the dawn scenes, we were about to get back to our hotel and suddenly we met a new friend who was passing us in a casual way even on that slippery salt marsh.
Here he is..! As described in the post, the proud "மீனவன் - Fisherman". There's always a unique grit on their expressions and behavior which we can't find it in many of us.
After a wonderful photo session, we headed back to our hotel at Pondicherry to explore the locality there.
Usually for a Photographer, it's all about describing a destination and it's beauty in a visual representation more than an article or a speech. Of course the articles are only to give you a clear description about the areas and to tell you about our experiences. Some might prefer to read and some prefer to view just the photos. But, to get the actual experiences of the respective destinations you definitely need to travel to those spots and feel the vibes yourself. So try to explore different places and enjoy yourself..!
This is a very low budget travel if you're from Chennai or Pondicherry and it's obviously easy to reach here. In case, if you wanna know further details about the location or you need any personal guidelines, you can reach out anytime through my Instagram Page or mail, gouthamphotography97@gmail.com.
Will be posting out an article on my experiences at Pondicherry soon..! So stay tuned guys..!