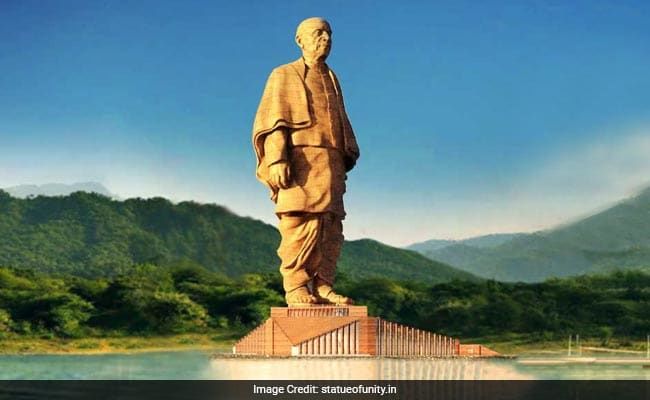 Twice the height of Statue of Liberty, a 182-metre high statue of India's 'Iron Man' Sardar Vallabhbhai Patel was unveiled in Gujarat on October 31. Named as 'Statue of Unity', the mammoth monumental statue is dubbed as 'engineering marvel'.
The statue is built on a beautiful location on an islet, Sadhu Bet, near the Sardar Sarovar Dam in Gujarat's Narmada district. Offering panoramic views of dam and lush green fields, the statue is a sight to behold. 
At 597 feet, it is 177 feet taller than China's Spring Temple Buddha statue which took 11 years to build. The Statue of Unity is the tallest statue built in the shortest time in the world.
Here are some of the interesting facts about the Statue of Unity:
1. Infrastructure giant Larsen & Toubro built the statue at a cost of Rs 2,989 crore. 18,500 tonnes of reinforced steel, 1,700 tonnes of bronze, 6,500 tonnes of structural steel, 1,850 tonnes of bronze were used to make the statue.
2. The statue is twice the size of 'Statue of Liberty' in New York, three times the length of Rio Dio Janerio's 'Christ the Redeemer', and 77 feet taller than Spring Temple Buddha statue in China.
3. Talking about the strength, the statue can withstand major disasters. It's strong enough to take wind speed of 180 km/ hr and can survive earthquakes measuring up to 6.5 on the Richter Scale.
4. The statue's star shaped-core has two high-speed passenger elevators to take visitors to viewing gallery located at the chest level.
5. The viewing gallery is located at 135 m level and can comfortably accommodate up to 200 visitors at a time. The gallery offers amazing views of of the dam and its environs. The visitors can also have a glance at the Satpura and Vindhyachal mountain ranges. The gallery also offers a distant view of the 12-km-long Garudeshwar Reservoir and the Sardar Sarovar Reservoir.
6. Coming to the designing of the statue, it has been done by Noida-based sculptor Ram V Sutar. He studied around 2000 pictures of Patel and many historians were consulted to ensure statue's resemblance with the national leader.
With the unveiling of Statue of Unity, you surely have another reason to plan a visit to Gujarat. Have you ever been to Gujarat? Share your travel experience with Tripoto community here.