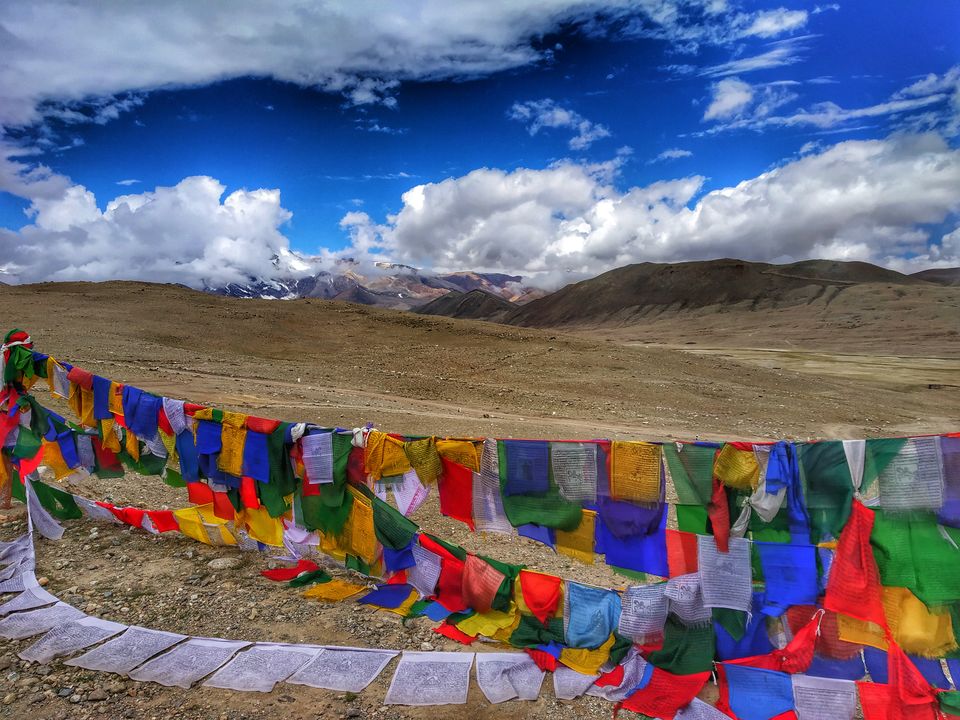 No. of days : 7
No. of travelers: 5
Month of travel: May 2018
Places Covered: Gangtok, Nathula Pass, Tsomgo Lake, Lachen, Gurudongmar Lake, Kala Pathar, Lachung, Yumthang Valley, Namchi
(Detailed Version: This is a detailed version of my trip experiences. Please refer to the link for a summary version of things to do and places to go around in Sikkim
https://hashtagontrip1.wixsite.com/home/blog/lost-my-heart-in-sikkim-summary)
Its been over a month since I came back from Sikkim but for some reason, my heart is still stuck in this beautiful place. So as I am penning down my experiences, I am also revisiting the alluring and memories I made in Sikkim! As always my trip plans have been at the last moment, my Sikkim trip was also booked just 20 days before my travel
The gigantic peaks of the Himalayas, variegated flora and the fauna and some breathtaking views of the Mt. Kanchenjunga make Sikkim a paradise for travelers, backpackers, and researchers. This tiny yet majestic state also serves as a home to so many hidden and unexplored places
Well, the best things in life always comes with a price. Sikkim is an attractive and pleasing place but travelling in Sikkim is much of a struggle because of the bad road conditions only to explore the phenomenal views that Sikkim offers
Before you start your Sikkim trip, let's have a look at the map of Sikkim and the routes and places I covered on the map each day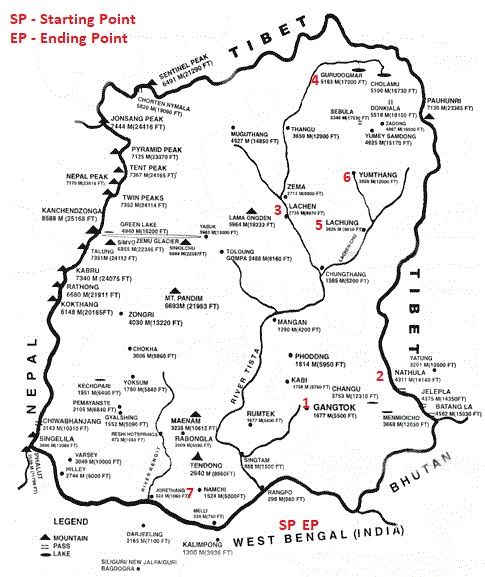 Day 1: Arrive at Gangtok
Our road journey started right since we got off the Bagdogra airport (which falls in West Bengal) to reach Gangtok (Sikkim) which is 5 hours car journey. Since we went in the season time, we got a lot traffic our way and we reached Gangtok at night and checked in to Pearl Retreat (Pure Veg) which is about 10-15 mins walk from the center MG Marg. So Day 1 ends here just with a tiring onward journey!
Day 2: Go to East Sikkim to Visit Nathula Pass, Tsomgo Lake and Baba Mandir
Next day morning sharp 8.00 am we started our journey to Nathula Pass. Nathula Pass is the India-China border in the Himalayas and it falls in East Sikkim. Most of the business trade between India and China are done via this pass. It is about 50 Kms uphill mountain drive (takes about 2.5 hours to 3 hours) and situated at an elevation of approx. 14000 ft. from Gangtok
Few things to keep in mind while travelling to Nathula Pass
Entry for visitor to the pass is closed on Monday and Tuesday
Make sure you leave early in morning between 8.00 am to 8.30 am because it is advisable to reach back Gangtok before it gets dark and become difficult for the drivers to drive downhill in the foggy climate
The temperature at Nathula Pass usually varyies between 0 degrees to -10 degrees and the pass is wholly covered with snow so carry enough warm clothes and comfortable shoes to walk on the snow
There can be cases of landslides or bad foggy weather because of which you may not be able to reach to the pass and come back mid way
Photography is strictly prohibited at the pass
There is a small shop named as Kyongnosla Mart just before the pass where you can have light snacks and they also provide warm clothes like jackets, cap, gloves etc. on rent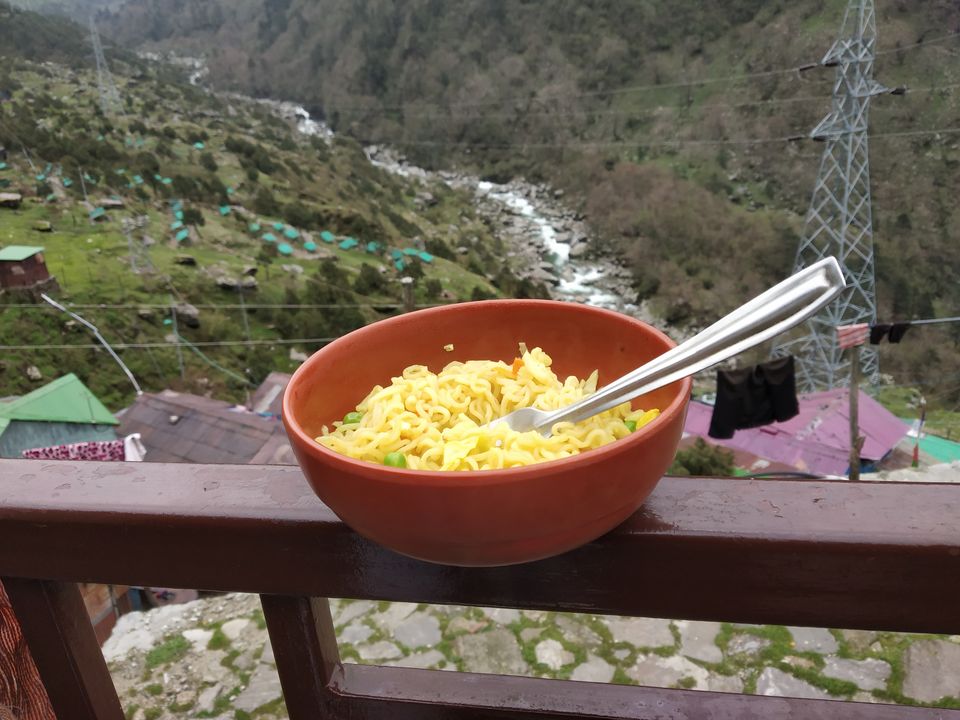 On our way back, we took a visit to the Tsomgo Lake / Changu Lake situated at an altitude of approx 12500 ft. Tsomgo in Bhutia language means "Source of water" The lake is covered with snow capped mountains and during summer the snow from these mountains melts and forms the source for this lake. This lake remains frozen during the winter and hence it is also called as the glacial lake. Tsomgo Lake is considered to be a holy lake and is worshiped by the Sikkimese
Tsomgo Lake also falls within the restricted army territory but once you have the permission for Nathula Pass you are free to visit the Tsomgo Lake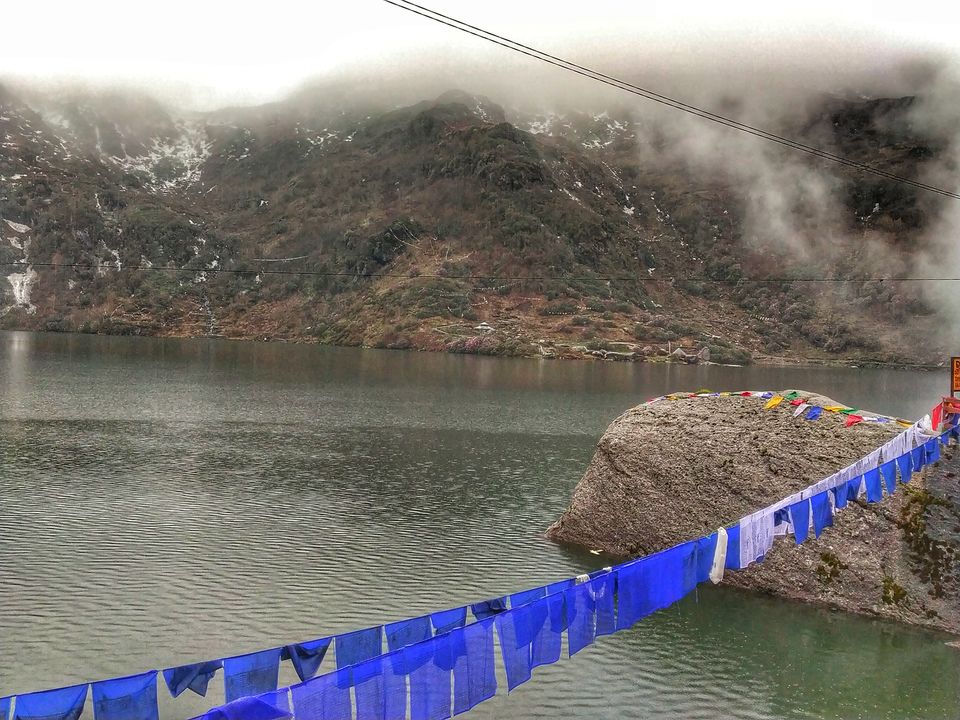 There is another tourist attraction which is usually visited with the above two places is Baba Mandir. Baba Harbhajan Singh who was an Indian soldier is known to be the "Hero of Nathula" by soldiers of the Indian army, who built a shrine in his honor. He became a victim in one of the battles at the between Tibet and Sikkim. He was awarded the Maha Vir Chakra medal for his bravery and martyrdom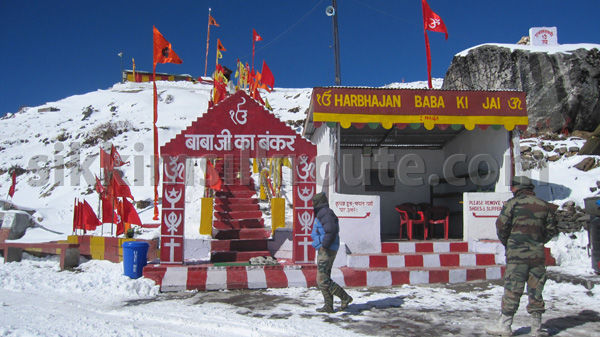 Day 3: Start your North Sikkim Journey - Drive to Lachen (Approx 120 kms from Gangtok - 6 hours drive)
Since the permit for Lachen was issued by around 10.00 am, we started our road trip to Lachen at 10.30 am
Few things to take note for North Sikkim
Lachen is a very small town situated at an elevation of about 9800 ft. and the temperature ranges from 0 to 10 degrees in May
The road condition is poor and only innova / jeep / SUV can go on these roads
There are very few pure veg hotels in Lachen so book yourself immediately in a good hotel especially in season time
No restaurants or snacks corners or medical shops are available in Lachen or on your way to Lachen so make sure you carry some extra food along with you
Lachen is a hill station and a popular base town for travelling to Gurudongmar Lake. On the way, we visited the Bhim Nala Waterfalls and Tashi View Point where you see the water streams gushing down from scenic valleys are some of the sights to look out for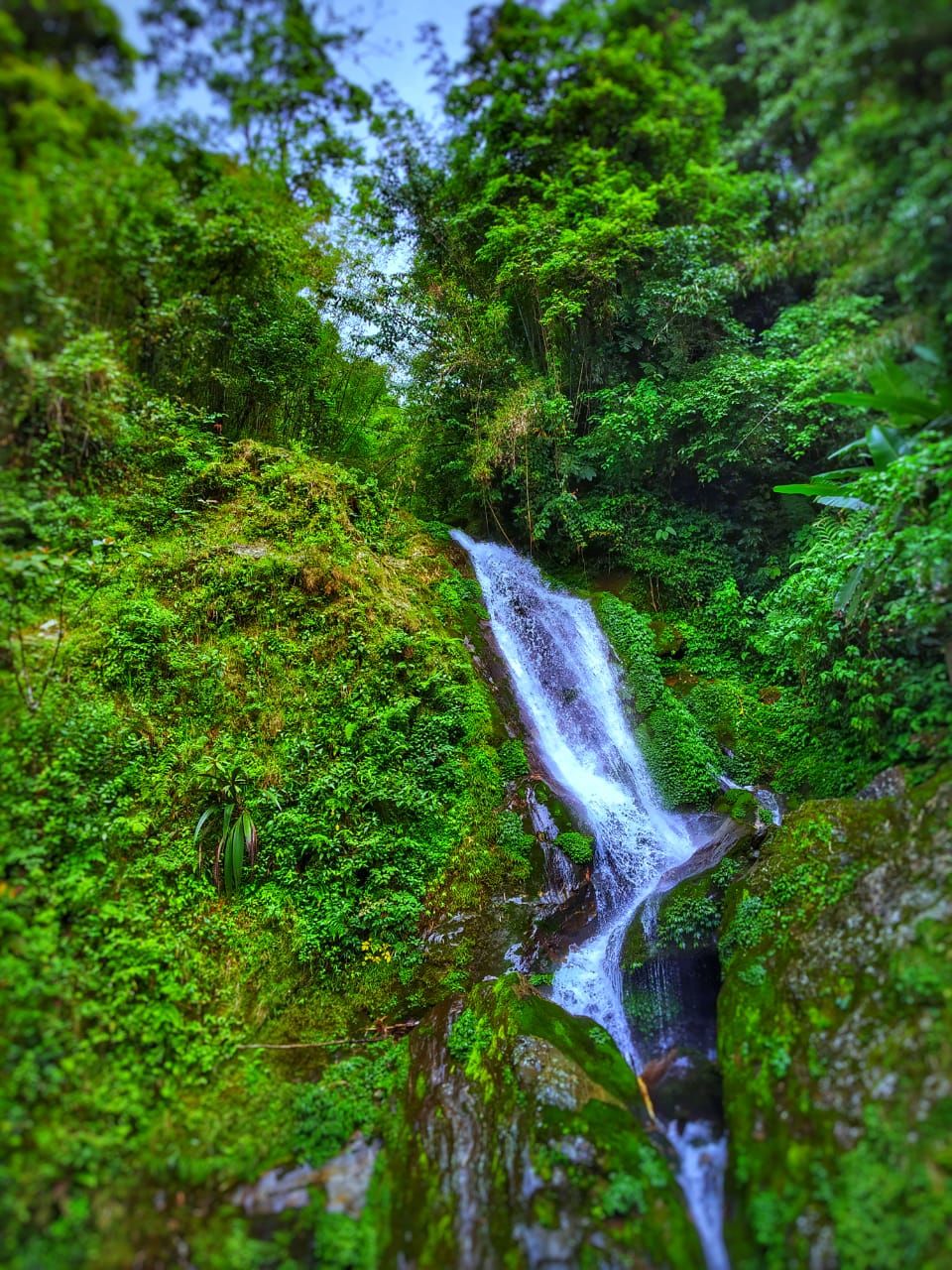 Day 4: Visit the natural beauty at the highest altitude - Gurudongmar Lake and Kala Pathar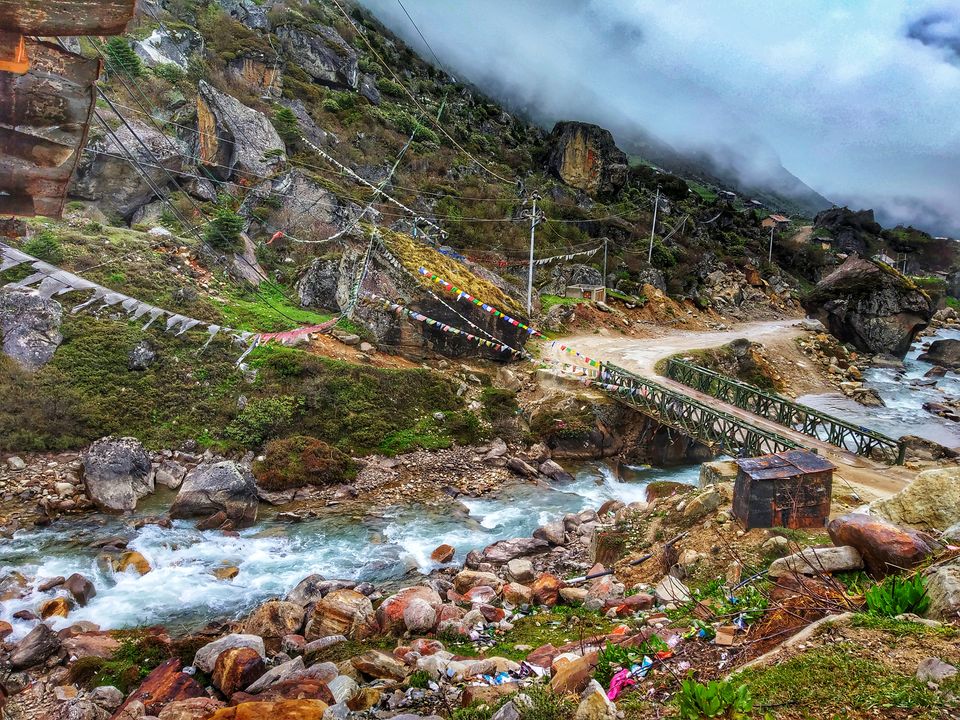 On our way back, we went to Kala Pathar which is a snow covered mountain and tourists visit this place to play and enjoy the snow at the top. (P.S. you can either do Zero Point which is near Lachung or Kala Pathar which is near Lachen. Both the places are known for attracting tourists to enjoy the snow). This place requires permission (taken care by the driver) and some additional charges to visit the location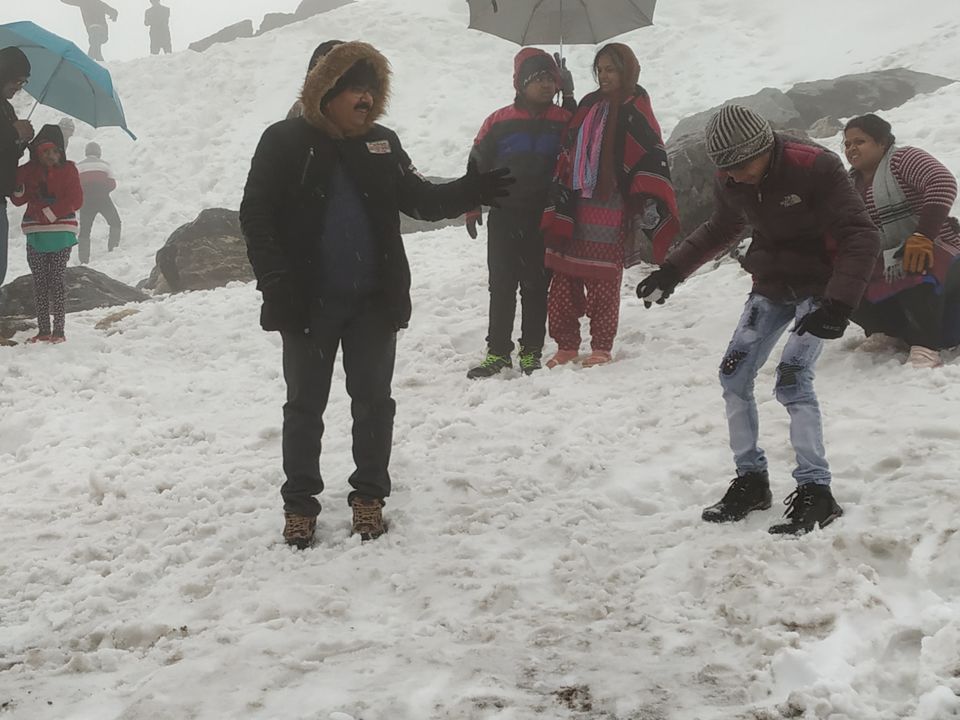 Nestled in the lap of Himalayan mountains, Lachung is another hill station in North Sikkim and is located at an elevation of approx. 9800 ft. and temperature ranging from 0 to 10 degrees. This town is slightly bigger than Lachen and it serves as a base for tourists visiting Yumthang Valley and Zero Point. During winters the whole town is covered with snow. This town also has Buddhist Monastery, Zip line adventure and has a military camp in the nearby area. So enjoy the delightful and refreshing view of the town in evening!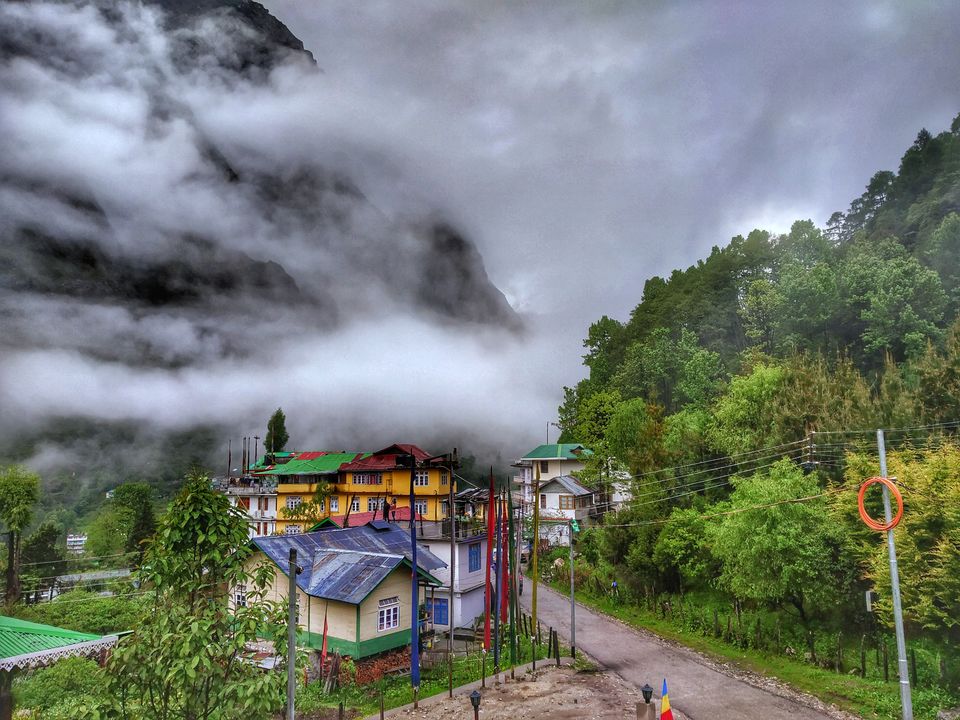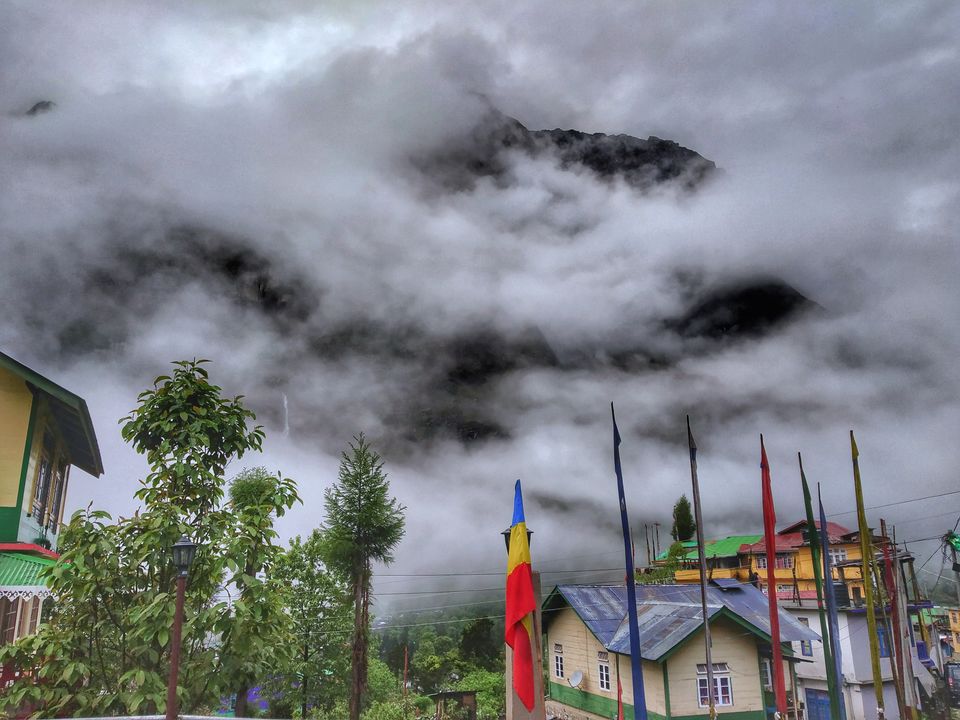 Day 5: Go to Yumthang Valley and Hot Spring
We started our journey in morning 6.00 am and took us around 1.5 hours to reach valley. The roads are in a better condition here but there are landslides at some places on the way which may obstruct or slow down your drive
Yumthang Valley or Sikkim Valley of Flowers sanctuary is 25 kms from Lachung and is situated at an elevation of approx. 12000 ft. This valley is popularly known as Valley of flowers since the whole valley is layered with a blanket of countless colorful flowers adding to the scenic attractiveness even more. The valley is covered with flowers only from February to April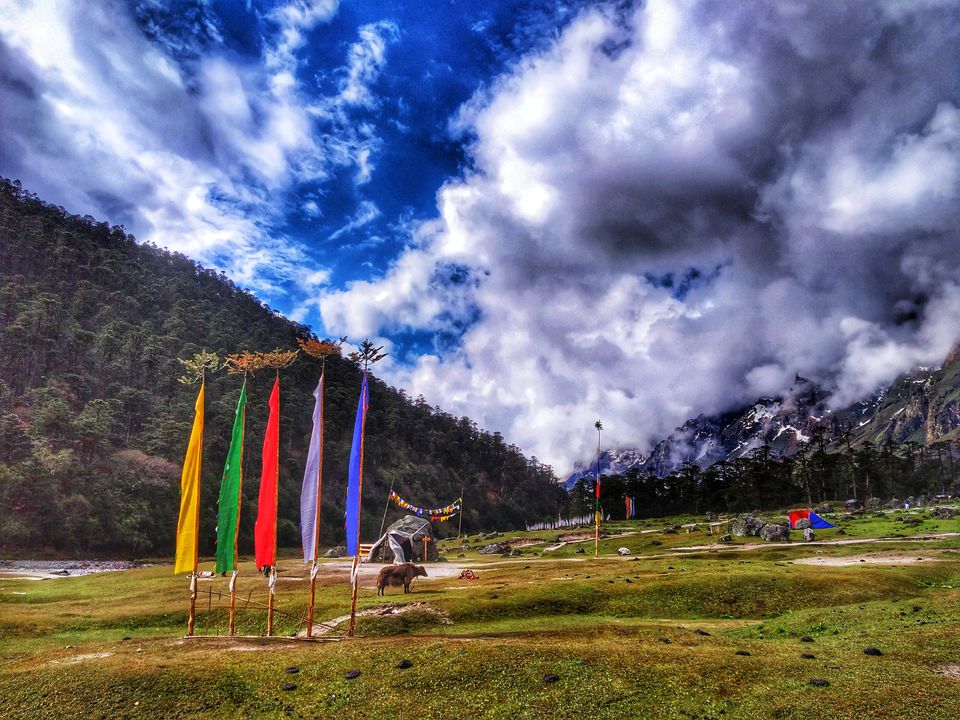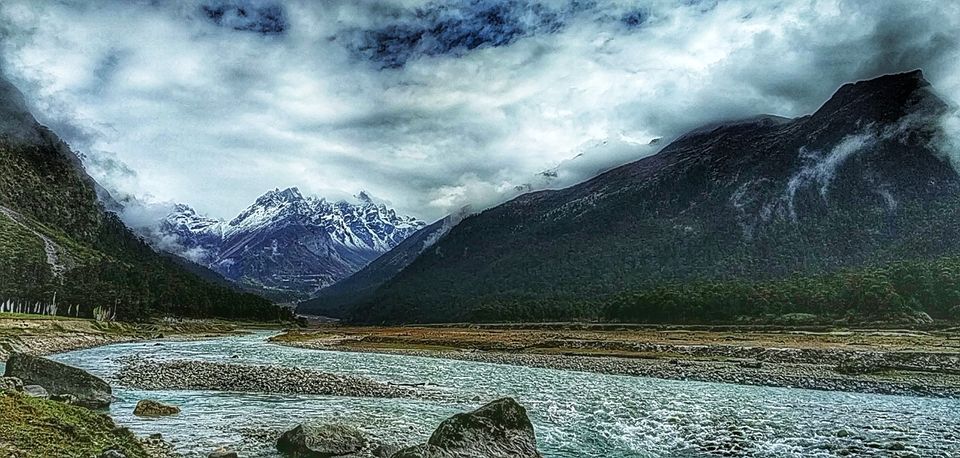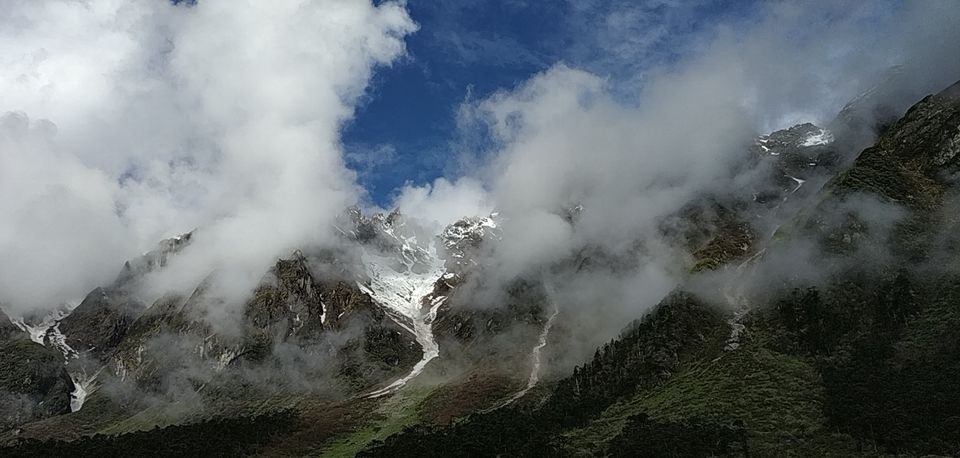 Back in Gangtok, we spent the rest of the evening in Gangtok. MG Marg in Gangtok is the center town lined up with restaurants, souvenir shops, cafes, snacks corners, pharmacies everything and anything! It's a pedestrian only no smoking zone and vehicles are not allowed on this road. The street is very clean and there are benches laid in the middle where tourists can sit relax and drench in the beauty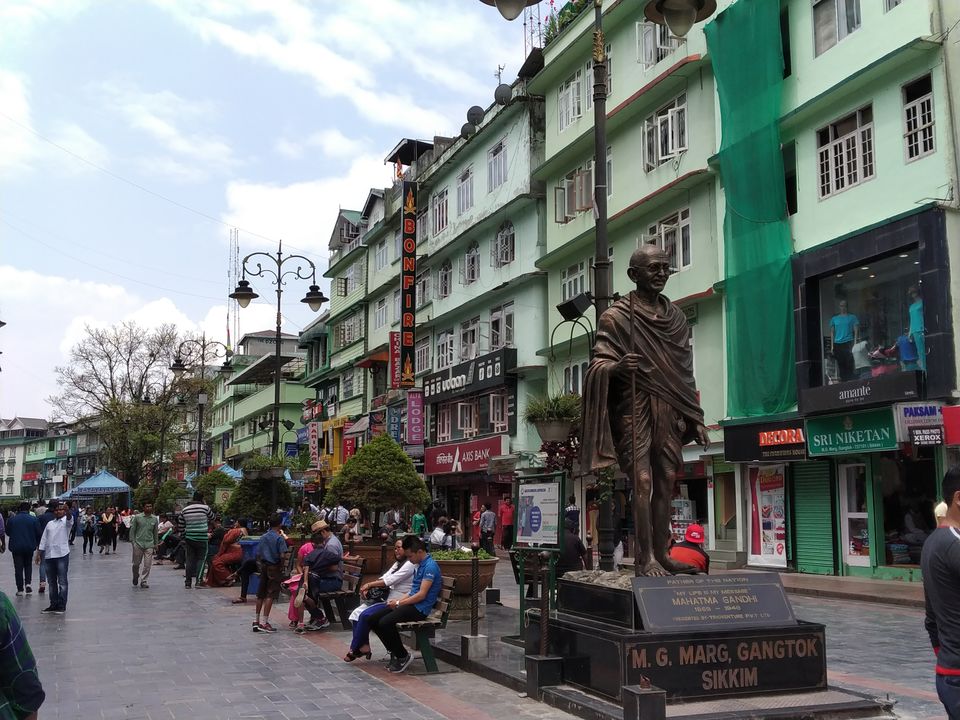 Day 6: Go to South Sikkim - Excursion to Temi Tea Estate and Namchi
We started our day at 7.30 for Namchi. Namchi is the capital of South Sikkim and is located at an elevation of 5500 ft and about 80 kms from Gangtok which is roughly 3 hours drive
One of the most attractive tourist places in South Sikkim is the Temi Tea Garden located in the attractive mountain side valley and sumptuous green ferns. The tea garden produces their own tea brand in the name of Temi Tea. You can also witness the process of plucking tea leaves to processing of these leaves in the factories. The most interesting thing to do at the tea garden is to talk to a few local ladies while they are plucking the tea leaves in the lush green gardens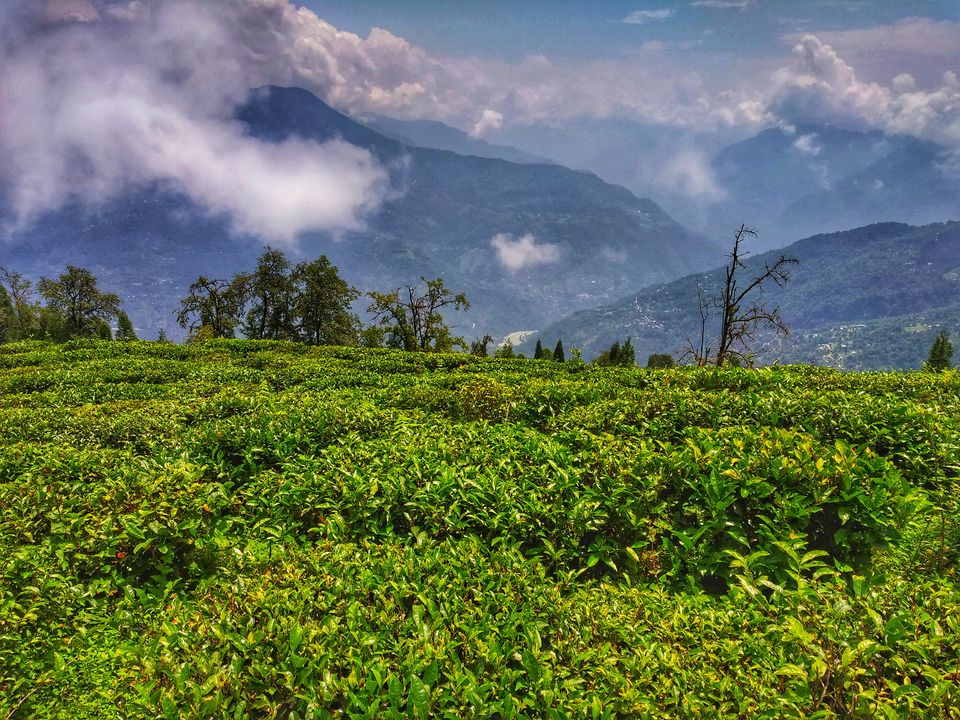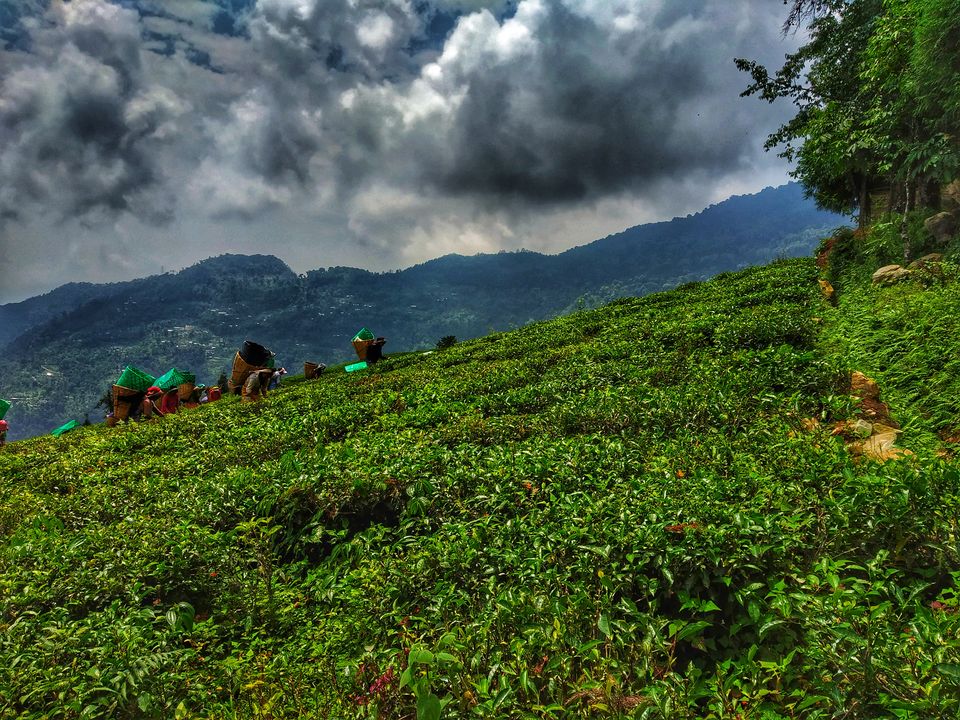 Day 7: Do River Rafting in Teesta River and leave for airport
River Rafting in the Teesta river can be the most thrilling adventure. Teesta river originating from Himalayas flows through Sikkim to West Bengal and Bangladesh. The rafting expedition in the icy, vibrant blue splendid Teesta River is a extortionate experience. Starting from beginners to experienced, family and friends anyone and everyone can do river rafting here
The charges here are per boat basis so if you take a short route of 20 minutes it costs INR 4000 per boat and long route of 40 minutes costs INR 5000 per boat. Photography and Videography is INR 600 separate. We did the short route since we had a flight to catch that day and the plan for river rafting was instant since it is enroute Bagdogra airport. This place is approx. 2 hours from Gangtok. As you raft along the boat, there are small roll coaster waves, a few turbulences and such an experience is unforgettable and is a lifelong experience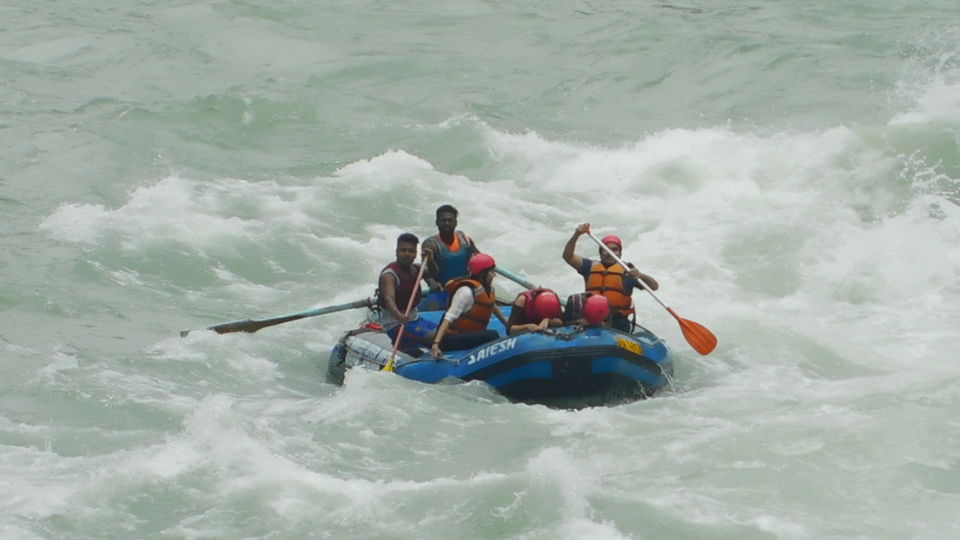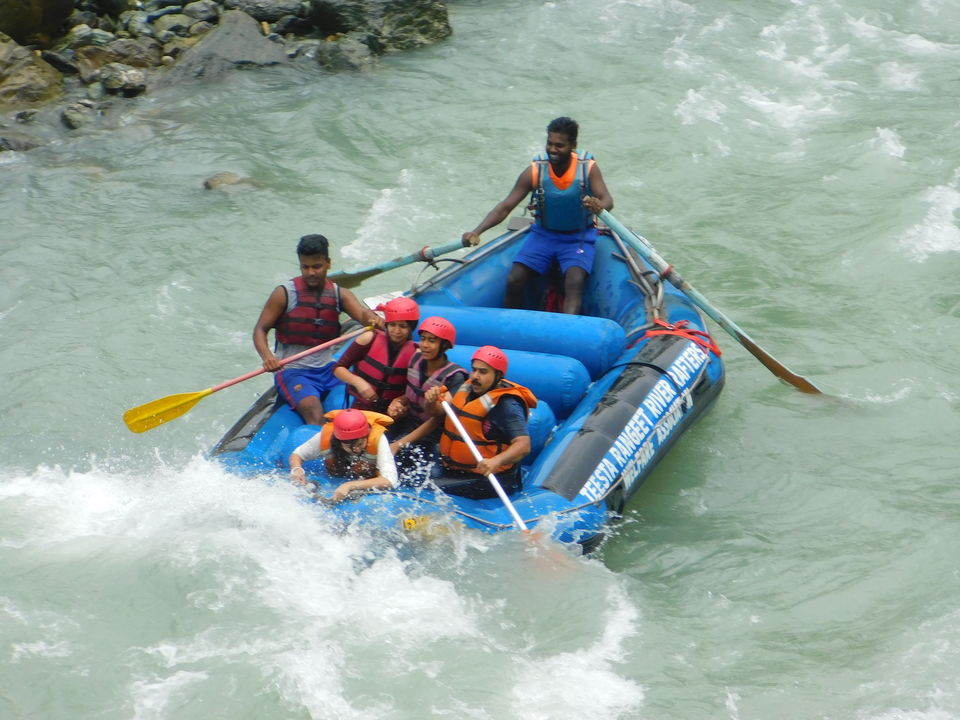 Permits for Nathula Pass:
You need to get permission done by a tour operator / travel agent that are Sikkim Government authorized for getting entry inside the pass. The permit is usually provided a day before the drive to Nathula Pass so make sure you inform your tour operator at least a day prior your visit. Only the government authorized vehicles for the day are allowed to enter the pass
You need to carry original ID Proof i.e Aadhar card / Passport and 2 passport size photographs each.
Usually if your car does not get the permit, your tour operator will ask you to join the car that has got the permit. This clubbing system is done once you reach uphill and just 5 kms before you enter the pass. Please note that there is no network once you reach the top and hence you have to look for the car number provided by your travel agent. It is also possible that your car gets the permit and few other people may join your car. In any case you will wait until the other car arrives
Nathula Pass is a complete army cantonment area and once you walk upto the top of fenced Indo-China border you can see both Indian and Chinese soldiers guarding the border. The soldiers are very friendly and you can have conversations with them about anything and everything you are curious to know!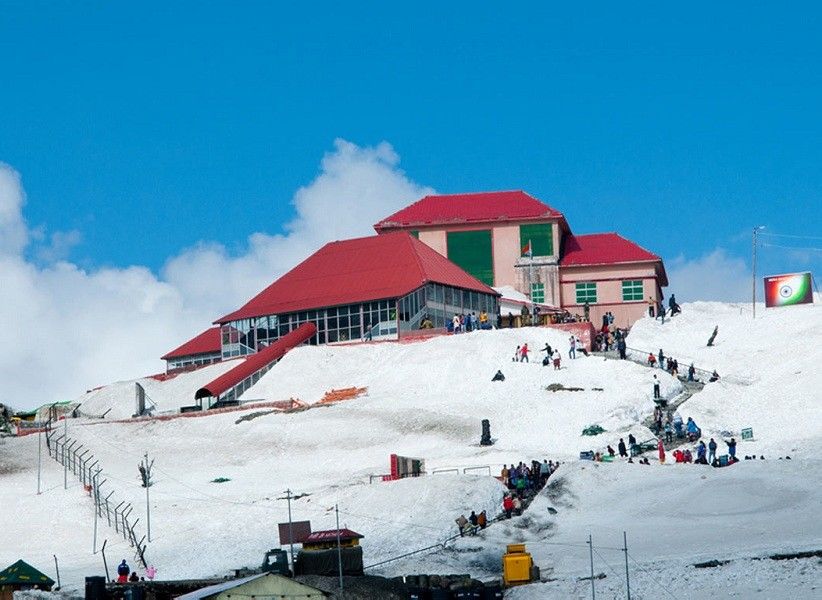 Amidst the scenic Himalayas, Lachen is a perfect retreat to relax and enjoy the breathtaking view of the town drenched in beauty and fresh and cold climate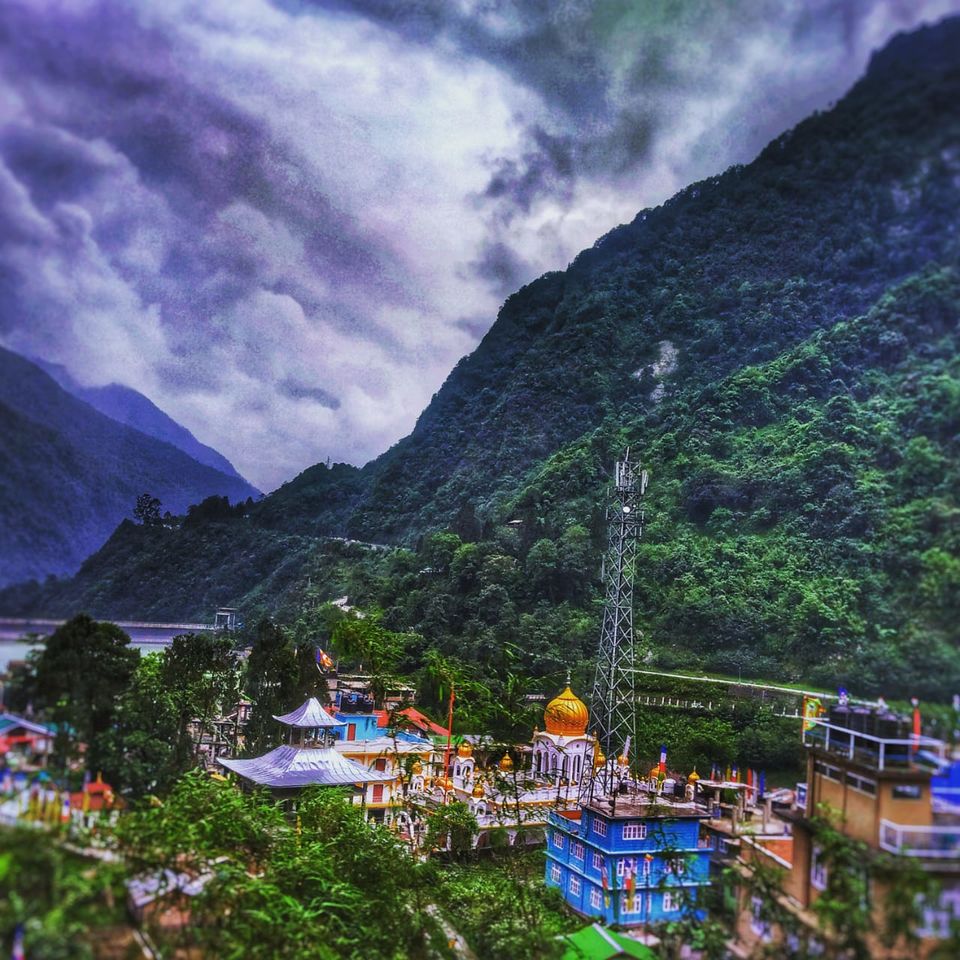 We stayed at Delight Hotel Royal Lachen and it was a perfect hill station hotel in the middle of the town. (I strongly recommend you to stay at his hotel. It was just a perfect hotel with hospitable staff). Another option is to stay at the Apple orchard which is one of the top rated hotel in Lachen
Visit the buddhist monastery which 1 km walk from Delight Hotel, enjoy the picturesque view of the hill station, talk to the army (the army cantonment is just close to the hill station), meet the locals and enjoy Sikkim a little more :)
Since the lake is located at a very high altitude, there is scarcity of oxygen. Please carry camphor tablets on your way
Make sure you carry enough warm clothes since the temeprature at the top will around -10 degrees
There is no actual road to the lake, but only barren land and the car is driven on and in between the mountains so you will have a lot of humps and bumps in the car
Although Google maps may show 2-2.5 hours journey but the actual jounrey is about 4-5 hours because of the road condition
Make sure you leave around 4.00 am - 5.00 am in the morning so that you are back to Lachen by afternoon (because it is not advisable to stay there till late afternoon)
Once you reach the lake, you may feel tired or exhausted so avoid climbing the stairs or walking too fast or running around the lake
Since all the places in North Sikkim are close to the border, permission is required to visit this place also but that will be taken care by your travel agent
There is a small cafe Delight fast food (owned by Delight Hotel Royal) built on the mountain where you can have breakfast before heading to the top. It is approx. 1.5 hours from Lachen town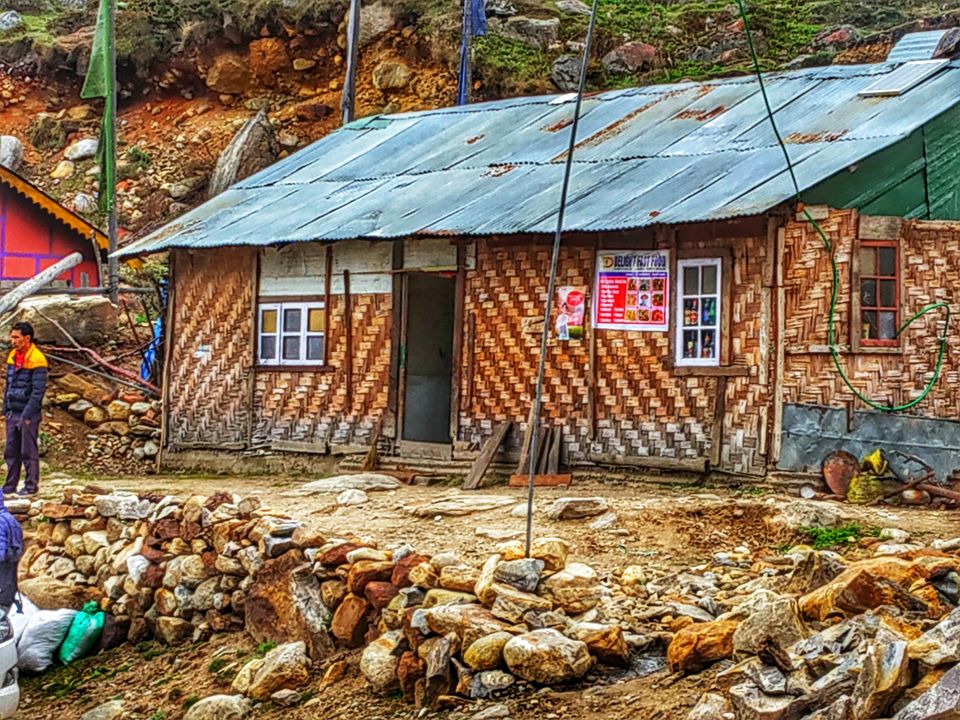 The journey through curving mountainous amidst the rugged piece of land of geographic region could be a lifetime experience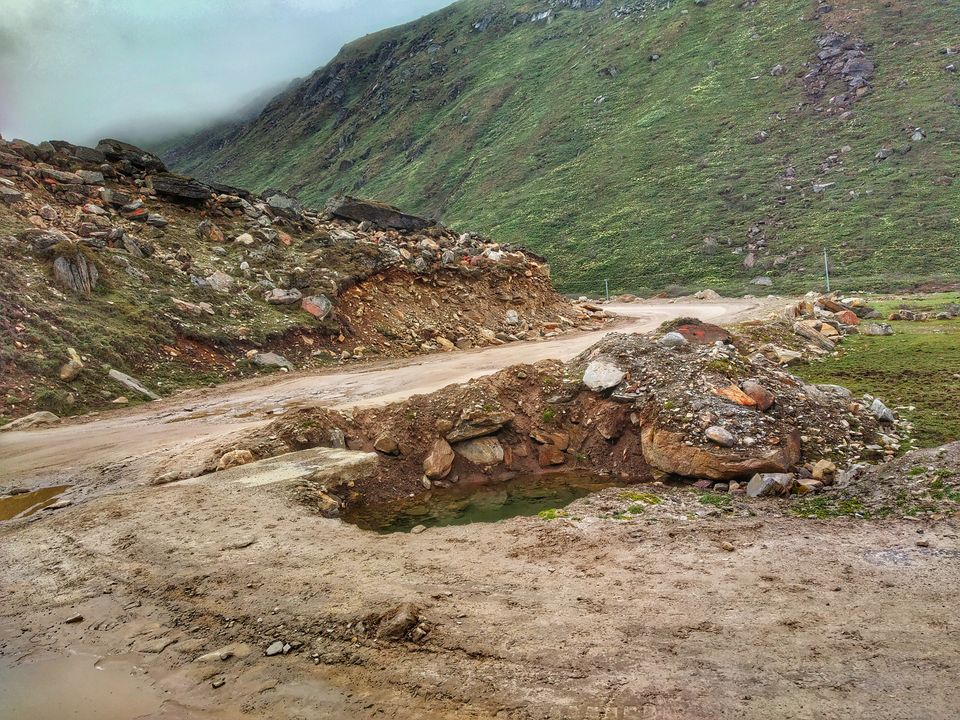 Although the journey is tiresome and struggling but as you are approaching the lake (just about 10 kms to 15 kms before you reach the lake) the roads leading to the lake are stupendous, the valley, the colorful mountains and the beauty of the sky will leave you speechless with its barren beauty!
It is one of the highest lakes in the world at an altitude of approx. 18000 ft. in North Sikkim about 4-5 hours of road journey. The sight of lake is a visual retreat for the eyes that attracts every tourist to go through the struggles of getting here and yet manages to please every visitor. The lake is surrounded by snow capped and barren mountains and is emerald green and blue in color so much that you can see the reflection of mountains in the lake. The lake remains completely frozen and forms a snowy chadar in winter
Visitors are however not allowed to visit this lake in rainy and winter seasons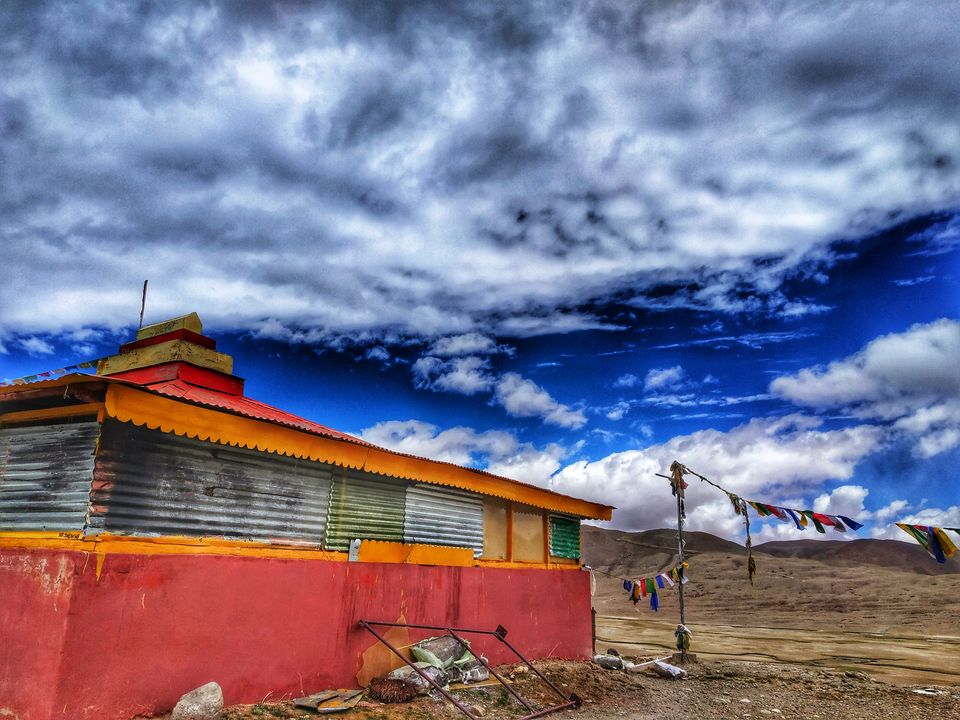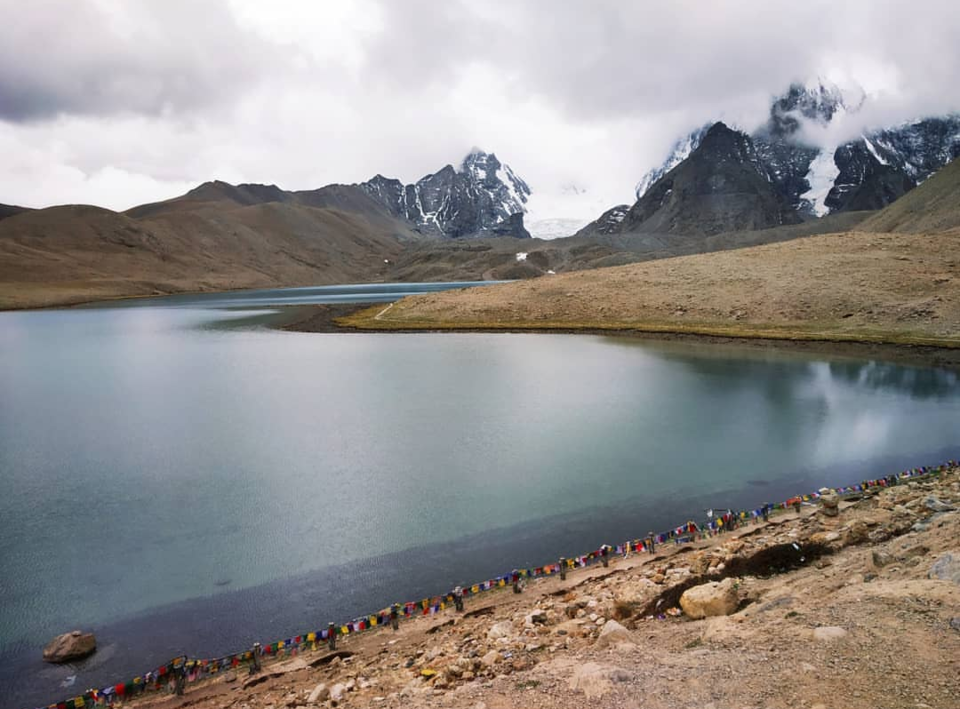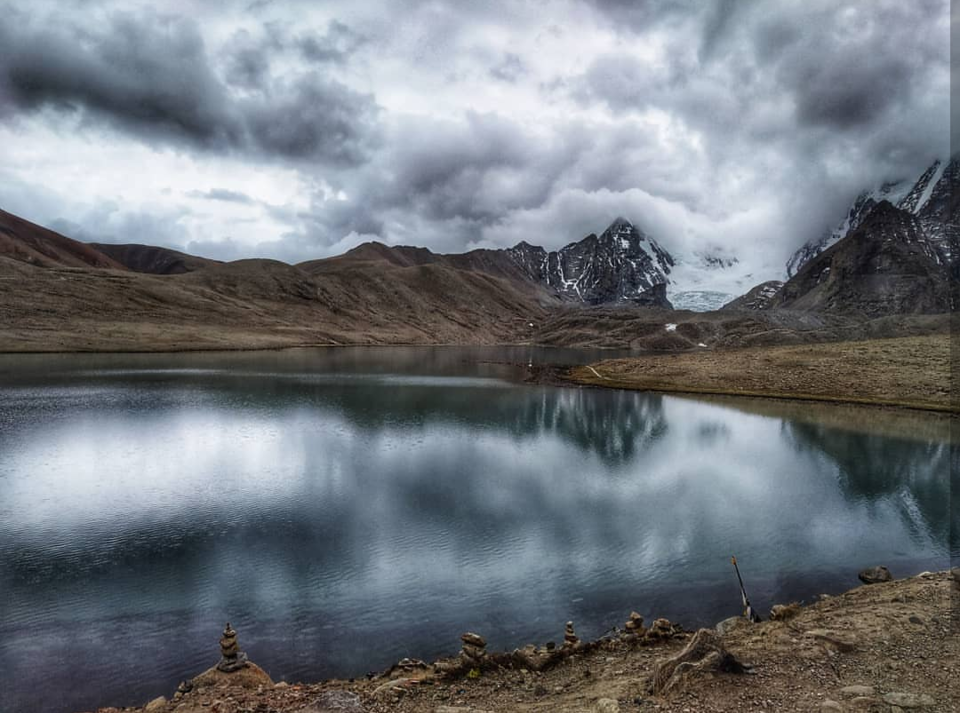 We reached Lachen at 2.00 pm and post our lunch we left for Lachung. Lachung is a 3 hour drive from Lachen. The roads condition are better on this route so you can sit back and relax on this drive.
Zero Point is around 30 kms uphill from Yumthang Valley and is another snow covered Himalayan peak in North Sikkim situated at an altitude of approx. 15000 ft. This place also requires special permission and you have bear some additional charges to visit. Since we had visited Kala Pathar, we chose not to go to Zero Point
Very close to the valley there is hot spring where you can take a halt and refreshen yourself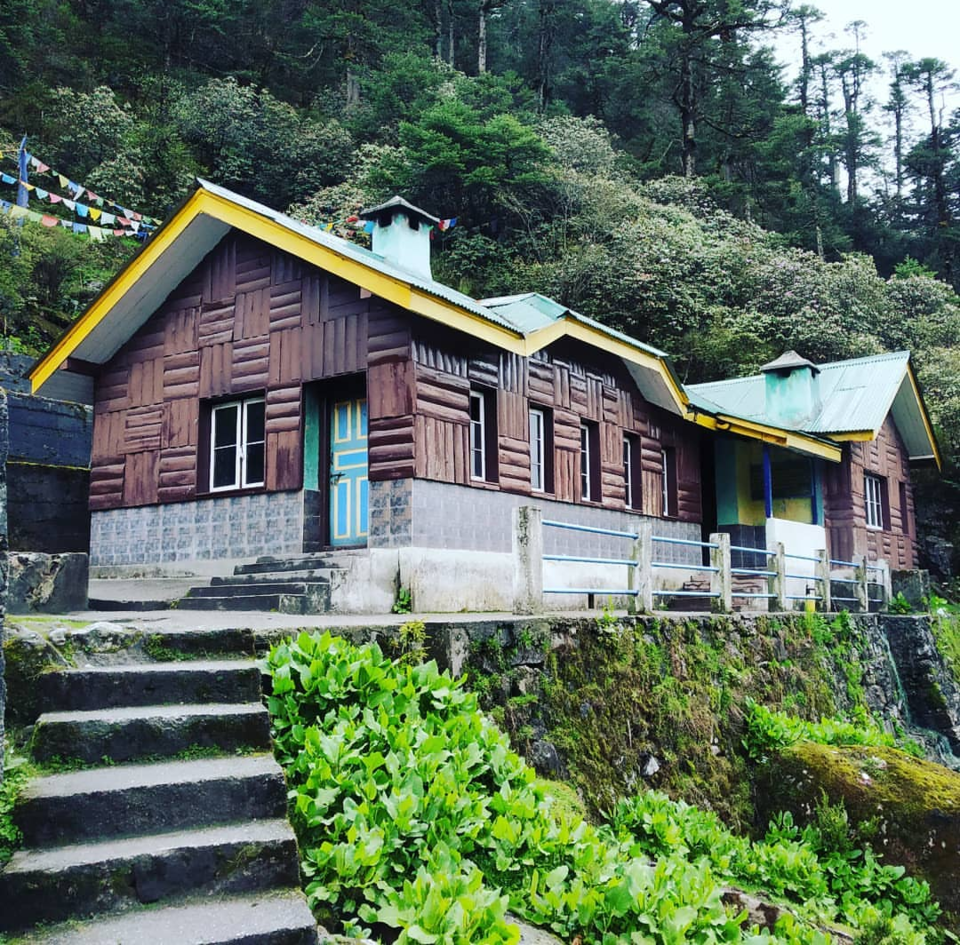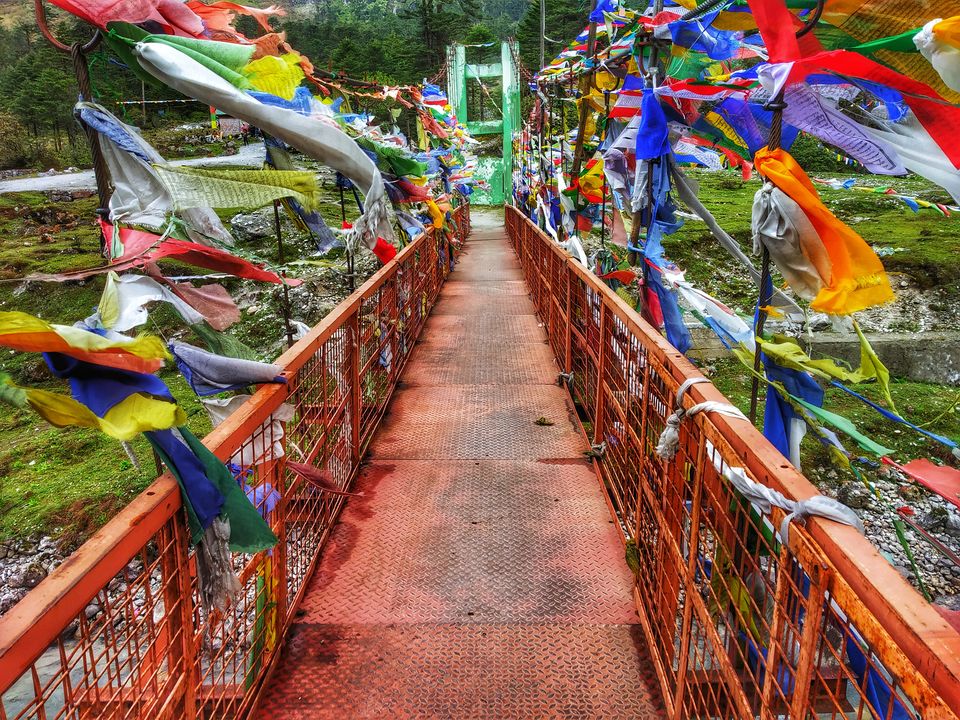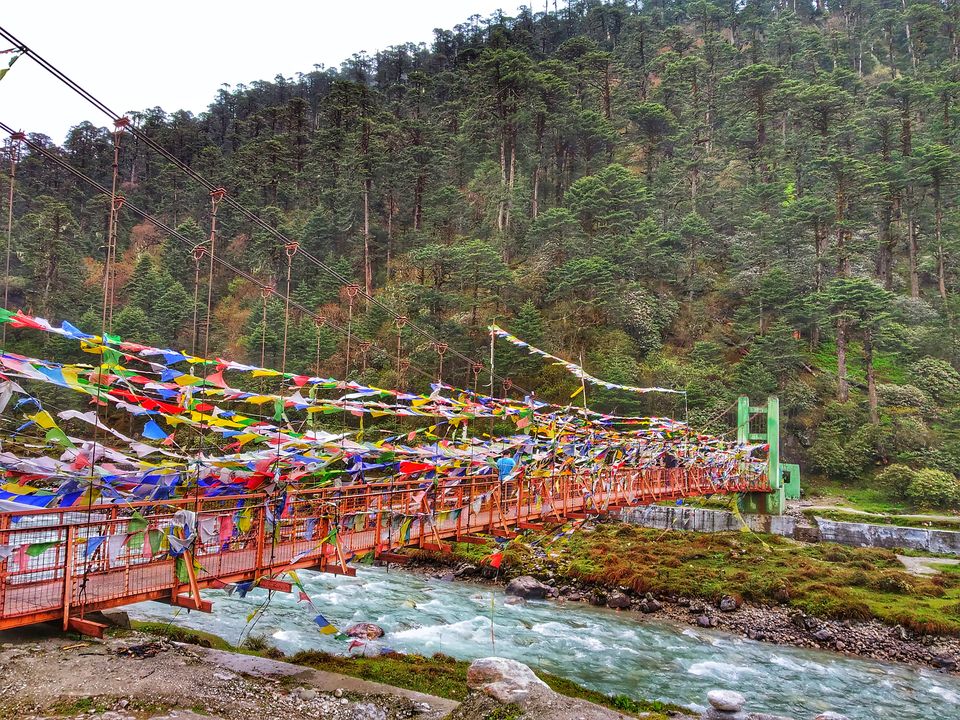 We came back to Lachung at 11.00 and immediately left for Gangtok leaving behind the gigantic and eye soothing views of snow covered himalayan mountains and pleasing roads. On our way we took a halt at the very famous Seven Sisters waterfalls and Bhewma Falls (also known as Amitabh Bachhan falls because it the known to be tallest waterfalls) Both the waterfalls lies on the road connecting Chungthang to Lachung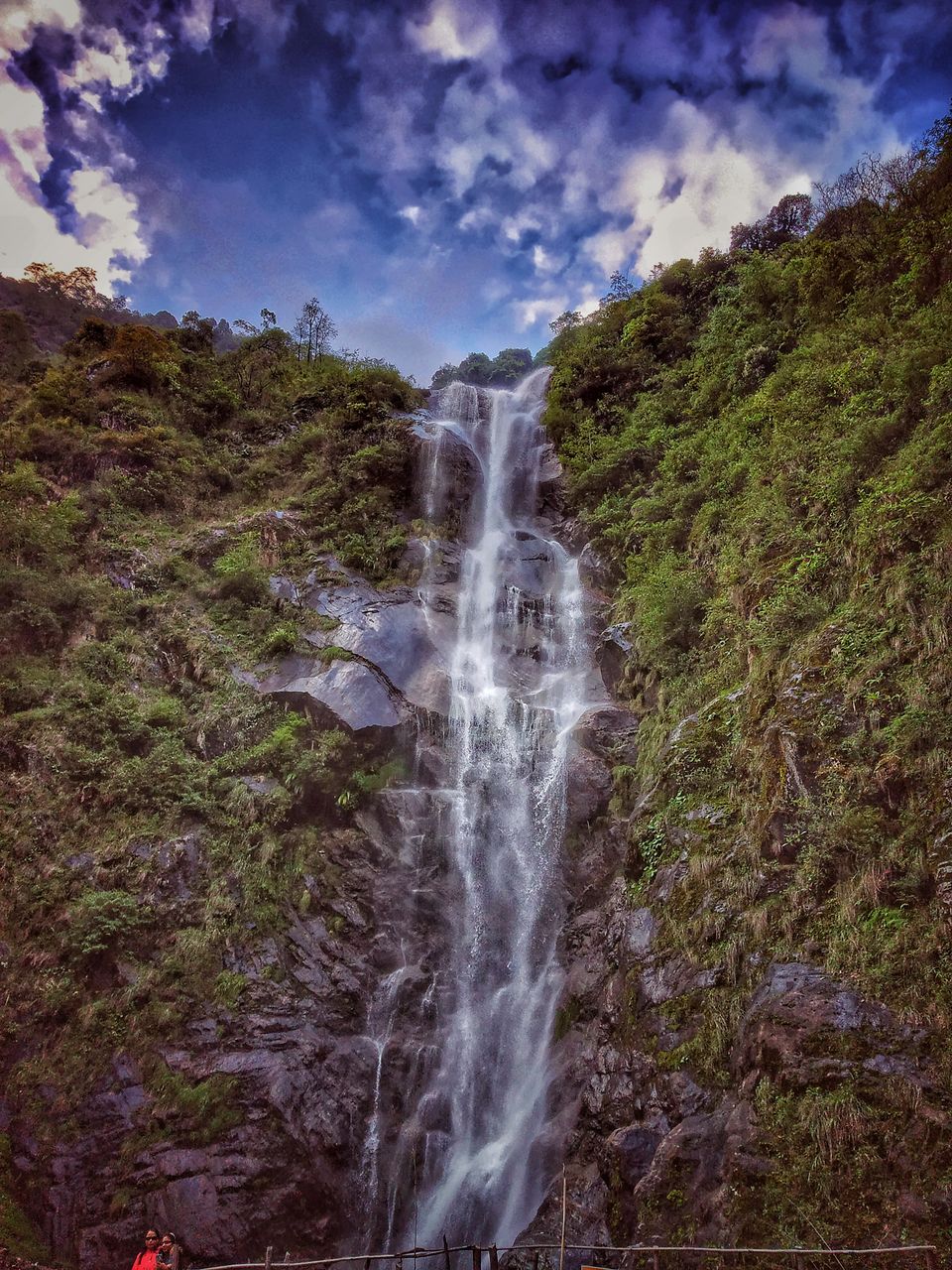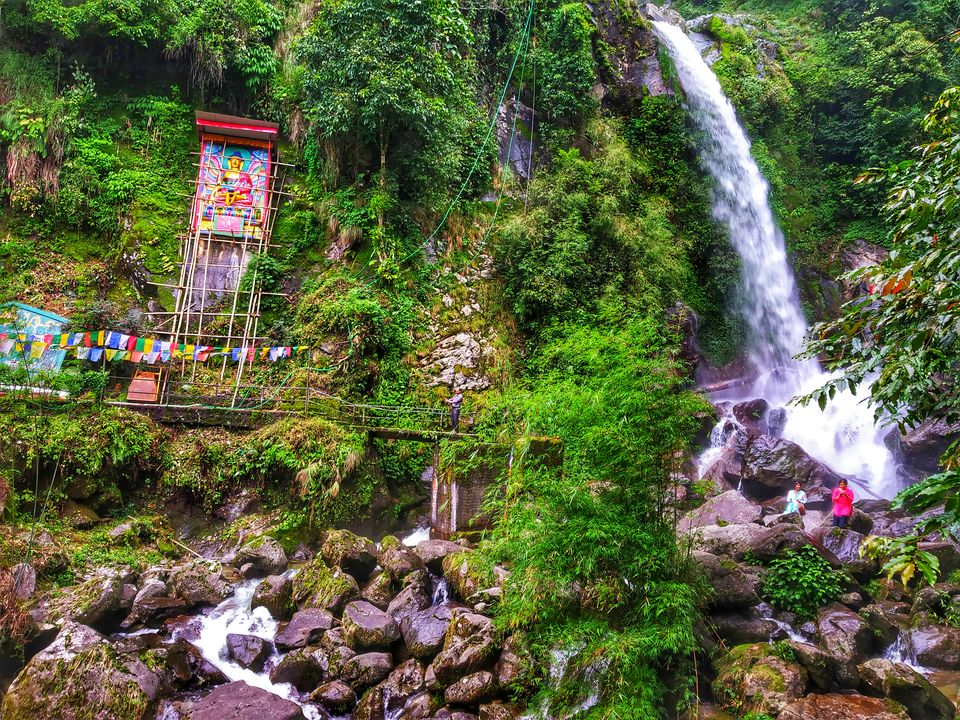 While there are plenty of food options on the streets, Bakers Cafe (known for pastries, coffees, momos and other food items) and Roll House attracts a lot of tourist attention. Roll House is a pure veg eatery serving varieties of momos and rolls in a narrow lane of MG Marg. Other pure veg resturants are Rasoi, Parivar, Agarwals on the street
Just as you walk steep down the street, there is another market Lal Bazaar also known for the local clothing, shoe shops, souveneirs etc. This market is extremely crowded at all time of the day
Temi Tea Estate is only about 18-20 kms from Ravangla and Namchi so you can choose to go to either of the places
Our next spot was Samdruptse monestary. The statue is giant and 45m tall structure of Sikkim's patron saint Guru Padmasambhava located 7 kms from Namchi town. In the local language Bhutia, the word 'Samdruptse' means 'The Wish Fulfilling Hill' and the awestruck view from the top will keep you speechless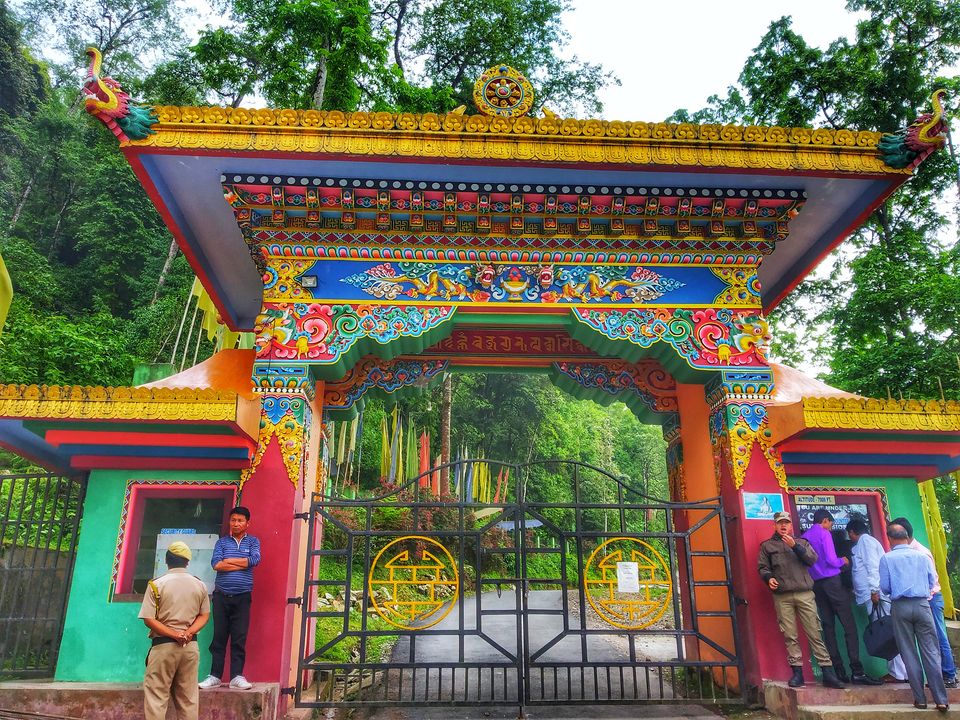 Next destination in Namchi was the very popular and the religious and cultural attraction - Char Dham or Siddheshwar Dham. It is located approx. 5 kms from Namchi town and uphill at Solophok hill. There is entry fee of INR 50 per person and it is one of the most crowded tourist spots. As you walk up, you will find only pure veg. restaurants since it is a pilgrim tourism attraction. During peak season, there is a long queue to enter each temple and consumes approx. 2-2.5 hours at this site. The four Dhams of the Hindus - Dwarika, Badrinath, Jaganath and Rameshawaram has been replicated in this complex to benefit the devotees who visit this place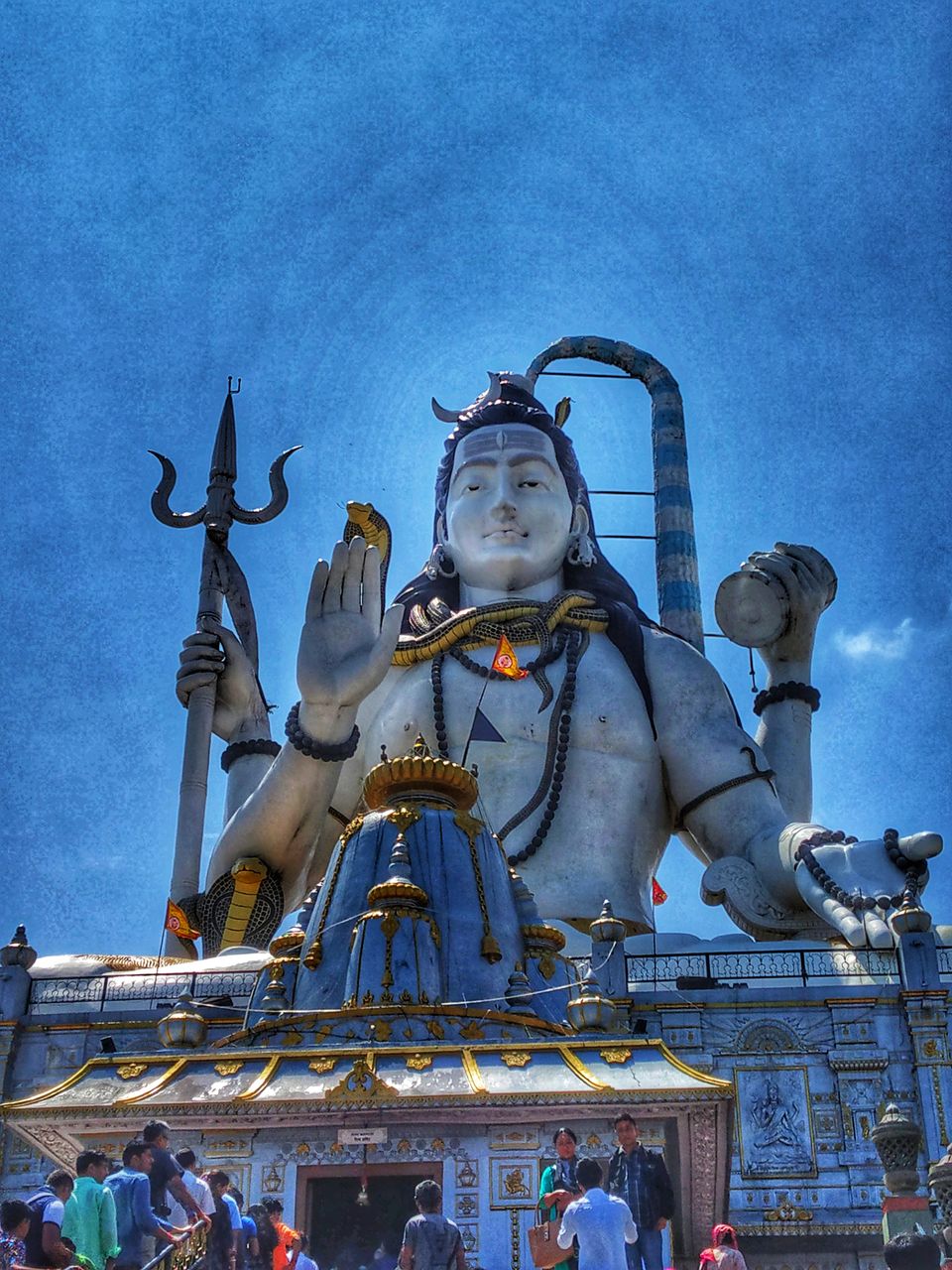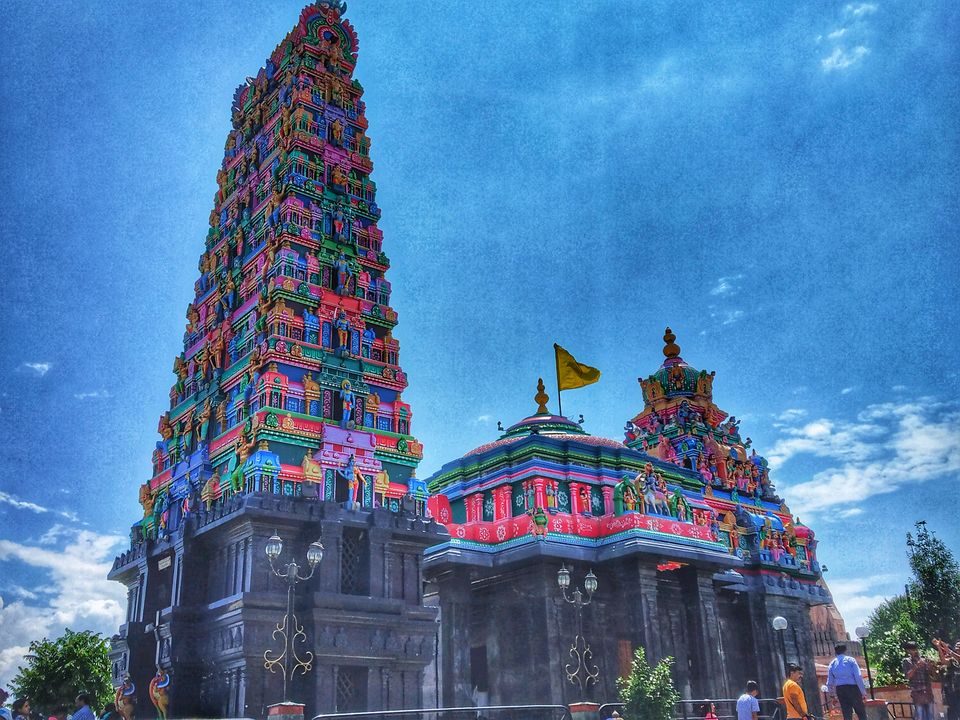 Another small but beautiful Sai Mandir very close to Char Dham is also a tourist attraction. The temple is surrounded by beautiful corn gardens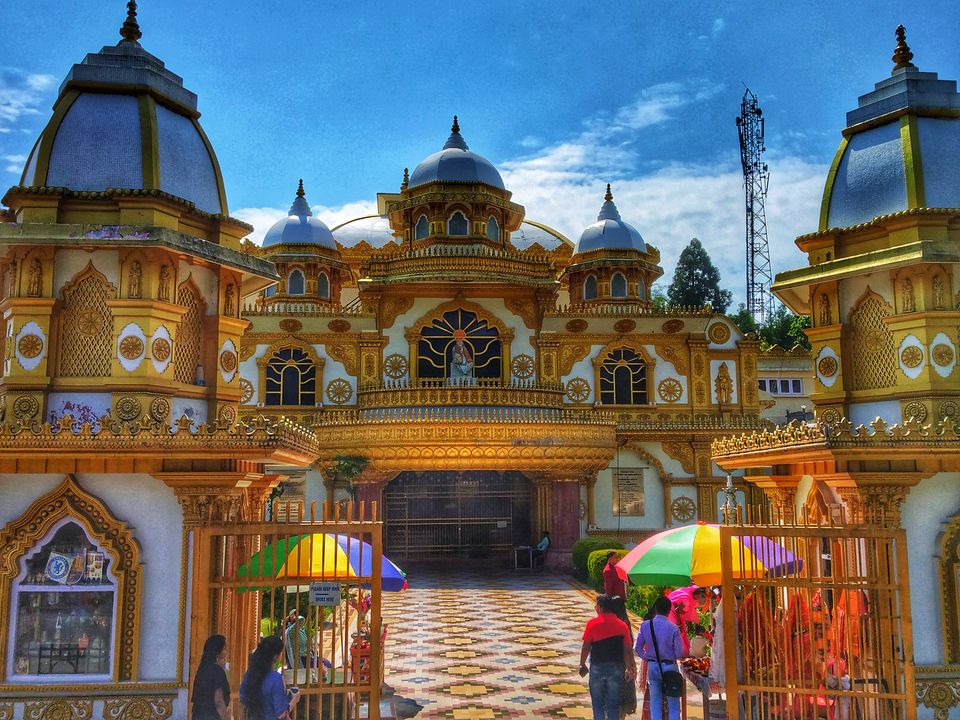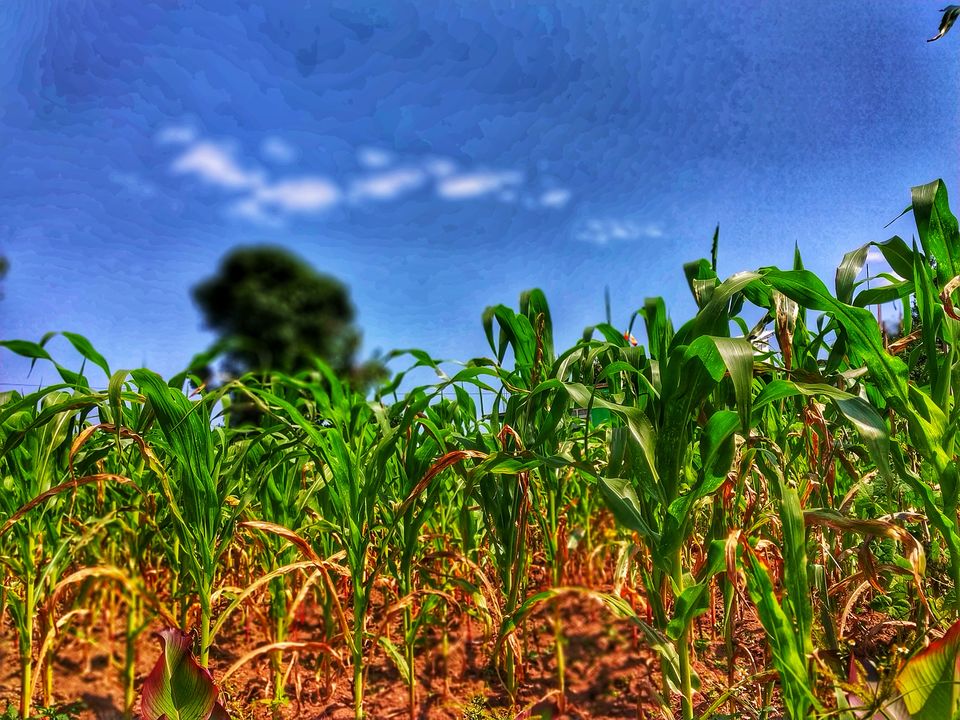 Heading our way back to Gangtok, we went to a small flower market near Gangtok known as Ridge park. The park is open till 5pm and it has amazing collection of flowering plants and shrubs. It is a very small exhibition center and you can also avoid going to this place. We spent the rest of our evening shopping at MG Marg
Moving on from there after the amazing rafting experience at 11.30 am, next we took a halt at Laddoo Gopal which is very well known for variety of sweets and snacks. It is a pure veg. restaurant in Siliguri and is approx. 1 hour before you reach the airport.
Please note that the once you enter West Bengal untill you reach the airport the road is fully jam packed on all the days of the week and usually traffic here occupies a lot of time to reach the airport. Make sure you leave from Gangtok keeping a buffer time of 1-2 hours if you leaving in peak business hours.
We Bid Aideu to the most beautiful, adventurous, exciting, splendid experiences at Sikkim! All the people we came across in Sikkim were helpful and we had an amazing time chatting with them.
Contacts:
Gangtok: Pearl Retreat - 086099 03330
Lachen: Delight Hotel Royal Lachen - Mr. Tashi 83369 71735 / 90733 28551
Lachung: Floret Hotel and Resorts - 97649 96401 / 85972 96401
Exotic Sikkim (Car Agent) - Munna - 6295 685 207
Teesta River Rafting: Mr. Ajay - 96149 08318
Frequent searches leading to this page:-
Gangtok sikkim tour plan, local tour operators in gangtok, darjeeling to pelling to gangtok, gangtok package tour from kolkata price, gangtok tour itinerary