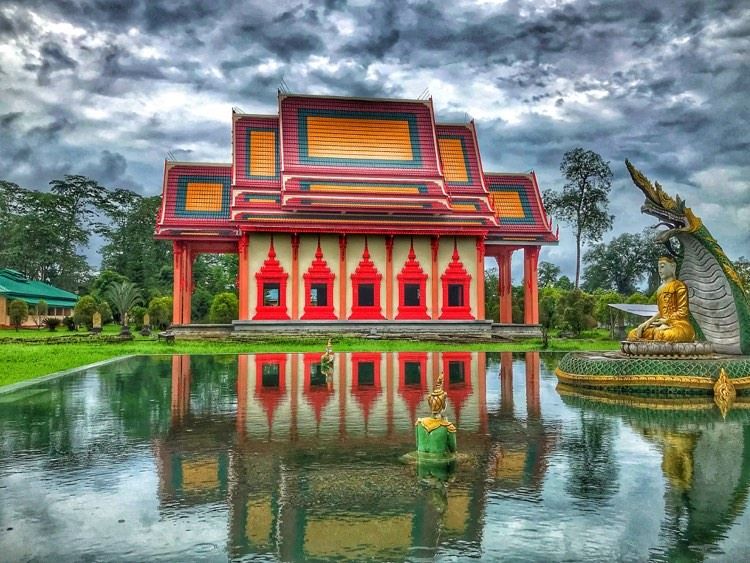 It's been a while since the pandemic spun our lives around in ways we'd never imagined. Traveling isn't easy anymore. Travel has changed and how! I recently made a trip to one of the hidden gems of Arunachal since it's a short drive from my place. One's got to be responsible, even the most impulsive explorers have got to have certain constraints now but all's not lost. Yes one cannot connect with the locals the usual way, one can't plan on doing stay overs but take that cycle/ car/ bike out of your garage, feel the monsoon breeze kiss your face even though you are shielded under that devilish yet life saving mask and explore the place around you. At times the most beautiful of surprises are hiding by your side.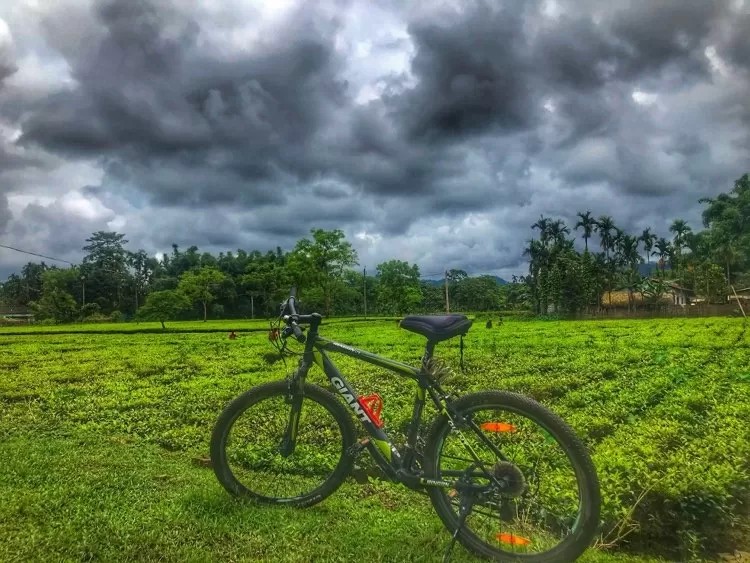 One such stunning secret of North East India that unveiled this week to me was the town of Namsai in Eastern Arunachal. Read On! Promise you won't be disappointed.
A little about Namsai
Namsai is one of the nascent districts of East Arunachal which came into being very recently in 2015.it is known as the land of enchanting Pagodas and is renowned to be the home of ' The Tai Khamti' tribes of Arunachal. Lush green paddy fields with the Himalayan foothills dot its surreal landscape with bamboo stilt huts adorning the road sides. The drive from Dibrugarh which happens to be the nearest city with an airport is just two and a half hours long and is extremely rewarding in terms of views. Reserve forests, hustling rivers, foothills of Arunachal and farms spanning to eternity enchant every traveller taking this road less taken. One often finds the Tai Khamptis working in fields in their hand woven bamboo hats.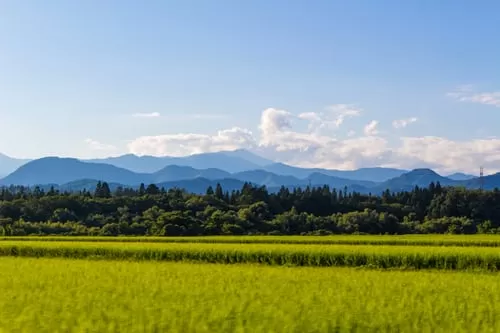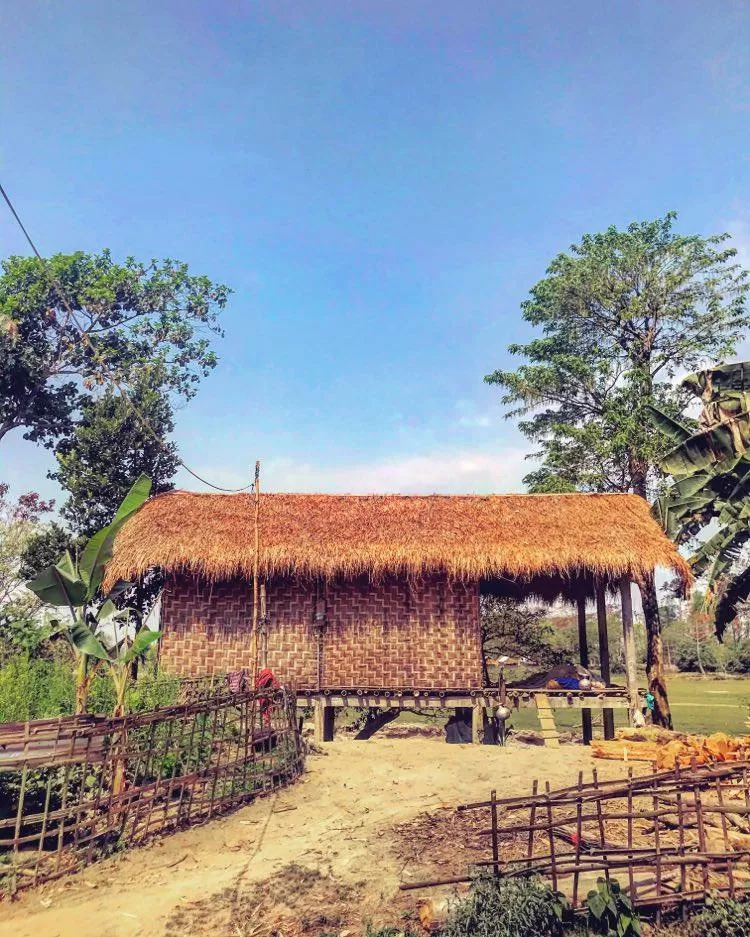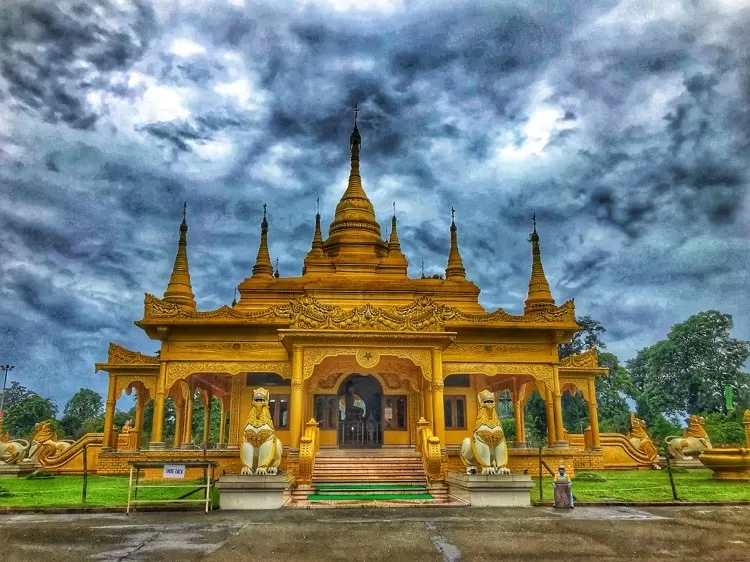 Built on the foothills of the eastern Himalayas of Patkai range of Arunachal, the Golden Pagoda is built in Burmese architecture and is locally known as Kongmu Kham in Tai Khampti dialect. This golden shimmering beauty came into being in 2010. The huge Lord Buddha statue inside the temple made of pure bronze was donated by the chief monk of Wat Aranjikavas temple in Thailand.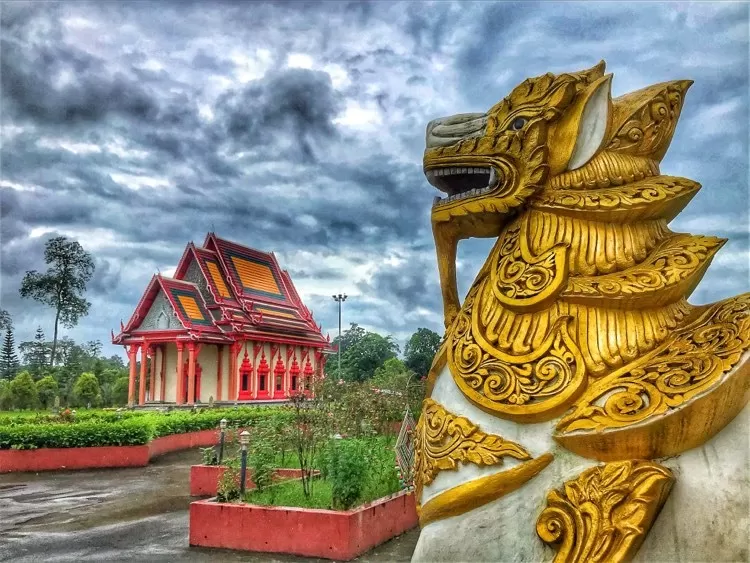 The shrine has four entrances from all directions but the main entrance faces North. Each of the entrances are guarded by a pair of mythical lions. There is also a pond near the entrance along with the Ashoka pillar on the eastern side. We happened to meet a young monk who told us that currently there are 30 monks residing here.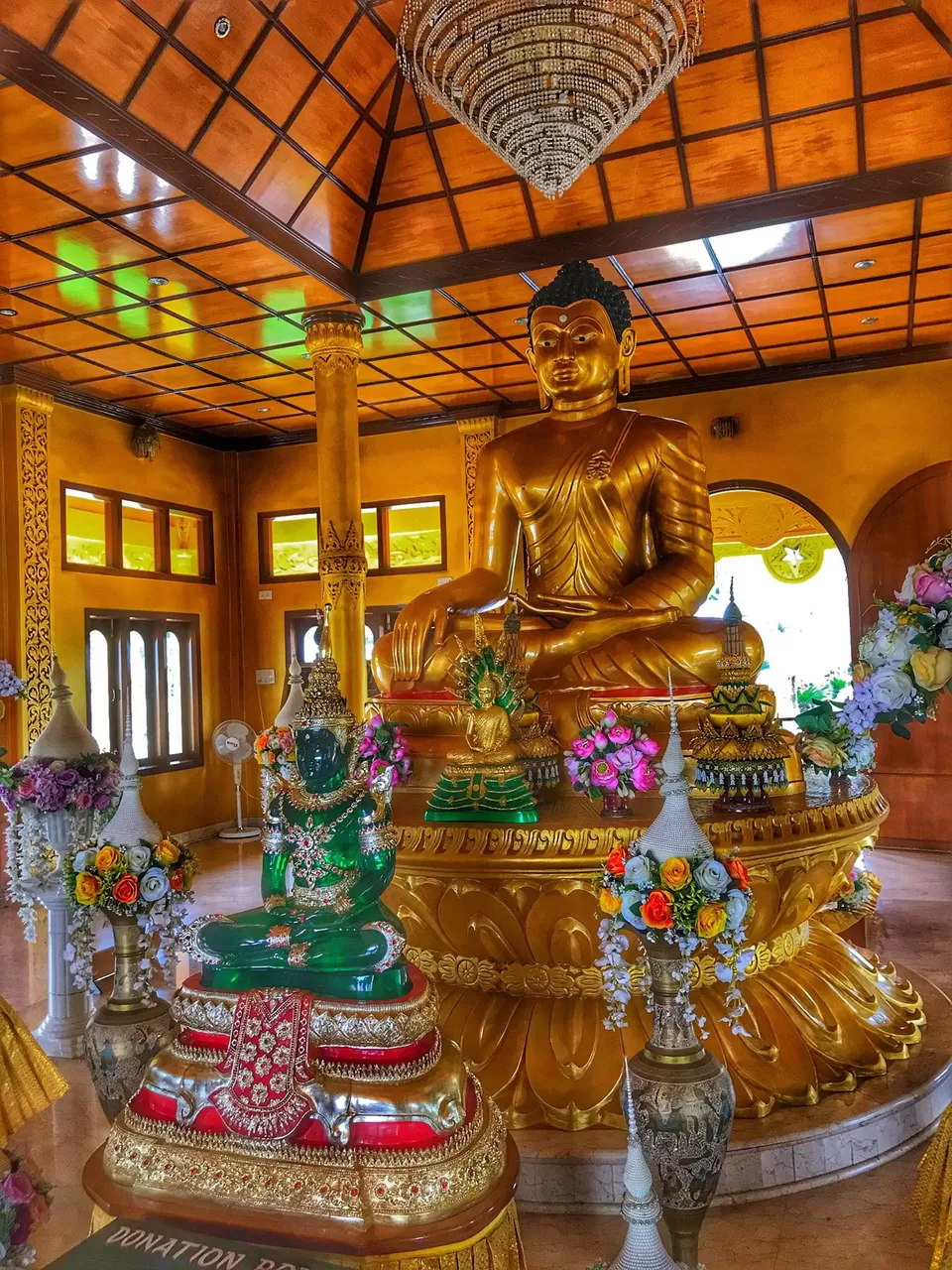 Sangken, the water festival that happens every year in April is celebrated here to bid goodbye to the old year. It's a three day celebration where on the first day the images of Lord Buddha are taken out of the shrine and given a ceremonial bath inside this dragon boat called the Kyongfra with the beating of drums and cymbals.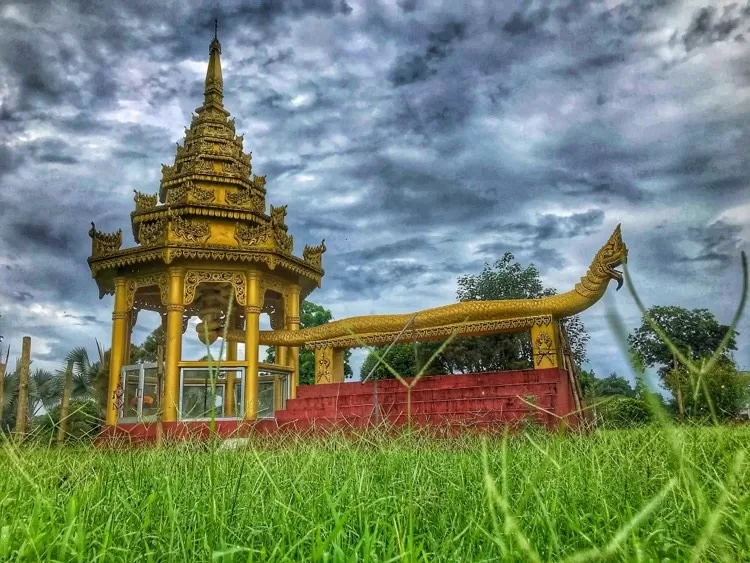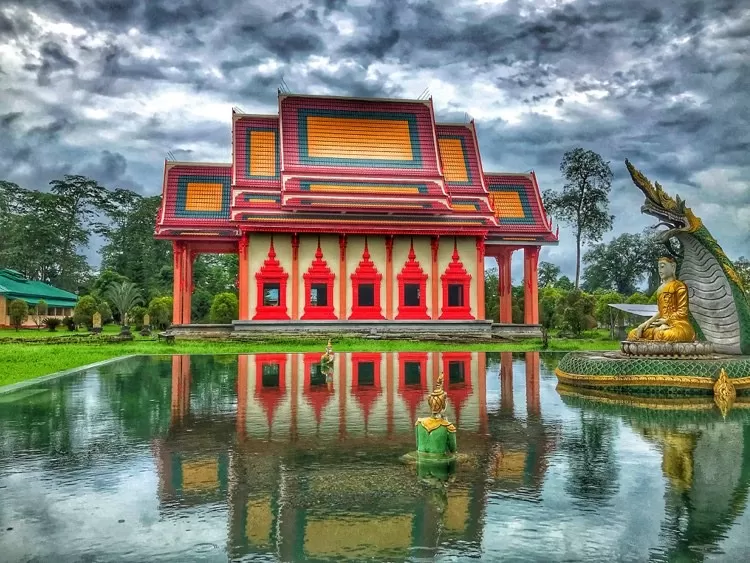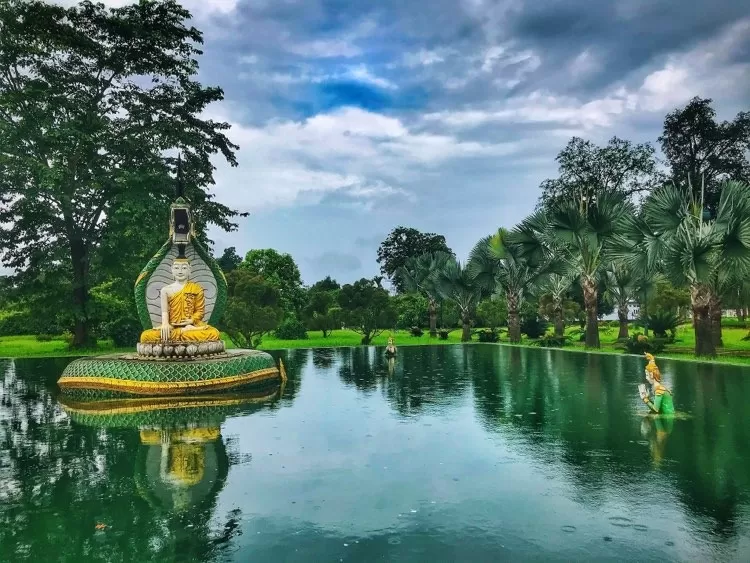 The Tai Khamptis are one of the major tribes of Arunachal who migrated from Borkhamti in Burma in the 18th century. Khampti means 'a land full of gold.' They are one of the most progressive tribes of Arunachal and are pretty advanced in the field of art and literature. Out of the 27 different tribes of Arunachal, Tai Khamptis are the only ones to have their own script, known as Lik-Tai. Most of them follow Theravada Buddhism unlike other parts of West Arunachal like Tawang etc where Mahayana Buddhism is practised.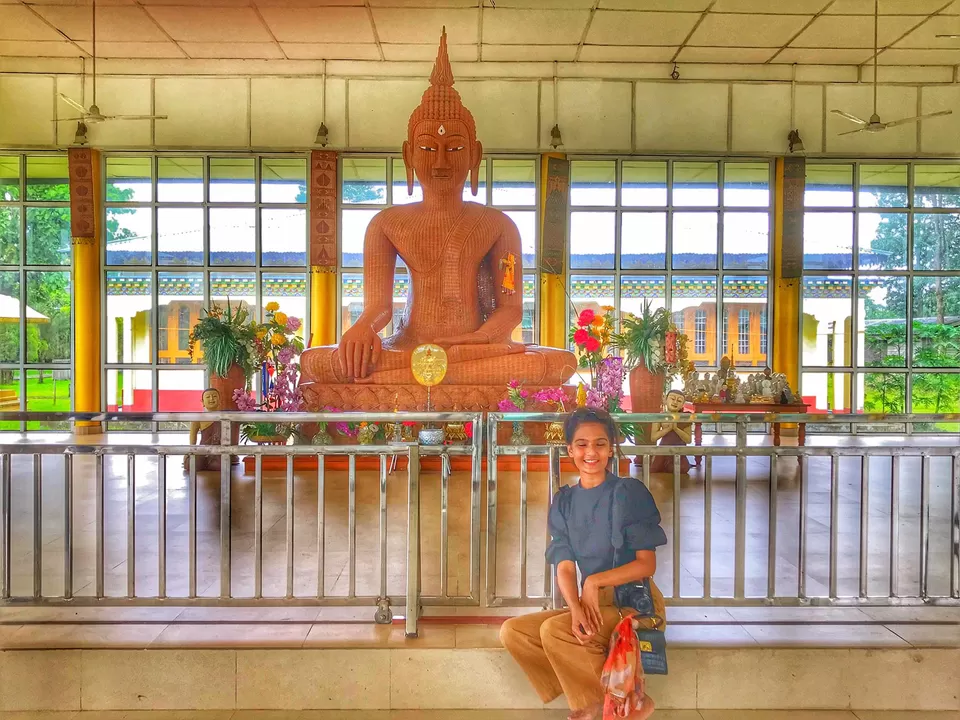 OTHER TOURIST ATTRACTIONS IN AND AROUND NAMSAI
1) Empong Monastery: Revered as a holy place by the locals, the Buddha statue installed in the monastery is said to have special powers. It is located in the sleepy hamlet of Empong that falls in the Chongkham division. It is believed that the childless couples come here to the monastery to get their wishes fulfilled.
2) Parshuram Kund : Situated in the Lohit district, Parshuram Kund is an hour and a half drive away from Golden Pagoda. The gushing Brahmaputra and the hills around makes it a perfect place to unwind with a book and a picnic basket. Parshuram is a remote pilgrimage site along the Lohit river It often attracts people from Nepal and north eastern states of India on the occasion of Makar Sakranti.
3) Buddha Vihara, Chongkham : Chongkham is a beautiful place, a quaint little town on the national highway 52. Buddha Vihara is an abode of peace and tranquility and a perfect place for people who love to meditate. The Tai Khampti Singpho museum located in this town is an ideal tourist destination for travellers who wish to learn more about the Singpho and Tai Khampti culture and traditions.
4) Namsai Monastery : Situated in the heart of Namsai town, this was the oldest Pagoda to come up in Namsai. It is surrounded with beautiful temples and Burmese architecture.
5) Pangsau Pass : At an altitude of 3727 ft, Pangsau Pass lies on the crest of Patkai Hills, a gateway to Myanmar. It is named after the nearest Burmese village. Details on this place shall be covered on the next post. The drive from Namsai is just two and a half hours long and is simply breathtaking. Pangsau should not be missed.
THINGS TO KNOW BEFORE YOU TRAVEL
INNER LINE PERMIT
Inner line permit is required by all domestic as well as international tourists to enter the state of Arunachal. One can apply online at www.arunachalilp.com or collect it on arrival. Tourist ILP facilitation centers have been opened at the following places
Guwahati LGBI Airport
Naharlagun Railway Station
Gumto Railway Station
Guwahati Asom Paryatan Bhawan
Foreign Tourists visiting Arunachal will have to pay 50 USD per head as Royalty to the Govt of Arunachal Pradesh and applications for PAP are to be applied through local tour operators only.
ACCOMODATION
Homestays/guest houses are readily available in Namsai. One can either book after arrival or pre book online. One such resort that i came across was Golden Pagoda Namsai Resort which is located very close to the temple.
CONNECTIVITY
The airport lies in Dibrugarh City while the nearest railway station is in Tinsukia. Tinsukia has two railway stations, New Tinsukia Junction (NTSK) and Tinsukia Jn (TSK). Buses and shared sumos as well as cabs ply on daily basis from both Dibrugarh as well as Tinsukia.
Though i am more of a story teller and i love writing about my experiences with the locals, their crafts, culture, food etc, this post is more of an informative one. Thanks to the current pandemic situation! Yet, I was quite blown away by Namsai's beauty and the Golden Pagoda architecture and the fact that how different this part of Arunachal is from its Western side (Tawang, Bomdila, Zemithang etc) where i traveled in February this year. Our country hides a million secrets in every nook and corner and every time i discover something new, i feel it deserves to be known by all 🙂
For short travel stories from lesser known towns and hamlets of India, check out my Instagram https://www.instagram.com/akankshasiwach/