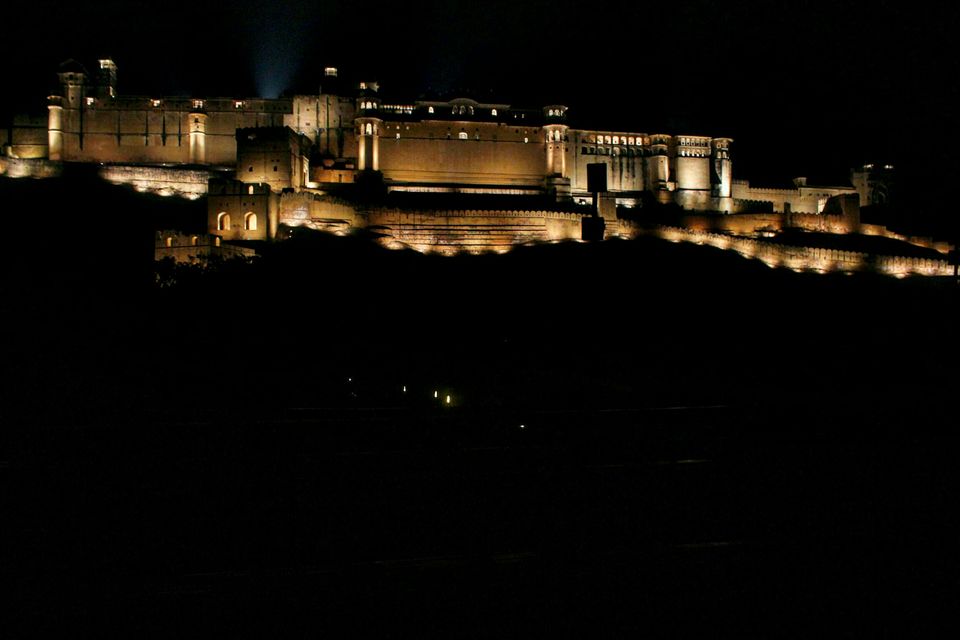 Very few people knew about my first ever solo trip and how it eventually materialised after a lot of back and forth. But that's not the point, the series of events that unfolded and how things turned out to be is what I am going talk about.
Unsure about the path I had chosen, uncertain about the next 8 days, with mixed feelings I boarded my flight to Jaipur on a hot Wednesday afternoon from Mumbai International Airport. Anxious and scared to death about being by myself for eight long days, I pondered over the worst things that could happen to me on my Bombay-Jaipur flight. As a habit I had already web-checked in and secured my window seat. As the flight took off, I saw myself leaving behind lot more than just my city. Inspite of all those thoughts, deep inside I just felt that things will fall in place and this trip was something that was meant to be. It was a smooth flight, apart from the whirlwind that went on in my mind. The flight landed after about 90mins in Jaipur, the cold breeze that hit me as I took my first step outside the flight made me realise I was up for an adventure and I was ready for whatever was coming my way. Luckily I was all geared up for the cold weather that pleasantly surprised me inspite of having expected it.
This was a last minute trip, I  had literally booked all my tickets two days prior and all the hostels a day prior. So I made sure I got in touch with people I knew in places I planned to visit, so that I had someone to help in case of emergency situations. So for the first city I already had my plans set and was to meet a friend in Jaipur, who had been extremely kind to take time out from his super busy schedule owing to his participation in Jaipur Literature festival which was to start from the next day.
I called him up as soon as I landed and was instructed on where to meet him and I sincerely followed the instructions given to me and met him at the pre-decided meeting point.
I hired an Ola which would take me to Ganpati Plaza (meeting point). This was the first time I was visiting Jaipur, like a kid I peeped out of the window and took note of every small and big thing on my way. I got down at the location where I was supposed to meet him and he showed up in 5mins in his car,  I was more than happy to see him and squeaked an enthusiastic "Hi" as soon as I saw him! I am sure he wasn't expecting that kind of excitement, he was more than shocked to know I would be by myself for the next eight days in Rajasthan and couldn't get over that in our ride to his friend's place. Our conversations in the car revolved around how my parents allowed me to go for a solo trip, how I planned the trip and eventually what were the things I couldn't miss in Rajasthan. My friend dropped me at his friend's place who joined us in a bit and then he left as he was caught up with the JLF work. This new guy I had just met was supposed to be my company for rest of the evening. I didn't mind that at all because I hadn't met someone as hospitable and courteous as him in my entire life, I was instantly comfortable with this new guy and we got talking. After talking for about an hour, we finally decided it was time to leave to make it in time for the light and sound show at Amer Fort which has quiet some reputation. As soon as we got into his car, I was strictly asked to put on my seat belt and lectured on how traffic rules aren't like the ones in Bombay.
The evening couldn't have been better with the perfect guide showing me around the Pink City (with a commentary on historical importance of each place we visited). We drove past the buzzing markets and the gigantic city walls and maginficent gates. I couldn't wait to come back and photograph everything I had seen on my way. However, with the fear of missing out on the show at Amer fort, we decided we would have a look at other places on our way back. We parked the car and took a rickshaw that took us to the entrance of the fort, I almost froze to death and my host for the night was kind enough to offer his jacket which I politely declined.  The show had already started and the way to the seating wasn't lit and I struggled and almost stumbled and fell twice. Thanks to the company (and support) I had, I didn't sprain my leg on the very first day of my trip. The fort in itself was glorious, the play of lights and the moonlit sky had created something magical I had never experienced in my life. I sat back and enjoyed every moment of the show as I heard the history of the fort and the city. When the show ended we headed to Jal Mahal, which was a beautiful palace which is literally in middle of a lake. For someone like me who is fascinated with lights, I couldn't get more excited as I got to see all these places beautifully lit at night. After Jal Mahal we headed to Hawa Mahal. Everytime I got into the car, I was reminded I had to wear my seat belt, which was something I had never bothered about back in Mumbai. Being the fooide I am I definitely wasn't missing out on food in Jaipur and my host took me to a place which didn't just fill my stomach but filled by heart. The moment we entered Foressta and I  looked at the place, I fell for it. It was located close to his place which made it convinent for us get back in time. The right company, some great food and interesting conversations was what my first day of the solo trip ended with! Life wasn't all that bad, I thought to myself by the end of it. I didn't know what I had signed up for until that moment though.