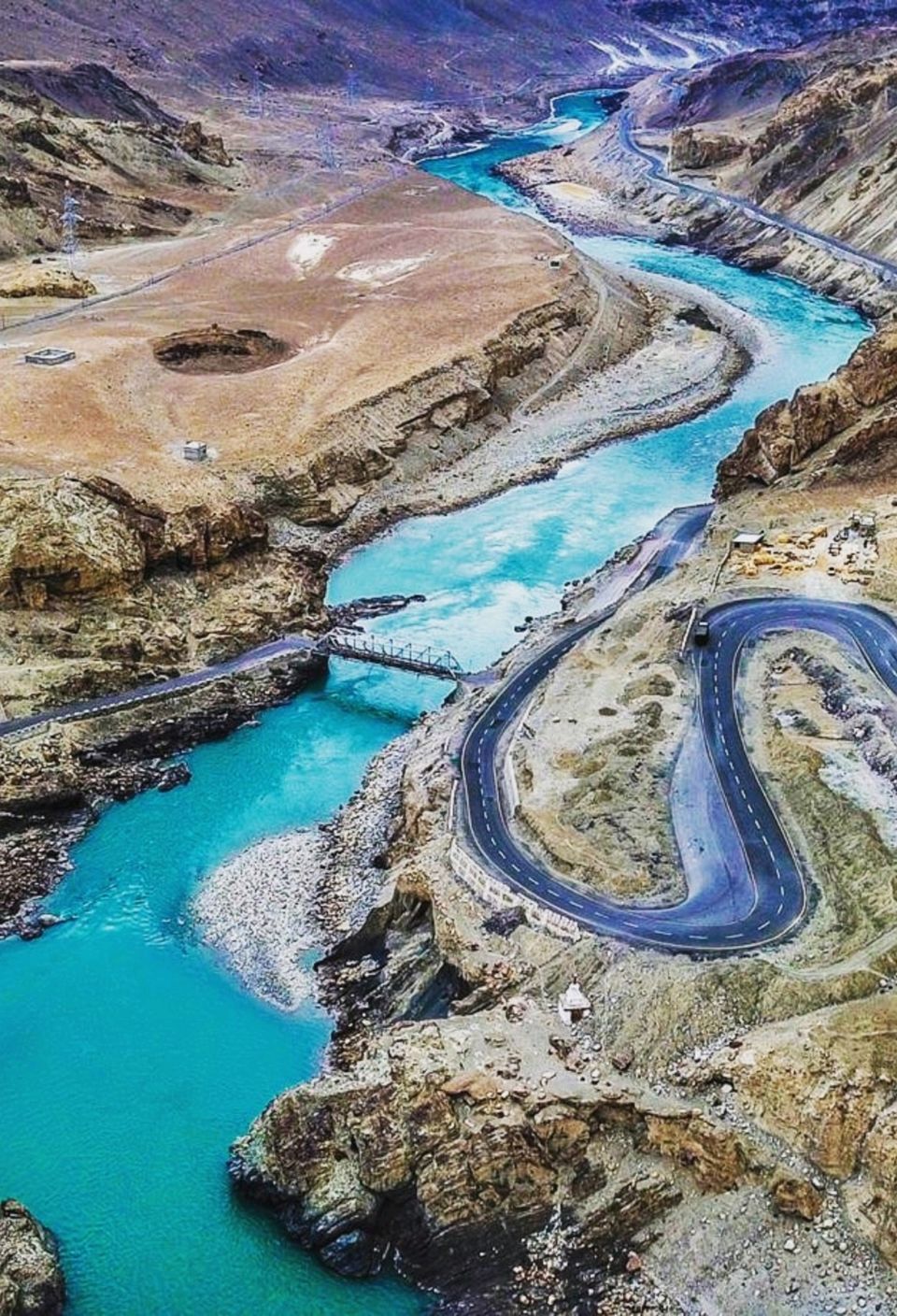 Landed in Delhi for overnight stay.
- Took an early morning flight to Leh. Airport to Leh market cabs are available at the airport at Rs. 400. Reached Hostel & acclimatised. It is suggested to relax for 24 hours to 36 hours. Take Diamox twice a day for one day, if needed.
- Explored the market and looked around for bikes and cabs. Had dinner at a rooftop restaurant (Sky Wok) in the middle of the market. Must try.
- Stayed at Raybo hostel (10 to 15 mins walking from market) with Rs. 300 per bed per night (3 people - 1 room). Very cozy and nice and food available on request. Breakfast included.
- Rented 2 Bikes (Rs.1200 per bike per day) and got 2 SIM cards (Take Jio).
- Went to Hemis Monastery and Museum on bike (1.5 hours away). Shey Palace and Thiksey monastery are on the way. Can be covered together.
- Roamed around the market in the night. Arranged for bonfire and ordered food. Hostel had the option.
- Gurudwara Patthar Saheb • Magnetic Hill • Lamayuru Monastery which is 2 hours away by bike (Also known as the Moonland as it is famous for the structure of the mountains like moon). Alchi and
Sangam point can also be covered on the way.
- Had dinner at Turnip restaurant (market area). Great hospitality and food. Returned the bikes.
- Rented a big cab for long distance places for 2 days for 3 people. Negotiated cost was Rs. 18,000. Our driver was Shariff and has been driving in that area for more than 10 years. Contact for his number.
For the below places, MUST carry many warm clothes. - Khardung-la pass (World's highest motorable pass at 18,300 feet and -5 ish temperature)
- Diskit Monastery (Maitreya Buddha and wish stones) - Shyok River
- Hundar (Nubra Valley) • Bactrian Camel rides •Sand dunes
- Night Stay at Disket at Hotel Sand Dune (Rs.1600 per night for 1 room for 3 people. Really good breakfast options).
- Started for Pangong Lake (3 Idiots fame, both in India and China) at around 9 AM and reached by 2PM.
- Explored the lake and the surrounding area. Should also do star gazing at night. There is a part of the lake where you can click pictures with props from 3 Idiots.
- Night-stay at Pangong (Golden Dragon cottage at Rs. 2000 per night for 3 people). Temperature was -10 in the night. Try to avoid staying in a tent.
- Started early morning at 6 AM for Leh. Try to cross Chang-la ASAP.
- Chang-la pass (World's second highest motorable pass). The road to and after Chang-la is a little difficult.
- Dinner at Leh Market at Apple Tree Bakery (One of the best restaurants. We went there at least 4 times for different meals).
- Rented Bikes again • Leh Palace.
- Sangam point (where Zanskar and Indus rivers meet. Rafting option available. This is where Chadar Trek happens in winter).
- Alchi Monastery (Alchi is a beautiful small area with a monastery that focuses on art. There are 5 temples. The BEST part is the Indus view from this place. Do NOT miss).
- Dinner at Leh Market.
- Hall of Fame (War Memorial/Vijay Sthal) Closed between 1PM to 2PM. Check timing.
- Thiksey Monastery (Has multiple temples. Drone usage charged).
- Explored Leh Market more. Must try dry fruits. -Dinner at Hostel.
- Early Morning flight to Delhi. Passed time at Aerocity.
- Night flight to respective cities.