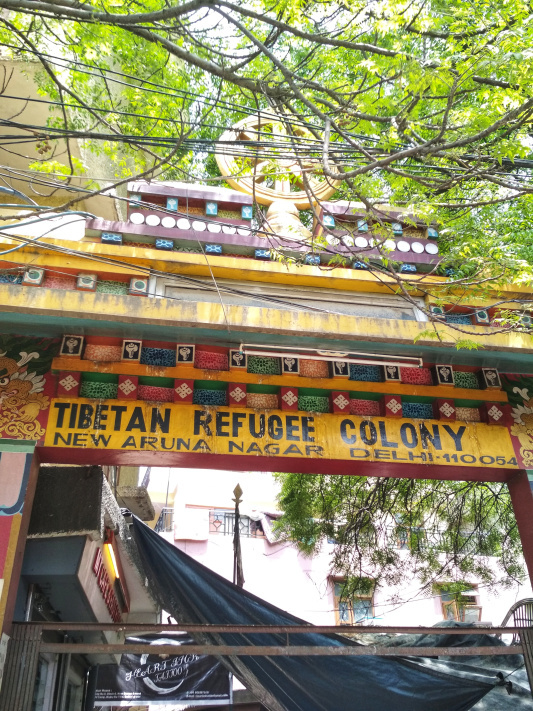 Being a travel enthusiast it might sound surprising to you that what you have been looking for in distant places in search of Tibet is right there at your doorstep. Faint echoes of Dalai Lama's preaching's, Tibetan ladies gracefully dressed up in traditional attires, vibrant colours, finest momos and traditional food stalls, unusual smells, prayer flags here and there is what defines the famous 'Majnu ka Tilla' in Old Delhi.
The place named after a ferryman who rowed people across the Yamuna as a service to God hides many Tibetan marvels. This small colony near Kashmiri gate had surprises after every five steps and a learning that no book could ever give me.
Officially called New Aruna Nagar Colony, Chungtown, Samyeling is the home to the sweetest people in the town making it the most ultimate escapade for a day.
Here are few things that you can do in the little Tibet of India:
Street shops that sell everything Tibetan. Right from colourful tees, tote bags, incense sticks, flip-flops, trendy shoes, jewellery to spiritual books and prayer flags, they have their own small world. I loved the jewellery pieces that they sell at very nominal prices. I personally wanted to compile a look picking up everything from these shops but time constraints always are a trouble.
Not to forget, you can also take home pickle and spices and add Tibet flavour to your home-made food.
Delhi's Mini Tibet has got two Buddhist Temples inside. To experience varied culture, rituals and how a Buddhist monk leads a life, make your way to these temples. It is right in the middle with an open area.
It is always difficult to put flavours in words. In a nutshell, it is a Foodie's paradise. Like others I also had this perception that there will be only momos but the place is full of Tibetan delicacies. There is no dearth of street food and so cafes. You can choose the one you want.
The first thing I ate was Laphing. As you enter the temple area there is this open space where Tenzing aunty has a small shop. It is extremely spicy but I loved the authentic taste. Then we headed to one of the oldest eateries there, the Dolma House. A very small cafe with an elaborate menu to satisfy your cravings. For the sweet tooth we decided to try Ama café but all I could get was a picture there and no dessert. (It was that packed)
( Yeah, I will put up the details of what I ordered in next blog)
I missed out on the famous Majnu ka Tilla Gurudwaras that has high claiming and majestic effects. With great historical importance, the Gurudwara stands atop a small mound on the banks of river Yamuna.
The nearest metro station from Majnu ka Tilla is Vishwavidyalaya on Yellow Line. You can easily take an auto of Rs.50 from there. Usually autos drop you at the opposite side so there is an overbridge that you have to cross.
Must haves for Majnu ka Tilla?
Cash and Change. Since there are many local shops, a card payment may become a headache. Though there are few ATM's outside colony but you better go prepared.
Most Important.
Walk. The narrow alleys leading into innumerous number of by lanes is an exploration in itself. You might feel lost at times but you are not. You will always end up exploring something new.
I personally loved how this place had some kind of happiness and peace to offer.
Keep Travelling!