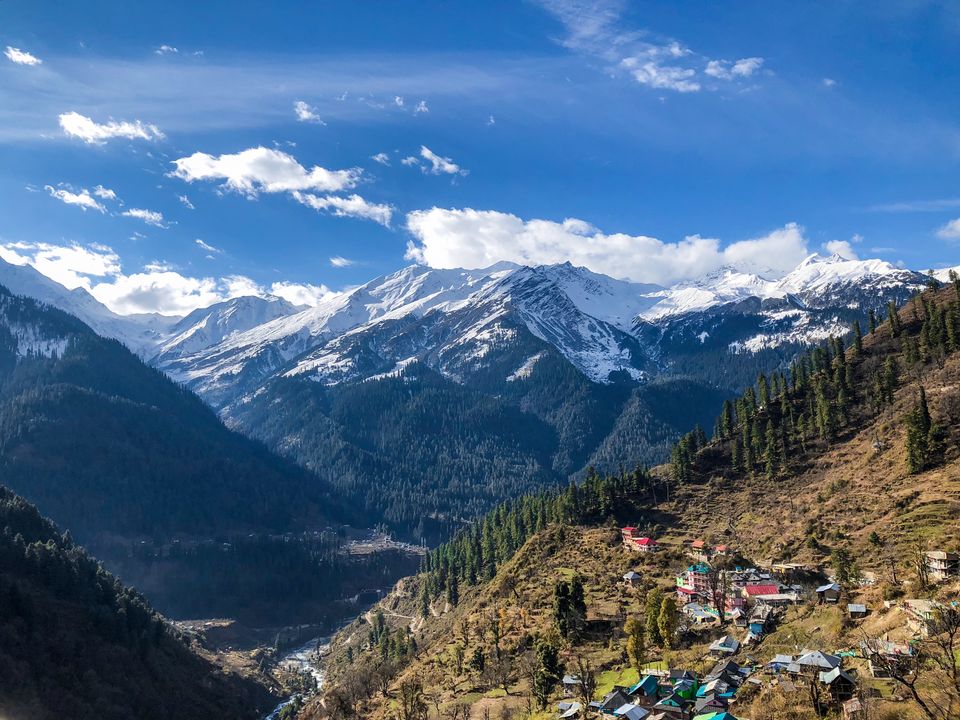 What comes to your mind when you think of the mountains? What feelings does the word 'mountain' bring?… For me, when I think of the mountains I get a wide grin, feeling of relaxation washes over me, I feel immense peace just by thinking of beautiful valleys, sound of chirping birds, rays of sun keeping my body warm against the cold winds, trees around me swaying in harmony and the food, Simple yet, amazing.
My trip to Whistler, British Columbia has left me craving for mountains a tad more, I just couldn't have had enough.
Planning and the journey
So while I was in Delhi, I decided to visit a small village named Tosh which is in Parvati Valley of Himachal Pradesh state. I asked my cousin sister to accompany me and to which she readily agreed.
Day 1
The very day, we purchased the bus tickets online to Kasol town (The buses only go till Kasol, and from there, one has to get another transport to go to Tosh). We packed up for the trip, carried some homemade pooris and took an overnight sleeper Volvo bus at 9.00 P.M from Kashmiri Gate bus stand.
Our bus stopped only once in the night at a highway dhaba where we grabbed a cup of tea to go with the food/homemade pooris that we took along. We then slept off and on through the night.
DAY 2
In the morning at around 8.am, before we could reach our destination, the bus stopped near Mandi town to shift the passengers going to Kasol in a smaller bus as there were only four passengers including us who were going till Kasol. They wanted the bigger bus to go to Manali which can very much happen if you go in an offseason.
We got ourselves window seats separately. I got hooked onto the views that each turn was unfolding. Gushing Parvati River on one side and plush mountains on another. Fresh air caressing my hair lulled me to sleep. I woke straight at Kasol at around 12.30pm this time. From there, we had two options to get to Tosh; - to walk on foot (7 hrs ) or to hire a car to (1 hour+). We decided the latter. We went to one of the roadside travel operators in Kasol and booked a private car for Rs.1000. It took us an hour and a half to reach Tosh.
Tosh
We reached Tosh at around 2.30 p.m. We got down and started walking towards the village which is connected by a small bridge. The vehicles are not allowed beyond this point.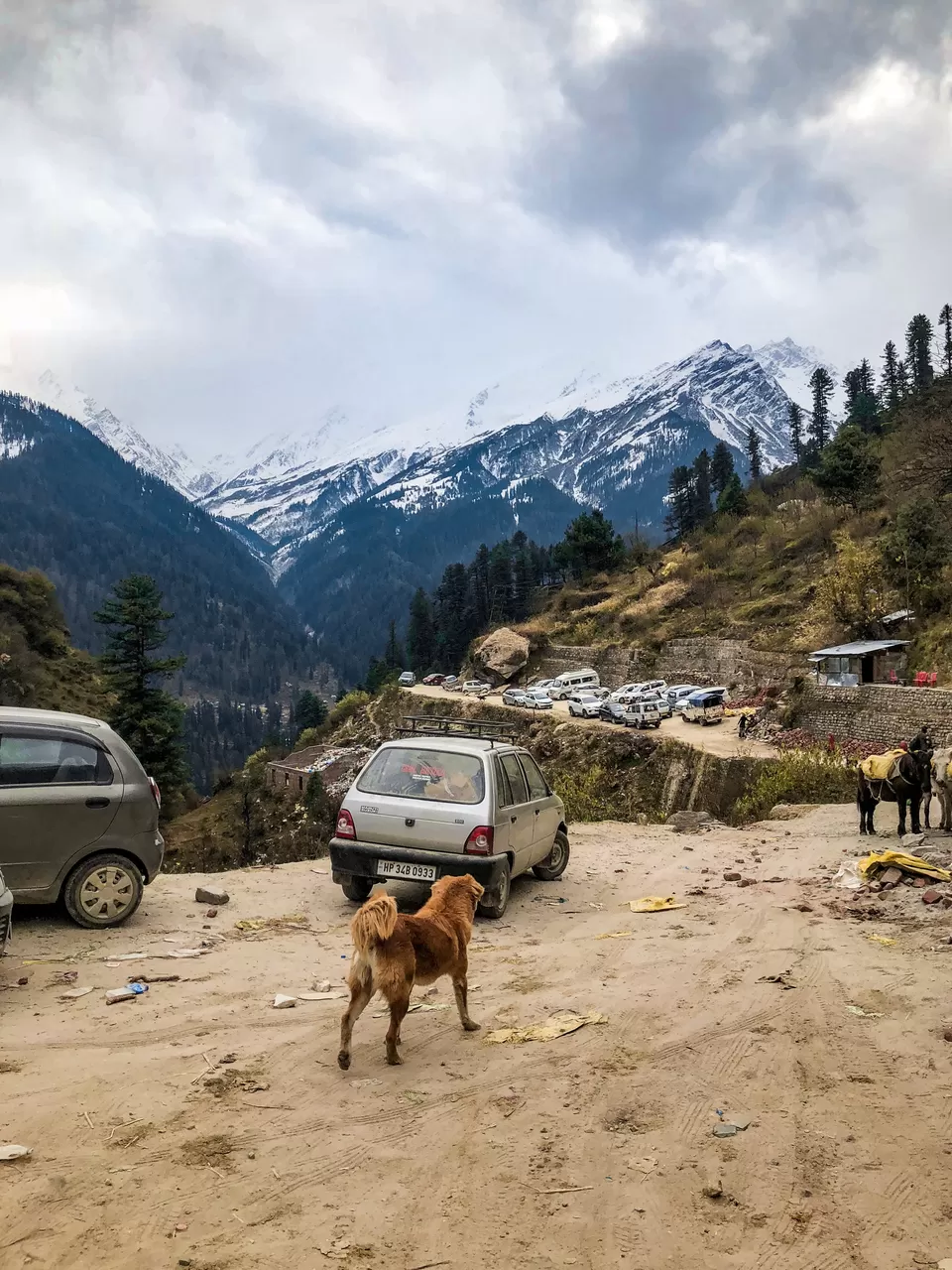 As we started walking, With every step, the views kept getting only better. Now we had to search for a hotel Pink Floyd, which was suggested by one of my friends. My sister knew where that place was as she is a regular visitor in the mountains. We crossed many colorful houses, a hoard of cows/ donkeys and lots of steep mucky stairs.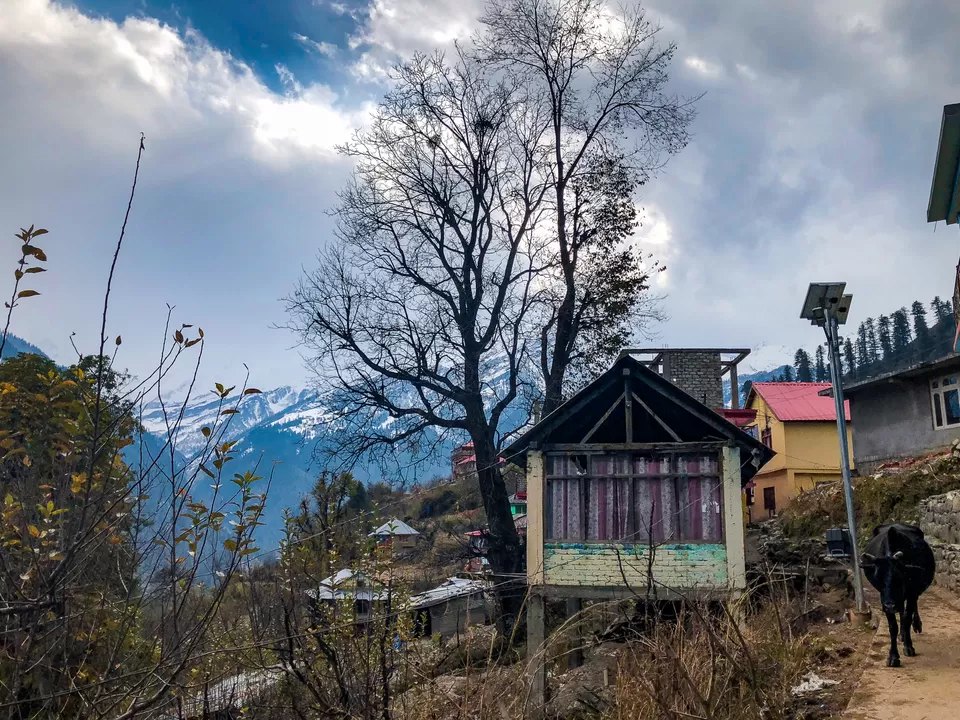 We reached the hotel at around 3.30 pm - and after a small negotiation with the hotel guy, we were shown our room which had big windows opening to the beautiful views of the valley. We left our bags in the room and quickly moved out to look around for places to eat as we were starving. We asked the hotel boy if we could find momos somewhere. He directed us to Dev cafe - which was about 10 mins walk from the hotel. It was a charming cafe built on wooden planks with the splendid view of the snowy mountains. We ordered momos & Thukpa and gobbled it down. Eyes and stomach had a treat big time.
After that, we went back to the hotel. It was way too cold in the evening, and we were already tired of a long journey of almost 20 hrs. We went back to our room and spent the entire evening by sleeping and eating again.
DAY 3
Dawn breaks early in the mountains. It was only 8 am, and the rays of the sun were already piercing through the curtains. The temp was 6 degrees. We went outside the room and sat in the verandah, soaking up the crisp sun while absolutely getting smitten by the picturesque valley around. We ordered chai and breakfast and spent a couple of hours just by hanging out there.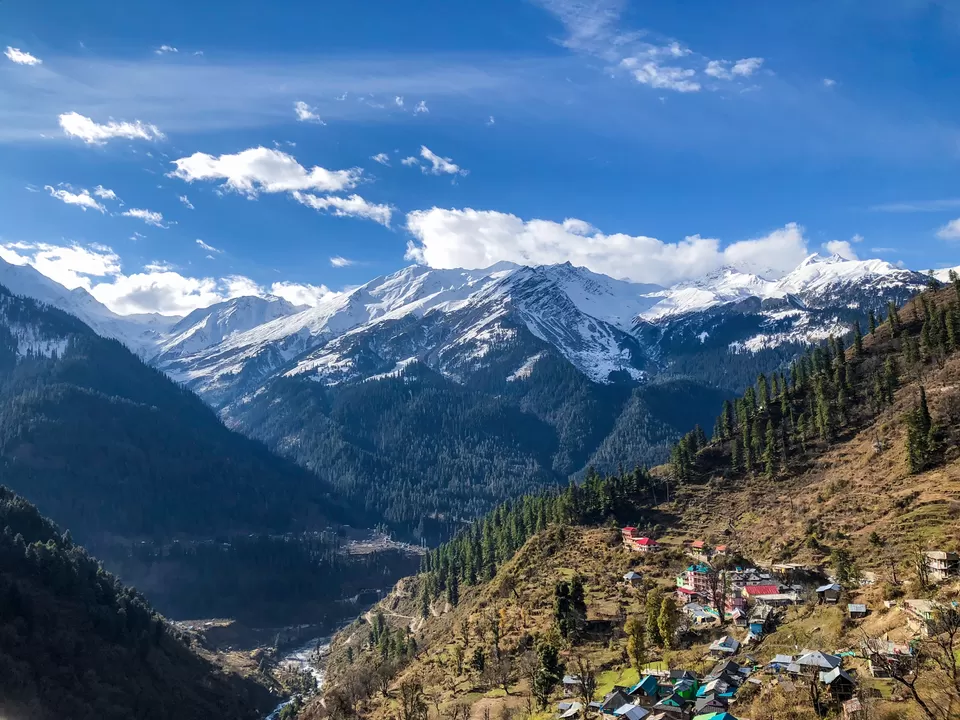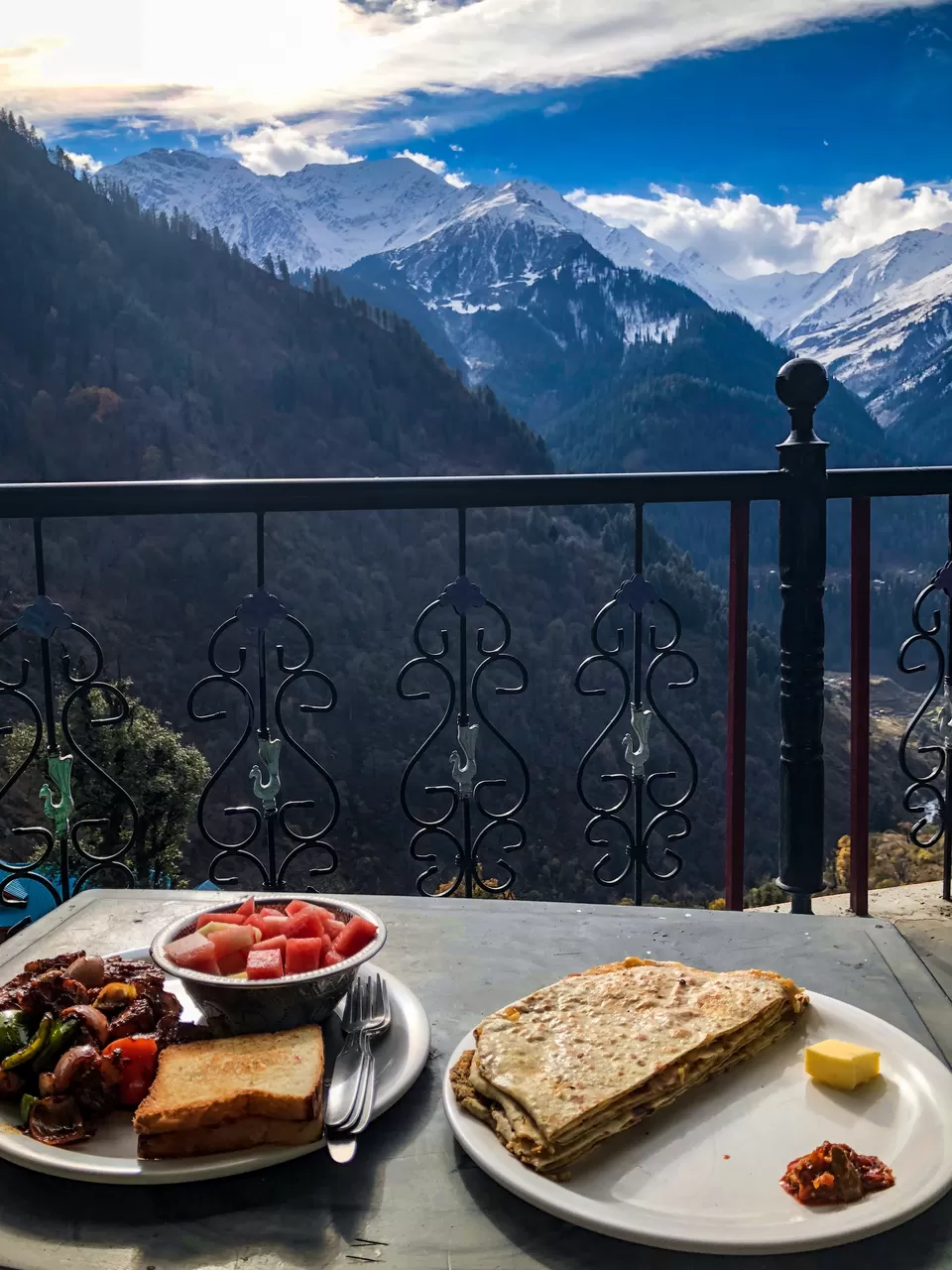 We had the rest of the day in Tosh. So, we decided to trek to Kutla - which is a small remote village in Parvati valley located at 2800 meters. It is only about 4 km from Tosh but takes about 3 - 4 hours.
The Trek to Kutla
We layered ourselves with whatever woollen clothing we carried as it was freezing. We left at around 11.30 am from the hotel. By this time the weather had turned a bit cloudy. On the way to Kutla, we came across fellow trekkers who were already coming back. One of them also offered his trekking stick to me and said it would be helpful which was right, I realized later. We walked on narrow muddy lanes, crossed through small villages, mini waterfalls and stopped after every 5 minutes to take pictures. Everything looked perfectly placed in their natural settings.
The trek was smooth until we crossed a towering waterfall which also has a cafe called 'Waterfall cafe.'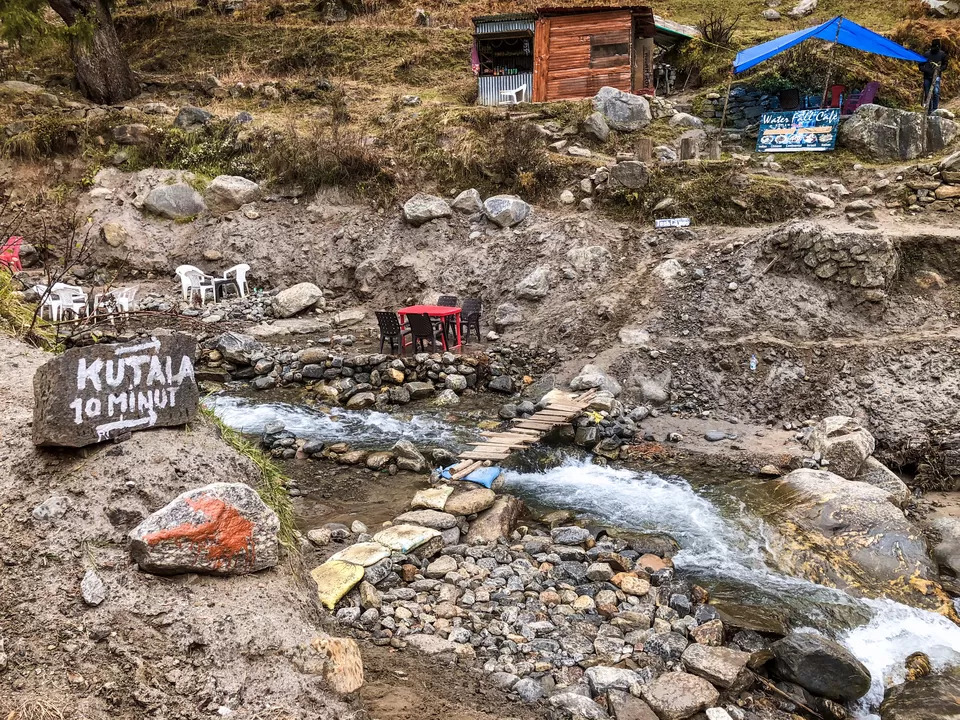 The trekking route became very steep after the cafe, we kept ascending at 45 degrees adjacent to cliffs and Narrow ways, we took multiple breaks to rest and also to admire views. There were times when it was absolutely mucky, and we had to be extremely careful, or else we'd fall. We had no guide; we were just following the directions from where the people were coming and asking villagers on the way.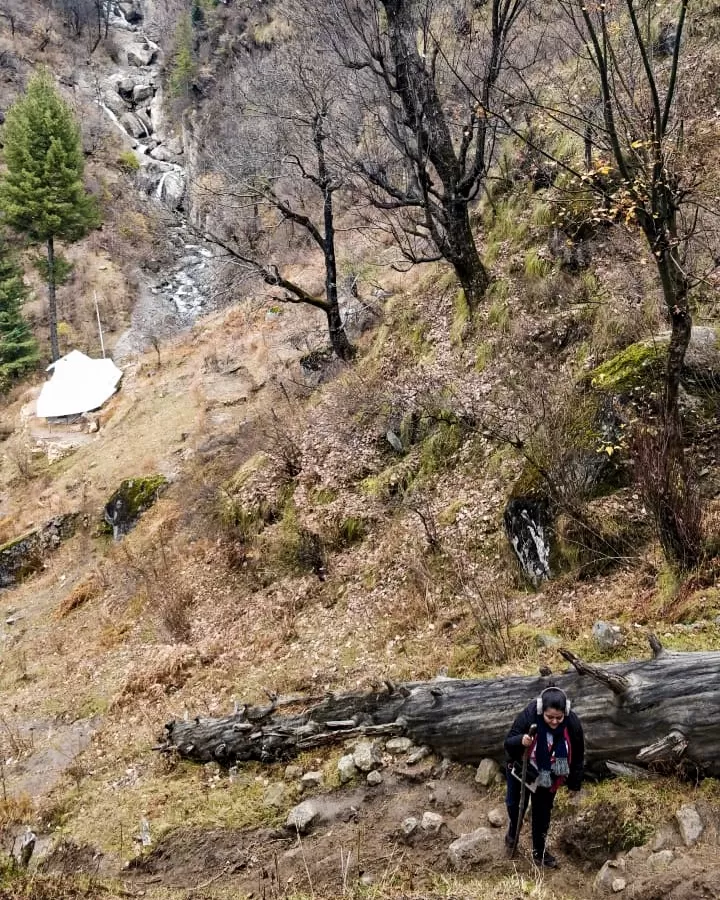 After an arduous trek for about 2 hours, we finally reached Kutla.
There is only so much beauty that one can absorb - said no one ever. The scene looked straight out of the painting that I drew as a child - Dreamy valley surrounded with pine trees, Mountains playing peek-a-boo, a small wooden hut and a gushing stream of water with cows grazing here and there. It was indeed a sight to behold. There was a little cafe too. So, we decided to have a much deserving break after the climb. We ordered staples - chai and Maggi- one of the must-have in the mountains.
There were hardly any tourists (assuming everyone had already left )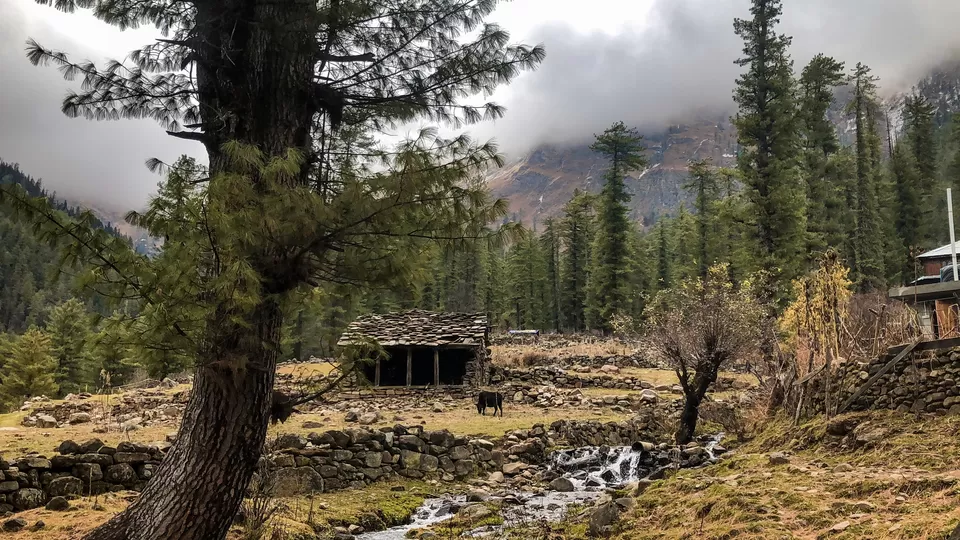 First snowfall experience
While paying the bill, the shop owner told us that 20 - 25 minutes further up from Kutla, it was snowing. It was 2.30 p.m, and we still had time (to get back to the hotel while it was still a day). We got really excited and started walking again. We ascended further and after 25 minutes what we saw was pure magic. Blessings from heaven showering on us in the form of snow. It was too good to be true. The trek, the fatigue was all now forgotten as we were soaking ourselves up, enjoying each and every moment.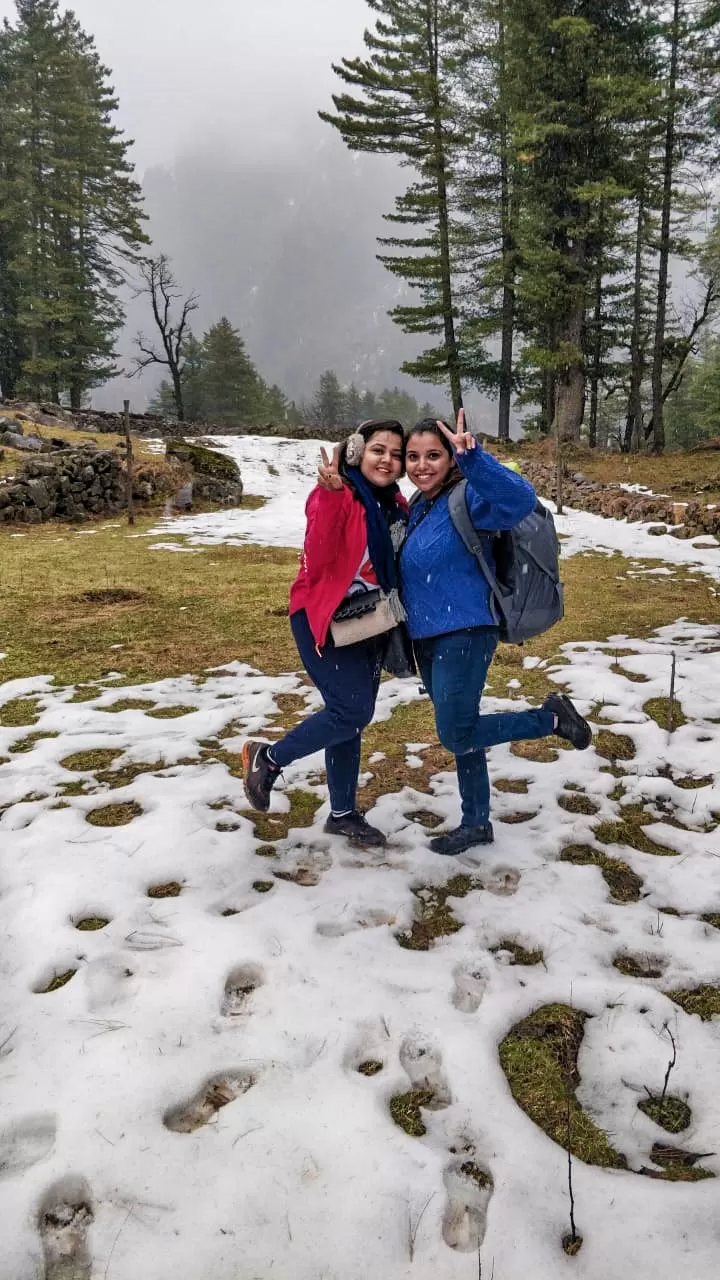 Coming back from Kutla
After spending half an hour, we headed back. Somehow going down is always more complicated than going up. Right ?!
There were times when we slid ourselves down at a few stops where walking carefully also was not possible. They were absolutely 80 degrees slant. Toughest so far to say the least. We reached the waterfall in about 2 hours. From there the hotel was another hour. By the time we reached Pink Floyd, our legs were shaking, and we were starving. We sat in Pink Floyd's cafe and ate & drank. We crawled back to our room, quite literally…
Day 4
The next day, we woke up swollen with all the fatigue, we indulged in our last delicious breakfast while we took the warmth of the morning Sun and sat there pondering how beautiful nature is.
We left for Kasol at 12pm. We decided to walk down to take a little more beauty before boarding the bus to Delhi.
On the way back, we took a halt at a small cafe and had tea with bread butter and then continued our walk. It was still a long walk to Kasol, but then it started pouring. So, we took a taxi from Barshaini village for 800 rs. (there are bus options as well). After reaching Kasol, we booked a 7pm bus for Delhi. We quickly grabbed a bite from a nearby cafe and boarded the bus - as it continued to rain…
More Information
How we reached Tosh From Delhi - We took a direct bus from Kashmiri Gate, Delhi to Kasol (Rs. 1499 for one ticket). But due to very fewer passengers that were going to Kasol (in the off-season), we were shifted into another bus that dropped us to Kasol. From Kasol we hired a car to get to Tosh (rs. 1000)
How we Came back from Tosh to Delhi - We walked till Barsheni village. After that, we took a taxi for 800 rs to Kasol and then a bus to Delhi for 1100 rs. Per person
Where we stayed - We stayed in Hotel Pink Floyd which boasts of stunning views of the mountains and great hospitality but essential rooms. No Tv or Heater. Luckily, the bathroom had a geyser which was quite a relief. The room was 600 rs a day. We stayed for two nights.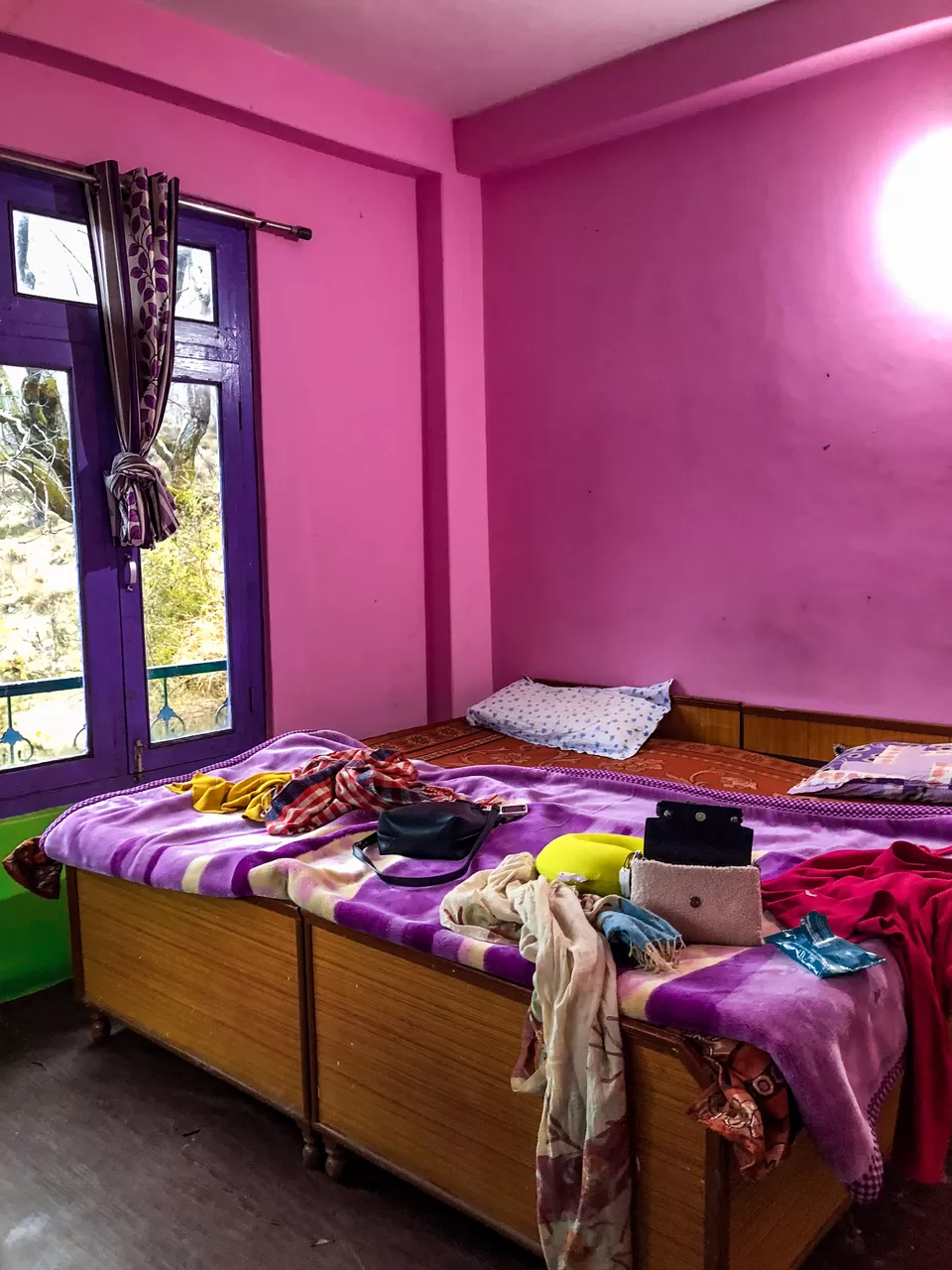 Which month we went - We went in November during the offseason.
What to expect in Tosh - absolutely mind-blowing scenery, lovely people, Good food and good vibes
What not to expect in Tosh - Fancy Hotels & Restaurants, music, party scenes & last but not the least proper internet connection.
What to carry during the trek - Water bottle, Wind Cheater, Stick (really helps ), snacks, Chewing Gum, sturdy shoes.
Watch out the whole experience on my youtube channel here
Connect with me on instagram for more awesome travel pictures : click here
Check out my YouTube channel for travel videos : click here
Check out my website for more travel related articles : click here