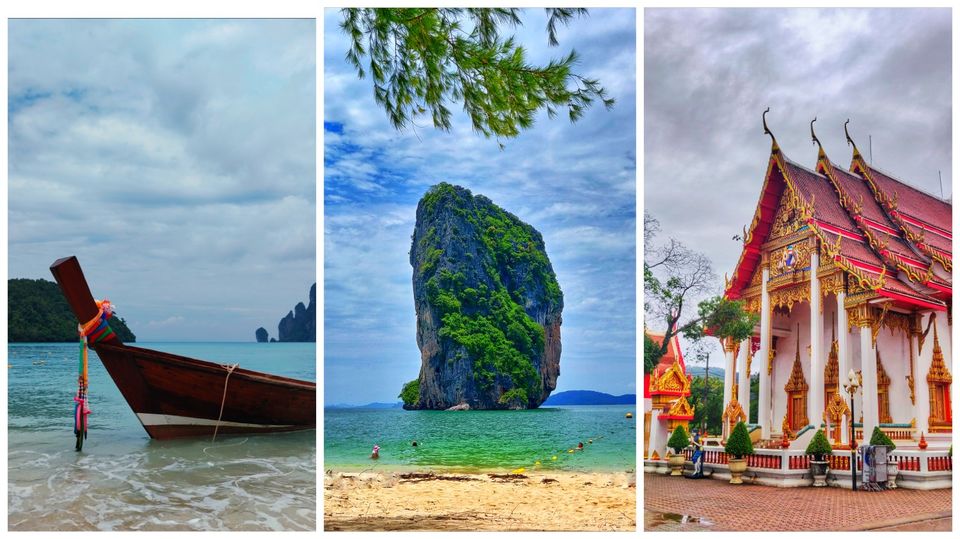 You woke up that morning, knowing very well that by the end of the day, you would be seen sprinting from boutique to boutique to find that perfect lehenga, nonetheless having the never ending calls with your wedding planner; and of course, your Pilates instructor isn't giving you a single day off! You were raking your brains to figure out how would you fit all this into this day along with your job, when you phone buzzed. Its your best friend and she is calling you to tell that she isn't giving you away without a spine-tingling bachelorette trip!
You felt every neuron of your brain going fuzzy. How are you going to squeeze a bachelourette trip in your schedule that is as packed as a Mumbai local during peak hours? Have you any mental bandwidth left to actually research and plam an itinerary?
Well, I have been in the exact same spot and today my friend, I am here to present with you, the only itinerary that you and your girl friends need to have that perfect bachelourette trip across Thailand! And hey, you are going to experience the best of Thailand in just 5 days, so skip ticking that checkbox of applying for long leaves at office!
Day 1: Fly in to Phuket for an action packed day
Contrary to the popular opinion, my girlfriends and I chose to visit Phuket over Bangkok, primarily for two reasons:
(i) Phuket has got all the vibrant nightlife and party scenes and gorgeous beaches akin to Bangkok, with an added bonus of much less crowd!
(ii) Flights to Phuket were cheaper than that to Bangkok. One way ticket from Mumbai to Phuket costed less than 9000 per person. Score!
We took a red eye flight and touched down at Phuket at around 10 in the morning. We headed straight to our hotel, swirling along with the winding roads. After treating ourselves with some Pad Thai noodles at the hotel, we decked up and headed out to explore Phuket town. Admiring on our way, the lively streets and alluring spa parlors, we reached Wat Chalong.
Wat Chalong
Wat Chalong is the most revered Buddhist Temple in Phuket. The authentic Thai architecture of the temple renders it a wonderful picturesque quality. The tallest building of the temple is a 60 meter high stupa which is said to be sheltering a bone of Lord Buddha. You can climb up the three floors of the stupa and admire the bird's eye view.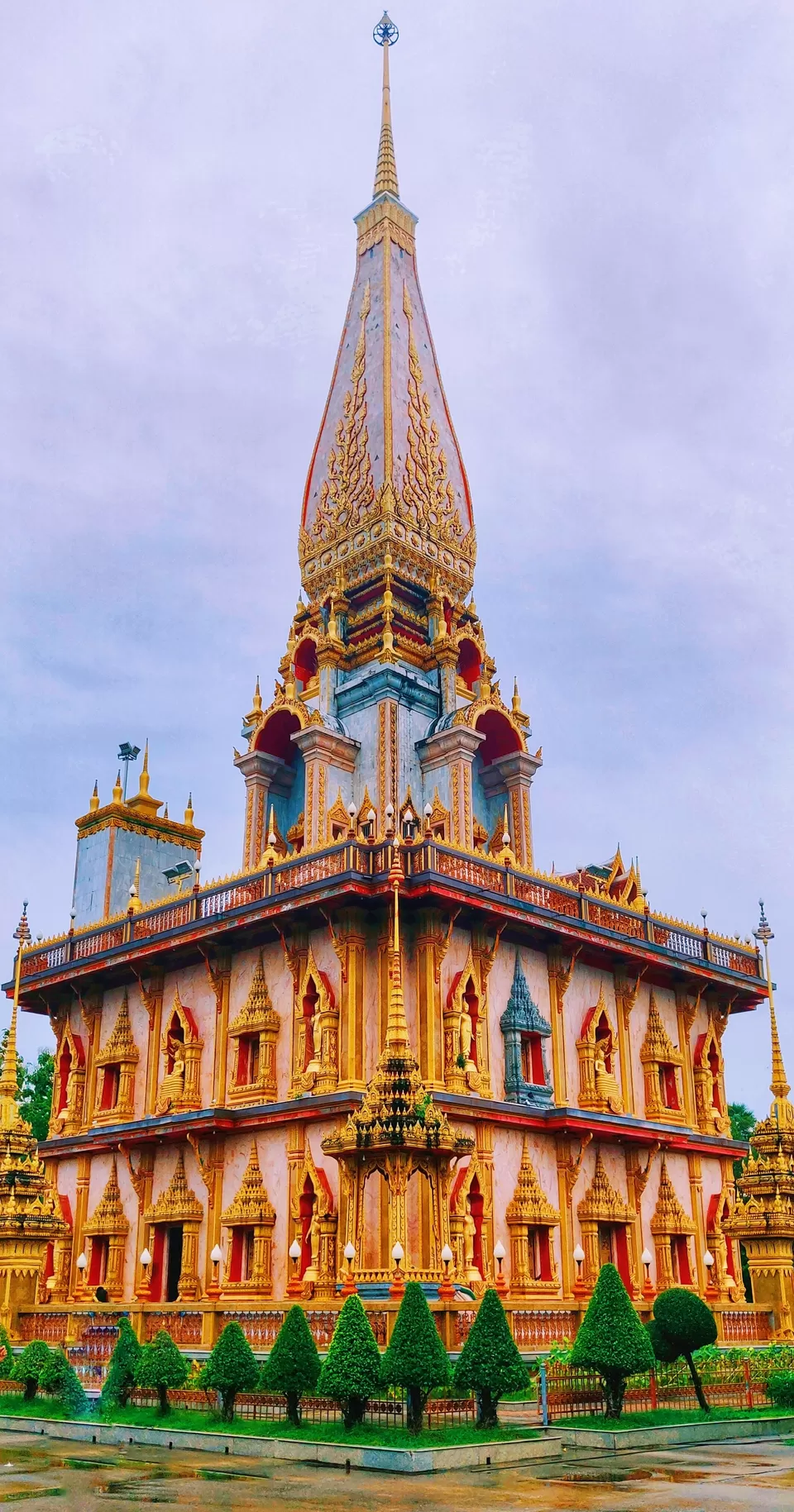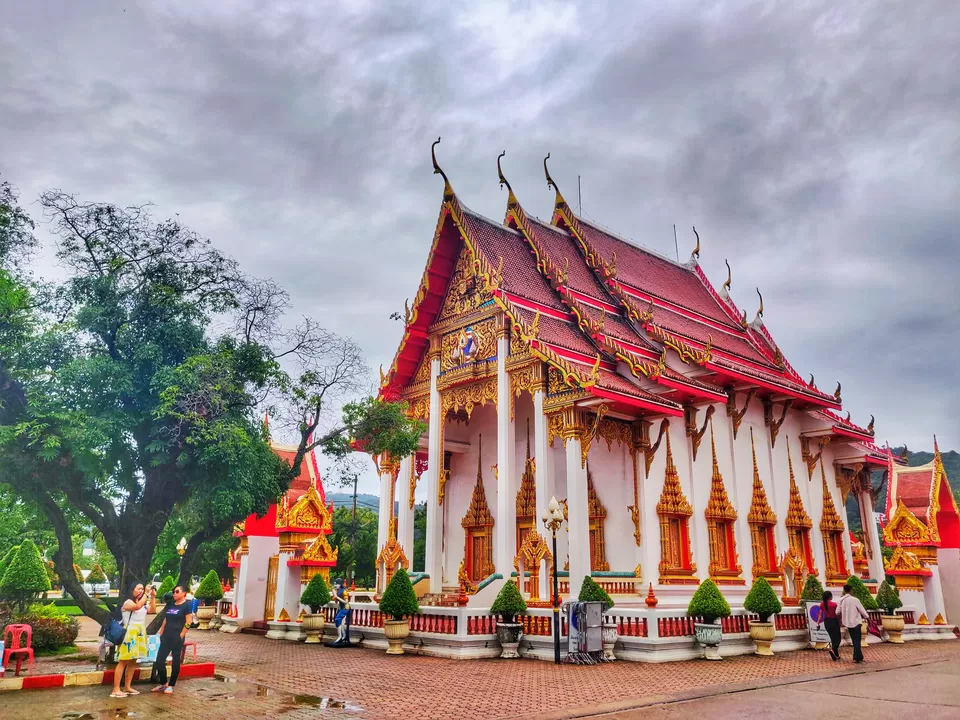 Simon Cabaret
In contrast to the morning, we had planned on spending a saucy evening. And so we reached the venue of the very sultry, the very colorful and the very popular Simon Cabaret Show. Its a musical night event performed by some extravagant ladyboys, i.e., men dressed up and performing dance acts like women. Ahem, don't let my words mislead you, many of these ladyboys look prettier than any lady performer you might have seen! A treat to the eyes, missing this musical extravaganza on your bachelourette trip would be a sin!
(Tip: book the tickets in advance from authentic websites to avoid paying extra bucks. Klook.com is a genuine website offering the tickets on reasonable prices)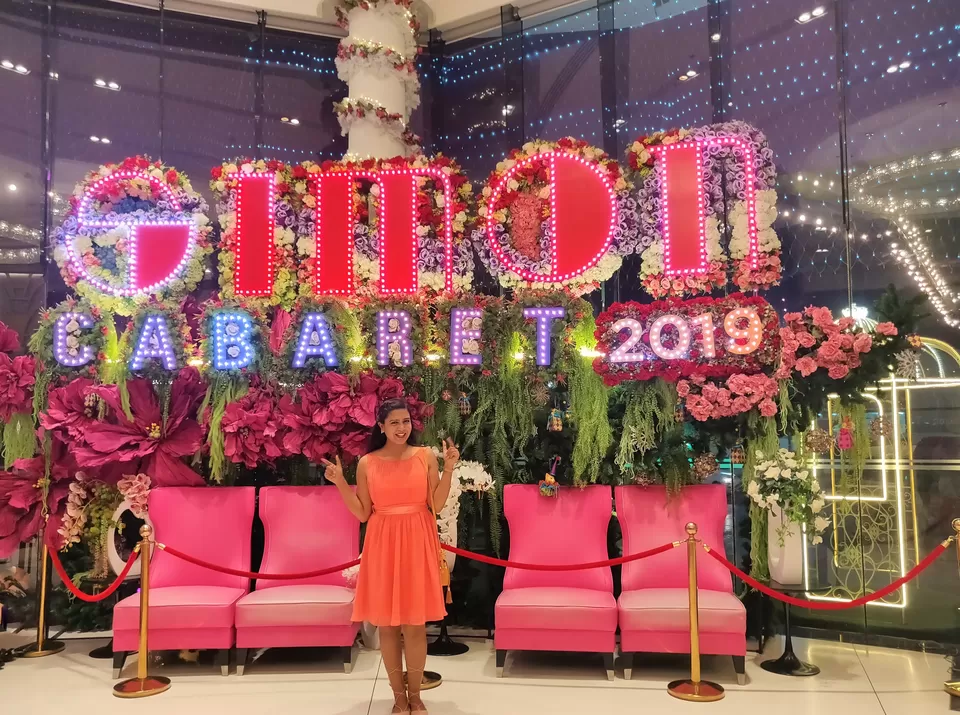 After the show, our tipsy squad strolled to the street food markets of Phuket and while my non-vegetarian friends were gawking over each and every stall selling exotic sea food, the poor vegetarian in me again had to settle for some vegetarian noodles.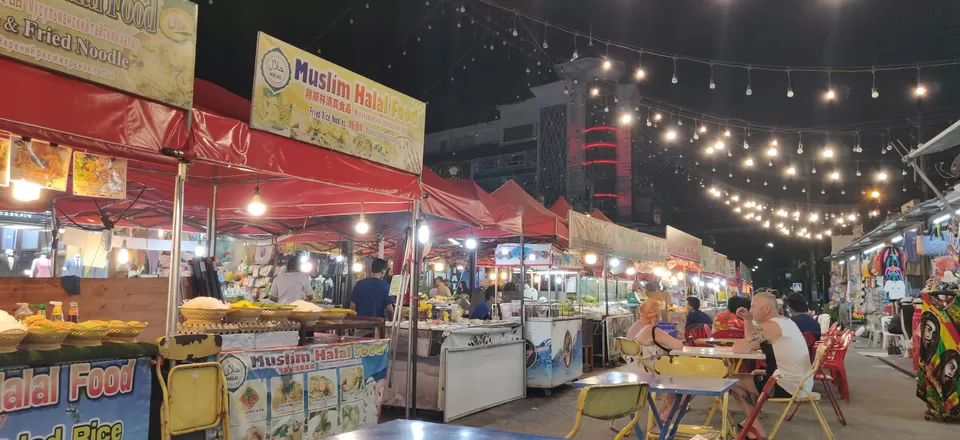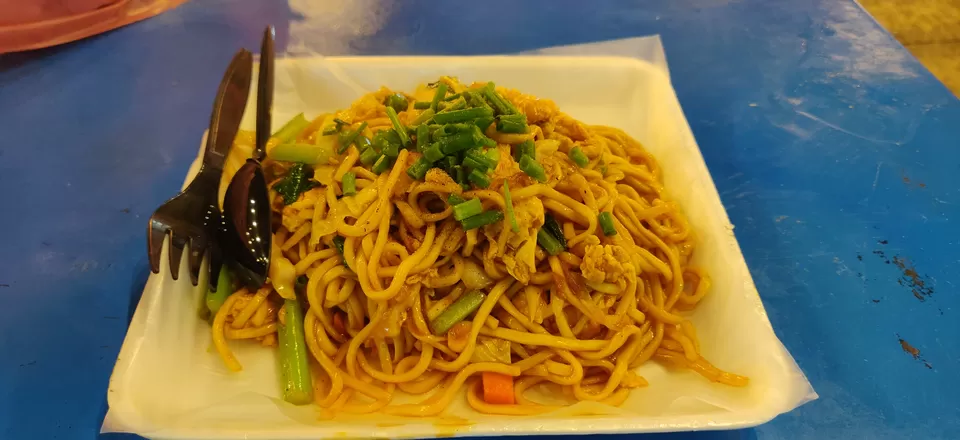 Day 2: Hello Phi Phi Islands!
We sprung up from our beds early in the morning and after stuffing our bellies with breakfast, we headed to Rassada Pier. Rassada Pier is one of the many ports from where day ferries for Phi Phi Islands depart. We had pre-booked our return ferry tickets from www.phuketferry.com. The ferry was huge, having two level seating, differentiated based on the ticket price.
(Tip: Book your tickets in economy class and wait at the lower level till ferry starts; after the departure, you can easily move to the deck and enjoy the jaw-dropping rock islands through which your ferry is glistening!)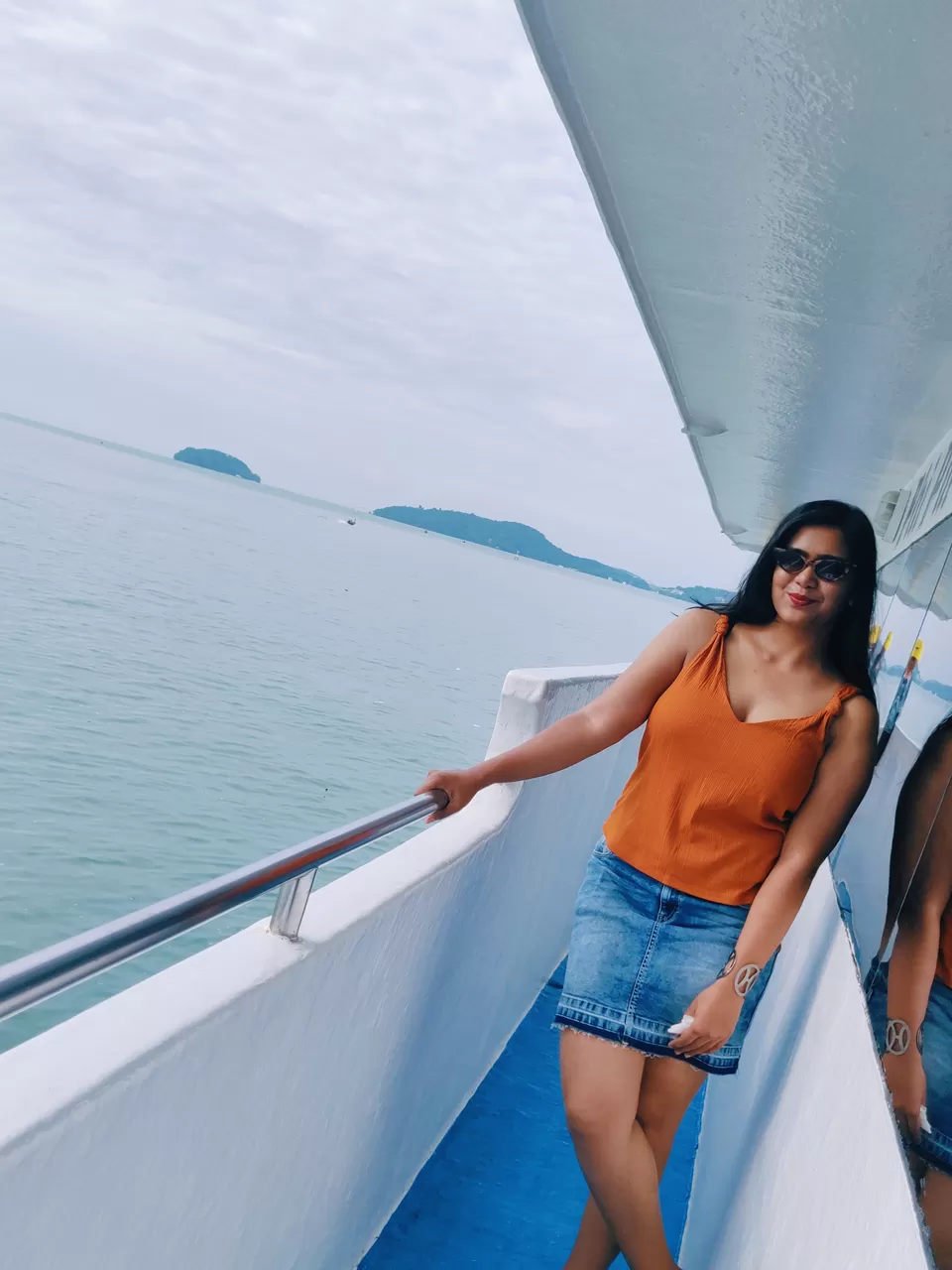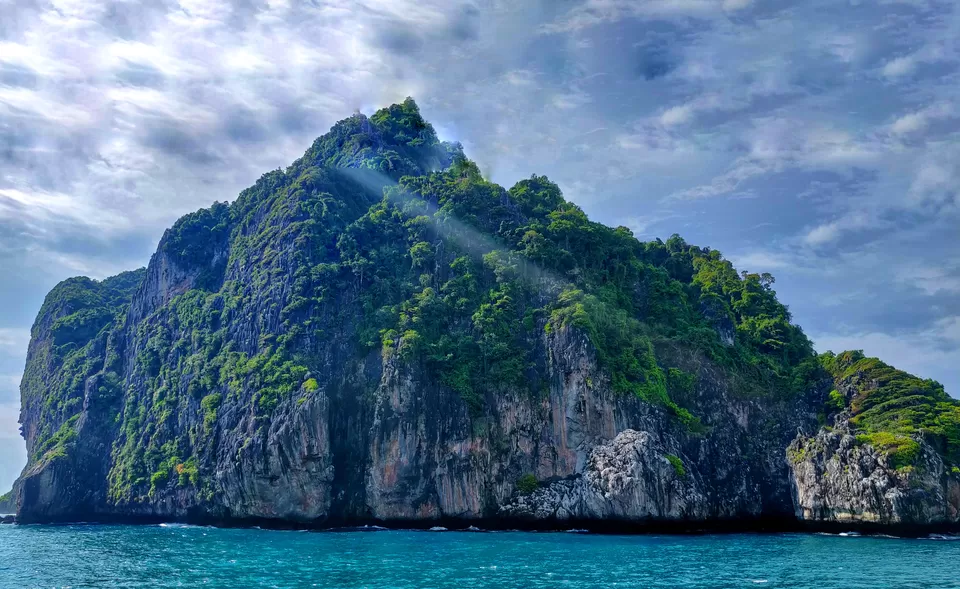 Phi Phi Islands are straight out of one's dreams - impeccable white sand beaches, dramatic rock formations standing intently amidst the sea, shallow waters which allow you to walk into the sea for as far as your heart craves and streets dazzling with colorful knick-knacks! We spent the day rolling in the water and purchasing a bag full of Thai souvenirs and bade adieu to the dreamy islands as we boarded the last day ferry back to Phuket at around 5:30 PM.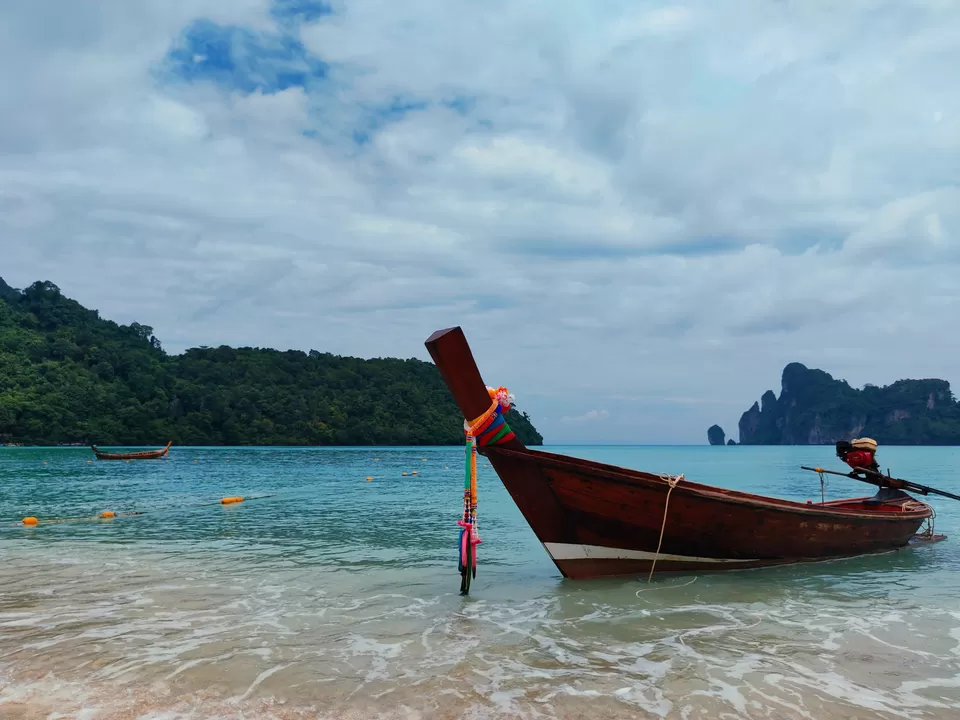 Day 3: Phuket to Krabi
It was time that we bade farewell to Phuket and roll on to the next destination on our list - Krabi. We had hired a taxi for the trip. While the taxi's trunk screeched with our heavy luggage, its tires danced on the whirly roads - quite like we did!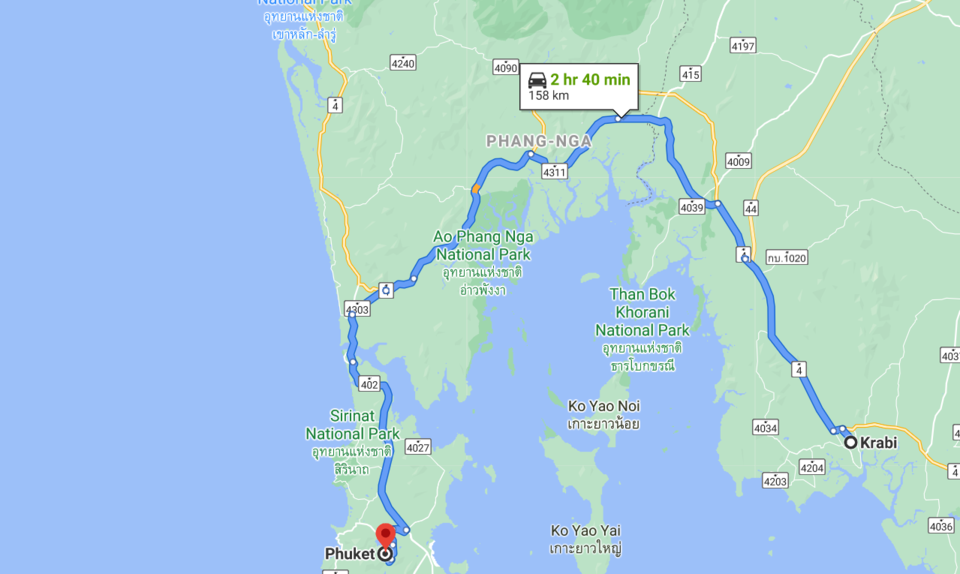 About almost midway of our 2 hour 40 minutes journey, we took a halt at Wat Suhan Kuha, which is another Buddhist temple containing an enormous Buddha statue in the womb of a gigantic rock formation. We spent some time there, bought some snacks from a small shop in the premises and continued our journey.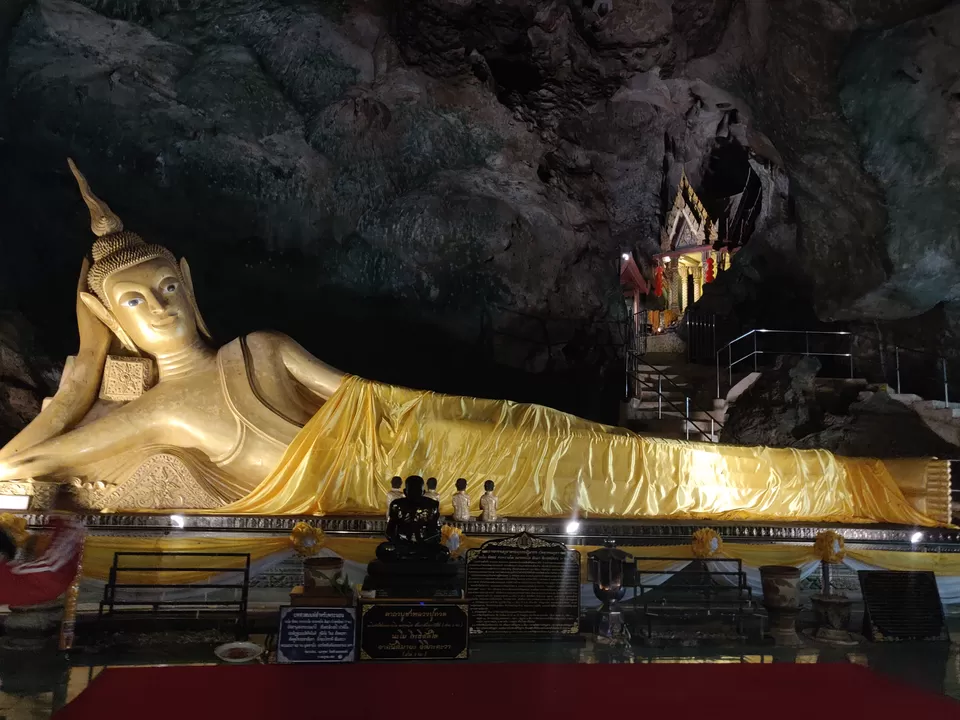 We reached Krabi somewhere around noon, checked in our hotel and retired for a lazy afternoon. Our hotel was on the outskirts of Krabi town and by evening, we decided to rent two scooters to visit the main town as well as other tourist spots. Scooters for rent are easily available- you can either ask you hotel receptionist or a small stroll on the market could lead you upto a place that gives scooters on rent. As the dusk fell, we set out on an enthralling adventure, racing around the curvy roads, pleasant evening breeze ruffling our hair behind us.
We reached Krabi night market, which welcomed us with plethora of colors and vibrance. A few rows of stalls were selling pretty souvenirs like fridge magnets, home decor items and local apparels. Little further were some street food stall, crowded by locals and tourists alike. We stuffed our shopping stacks as also our bellies before heading to Ao Nang Beach, which was actually in the opposite direction of what we came from. After a long scooter ride along the stretches of Ao Nang Beach and some engaging conversations with waves giving the background score, we called it a night.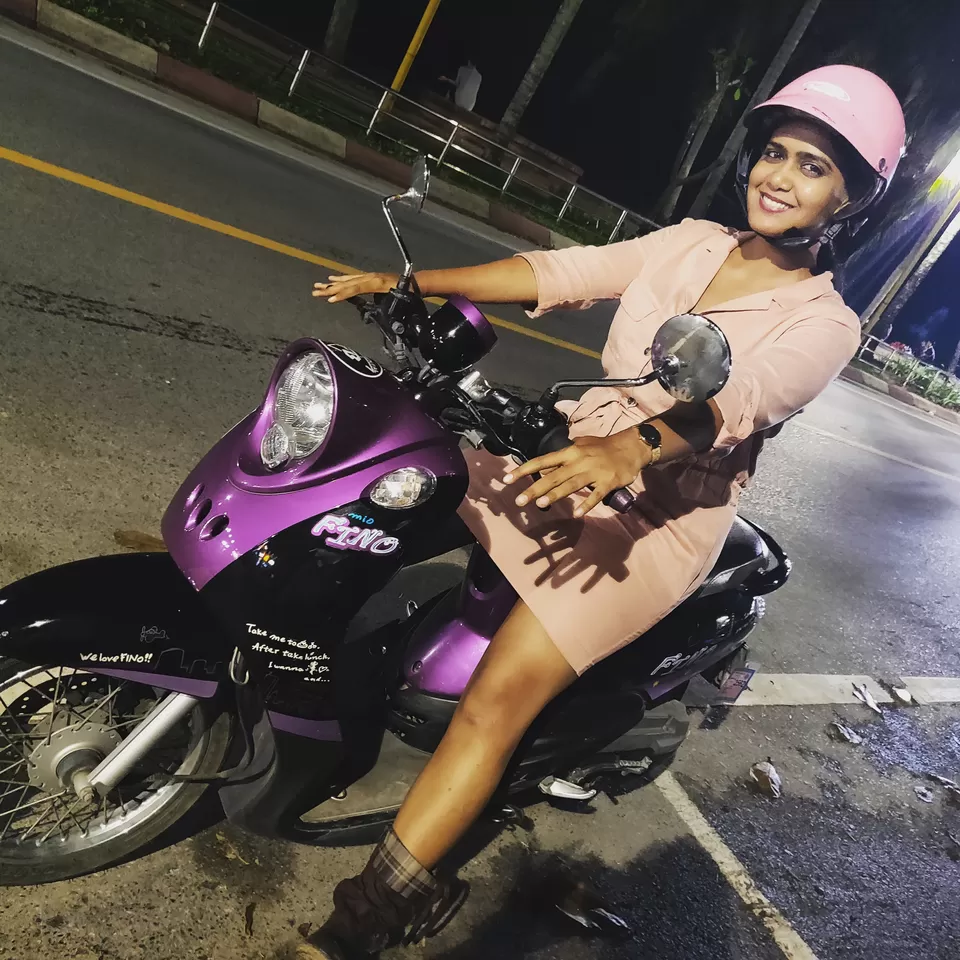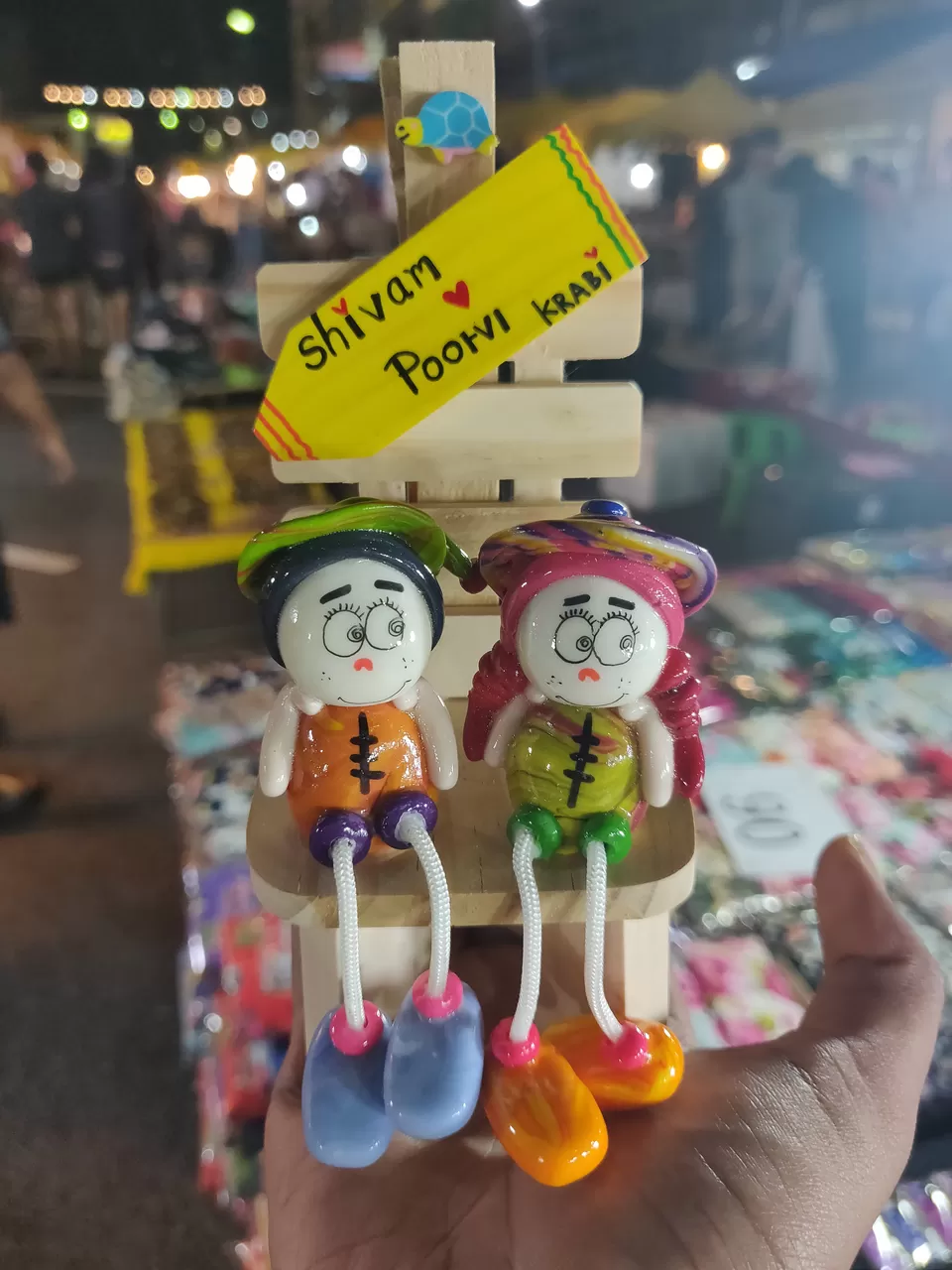 Day 4: Four Island Tour, Krabi
Four island day tour is one of the most popular tours in Krabi and rightly so! They take you around four of the most spectacular islands/beaches around Krabi on a small speed boat.
Phra Nang Beach
Our first stop was Phra nang Beach and believe me when I say this, I haven't laid eyes on anything prettier. We were given life jackets by the tour operator, wearing which we sprinted towards the squeaky clean waters. We swam, splashed water and lay afloat with our backs on the water, asking life - can't you always stay as pleasant as you are in this moment?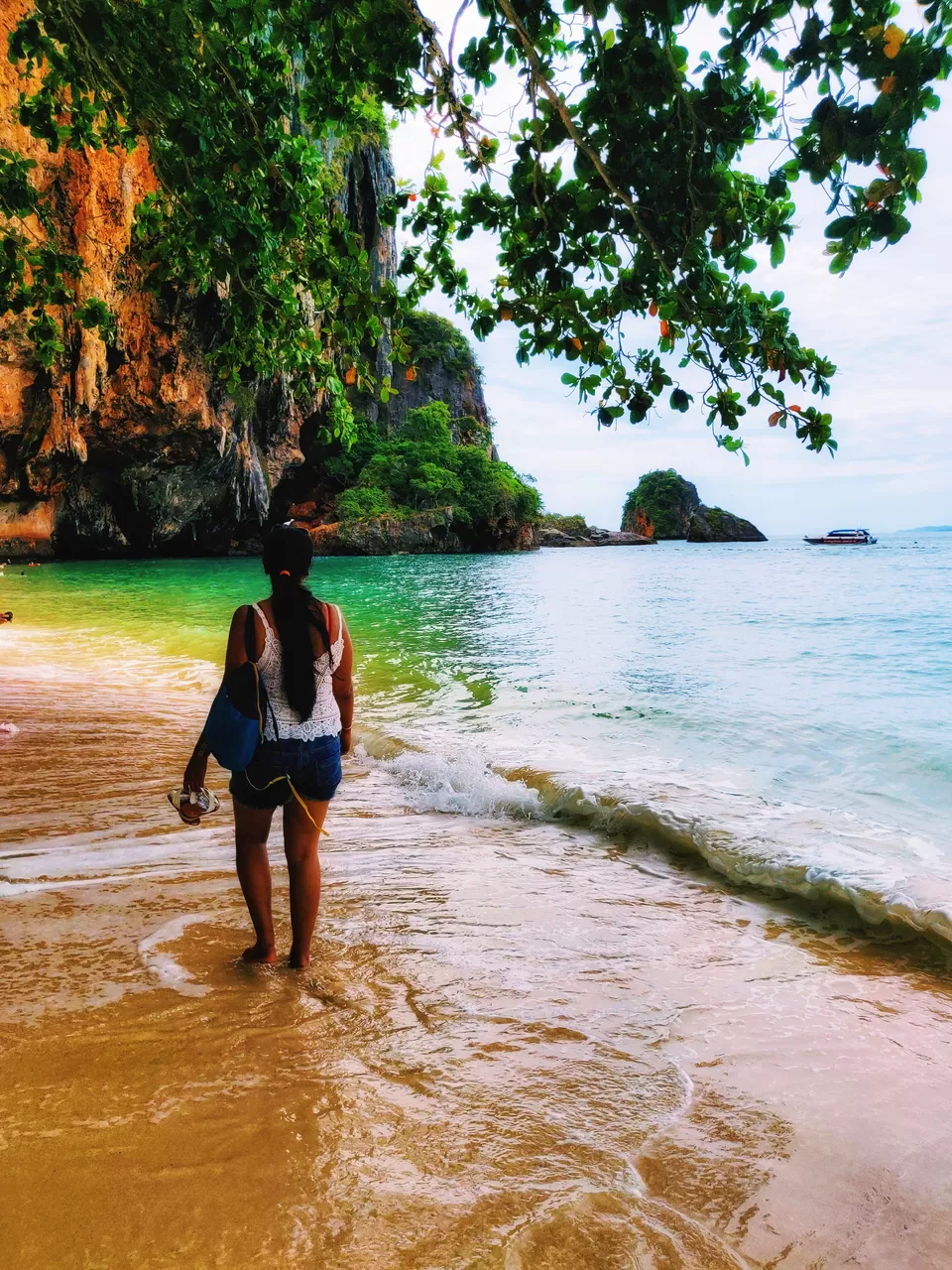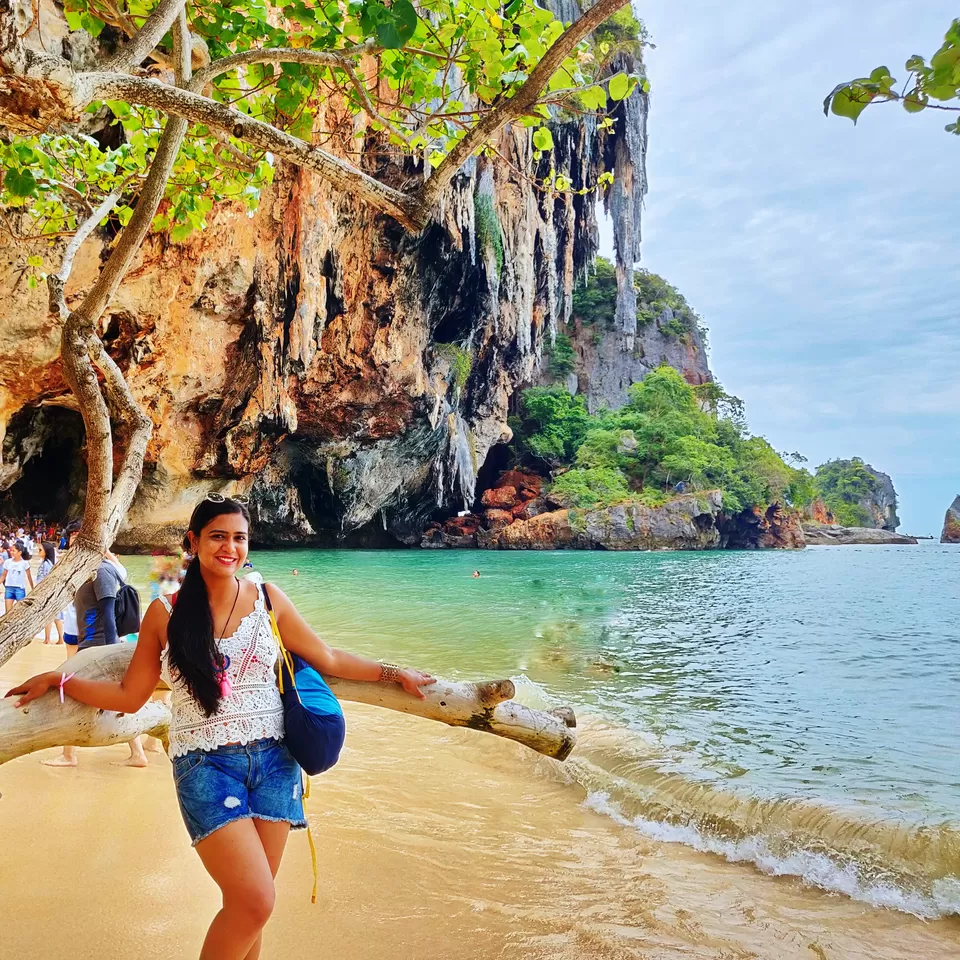 Tup Island and Chicken Island:
After Phra nang our boat speeded towards the duo of Tup Island and Chicken island. These two are neighboring islands adjoined by a thin strip of land on which one can very well walk during low tides. Another round of floating aimlessly on sea waters while admiring the far flung rocky islands followed. The crisp sun kept tanning our bare skin, but we hardly cared.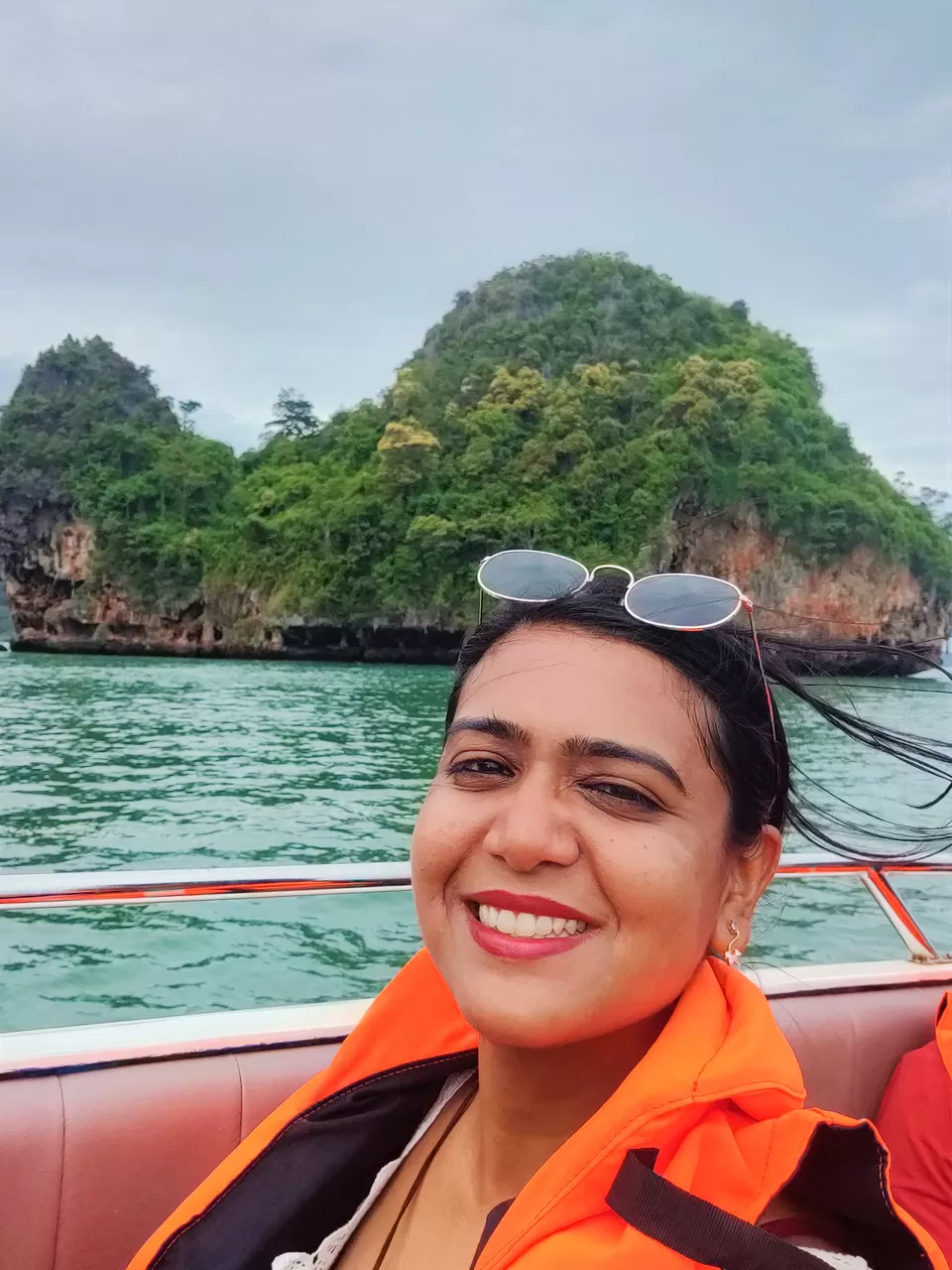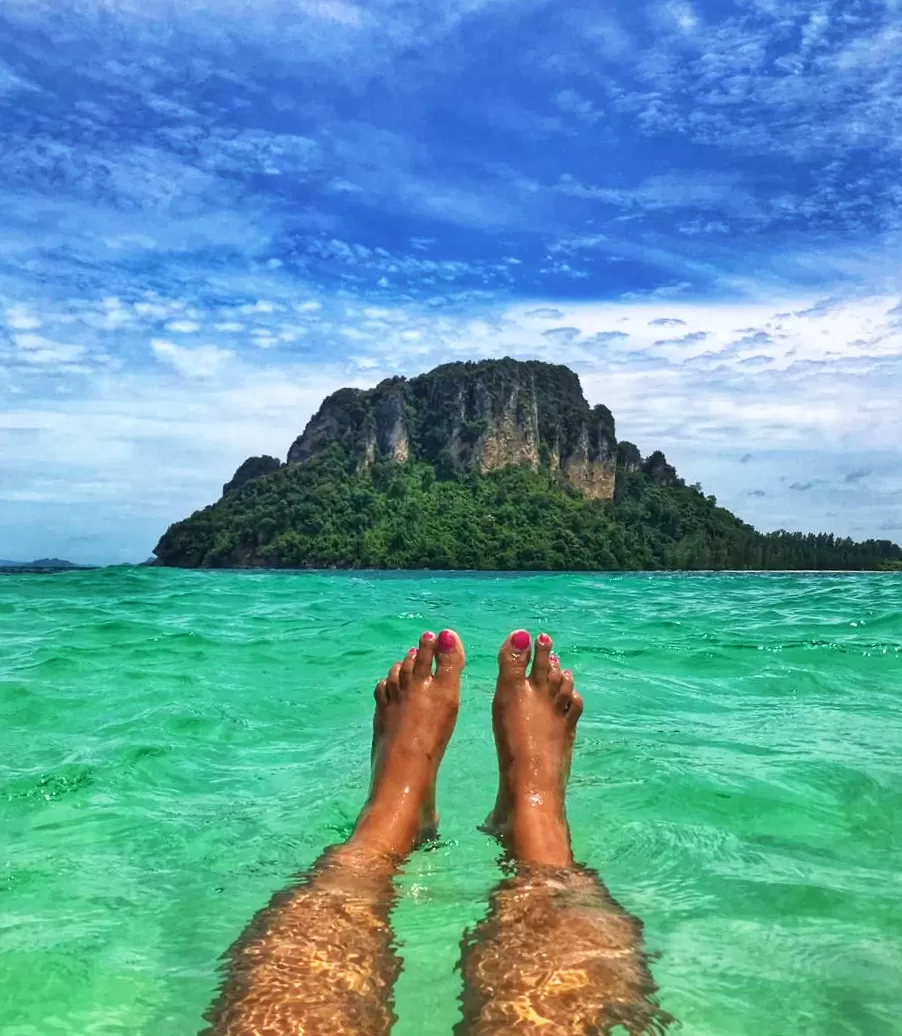 Poda Island:
Poda island was the last stop of the tour. This is the biggest island of the four and also has some basic facilities like washroom/changing room, etc. We had our lunch there (which was a part of the tour package) while admiring the gorgeous landscape all around us. After about an hour, it was time to say good bye to this surreal island.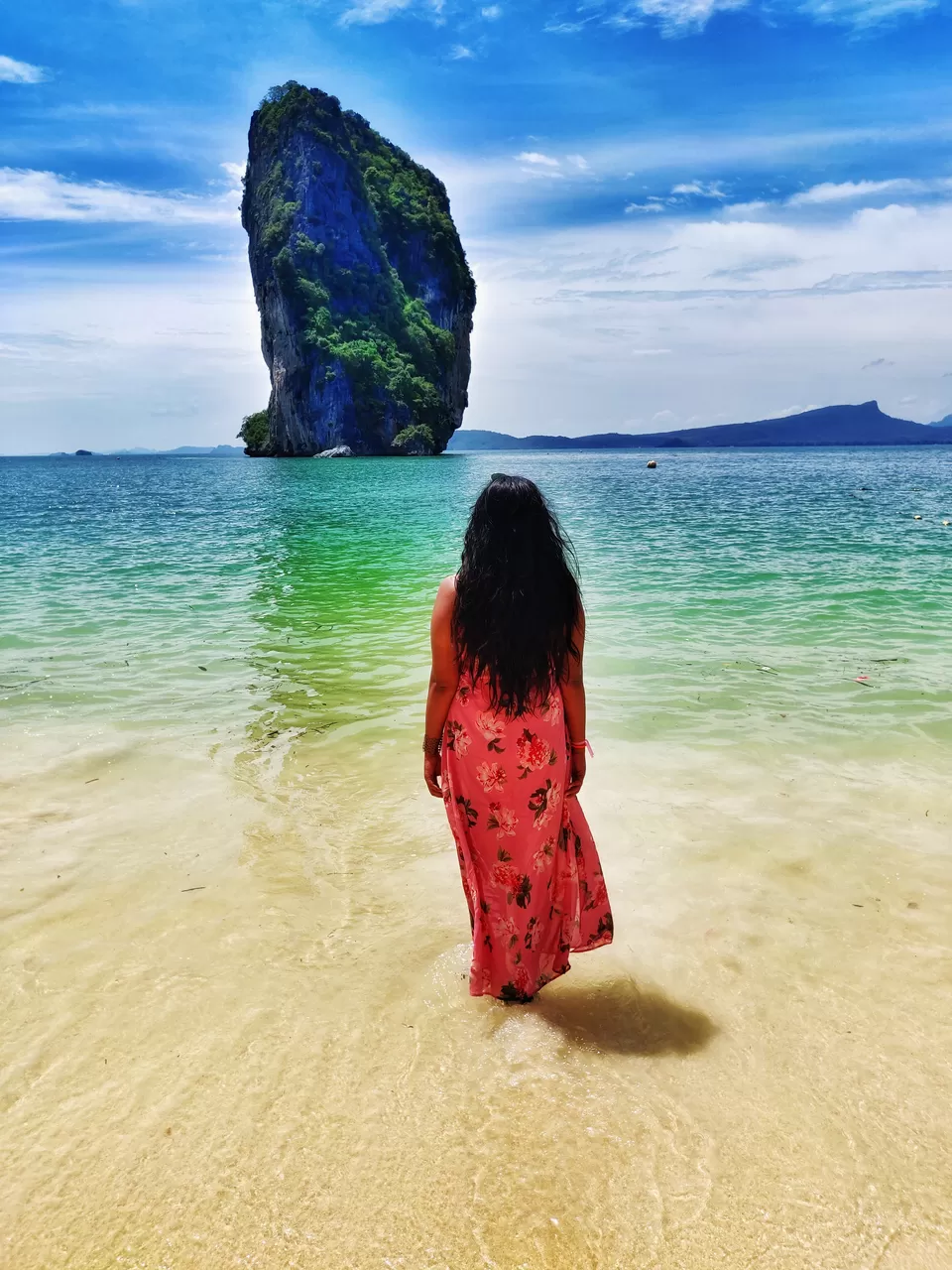 Day 5: Emerald Pool, Hot Springs and Sayonara Thailand!
So it was the last day of our trip and it had to end with a bang! To make the most of our time, we booked a late evening connecting flight from Krabi to Mumbai via Bangkok. This way we had the entire morning and forenoon before leaving for the airport. We started a super early day and reached Emerald pool by 7:30 AM.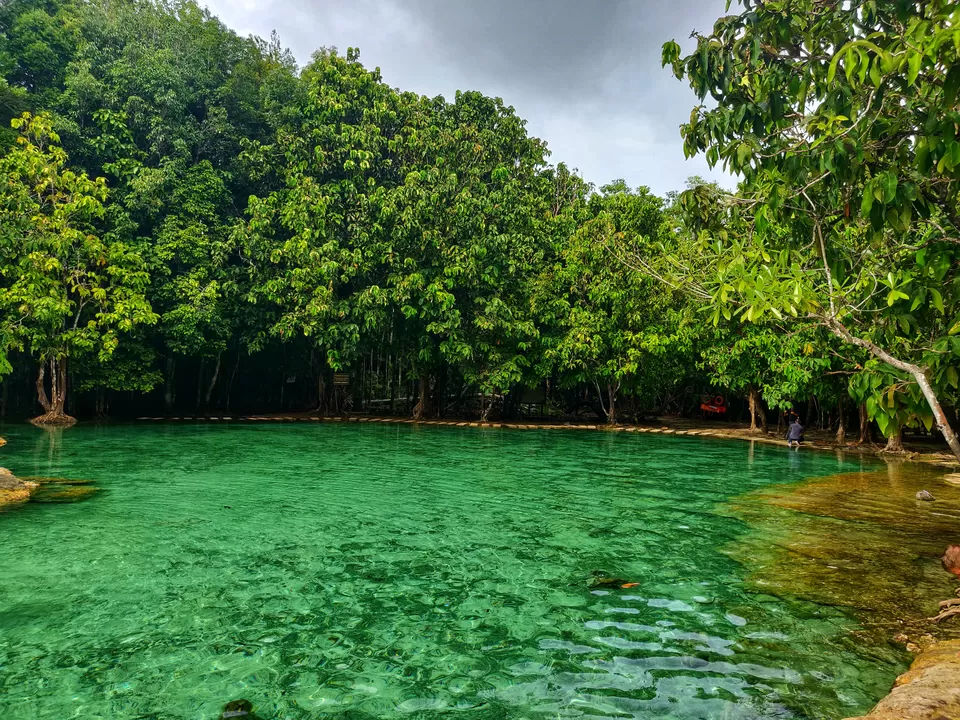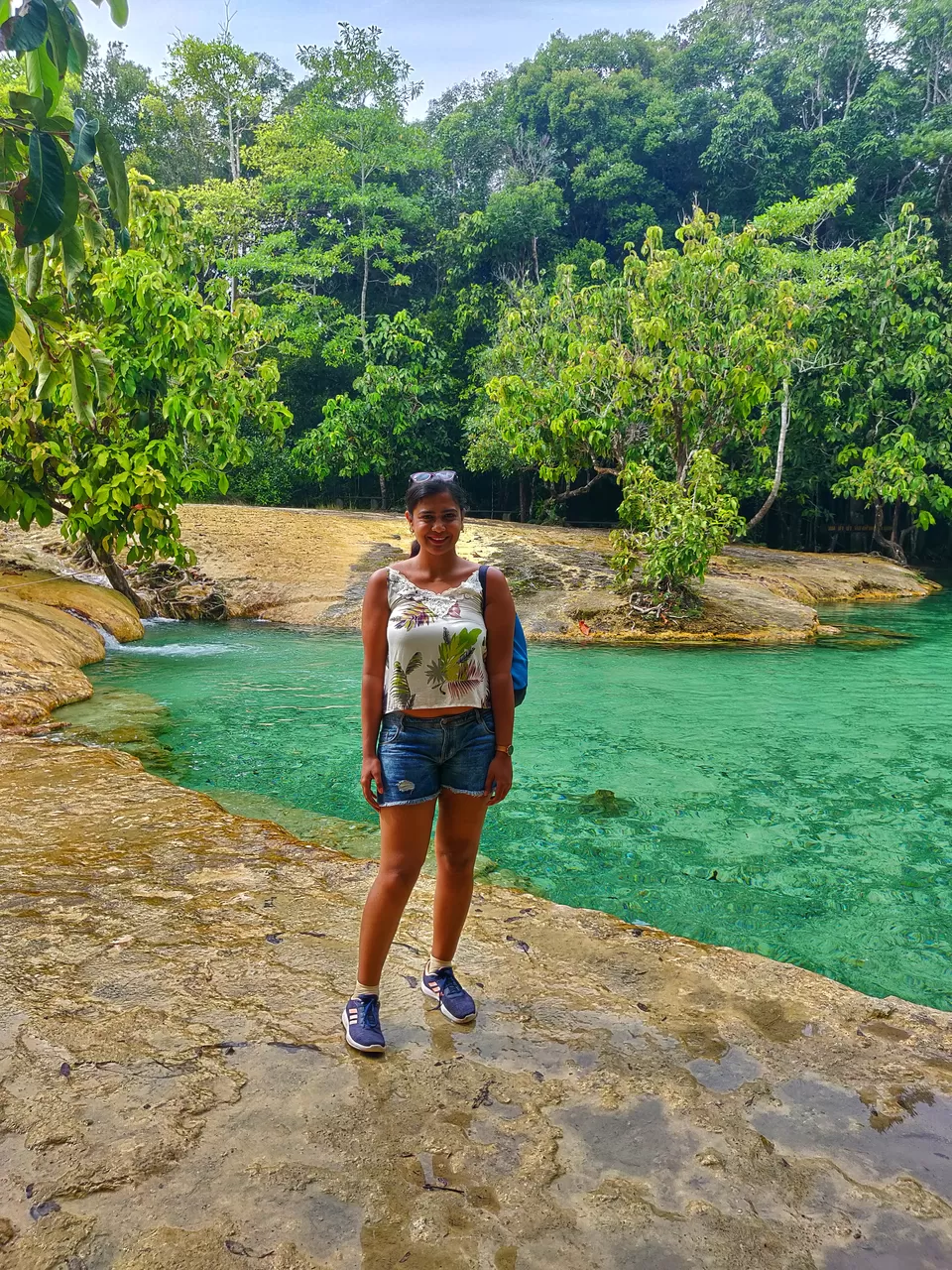 Emerald pool is tucked cozily in the middle of a jungle. You have to walk past small bridges, being surrounded by dense trees and a few itsy-bitsy pools. A well defined trail of about 15 minutes leads you to this pristine natural water pool, which shines brighter than a real emerald. Since it was very early in the morning, we were the first visitors and had the entire pool to ourselves. Taking a dip in those crystal clear water immersed us into an unparalleled ubiquitousness.
There was a natural hot springs near by, and we thought, 'Hey! why not test out luck and tick-box one more destination before rushing to the airport!' And so we did! And oh boy, I am so glad we did. The hot water of these springs are said to have volcanic origin. While a long dip in those warm and fuzzy waters erased all the fatigue of the trip, on the other hand it also made us tear up as we were reminded that its almost time to say goodbye to this magical country!
Although, a goodbye is never definitive, is it? There's always an 'until next time' lurking close behind. With this thought, we caught our flight back to Mumbai. Within a few hours I was transported from a land of lazy beach hopping and booze chugging to a land where there was unfazed running from boutique to boutique while the clock rushed to the wedding day!
Click here to follow me on Instagram, where I share snippets of my travel-tales.