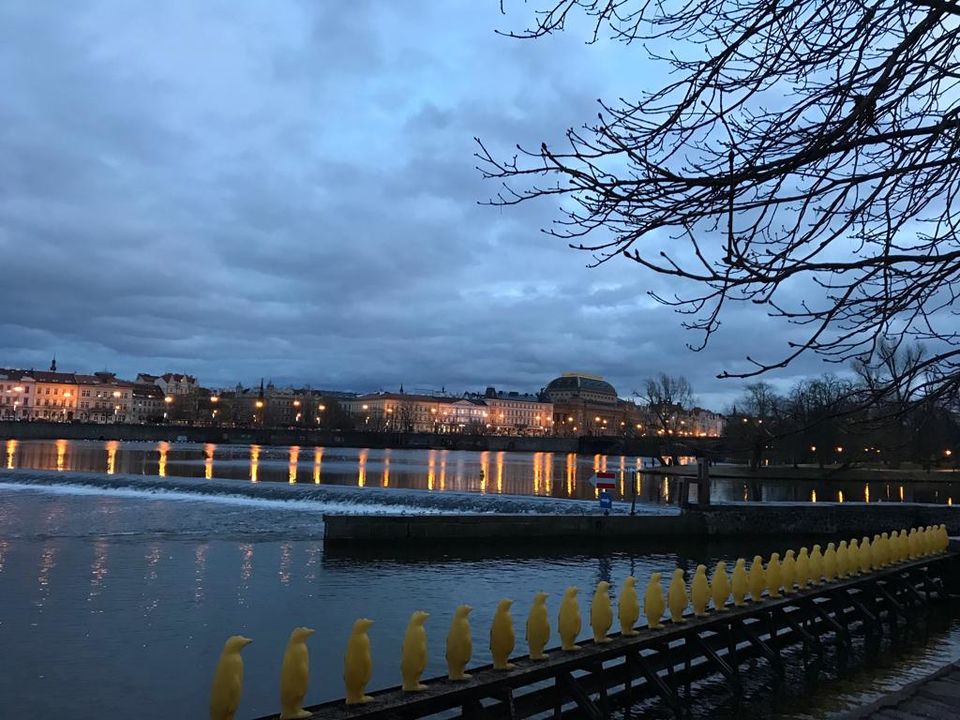 When I arrived in Prague last year, my idea of its grandiose and beauty was chiefly shaped by what I had heard from friends and relatives and read in a few travel articles. The image I had was of a city with marvelous architecture well preserved over ages. As I started to explore the city, I slowly came to realize that my initial impression of the city was only a shadow of what the city actually has to offer. It gradually deemed upon me that its much more than what we see in those intricately designed castles, churches and monuments. It is about the feeling , about the vibe, about visualizing the harmony of its man made monuments and charming nature and the symphony of old and new. And the best time of a day to enjoy this harmony - this oneness is the evenings.
When we talk about evening in Prague , where else to start other than most famous Charles Bridge. An evening stroll in and around the Charles bridge with the views of the serene river , of the fleet of birds flying in unison in different forms, the sight of lamps on the bridge and monuments across the city slowly beginning to light up- give a very charming and idyllic experience. The sound amalgamation of burbling river, chirpy birds ,violin played on the Charles bridge and the chill in the air add to the overall vibe of the place.
Similar great evenings can be experienced around the Charles Bridge area - be it walking leisurely towards the old town square seeing a multitude of eye catching shops , walking around the Prague castle with a panoramic view of the city or simply wandering around Malastrana exploring the little hidden artifacts at one's own pace.
While there are a lot of famous touristic beautiful areas as above in Prague which offer a great evening experience, there are also many less touristy and comparatively peaceful places to enjoy Prague evenings in tranquil. These are the places that are not in any of those Prague itinerary or must visit lists but offer a better alternative to fulfill one's wanderlust. The first such area that comes to my mind is Vysehrad Castle area. This place has a stunning castle , a colorful panoramic view of the city and river, a beautiful small park and an outdoor beer garden.A piquant place to spend an evening watching which most likely ends with a captive glowing suns
As we are talking about panoramic views and park, it also rings a bell about Riegrovy Sady which have almost similar things to offer as Vysehrad area other than a Castle.Similar experiences can also be found at Petrin Hill, Letna Hill and Vitkov Hill.Furthermore, there are places which may not have panoramic views but offer a chance for a great evening walk and to get lost in the beauty of the moment. Walking from Hellichova to Kampa is one such experience - the laid back walk without much crowd is soothing which ends with a gush of fresh air at the beautiful Kampa Island- juxtapose the river reflecting golden lights from different monuments.
Another beautiful walk is from Bubenec to Troza which takes you to era gone by with lush greenery on one side and classic villas on another side. One of the most amazing place to end your day as close to the river as it gets is at Naplavka , strolling by the river or sitting on pavement watching the playful birds and sipping drinks available in nearby boats.
And for wandering soul content with views from bygone era during the day, what a better way to have a glimpse of modern city life with a walk through Wenceslas square -traversing through the myriad shopping complexes and munching a delectable trdelnik with mulled wine. For the lazy hearts, beautiful sunsets can be enjoyed from rooftops or apartments/ restaurants.
The above experiences summarizes the endearing beauty of Prague evenings from my vantage point over the past few months. It may not even be a fraction of what Prague evenings have to offer for a curious person struck with wanderlust. The whole Prague evening experience is about what you see , feel and experience as the sun goes down on a grand backdrop and the same colorful places transforms into a glowing golden area. The end result - experience of a lifetime.