We visited Prague this summer. Honestly, it looks like it's pulled straight from a fairy tale. Walt-Disney like castles, Vltava river, old bridges, gothic architecture creates such a magical atmosphere. Prague is a small city, so it's perfect for a weekend getaway and we highly recommend covering it on foot to soak up in the vibe of the place.
Where we stayed:
Honestly, we like staying a little away from the touristy spots, for 2 reasons - 1) The prices are marked up for everything from hotels, to food, to experiences. 2) There's no authenticity. Things are usually made up to create that wow-factor. We stayed at the Hotel Merkur, a boutique hotel next to the gates of Prague's historic center. It had great connectivity to the city center through the nearest Florenc metro and bus station. We mostly took a 15-min stroll every morning through different neighborhoods to reach the old town.
Things we loved about Prague:
1. Charles Bridge - is the oldest bridge still standing over the Vltava river that connects Old Town to Prague Castle. It's a masterpiece of medieval Gothic architecture with over 30 baroque style statues placed over it. The bridge turns into a romantic spot in the evenings with the buskers performing in the background and skies turning pink during the sunset.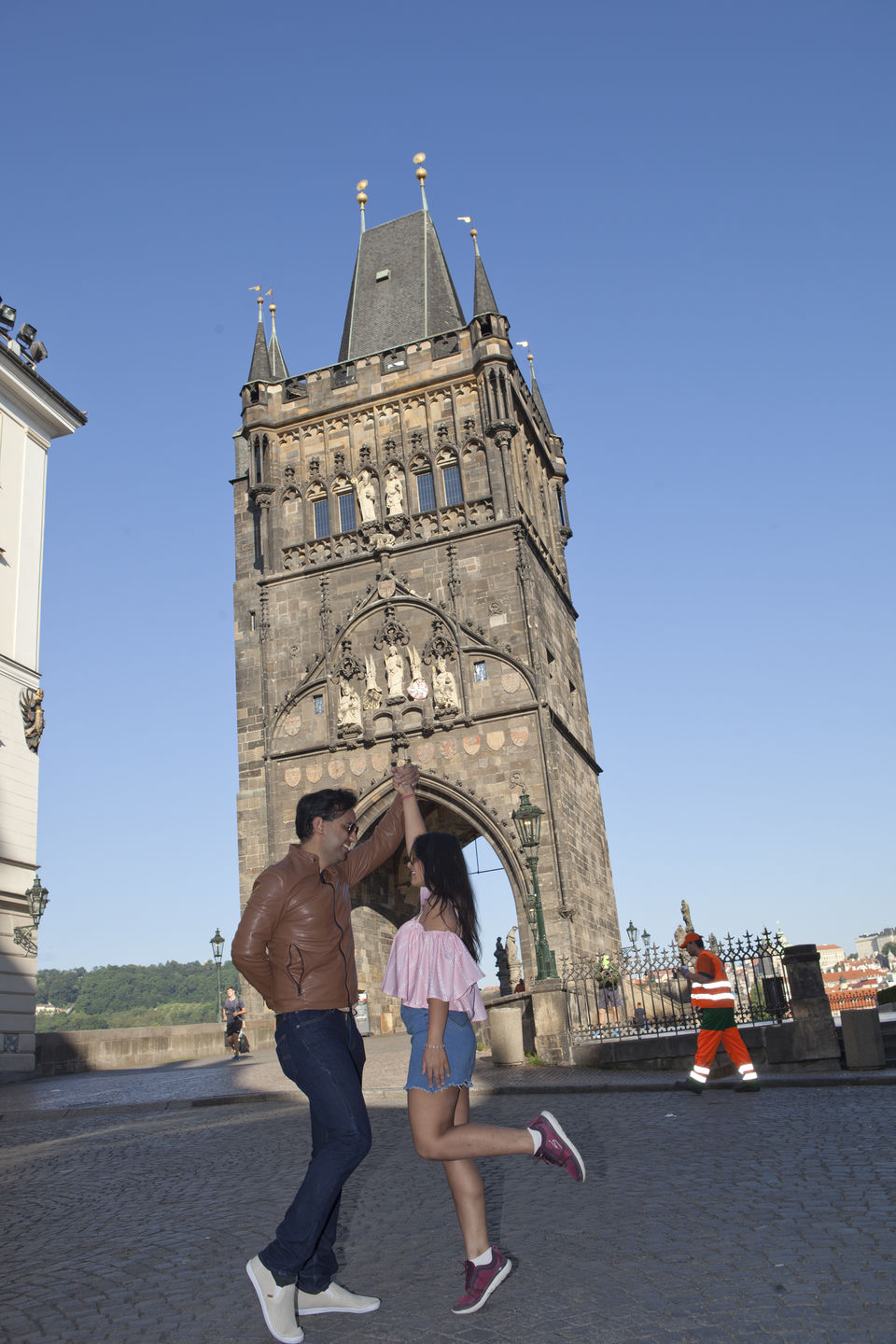 2. Prague Astronomical Clock - It's the world's oldest astronomical but you can totally miss it if it's not the usual hourly display. We missed it at first, but on our return from Charles Bridge, we saw the crowds gathered underneath with their cameras popped out. And as the clock struck the hour, we saw the procession of the Twelve Apostles appearing in two windows. It's a fascinating combination of technology and design.
3. Prague Castle - According to the Guinness Book of World Records, Prague Castle is the largest ancient castle in the world. Officially, it is the home to the Czech President, but the place is also open for tourists. Prague castle has a lot to offer:
Changing of the Guard Ceremony happens every noon in the first courtyard of the Prague Castle with a musical performance and a short parade. It's highly recommended to secure a spot beforehand, else you might not get a clear view of the ceremony.
St. Vitus Cathedral - is located in the centre of the complex. The entrance is technically free, but if you want to go past the cordoned off area, you have to buy a ticket.
Golden Lane - Known as the area where alchemists once lived, this tiny street has colorful tiny houses from the 16th-century. It is also popular as the German writer Franz Kafka once lived there.
Viewpoint - Most people who visit Prague come home with this classic view over the royal former town. With Vltava river stretching long and titled orange rooftops, the view looks like a scene from a fairytale.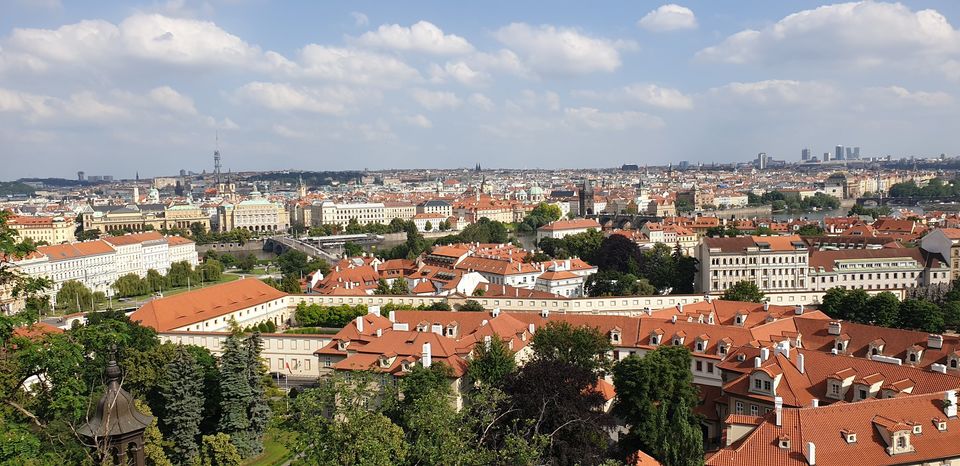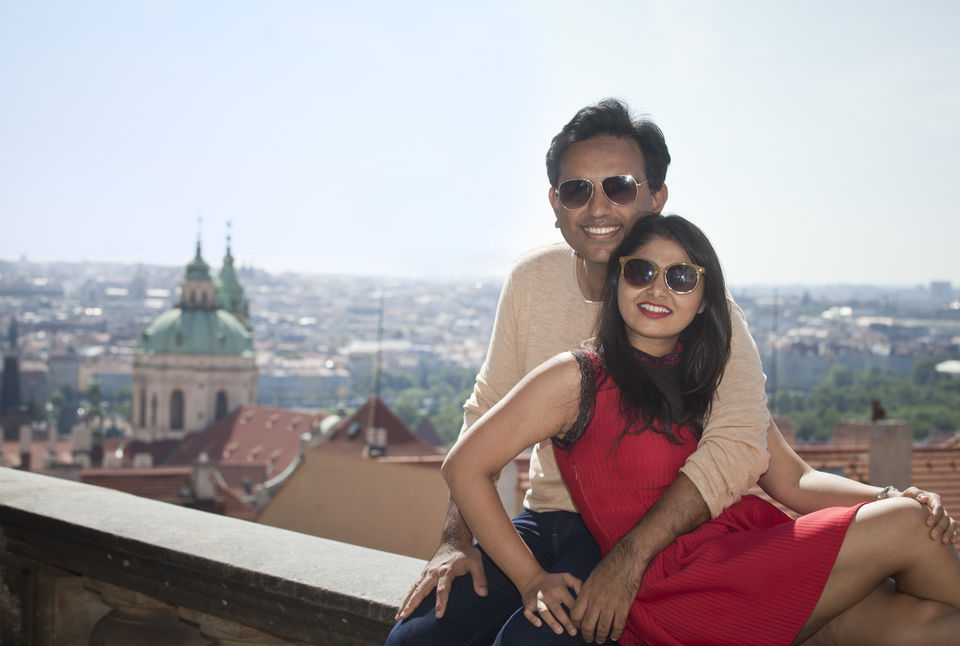 Saint Wenceslas Vineyard - We ended our tour with panoramic views of the Old town and some good ol' wine.
So if you ask me, is the hike worth it? I'd say, hell yeah! The palace has plenty to offer and in our opinion, it's a must-visit.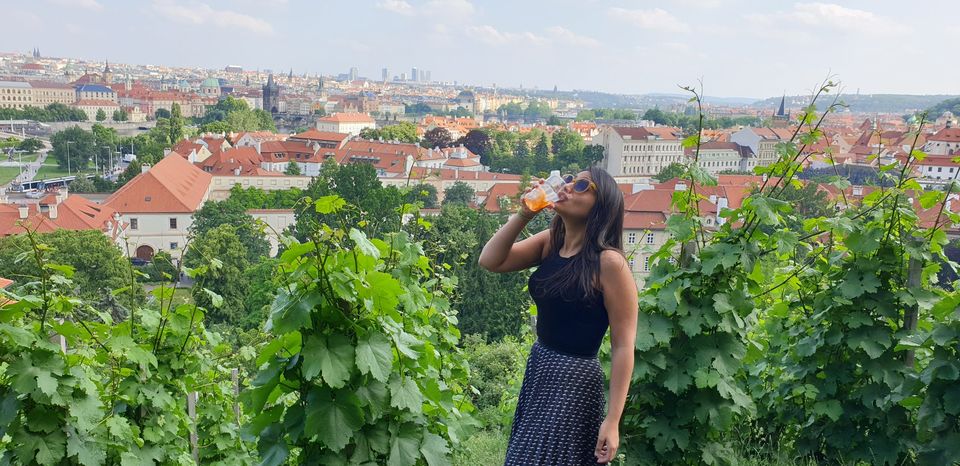 4. Underground Bars - Prague is a popular destination for party-goers and because of this, many popular bars and clubs become super crowded. So, if you are looking for an off-beaten party scene in Prague, there are underground clubs that offer everything you might imagine.We ventured to one such place which was hidden in the basement of a mall/ hotel. Unfortunately, I don't remember the name anymore.
It had a very tiny entrance so it was very hard to locate. The bar had a rustic theme and the cover charge was dirt cheap. The band performing was singing English chartbusters in Czech, setting the atmosphere in a disco mood. Besides great music, it was interesting was to see people jumping into each other while headbanging at the beginning of each song. We danced the night away and if you're in Prague, we'd recommend you do that too.
5. Classical Concert in a Church - When you walk in Prague, you are constantly handed flyers for evening concerts of classical music in beautiful historic buildings. We chose to attend a concert in Clementinum. The Mirror Chapel was a beautiful venue with great acoustics for the small chamber group. Even if you do not know much about classical music, you will have heard most of this music from movies or ads. Think Vivaldi's "Four Seasons" and Mozart's "A little Night Music". I highly recommend attending at least one of these short concerts while staying in this city with such a rich musical heritage.
Restaurants we'd highly recommend:
1. Plzenska Restaurace The Municipal House - This place has an old-world charm. The main entrance has an antique look that draws you in and as soon as you enter, you're greeted by a large set of stairs bending to the basement, which is where this restaurant is. High ceilings, tiled floors, group seating and especially the man playing the accordion grip you from the moment you step in. The food is quite okay. We had the regular sausage and the complimentary bread that was served, but you have to come to this place for the atmosphere more than anything else.
2. Kolkovna Olympia - This restaurant is a corner house on the left bank of the Vltava River and we came here as it was highly recommended by one of the local guys. We ordered the roast duck, which was very good. Moist and meaty, and the portions were so big that the two of us, together, couldn't finish it.
3. Lokal - Lokal is quite popular with Czech locals mostly for the beer which is brought in fresh every couple days and the authentic, homemade Czech food. The service was slow because the food here is slow-cooked with fresh ingredients, but the beer compensated for the wait. This is not the place if you are hangry, but it is definitely the place if you're looking for some authentic Czech food. They have a few branches around Prague with one right in the center of the old town.
Offbeat Experiences: A professional photoshoot
Prague is such a fairytale city and it charmed us the moment we reached here. So, we decided to bring the loveliest memories back home with us. We took a photo tour where the photographer showed us the most interesting and mysterious streets that surrounded the monumental and majestic buildings of Prague while clicking our pictures against perfect backdrops. I'd rather take these memories back home than some tabletop souvenir. It costs about SG$100 (Rs. 5000) for a 3 hour group tour. Ours started at 7:00 am, so there wasn't anyone who joined the group at that hour. You can book these through Airbnb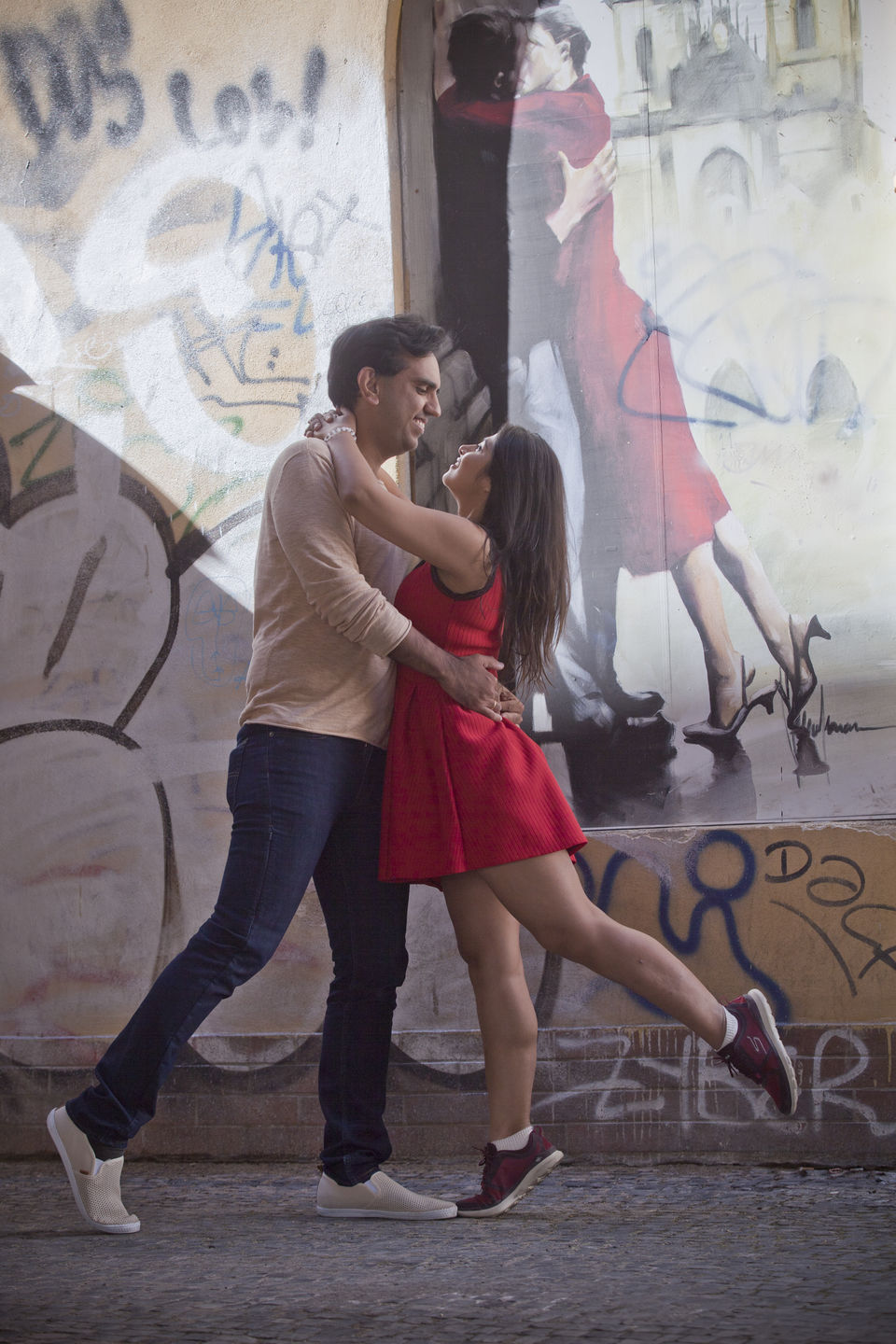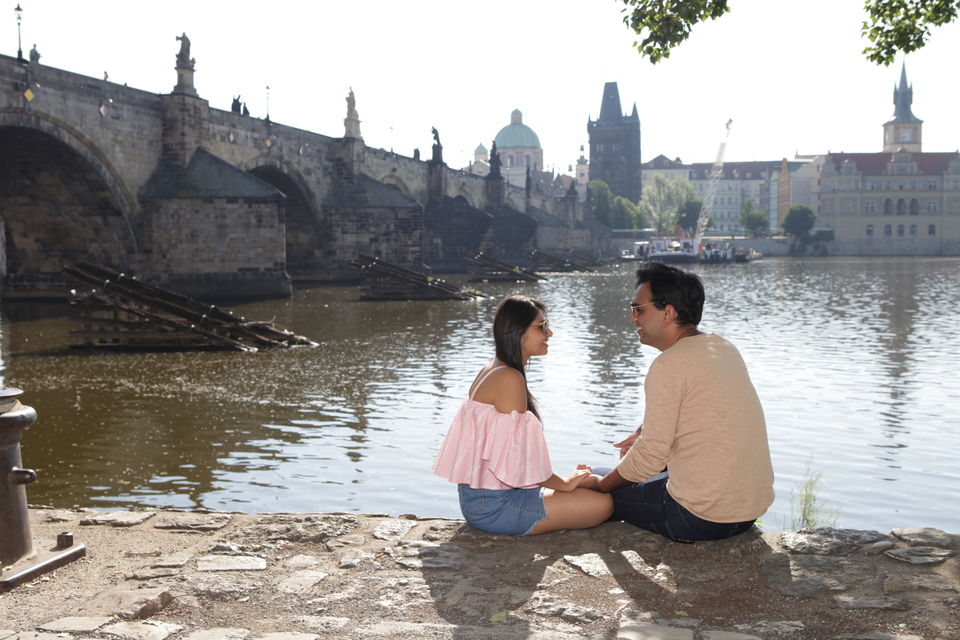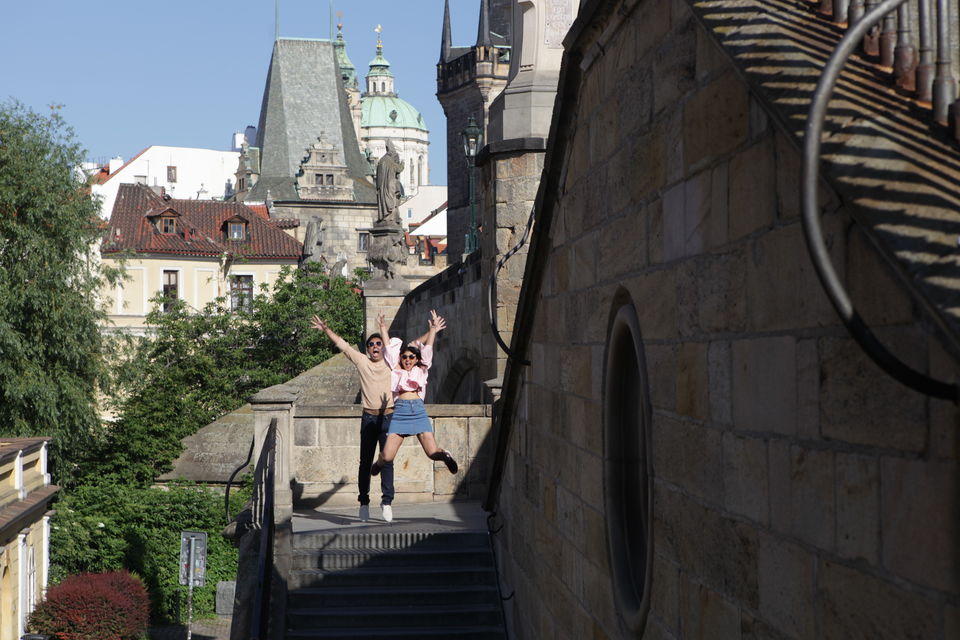 Prague is an enchanting medieval city, rich in culture and history and an aura of romance hanging in the air. While it's known for stag parties, it's equally beautiful for honeymooning too.