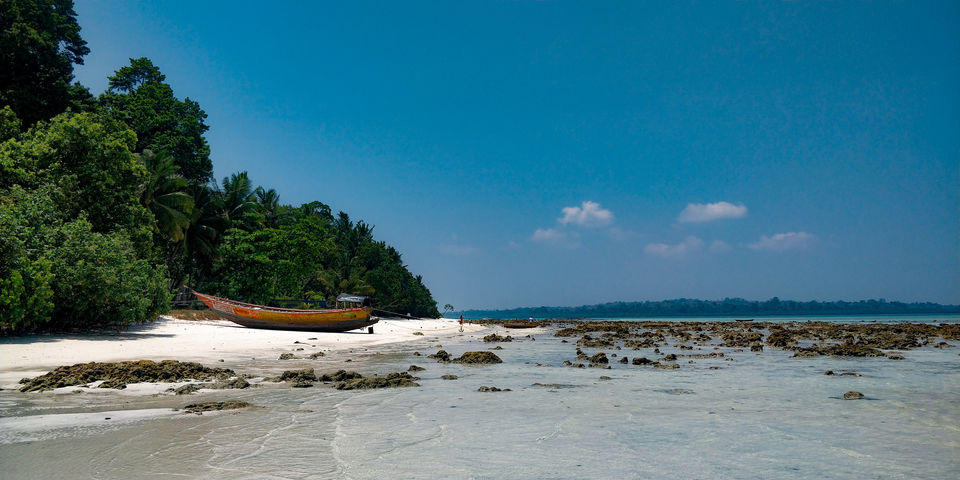 Andaman & Nicobar Islands are a group of beautiful, secluded group of Islands off the Southern coast of India. Out of the three hundred of these islands, only a few are open for the world to see, including Indian Nationals. But, nevertheless they are worth flying all the way to the Andaman Sea.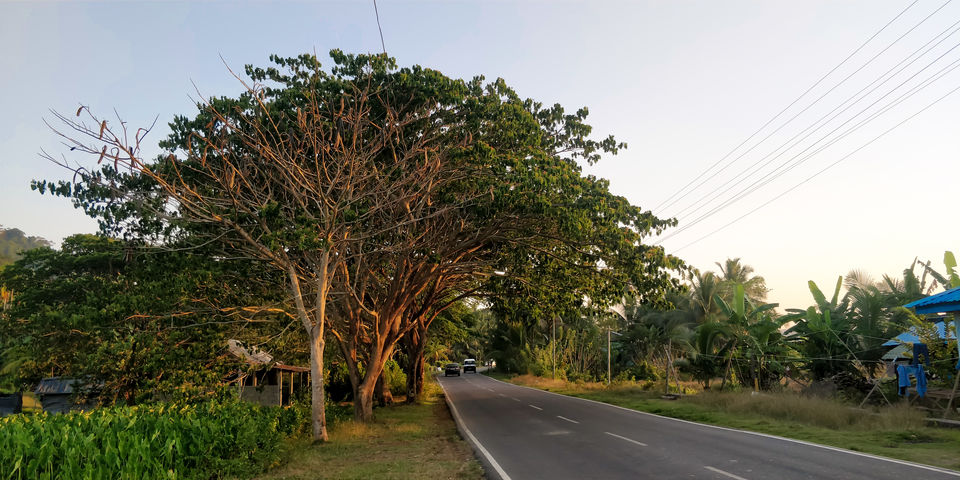 Let's get this straight, when you fly to A&D islands, you are practically traveling to the Andaman Island and a couple of islands nearby because Great Nicobar Island, Little Nicobar Island, Car Nicobar Island and most of the close by islands are off limits. The island of Andaman is itself a huge island divided into North, Middle and South Andaman. Port Blair, the only civilian airport in the Islands lies in South Andaman. Surrounding islands frequented by tourists include Havelock Island (now known as Swaraj Dweep) and Neil Island (now known as Shaheed Dweep). Few enthusiastic travelers (and experienced surfers) also make it to Hut Bay (Little Andaman Island) and Lighthouse Island.
Port Blair itself gives any regular busy city vibe; bustling with locals, scurrying automobiles with blaring horns and suffocating air pollution. Bengali and Hindi are spoken by almost everyone residing here and English is easily understood and communicated in as well. Internet's a myth here although you do get networks for BSNL, Vodafone and Airtel (sometimes with difficulty). Most locals themselves own two different SIM cards to stay connected. I would advise people traveling here for more than a few days to get a local SIM card. The Cellular Jail is a beautiful spot to visit and is pretty close to the city. 'The Light & Sound Show' held here multiple times a day is an interesting theatrical display of the colonial history of the otherwise known as 'kala paani jail.' Not far from the jail is a beach called Carbyn Cove beach which is flocked by tourists and locals alike. Jet Skis and Banana boat rides are the people magnets here.
Havelock Island is quite easily accessible from Port Blair. Ferries leave from Port Blair almost every day and vice versa. There are both private and government ferries. You usually pay half the price when you travel on a government ferries but it comes at a cost. These ferries follow a stringent schedule which definitely needs to crawl into your trip planning. You have to stand in lines for tickets of these ferries, available sometimes 1-2 days or a few hours prior to the vessel's departure. Locals are given preference over visitors (Indians or foreign nationals likewise) thus leaving only a few seats for budget travelers. These bookings require Xeroxes of your ID cards so I suggest that people open to opting for this option should carry multiple copies of their ID cards just to save that repetitive trip to the printing shops. Havelock indeed is a beautiful place to be. There are three most popular beaches on this lush, green island: Elephant Beach, Radhanagar Beach and Kala Patthar Beach; Radhanagar is a popular sunset spot and Kala Patthar is known for its beautiful sunrise. I strongly recommend renting Activas/motorbikes while staying in Havelock. For an authentic, indigenous sea food experience, do visit the 'Squid Restaurant' (I suggest overlooking the ambiance). 'Something Different' and 'Full Moon Café' are two other good beach side restaurants to hang out at. The beach behind 'Full Moon Cafe' is a beauty on its own: white sand pristine beach, uniquely ankle deep, clear water up to 500-1000 m off the shore. Vegetarian food is also readily available at most eateries. Havelock is also a known niche of many SSI and Padi certified Scuba diving schools all over the island. Some popular ones are ScubaLove and DiveIndia. Snorkeling, Island hopping, sea walking (Elephant beach), night-kayaking are other attractions. Internet is non-existent here and only 2-3 cafes on the whole island offer Wifi which at most times is out of order. We found functioning Wifi in a small place called 'Golden Spoon Restaurant,' across the road from 'Squid Restaurant.'
Neil Island is a smaller island than Havelock with coral beaches like Ramnagar beach and Bharatpur beach. It doesn't have much to see and can be easily explored in a day. Smaller number of ferries (including private ships) leave from Neil to various places like Port Blair, Havelock and Rangat and thus your trip to Neil should be planned diligently around the schedule of these boats. Government ferries' tickets are available by the same rules (as above) here as well.
Not far from Port Blair are the two coral islands of Andaman: North Bay and Jolly Buoy Island. Both are popular spots for scuba, snorkeling and sea walking. Speedboats usually leave from Port Blair taking you to these islands for a day and get you back to base in the evening.
A one day excursion can also be taken to see the beautiful Limestone caves in Baratang and be back to Port Blair by evening. The trip can be 3-4 hours long one way or 6-7 hours depending on whether you take a speedboat or travel by road (cheaper). Parrot Island is another attraction in Baratang. Baratang is somewhat midway between South Andaman (Port Blair) & North Andaman (Rangat, Diglipur). An alternate road trip maybe planned where you leave from Port Blair early morning, see the caves in Baratang by mid-day and reach Rangat by night to rest. Staying the night at Baratang is not an option due to very limited availability of accommodation. I must mention here an information of extreme importance. The 12 hour road travel from the South Andaman to North Andaman goes through the habitat of the Andaman native-Jarwa tribes. Twice during the trip, you pass directly through the jungles where the Jarwas live. These two places have intense regulations where only a convoy of cars & buses are allowed to pass through these areas thrice during the day from each side and at pre-specified time. Gun bearing police personnel also ride the buses and cars for our security from these tribes. The leaving time of these convoys from each side must factor into your planning. Locals (including hired drivers) are well versed with these regulations and thus can help you reach your destination in time. Private taxis/cabs, government and private buses are the available to take you to North Andaman but need advanced booking. I suggest you avail the option of private cabs if you don't mind shelling some extra money because the roads are bumpy and buses stop too often for your comfort. Diglipur marks the northern end of Andaman. It attracts people from all over the world for witnessing turtle nesting on its Kalipur beach (30 minutes from Dilglipur). The nesting season begins in November and goes up till late March. You get the opportunity to see mother turtles coming in huge numbers to lay eggs on the beach and baby turtles being released into the water after hatching. Not far from the Diglipur are the magnificent Ross & Smith Islands. These two islands are connected by a narrow strip of land over the sea. It is a sight to behold. You can take a speedboat from the jetty/port of Diglipur and tour these islands in a 2-3 hours during the day. This can be booked in advance or the same day before 2 pm at the jetty. Speedboats also leave from Port Blair for a day trip to these islands.
Andaman & Nicobar Islands is a spectacular travel destination with innumerable unique attractions. But, this Indian union territory follows some stringent rules for travel due to inter-island transport affected commonly by weather changes and storms and indigenous unhumanised tribes. If you like to plan your own trips, I strongly recommend that you plan each day meticulously with a local's consult. Otherwise, dig a deeper hole in your pocket and go for pre-planned itineraries by local travel companies to get the best and most of your trip.