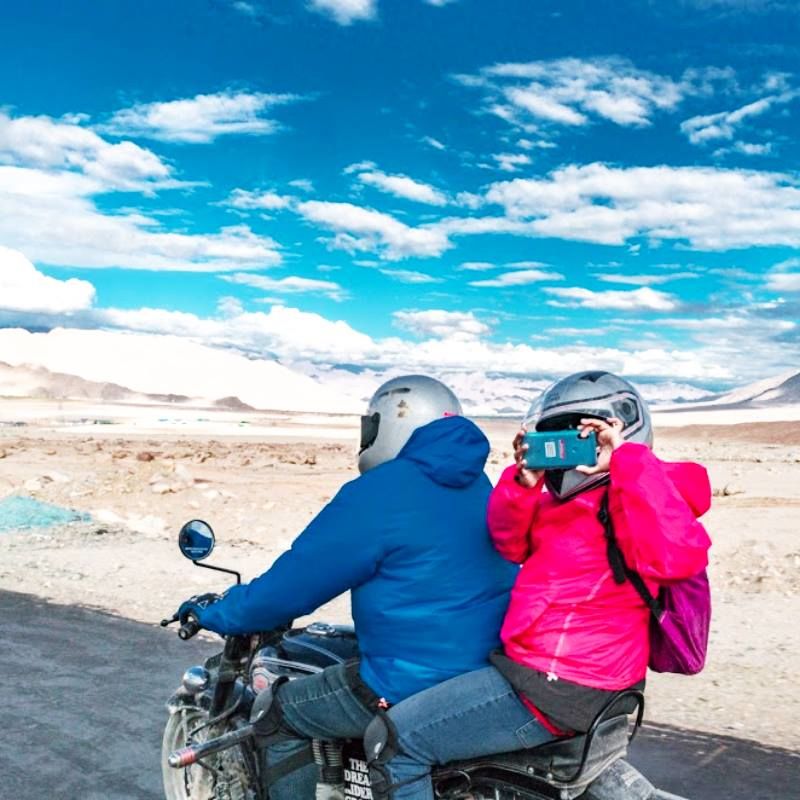 When you plan to explore a place like Leh Ladakh on your bike, your packing can never be the similar one that it would be in case of a short tenured vacation to any hill station. Leh Ladakh is an area which is quite popular for its tough weather and challenging routes; a place where even the basic facilities like mobile connectivity, ATM, fuel stations, hotels and eateries are rarely found. If you are planning to visit Leh Ladakh on bike, your packing has to be very limited and concise, so that you do not miss an important thing, and not even burden yourself with a lot of bags. In short, whatever you carry during this trip should be important and essential as well.
There is no doubt that everyone will do their packing in a different way, as priorities vary. It is very sure that what a lady would pack, it will surely be different that what a guy would pack. Your important items in case of a family trip would not be the same as on a solo trip. Whatever you will pack for a bike tour will be absolutely different than if you flying to Leh. With that being said; there are still few things that remain applicable in every case; some general items which you need to carry for sure. In this piece of writing, we have listed down some of the things to carry on your Leh Ladakh bike tour; irrespective of your mode of travel.
Ladakh Checklist: Important Things to carry for Ladakh Trip
We have listed down some items in categories ad then name a few in every category.
1. Clothing: What type or kind of clothes to wear in Ladakh are the most asked questions, so we will start with this question. Your clothing for Ladakh has to be carried in layers, so it is important that you don't pack all heavy clothes which are way too tight. In Ladakh you can't predict the weather, whenever you will stand in shade you will feel cold, but as soon as you start walking, you will feel hot then. Temperature may vary according to where you are and at what particular time. So, you need to carry your clothes n such a way that you can put extra layers i you want and if you are feeling hot you can take those layers off.
2. Accessories: After clothes, below are some accessories which you need to carry along with you:
- Sunglasses: You not only have your protect your body, but you have to protect your eyes too. Carry some good sunglasses, so that your eyes will not get stressed easily due to ultra violet rays at high altitude.
- Gloves: Woollen gloves are not doubt a good idea, but it can be great i you can find a waterproof one.
3. Sundries: After clothes and some accessories, below are some daily use items that you must add during your packing.
- Cold cream/ Moisturizer/ Lip balm: You were planning to visit and explore one of the coldest regions of the country. So, carry a good moisturizer or lip balm and use it on regular basis to prevent your lips and skin from getting cracked.
- Mustard Oil: This is the best thing one could ever carry to their trip to Leh. You can apply it to your scalp, your body and your face as well.
4. Eatables: Carry some dry fruits along with you. Things like biscuits and chips are available in various routes of Ladakh, so it is not mandatory to pack them all. If you are strict vegetarian and do not want t o eat in those non-vegetarian utensils also, then carry some disposable plates and spoons.
5. Electronics
- You have to carry chargers of all electronic devices which you taking along with you.
- Extra battery for your DSLR or camera, if you love photography.
- Power bank
6. Documents: You have to carry one of your identity card which is issued by the government, may be driving license, passport, Aadhaar card or anything. Make sure that you have carried the original documents as well as some photocopies of it.
- Take the hard copy of your itinerary.
- Extra copies of flight tickets if you are travelling by flight.
- Write down your emergency contact numbers and take it along with you.
- Various copies of your inner line permit once you have procured it in Leh.
7. Medicines: Diamox generally works as a precautionary measure for mountain sickness, but be very sure that you are not allergic to sulphur medicines. If you are unsure about this issue, than consult a doctor. Even carry some other medicines for stomach, headache, cold, fever and cough. If it is possible, we even recommend you to carry a pack of glucose.
8. Cash: In Leh Ladakh, ATM is a thing which is rarely found. From the Manali side, you will not find any ATM after Manali and on Srinagar route, the single TAM which is available is at Kargil. Sometimes, you will find ATM, but availability o cash is questionable here. So, to enjoy a hassle-free experience, carry enough cash atleast to meet your basic requirements.
9. Other Items: For other items which are very helpful during your journey:
- Torch which can be rechargeable.
- An extension cord can be beneficial if you have multiple devices to charge.
- Spare key for your vehicle, amd make sure that you don't pack it in your bag. As because if you get locked out of the car, then it will be completely useless.
- Safety Pins
- A notepad and a pen.
- Dettol
- Bandage
- Nasal drops
- Cup Noodles
- Tea bags or coffee pouches.
We hope, the information which we have mentioned above was helpful for you. If you have any other queries, feel free to ask us in the comment section below.
Frequent Searches Leading To This Page:-
Best Tour Packages for Ladakh, Ladakh Tour Package for Couple, Best Travel Packages for Ladakh, Best Ladakh Trip Packages, Things to do in Ladakh, Top Ladakh Tour Packages For Family, Ladakh Tour Package for Couple from Delhi