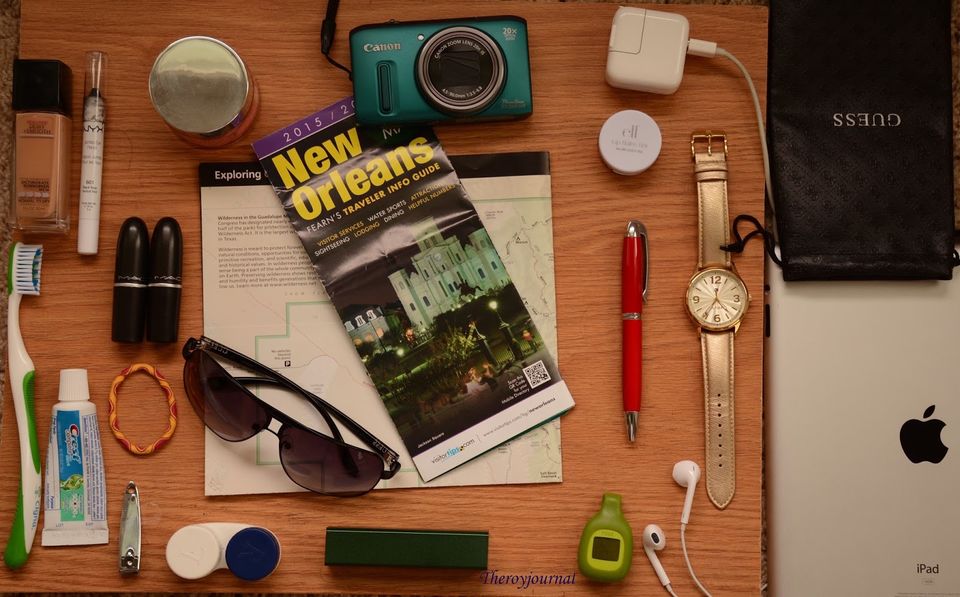 Nothing feels better than packing bags for your next travel and I have already started to pack for my next trip. weeeeeeee, I am super excited.
With all the shopping and packing, I came up with this idea of writing a post about the Travel essentials. There are so many details that we don't really want to forget and there are so many times we overpack therefore, thought of jotting down a few essentials here.
1. Prior to visiting a place make sure to research a little on the hotspots and 'things to do' of your destination. Reading travel blogs turn out really helpful. Official websites of that particular place also contain lots of infos about the city tours, day passes and cheap tickets. If you have limited data plan in your cell phone you can download city maps beforehand from Trip Advisor or similar other websites. Sometimes the hotels you are staying in, also provides discount coupons which can help save a lot of money.
2.Travel documents: Don't forget your passport if you are on an international trip. Even if you are on a short trip take your driving license or something that has your ID on. I have come across many bars and restaurants that ask for IDs.
3. Travel journal/ diary: I always prefer to keep a diary with me to gather a few of my experiences during the travel. Later all these collect up on my blog posts. You can also use your smartphones "notes" to jot down anything you feel important, but sometimes paper backup is good incase the battery of your phone dies out.
4.Clothing: Always try packing light weight clothes. Keep it stylish but simple. Pack something which can be worn all throughout the day.
Don't forget to take comfys or night-wears.
Sunglasses are an obvious need if you traveling in the summers.
For shoes, I prefer flats, cause you know city tours involve a lot of walking. I normally switch between Converse and Nike. Trust me, your feet will thank you later.
Check the weather before you head out for your destination. I have a little 'learnt from my past mistake' story. I packed only summer clothes for our New Orleans trip but the temperature dropped down a few notches in the morning and I had to buy a cardigan from the nearby Sears. Pack a few layers/ cardigans accordingly.
5:Electronic goods: No one really leaves their cell phones back at home while they travel, still thought of mentioning it. Collect all good songs you have heard of and you'l never experience long boring flights. I have innumerable games installed in my iPad, which I prefer to carry everywhere. Make sure you don't forget the chargers. Oh yes, and the camera. You definitely need to gather memories through your pictures.
One thing I never forget is my Fit-bit, the step counts are my incentive to walk more.
6.Toiletries: You will definitely need body-wash, shampoos and conditioner to wash off all the travel grime. Although you are provided with one in your hotel stay, carry one if you prefer specific brands. My oh-so-sensitive skin betrays me every time there's a slight routine change. I prefer my own moisturizer and my make-up products.
For lens wearers make sure you never forget your lens box and the solution. Do bring an extra pair of glasses in your carry-on.
Never forget your sunscreen if you are on a summer gateway.
7.Medicines: Your first-aid kit might come in handy and also pop in some pain-killers in your bag or any other medicines you find it useful for yourself.
8.Money:I have come across many restaurants and bars that prefer cash over plastic. So, be on the safe side. Make sure you have enough cash for your trip.
Safe Trip people!! :)
This post was originally published on 'The Roy journal.'.