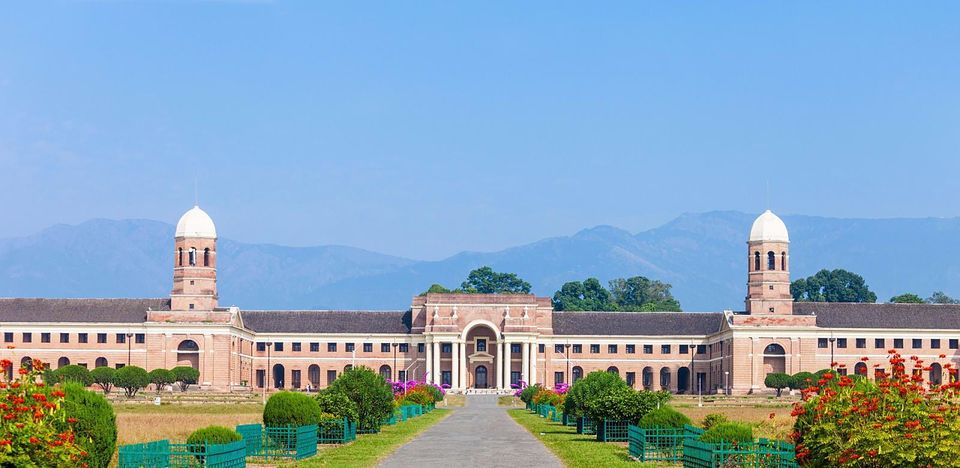 Dehradun, located in beautiful Doon Valley in foothills of the Himalaya, is the capital city of Uttarakhand, providing a gateway to some of the well-known travel stations of India, including Mussoorie, Nainital, Rishikesh, and Haridwar.Dehradun is very popular among tourists and travelers for its pleasant climate. This city is bordered by two holy rivers of India - The Ganga and the Yamuna.During rainy days, this beautiful valley enjoys very heavy rains and during winters the climate becomes ice cold. During summers, the climate stays normal.Being a suitable destination to visit throughout the year, this city has become a preferred destination for all kind of tourists like family, couples, foreigners, group travels, corporate holidays and travelers including solo travelers like me :)Being a part of the Princely Garhwal State the local customs of the Garhwali people have influenced the culture in the city.
You can enjoy the local beauty at any time of the day. But in order to enjoy all the sight-seeing destinations in Dehradun, you must stay for 3-4 days.
I prefer capturing my travel photographs on my cellphone. Unfortunately, I lost it in my travel and with that lost almost all the images. Some are here, which I was able to save, as had shared with friends.Here, are the top 21 must-visit places in Dehradun, with some other local attractions.

If you are planning your trip, then you must visit these places in Dehradun.
1. Sahastradhara, Dehradun:
Sahastra Dhara, the name means - Thousand Fold Spring; got its name due to the waterfalls it has along with the water dripping from limestone stalactites in the caves and its waterfalls.Being, comprised of waterfalls, caves, and steppe farming lands and Baldi River, it provides a totally marvelous and rejuvenating experience to tourists.
2. Tiger Falls, Dehradun:
Tiger Falls, situated amidst a picturesque setting of dense forests at the foothills of the Himalayas, this 50 meters high waterfalls is located 1400 meters above sea level.The pond created by fall makes a wonderful picnic destination for an outing with friends and family.
3. Robber's Cave, Dehradun:
Locally known as Gucchupani, Robbers cave is a 600 meters long river cave. According to the local story, during the British Era, the robbers used to hide in these caves after loot, hence owing its present name - Robber's Cave.Dehradun.
4. Tapovan:
Tapovan, according to the Hindu epic Mahabharata, is the place where Guru Dronacharya performed his penance. The place is located on the banks of the River Ganges. It is considered to be a major pilgrim spot. It is also known for its amazing meadows known as Nandavan which are trekked by various pilgrims and trekkers.
5. Mindrolling Monastery:
Founded in 1965, this re-established facility of the original Mindrolling Monastery and was established by Khochhen Rinpoche. It is located in Clement Town area of Dehradun and is locally known as Tibetan Monastery. Originally it was established in 1676, by Rigzin Tendak Lingpa.

6. Tapkeshawar Temple:
Tapkeshawar Mahadev Temple, located at the banks of the Nandi River, is considered to be the oldest Shiva temple in Uttarakhand.The Temple is located within a cave which is characterized by naturally dripping water over the Shiva lingam placed here. The dripping water is the reason behind the name of this temple.

7. Sai Durbar Temple:
Sai Durbar Temple, located at a distance of around 8 km from the Clock Tower, is situated on the Rajpur Road. Built with marble stones, the chief idol is established in the core of this temple. The interiors of this temple are adorned with several beautiful paintings, which are made using different colors.
8. Laxman Siddh Temple:
Laxman Siddh Temple, located at a distance of 12 km from Dehradun, is known for its scenic beauty. This temple is the cremation site of the Saint-Swami Laxman Siddh, which is visited by a large number of tourists every year.According to a popular belief, it is said that the temple is constructed in the same place where Laxman underwent repentance for killing the demon king Ravana.

9. Rajaji National Park:
Rajaji National Park; spread over a massive 820 sq kilometers of land, it falls in a region shared by 3 districts, Dehradun, Haridwar, and Pauri Garhwal. The reserve consists of subtropical and tropical moist broadleaf forests that house a plethora of wildlife, birds and fish species.It is also a major habitat of the Asian elephant and the Bengal Tiger in India.
10. Forest Research Institute:
The Forest Research Institute, established in 1906, as the British Imperial Forestry Service; is a premier research institute.Spread over an area of around 2000 acres, the institute contains a museum for forestry with six main sections that are Pathology Museum, Social Forestry Museum, Silviculture Museum, Timber Museum, Non-Wood Forest Products Museum, and Entomology Museum.
11. Lachhiwala Forests:
The verdant forests of Lachhiwala lie along the Haridwar-Rishikesh Road at a distance of just 17 km from Dehradun and 30 minutes drive from Haridwar. Being an important picnic spot, people come here along with family and friends to spend some quality time, away from the frenetic rat race of the city life.
12. Mall Road:
Mall Road in Dehradun is one of the busiest shopping centers and is located in the heart of the city. It is a perfect place to talk a walk with your loved ones.Shopping at Mall Road can be a memorable experience for the whole family. It is a one-stop place for shoppers and exhibits a wide range of products such as electronics items, ornaments, second-hand books, handicrafts, and readymade garments.
13. Clock Tower:
Clock Tower, located on the Rajpur road, is one of the most prominent attractions of the destination. Encircled by the commercial center of the city, the Clock Tower is one of the most renowned landmarks of the city that was constructed before independence by the British.

14. Indian Military Academy:
Indian Military Academy, located in Dehradun, became functional from 1st October 1932. It is situated at a distance of around 8 km from the main city, on Dehradun-Chakrata Road. Initially, it started with a batch of 40 Cadets. The first commandant of this academy was Brigadier L.P. Collins.
15. Malsi Deer Park:
Malsi Deer Park, located at a distance of 10 km from Dehradun, is one of the major tourist attractions in the city. Situated on the foothills of the Shivalik mountain range, this park is a Zoological Garden.Apart from Deers, tourists visiting the park can also spot beautiful peacocks. In addition, this reservoir is home to Nilgai, which is also known as Antelope.

16. Paltan Bazaar:
Looking for local stuff, Paltan Bazaar is here for you. It is the main local market in Dehra Dun, is permanently filled with the fragrances of Basmati rice and spices, for which it is well known.You can find woolen garments are made by the local tribes in the market. Among the woolen garments abundantly available in the bazaar are sweaters, cardigans, and shawls woven by the Nepalese women. The market is also famous for woolen carpets.Products made of bamboo and cane are some of the other attractions in the market.Local paintings, brass statues, gift items, and ornaments are also available in the market.

17. Sri Ram Rai Gurudwara:
Sri Ram Rai Gurudwara, constructed in early 17th century, established by Guru Sri Ram Rai Ji, the 7th Sikh Guru, is one of the oldest gurudwaras in this valley.It is said that Guru Ram Rai was cast away for becoming a Sikh Guru and was forced to leave his native place. After being moved out from his home town, he settled in Dehradun, where he constructed this famous gurudwara.
18. Chandrabani:
Chandrabani is located at a distance of around 7 km from Dehradun. This temple is also the site of the popular Gautam Kund, where devotees take a dip in the holy water.According to ancient mythology, it is believed that the place was the resident of Maharishi Gautam, his wife Anjani, and his daughter. In addition, it is also believed by many that Chandrabani is the spot where the daughter of heaven, Maa Ganga, manifested herself.
19. Asan Barrage Water Sports Resort:
Developed by the Garhwal Mandal Vikas Nigam at the Asan barrage, the water sports facility was opened in 1994. The Asan Barrage Water Sports Resort is located at the Dhalipur Lake. It offers various types of water sports facilities like boating, kayaking, and canoeing. This place is also known as a shutterbug's delight for its various migratory birds.
20. Wadia Institute of Himalayan Geology:
Previously known as the Institute of Himalayan Geology, the facility is one of the best centers of Himalayan Geology in the country. The best attraction here is the museum that displays the diverse geographic locations of India and visitors often get to know a few stunning facts about the geology of different regions in India.
21. Other Places:
Chetwoode Hall, Jwalaji Temple (Benog Hill), Lakha Mandal Temple, Santala Devi TempleHow To Reach DehradunWant to know how to go to Dehradun? There are a lot of options for sightseeing in Dehradun. Hotels in Dehradun are also quite easy to find, the pre-booking facility is available for most hotels in this place and you should book in advance as it is a popular sightseeing spot.
Post By -Alok Upadhayay
Frequent Searches Leading To This Page:-
places to visit in dehradun for couples, tourist places near dehradun within 100 kms, places to visit in uttarakhand, places to visit in raipur dehradun, places to visit in mussoorie