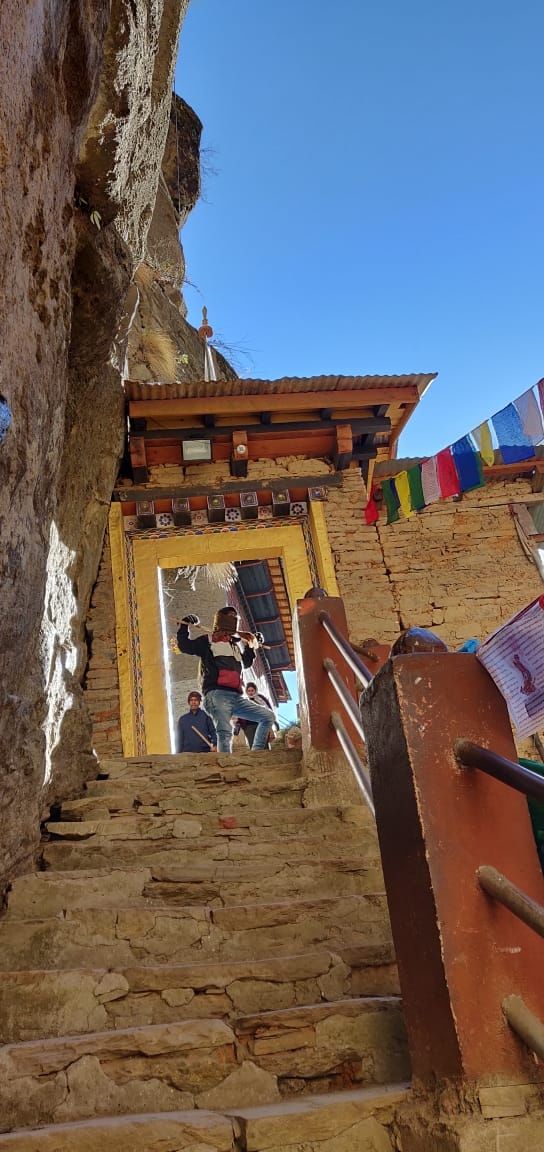 Arrived New Jalpaiguri Railway Station from Delhi. (Dont believe on trains as they run usually late on this route my train was 8 hr delayed. or you can choose Rajdhani or durranto Express)
Station – Phuentsholing
It took me 5 hr drive from Jalpaiguri, you will see tea garden in mid way to Bhutan. Jaigaon is the last Indian territory and share border of Bhutan.
Phuentsholing - The Gateway of Bhutan by Road from India. Phuentsholing is a thriving commercial center on the northern edge of the Indian Plains.
Overnight at phuentsholing.
Hotel I checked In : Raven Lodge
Had lunch in midway outside Siliguri
Dinner at Hotel where I stayed as I was tired.
Phuentsholing – Thimphu
After breakfast completed the immigration formalities then started journey to Thimphu (7,710 ft.) the capital city of Bhutan.
During the Road trip to Thimphu you will see range of mountains with beauty, as when I was travelling snowfall was there during my entire route and was looking fantastic,
Mountain started covering with snowflakes and it was a admirable view, as with snow fall there also heavy cold wind. This was the time I enjoyed snowfall for the first time in Bhutan. After clicking some photos and admiration again i resumed my journey to Thimphu.
After check-in my room, I stepped down to enjoy camp-fire in my hotel with some beers and my co-travellor.
Dinner arrangments were done by hotel staff and it was delicious.
Breakfast at hotel as it was complimentary 😋
For Lunch : Midway Near Chukha
Dinner : Again at hotel where I stayed, they provide really good food.
Overnight at Thimphu.
Hotel I checked in Thimpu : Hotel Om Tara
Thimphu Sightseeing
Thimphu the capital of Bhutan is a home of Royal family .
After breakfast visited Tashichhodzong ,the main secretariat building which houses the throne room of His Majesty, the king .
View of the Thimphu valley from BBS Tower is very captivating and will prove to be the perfect introduction to Thimphu.  Some of the sites of religious nature are National Memorial Chorten; built in 1974 it was raised in the memory of third King.
 Next visit one of the oldest monasteries in the valley- Chang Gangkha Monastery.  The nature and wildlife lovers should not miss a visit to National Zoo which also houses national animal takin.   National Library (collections of holy scripts) & in the evening visit Buddha point (Buddha Dordenma)
Breakfast : At hotel (Complimentary )
Lunch : Babesa Village Restaurant (Best in City )
Dinner : At Hotel Om Tara ( Where I Stayed )
Overnight at Thimpu
Thimphu – Punakha / Wangdue Sightseeing
After breakfast headed to Punakha / Wangdue Phodrang (4,300 ft.), via Dochu-La-Pass (10,170 ft.). Dochu-La-Pass has 108 stupas dedicated to victory over Naxalite ) A beautiful View of snow covered mountains.
Continue towards Punakha visit Chimi Lhakhang - The Temple of Fertility built in 15th century.
Also visited Punakha Dzong after arriving Punakha as I was to utilise my day at full.
Evening I  explored city on feet's to see some local culture, and for some shopping.
Breakfast - At Hotel Om Tara (complimentary)
Lunch - escaped 😂 as I was full by snacks and some fruit.
Dinner - Puenshi Dinner
Overnight at Punakha. 
Hotel I checked in - Hotel Kinten
Excursion to Gangtey
After breakfast, drive to Gangtey (9,840 ft.). Gangtey is the home of Black Necked Crane which migrates from the arid plains of Tibet in the north. It is a beautiful valley of Bhutan. You can also visit Gangtey Gompha.
Evening return back to hotel after some rest started exploring town and started hunting for my dinner.
Breakfast - At Hotel (Complementary)
Lunch - at  local farm house (Had some local food arranged by my trip operator)
Dinner - Divine Cafeteria.
Overnight stay at Punakha
Punakha – Paro
After breakfast, drive to Paro
My first point was Ta Dzong, once a fortified lookout tower that is now the National Museum. Then walk down the trail to visit the Rinpung Dzong meaning "fortress of the heap of jewels". Next visit Kichu Lhakhang, the oldest temple in the country. From there we went to the Drugyal Dzong (Bhutan Victory Fort), which was built in 1646 to commemorate Bhutan's victory over Tibetan invaders during the 1600s. On a clear day you can see Mount Jumolhari, Bhutan's second-highest mountain at 7,314meters.
At night there was a program for Bhutan cultural activity followed by our dinner at our extra cost.
 
Breakfast - At Hotel Kinten ( Complimentary)
Lunch - again escaped 😂 due to regular snacks and drinks I was full.
Dinner - Arranged at Hotel
Overnight at Paro.
Hotel I checked in - Hotel Paro.
Paro Sightseeing ( the day for which I came or you can say the main motive to come Bhutan - Tiger Nest track as I planned my whole journey just mainly to visit tiger Nest after seeing it's picture on internet.)
After breakfast hiked to Taktsang (Tiger's Nest) Monastery, which is Bhutan's most famous monastery situated at 3180 meters. Guru Rinpoche (the great spiritual master) is said to have flown on the back of a tigress to meditate in a cave where Taktsang Monastery now stands. The monastery is perched on the edge of a steep cliff, about 900 meters above Paro Valley.
As I was more excited to trek and visit this beautiful monastery. It took me 6 hours for up-down. (You can hire porter till cafeteria or midway then you have to go on your own )
I trekked whole way, the experience of this track is awesome although it is not tough and short Trek but the momentum, air and view were like awesome.
After half of trek its be like hide & seek game as you will see Tiger Nest and the next moment after few steps it will hide and again after some few next step it is visible and the was continued till I was at door step of monastery.
As it was last day of year so I can say,
And yes I finishes 2018 in style and this was the dialogue that I shouted after completing this trek.
Instructions - Keep good UV protected sunglass as sun will Direct on your face once you will on heights.
Suncream to protect from sun tanning
Water bottle and some snacks ( the only food stall at cafeteria which in between the trek )
A stick to support you.
And a camera to capture those beautiful scenery and moments.
After all this I went back to hotel and took some rest as it was new year Eve so I have to be ready.
After some rest and taking full body massage I was ready for party.
For party i enqired some places and at last final for le-meradian ( full to paisa Vasool)
Went for party at 10.30 and come back to hotel at around 02.00.
So I finishes 2018 in style and entered 2019 with bash.
Overnight at hotel
Breakfast - At hotel (complementary)
Lunch - was full on snacks & Fruits & energy
drink.
Dinner - le-Meradian
Overnight stay at Paro.
Paro to Phuentsholing - Bagdogra
Arranged early breakfast after requesting Hotel staff as we have to leave early (06.00 AM)
Headed for Phuentsholing with moments to cheers, and memories that will last forever.
We were tired so whole the way we were sleeping.
After 4.5 hr drive arrived Phuentsholing where we surrendered our visa permit or you can say exit stamps on passport.
Took lunch at cafe in Phuentsholing.
After some rest and Lunch again we started our journey to Bagdogra to catch our flights to Delhi.
Dinner was enjoyed in Delhi.
And that's how we entered in new year.