Whenever it comes to travel Himachal Pradesh is on the top of my travel destinations as it is one of the beautiful state of India which has become popular among foreign tourists also.
So my recent trip to Kalga and Pulga has shown me lifestyle of people in mountains. Me and my friend stayed in Kalga for 3 days at nirvana homestay with a family. It was my first experience of homestay while travelling and it turns out to be a far better option rather than staying at hotels. We gathered information about nearest treks which can be completed within a day and then we get to know about bunbuni pass trek with moderate difficulty level. So we decided to start for it early in morning to make a day completely productive.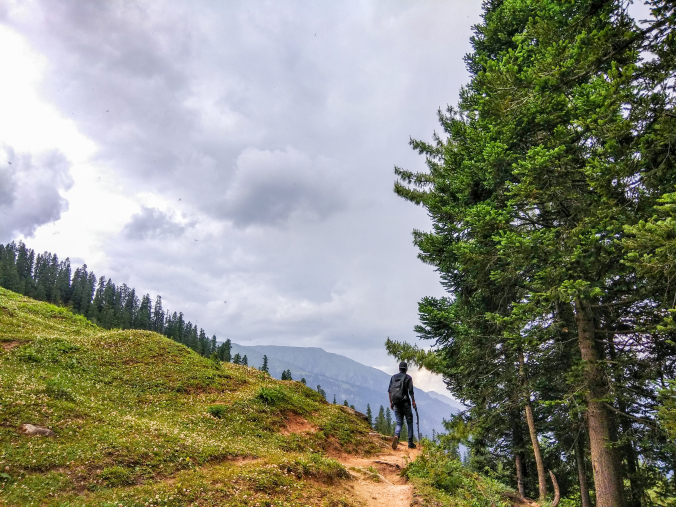 All we had just imaginary information which we got from Ravi and his family as this trek isn't much visited and chances of finding someone is not much but they assured us that we will meet Gujjars feeding their animals and they will help us to reach at our destination. Ravi also warned us that as there are no shops on this trek so it's better to carry all food and water from Kalga only to not face dehydration because of lack of water.
We started our trek at around 6:30 in morning with an excitement and happy faces. After 30 minutes of trekking we realised how difficult this trek is going to be because it was very difficult for us to choose correct path as there are no signs neither trek is made so clear to figure out.
So we followed Ravi's information that do not take any right just need to go left to be on correct path and it really helped us to find ways through meadows and forest.
And then we found second meadow on our trek where we found Gujjars who helped us to trek down easiest path from forests without wasting much time. By this point our trek was completed by 60% and that too within 3 hours.
When gujjars disappeared in forests and then we came up with grassland which was surrounded by lush green mountains with that fresh water flowing in between. We found a family living there who served us food and treated us with warm regards.
After spending 30 minutes we started our journey again with a promise to visit again while coming back.
Throughout the trek we didn't took a single wrong path but at the very last point of trek we were lost and choosed a way difficult and narrow path on which normal person will refuse to go. Somehow with a very conscious mind we followed that path and then joined back to original trek this took extra 30 minutes of us to reach bunbuni.
I was overwhelmed with this beauty which is hidden deep inside this Valley and peaks. I have never seen such green mountains before exploring bun buni. We spent a healthy time here for 3 hours with a family living here.
One thing about people in himachal is that they treat every visitor like it's their own home and this helped us to get more comfortable with them.
And then with more memories we had back to our starting point Kalga village. It took only 3 hours to reach back as we don't have to climb up now all we have to do is to climb down back from one hill to another.
Intresting fact is we were again lost while coming back to kalga and it was so near that we can see our home stay from there but no way to reach there.
But again by making our own paths we reached back to our home stay by 5 pm and now we had a story to tell about this trek.