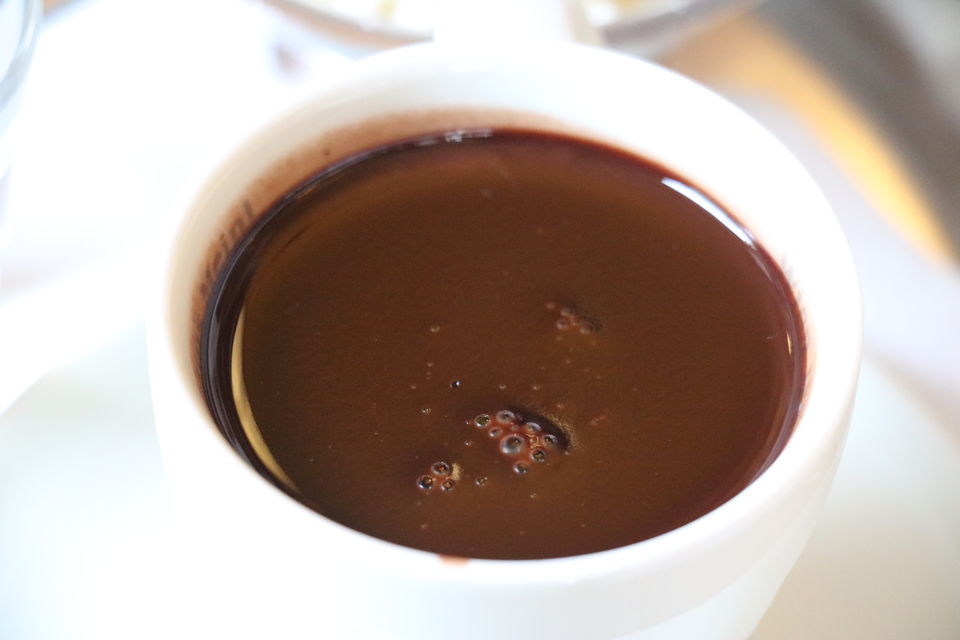 Prague is a walking fairy tale. Even an ordinary building there is so exquisite, it will move you to tears. My favorite memories of Prague are all related to food. To modify Wham's song,
Last Christmas, I gave you my belly
And the very next day I gave you some more..
This year, to save me from tears I wish I could go back and eat some more!
Czech food in winter is heavy as heavy gets, its meaty, creamy, rich but downright delicious. And apart from a few places, is quite pocket friendly too. Here are the most memorable meals I ate in Prague.
Now as a tourist in Prague, there are some touristy experiences you can't escape and eating at the Christmas markets is one of them. Prague Ham at the Old Town square Christmas Market is a scam alright, but a delicious one. The stalls at the market display their rates for 100 grams, but when you go ask them for a portion expecting 100 grams, they chop a relatively larger chunk weighing 500 grams or more and then ask you to pay for it, because they apparently can't cut 100 grams of meat from that monstrous slab. The guys at the stall are well built and quite intimidating, so you wouldn't want to argue with them. So on our first visit to the Christmas Market, we fell for this scam and spent a fortune for that chunk of meat. They serve it with some cold bread and although the meat is grilled to perfection, it is not enough to qualify as a meal. So my advice would be to avoid Old Prague ham and save eat something way more delicious than that.
Next up the trdelník. Can't pronounce it, but this chimney cake is also very famous in Hungary. Its perfect for a cold winter day and all that sugar gives you the much required energy to continue walking and exploring the streets of Prague. Watching it being made is a fascinating experience. I can't find that video, will upload it once I do. This is made by wrapping pastry dough on a stick and then roasting it on the grill. The process will remind you of Chandler and Joey playing Foosball in F.R.I.E.N.D.S. It is then dusted with powdered sugar and you can eat it warm just like that or with toppings like fresh cream, nutella or if you are up for it then with chilled gelato as well.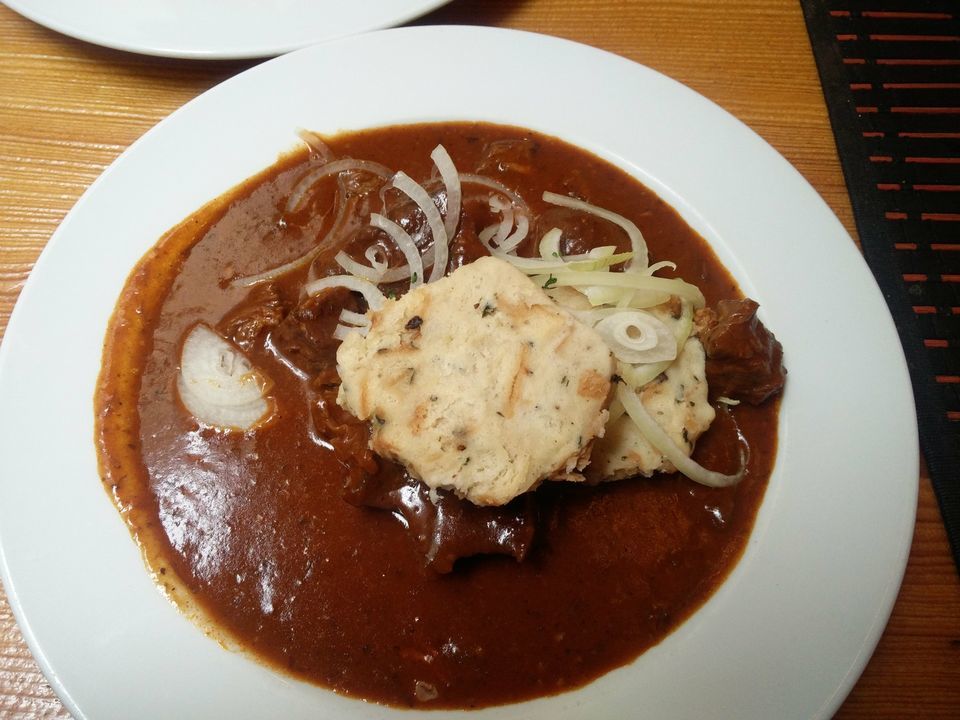 The Guláš or Goulash originated in Hungary but I prefer the Czech Guláš. The proportion of meat is higher in the Czech version and the brown gravy just hits the spot. That topping of raw onion appeals to our Indian palette . Most gravy dishes in Prague were accompanied with these dumplings which were really soft and pillowy and neutral tasting. It was just perfect to mop up all that delicious gravy.
If I ever go back to Prague, there are three places I will revisit come what may and Lokal definitely is on that list. Now Lokal is essentially a pub and they have 3 or 4 outposts in Prague. Beer Drinking is almost the national sports of Czech Republic and the beer at Lokal is super fresh.
Smažený sýr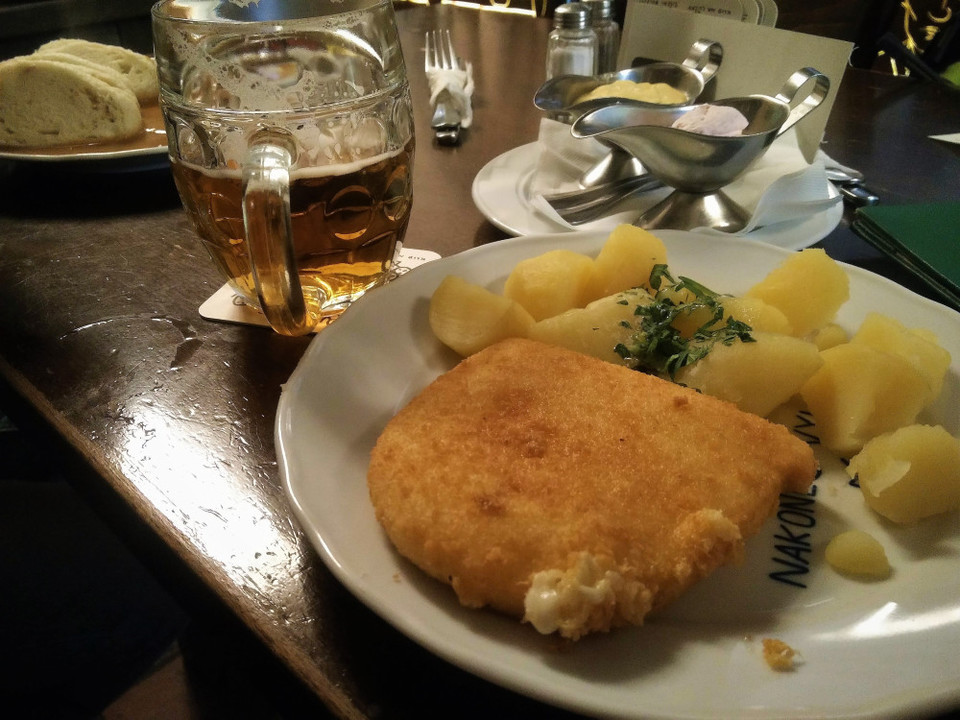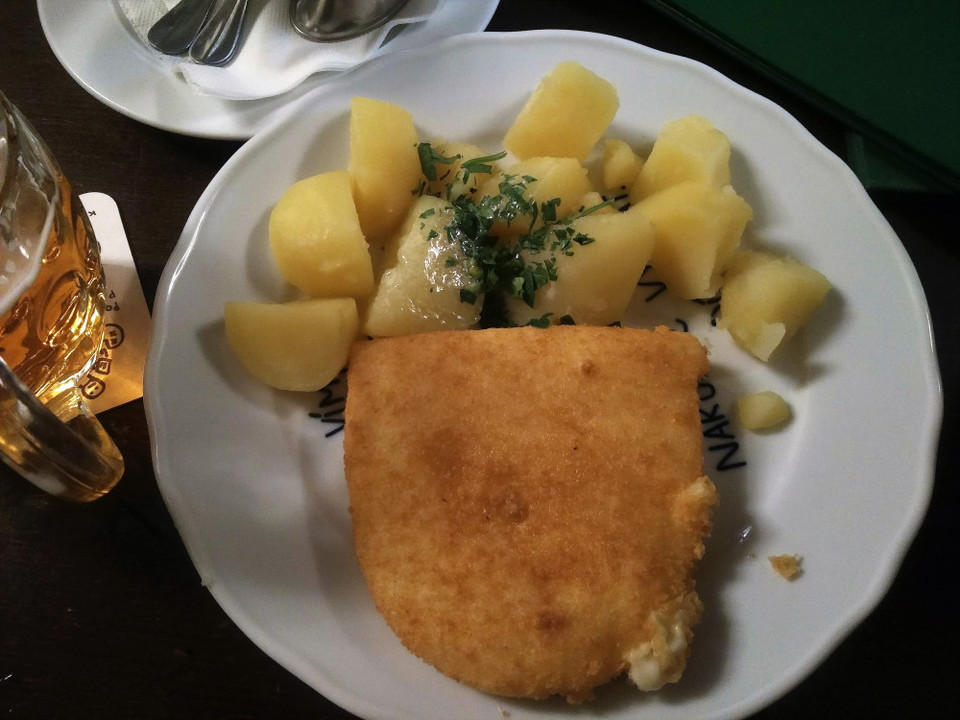 Smažený sýr or Fried Cheese takes you straight to cheese heaven. I can't stop drooling as I type. This 6 weeks ripened fried cheese with tartare sauce oozy, gooey, creamy, downright delicious and life affirming all at once. If you are vegetarian in Prague, then Smažený sýr is your messiah.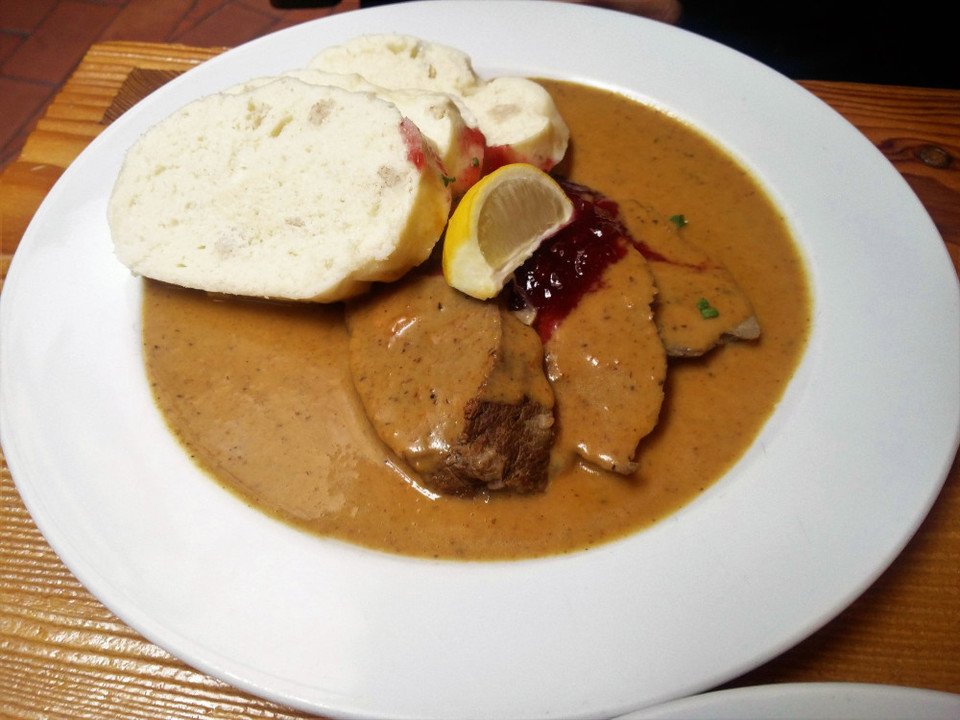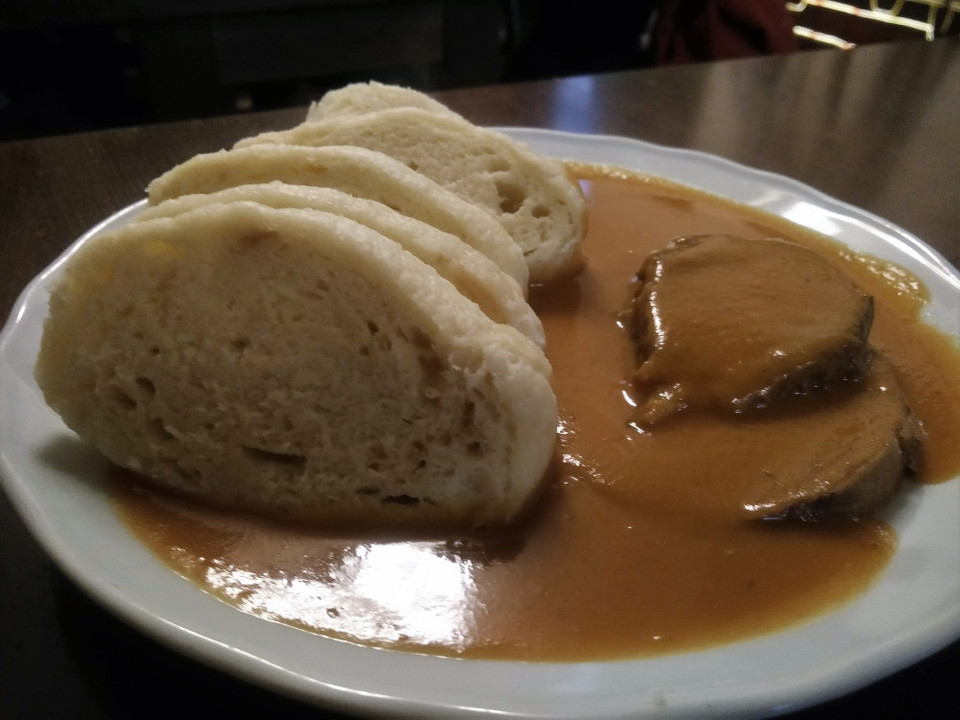 Svíčková na smetaně or Beef Sirloin in Cream sauce sounds absurd on paper but when you eat it, all the elements come together cohesively. An essential winter time dish, this consists of a Sirloin served with bread dumplings and a cranberry jam/compote. Meat, bread and jam, a strange combination isn't it? In the picture above, on the left we have the tartare sauce to be eaten with the fried cheese and on the right is the cranberry cream which is served as an accompaniment to the Beef. When the richness of the cream meets the tang of the cranberries and the acidity of the lime, I swear it creates an edible symphony. I still can't believe I ate jam and meat, but I did, and am floored by the complexity of its flavors. This could perhaps be the national winter dish of the Czech republic.
We had an interesting meal at this rather noisy old school tavern called Pivovar U Fleků. Pivo is beer in Czech and Pivovar is an inn which serves beer. U Fleků is a historic joint with 8 different dining halls and serves traditional Czech dishes and local beer. It is not difficult to be seated here. Tables can be shared, musicians come and sing folk songs in each of the halls, the servers walk around with trays of beer and expect you to have at least one glass. U Fleků radiates an inexhaustible sense of joie de vivre
I tried the U Fleků house special dark lager and totally loved it. For mains we had, Roast pork knuckle with vegetable garnish and Goulash "U Fleků" with bread dumplings. As you can see we were addicted to Goulash and rightfully so. In that freezing cold weather, only a hot comforting bowl of goulash had the ability to soothe our chattering teeth and rickety bones.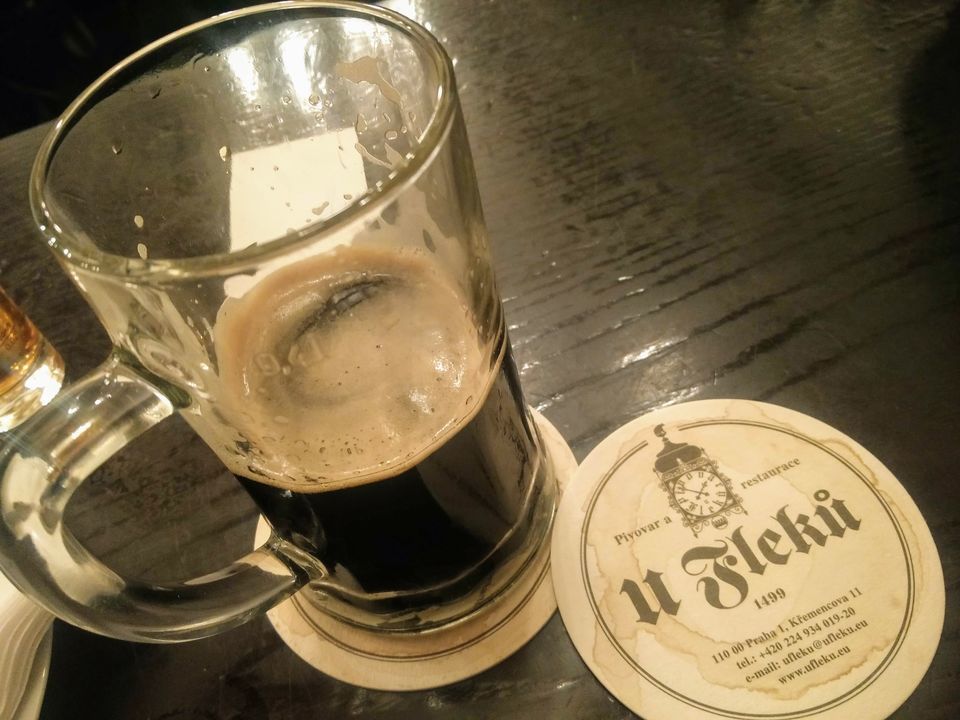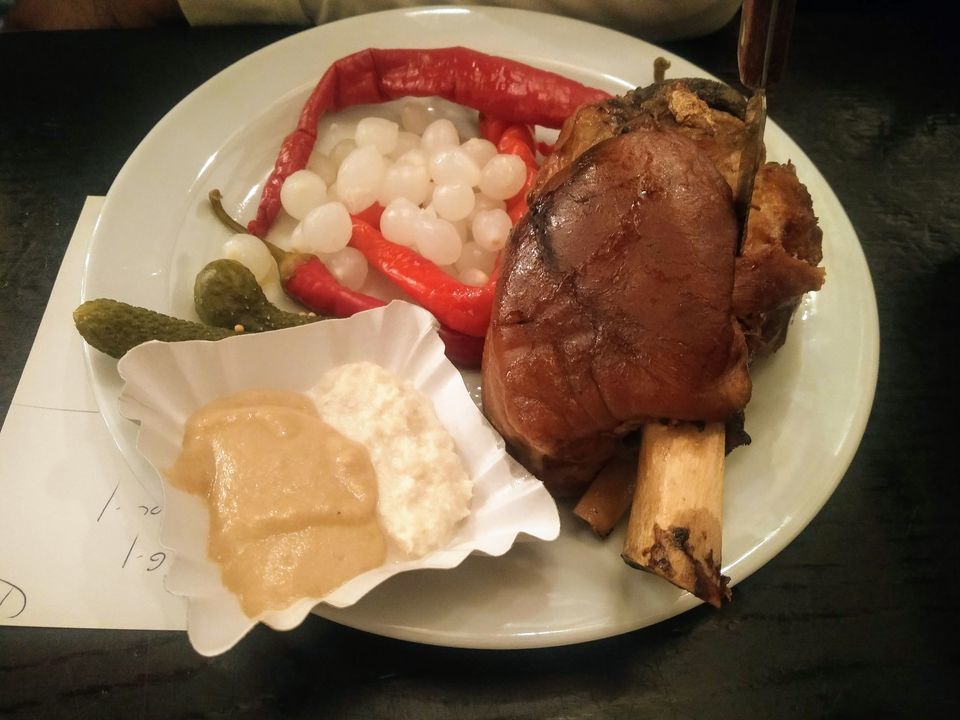 I had the good fortune of having a drink at Hemingway Bar, an enterprise named after Ernest Hemingway. They serve a number of cocktails inspired by the author who loved his drinks. I had a Papa's House Punch. The presentation blew my mind. Specially that candy fish and a little fish net, because this Old man loved the sea! The husband had a Fairy Ale, an absinthe based cocktail.
We also went to this rather upscale place called Bonvivant's. The specialty of this place is that they don't have a set cocktail menu per se. The mixologists/magicians chat up with you, figure what you like and dislike and then come up with a concoction which is downright delicious and to your liking. Their drinks are literally works of drinkable art. I was very fascinated with this place.
The doors of the Café Louvre first opened in 1902 and it is rightly called the crowning jewel of Prague's Cafes. It was frequented by Franz Kafka and Albert Einsten. The husband actually asked the staff, which table Kakfa would sit on and the staff courteously pointed at a particular table too. Now who would bell the cat and tell the poor guy that this place has been renovated since and is not the same as it was in Kafka's time! The cafe shut down in 1948, during the Communist regime as it was considered too decadent and then was restored and reopened in 1992. Built in the Art Nouveau style, Cafe Louvre has the prettiest interiors which take you back in time.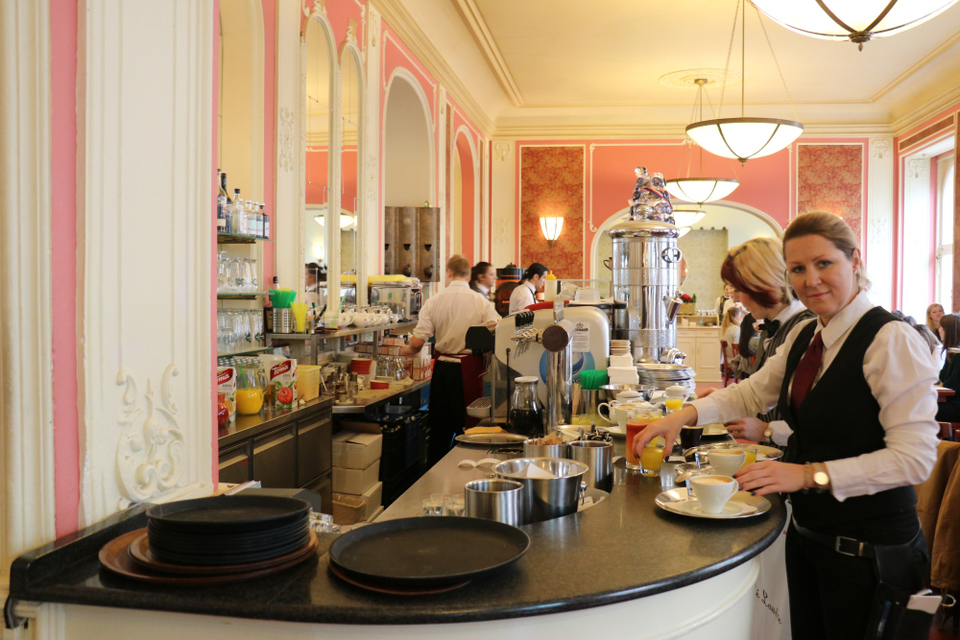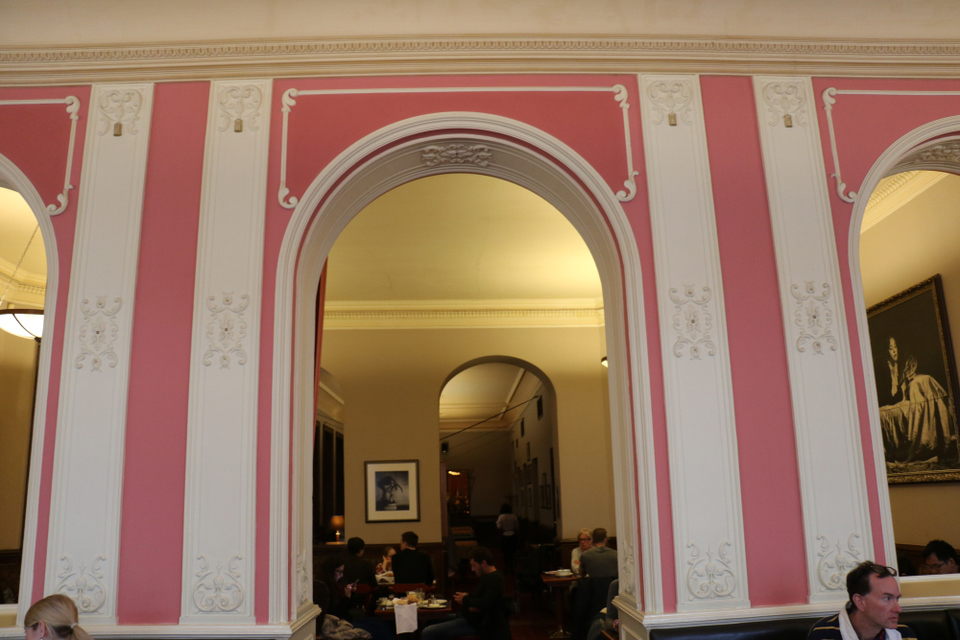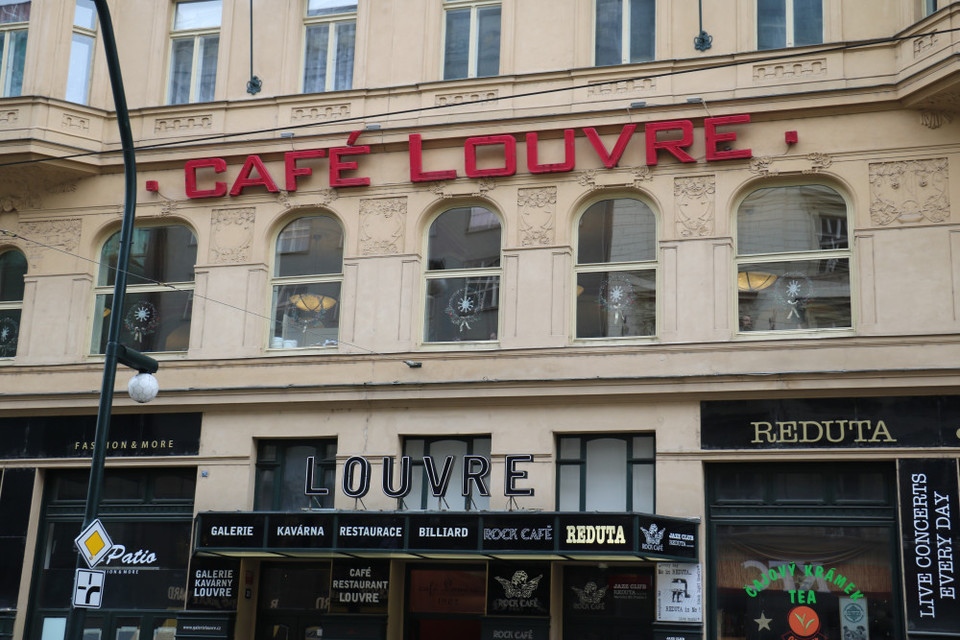 We went twice to Cafe Louvre, once for breakfast and then for dinner after seeing an exquisite ballet at the National Theatre.
Hot chocolate is a deal breaker for me and I have no qualms in saying that Hot Chocolate Louvre is the best hot chocolate in the whole world.
Just look at that beauty. They serve the hot chocolate here with some whipped cream and Soda. Why soda? So that you can cleanse your palette before tasting the most divine concoction in the world. My expression in the picture below will communicate what my words cannot! I literally died and went to heaven.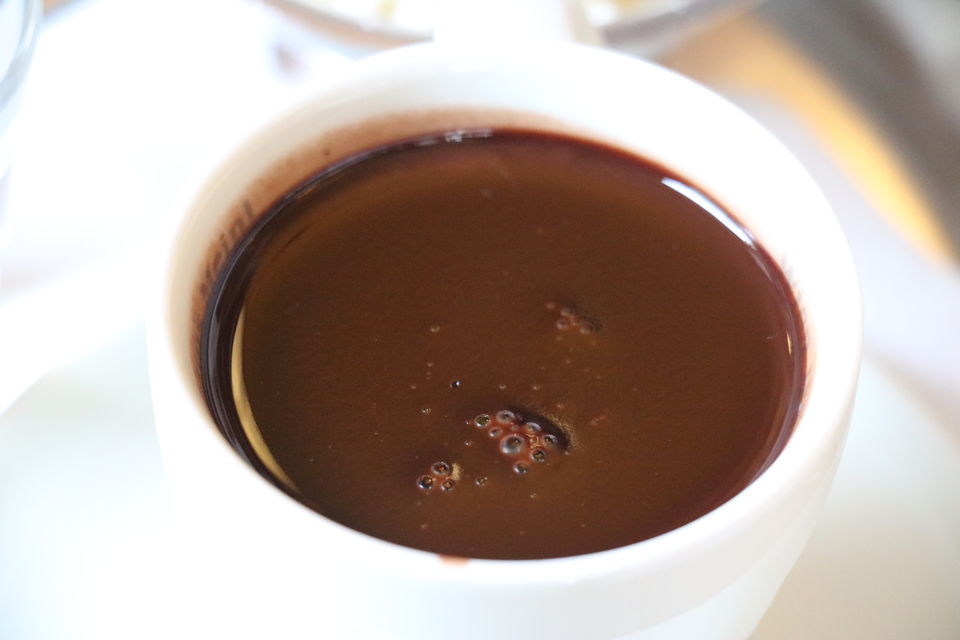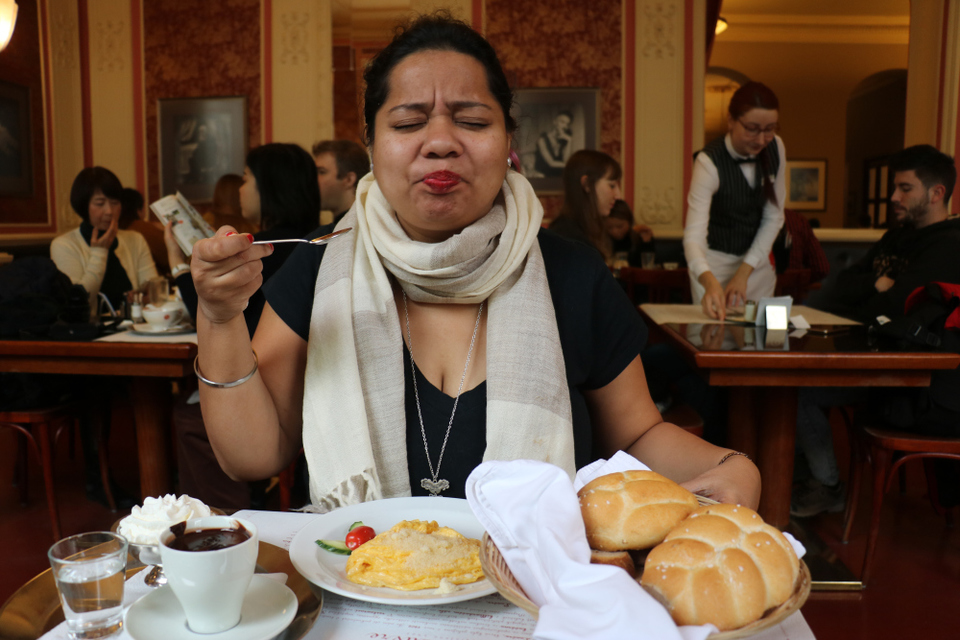 For breakfast we ordered a soft fluffy omelette with cheese and a breakfast beef goulash with onion. Yes Goulash for breakfast too. Clear obsession! Even the bread basket was so delicious and came with different kinds of breads.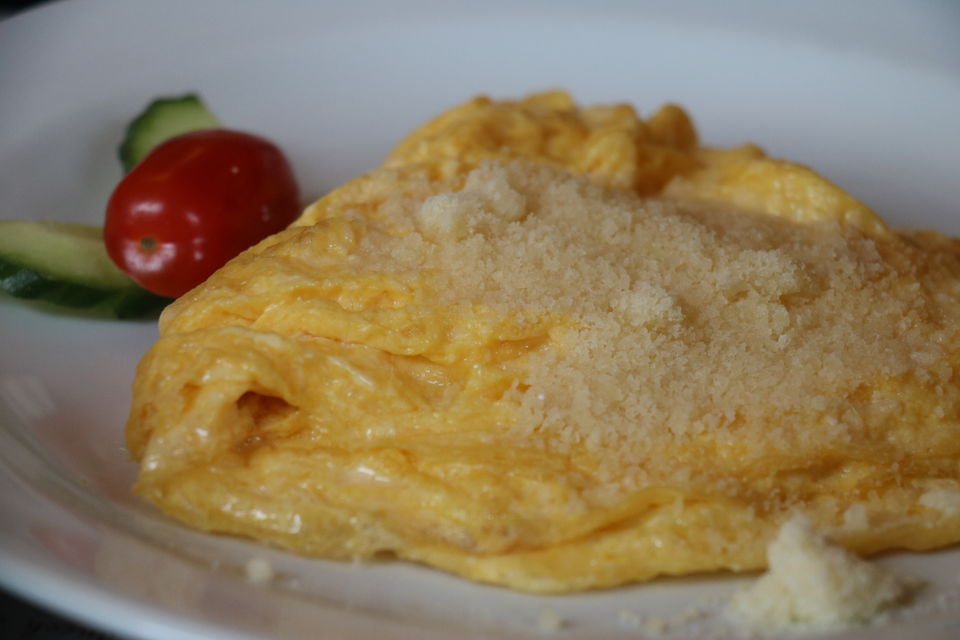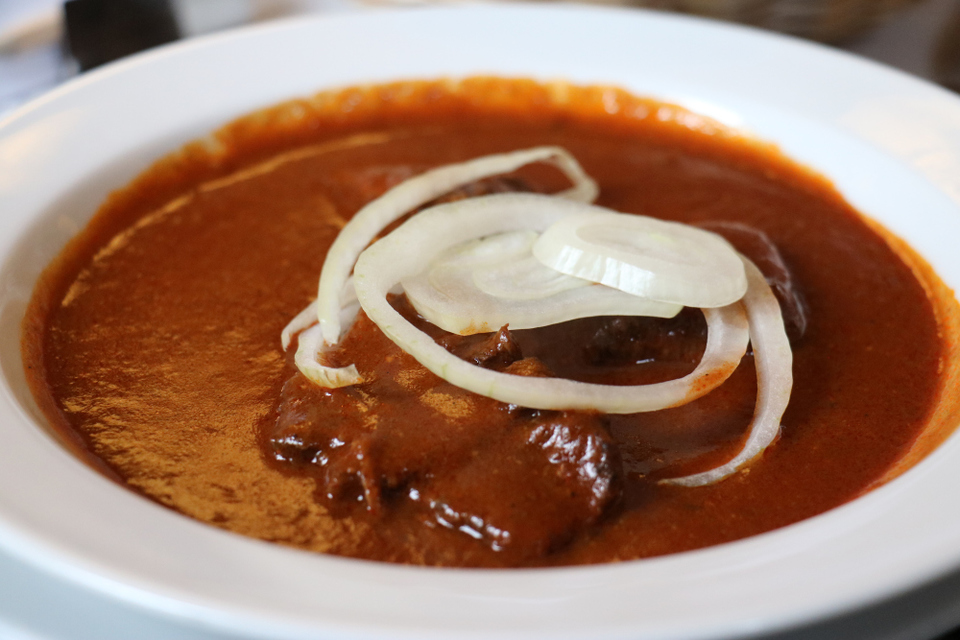 Our last meal in Prague was also at Cafe Louvre. The husband ordered a Hamburger with Bacon, cheddar cheese, chips and coleslaw and I had a Louvre Classic, Fried Turkey Chops with Viennese Potato Salad. No Goulash here! And oh..did I mention the pastries here are top notch? Well they really are. We shared the Classic Sacher and wished in our hearts that the other one eats a little less of it!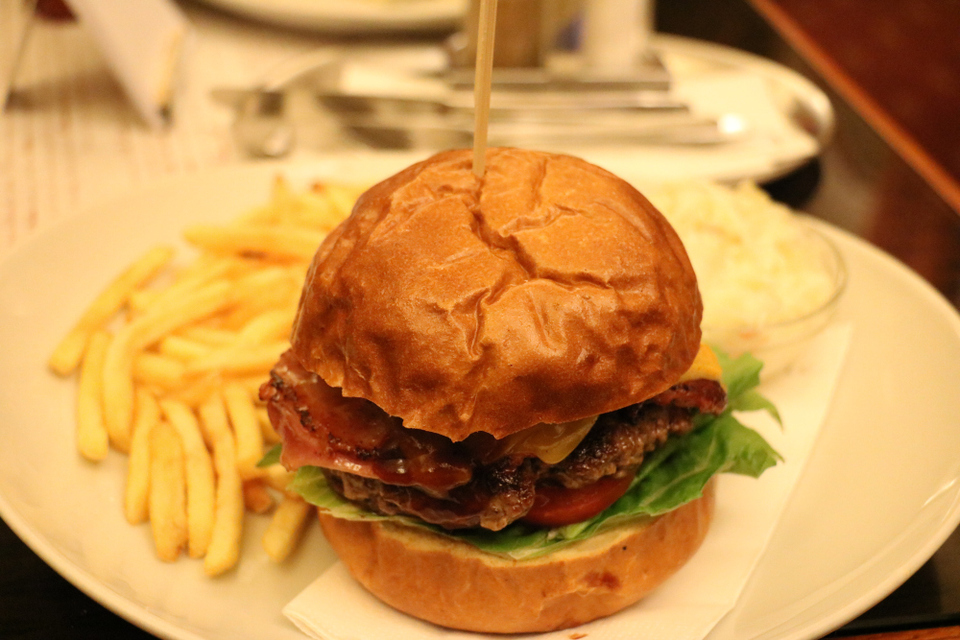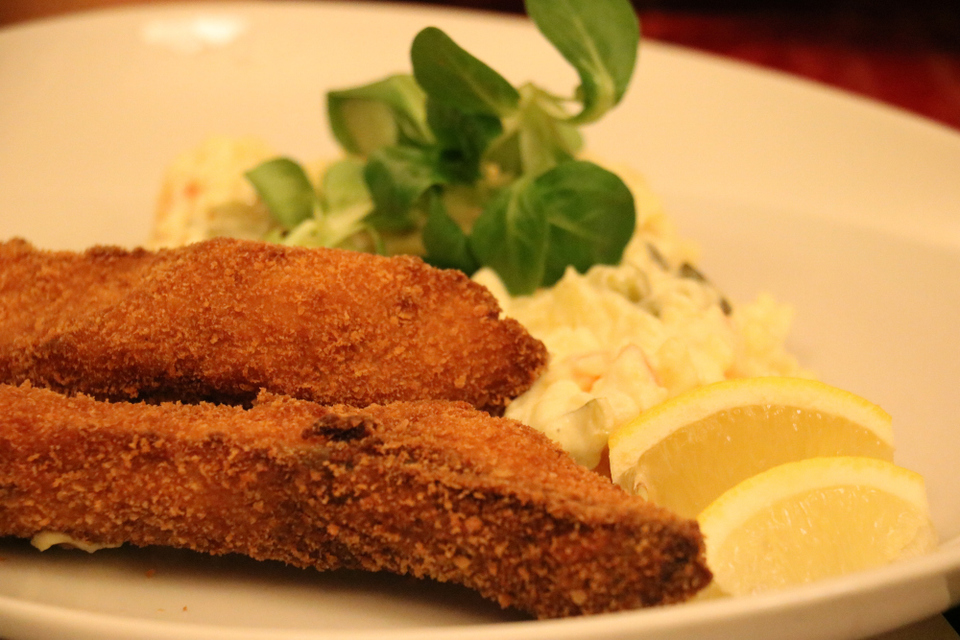 And that brings me to my personal favorite in Prague, Cafe Slavia. Slavia has been described as Prague's best known cafe and it totally deserves all the laurels. Located next to the National theatre and opposite the Vlatava river, Slavia can be a very romantic place to have a coffee or a meal. A fine example of an Art Deco coffee house, Slavia can get very crowded at times. Luckily both times we went here, we got seats without any waiting. In the evenings, a gentleman here plays the most soulful pieces on the piano. It just takes you to some other era. I think all that was missing here was Rekha singing Kaisi Paheli Zindagani!
We went here for my birthday eve dinner and the memories of my plate that night take me to my happy place. I ate the slow roasted pork belly simmered for 12 hours and served with homemade gnocci, sour cabbage, bacon, fried onion and the most heavenly pork broth.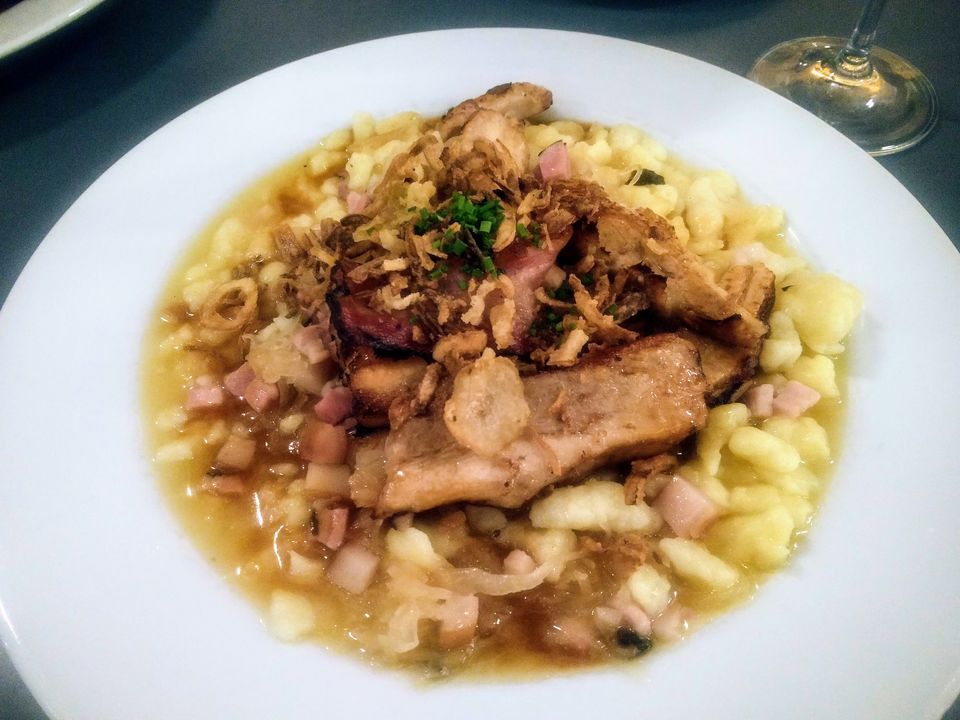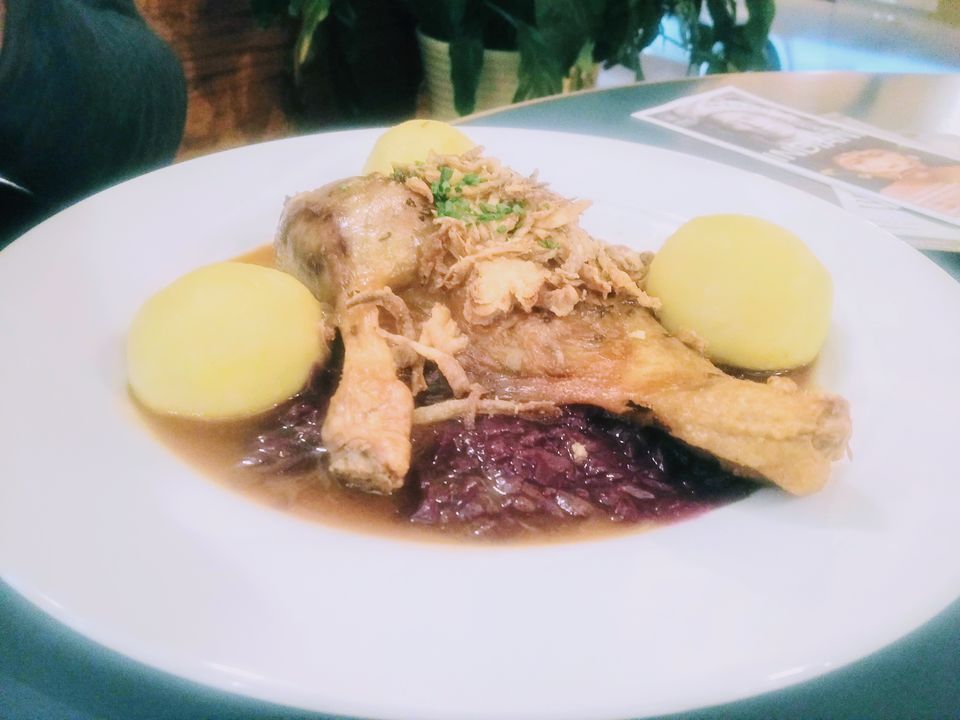 I just had to go back once more to Cafe Slavia before we bid farewell to Prague. So we had our last breakfast here early in the morning. The husband wanted to shoot photographs of an empty Charles Bridge, so we were there at 5 in the morning on a rainy day. As it is, the place was freezing and then you have the rains, a double whammy! Drenched in the rain and frozen to the core, we walked down to Cafe Slavia one last time to ideally get a cup of coffee and defrost our systems. They were just about opening for the day and the cafe was almost empty. We rushed and grabbed the table right next to the window to watch life unfold before us on a rainy morning.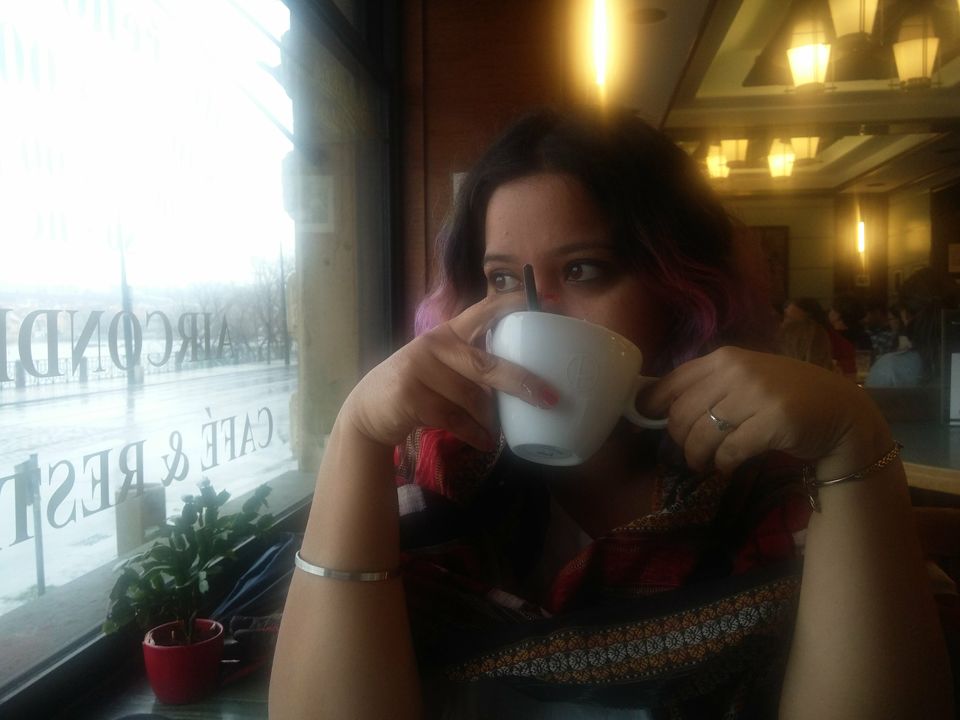 But to be able to watch trams go by and gaze across the Vltava to Prague castle was such a blessing. For breakfast I had Eggs Benedict with smoked salmon, hollandaise sauce and toast. Stunning venue and an equally stunning breakfast.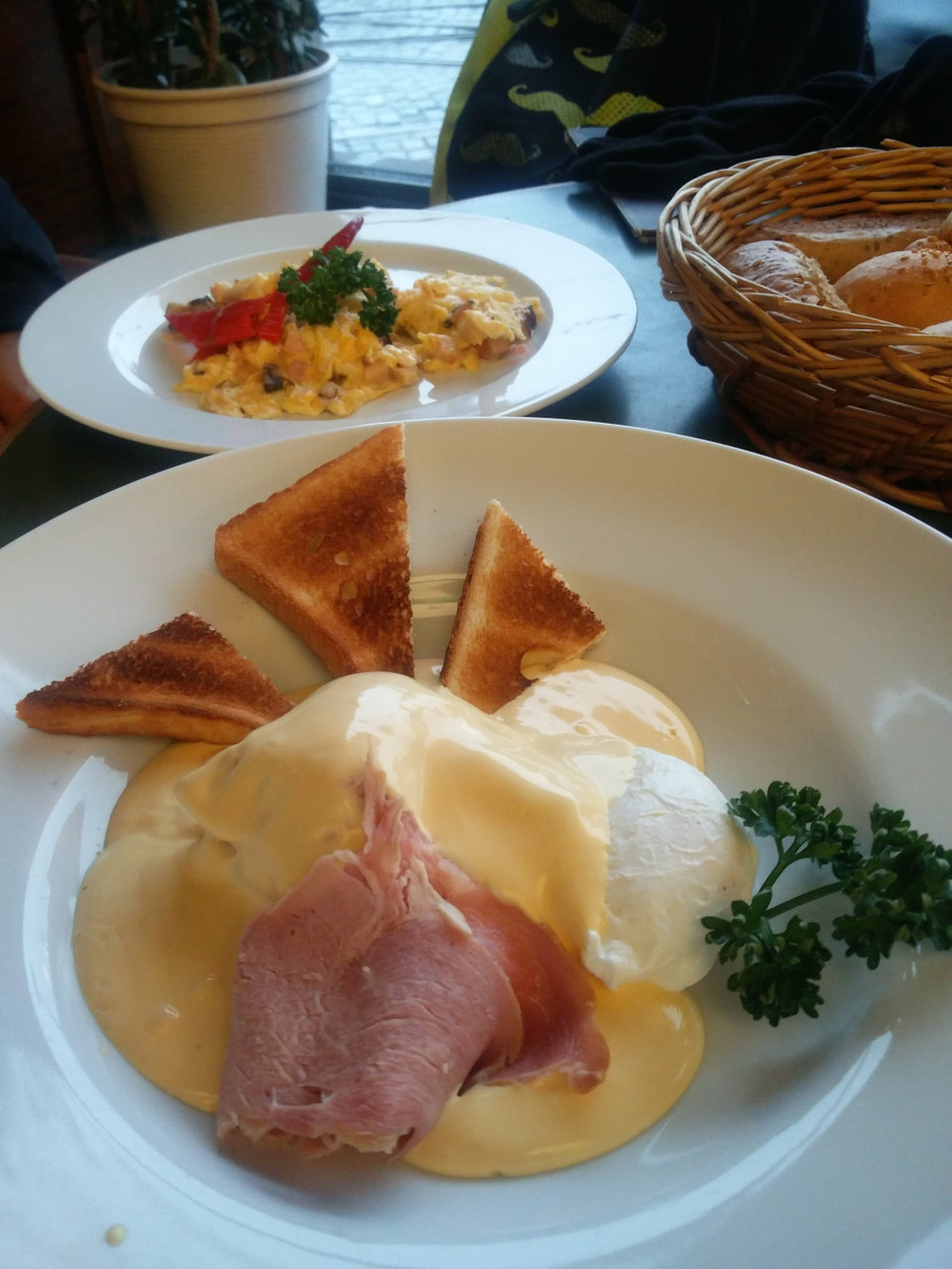 Prague for me was an unforgettable experience. The culture, the music, the romance in the air and the food that brought it all together-An intense emotional and spiritual feeling, the proverbial cherry on the cake!