With every single post I write, it becomes evidently clear how liberating it is to let out my secrets. We freeze hell over in making sure that even the most real moments (if a secret) remain hidden, but it is with spilling the beans, that one finds the true happiness sometimes. It is like therapy. Remember the last time you felt naked in public, when you were able to reveal the most deeply rooted secrets of your life to a shrink or a therapist? Did that feel good? Or were you scared it will ruin your image, give others a chance to bring you down or just pave way for a series of judgements. Well, try and think otherwise, the reason we feel lighter after a visit to our shrink is because there is a kind of relief and happiness we get in divulging our innermost feelings to someone, the fact that there is someone else too, who knows about what we did and most likely, doesn't hate us or judge us for doing so. Well, perhaps I'm in that phase these days and am relishing every bit of it like a box of chocolates, one after another….! :)
It was a day before Diwali a couple of years ago. I was feeling particularly saddened over not being able to visit family in festivities. I had a choice in staying back in Delhi or causing a change of scenery. I chose the latter and booked my Volvo tickets to a tried and tested safe destination – Manali.
So here's a tip. When leaving Delhi a day before Diwali, keep at least 3 extra hours in hand just to reach the train/bus station. You will be surprised how covering a distance of mere 10 kilometers in Delhi pre-Diwali can be a Herculean task. As I took the metro from Gurgaon to the Bus Station, I did not know it will make me end up calling none other than the bus driver to plead him to wait 10 more minutes. God bless the driver, I eventually boarded the bus.
Before I go on further, I just want everyone to know that this was my first ever recreational solo trip.
With my brand new iPhone 6 plus in hand, I woke up to breath-taking scenery and a hope that this Diwali will compensate for the lost time with family. The bus ride of approximately 12 hours ended on a beautiful note when I took my first breath of fresh air next to the lovely Beas river. Another 30 minutes and I was checked in to the riverside Dragon Guest House in Old Manali.
Since I reached on the morning of Diwali, India's biggest festival, I wasn't surprised to see the streets empty with only a few tourists in sight. What scared me even more was the moment when I realized I'm being followed by a bunch of local boys. While innocently looking around for a plate of food, I stumbled upon these hooligans who did not waste time in figuring out I was alone.
One of them said – "Look, she's going to the ATM. No worries. Let her come out. It's gonna be a fun day, Bro..! One of them seemed to have a kind heart – "Chuck it dude, let her go. C'mon, let's not bother her" To this, the other one replied- Why dude, is she your sister?
This numbingly fearful conversation was enough for me to just pack my bags and take the next bus back home. But then, I decided I shouldn't jump the guns and in an attempt to be around other people. I walked into a nearby restaurant, spotted a lean, kind-eyed, bespectacled white man, and sat on his table, pretending he's someone I know or am friends with. If Bollywood had ever taught me any drama, this was the time to use my skills, and so after quietly communicating the situation to this stranger, I finally found my safe zone in the "now foreign" city.
"My name is Matthias. And you?" he said, in a kind yet deep, husky voice. "I'm Suhani, I'm from Delhi. Thank you very much for playing along. I was really scared and didn't know what to do." I said with a sense of sheer relief. After meeting a series of jerks and experiencing all the douchebaggery, spotting the "good guy" wasn't really a problem for me, you see. :)
"Don't worry now. You're safe here" he assured.
I thanked him for his assurance and then, it seemed, the ice was broken. I learnt that he was a French native, living and studying in New Delhi and was in Manali on a solo trip, since all his college mates had gone to their homes to celebrate Diwali.
Upon hearing an equally identical story from me, he realized he wasn't the only one alone in the city. We exchanged numbers and decided to meet the same evening if the other did not have any plans. During my time in that restaurant, I realized how effortless the whole experience was and that I could count on him to be a good travel companion during the next 3-4 days.
A hearty meal riverside followed and I decided to take a nap after return to the hotel, hoping he will call. I maybe a confident woman but I didn't want him to feel that his kindness is causing hindrance in his private time in the hills by himself. Thankfully, I was pleasantly woken up by his text in the evening and we decided to catch up. I'd be lying if I said that I did not see a possibility of travel romance in this meeting. However, he seemed so different from all the other men I had ever met or spoken to, natives or foreigners, that I remained careful in my conversations.
We decided on the place and time and after an hour's delay, he finally showed up. I wanted to express my annoyance but the smile and apology from him made me weak in the knees. He definitely was a man of few words, but after a couple of more conversations I talked him into opening the Ex-files. His girlfriend was a European and even though they had broken up, he seemed quite taken with her. And with the revelation of his feelings for her, I understood that I need to keep this holiday sans the hopes of any Bollywood/Hollywood romance :)
The night drew to a close and after some fine wine-dining; he dropped me to the hotel. Upon my insistence, he stayed back for a cup of tea, over which we talked about my former and how it had been total bliss traveling with him. We planned the next day and bid each other good night.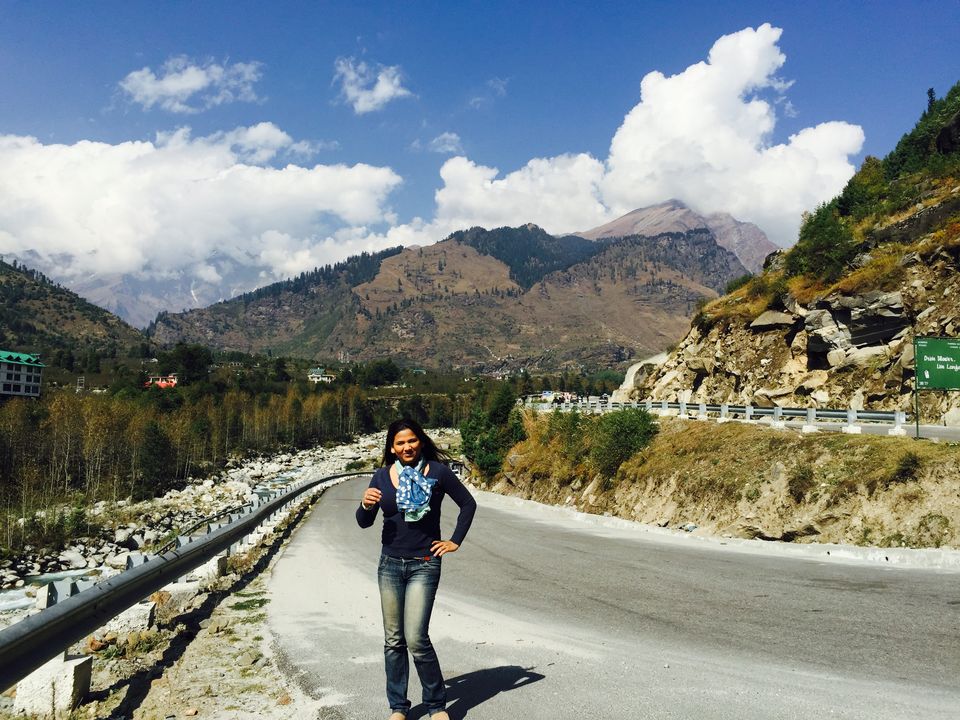 Being the Gentleman he was, he booked the day's drive in a cab and we went all the way to Solang valley. The views were so picturesque, no amount of time seemed enough there. Since I was short on budget, I did not feel up for any adventure sports but he convinced me. I distinctly remember how he told me that what I'm really gonna remember about this trip is the things I do and the fun I experience, not the food, not the clothes, and not anything else. He also asked me to try and overcome my fear of heights. So we both agreed to try paragliding for which we first took a cable car up the hill and waited for our turn.
During that one hour up in the hill, we made a little hike and had our lunch too. It was in that moment of quiet and blissfully beautiful views, I felt something for him; a very deep connection and this uncontrollable desire to wrap my arms around him. The views were enchantingly scenic, and the peace was hauntingly beautiful. We just stood there, staring into the sky, the trees, the mountains, taking in nature in all its glory. To date, those moments spend with this Gold standard guy give me smiles.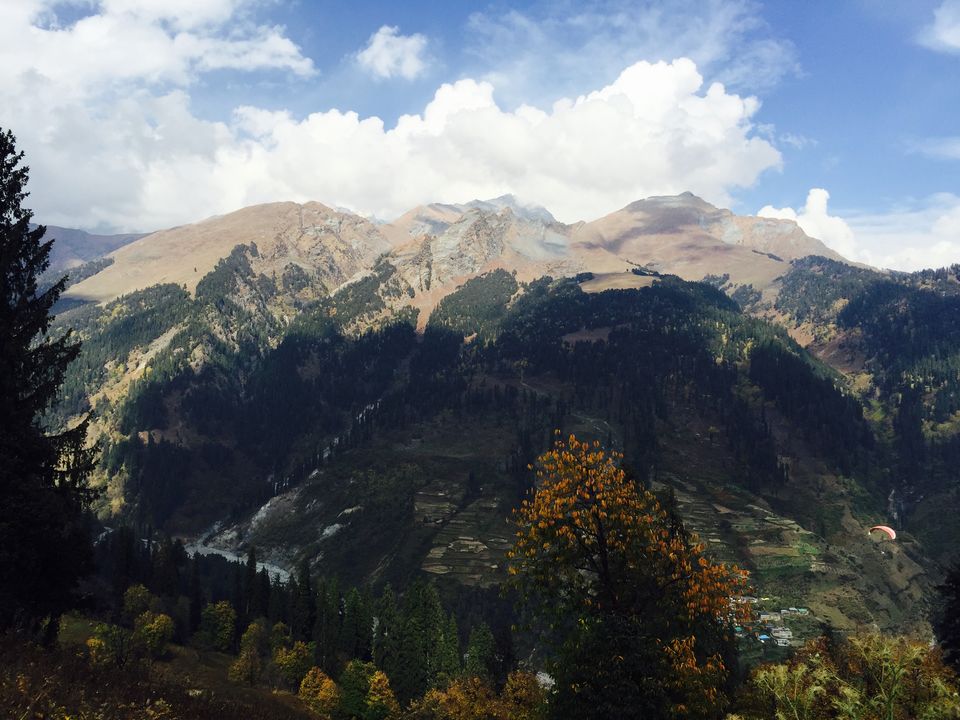 Next up was paragliding. It did not take Matthias long to fly his way into the pristine Valley sky. But for me, this task was sending chills down my spine. After a failed first attempt in which I mildly hurt my left foot, I finally experienced what flying like birds feels like. Nine minutes of absolute bliss! The whole time, I felt like I am in an open roof airplane. The cold wind knocking on my face, the tears rolling down my cheeks, the view of the valley, people, cars that looked like match boxes. It is still one of the most thrilling experiences of my life.

After I 'landed', all Matthias could look for or crib about was a lavatory. Clearly, the greasy Chinese food and a glide down the hill did not help and all that while gave me plenty to laugh about. Even in his funny dysentery-induced walk, he looked nothing but adorable. After embarrassing him a little more with my poop jokes, I let him enjoy a cup of tea, post which we returned to our respective hotels before meeting again.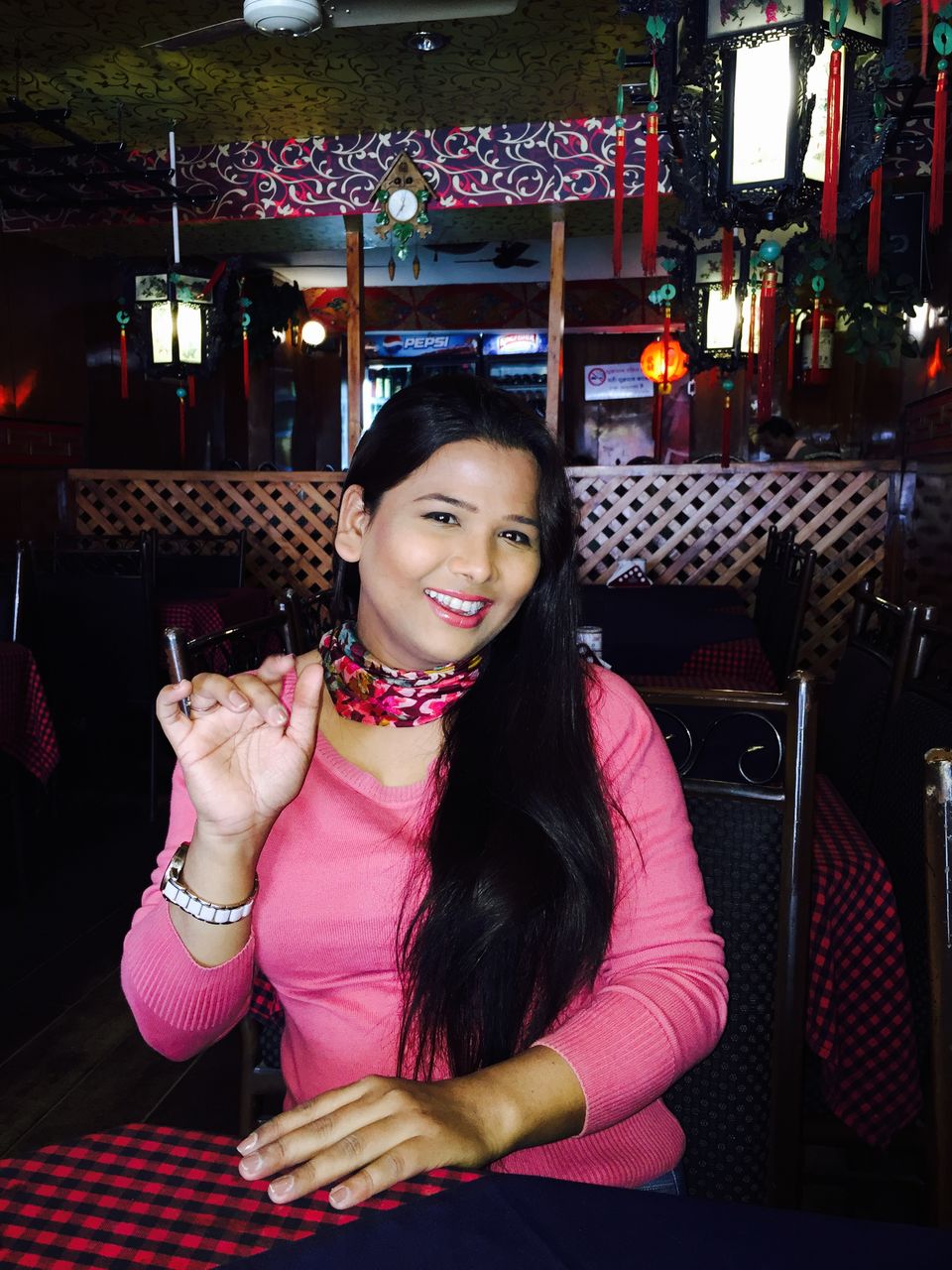 By evening, my infatuation had grown multifold. I was finding ways to impress him, you know, try to be cute, do girly things, look naïve.. :) He was so different from the men I liked. All three days, he wore the same clothes. No, I mean literally same clothes, same blazer, shirt, denims, shoes and all I could think about was how handsome, kind and quiet he is (which is something all of us girls appreciate in a man).
Anyway, one more night of fine dining and chit chatting went by and we decided to go on a trek to Jogni falls. The local guide/cab driver/owner Mr. Babu and his in-depth knowledge about the local attractions came in handy and Matthias & I left for the base point of the hike. What I wasn't made aware of was that this was indeed quite a steep hike and that ballerinas won't do for trekking footwear. There were times when I was "praying for balance", and these men looked like lizards on a wall. Anyway, the 45-minute trek came to an end and we found ourselves in penultimate beauty of nature. Trust me, Jogni falls in off season are simply an amazing sight to behold.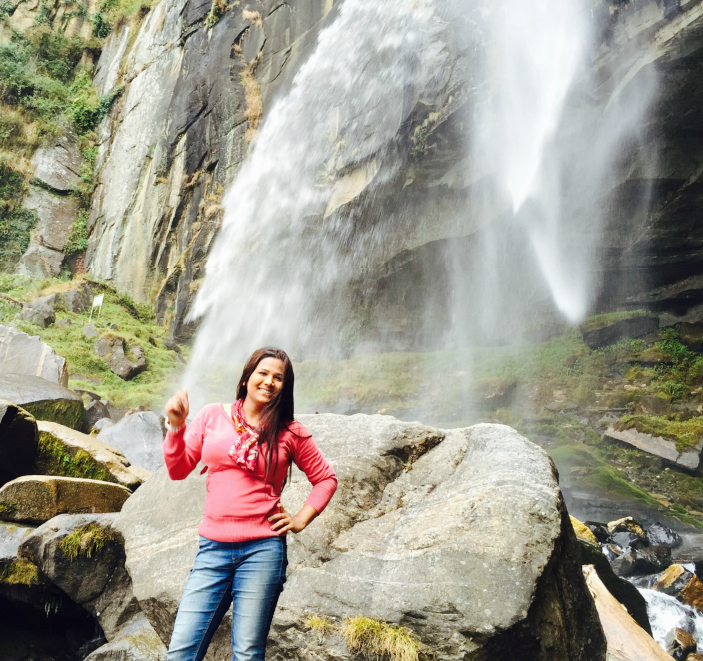 The hike down the base wasn't much of a trouble. Since both of us had already checked out from our hotels, we picked our luggage from the rental office and headed for our last meal. My motion sickness kept me from eating anything but I did enjoy a nice glass of fresh juice. Matthias was originally booked on a different bus departing later in the evening, but agreed to come with me.
During the dinner break, the bus halted somewhere in the hills and while enjoying my cup of tea, I looked at Matthias; calm, gentle, one hell of a man. I fell a little bit more in love with him. Perhaps, the love i felt was not with him; but with his demeanor, his kindness and his Gentleman ways.
Once during the night, a sudden turn in the mountains woke me up and I found myself resting my head on his shoulders. And try all I might, I just couldn't help but feel the romance it brought in that moment.
Upon our arrival, we made plans to meet over dinner (which I insisted on paying for, since he spend on all dinners and cab rides in Manali) and said our goodbyes, somewhere in South Delhi.
By next weekend, I texted him to remind of our dinner plans, and he told me he will confirm. I don't know what got into my mind that I felt it will be a major hit on my self-esteem if I messaged or called him again. So with that logic, I deleted his number from my phone and call history. And to this day, I'm wishing for him to call, secretly though.
This is not an attempt to find him or persuade him back into my life. The time spent with him was not just blissful, it was necessary also. I wouldn't have survived the hooligans of Manali, had it not been for him. What I learnt from this episode was that some people will remain temporary in our lives, no matter what we intend or how hard we wish for otherwise. But if you're able to look past the frustration of finding and letting go of the "perfect one", you can learn to appreciate the moments spent together. I do not know the reasons for his disconnecting himself from me, but I do know that I will always remember him as the finest caviar in the platter of life.