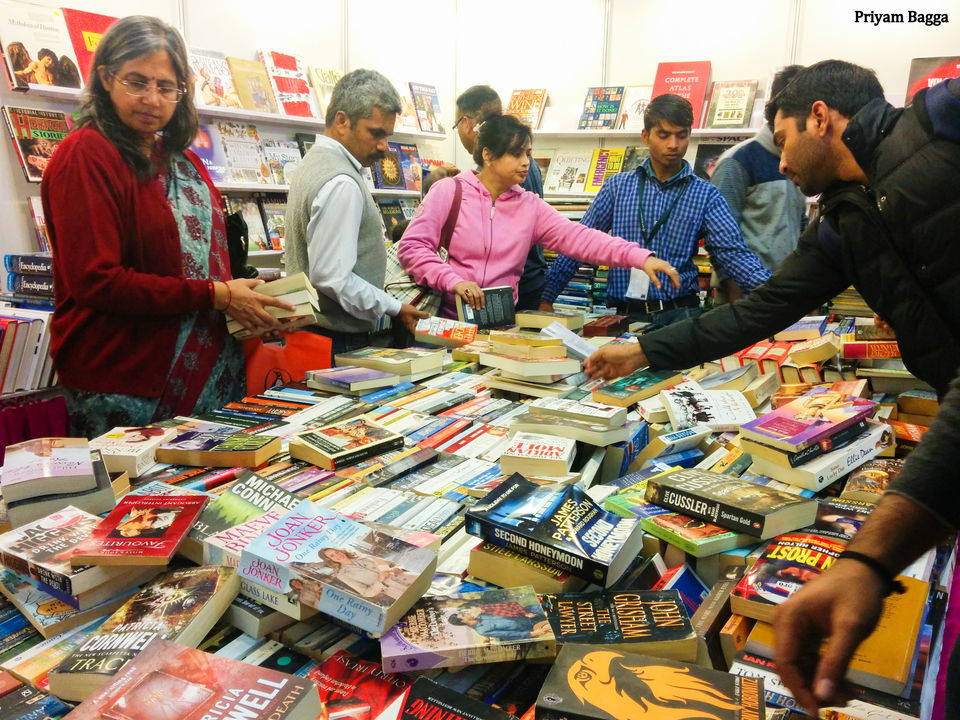 I'm a huge bibliophile. So it's no surprise that as soon as the dates for the New Delhi World Book Fair 2016 were announced, I made sure that I was free to attend.
For those who are uninitiated with the phenomena that is the World Book Fair, it has been held in New Delhi 24 times since 1972 in Pragati Maidan on Mathura Road, except the first time when it was held at Windsor Place. This time around, the book fair is being held between 9th and 17th January. It's India's oldest book fair, so if you're a book lover and you're in Delhi, you should head there now!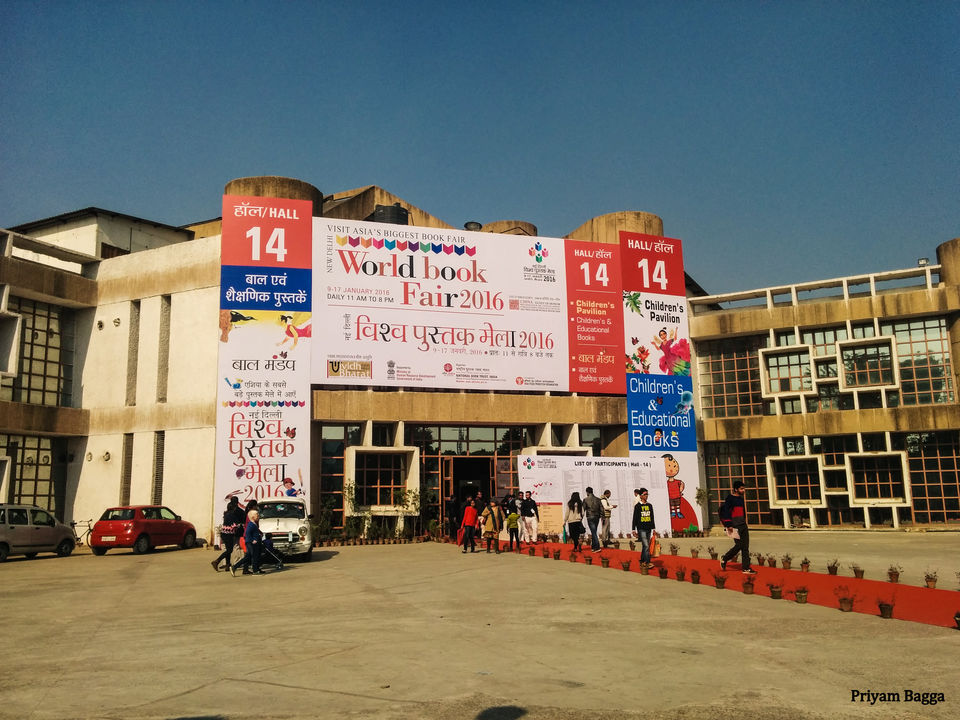 First Impressions
It was a sunny and windy Saturday and my friend and I made our way to Pragati Maidan, mentally prepared for what was most definitely going to be a long and tiring day (which turned out to be true!). We were expecting quite a crowd, since it was the first day of the fair, and boy were we right! We made our way from Gate No. 7 (FYI - the most convenient entry point) towards the halls and basically adopted a strategy of walking through them as they came our way. An absolutely exhausting, but rather fulfilling exercise!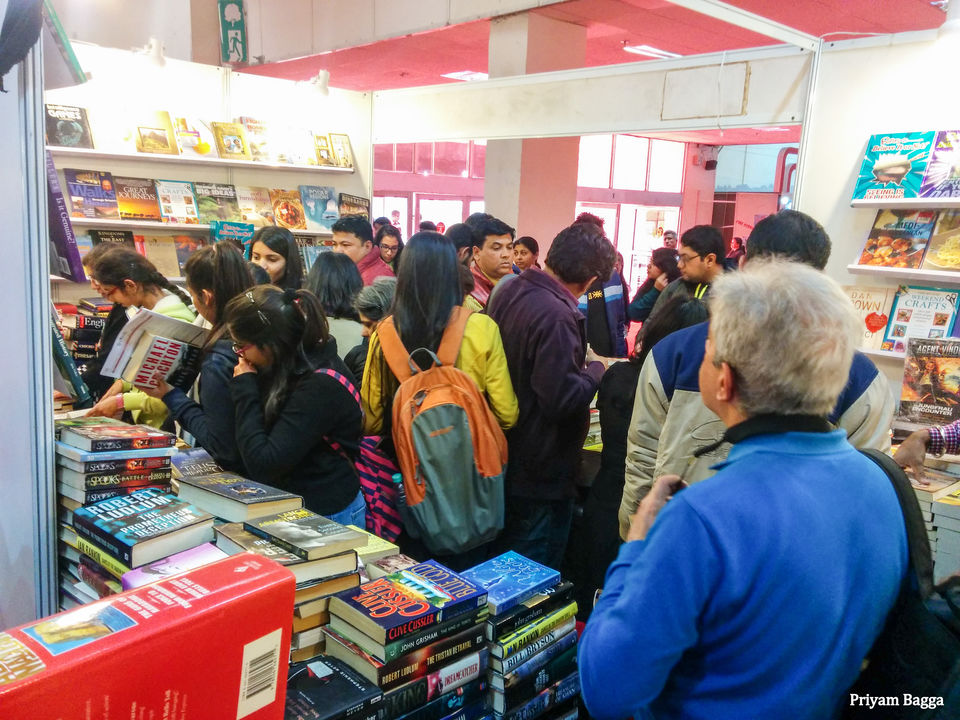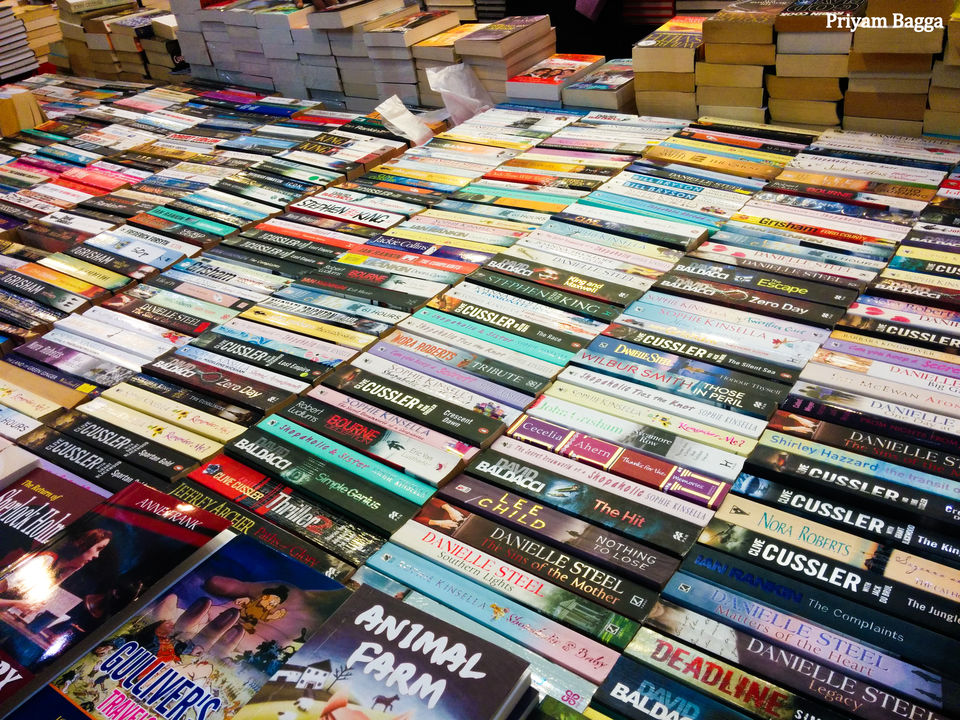 As you explore the fair, you'll find representation from most of the major publishing houses from around the world, each of their stalls grander than the last. These include: Hachette, Scholastic, Grolier, Oxford, Simon & Schuster, Penguin Random House, among others.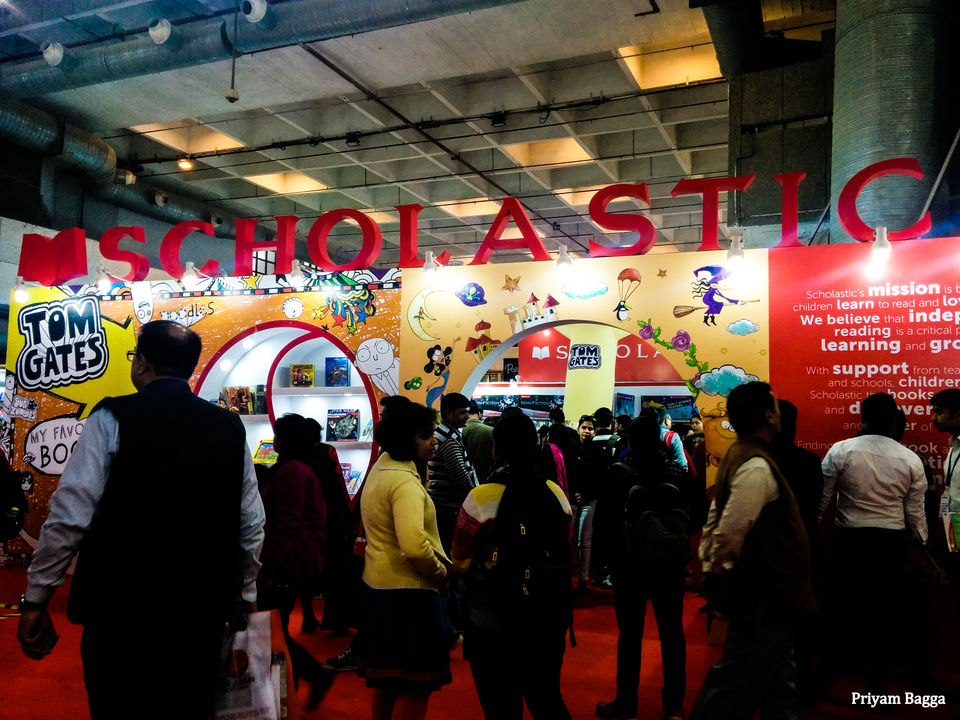 You'll find a number of second-hand book sellers scattered among them, selling books at unbelievably low prices and I think these should actually be the focus of your trip. Consider this: between the two of us, we bought 13 books and 3 comics for only Rs 2000 (out of which 7 books are hardcover copies!). I don't see any publisher giving us that kind of deal!
The central theme of the NDWBF is 'Vividh Bharat', representing the eclectic history of literature and publishing in India. This multi-cultural, multi-regional and multi-lingual exhibit is definitely worth a visit. Also, an extremely unique exhibit has been put up by the Chinese contingent. It's the centerpiece of the Foreign Nations Exhibits since China is the 'Guest Nation of Honor' this time around, and should be high on your priority list. It is a two-part exhibit, with one dealing in the history of printing and manuscripts in China and the other presenting contemporary Chinese literature. The historical section will take your breath away as it displays some remarkable replicas of Chinese scrolls on bamboo, parchment and animal bone dating as far back as 700 BC.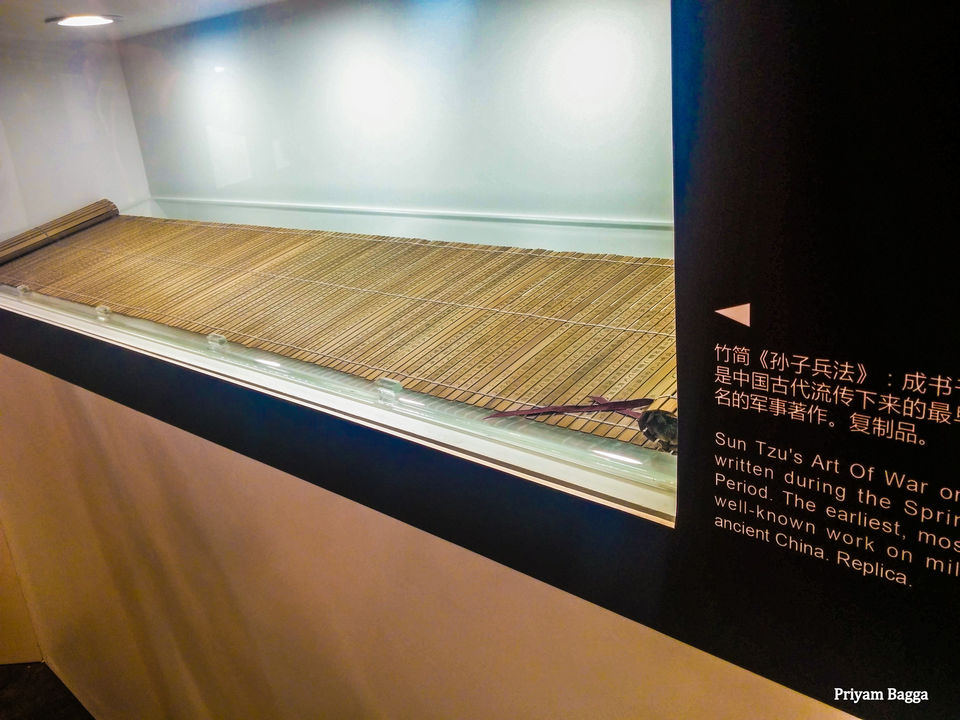 You will also find a counter dedicated to the culture of herbal tea (with a complimentary cup for the visitors) and calligraphy. The contemporary stall has some wonderful attractions for kids. There's a wall mural that can be colored in with crayon and an open blackboard. A must visit!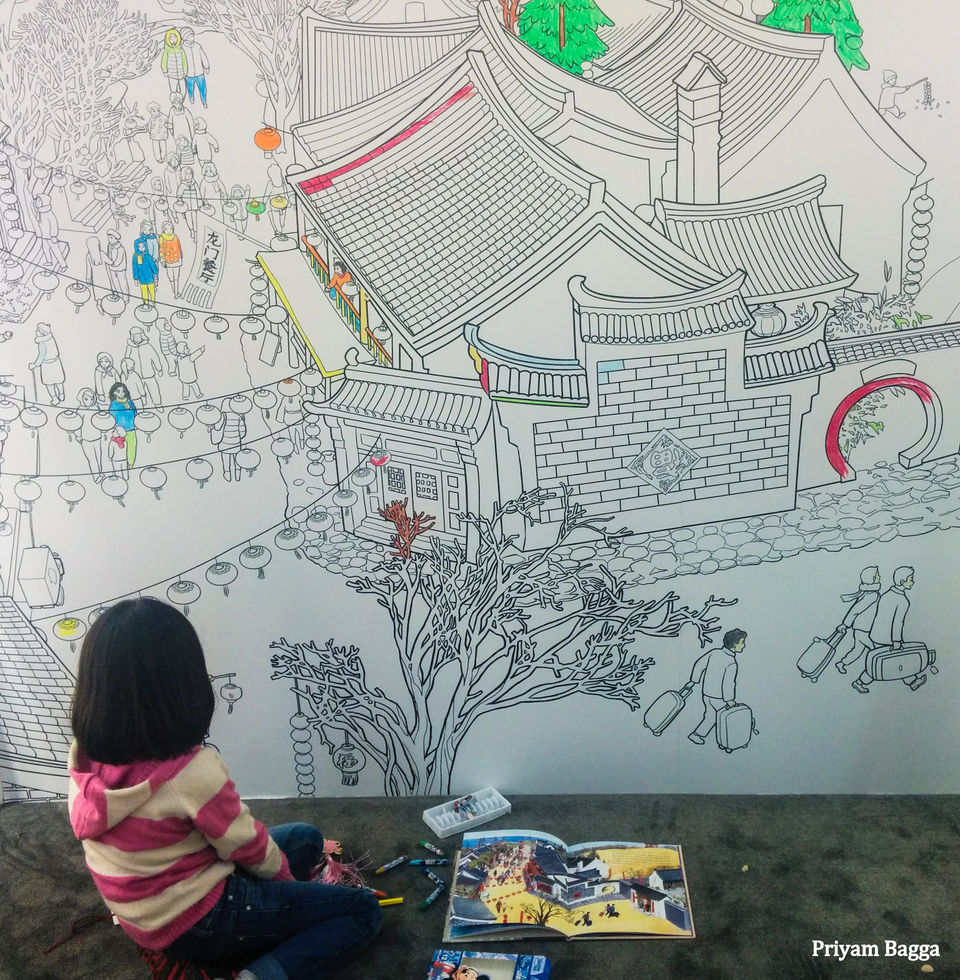 Another aspect that I loved was the variety of cultural presentations and 'Author's Corner' discussions that add an element of entertainment to the whole experience. There were lovely folk dance performances in the Vividh Bharat exhibit as well as in the amphitheater adjacent to Hall No. 1.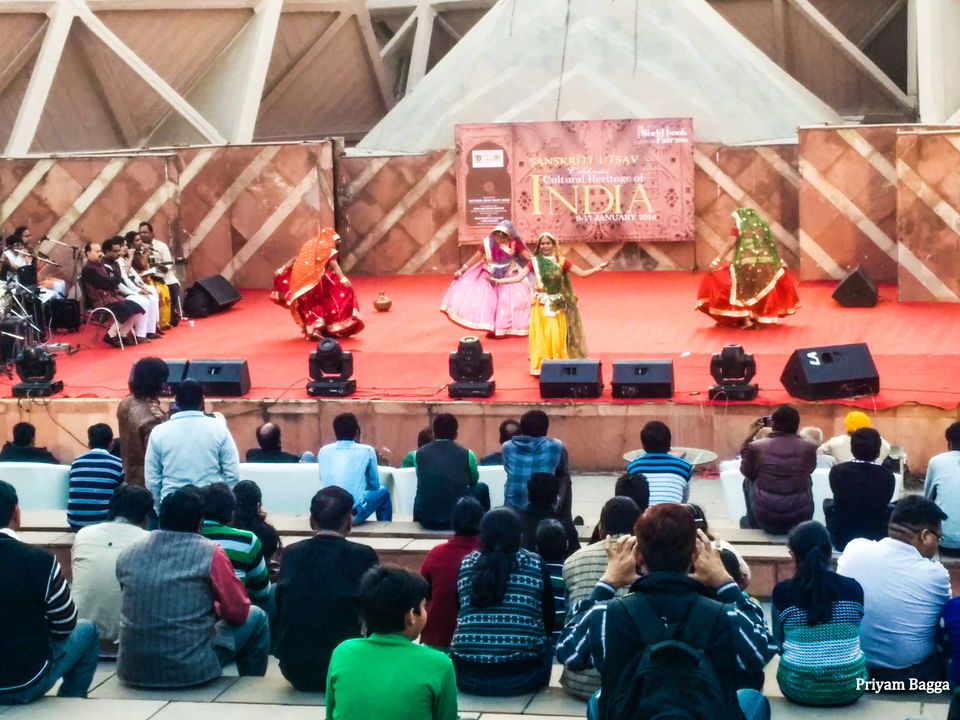 What to expect across the various halls
Hall No. 6 - General and Trade Publishers, which means you'll do most of your discount shopping from here. I found some great stalls selling antique/rare books as well as first editions and bestsellers here.
Hall No. 7 - Home to the theme exhibition as well as the foreign countries' exhibits. Though you might not shop much here, a visit to this hall is an absolute must.
Hall Nos. 8-11 - You'll find most of the large publishers here, along with some pretty great second-hand book stalls.
Hall No. 12 - This hall is dedicated to Hindi publications, boasting an absolutely magnificent array of publishers and books. If you feel that commercial bookstores in Delhi ignore books written in Hindi, this is the place for you!
Hall No. 14 - If you're looking to get your child into the habit of reading, this hall provides a vast selection. From folk and fairy tales, to puzzle/skill development books and study material, this hall has it all!
Hall No. 18 Lower - This hall is primarily dedicated to educational and promotional material, focusing mainly on students.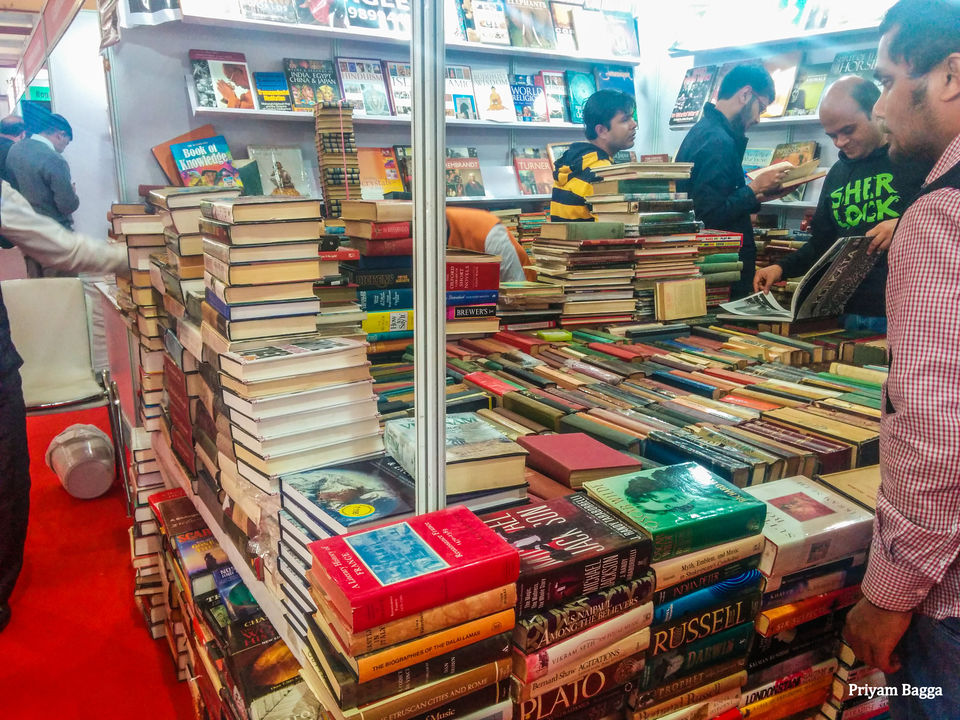 Here are some things that you need to keep in mind if you've decided to visit the fair:
1. Parking might be difficult to find. You will see many cars parked on the pavement outside Pragati Maidan, but there's always the danger of your car being towed (since parking on pavements isn't legal, you know). To avoid all the hassle, just use public transport.
2. Head there early in the morning if you want to avoid crowds, and this is especially true during weekends.
3. Wear comfortable shoes. No, seriously. If you plan on exploring most of the fair and you're not wearing the right kind of shoes, your feet are going to kill you by the end of the day!
4. Carry a backpack. The stalls do give you bags, but if you're planning to do some crazy shopping, those will be difficult to carry. In fact, it's not uncommon to find people wheeling small suitcases around!
5. Don't be disheartened if you don't find anything the first time you go. It's almost impossible to see the entire book fair in a single day. You might feel like going again, which, I can tell you from experience, is a great idea!
6. Don't worry about food. The food court there is excellent. I highly recommend trying the chhole bhature. They're yummy! And the cotton candy is worth trying too!
Here's a disclaimer. I don't claim to have complete knowledge of the book fair since it's extremely large and as I said, one day is not enough to do justice to every aspect of the fair. Here's hoping that this article inspires you to explore the fair on your own and discover the wonder and joy of the written word!
How to reach Pragati Maidan: The most convenient way to get there is by metro. The Pragati Maidan metro station is walking distance from the entry.
For more information on the New Delhi World Book Fair, which includes maps of the layout (saves a lot of bother), go to: http://www.newdelhiworldbookfair.gov.in/.
Pragati Maidan is the venue for the New Delhi World Book Fair 2016 which is being held between the 9th and 17th of January.