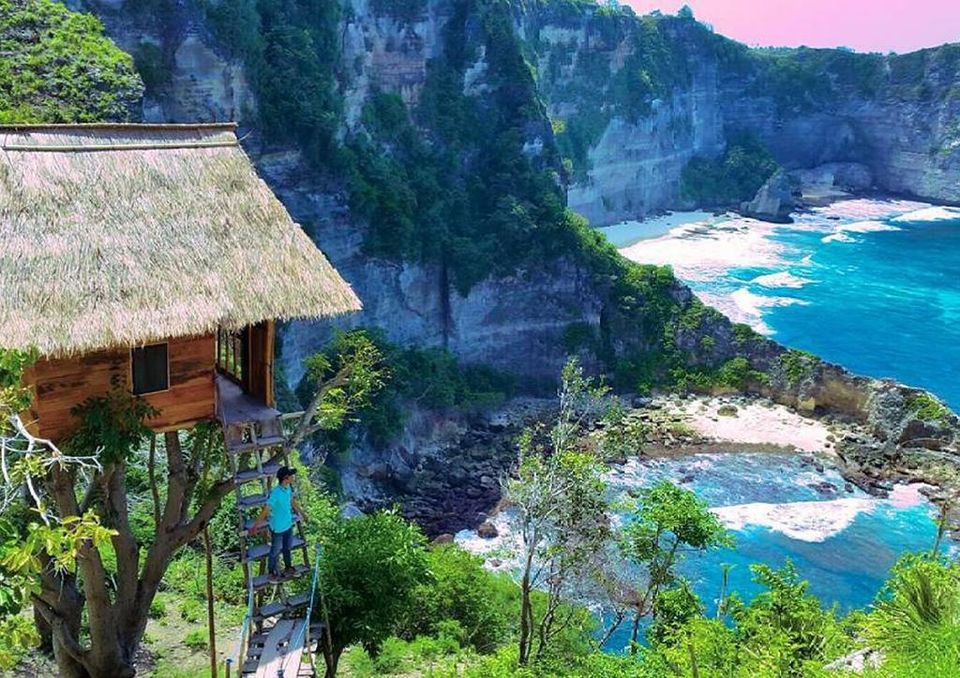 Bali is always a great option for staycations. With numerous beaches to choose from, Bali makes a perfect destination for Instagram worthy holidays. The treehouses of Nusa Penida, a tropical paradise located on the south eastern coast of Bali, are one of the few cheap stays in Bali that has gained popularity on social media. A luxurious escape in the lap of nature is just what you need on the next vacation and your feed.
→ Ideal for
The tree-houses are ideal for travellers who want to get close to nature. If you are looking for a place far away from city-life and built with ecological awareness, then these Rumah Pohon treehouses are perfect for you.
→ About the property
Rumah Pohon Treehose is an Air Bnb tree house and offers limited services to all its guests. However, the stunning view from the houses make up for the minimal facility available. There are four types of treehouses available placed right next to each other. Each house has a bed, a nightstand with a fan and a window. Washrooms are not attached and are on sharing. The stay also provides free WiFi access.
→ Cost
Each accommodation can be booked for just ₹3200($42) per night on Airbnb.
→ Best time to go
The best time to visit Bali is before and after the peak season, that is, from April to June and September. During these months you will be able to avoid the crowd and enjoy the serene beauty of the place.
→ What to do here and around the property
Go Snorkeling or Diving
Nusa Penida is full of beautiful reefs and is therefore Indonesia's best snorkeling and diving destination.
Kelingking Beach
When in Nusa Penida, you cannot miss out the view from the Kelingking Beach. Lying between limestone cliffs, Kelingking Beach is adorned with crystal clear water on one side and lush green forest on the other.
Broken Beach
At a short distance from Kelingking Beach lies the Broken Beach, where you will be able to see this natural rock formation. Spend a day around this natural beauty to make the most out of your trip.
Crystal Bay
Another stunning beach in Nusa Penida is the Crystal Bay. Go snorkeling into the crystal clear water of the sea and get up, close and personal with the aquamarine life underwater.
→ Getting there
Rumah Pohon Tree House is located in Nusa Penida, which is a ferry ride away from Denspasara Airport.
Know of a hotel, homestay or resort that made you fall in love with the destination? Write about it on Tripoto and help the traveller community discover something new