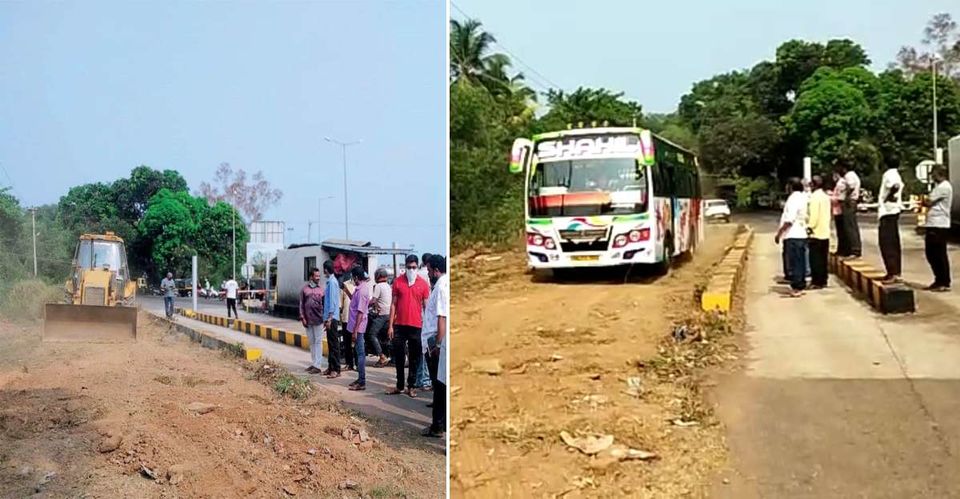 Ever since FASTag was made mandatory, there have been several reports of clashes and tensions in local areas and one such news has come to light from Hejamadi in Karnataka. Tired of paying toll, residents on the busy Mengaluru-Udupi highway came up with a unique solution and decided to construct their own road.
Residents of Hejamadi in coastal Karnataka bulldozed their way out of trouble and created a 'parallel' road along the toll booth. After FASTag was made mandatory, only vehicles belonging to residents of the town were allowed free entry, but people had been demanding that buses should also be given leeway. According to report by Bangalore Mirror, local gram panchayat petitioned the concessionaire and a concession was promised but never delivered.
Villagers build road parallel to highway
After all efforts went in vain, the gram panchayat held an emergency meeting and headed to the highway. They hired a JCB backhoe to build a road parallel to the National Highway on March 30 to evade the toll fee.
"They were not collecting toll from buses, school vehicles and cars that ply between the National Highway and Hejmady – Kodi. However, they stopped the toll exemption from March 23. Following this, we adopted a resolution in the gram panchayat and submitted a memorandum to the NUTPL. Though they agreed to consider our demand, we have not received any response," Gram Panchayat president Pranesh told TOI.
The new road was being built so that all vehicles to Hejamadi and Kodi villages could move without having to pay toll. As the news spread, representative of the concessionaire urged the villagers to stop the construction but they only agreed after a written assurance was given.
In a letter to the Hejamadi gram panchayat, NUTPL agreed to exempt all vehicles, including light motor vehicles, cars, private buses, from toll payment.
"Later, we adopted another resolution and built a road by the side of tollgate. When vehicles started plying on the parallel road, the manager of the NUTPL requested us to stop the work and agreed to give toll exemption to vehicles from the village. Based on our request, the NUTPL authorities also issued a letter in this regard to the gram panchayat," he said.
Do you have an interesting travel story to share with the world? Pen your adventures and experiences here and connect with Tripoto community.