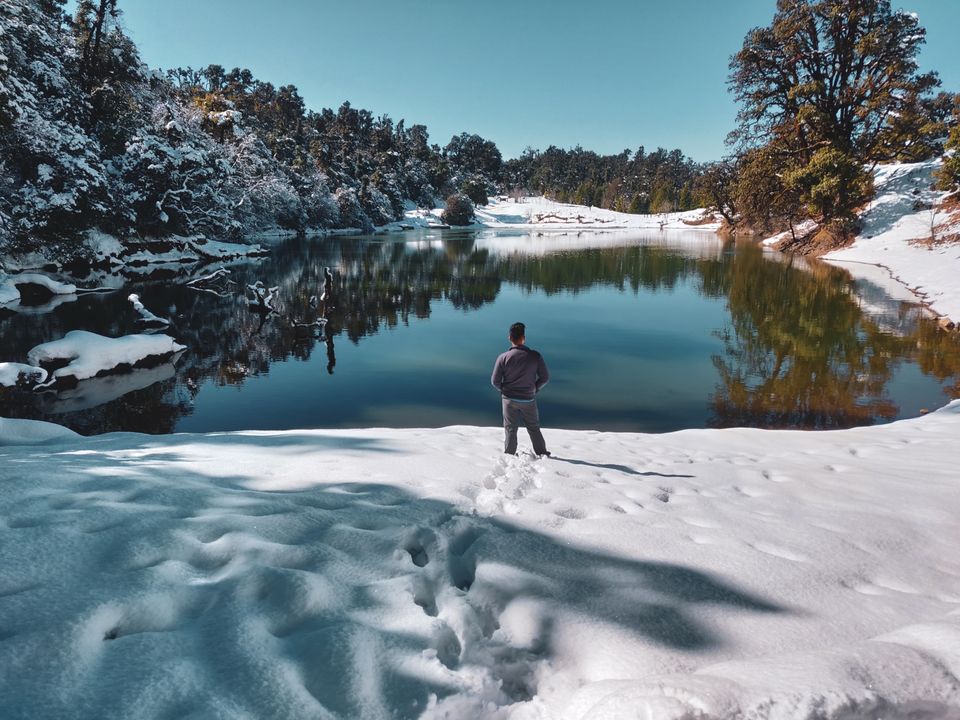 So every year me and my Friends Karan , Anshu and bali plan a trip together , to the mountains .
And this time we decided to go on Deoriatal trekk which is in uttarakhand .
Now as i never got the chance to visit uttarakhand before , i wasn't sure how its going to be like there , reason being maybe because everytime someone says mountains our mind think of himachal . ( at least mine does ) so going to uttrakhand is going to be a new experience i thought . And we went .
FIRST : we booked out tickets online of a volvo bus from Redbus App till Rishikesh . The prices were around Rs450 per person .
The bus was comfortable and safe .. we took the bus from ISBT Kashmiri gate near the Kashmiri Gate metro station .
.
Second:
It droped us to Rishikesh at around 5 in the morning , we then took a local bus from Rishikesh till Rudrapryag at 5:15am .
I still remember i asked the driver when the bus hasn't even started moving . ( bhaiya ) that , please tell me when are we going to reach to Rudrapryag ? I mean how much time it will take ?
To which he replied with a Smirk , Dont ask me that boy because thats the question to the universe .
Listening to this 2 things got clear in my mind
1) I should've not ask him that
2) and it is not going to be an easy Ride .
.
After 8 hours of journey we finally reached Rudrapryag and by this time i understood why the Driver gave me that answer , it because of the Trafit jams in the mountains , because of the land slides .
I myself has witnessed 4 of them , everytime our bus stops in the middle of a road we got the clue that there is a party cleaning the way ahead of us , all 4 of us use to get down from the bus and just watch the beautiful around us ,talk to strangers ( locals ) traveling back to their villages and sometimes we Realize that these people are traveling with us only in the same bus .
And by making new friends we Traveled the Roads .
THIRD : Rudrapryag
We reached Rudrapryag , oh man its a very busy place everyone was busy doing there own stuff seems like i got out from a city just to get into another one .
.
We unloaded and then loaded our bags to one bus another
Which was going to take us Till Ukhimath another few hours journey . It is the last place where you will get A Jio connection after this point my friend only Vodafone and Airtel can save you . ( No networks For JIO above Ukhimath ) .
By the time we reached ukhimath it was aldready raining and locals told us that we wouldn't be able to go to chopta because its 7 to 9 ft. Snowed there in last few days and the government has told the people not to go there as well . Hearing this all four of us looked at eachother and gave the locals a smirk , not because we were overconfident or something , but because we all knew thst this wasn't the first time someone was telling us that this task is impossible , and surely it wasn't going to be the last also .
.
Now our Goal was to Visit 3 places In our trip
1) Chopta Tughnath trekk ( Heightest Shiva temple in the world )
2) chandrashila peak Trekk
3) Deoriatal Trekk
We took a small halt of 1 hour at Ukhimath , had lunch and made a plan that we will go to Deoriatal trekk Directly first without resting and spend the night at the lake and then we will decide we will continue our journey from chandrashila , chopta or not .
We got into a taxi , charged 100 per person , and droped us at the gate of the starting point of our trekk which was located in a small village called Saari in uttarakhand .
.
.we were not rested , not had a problem meal , heavy rucksack on our back and above all Rainy weather .didn't know anythin els to do but one thing , keep on moving forward . And we walk , we walked untill it started Raining ,we walked untill the rain turned into a snowfall and the snowfall into a snowstorm . We walked . And finally reached the lake .. its a 2 and a half hour trekk but took us around 3 hours because , we were lost in the middle of the way because of the snowstorm and it was almost dark , we could barely saw eachothers face in that light . But we made it .
We saw a lamp hanging out from a door of a shop there . And a guy moving in its light , he greeted us and gave us shelter and food for the night , it was not cheap but considering the weather conditions it was worth it .
.
We spend the night at the room , drank a bottle of whiskey to keep us warm under the cold stars which were scattered all above the sky , like glitters .
We had conversations about love , life and sex under the bonfire .
And went to sleep .
..
As kids we always wanted to see snowfall just as they show in Bollywood movies , but never got the chance to experience it , but as we all know life , it has a habit of dropping bombs when you least expect it . And surely thats what happened here with us , we witnessed our first snowfall togather while Trekking , we all did , we were expecting Rain looking at the condition of the weather but turns out life Blessed us with Snowfall . I still own you that life . Thank you .
.
Next morning we woke up , took our chais and spend almost 4 hours near the frozen lake . It was beautiful .