One of my recent vacations and truly memorable one was to DeorialTal and Auli, Uttarakhand with my family and friends, it was a group of 6 guys. We enjoyed some of the most interesting things such as tracking, snow view and specially enjoy skiing. We planned a 4 Day & 4 Night tour from 01 st Feb to 5 th Feb 2018.
We boarded train from Old Delhi to Haridwar. We reached Haridwar at 6 O'clock in the morning and finished morning ablution at railway station itself. Once we were done with the morning chores we finished our roadside breakfast and boarded private cab from Haridwar to Joshimath, which we have already hired from Delhi.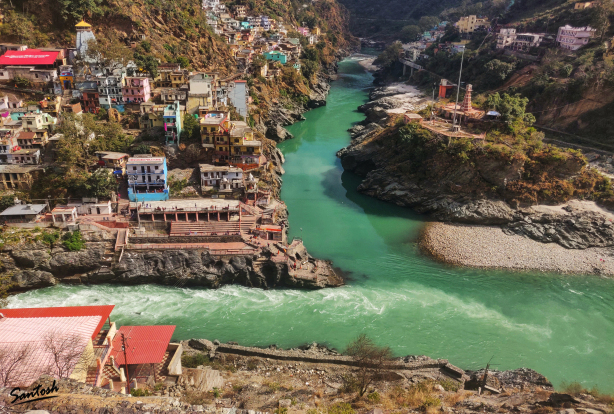 Soon after, cab started to wend along the winding roads of Himalaya. In the Initial phase, we were driving on the bank of river Ganges till we reached Devprayag. Devprayag is one of the holiest places where two sacred rivers Bhagirathi and Alakananda meets and forms the world-famous Sangam of Ganges.We stopped at Devprayag to take some photographs. After Devprayag, we drove further uphill but now it was alongside the bank of river Alakananda. Roads were bumpy and we frequently encountered road blockages due to the maintenance. Then we stopped at DhariDevi temple,an ancient Hindu temple located on the banks of the Alaknanda river between Srinagar and Rudraprayag in Kalyasaur, Garhwal Region.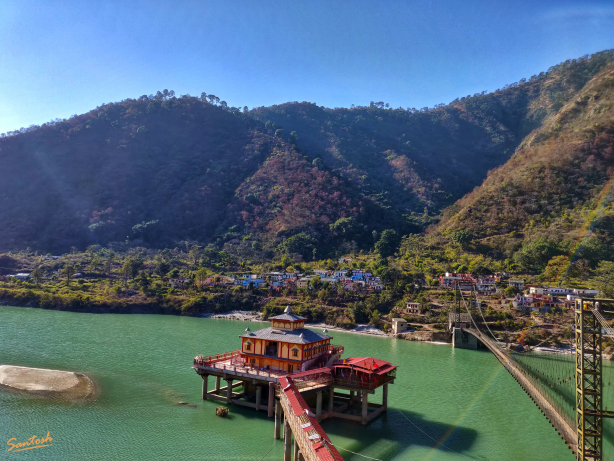 According to the legend, DhariDevi is the guardian deity of Uttarakhand, whose idol was removed from her temple on 16th June 2013 by priests and locals, just a few hours before the cloudburst. As per believers, Uttarakhand had to also face the Goddess' Ire when she was shifted from her ' moolsthan ' to make way for a Hydel project that lies in ruins after the flood.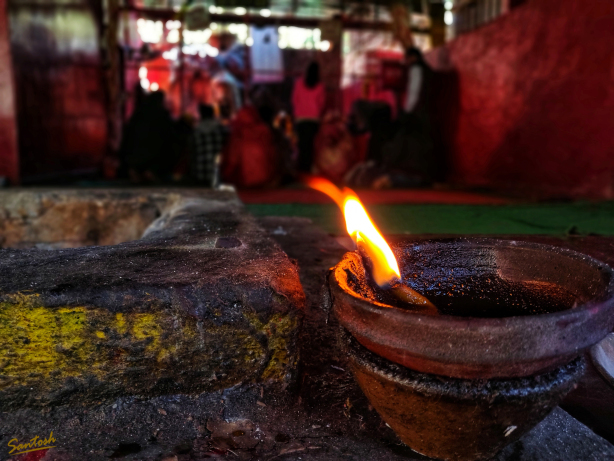 After darshan and all we moved towards our destination, the landscape was transforming after each hour as we were gaining more and more elevation. It was also becoming colder and colder as we move ahead.On our way we took our lunch and managed drink and snacks. After witnessing many other Prayags (Rudraprayag, Karnaprayag, Nandaprayag) and Chamoli district, we tried to find the camp at Chopta for our night stay but due to heavy snowfall it was not possible as road was blocked then finally we moved to Ukhimath, touched down at around 7 O'clock in the evening after around 12 hours of our rigorous journey. We took a hotel over there and had our dinner with bonfire and spend our first night of our trip over there.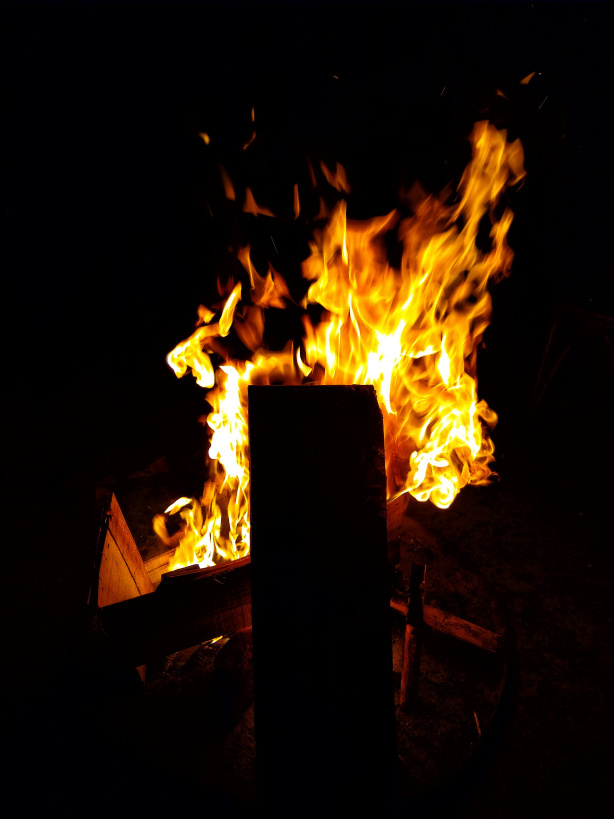 Next morning, everyone became profoundly refreshed once we witnessed the Golden effect of rising sun on snow capped Himalayas. For some of us, it was the first time in high Himalayas, so they were mesmerised with the view. Quickly, all of us got ready as we already have plans for Chopta-Tungnath tracking. During our lovely breakfast, some locals advised us not to go Chopta-Tungnath tracking as it was blocked due to heavy snowfall last night and the height of snow was around 10-12 ft, we were really disappointed with this news because tracking from Chopta to Tungnath is in our hit list to cover during the trip.They also informed us about DeoriaTal which was open for tracking and is around 15 kms. away from Ukhimath by road. We followed their advice and moved towards DeoriaTal.
It was about 9:30 hours when we left the hotel and we reached Sari. The trek from Sari to DeoriaTal is about 4 kms. We initiated our trek towards the heavenly DeoriaTal at 10:30 hours and hardly 10 minutes had passed, and it got too hot, I was also very grateful to my trekking stick.As soon as we started walking uphills, we could feel the scorching heat determined to test our limits.As we were going up it was difficult to breathe and we were getting exhausted too but as we had a crunch on time so we keep moving.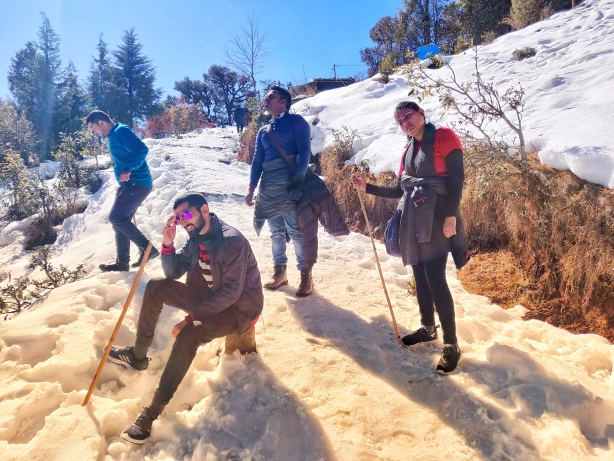 We were walking, joking, having fun, taking pictures and admiring the beauty of picturesque canvas,God has painted. We splashed snow at each other and remembered those unforgettable days of our childhood. We re-lived our childhood days and give a new hope to the long-lost child within us.We had amazing views of the Chandrashila peak and Sari village while we were climbing. I cannot paint these shades even if try thousand different colours...green was so green and sky was so blue and the Chokhambha peak was as white as it can be... I was just starring and I could not get enough...my eyes were not enough to capture as if I needed a different set.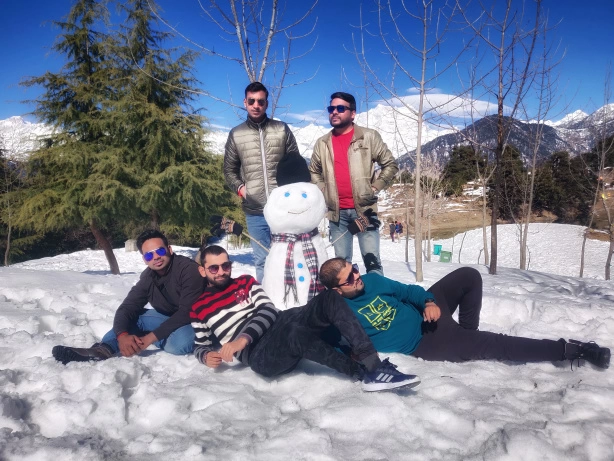 After walking about 4 kms we reached DeoriaTal around 12:30 in the noon, at an altitude of about 8,000 ft. DeoariaTal Lake, name derived from Devi that means Goddess and Tal that means a lake. It was an amazing view to see Chawkhambha mountain shadowing himself into the green water of DeoriaTal lake.It was full of peace and calm in nature.There are so many things to see here and my camera went crazy, clicking the photos of the lovely lakes and the lush landscapes around. After clicking the photographs, we created a snowmen over there which was really beautiful and we enjoyed a lot during the time of creation, as everyone of us had a opinion about our snowmen those also who didn't put their hands in this lovely creation.We roam around the lake and completed a circle around it and then we started to move back going downwards. It took us only one and a half hour to reach back.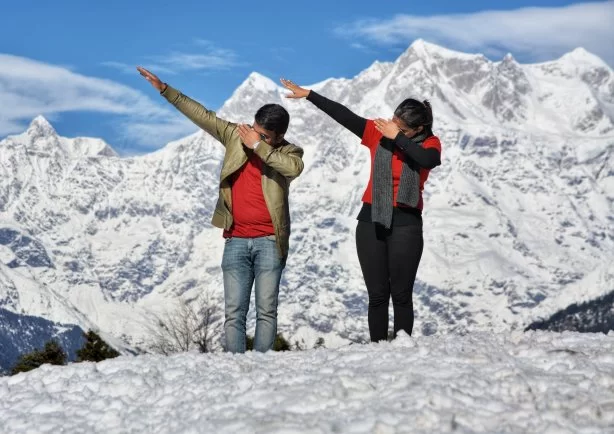 What an amazing experience!!It was a memorable trekking both sides. The DeoriaTal trek has a mix of everything that a beginner like us would be looking for in a Himalayan Trek. There is a lot to explore and discover on this trek. I recommend this trek to all those who love adventure, nature and beauty that God had gifted us.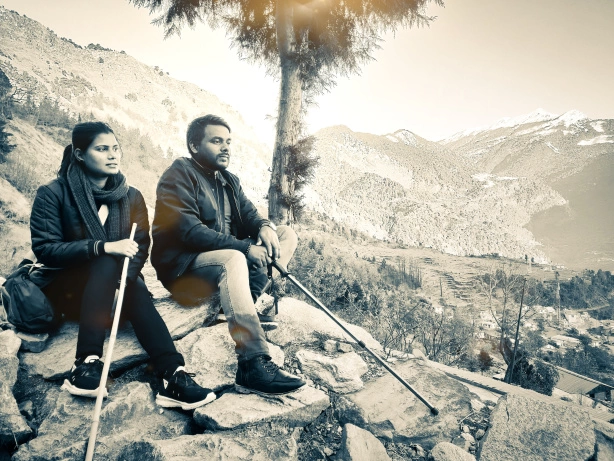 Uttarakhand is blessed with plenty of natural splendor and Auli is one of the most beautiful places in Chamoli. Auli rests on the way to Badrinath. Joshimath is the base point for treks such as Auli, Hemkund and Nanda Devi.We covered only Auli. The hills of Auli are connected to Joshimath via rope-way/cable car covering a 4 kms. long distance and the tariff for it is Rs. 1000/- per person which can be covered in 20-25 minutes. It is a longest rope-way ride in Asia, situated at an altitude of 3000 meters above sea level.The other way to get to Auli from Joshimath is by road and it usually closed/blocked in winters due to heavy snow fall.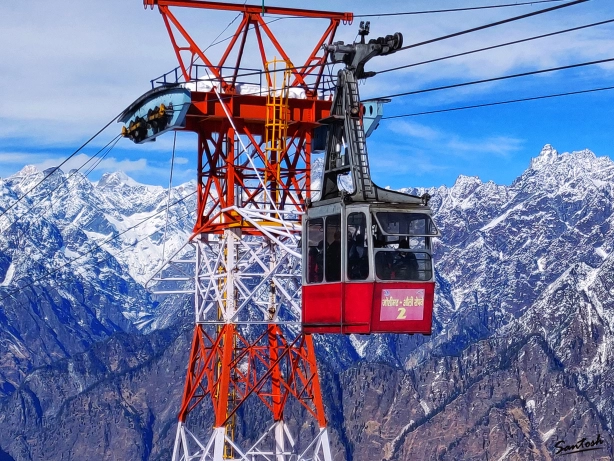 Going up to Auli from Joshimath in the cable car was an experience in itself. Cable car provides an exceptional 360 degree panoramic view of the Himalayas, which includes the second highest peak of India - The Nanda Devi (7816 meters).As we moved up the slope, we started seeing snow all around the surface. There were piles of snow on the trees indicating fresh snowfall. It was beautiful to watch the cable car leaving the muddy earth and enter an ocean of white snow from which pine trees seemed to emerge. Auli is a very scenic place, with snow covering every inches of earth, and a pine forest just above the Ski Lodge. Beautiful artificial lake was created in the middle of Auli's mountains. It is the world's highest man-made lake. The reason for creating this lake is to produce synthetic artificial snow during international skiing championships when there's scanty of snowfall. All the ski championships that are organised in India are conducted in Auli, during Jan-March. A person can also opt a professional ski training program which is a 15-day program.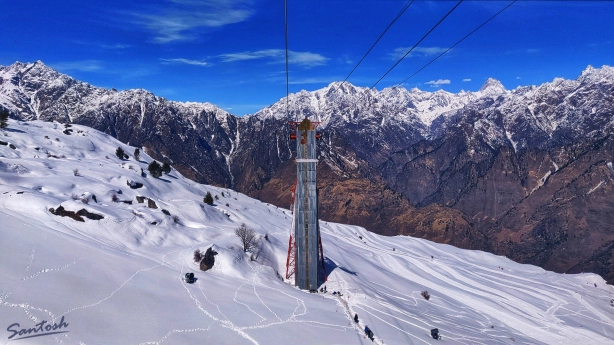 The place is ultimate destination for anyone looking for skiing in India. It is a winter paradise filled with beautiful valleys, white forests, lofty peaks and much more to explore.I had never seen so much snow,so I was pretty excited. I walked and jumped around the real snow and felt happy as a kid. The bright snow would hurt without the goggles, and cold would bite into the skin, yet it was nice and beautiful.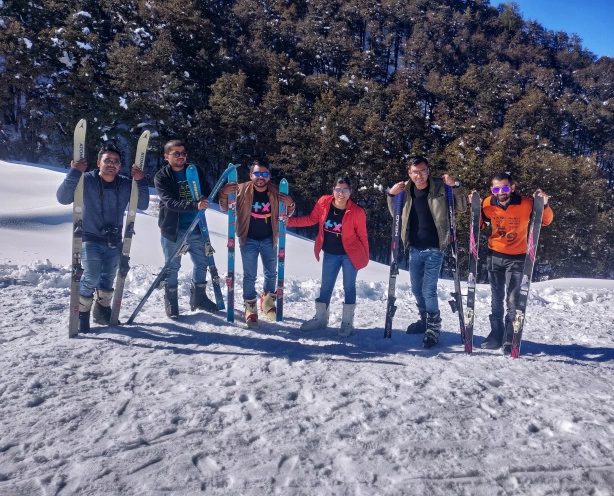 As everyone in the group was already aware that skiing is among the most popular forms of adventure over here,thus we directly moved for skiing without having any doubts or second thoughts in minds.The charges would vary from INR 400 to INR 500 (till you get tired or the snow gets hard enough to ski).After the training session started, we took some time to figure out how to wear/detach ski gear properly. The instructor was guiding us to make slow front and back movements with the skis on, and to walk around slowly on plane surface. We kept falling while skiing. We fell more than we walked, and struggled to get back on our feet with the skiing boots on. We felt some confidence when we achieved to slide down a few meters and had a feel of what skiing is all about.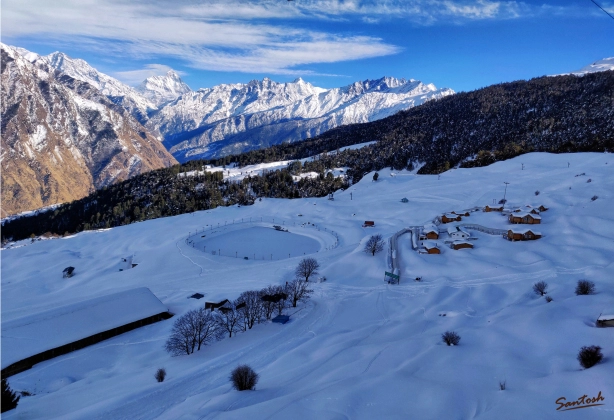 We spent the entire day to trekking, snowboarding and soaking the beauty of Auli. The splendid view of meadow covered in the blanket of snow and the towering Himalayan peaks in the backdrop will always remain embedded in my heart as we enjoyed and clicked a lots of pictures, there. The hill station is not commercialized yet and hence there was very few stay options available but these were very expensive.Hence we returned to Joshimath from second last cable car of the day. We were hungry so first we ate Aalu Parathas with green coriander chutney in supper and it was so delicious to water my mouth again. Then we decided to move forward towards our next destination for night stay which was not booked.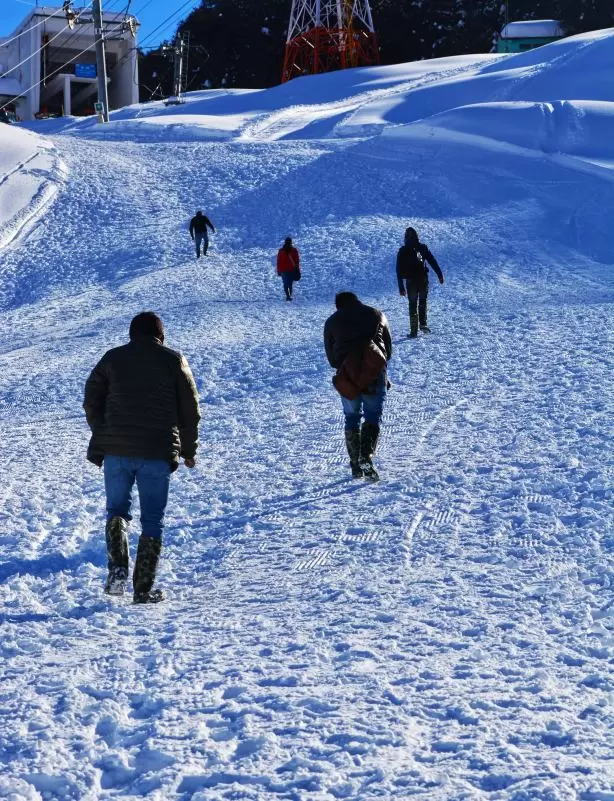 We reached Rudraprayag and booked a Hotel for our stay, it was the last night stay of the trip so we decided to order non veg also as some of them were missing the desi non veg cousin throughout the trip. We checked and noticed that they had only vegetarian options in their menu. We asked if they had any non-veg items, and the guy said yes, its available "on-demand". Since RudraPrayag is a religious place, most eating joints do not publicly advertise non-vegetarian food in their menu. But my friends palate could not be satiated with vegetarian food, especially after travelling so much during the day! So he ordered a spicy hot plate of chicken curry :). The food was quite nice and most of it was freshly prepared. We retired to bed as we had to wake up early tomorrow to reach Delhi via Haridwar.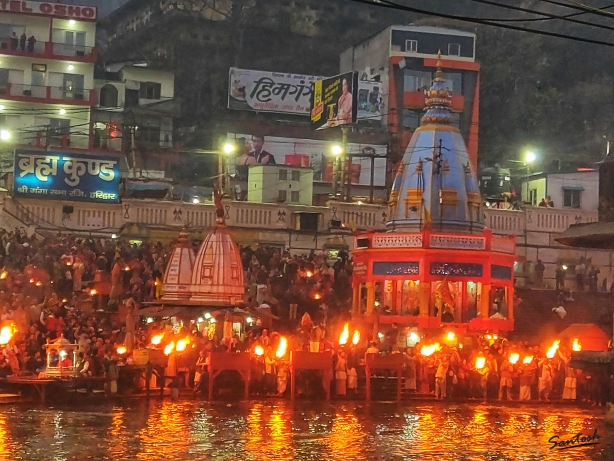 Next morning,we get ready at 9 in the morning to move towards Haridwar. On our way to Haridwar we took a short break from our travelling and stopped at Rishikesh. We walked towards the river bank and dipped our legs into the water cracking the jokes (Hey, Rishikesh! I am in Rishikesh ????). After taking a rest of around 30-40 minutes we moved ahead. We reached Haridwar in the evening and finally got the opportunity to witness the Ganga Aarti of Haridwar. It is situated at the bank of Ganga River and thus many people from across the world comes here to visit Haridwar and to see the most famous "GANGA AARTI" as Haridwar is one of the seven holy places to Hindus. It was a really divine experience to see Ganga Aarti, I immediately remembered Varanasi's Ganga Aarti and comparing both of them which is not fare at all. We enjoyed famous Kachori over there and then moved by the divine atmosphere which comprised of lights, colours, chants, ringing bells, drums and the smell of various flowers, incense and camphor.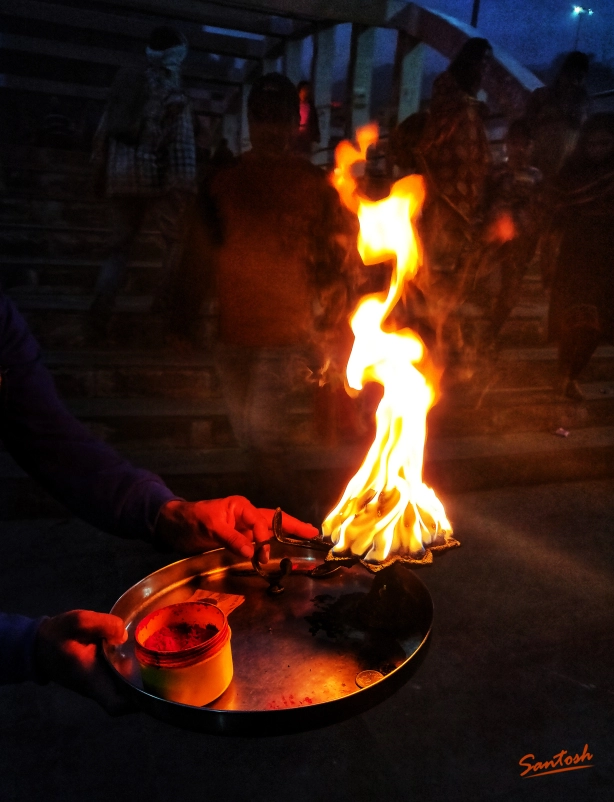 We came back from a four-day trip with lots of memory and thinking for another snow trek may be Chopta next time.
For more blogs and videos visit https://santoshmaurya.in/