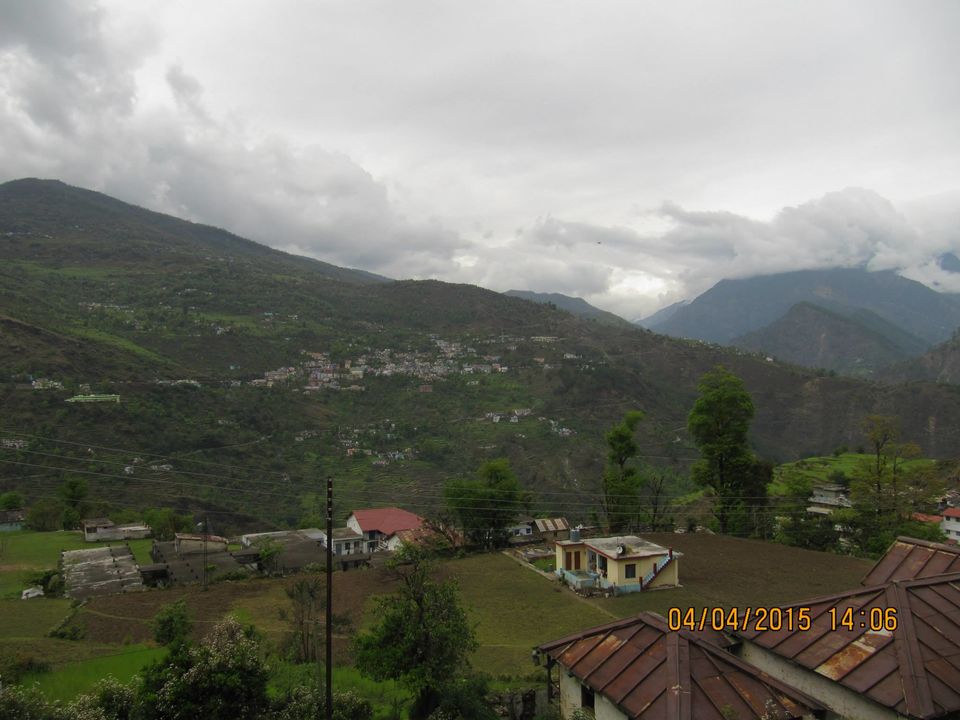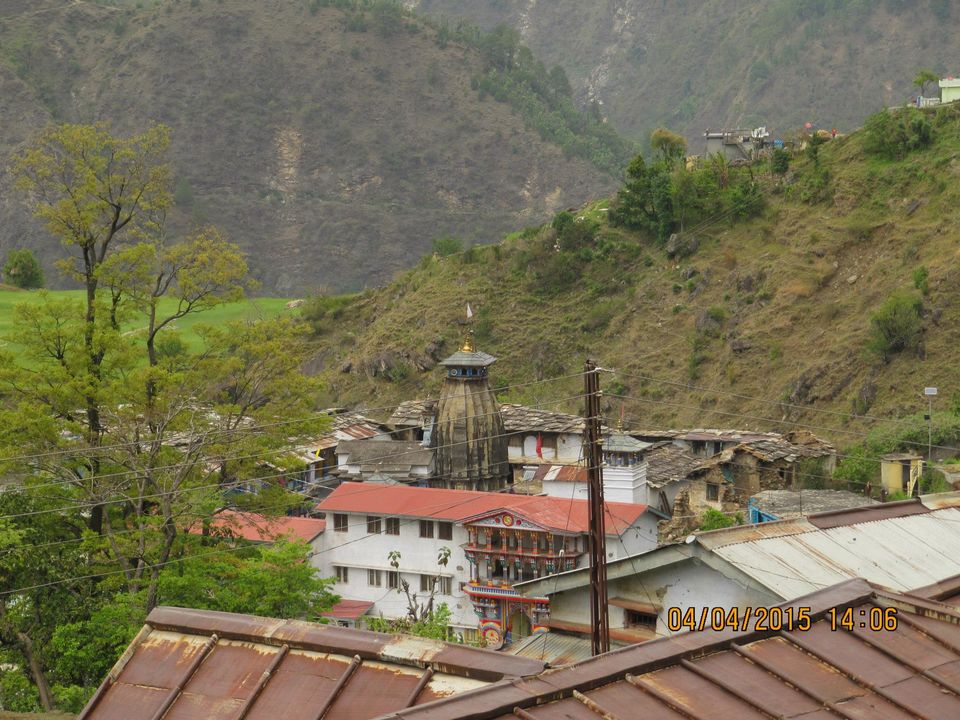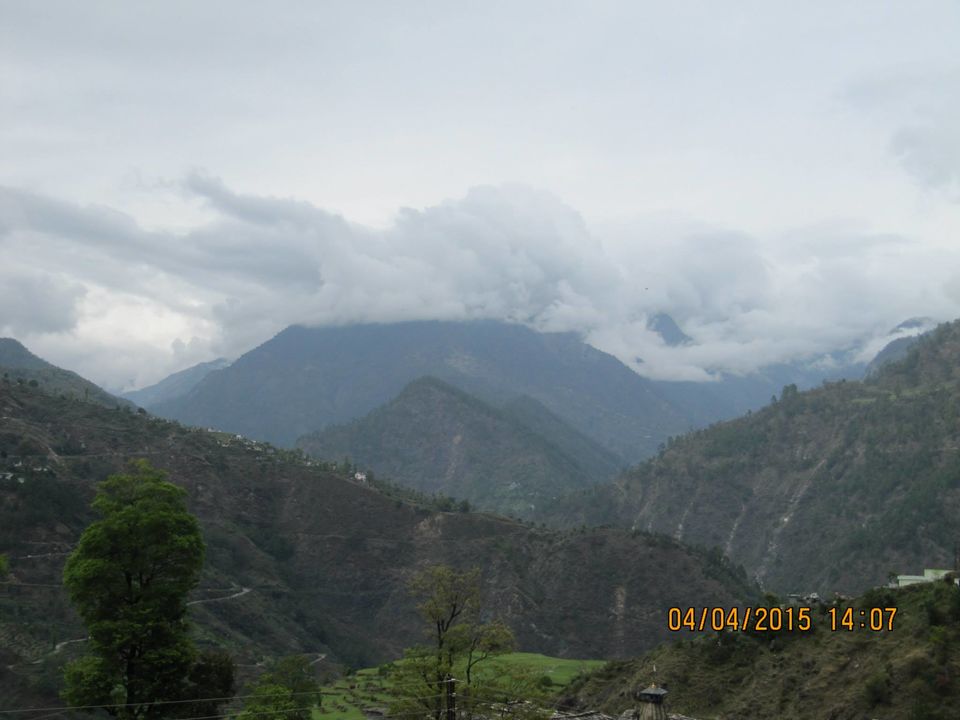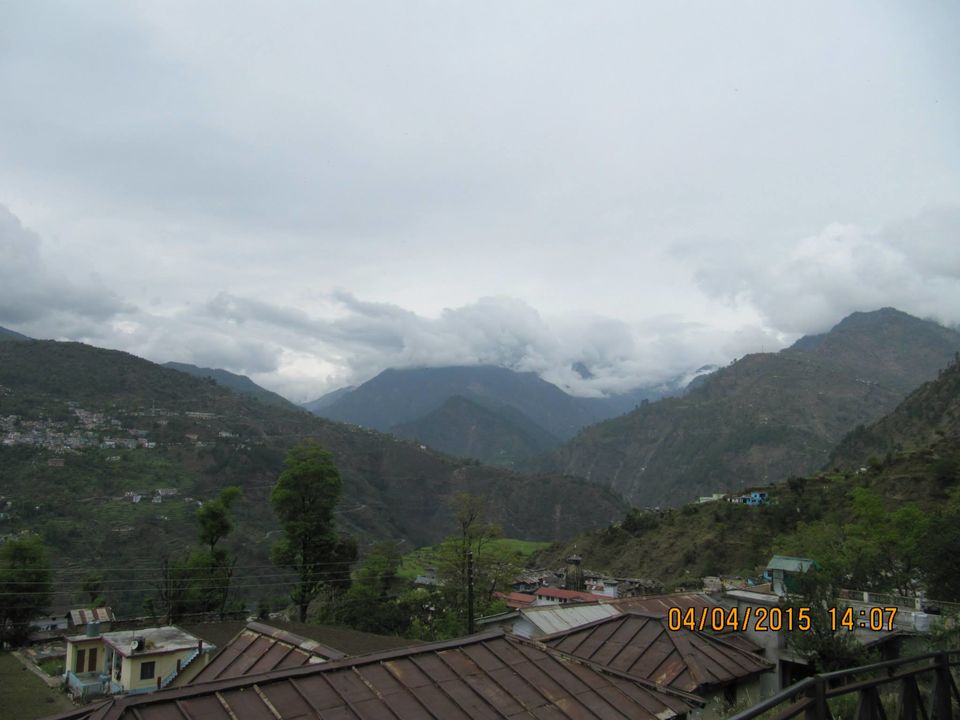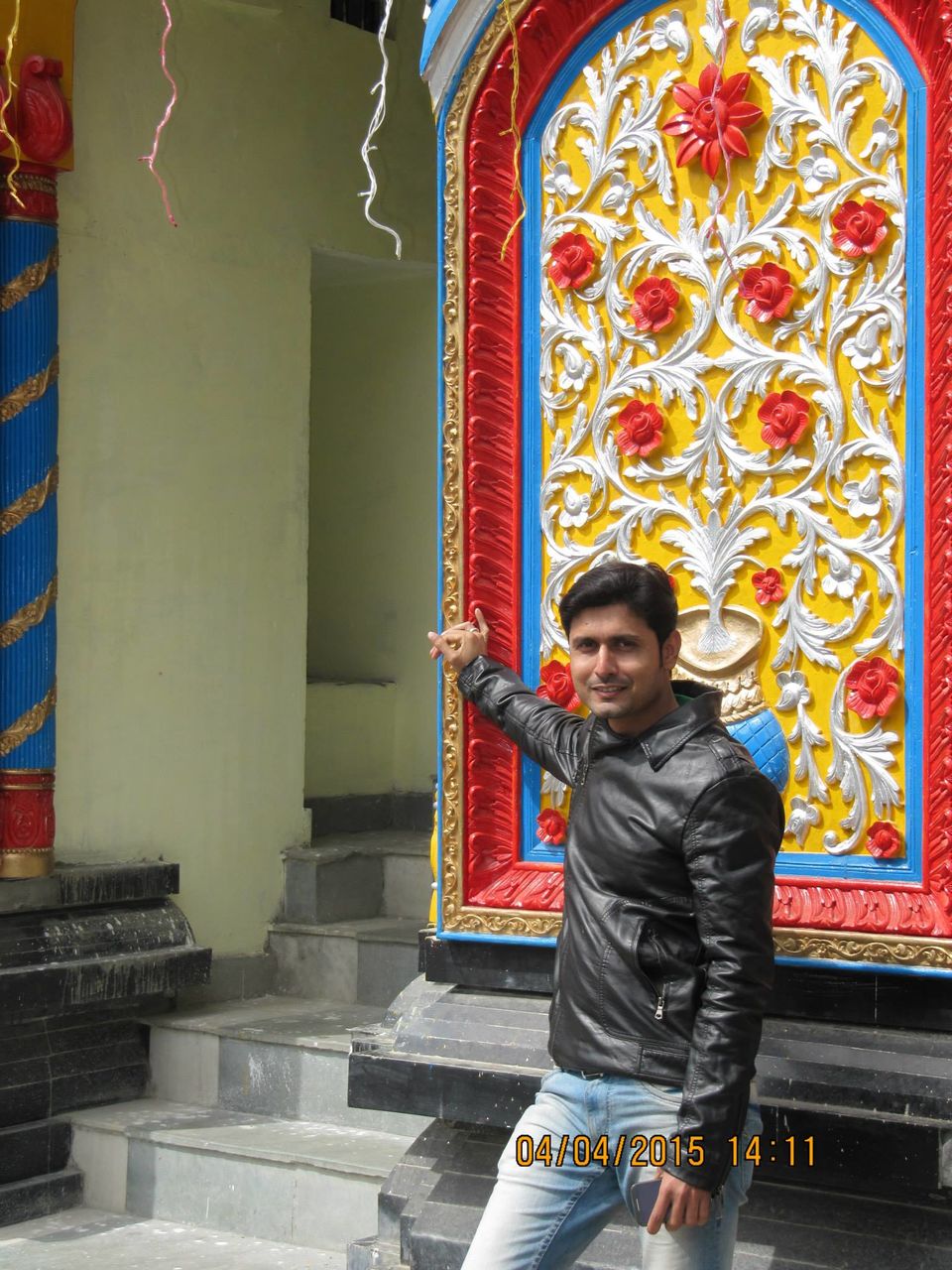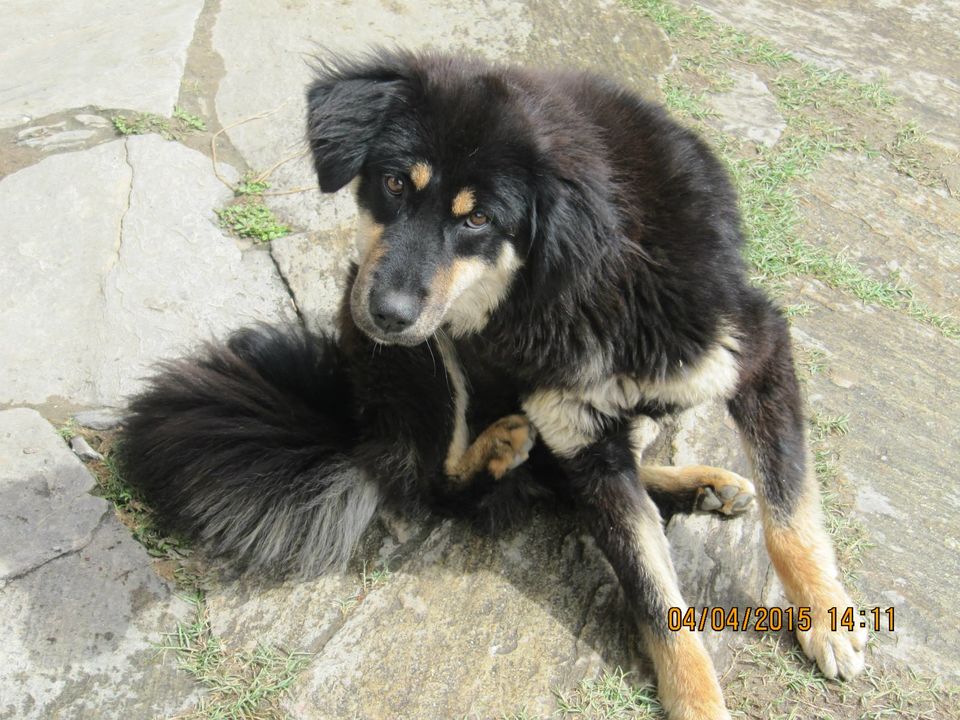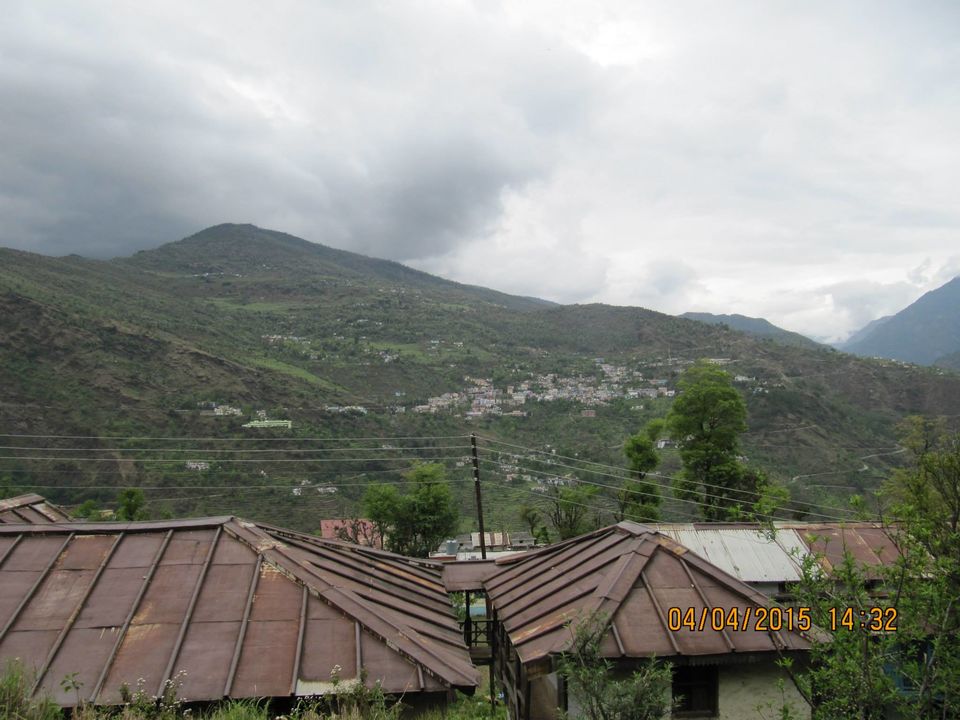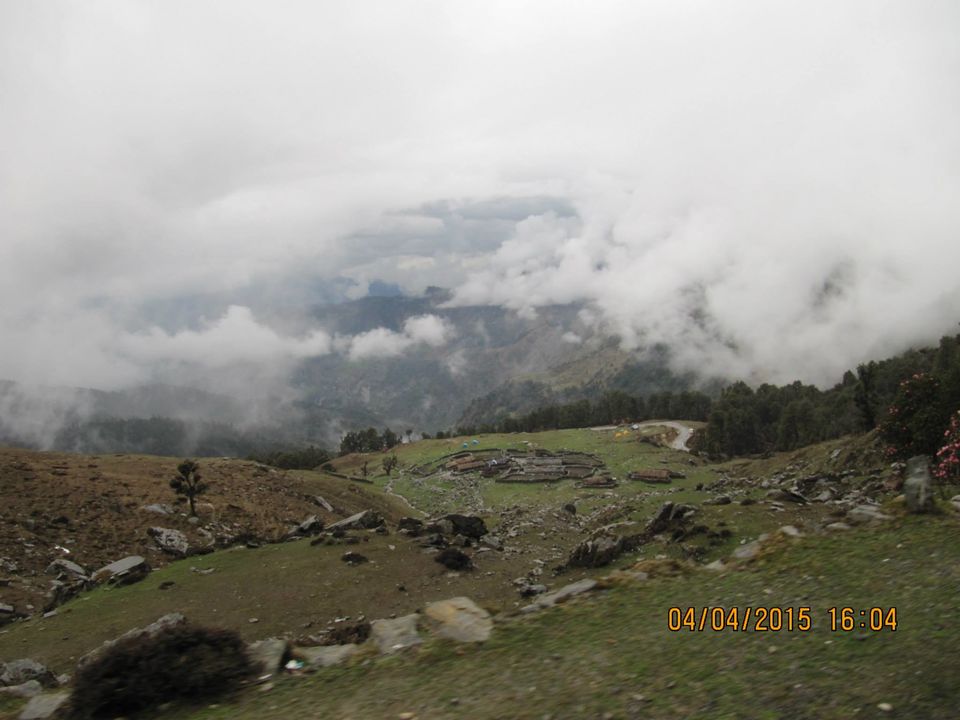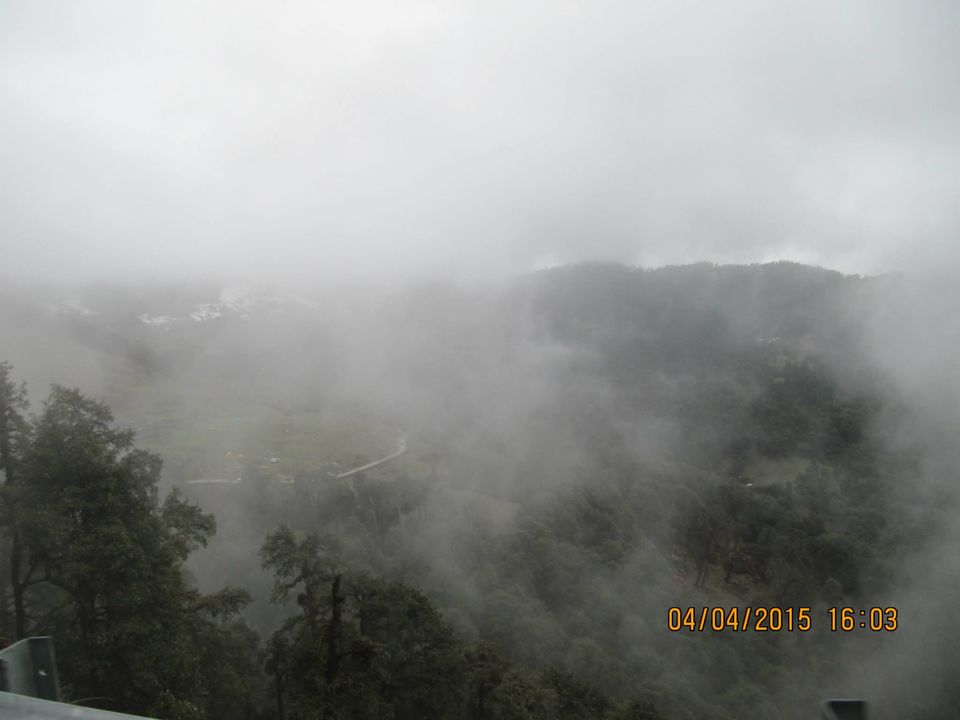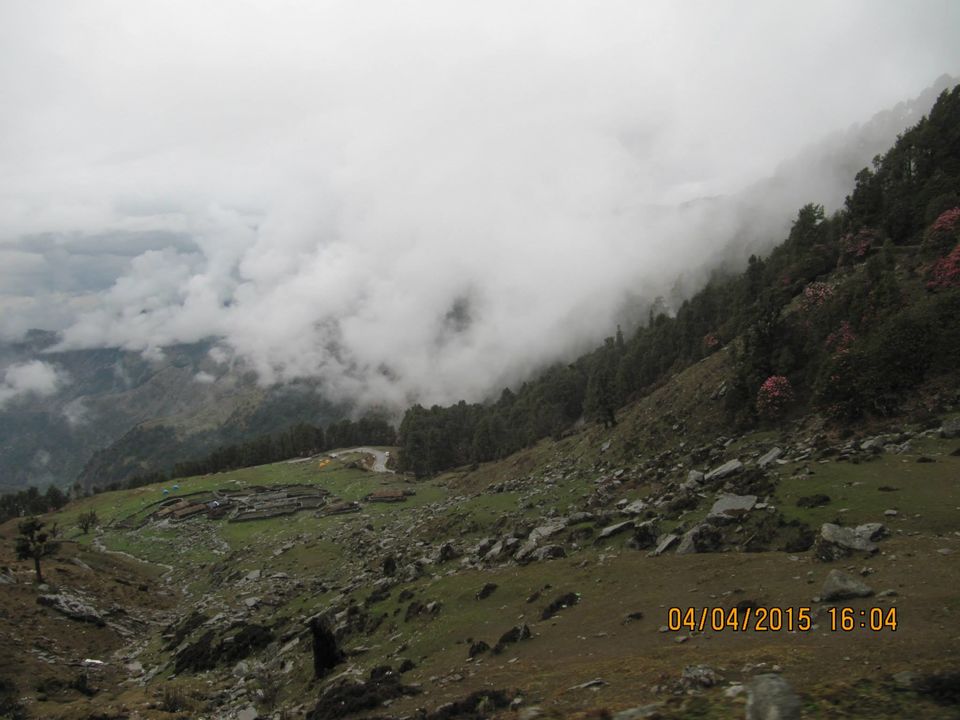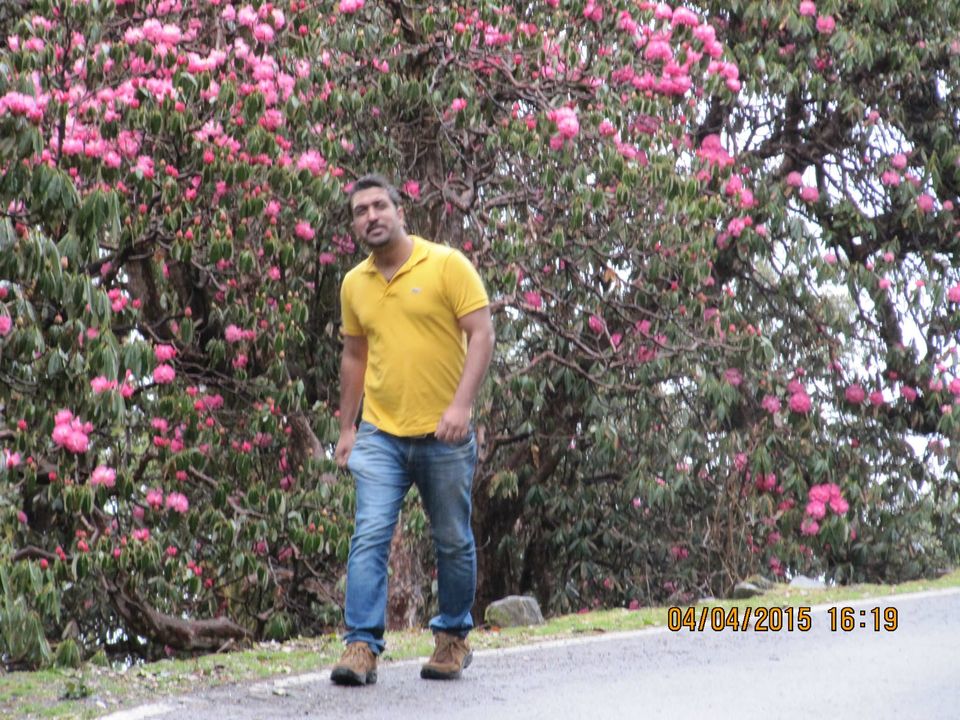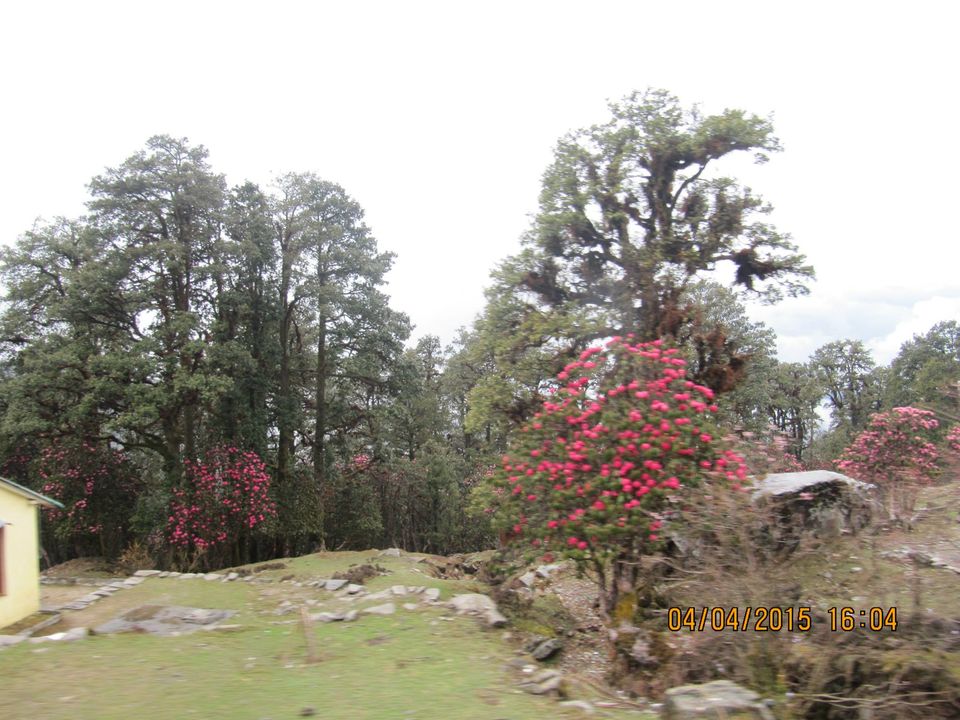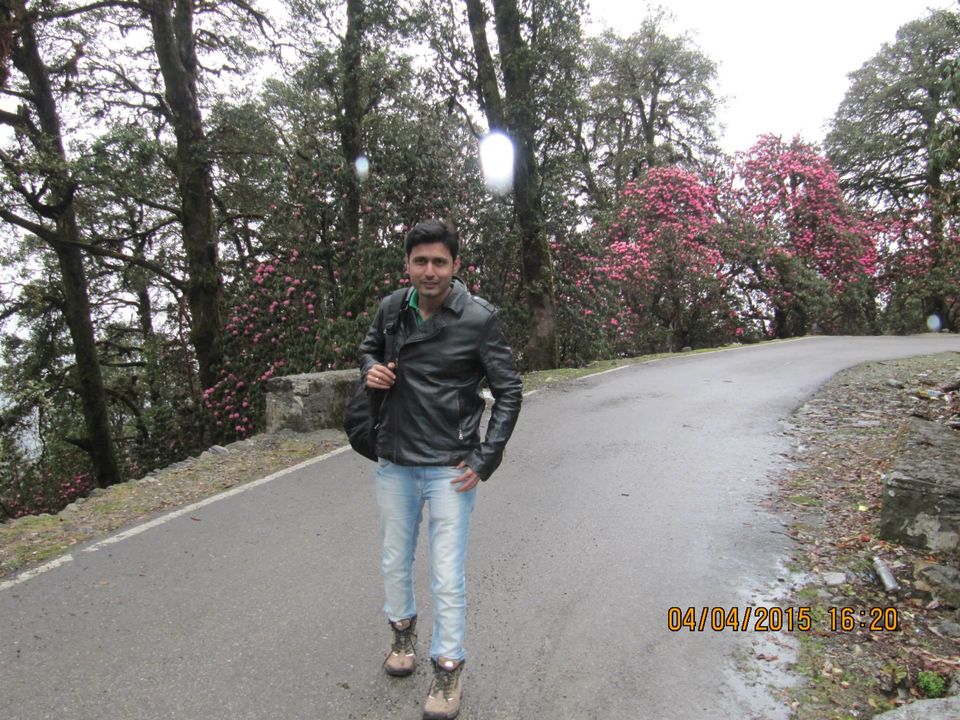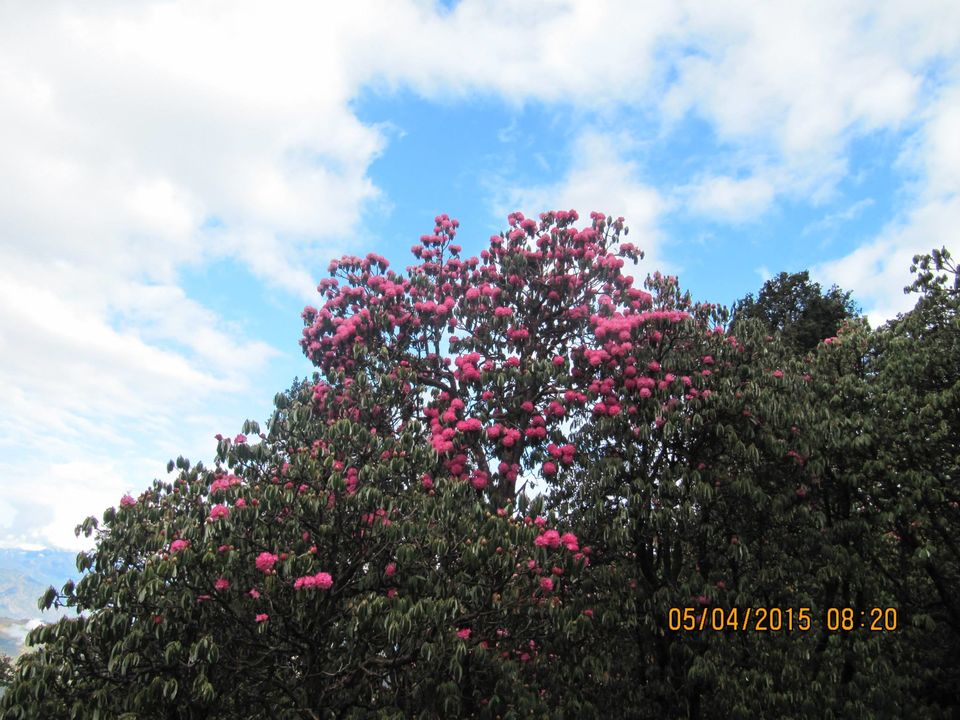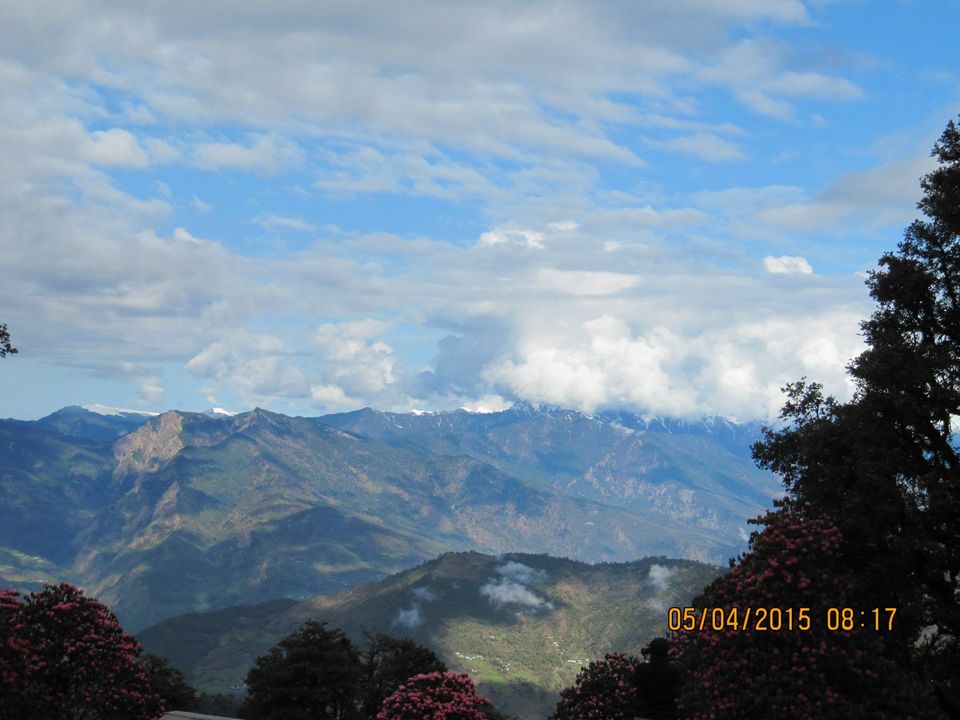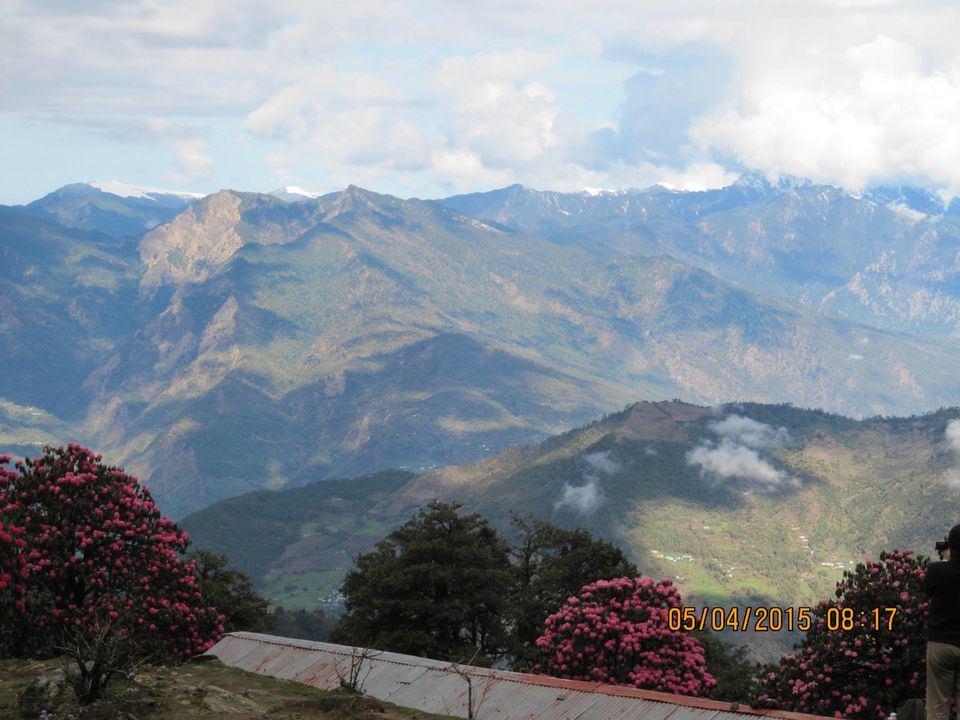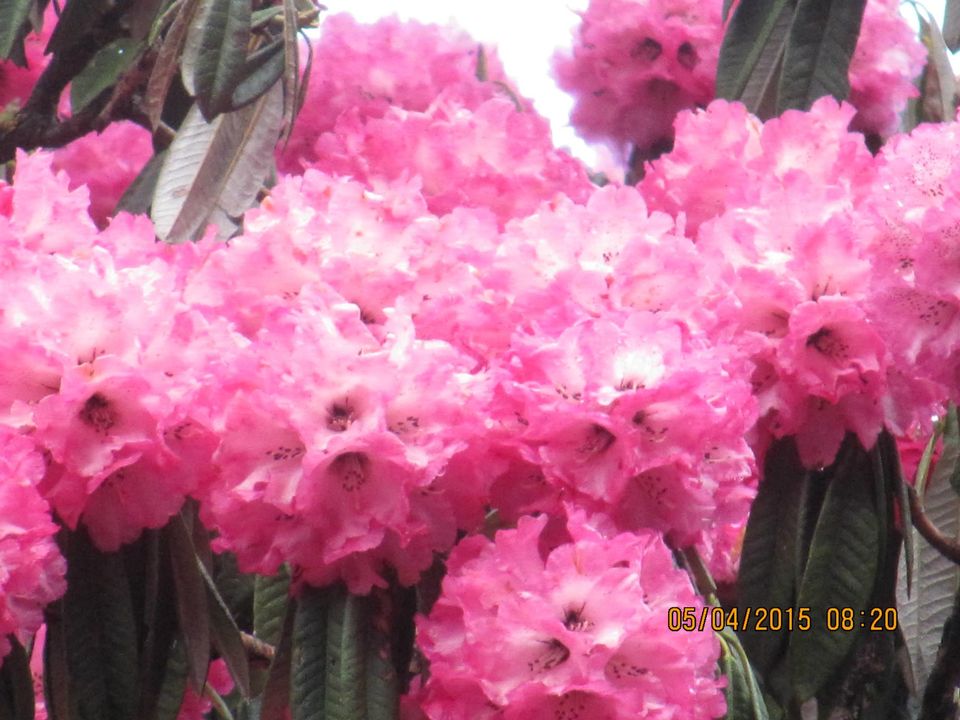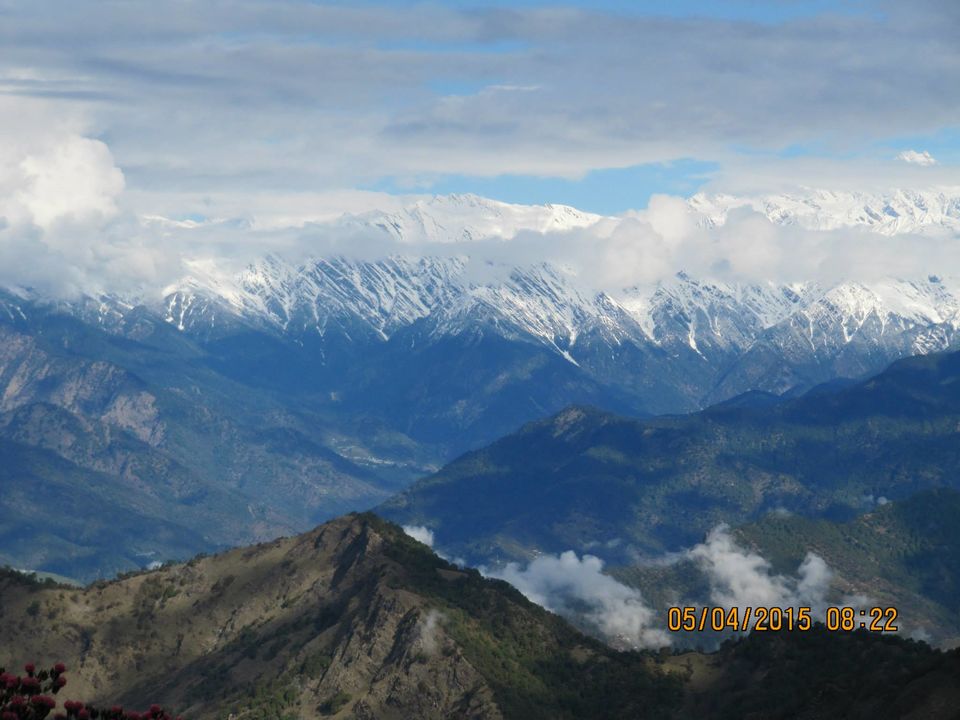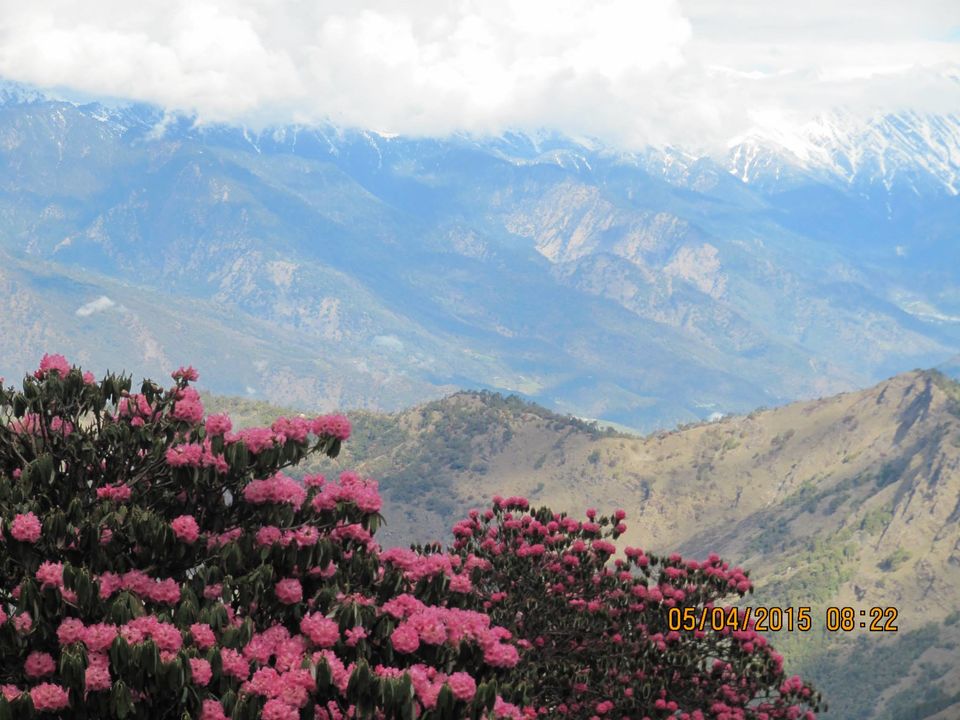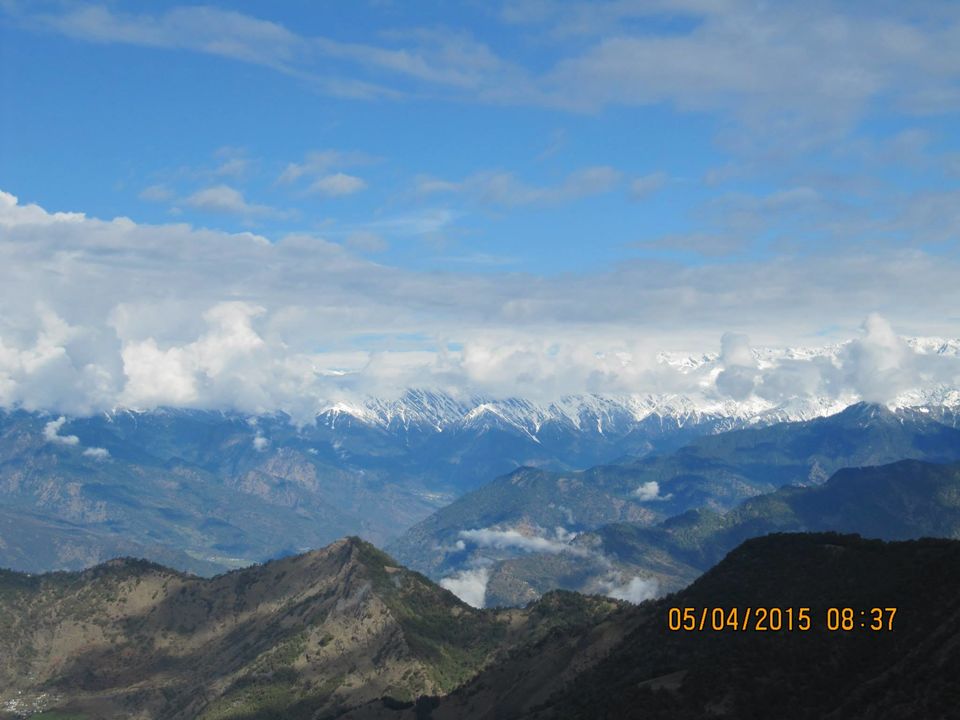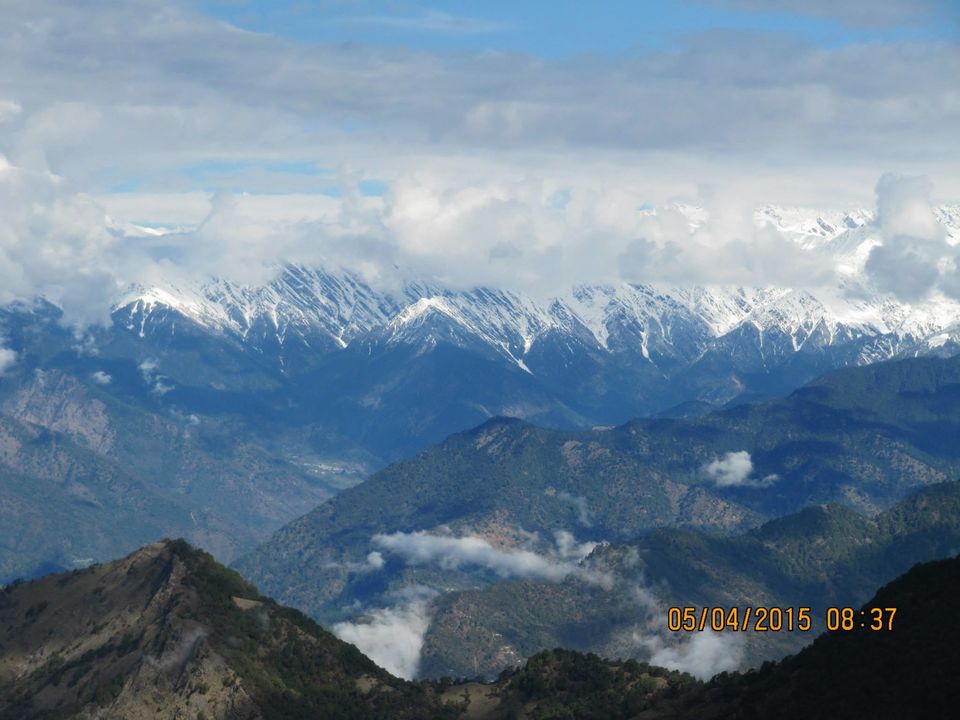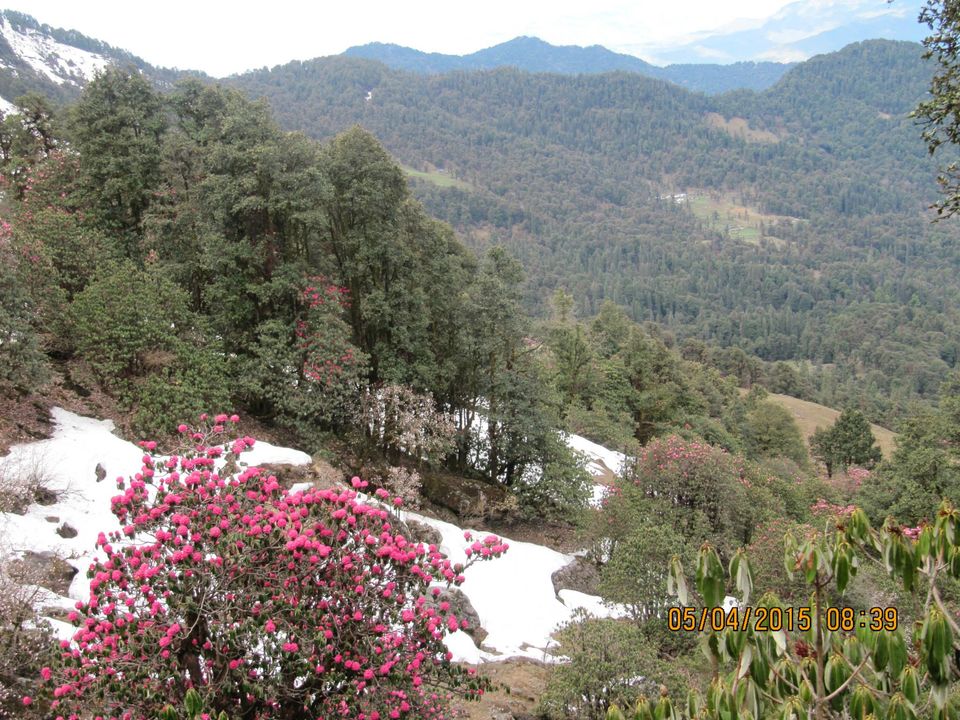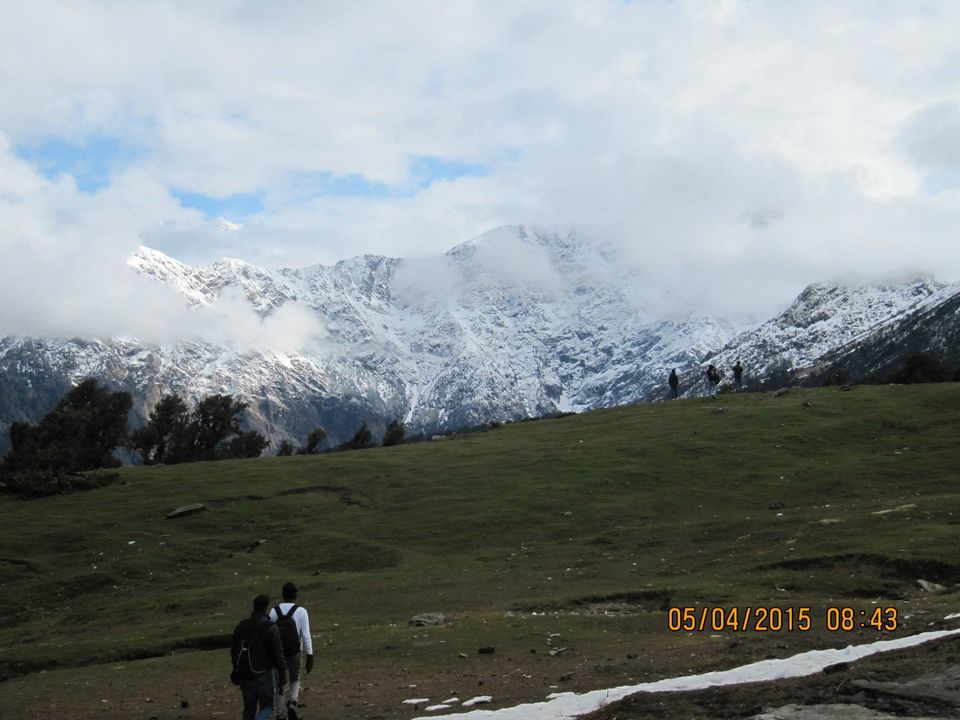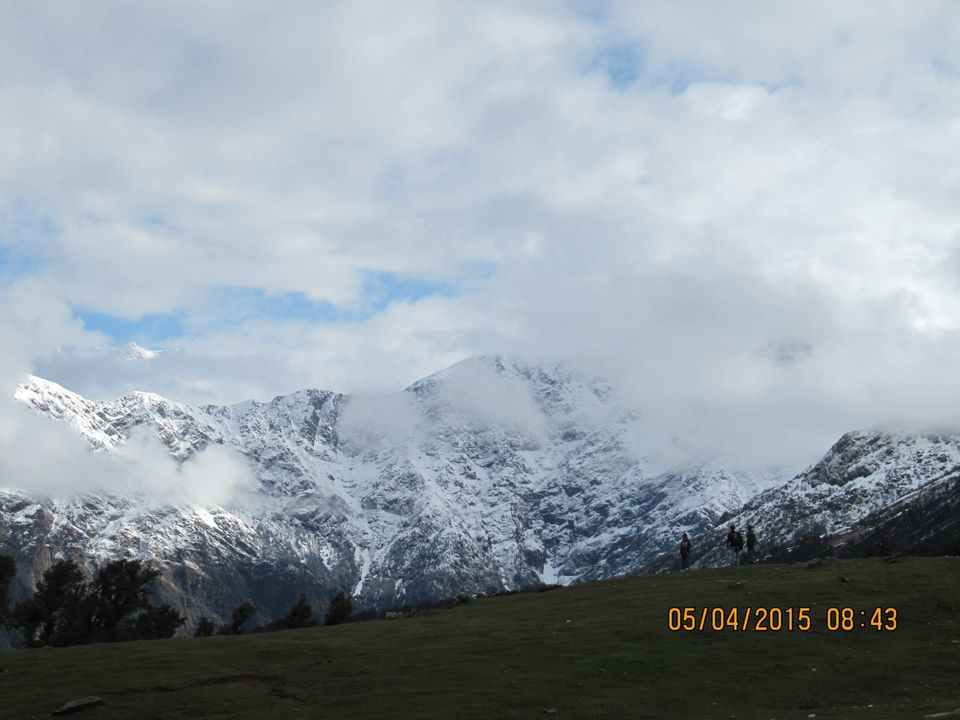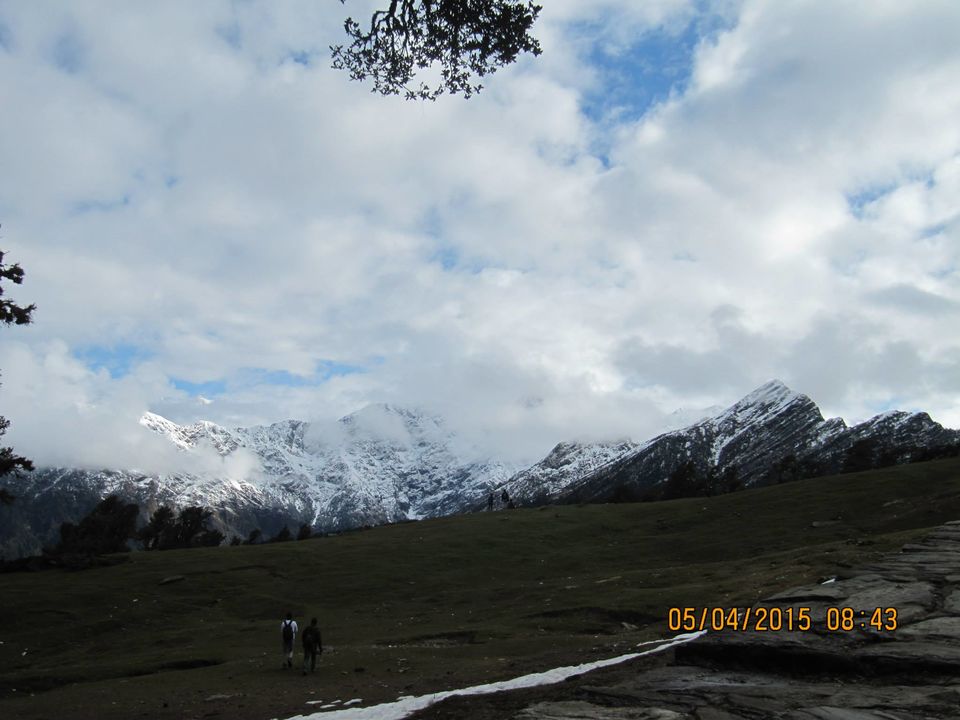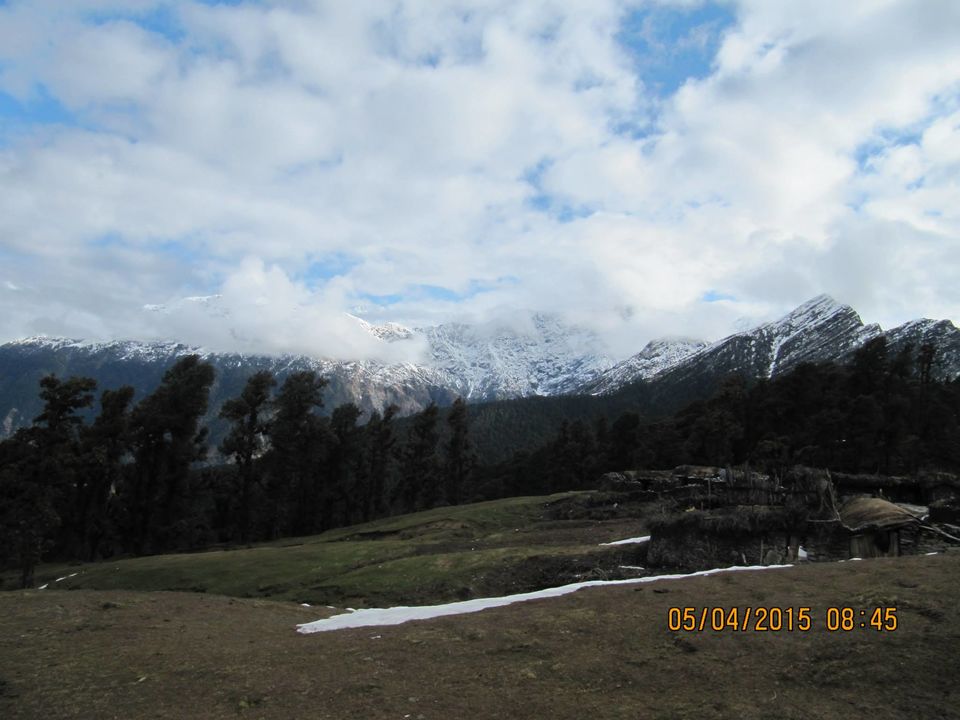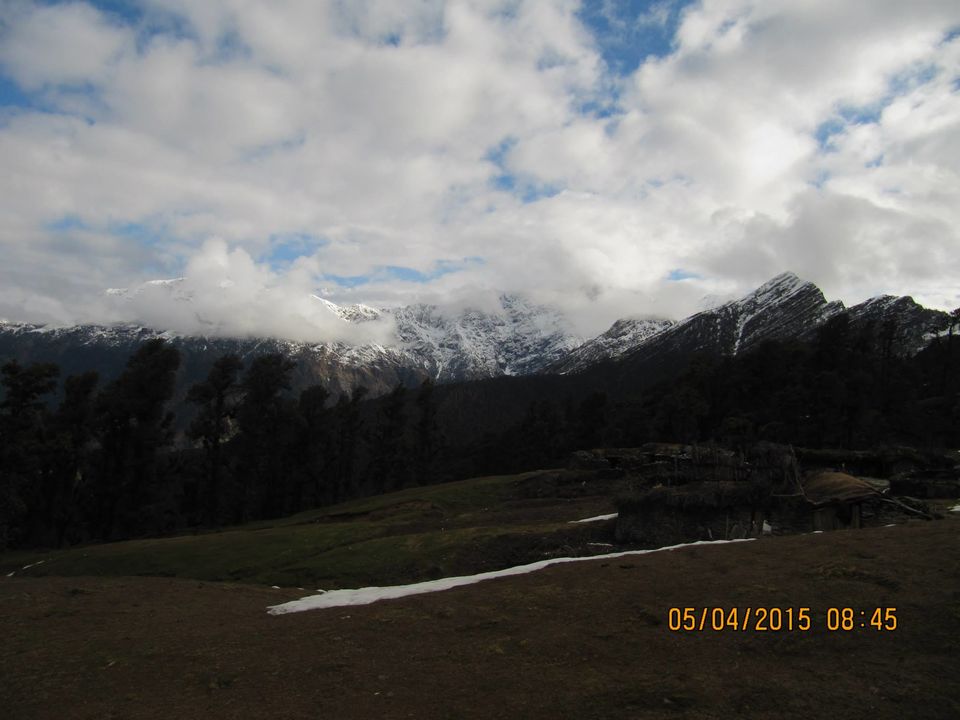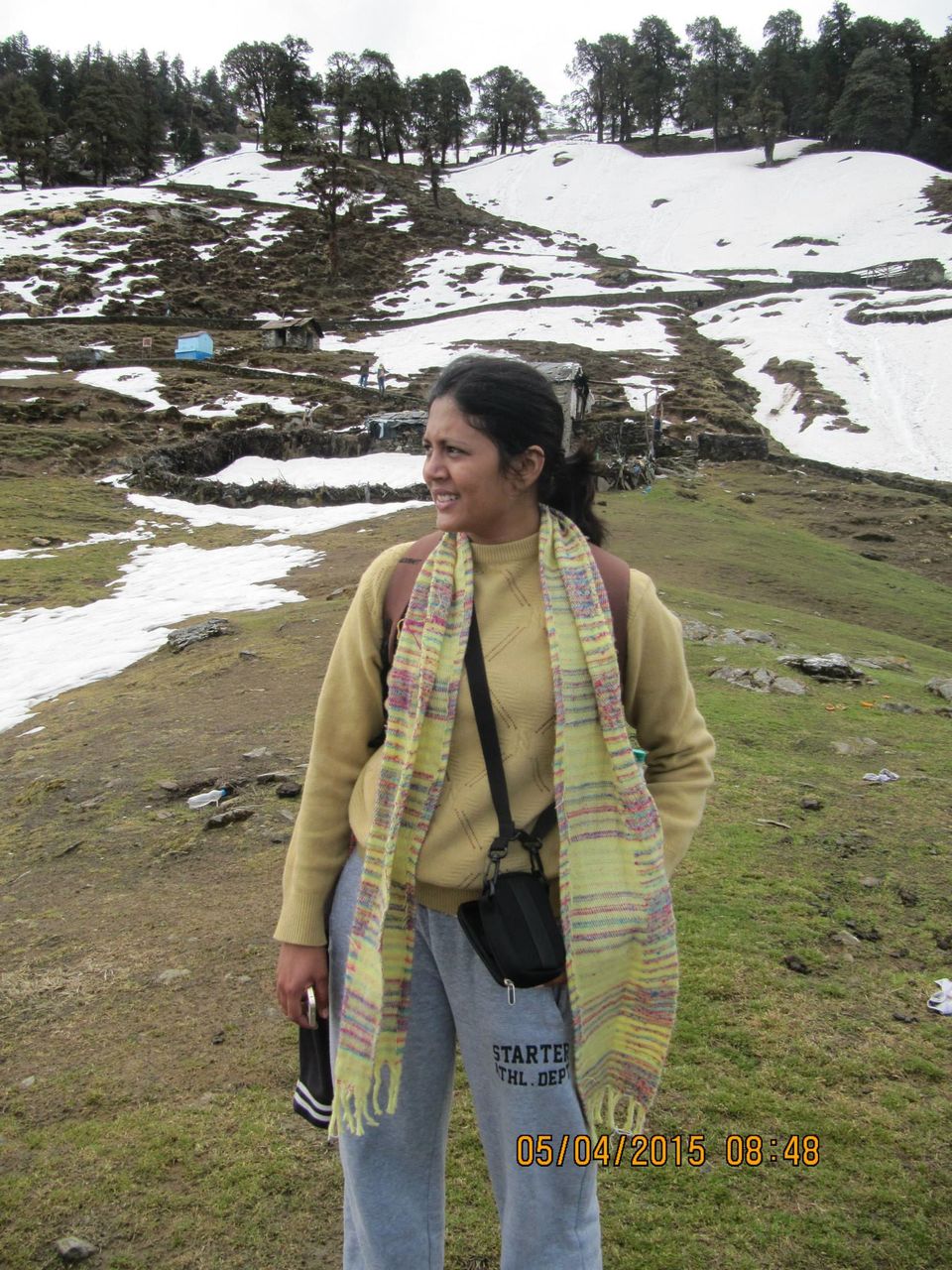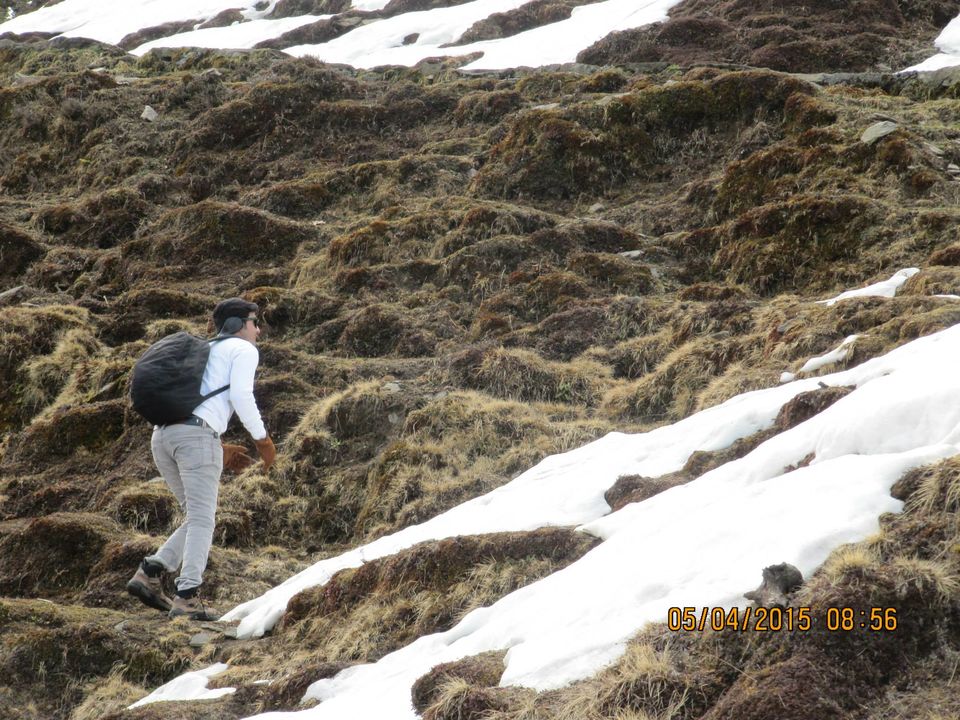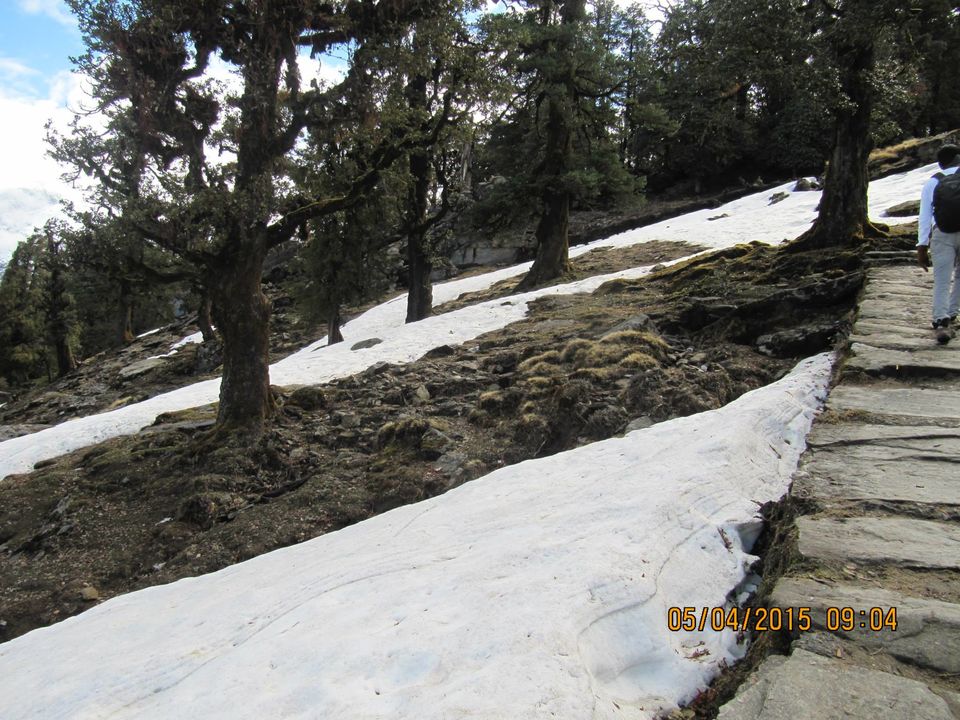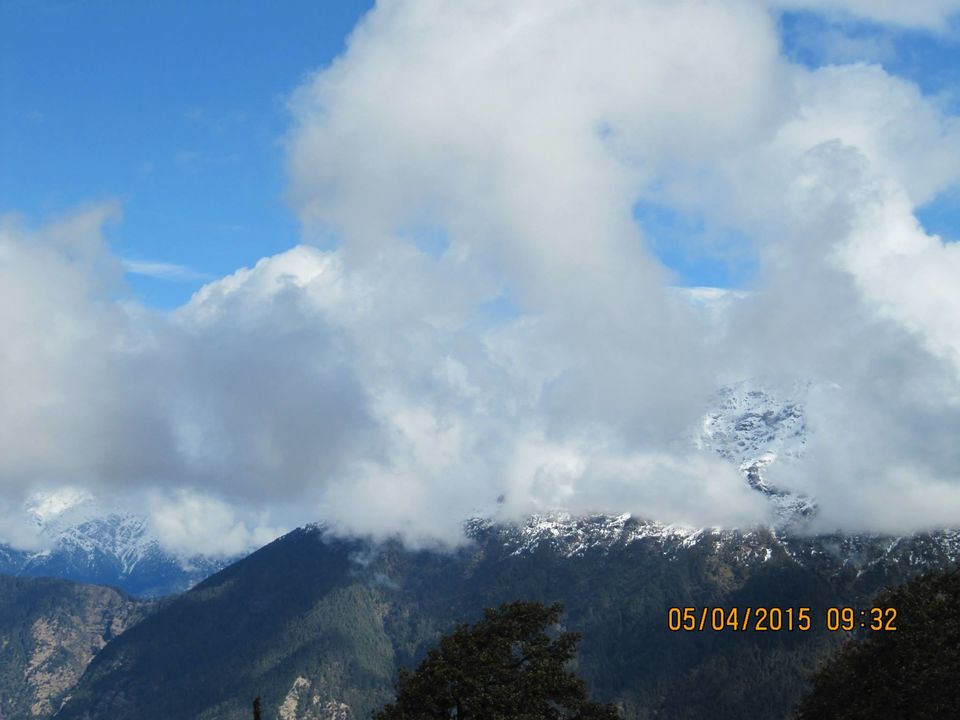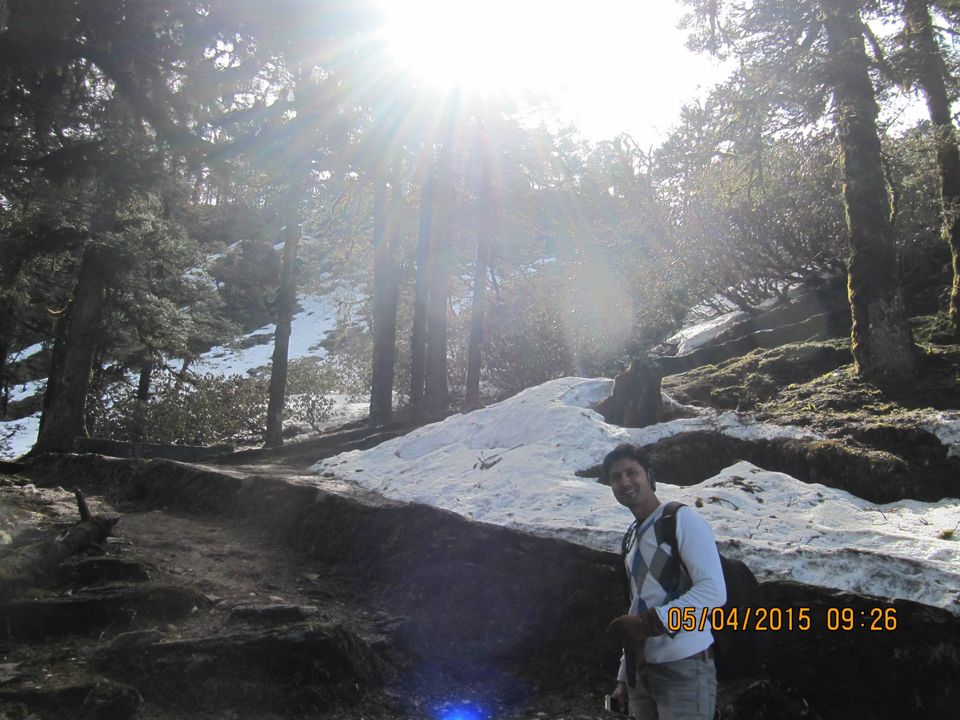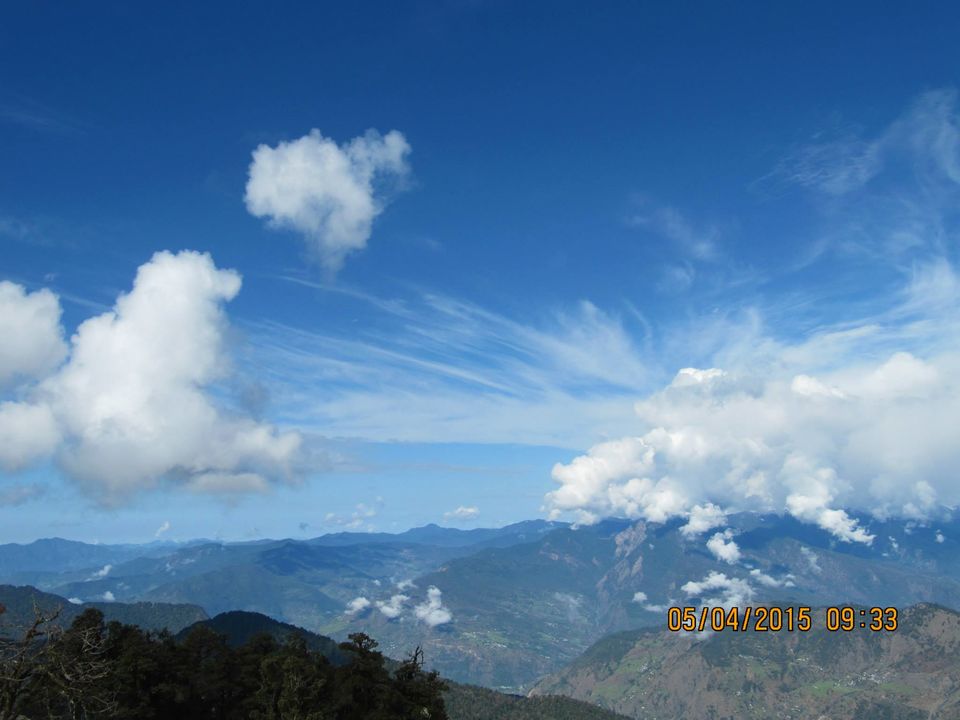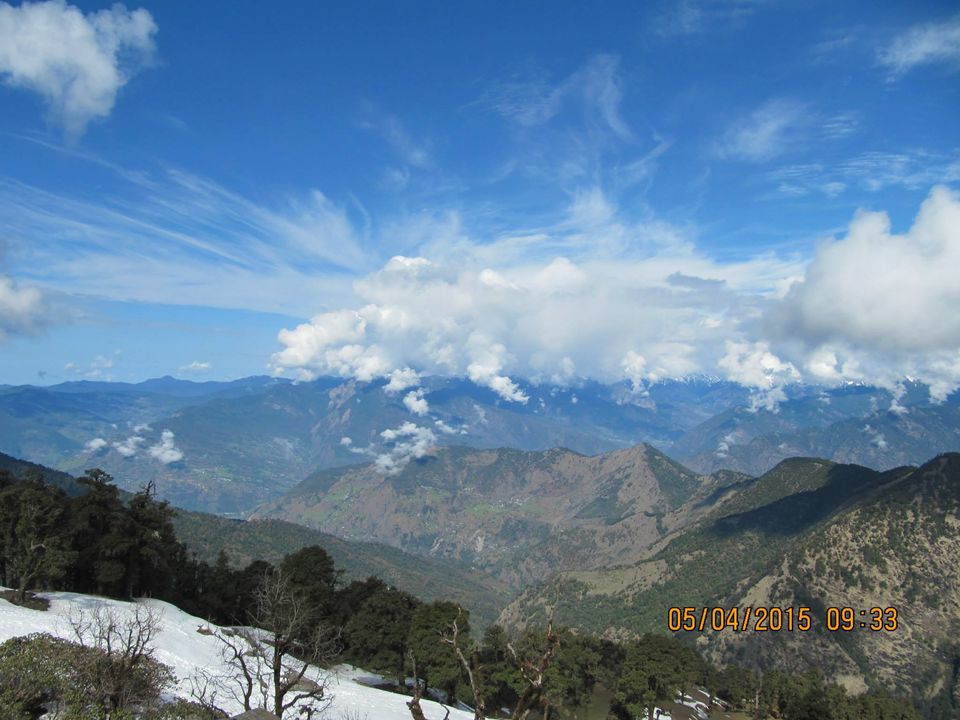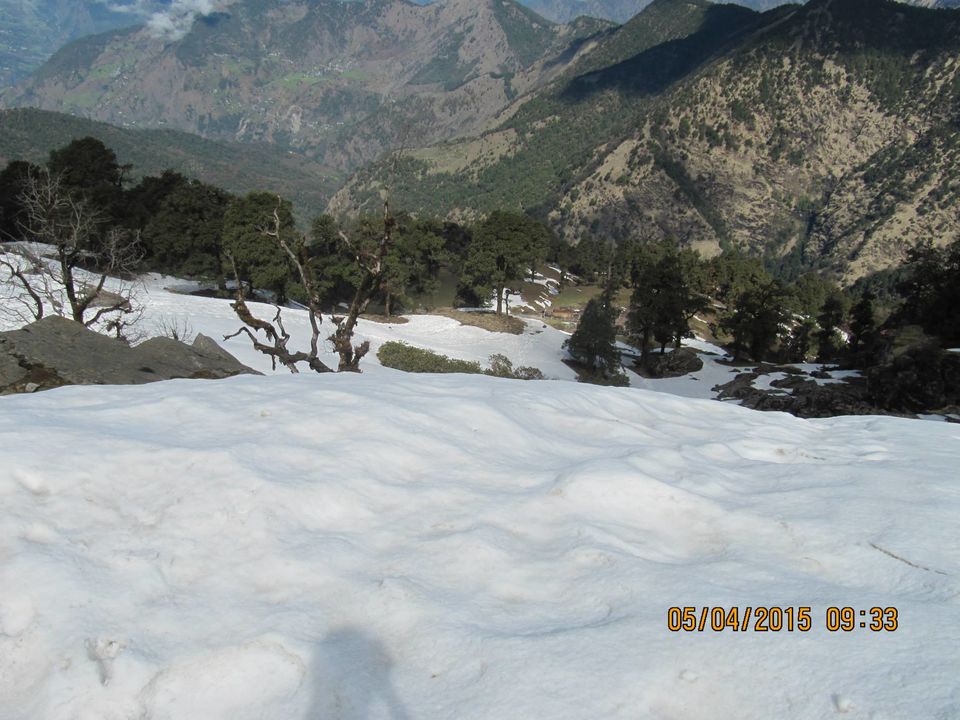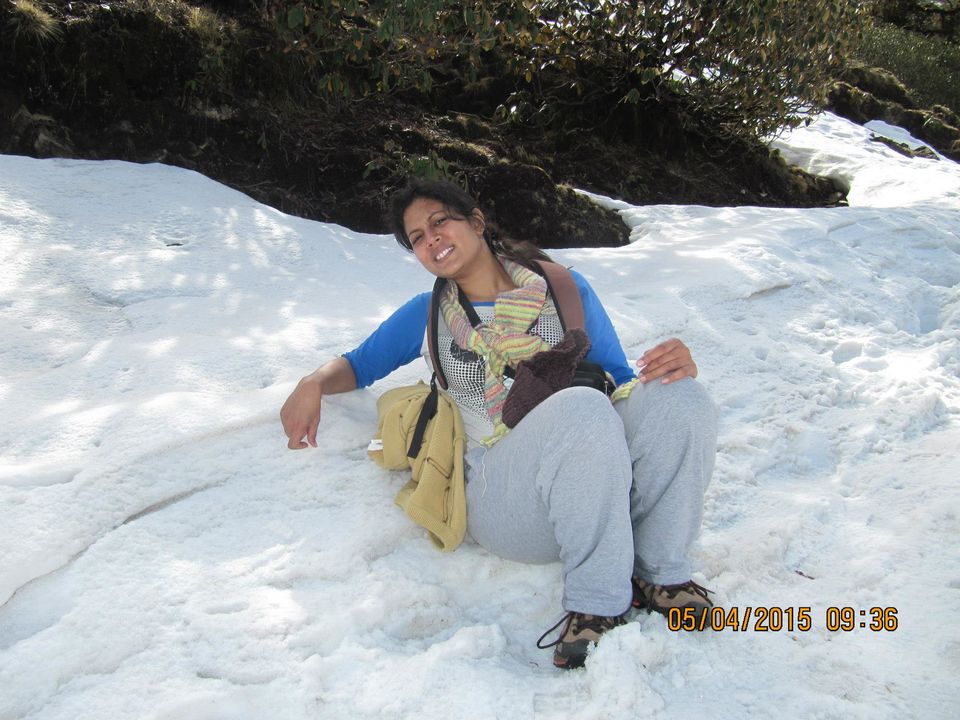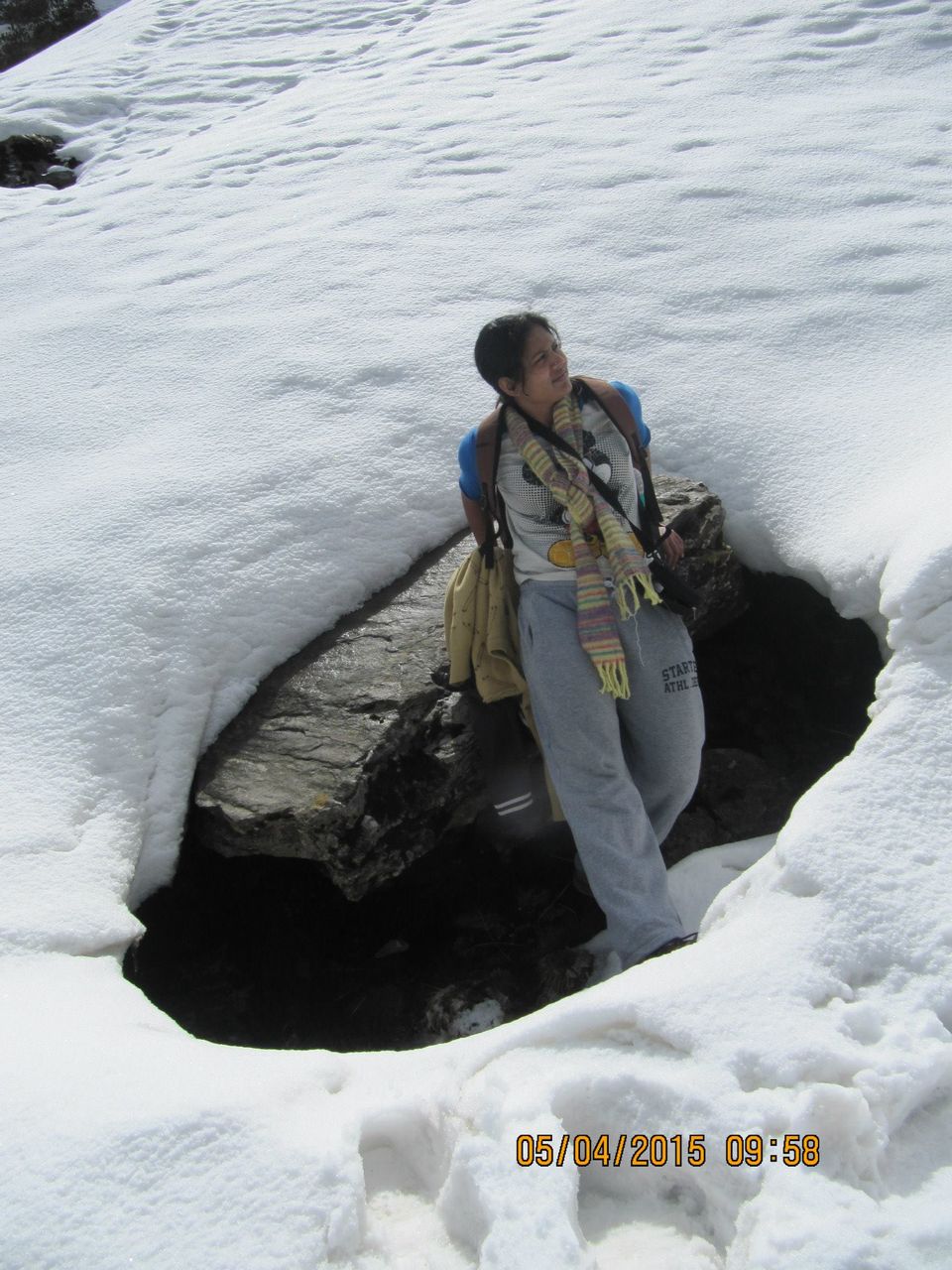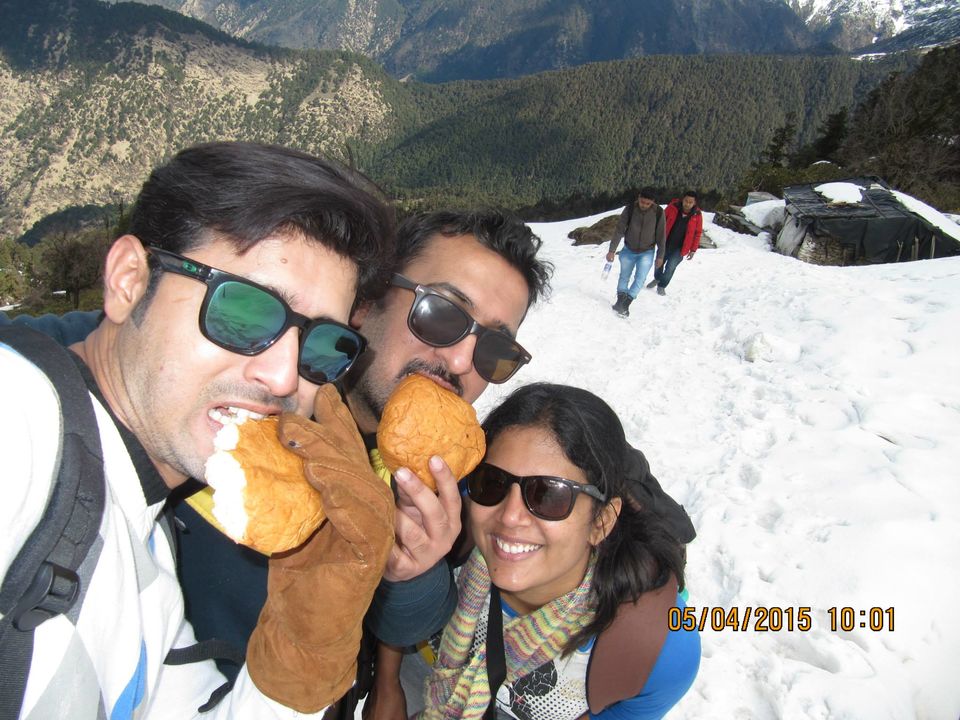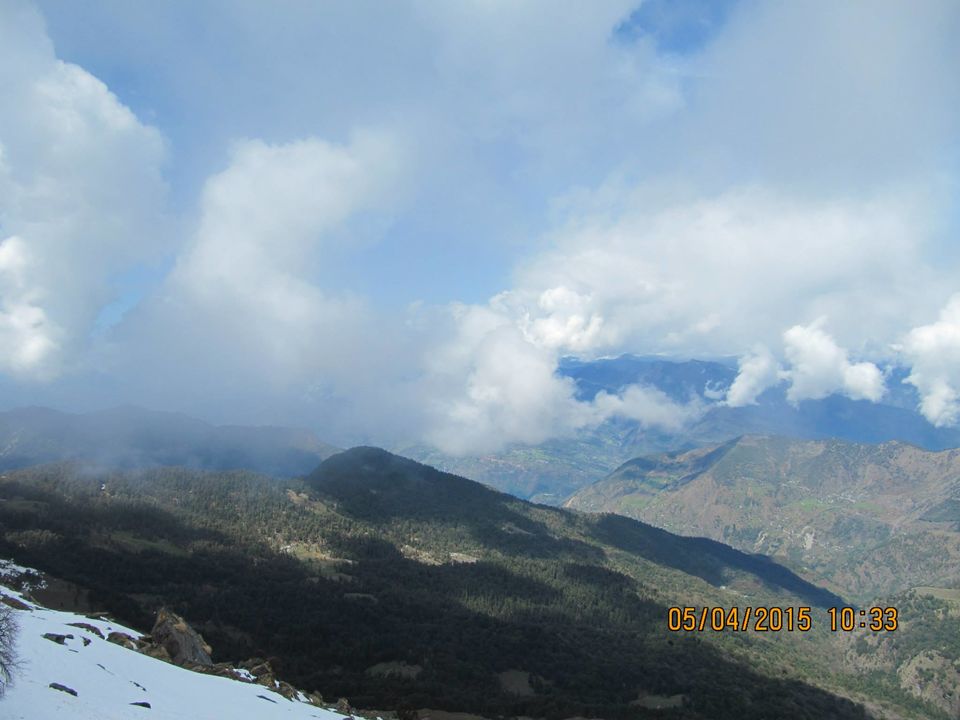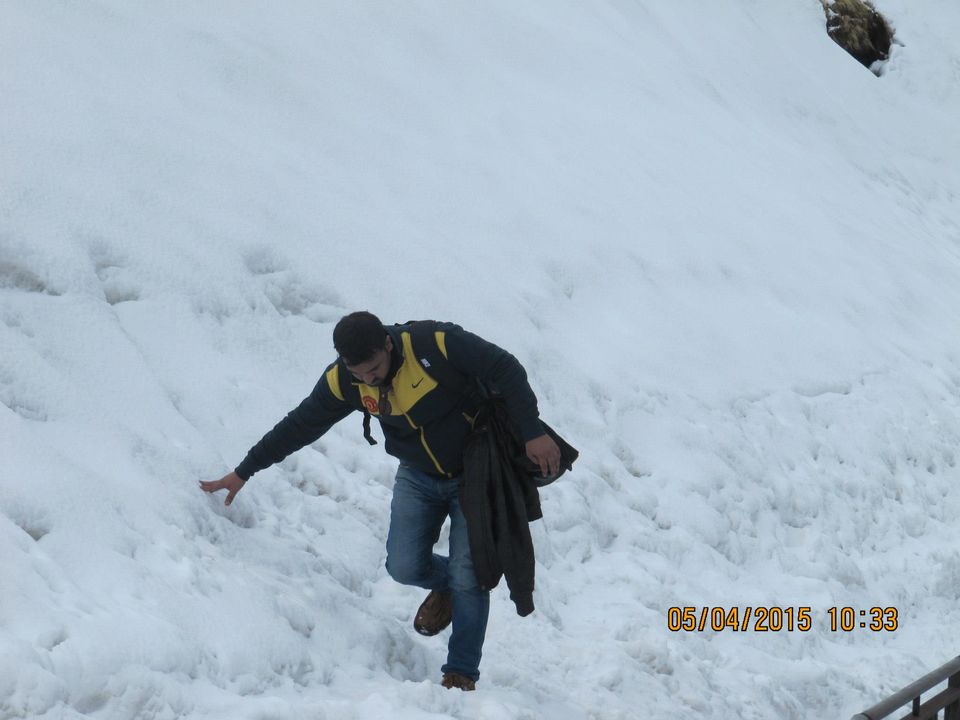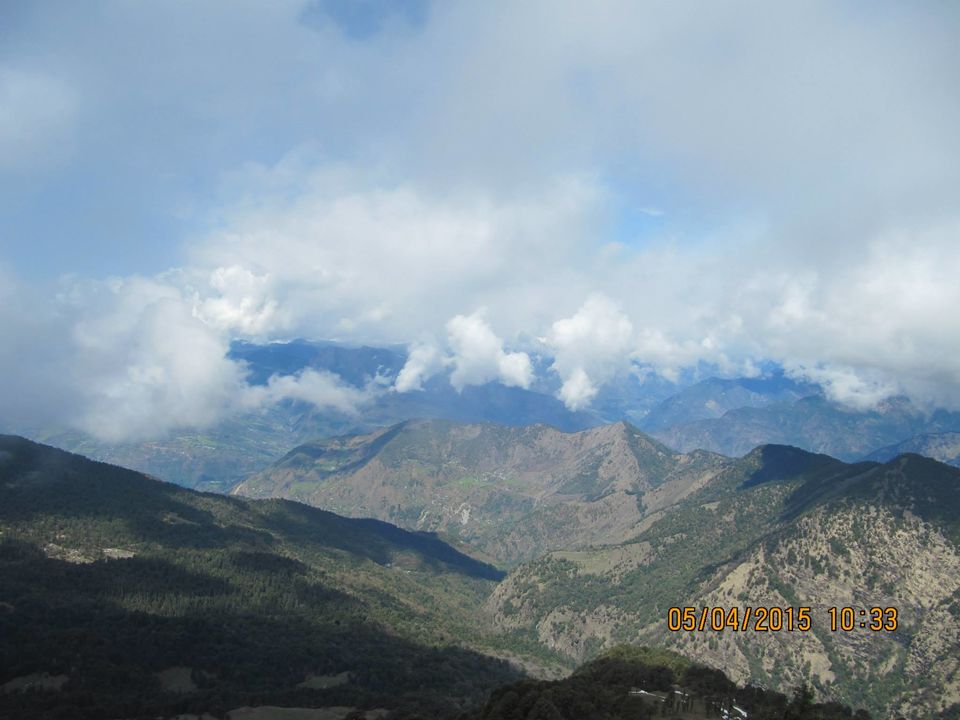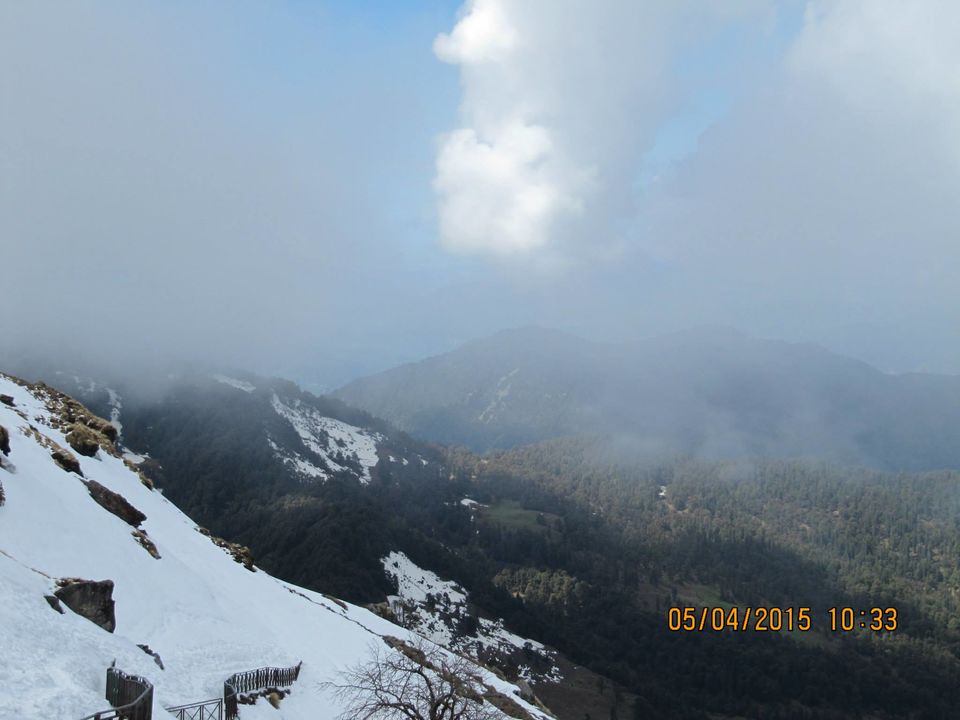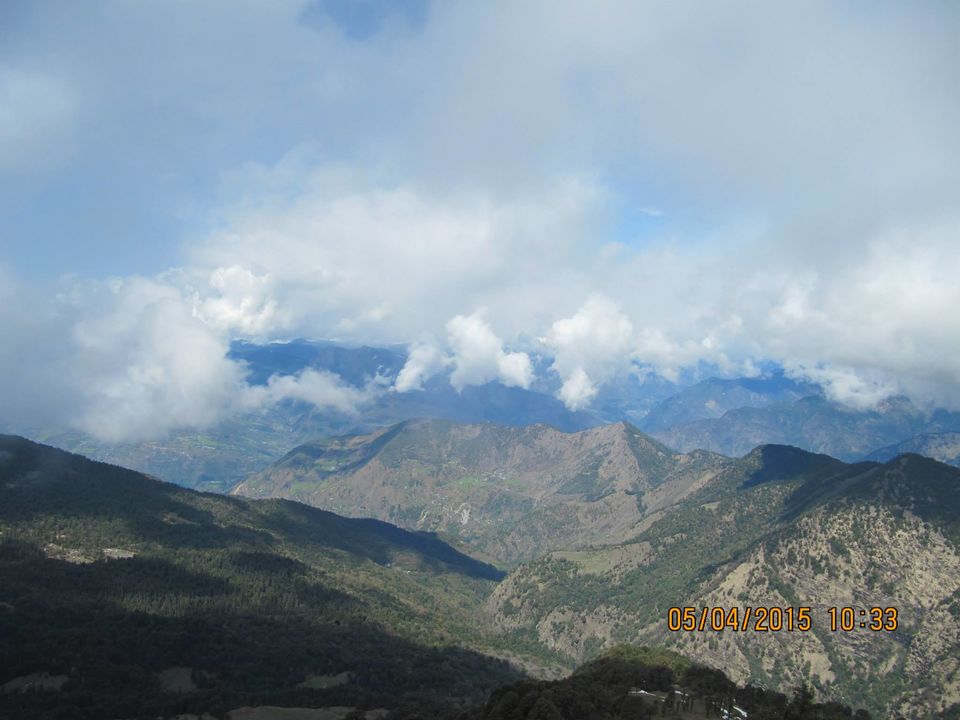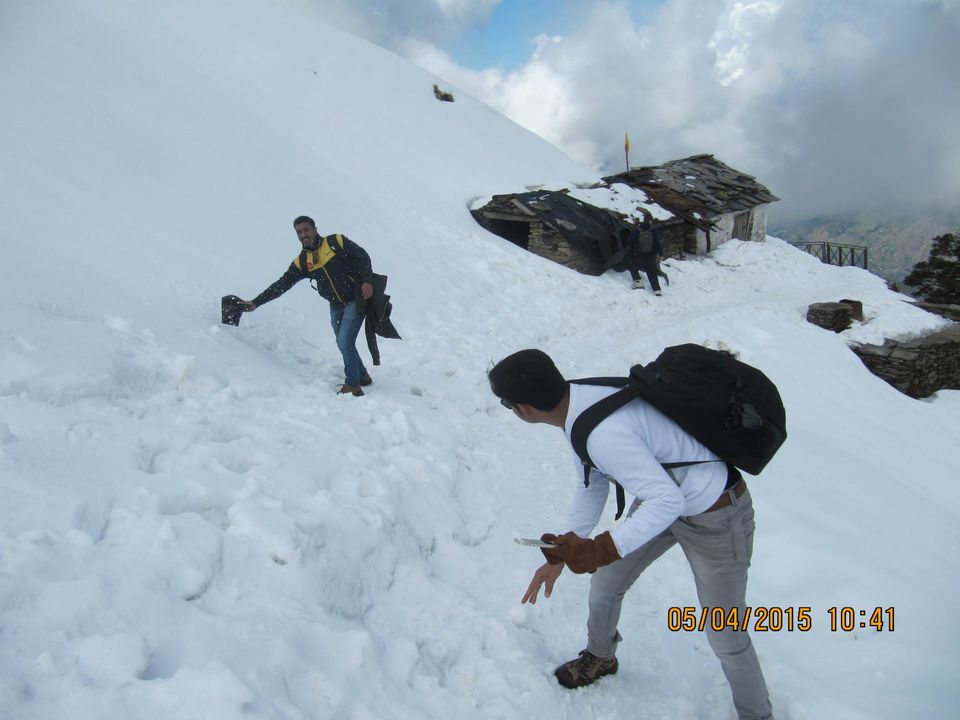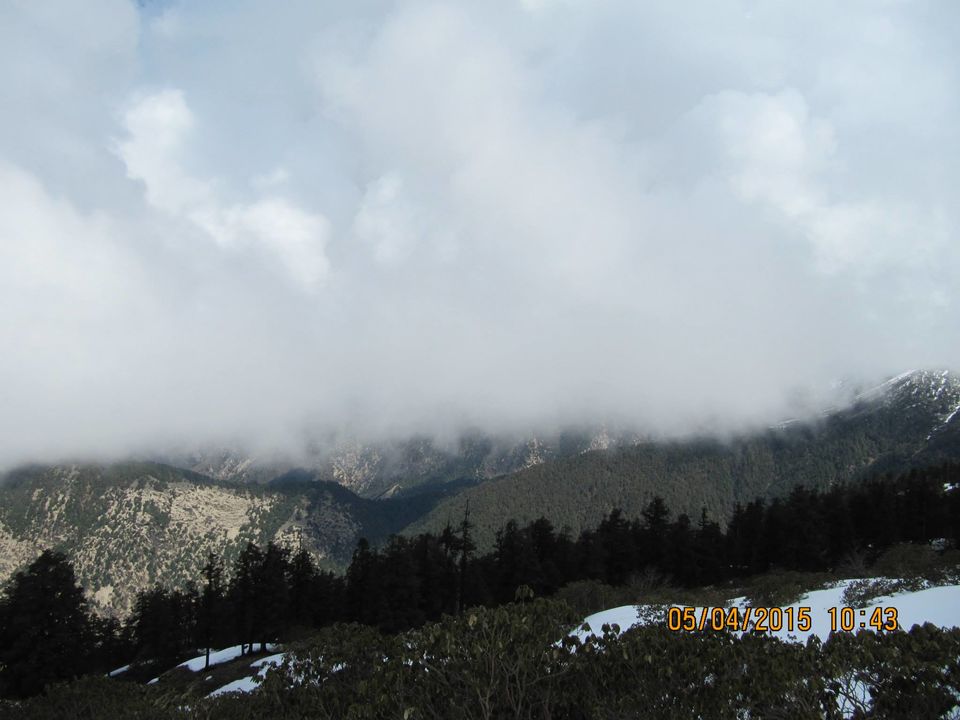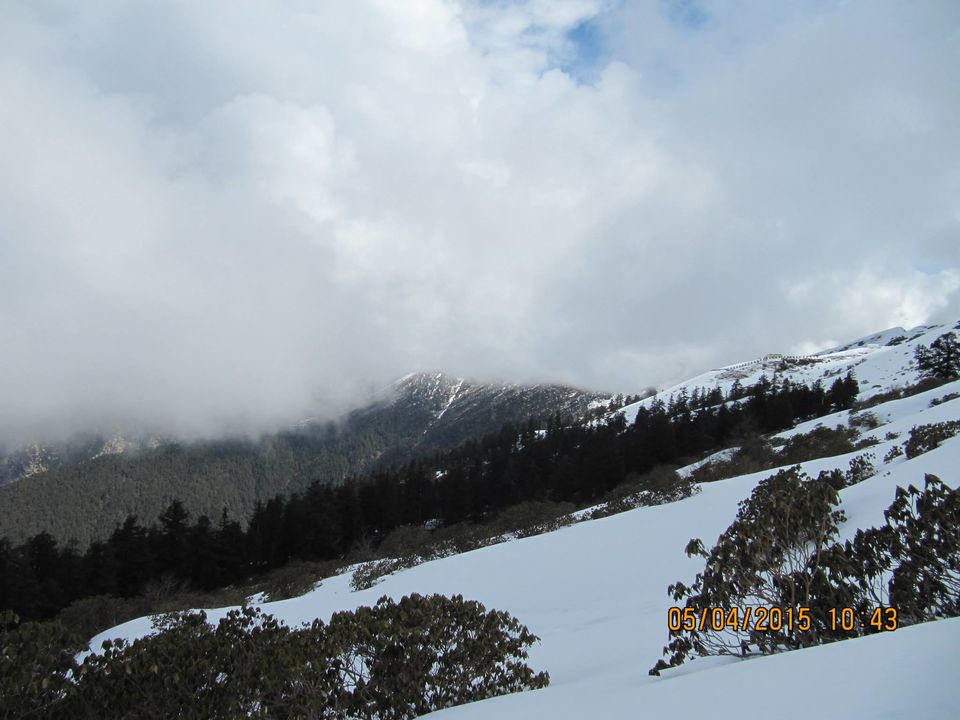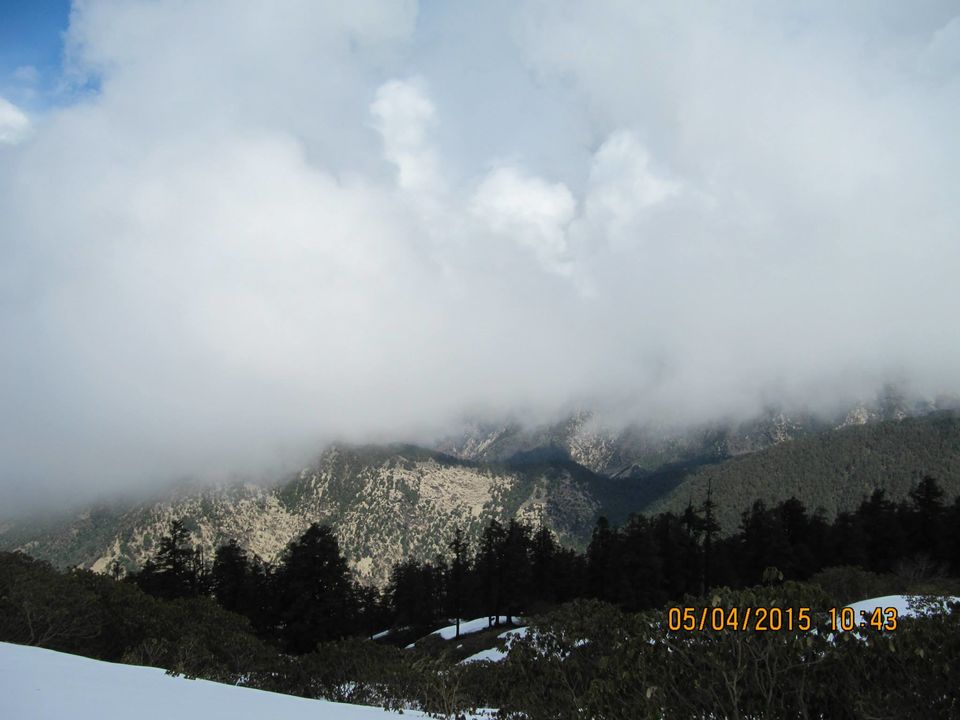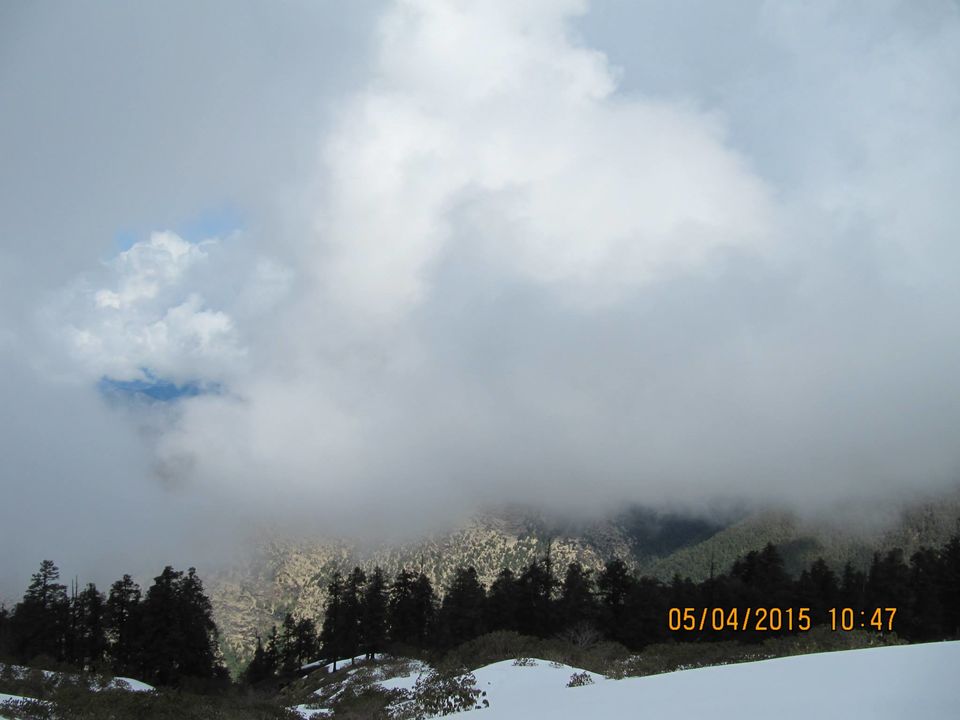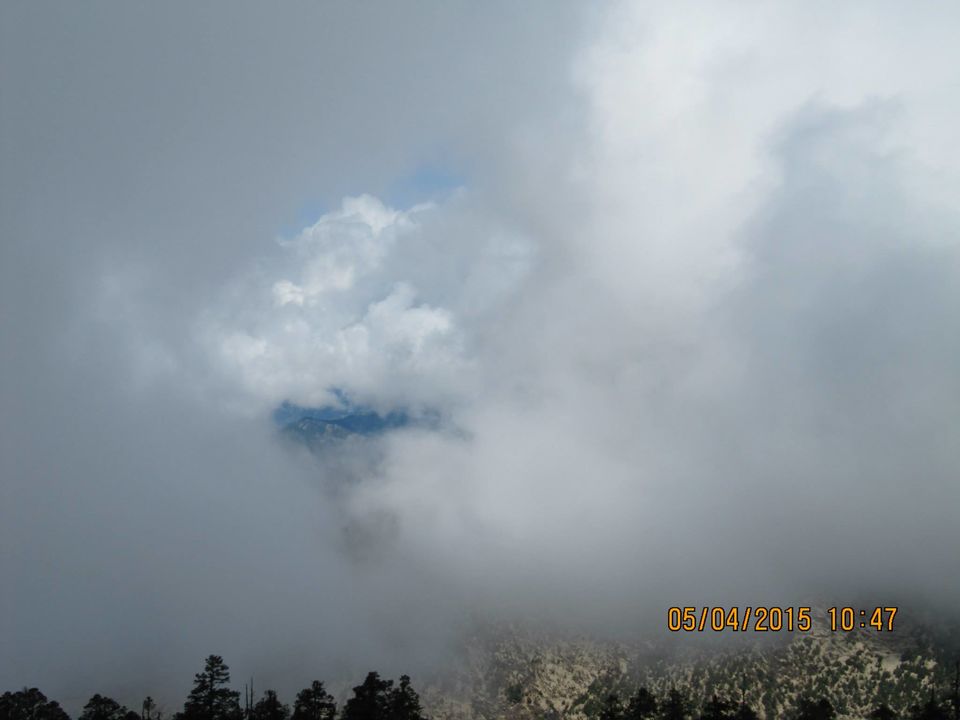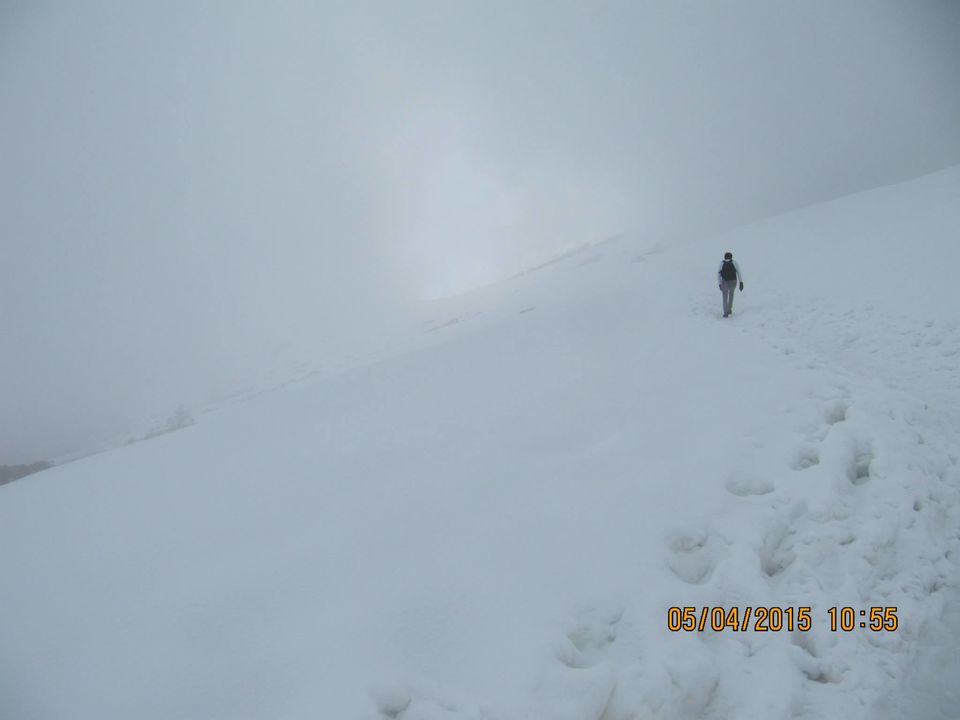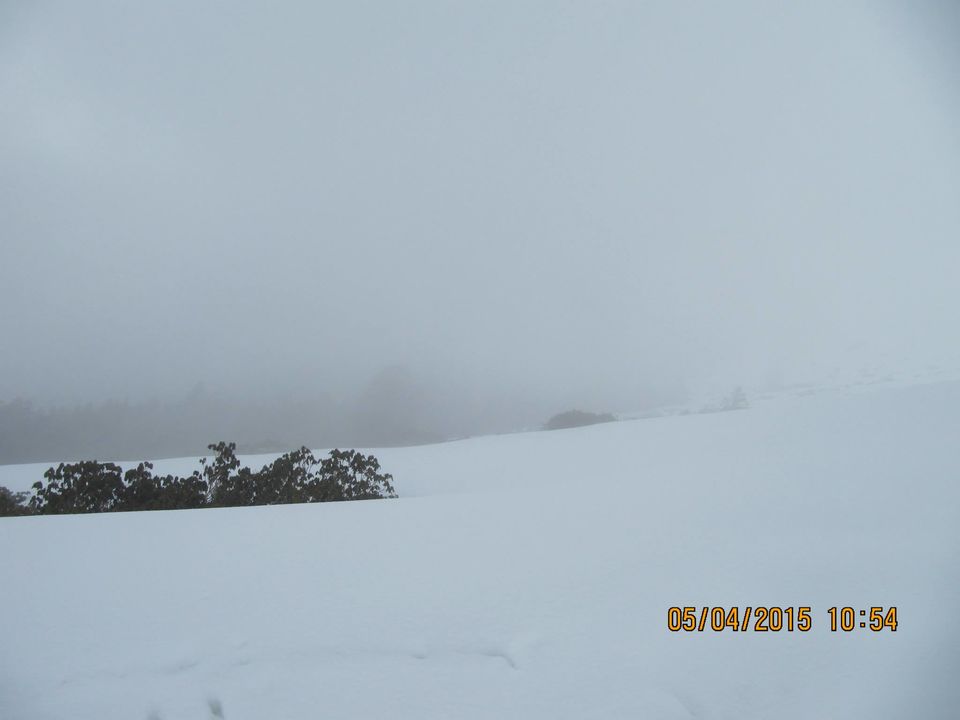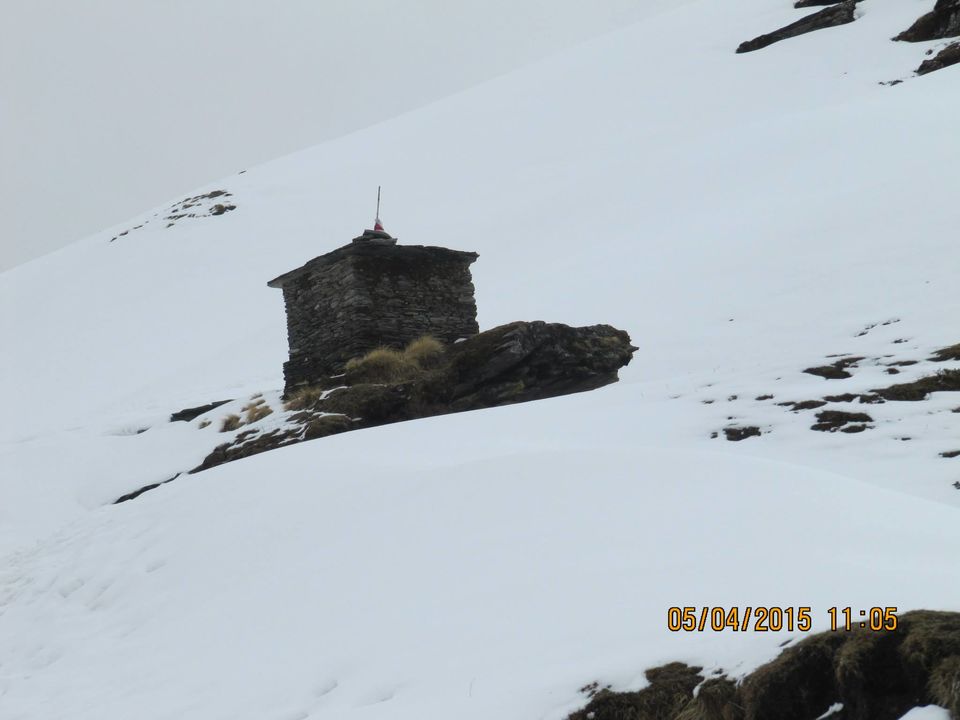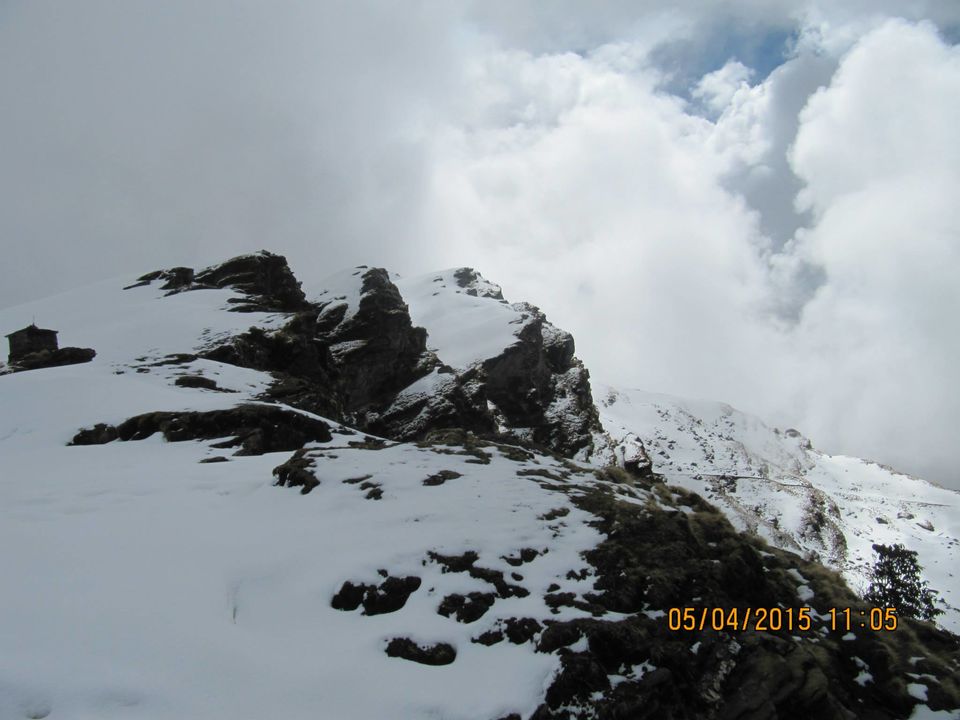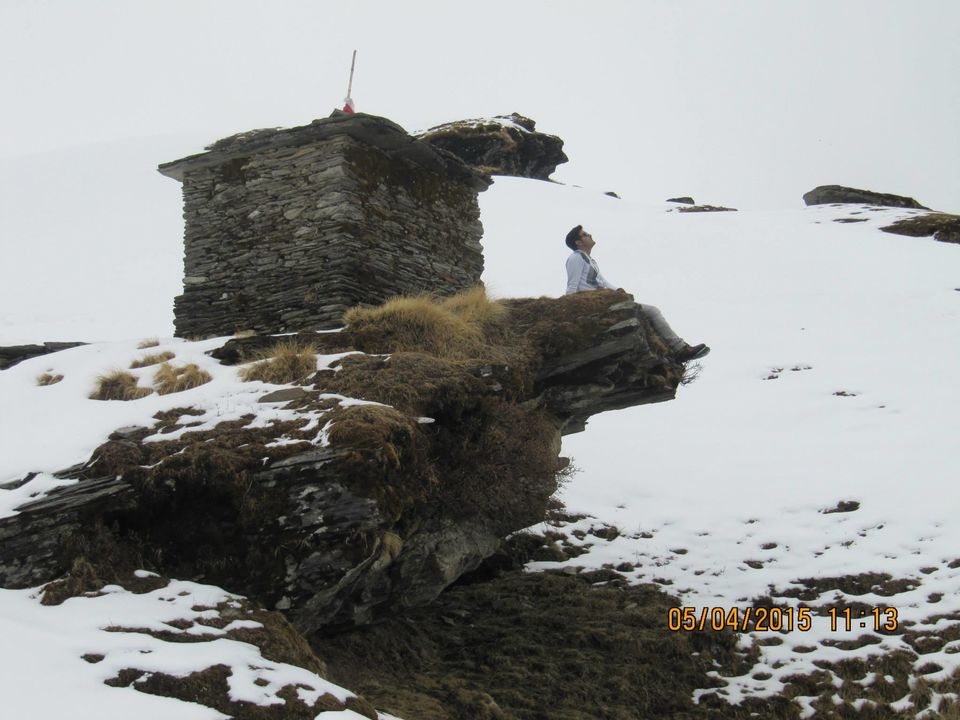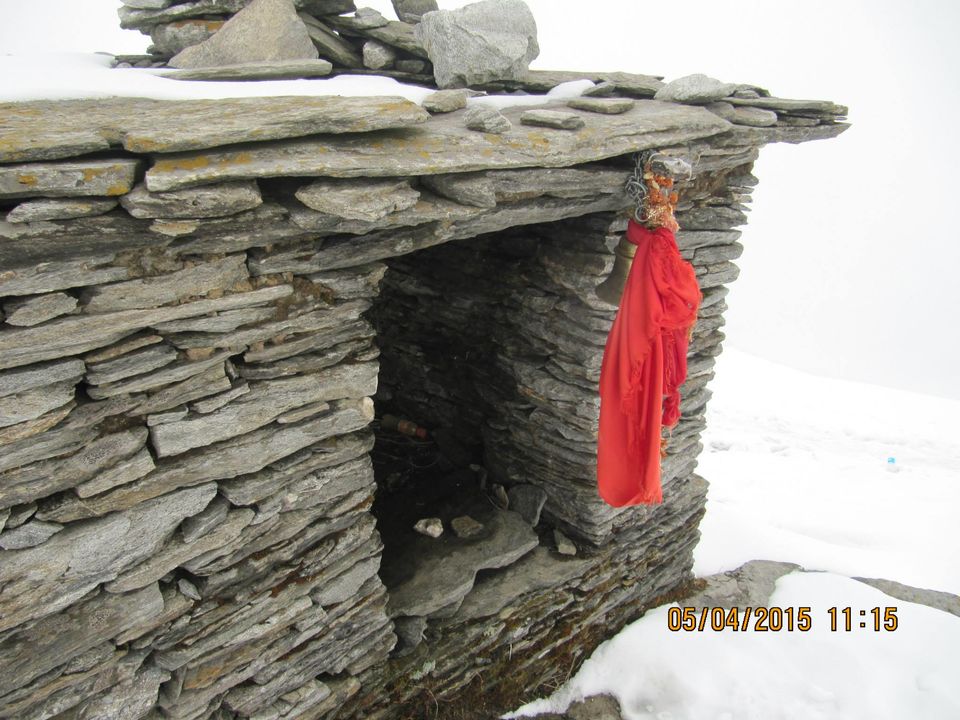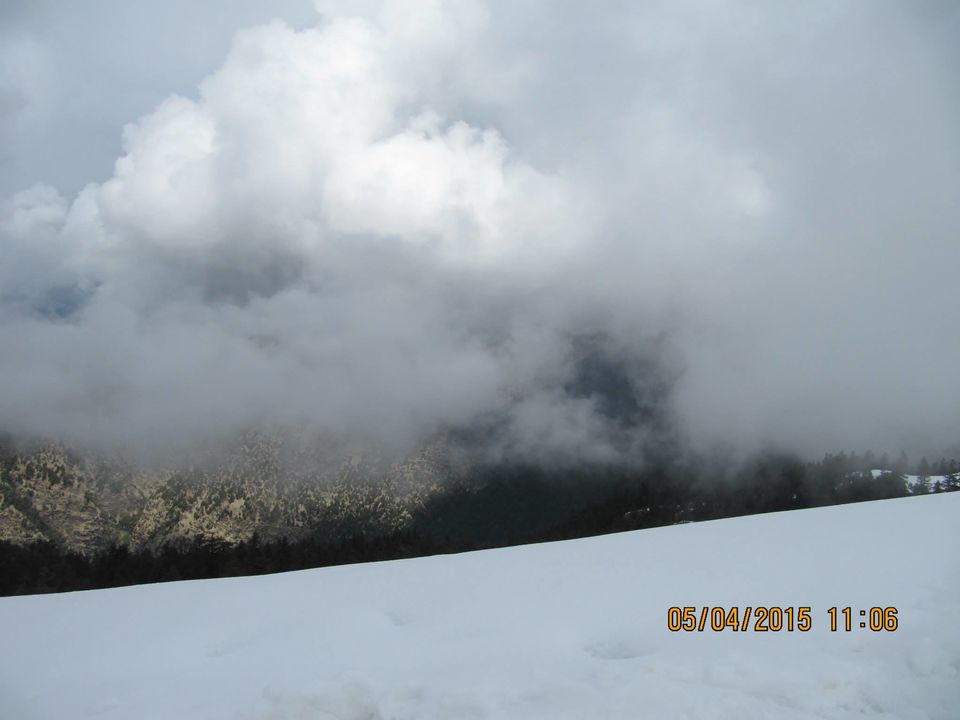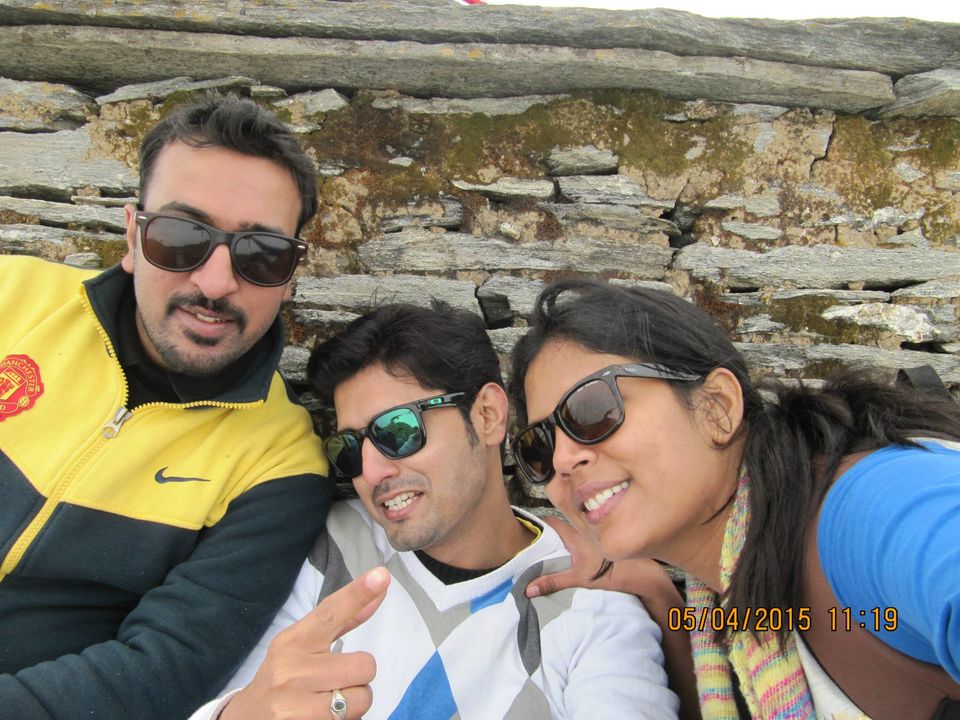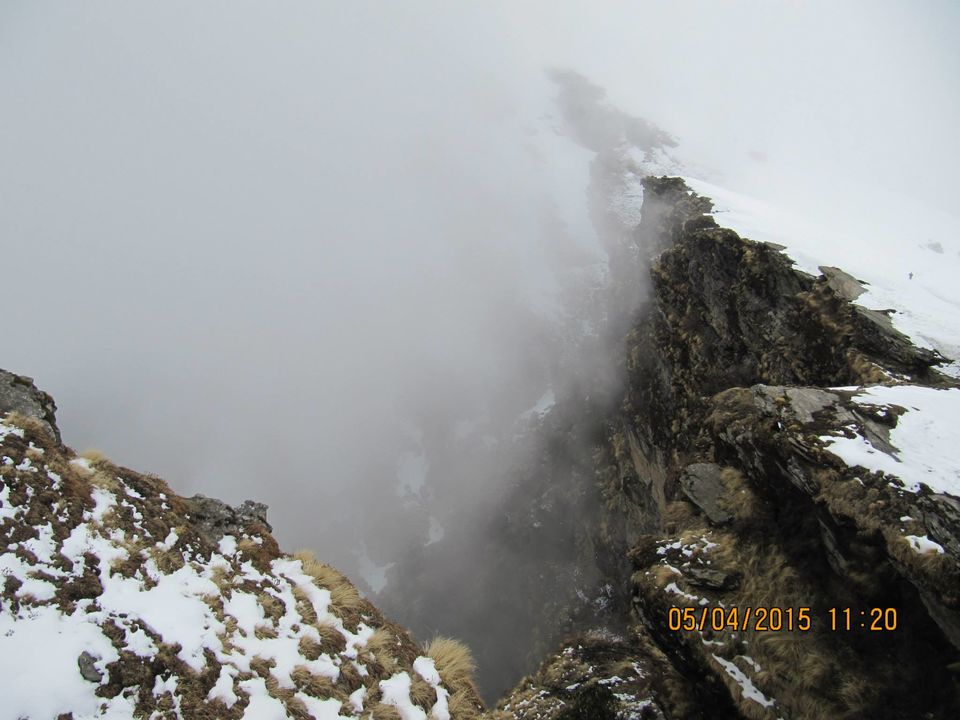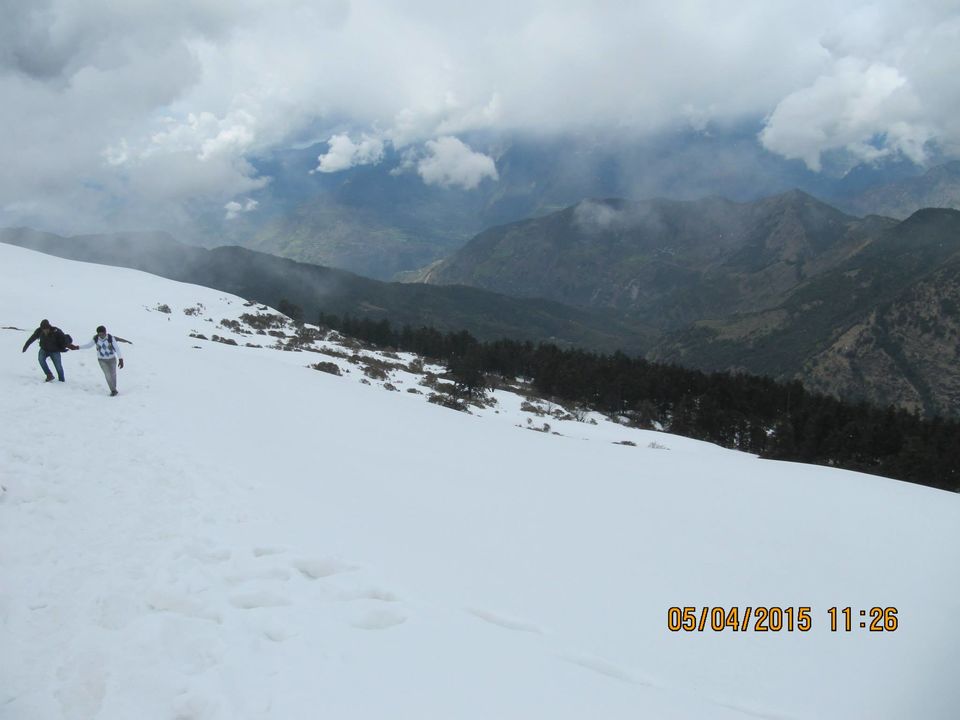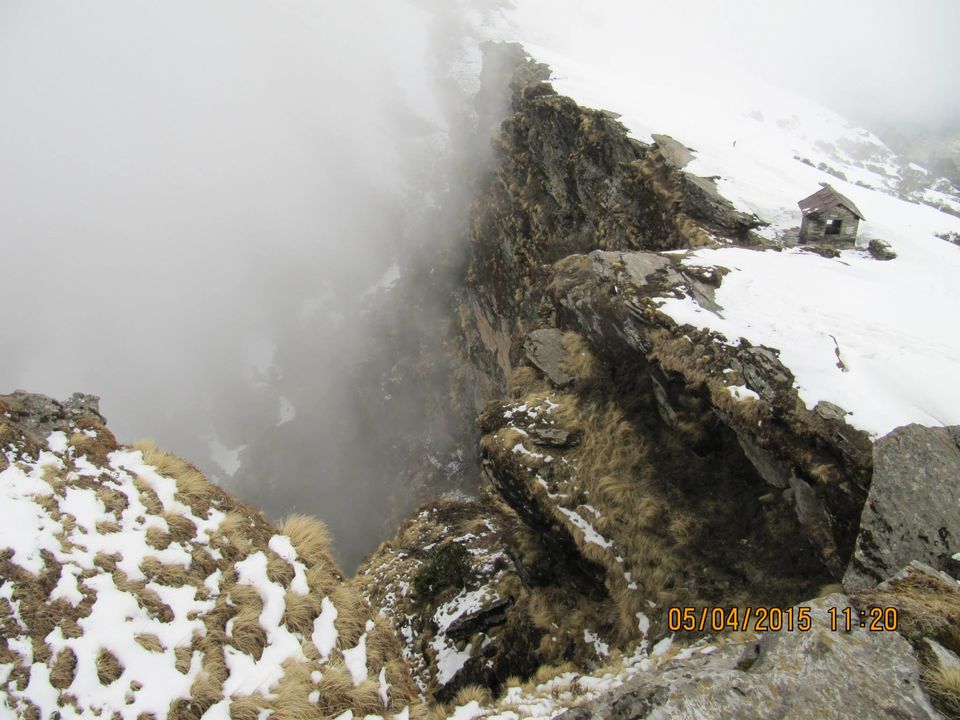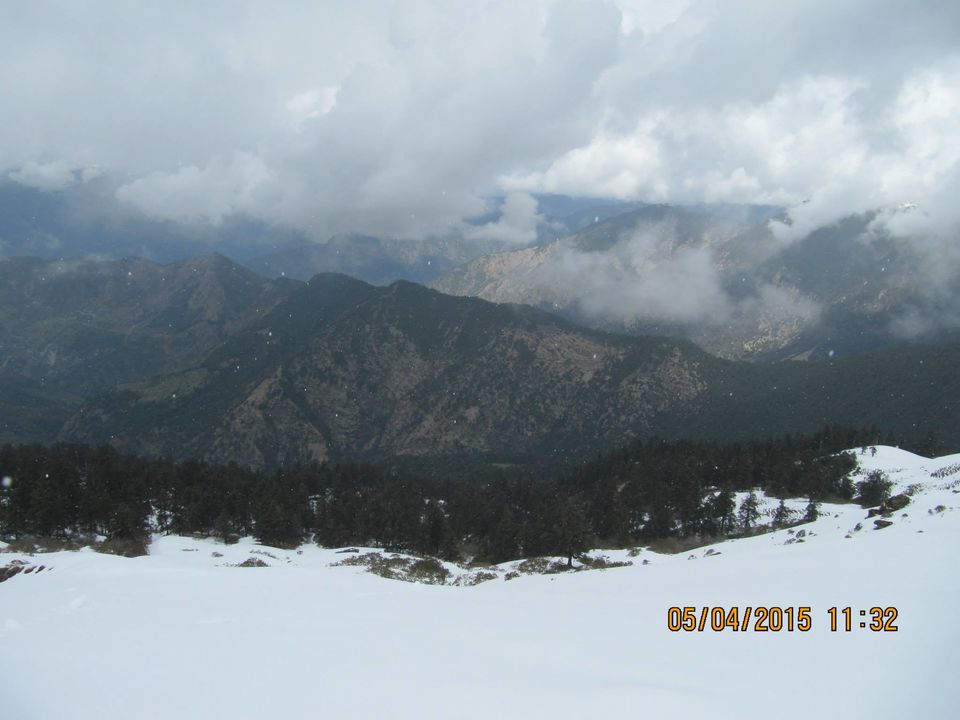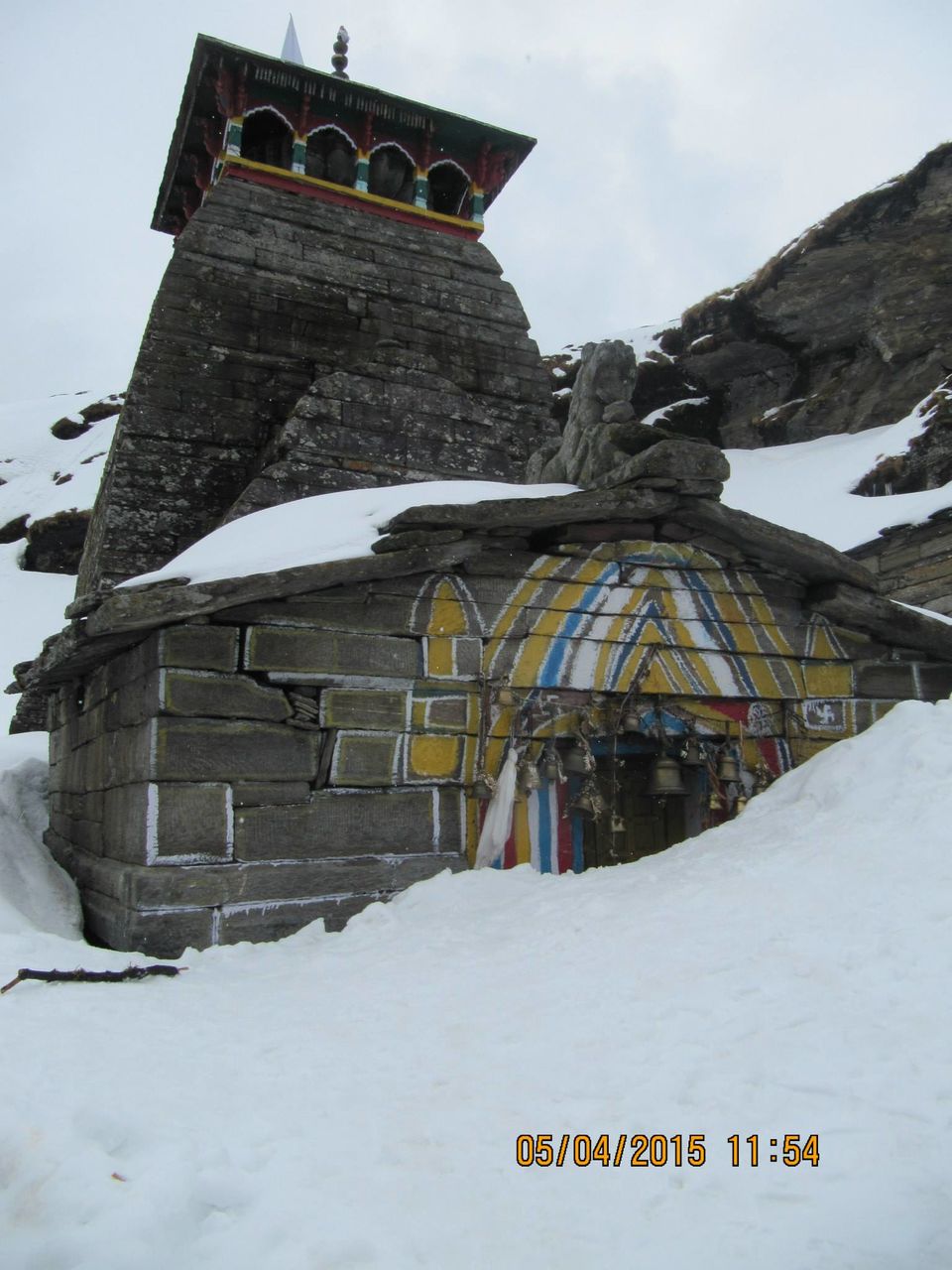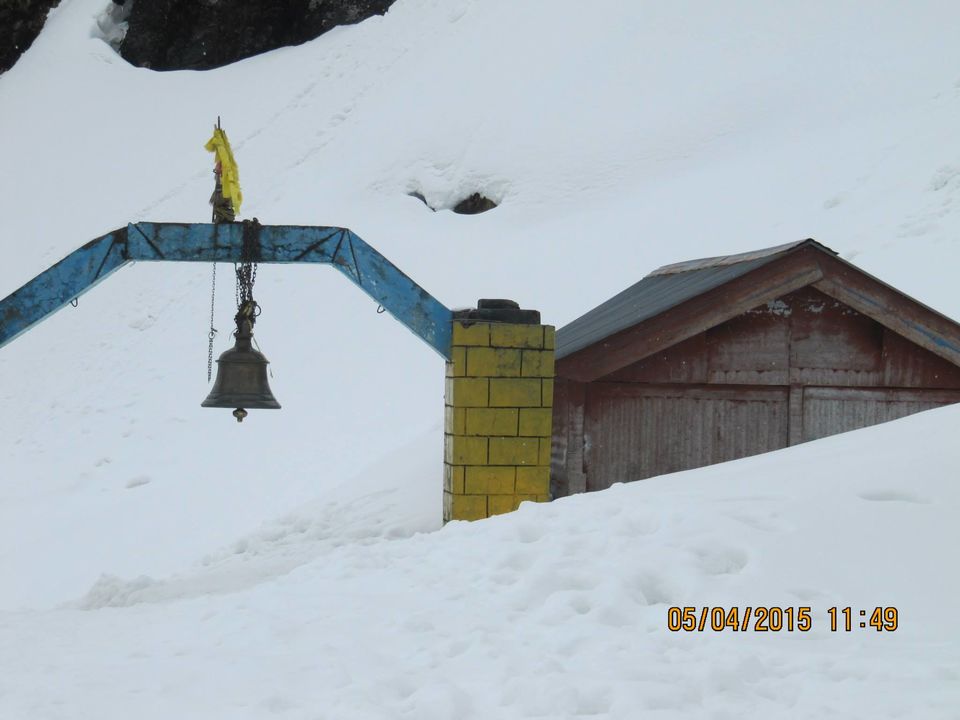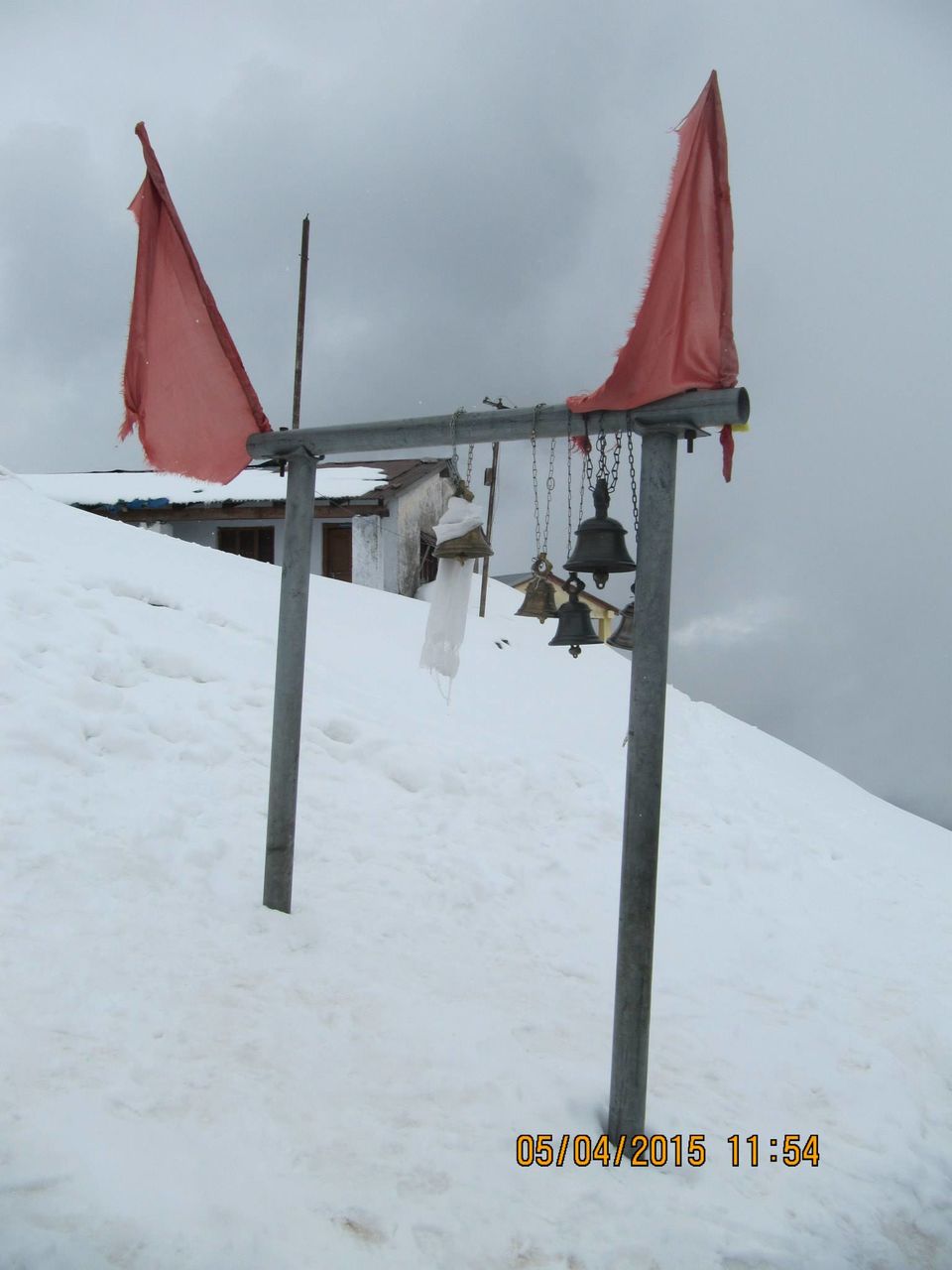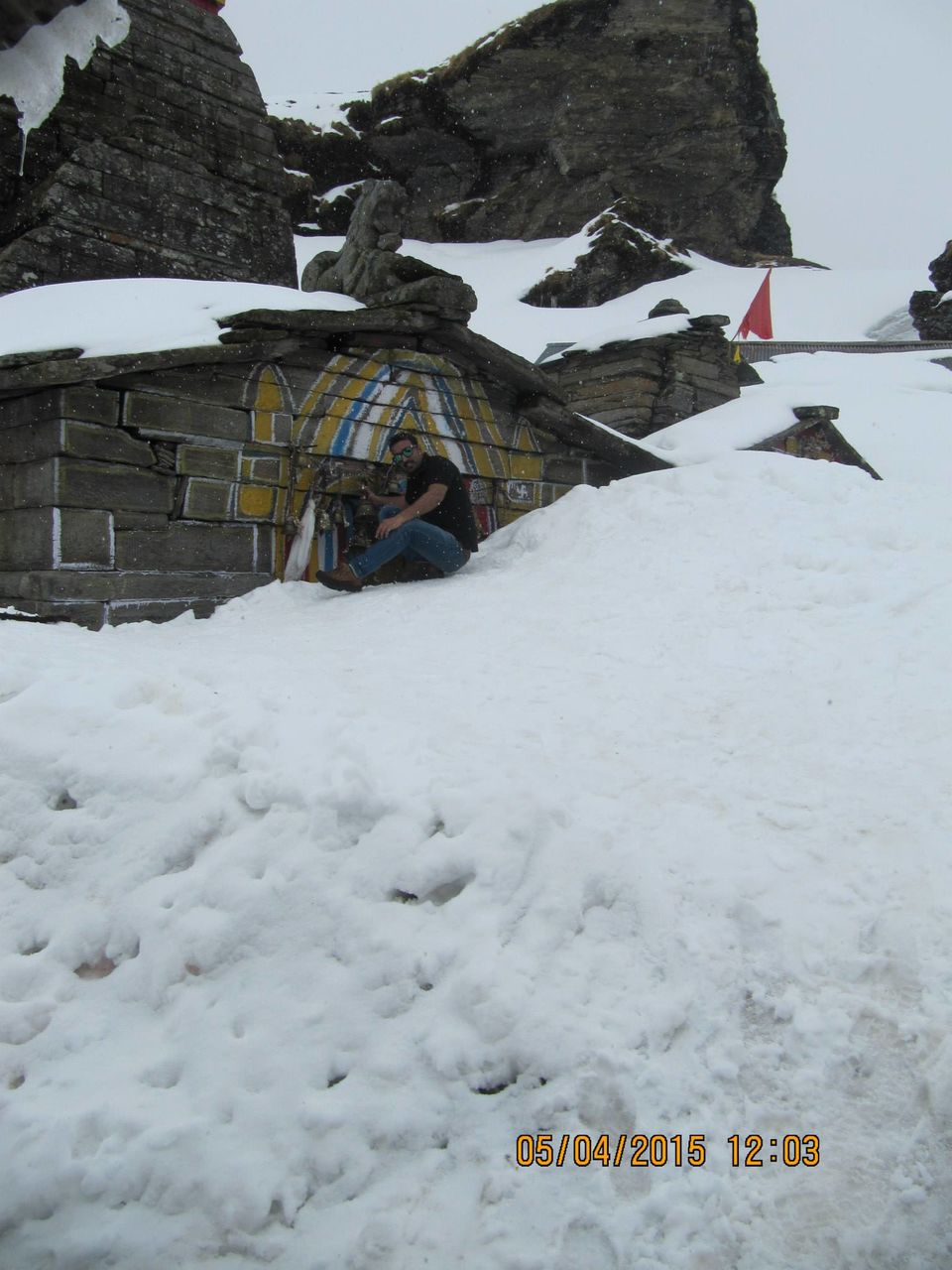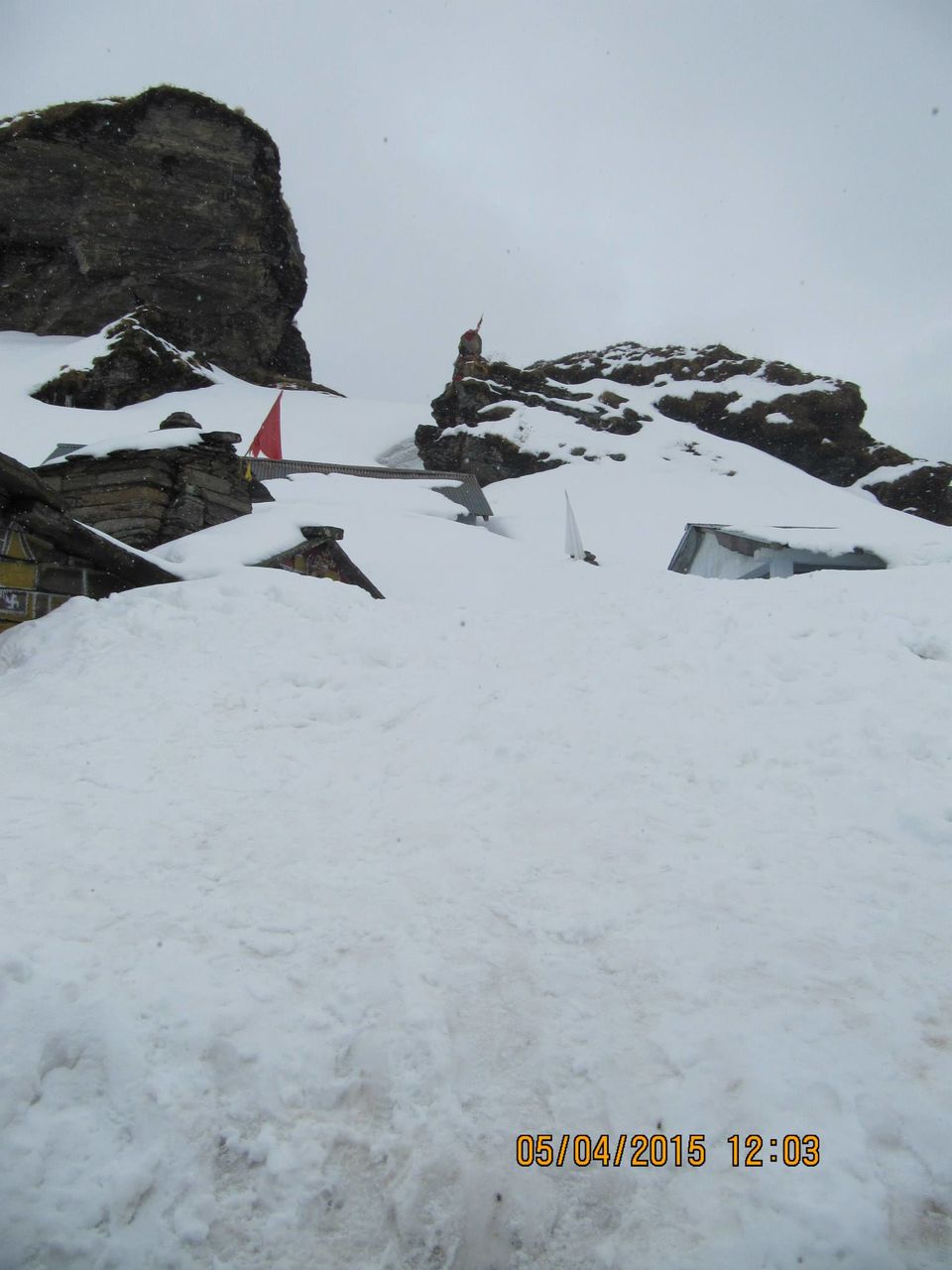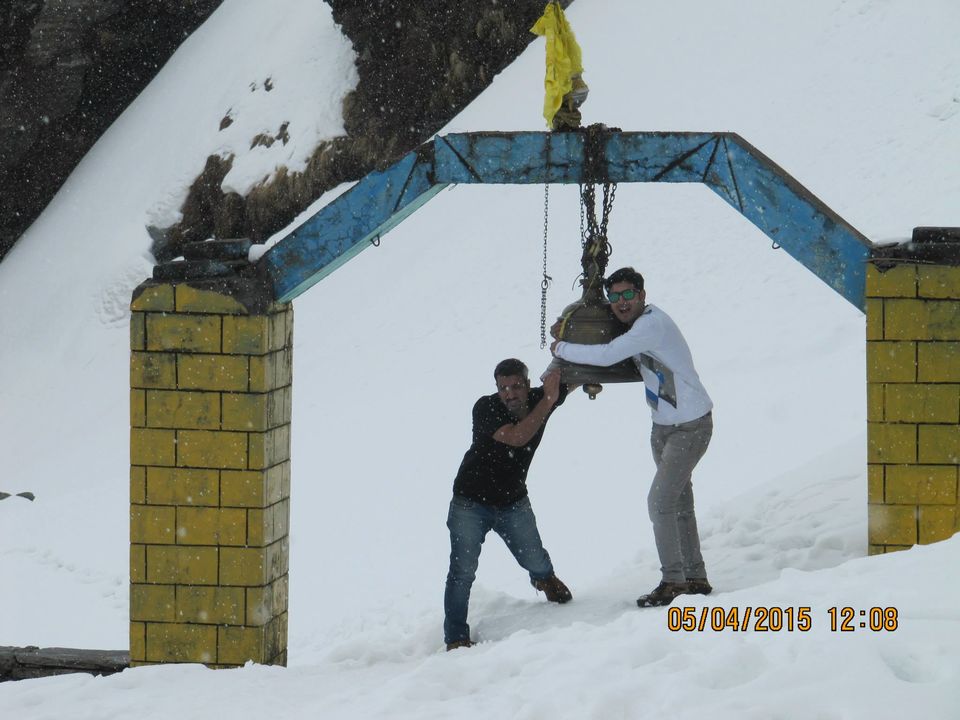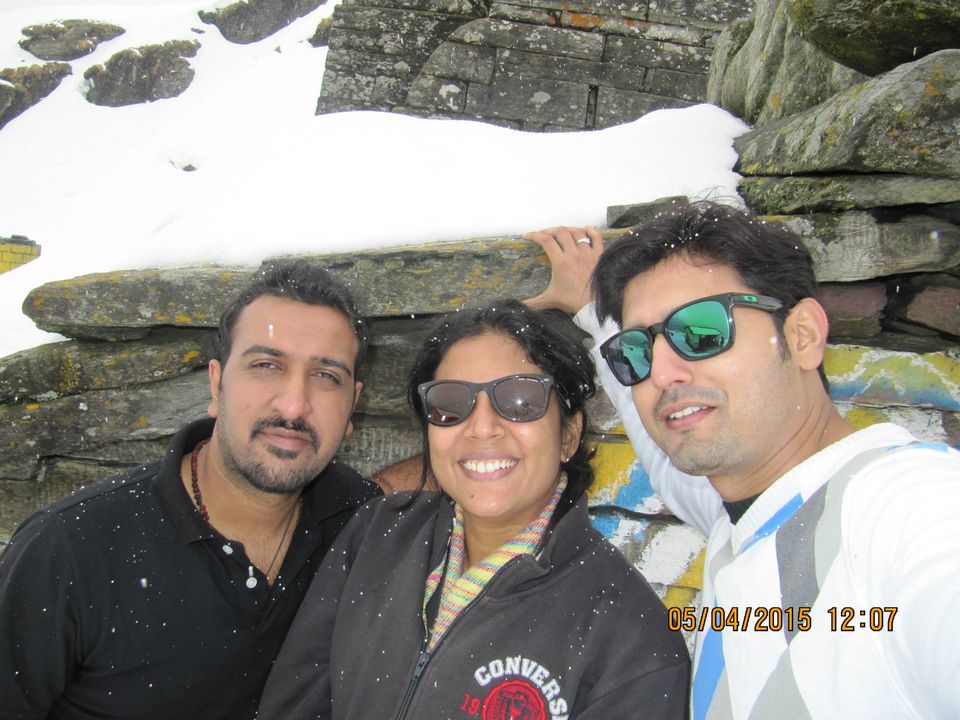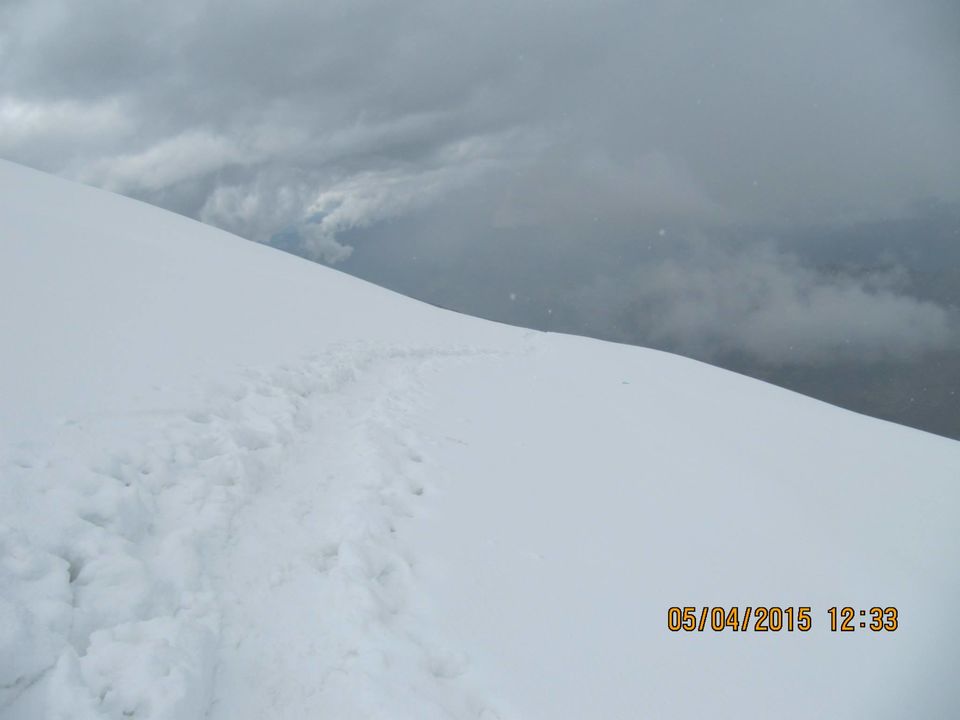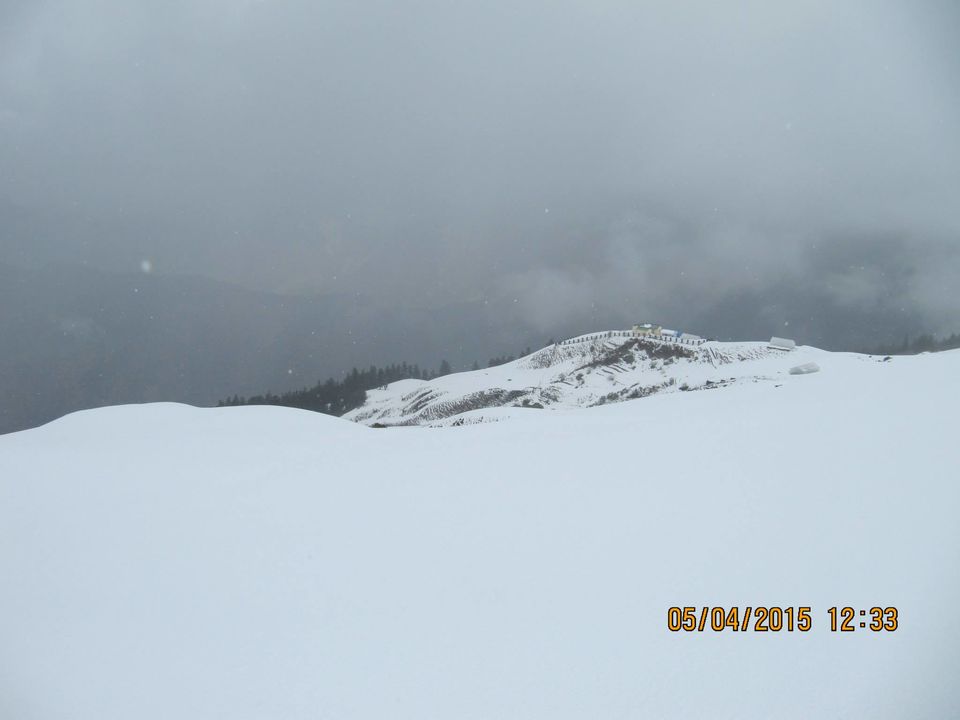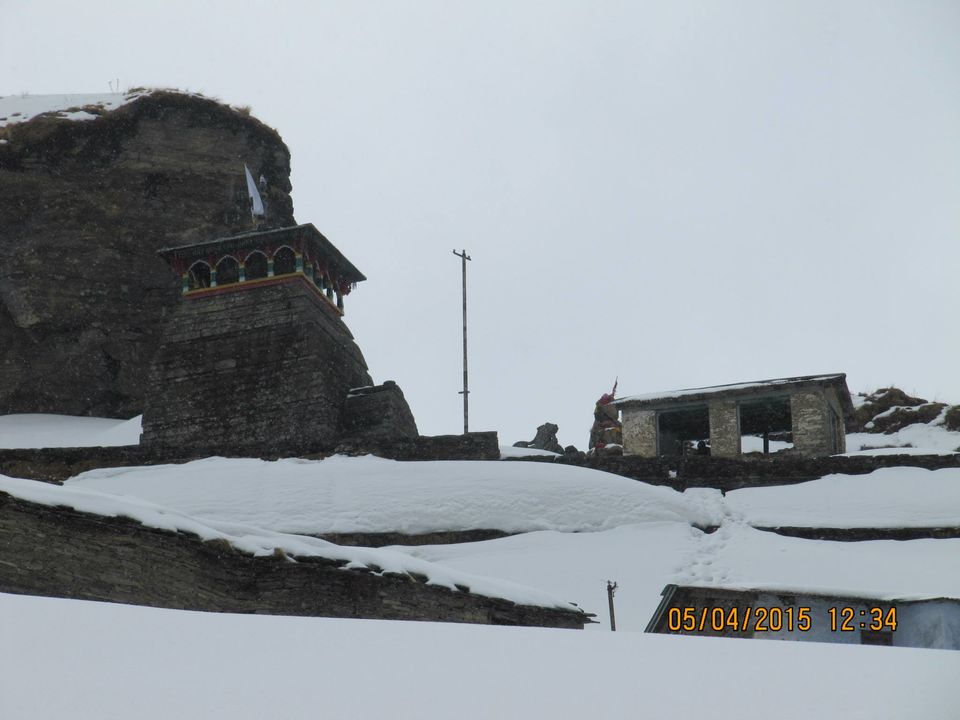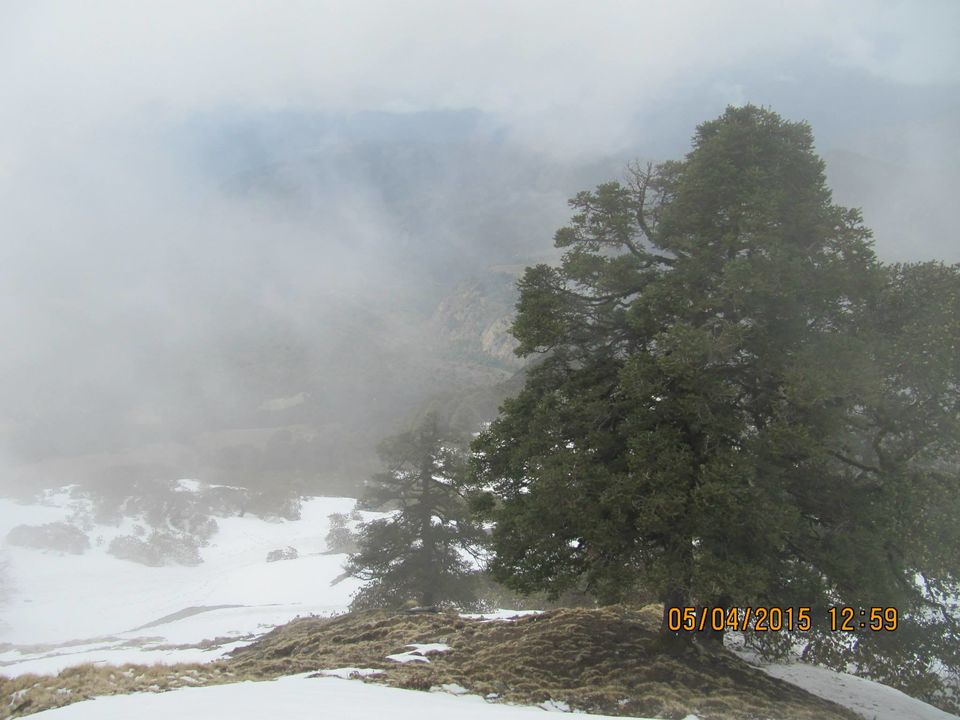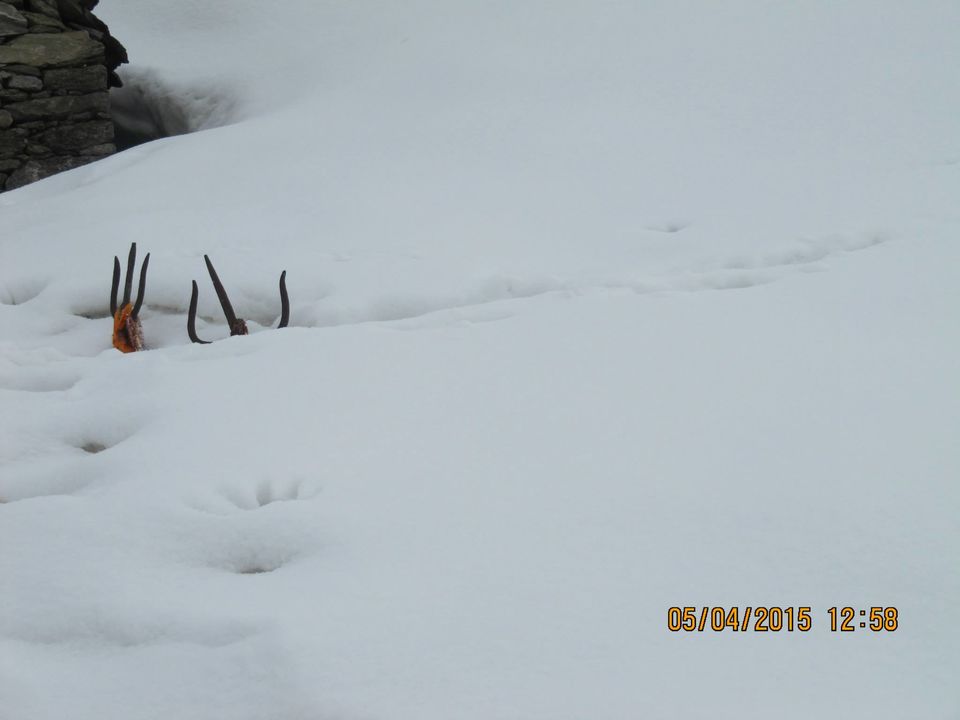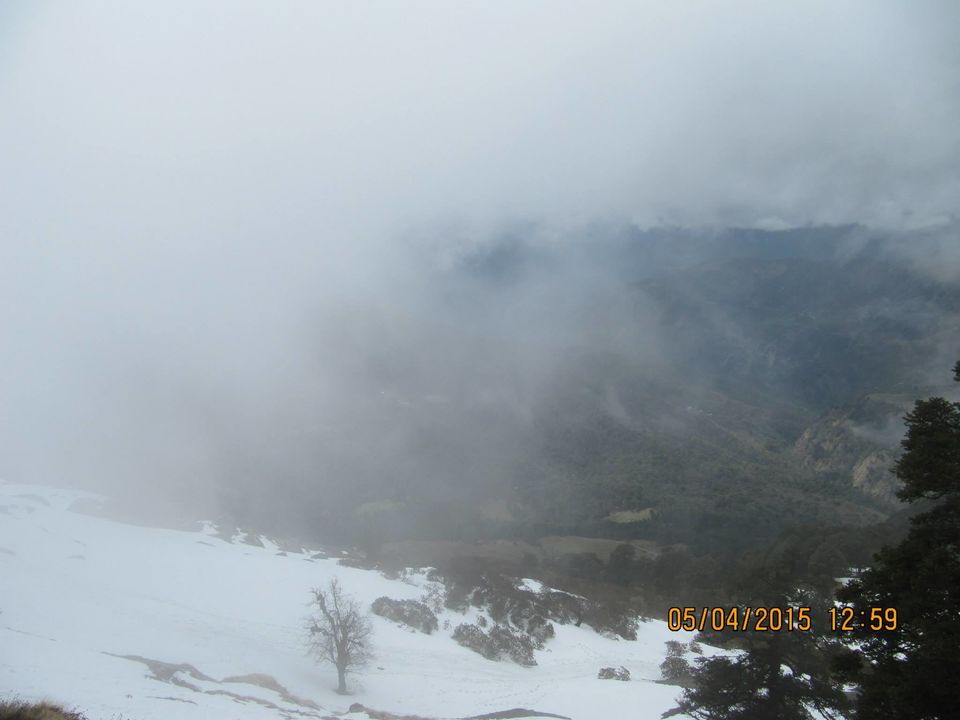 Tungnath, another snow trek. It is not just another destination, it is the world's highest Shiva temple located at an altitude of 3,680 m (12,073 ft). We missed the opportunity to worship Lord Shiva since the temple was covered with snow. The season starts from 24th April 2015. Apart from this the whole trip was full of adventures, travel and a beautiful snow hike to 12,000 ft. There is one more hike from Tungnath to Chandrashila which is short but indeed difficult. We could not go further as the weather conditions were not favorable. For people who are travelling to Chopta on the season time its best to take a bus from Rishikesh or Haridwar directly to Chopta. For us it was a task.The mode of transport from Rishikesh to Rudraprayag was easy as there are buses available from Rishikesh bus stand. From Rudraprayag, there are buses and sharing jeeps to Ukhimath. From Ukhimath to Chopta, one needs to bargain with cab drivers to drop you there. Its only in the morning time where jeeps are available or else the commute is not that easy. Its better to go in a group of 5 or 6 so that the budget is minimum per head. Due to extreme weather conditions, Kedarnath temple is open only between the end of April (Akshaya Tritriya) to Kartik Purnima (the autumn full moon, usually November). During the winters, the vigrahas (deities) from Kedarnath temple are brought to Ukhimath and worshiped there for six months. We were indeed extremely lucky to get to worship the vigrahas. Chopta is a very small village with no electricity. Most of the time you dont have cell reception here. Ensure, you charge all your gadgets in advance before reaching Chopta. During the off season there is absolutely nothing you will find on the way to Tungnath once you start the hike. No food. No accommodations. So. we started on 05th April 2015 at 8 am and were back by 2 pm. It is approximately 4 to 5 kms hike. The trail is not all that difficult. If you are going during this time, one can experience snow hike 2 kms before Tungnath. You have a proper path to reach the top, but if you like to experiment you can take the short hikes on the way to reach sooner and to make the hike more adventurous. When we were about to reach the top, the weather had started giving up on us. From the moment snow fall started, it just didn't stop till we reached Chopta. The weather gave us all the surprises at once, hailstorms, snowfall and rains. But i must say, had there been no snowfall the trip must have been incomplete. The moment we were just a kilometer away from the top, we realized we were wrapped in the middle of clouds and all we could see is snow all around us. We rested for around 30 mins on top and started the way down. The snowfall made our hike downwards easier. One can take the advantage of sliding down few distances in snow and that is exactly what we did. It is indeed super fun!!! Once we reached Chopta, we left from there around 4 pm. Now the way back was fun. By the time we reached Ukhimath, all the public mode of transport was shut. We somehow arranged for a jeep from Ukhimath to Rudraprayag. Here, we almost paid him double than the usual. Now from Rudraprayag there is absolutely no transport unless you opt to take the tourist vehicle to Rishikesh which will cost you 7 times more than the usual. We had two options. One is to stay at Dharamshala overnight in Rudraprayag or take a truck trip. I was definitely thrilled to travel in a truck. We paid the truck driver INR 500 for three of us to Najimabad. Trust me the truck traveling experience is worth a chance. It actually takes around 7hrs to Najimabad from Rudraprayag. Since, the truck driver was way too good with driving and directions it took us less than 5 hrs to reach. Another good thing happened to us was that we happened to sight a Leopard on our way which was out of no where. We saw this Royal Kid crossing the road and getting camouflaged in the grass. The moment the driver stopped, we happened to get excited, the poor thing got scared and climbed up the elevation in fraction of seconds. I could not escape even a second watching it. Then, we took a bus from Najimabad to Delhi. The trip ends here with whole lot of memories.
The travel route:
Delhi to Rishikesh (232 kms)

Rishikesh to Rudraprayag (141.5 kms)

Rudraprayag to Ukhimath (43.6 kms)

Ukhimath to Chopta (29 kms)
Total cost in INR per head is 2200.
Note:
If you are hiking during winters, ensure you carry your woolen clothes and a proper trekking shoes.

It is advisable to carry a poncho with you as it could rain anytime.

To avoid trouble, it is better to travel before 3 or 4 pm between Rishikesh to Chopta as the public transport shuts down post that.

Carry enough to eat and water to stay hydrated during the hike during off season.

Please charge all your gadgets before you reach Chopta, as the village has no electricity.
That's all folks. I hope i have not missed anything. Cheers!!