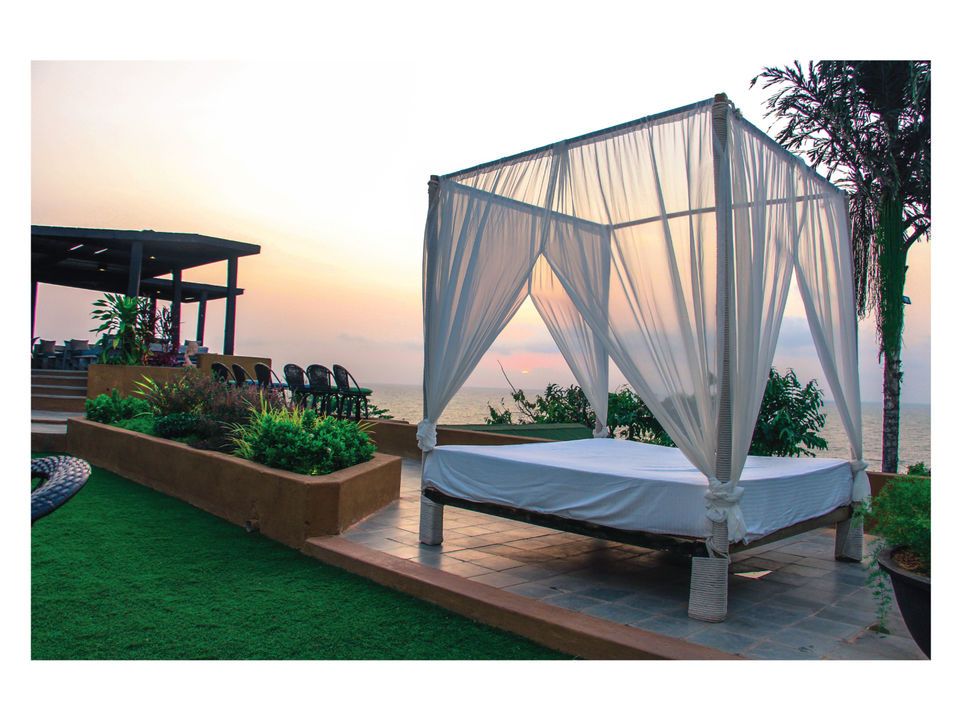 Goa has been known as the ultimate vacation destination and for all the right reasons. Known as the pearl of the east, Goa welcomes you with lots of sun, sand and sea in all their glory. This jewel of a place has a leisurely vibe along with a colourful and a vibrant culture to help you make the most of your vacation. Shalai Cliff Resort is the only property located on the dramatic red cliffs of Vagator and will provide you with the best views of the azure waters that Goa has to offer.
Idea For
Couples on the lookout for a luxurious and romantic stay while indulging in all the adventures that Goa holds within itself.
About The Property
A little before Thalassa, a small uneven road leads to this hidden gem. The property will provide you with mesmerizing views of the dance of the waves as they try to kiss the shores of Goa. As soon as you enter Shalai, you will feel like you have stepped into an island straight out of Italy or Greece.
While Goa is a perfect vacation destination, it can get too crowded at times and interfere with your ideal plans. Shalai Cliff Resort will allow you to have the best of both worlds by providing you the beauty of pristine Goan beaches along with the serenity and luxury that most places in Goa seem to lack. Each room in Shalai is well-planned and every spot in the resort offers an unobstructed view of the charming and gorgeous sea. You can stand anywhere in the resort and treat your eyes to enchanting views, even as you indulge in the delicious food in the resort's restaurant. Apart from the views, the resort provides direct access to the beach via a scenic trail down the hill, almost like a private beach all to yourself.
Starting at INR 9,000, you can book their deluxe rooms with garden/sea views. If you are feeling luxurious, you can opt for their Super Deluxe rooms starting at INR 15,000 and spend your vacation staring at the sea while relaxing in a jacuzzi. The hotel staff is helpful and courteous so they can arrange sightseeing, treks and water sports for you if you ask them. Book your stay at Shalai right now by writing to them at booking@shalai.in or give them a call at +91 8082222663 / +91 222 6835679.
What makes the place even more interesting is that while it is a haven of tranquil beauty, rave beach party places are not far off. If you are feeling adventurous and want to experience the happening night life of Goa, renowned party hubs like Thalasa, Water, Antares, Hill Top, Club Cabana and many more are at a walking distance.
Places Near Shalai
Located at about 500 metres from the resort, Ozran Beach is a quiet beach hidden in plain sight amidst the lush green trees. You can easily take a walk to this beach from Shalai and indulge in the beauty of clear foamy waters and glorious tall coconut trees. Sit on the rocks along the shore and lose yourself in the serene surroundings.
Only a kilometer from Shalai, Vagator Beach will again provide you the chance to experience the calm of Goa, away from the crazy crowds and nightlife. The beach also has a few water activities for you to experience the fierce waves in all their glory, including jet skis.
If you grew up watching Dil Chahta Hai on loop, Chapora Fort is a must visit for you since the fort makes multiple appearances in the movie. Located almost a kilometer from Shalai, Chapora Fort stands witness to Goa's rich and violent history involving battles between the Portuguese and Mughal armies.
Just over a kilometer away from the resort lies a luxurious spa, Spa By Clarins. The place offers skilled and rejuvenating massages with essential aromatic oils and purest plant extracts. The spa promises a refreshing experience which will revitalize both your mind and body.
Getting There
By Air- The closest airport is Goa Airport, also known as Dabolim Airport. From the airport you can take a taxi straight to Shalai which is only an hour's ride. You can also take the local bus from Panjim bus depot but the travel time is two hours.
By Road- Goa is approximately 587 kilometers from Mumbai, which can take roughly 10-12 hours of driving. If you are driving from Pune, the travel time is approximately 8 hours.
Did any resort or a homestay make you fall in love with the destination? Share it fellow Tripoto travelers!