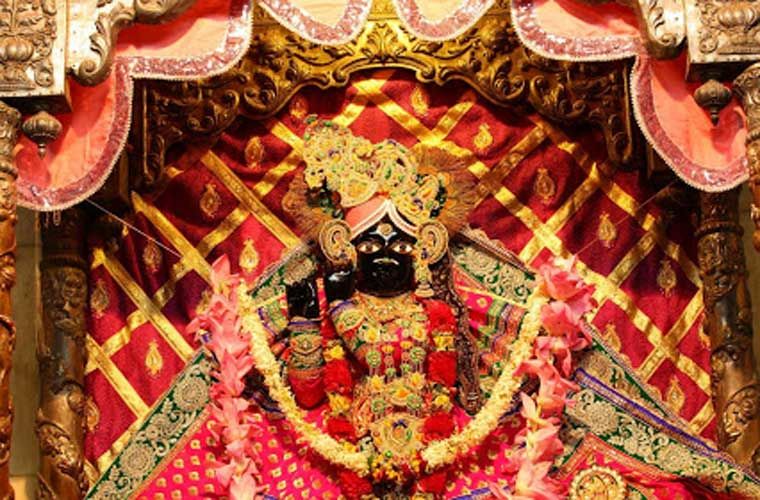 Hello friends, hope you all are doing well. Sorry today after a very long time m writing the blog. Today m going to tell my first solo travel to "Shri Vrindavan Dham" which i was done in January 2018. It was the start of my travelling dream in the lotus feet of Shri Banke Bihari Ji. So let's come to the story.
I'd no planning to visit to Vrindavan till 19th Jan'18 afternoon but after 7 PM in the evening the idea to get there stuck in my mind suddenly and I started the preparation like some eatables, mini towel, paper soap, water bottle etc. I told my mother that I will go to Vrindavan tomorrow's morning by Taj Express which was run from Hazzrat Nizamuddin Railway Station, Delhi at 7 AM but from 21st Feb'18 this train is running from New Delhi Railway Station at 6:45 AM. I didn't made the reservation because there was no planning for this short trip.
In the morning I got up at 4:00 AM and took bath and after it I had breakfast and try to book the cab because from my residence there is no convenience available to go anywhere. When I was trying to book the cab (OLA or UBER) there was no cab showing on the app. After some try there was a share cab available so booked it and call the driver & ask where are you, he said M half an hour away and I've to pick up 1 more passenger who wants to go New Delhi Railway Station, so I denied and cancel the cab because i was already late. After that I tried for the auto rickshaw and luckily i got it. In half an hour he dropped me at the H. Nizamuddin Railway station and I bought the unreserved ticket of Rs. 85/- for Mathhura Junction from the agent window which is just outside the station and the original price of the ticket is Rs. 75/- but the agents is charging Rs.10 extra. When I pay the amount then the agent told me for 10 extra, I asked why he said if you buy the ticket from outside the station then you have to pay 10 extra. Actually I was getting late and it was already 6:45 AM and I didn't know where is the station window so i ignore all of these things. Here if you thinking who wants to go by train and in unreserved coach so friends it is the option for those who don't have any plan to go there and from which mode of transport. Car is also the best option but it is a expensive mode so m always trying to go from the train. It is also an experience to travel in unreserved coach and I've a lot experience for it. So it fully depends on the person & his/her budget. It is 100% possibility to get the seat in unreserved coach if you will reach the station at least half an hour before the train departure time.
After all of these I board the train and got the seat. The Taj Express is taking almost 2 hrs. to reach to the Mathura Junction. At 8:45 AM I reached at Mathura Junction, de-board the train and try to took the tempo for vrindavan and after half an hour I got it. There are tempo and auto rickshaw available for the Vrindavan, Giriraj Ji, Sh. Krishna Janm Bhumi etc. The tempo is charging Rs. 20/- per person and auto rickshaw is charging in between 50-100 for Vrindavan but for 1 or 2 persons tempo is the best service because it is very cheap mode. The tempo is taking almost 45 minutes for Vrindavan. Here please keep in your mind that the closing time all the temples in the vrindavan is 11 Am so make your plan accordingly and avoid to go there in super peak seasons like last days of Sawan month, Holi, Janmashtami because of heavy rush but it is the choice of devotee.
After reaching to Vrindavan there is 10 minutes waking distance for Bankey Bihari Ji Temple, if you want to take the battery rickshaw then you can. Then i bought the prasad and rose flower mala for Bihari Ji & had the darshan of Shri Bihari Ji for 15 minutes almost. After darshan I thought it is a time for some pait puja and I took lassi and aaloo tikki. Then I move to Radha Raman Temple, Nidhi van etc. and back in the gali of Bihari Ji for purchasing the poshak for my Laddu Gopal Ji. It's all depends on us how much time we want to spend there.
After all of that I left for the station at 2 PM almost and took the tempo & I reached the station at 3:30 PM because Tempo driver dropped in between and said board this auto rickshaw, he will drop you at the station but unluckily he also dropped me at bus stand and the railway station was 2 kms away from it. I walked to the station for almost 1 km and took the lift till station because I was in hurry to board the train for Agra. Actually I made the plan I went to Taj Mahal also but due to late running of trains I couldn't went to Taj Mahal on that time & I was upset due to all of these so I bought the ticket for Delhi and board the Udyan Abha Toofan Express. This train is taking 4 hrs. for Delhi from Mathura but the good thing was that I got the seat in unreserved coach so I'd no problem.
Finally I enjoyed a lot this short solo trip. It was a first experience for me to travel solo outside my city & it brought a confidence, an energy to go any where else without any fear. After all the God is with you always.
Important tips:-
1. If you want to go to Vrindavan by train with reservation so book your tickets in advance in Taj Express or any other train. Taj Express is running from New Delhi Rly Stn at 6:45 AM and taking 2 hrs for Mathura Jn.
2. If you want to go in general coach & experience it, so you'll have to buy the ticket from the ticket counter of the station which will be valid for 2 hrs.only.
3. One day is enough for Vrindavan Darshan and nearby temples like Radha Raman, Radha Vallabh, Nidhivan, Iskcon, Prem Mandir, Vaishno Mandir, Krishna Janm Bhumi etc. But if you want to go Goverdhan, Barsana, Nand Gaon so you need at least 2 or 3 days.
4. At Mathura Jn. you can take tempo/auto according to your comfort. Tempo will charge 20 for Vrindavan in normal days but in peak days like holi, janmashtami, saavan they will charge 50 and auto will charge around 100.
5. You don't need to buy the prasad from the railway station. You can directly buy it from the street of Bihari Ji temple.
6. Try to offer the prasad & flower's mala at your end & don't pay anybody who will say he will done the darshan in the temple or sightseeing.
7. Avoid the visit on saturday & sunday, Holi, Saavan days, Janmashtami because in these days there will be too much rush.
8. There is no problem of food in the Vrindavan. There is everything available in vegetarian. Please must try the 'Lassi' there, it is very yummy.
9. If you'll go to Nidhivan, please don't hire any guide because they will say you to give only Rs.100(for example) but in the last they'll ask more. There is 1 temple nearby Yamuna river where these guide's will take you for darshan & the pujari's will demand the money for puja & if you'll deny they'll say wrong wordings (like ulta sidha), so please try avoid this temple.
10.Near Yamuna river there is a tree from which the hand of Shri Krishn is coming out, so don't forget to see this tree.
Friends if there I said anything wrong or hurt anyone's feeling then M sorry because I don't have any intention like this.
Atleast 1 time in your life please go there and feel the name of Radha-Krishn everywhere like in the air, trees, water, temples, persons etc. If will go there with your pure heart then I must say you will go again & again. :)
"RADHE KRISHNA" friends :) ;)