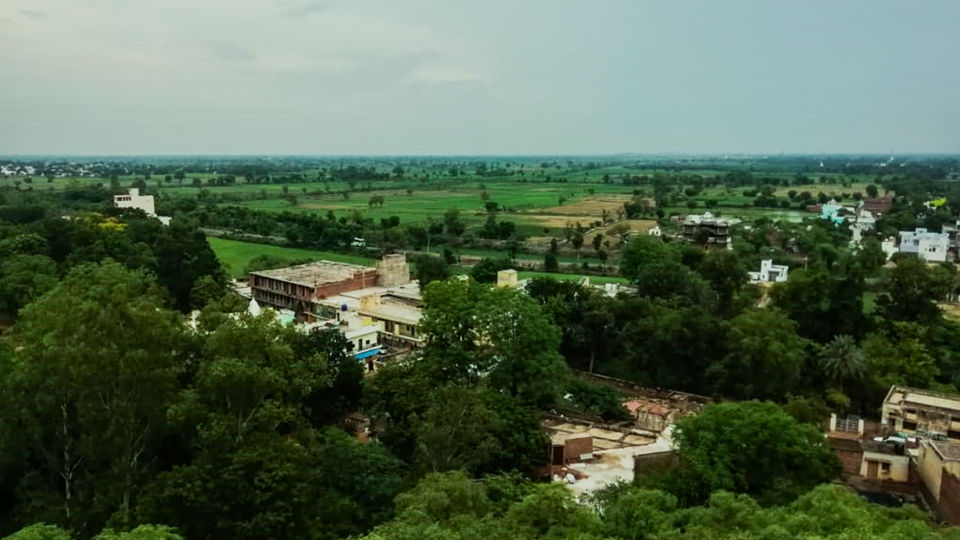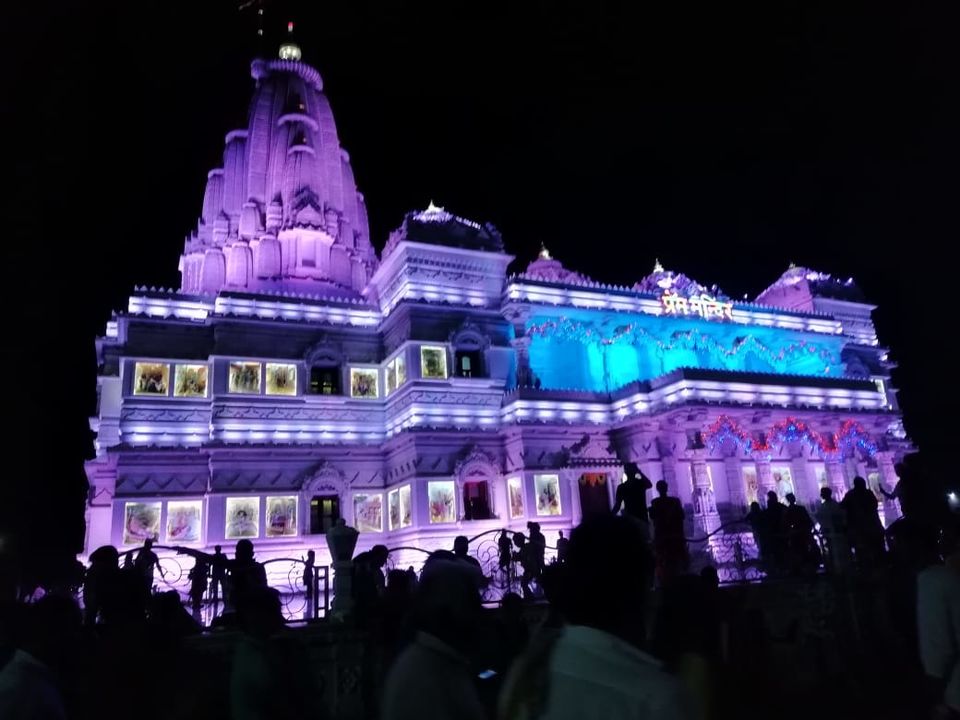 Vrindavan - After that, we reached Mathura junction at night but we don't know that the Prem Mandir closed at 8:30 pm so we were going to temples slowly and enjoying wonderful weather. Then first we reached Vrindavan and the first temple which I love the most is Banke Bihari Mandir. It is said that, if you contact your eyes to Krishna statue for more than 10 seconds then Krishna is with you all along. If you are going to Banke Bihari Mandir then please make sure that there is no space for your luggage, so go there without luggage. After that, we reached Iskcon temple and for the first thing we did is a dance with the joyful peoples and that time our stress and tiredness was gone. After that, we seated with some foreigners and start reading Radhe Radhe. On the other hand, we were getting late for Prem Mandir. If you are going to Vrindavan you may first visit Prem Mandir because Prem Mandir is too big and it needs time to see all the architecture and art. After Iskcon Temple, we reached Prem Mandir and surprisingly we get to know that all we have is 30 minutes and after this temple closes. Literally that time I was looking at the temple, it's looking so beautiful and amazing with the colorful lights and all the architecture. All that lighting and waterfall I really love that. If you are on time then you are also able to see the waterfall show but we missed it, no worries we recover it up next time.
After that, we were getting late for Dharamshala and there was no public transport is there but we do not have to worry about a little as a senior boy is with us. The last auto-rickshaw was standing around there and we quickly booked that rickshaw but there was only 4 seat available, 3 at the back and one in the front. Senior boy reserved his seat at the front and we all four adjusted at the back. I don't even imagine that our time in Rikshaw become so memorable. The way we are passing through was all alone and no rush. We all look at the stars and it was so peaceful and relaxing. That's how our unplanned trip was becoming amazing and memorable.
Mathura, Vrindavan & Barsana, place of Radha Krishna and peace. If you are stressed form the daily life and if you need peace then my advice is to must visit this place. I don't know what magic happens here but when you enter then you feel positive vibes and it feels like the positive vibes is coming from all around.
Planning trip - Our trip started with an unplanned idea of going on a trip. We are 5 in which two are boy, two are a girl and one senior boy (Aman, Abhinav, Sudhanshu, Ritu & Smiriti). One day before at night we are discussing another topic then suddenly an Idea strike in Moto's (Smriti) useless brain and then we decided to go on a trip but the main hurdle for going on a trip is to convince your parents to let you allow for the trip. I don't know what happened that night our parents allowed us for the first time without any arguments. Then the next day we were ready with our backpacks and we took a train from Modinagar and while reaching the station, suddenly its starts raining heavily and we all are drenched with rain. No need to worry, we all love to being drenched with rain.
Tip - If you are visiting there then instead of going for the luxury hotels, go for dharamshala. Here you are also able to meet the Rishi Muni and knowing their experience was next level experience. We booked Dharamshala and it is on the way of Parikrama and this is plus point for us.
Parikrama - After that, we reached Dharamshala and took a rest for 2 to 3 hours and we are on the way to Govardhan Parikrama. The Parikrama is about 21 kilometers and 8 km more for Radha Rani Parikrama. During Parikrama, we saw many peacocks and also we saw flying peacock for the first time. When parikrama ended up we took the famous lassi from the famous lassi shop and it was so yummy. After taking a refreshing lassi, we were back to Dharamshala and I feel my leg is no more. It was painful. Then we took rest. You know that being on a friend's trip no one can rest. When we woke up we see it's raining heavily and we all love rain and for the very next moment we were drenched and all our pain is like vanished.
Barsana - We started parikrama at night and now in the morning, we are heading towards Barsana. In Barsana we reached to Radha Rani temple. Here we reached too early and we found that the Radha Rani Mandir is not open yet. We seated at the top and clicked some images and here we all were feeling sad because our trip reached an end, on the other hand, we were so happy as we enjoyed a lot more than the expectations. Then we reached the station and took a train and heading towards home sweet home.
Really a friend's trip is so much fun and memorable. If you wanna join us then comment below.