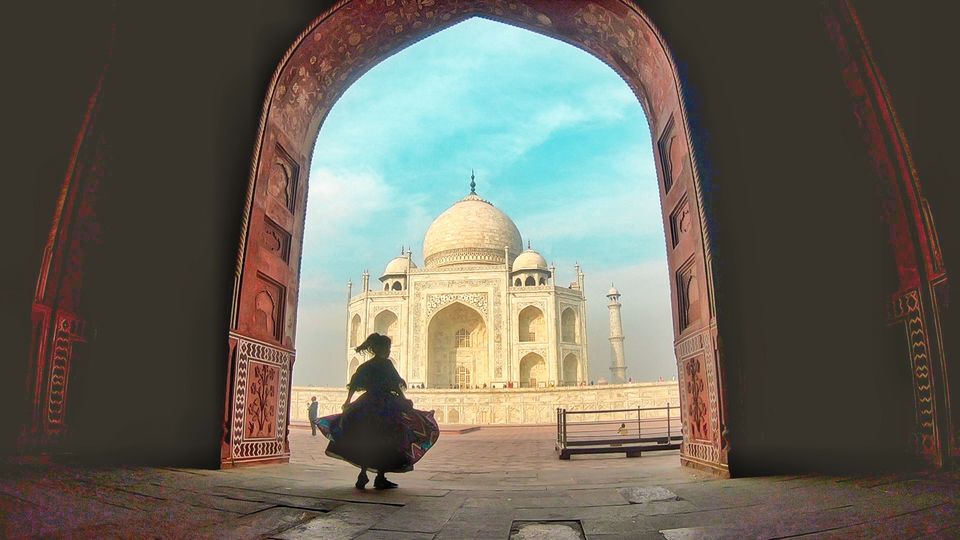 Hey all,
Here is my experience visiting Agra, Uttar Pradesh.
Also, have you read read about my Jaipur trip on my blog(www.rovinvgrainbow.com), if not please check it out now and I am sure you will love it. As you all know Agra is well known for one of the Seven Wonders of the World, Taj Mahal and tourists from across the world flock to Agra all year round to witness the beauty of Taj. Also, Agra has three of the sites which are listed under the UNESCO heritage sites – Taj Mahal, the Agra Fort, and the Fatehpur Sikri. Many people misunderstand Agra as a place of Taj Mahal alone. In addition to the incredible UNESCO World Heritage Sites, there are a wealth of sites to visit around – Mehtab Bagh, Tomb of Itimad-ud-Daulah, Akbar's Tomb, Sikandra, Mughal Bazaar, Agra Art Gallery and so on…
Due to time constraints, I visited Agra for only a day covering Taj Mahal and Agra Fort.
GET IN:
I started from Jaipur to Agra at around 4 pm in a comfortable, air-conditioned volvo bus priced 500/person. It took approximately 5 hours by bus to reach the hotel that was located a km away from Taj Mahal.
Agra is well connected by rail. The main railway station is Agra Cantt. Shatabdi Express services operate from Delhi, Varanasi, and cities in Rajasthan.
The bus is a good option if getting a train isn't possible. Alternatively, you can fly to Agra as well.
This was my bus to Agra!
GET AROUND:
When you arrive, there will be guys that come up to you offering rides. There are plenty of touts here who claim that they are guides or taxi drivers. They commonly use ploys such as free taxi rides or the promise of heavy discounts. Be aware of these people. Also, both in Jaipur and Agra, you will find men staring you and passing comments making your experience visiting a place a bit worse.
The best way to get around Agra is by Ola. Auto-rickshaw is also one of the decent options as they are plentiful. You'll have to agree on a price before you get in. Expect to pay anywhere between INR 100 and 200. Also, it is generally safe to walk around Agra but note that the major tourist sites are far from each other. And Agra does have public transport, but it's very limited and I don't recommend it for tourists.
WHEN TO GO:
The best time to visit is winter and spring months from November to February, otherwise it can be unbearably hot or rainy. But you might get good offers as it's the odd season to visit the place.
ACCOMMODATION IN AGRA:
I stayed at Hotel Agra Haveli which is located 1km away from the Taj Mahal. Since my trip in Agra was just for a day and considering the fact that entire day will be spent on roaming around the city, I decide to book accommodation in a decent budget hotel close to Taj after going through all the reviews on MakeMyTrip. The hotel staffs were really sweet, but the rooms were not good.
In Agra, like any other place, there are all range of accommodation options available, from 5-star to Hostels. "The Oberoi Amarvillas" is my favorite on the list of 5-star property which will definitely burn a hole in your pocket if you plan on staying there!
I am now quickly going to share the details of the iconic attractions in Agra that I visited. All the below places were visited by traveling in Ola, local Autos and Cycle.
Note:
Every tourist attraction you go to will have an Indian price and a foreigner price. Audio guides or personal guides can be arranged at an extra cost depending on your preference. You can also roam around without any guides in all of the below-mentioned places.
MAJOR ATTRACTIONS:
TAJ MAHAL:
I reached Agra at around 9pm. I decided to not waste anytime roaming around as I had plans of waking up early to visit Taj during the sunrise. I had a quick light dinner at the hotel and slept as early as I could.
The Taj Mahal appears to gradually alter its hues spectacularly in the changing light of the day. It's well worth the effort to get up early and spend sunrise there as its one of the most beautiful things to experience in my opinion. Also, during that time of the day, the crowd is significantly less that enables you to have a peaceful time and take pictures without people in it. Having said that, I was at the ticket counter by 5.30 am all prepped to be blown away by gleaming white marble structure and the intricate architecture.
This UNESCO World Heritage site is renowned for its beauty and historical significance with a reflecting pool, a courtyard defined by 4 minarets, massive dome and intricately carved white marble inlaid with precious stones which took 22 years and 20,000 workers to complete.
This stands as a dedication to the favorite wife of Mughal emperor Shah Jahan after she died giving birth to their 14th child.
TIMINGS:
The Taj is opened all days of the week except for Fridays except to attend prayers at the Taj Mosque. The timings are from 6am to 6pm. The Taj Mahal is also open for night viewing every full moon from 8.30 p.m. until 12.30 a.m., and two days before and two days after the full moon. There are three gates to enter the Taj – The West gate, The East Gate and The South gate.
Tickets can be purchased at ticket counters near the entry gates or online.
SECURITY:
There is strict security with checkpoints at the entrances. Your bag will be scanned and searched. You can't bring edibles, notebooks, pens, lighters, headphones, torches, knives, explosives or camera tripods inside. Luggage storage facilities are provided at the entry gates if at all you carry items which are not allowed inside. You can carry very limited items like your cell phone, camera, etc.
Hope these pictures below take you on a virtual tour…
A BOAT RIDE AT THE YAMUNA RIVER:
You can get a great view of the Taj from across the Yamuna river bank. This is ideal for sunset. Head down the path along the eastern wall of the Taj Mahal to the riverside temple, where you will find boatmen. And, it's possible to take a rowboat out on the river for the spectacular sunset view of Taj if you pay some cash to the boatmen.
Also, there are numerous Petha shops, famous sweet of Agra, don't forget to taste a few. I bought home some in the flavor paan and they were delicious.
AGRA FORT:
After having my breakfast outside Taj Mahal, I then headed to the Agra Fort. Agra Fort is located just northwest of the Taj, this is one of India's most historic structures from the Mughal era. Agra Fort is actually about a century older than the Taj Mahal which makes for an interesting place of visit. It served as the royal residence as well as a military strategic base. The fort is well maintained. You also get views of the Taj Mahal from the fort.
The entire fort covers an area of 94 acres, but only a portion of this is open to the public since the northern area of the fort is still in use by the Indian military. The entrance to Agra Fort (and the whole fort, really) is just exquisite.
Timings: The Red Fort in Agra remains open from sunrise till the sunset.
All in all, I had a great time visiting Agra and my favorite moment of the trip has to be the boat ride along the Yamuna river to witness the sunset view of Taj Mahal.
Also, I really loved capturing Taj from my perspective and let me know in the comments below if you like it and would like me to write a blog post about "Tips For Taking amazing Photos at Taj Mahal". See you soon with a new post. Bye Bye!