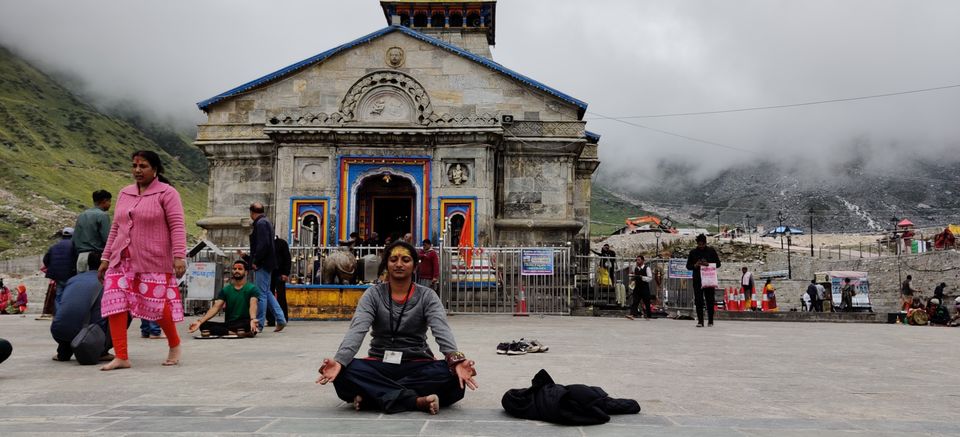 We started our char dham trip from haridwar . It was a long drive that is 8-10 hours from haridwar to barkot via deharaun and mussoorie. You must have heard about mussoorie as queen of hills .. as the title say you will pass through beautiful hills , water falls and foggy climate with a heavenly feeling .
Barkot is beautiful place covered with ranges of mountains which is near to yamunothri one of the char dham ..This place mesmerises with it's scenic beauty, the hotel where we stayed was in a perfect location on bank of river yamuna . Chilling ice cold , pure yamuna flows here . These mountains has a energetic atmosphere which absorbs your tiredness and give you a fresh feeling . As I mentioned before about pure yamuna , no words to explain her because you must only feel it. There is a eco park called Kharadi ,where you can see small waterfalls .
Morning 6 we started to yamunothri which is 2 hrs from barkot ( I'm mentioning in hours because in mountains 30 km might take 1-2 hrs ) . Yamunothri where goddess yamuna resides . You have to trek for 7 km one way to reach this steep mountains and the path way is good enough to walk . The trek might take 2 -3 hours depending on your capability . All the way you see huge mountains and water flowing . No words to explain about scenic beauty . Once you reach there you can seen goddess yamuna , goddess ganga , sun God temple and Hanuman temple . The river yamuna flows from here , persisting all the mountains in her own elegant way .
We started to uttrakashi here you have a Kashi vishwanath temple. In front of temple you can see beautiful painting . From there we started to gangothri . It's 3 hours drive from uttrakashi . Once we reached gangnani to take bath in hot springs . From there 1 hour drive to gangothri beautiful white temple where goddess ganga resides .we did ganga Pooja on bank of river and visited temple . From gangothri you have to trek 18 km to reach gomuk where the glaciers of ganga starts . In gangothri you can see the persistence river ganga flowing massively .
Next destination was my most awaited destination kedarnath . We traveled all the way to phata where we had booking for helicopter . You can either stay in guptakashi or phata for helicopter and those who prefer pony or trek can stay in rampur or sonprayag nearest to gaurikund.
Unfortunately helicopter did not fly because of weather hindrance . So we started to sonprayag ,from sonprayag you have to find a local taxi to reach gaurikund . We stayed here in Gaurikund and the place where goddess parvathi meditated for lord shiva . The river alaknanda flows in gaurikund here also you can see hot springs .From sonprayag 12 km you have triyoginarayani temple where Lord shiva and parvathi got married in presence of lord Vishnu and bhrama.
Early morning 5am we started our voyage from gaurikund , it's 18 km trek to kedarnath . one can trek 4-5 hrs or prefer to go on horses (3hours). The route to kedarnath is bit steep but one can trek with enough breaks and snacks all the way . You will find many unknown pilgrimages with you chanting bum bum bhole and motivating you , one can find true humanity and kind people around who is ready to help irrespective of caste , money and region.
I reached this place with great difficulty but after looking at the place I was lost in my feeling ... The most awaited destination in my list ,I was flying high looking at beautiful temple in the midst of Himalayas . This place has some magical feeling and vibration , I don't no wether it's because of lord shiva or the place .. but one must visit this place once is life time .
Next day we started to badrinath which is 8-10 hours drive from phata . On the way you can visit auli , joshimath . In joshimath you have beautiful temples . We stayed in panduwesh because the gates will be closed after 6 pm due to rock fall .
Next day early morning we started to badrinath , where you have stop in between and cross the way and find a local taxi to reach badrinath temple . This temple is also surrounded by mountains and inside you can see cute lord vishu idol along with lord kubera . You have many small shops to shop here . You can visit Mana - last village of India , valley of flowers, hemkund sahib.
Our last day was completely long travel day via rudraprayag reach rishikesh and then haridwar .
They say as per sanathan Hindu Dharma each and every Hindu must travel char dham once in life time . I'm lucky enought to complete this voyage .
Few more things one should keep in mind
Climate on mountains can't be predicted , it might rain any time .
One can't just wait for helicopter to reach kedarnath . Please keep buffer day and alternate plan .
Going on horses is not that easy , seems to be easy but for long distance it's very painfull.
The journey is so unpredictable because of rockfall . It might delay your plans .
The best time to visit is may-june (summer) crowd will be more or sept-oct (post monsoon) less crowded .
If any one is planning to char dham you can contact Shakti bhaiya +919050350050 from hariyana . Very good person and safe , perfect for driver.
Thanks for reading🙏
Sindhu
PS: please share feedback as blogging is new to me