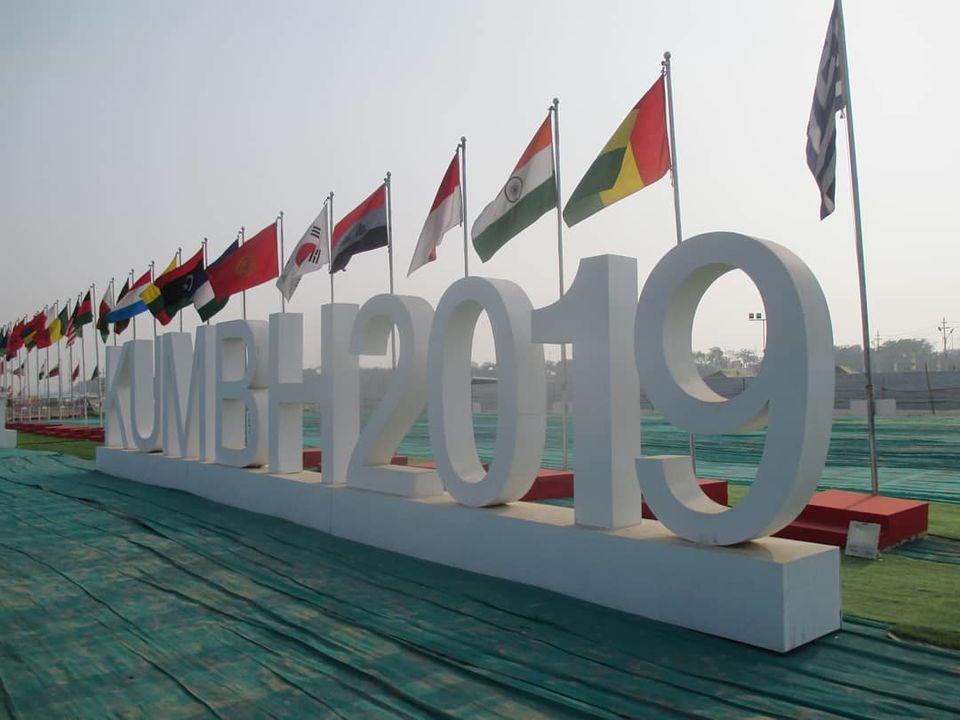 During my three years stay in Allahabad (currently Prayagraj), I realised this place may not be in a travellers usual itinerary except for one is trying to squeeze it in between Lucknow and Varanasi, or Kumbh which happens every 12 years. So what to do if you find yourself in this historic city?
Kumbh may happen every twelve year and ardh-kumbh every six years but every winters from the month of December to February, the city hosts the Magh mela, an equally grand event. If you haven't attended Kumbh mela earlier, this would give an idea of the scale of events that takes place in the city every twelve years.
If not visiting during winters, you could still take a ride an the calm Ganga waters during sunset.
Get blessed from Bade Hanuman'ji. This is said to be the only temple where Lord Hanuman can be found in reclining position. Almost every monsoon, the temple gets submerged due to the flooded rivers.

Allahabad fort is another landmark in the Sangam area. This fort built by Akbar is currently an army cantonment and only a part housing the akshay-vat tree and Saraswati koop is accessible to public.
The Adi Shankar Viman Mandap is highest point in the Sangam area and provides a panoramic view. The picture of the tent city was taken from here.
Allahabad has a rich political history. Seven former Indian prime ministers had connections to this city. Anand Bhawan was the residence of Nehru family and also served as headquarters of the Indian National Congress.
Company garden is a green spot amid the concrete jungle of Allahabad city.
The park is formally known as Chandrashekhar Azad park. It was here where the Indian revolutionary shot himself to avoid arrest from the Britishers.
Allahabad University. The fourth oldest university in India. The Vizianagram Hall located within the Science faculty dates back to 1800s and is an architectural jewel of the city.
All Saints cathederal. Another historic monument in the city. The place almost rises from the dead during Christmas. It is the hub of all Christmas celebrations in the city.
Khushro Bagh is a burial complex housing the tombs of family members of Mughal Emperor Jahangir.
Again with food, there is hardly any food that can be said a trademark of this city. Yet this city does not fail to satisfy a hungry soul. Among things that I first tried here and also recommend others would be dahi-jalebi as breakfast, and kala gajar halwa and sakoda during winters.
During guava (amrud) season, you could also try some amrud halwa. You might mistake Allabadi amrud for an apple due to its red skin instead of the usual green or yellow especially when ripened.
Aloo-tikki is the most common street food in Allahabad but the best is said to be from Nirala Mishtan Bhandar in Loknath market. This market area also has some other great foods to try like masala samosa from Hari Ram and sons and lassi from Raja Ram lassi wale.
Other popular eateries in the city include, Dehati Rasgulla for their hot rasgullas (different from Kolkata'r roshogolla) and Eat On biriyani.
More pictures from Allahabad on my Instagram.