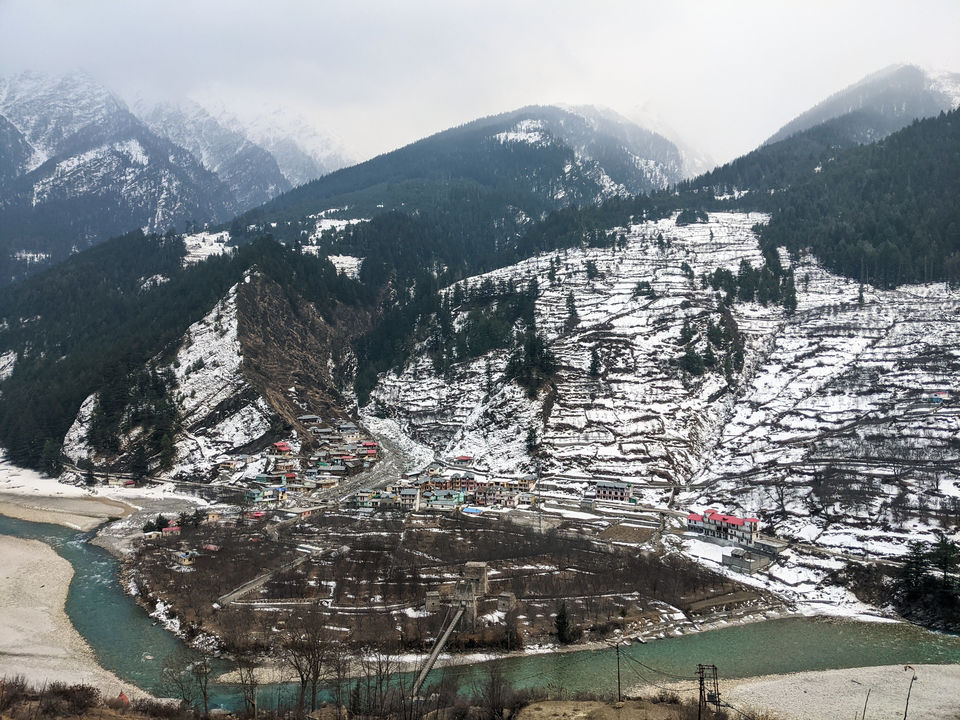 Majestic mountains, traditional Garhwali architecture and the gushing Bhagirathi River accompanied by the sweet scent of apple orchards set Harsil Valley apart from every other Uttarakhand destination. The valley is indisputably a gem to Uttarakhand's Himalayan crown, gradually making its mark on the map. Perched on an elevation of 2,620 meters, Harsil is a part of the Uttarkashi district connected with roadways. Despite being on the popular route to Gangotri, the valley is seldom visited by tourists or pilgrims. However, this part of Uttarakhand deserves a holiday in its own right.
Despite being distinctly recognized for its best apple produce in the country, Harsil Valley offers only some worthy stays. If you're planning to explore the reasonably unchartered valley or experience the winter wonderland of Uttarakhand, the following hotels and homestays will offer a comfortable stay like no other:
1. Sunder Homestay
If you seek homely comforts and nutritious, home-cooked food away from your home, Sunder Homestay will surely leave you content. Situated at one of the ends of the valley and adjacent to the army cantonment area, this homestay overlooks the beautiful snow-capped mountains in the region. The staff is exceptionally hospitable and friendly and provides all the necessary amenities for a comfortable stay. The homestay also features numerous apple trees which blossom with fruit in the summers, which adds to its charm.
Price for 2: 1,600/night
Click Here for Bookings
2. Prakriti – The Retreat
Prakriti – The Retreat is one of the secluded, riverside leisure resorts on Harsil-Gangotri Road. Situated 5 km ahead of the main Harsil town, this accommodation is renowned for the panoramic and unobstructed views. It's perhaps one of the best stays for nature lovers. The resort features all the necessary amenities like an in-house restaurant, library, room heating, private sit-out areas, among many others.
Price for 2: 5,000/night
Click Here for Bookings
3. Harsil Retreat
Situated along the meandering Bhagirathi river, Harsil Retreat is one of the most picturesque stays in the valley. It also overlooks the beautiful dense forests of pine and oak trees. There are two types of cottages – Deluxe and Super Deluxe – to suit different guests' requirements. The retreat features comfortable beds, a tea/coffee maker, and an in-house multicuisine kitchen. The staff also arranges jungle walks, treks, and picnics on request.
Price for 2: 6,000/night
Click Here for Bookings
4. Nelangana Resort
Overlooking snow-capped mountains and the gushing Bhagirathi river, Nelangana Resort offers a splendid stay for nature lovers. It is located 3 km from Harsil and features 7 well-equipped rooms and 15 luxury tents. The rooms feature wooden interiors, a tea and coffee maker and a buffet meal service. There is also a library and an in-house restaurant that prepares delicious meals with organic produce. The staff also arranges picnics, treks and evening bonfires on request.
Price for 2: 3,200/night
Click Here for Bookings
5. GMVN Harsil Tourist Bungalow
GMVN Harsil Tourist Bungalow is situated close to the town centre. It offers well-equipped Deluxe and Super Deluxe rooms to its guests. It is one of the best-priced accommodations available in Harsil, which also features a beautiful view of the Bhagirathi river, room service, a parking facility, and a restaurant. The stayers can also request arrangements for sightseeing and adventure activities.
Price for 2: 1,000/night
Click Here for Bookings
Best Time to Visit
The best time to visit Harsil depends on what you're seeking. If you enjoy the view of verdant valleys, blossoming apple orchards and pleasant weather, the summer season would be the preferable time of the year to explore the region.
However, if you're a snow-lover, enjoy challenging yourself in sub-zero temperature, and wish to witness the winter wonderland of Uttrakhand, a visit during December to early March might be the best.
Things to do around Harsil Valley:
1. Day trip to Gangotri
The holy town of Gangotri is only 23 km away from Harsil, which is worth paying a visit if you're in the region. A lot of stayers also venture on the Gaumukh Tapovan Trek, which begins from Gangotri.
2. Explore Mukhba
Situated only a km away from Harsil, Mukhba is the winter abode of Goddess Ganga. A procession is led on the next day of Deepavali celebrations to bring Goddess Ganga to the village of Mukhba. The village also offers a panoramic view of the charming town of Dharali, which lies across the Bhagirathi River.
3. Enjoy a leisure walk to Bagori village
Bagori village is only at a leisure walk of 800 meters from Harsil. It is arguably one of the most charming villages in the region, whose history dates back to 400 years. It is also known for its sheep wool mufflers, caps, gloves and socks. During the summer season, the village is full of women busily knitting winterwear in their courtyards. The traditional Garhwali architecture in the village is sure to steal your hearts away. If you're in the area, do look for the hidden bridge of prayer flags.
Harsil Valley has been a hidden gem for quite a lot of years, but it is gradually turning quite some eyes for its naturistic beauty, serenity and winter snow-land. This town is the perfect detox destination to get away from work stress. A stay of 2-3 days is highly recommended to soak the experience and tranquillity that Harsil has to offer.
Itching to plan your next trip to Harsil? Which stay are you gonna pick for your unadulterated experience in the Himalayas? Share your experiences and travel diaries from the hills here.