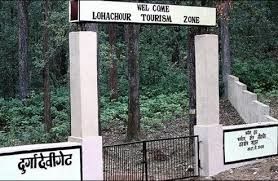 Durgadevi Zone Safari
Durgadevi Zone is one of the 5 zones in the Corbett National Park where the tourists visiting the National Park can book the permits online to enter and enjoy the jungle safari in the Zeepsie through this forest which is a paradise for bird watching, lush green vegetation , Masher Fish along with wild Elephants.
This particular Zone is 28 kms away from the city of Ramnagar which is the nearest train junction for visitors. The Jypsie can be obtained from the Corbett Tiger Reserve Office or through local Tour Operators.
The Safari to the particular Zone is made either in the morning or the afternoon and the timings for the same varies with the season you are visiting the Corbett.
A total of six adults and two kids can have their names on the permit along with their ID Proofs to enter the gate. A local guide is mandatory to accompany you for your Jungle Safari.
This zone has undulating terrain and the forest is dense with Sheesam, Dhak, Sisoo and Khair trees looking pristinely beautiful. All these trees are deciduous and different shades of the jungle at different time zones makes it on the to do list for Nature Lovers.
The Fauna in Jim Corbett that is seen in this particular zone comprises of Sambar Deer, Spotted Deer, Tusker Elephants, Wild Boars, Masheer Fish, Otters and of course the Famous Royal Bengal Tiger.
As this zone has a very dense vegetation the bird life in the Durgadevi Zone is very popular among the Bird Lovers. The most rare birds found here includes Grey Headed Fishing Eagle, Black Chinned Yuhina, Crested Laughing thrush, Maroon Orile and many more other rare species.
This Zone also has The Ramganga River as well as the Mandal River which along with million trees makes this zone a very cooler one as compared to other zones in the Corbett.
Safari Booking at Durgadevi Zone
A total of 11 jeep safari visit this zone in the morning and 11 in the afternoon having a maximum of 6 guests in each jeepsie accompanied by a guide along with the driver who are local citizens of the City.
The guide who accompanies you explains you the entire Flora and Fauna of the region thus enhancing your wildlife and Jungle knowledge and making you aware of the beauty surrounding the Corbett National Park.
The safari has a total duration of 3:30 minutes in the Jungle taking you through the picturesque Durgadevi Forest.
Beleive is the word when I say if you have just started to feel and connect with nature than you are up for a treat if you hop on to a Safari to this particular Place.