What up People, Hope you guys are good, you guys know me, if you guys are new to this profile am Nikhil Talwar a part-time Travel Blogger | DJ | Producer & a Hippie Soul, i run this blog Voyageurs from Delhi to spread travel knowledge as much as i can. So my last trip was i posted about Khir Ganga (Kheerganga) Trek | 11 Sep 2019, you should check it out on my Tripoto profile.
I have been to Jim Corbett National Park once on Oct2013 i was with my cousin group we have been to Rishikesh then visit Jim Corbett you can see the picture blog here Delhi | Rishikesh | Jim Corbett | Delhi we went on a day safari it was cost about 4k for six people we went to Ramnagar hired a Jeep Safari, it was a 4hr ride but haven't see the Tiger, So it was a good trip but It was Ok.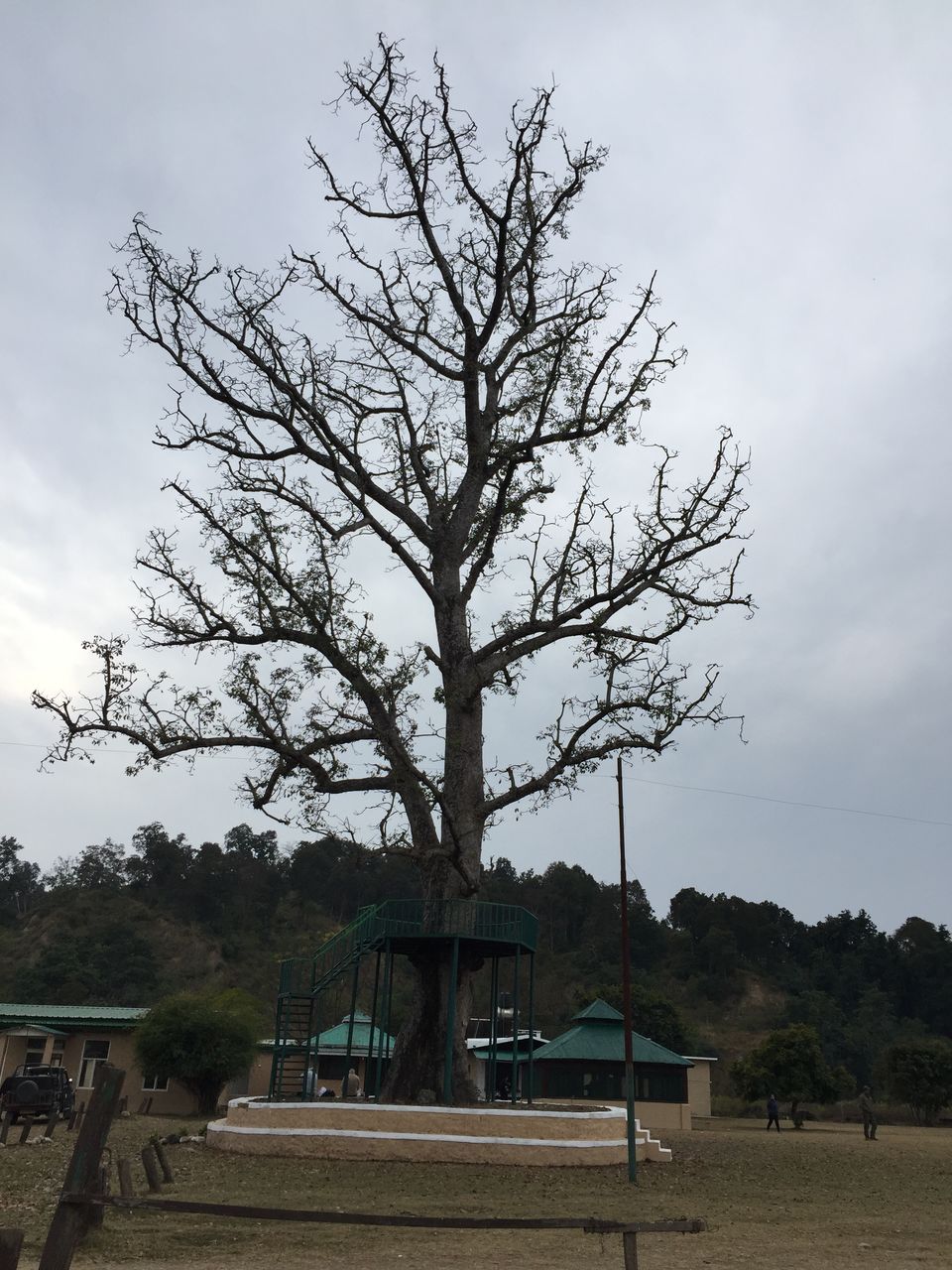 This time someone message me for the information of Jim Corbett how to stay inside the forest, brace yourself to read much exciting stuff here because i experience that i never experience before, because i saw tiger in front of our jeep but unfortunately i couldn't capture him into my lens, although i can share some of important information here that everyone's need.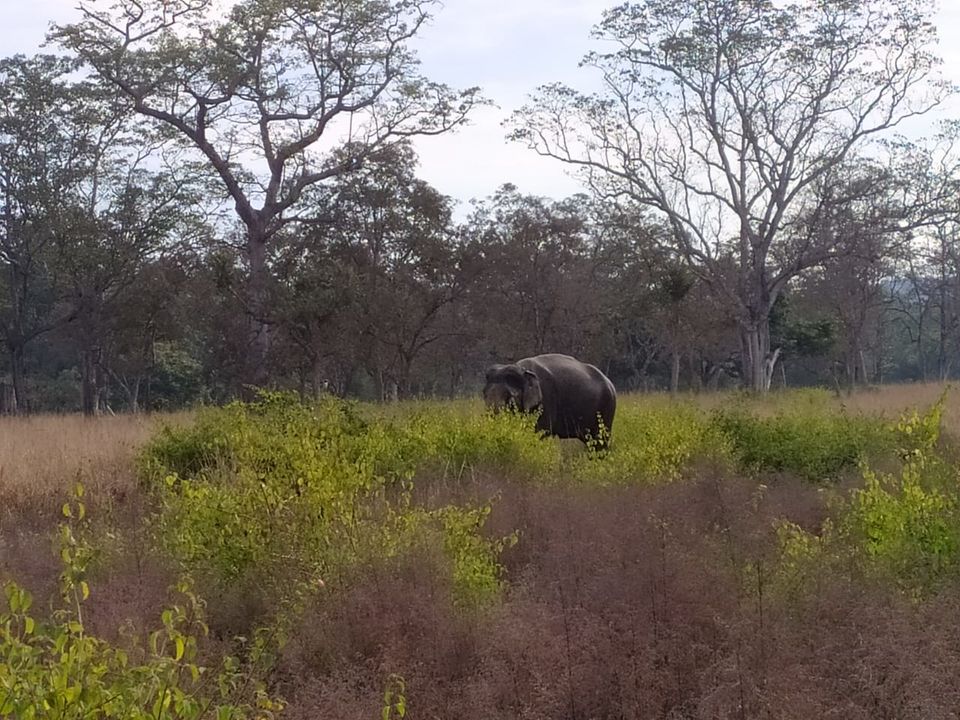 To visit Corbett National Park, you need to make a booking 25-30 days prior to your visit! this clause is clearly stated on their website. So for all of you living in Delhi and other cities close to Corbett, don't expect to visit the park if you haven't planned your trip at least a month before. More importantly, carefully go through the website.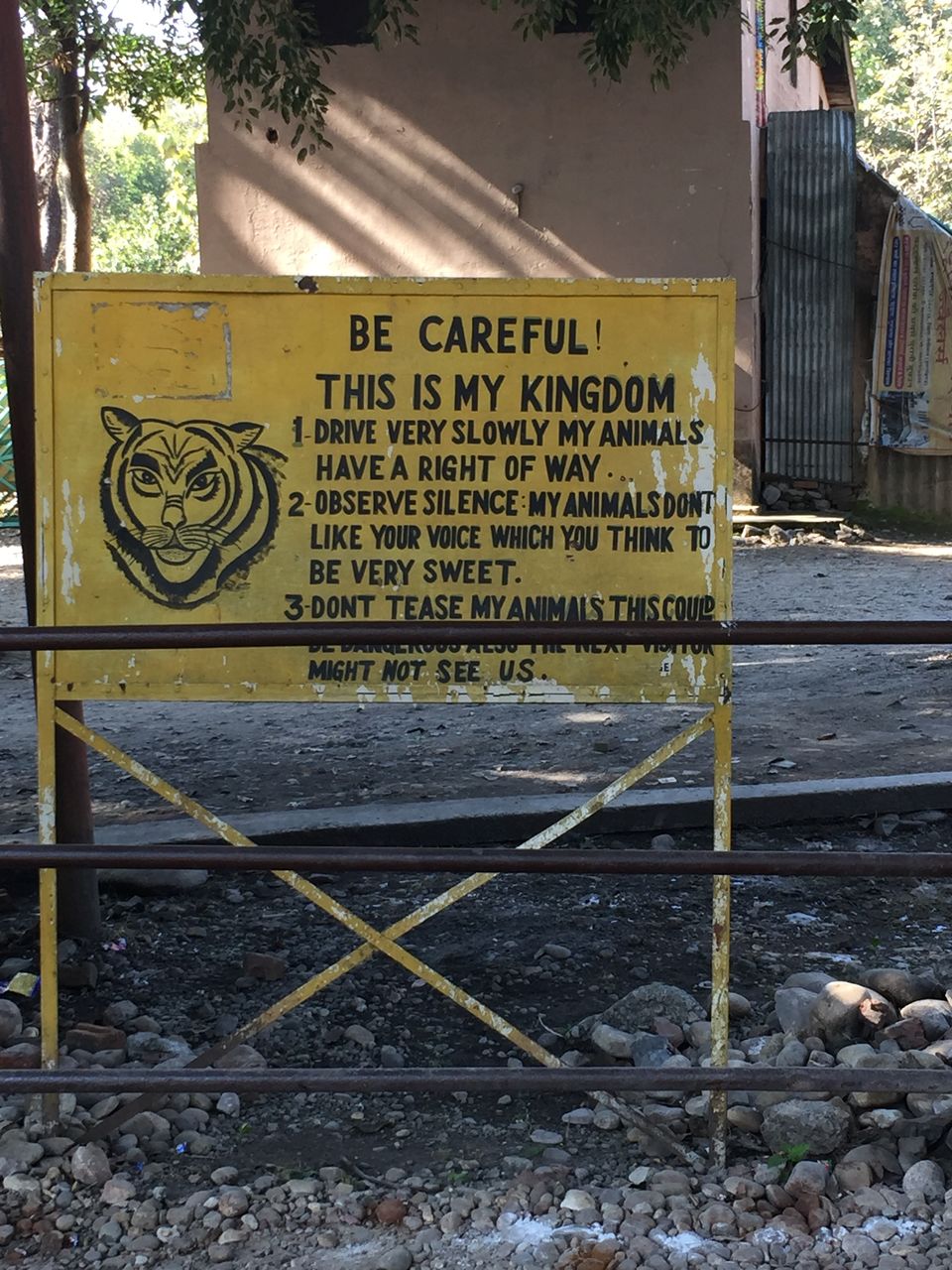 Day 1 : We started our journey from Delhi to Corbett National Park, "5 h 10 min (235.6 km) via NH9" most famous for being a tiger reserve, needs no introduction to the wildlife lovers. The park boasts of the increasing numbers of tigers in the recent years and also offers the Jungle Safari for the tourists to provide the chance to get a glimpse of this majestic king of the wild forest in its natural habitat. The Safari is the magnificent and the only way to get inside the tiger reserve area and enjoy the mesmerising view of the amazing landscape and wildlife of this area. The park is divided into the six ecotourism zones and the safari tours are organised in each zone by the zone administration of the forest.
Among the six safari zones, Bijrani zone (where we stay for a night) is considered as the best zone after the Dhikala zone to spot the tiger. The picturesque landscape of this zone, which consists of large grass fields known as Chaurs and dense Sal forest, plenty of waterholes and river streams is no less enchanting than the Dhikala zone. The chances of tiger spotting in this zone are almost similar to the Dhikala zone and the tiger sighting is reported often by the safari tourists. Along with the big cats like Bengal tigers and leopards, several types other animals like wild elephants, black bears as well as different types of deer and antelopes namely Chital, Sambar, Hog Deer are found in this zone. Also a perfect place for the birding, there are around 600 species of resident and migratory birds are seen here.
Aamdanda gate is the entrance to the Bijrani zone, which is located at the distance of around 1 km from the Ramnagar city. There is a buffer zone of 5 km after entering the gate, which you have to cross to get into the core zone. There is two forest rest houses locate in this zone and are available for tourists to stay here after making a booking for the night stay. One is the Bijrani forest rest house and the other is Malani forest rest house. The day safari is not allowed to stay here for the night, but the day safari can enjoy the elephant ride from here. The elephant safari is only available in the Bijrani and Dhikala zones and is subject to availability as there are limited numbers of elephants used for the safari ride. You have to book the elephant safari on the spot and it is booked on the first come, first serve basis.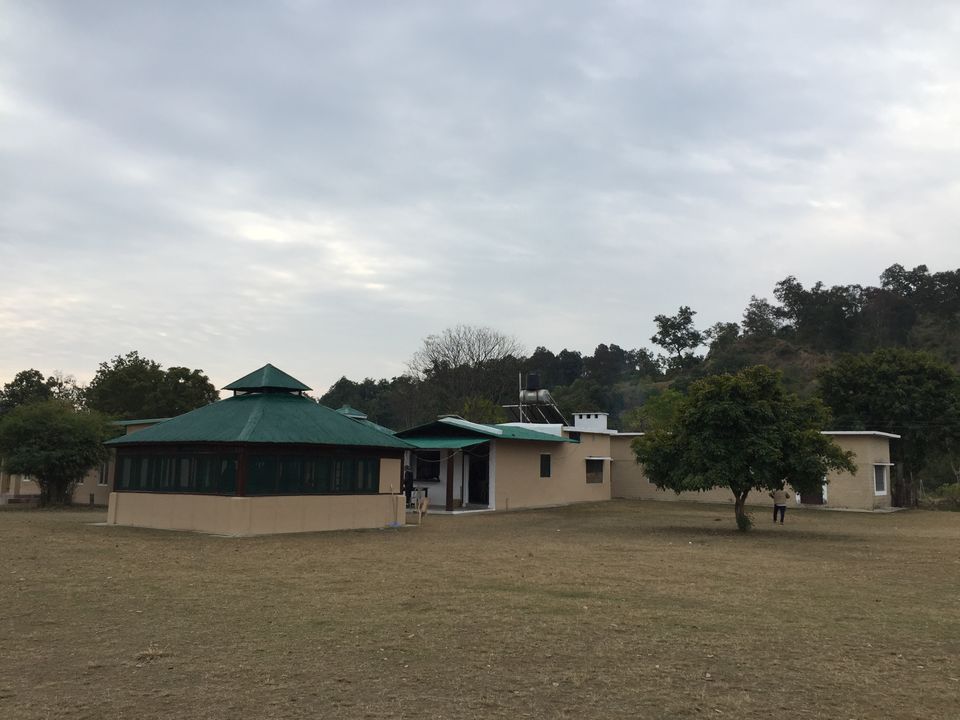 "Bijrani Guest House is only depend on Solar Power, points to be note down here when you enter the forest this is no network area, it means no network, no data, no phone calls, no wifi keep your power banks with you fully charged to capture you moments. In the rest house you can charge your phones after 6pm to till 6am, in the day time there is no electricity mind you these place only run on Solar Power, if you make any important calls do it before entering the forest, you can't make/receive any calls while in the forest."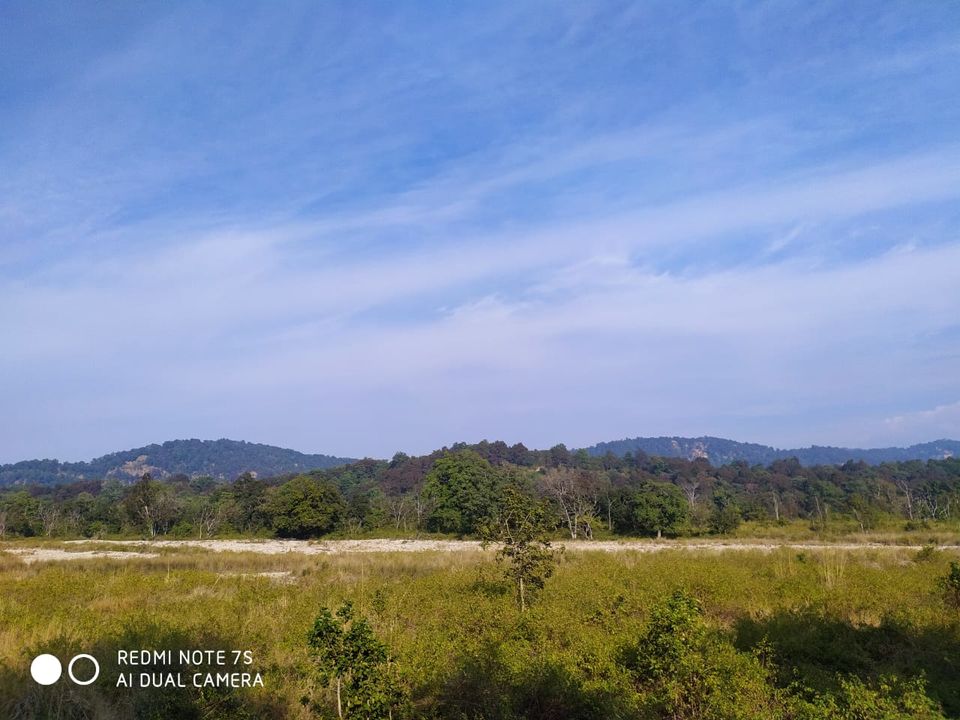 In order to visit the Bijrani zone, you have to obtain an entry permit for the safari, which you have to show to the forest officials at the entry gate. You can book your safari entry permit through online maximum of 45 days in advance or you can book the same day safari from the forest office in the Ramnagar after paying the required fee. Booking is done on the first come, first served basis and is a subject to availability. Along with the entry permit, you also have to hire a safari jeep and a guide/naturist, which are mandatory for the entry in the tiger reserve area.
Maximum of six adults and two children (below 12 years) are allowed in one safari jeep apart from the driver and a guide. It is always best to book your permit in advance before reaching at the Corbett tiger reserve as there is always a rush of tourists for the safari and only 30 safari jeeps are allowed to enter into the Bijrani zone in one shift and almost all jeeps are pre-booked.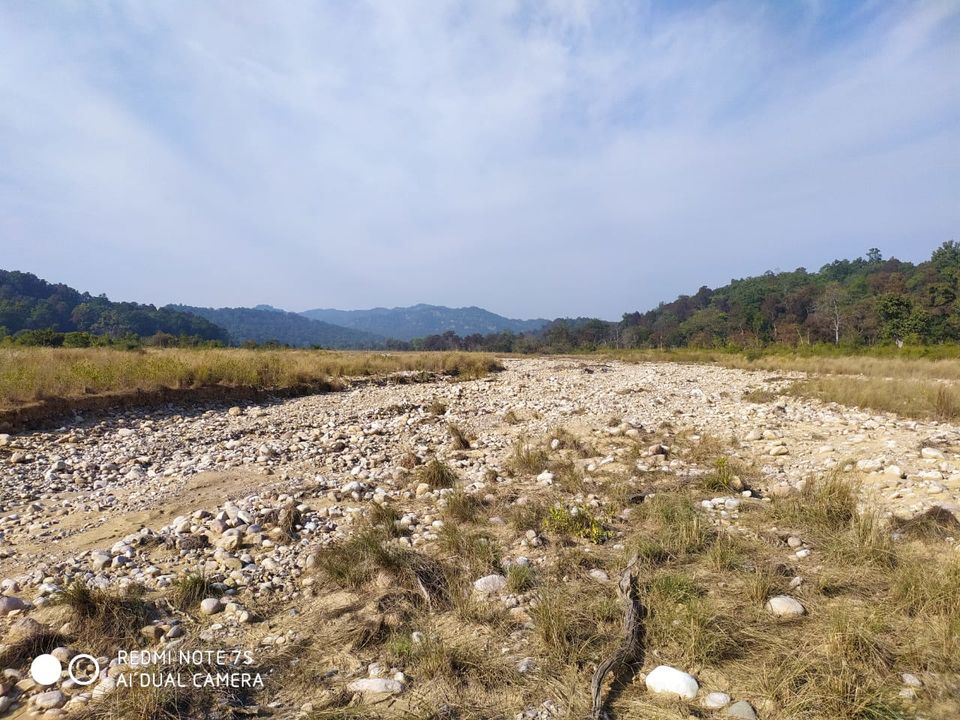 For the accommodation, the tourists who are visiting the Corbett for the day safari to Bijrani zone can stay at the hotels and resorts located in the Dhikuli village, just outside the Bijrani zone, along with the boundary of the zone. From economical hotels to beautiful and luxurious resorts are available here to stay according to your budget.
Day Safari Timings of the Bijrani Zone:
Note: only 30 Safari jeeps are allowed in each shift
Winter Safaris Timings-
Morning Safari Entry- 07:00 am & Exit- 10:00 am
Evening Safari Entry- 02:00 pm & Exit- 007:00 pm
Summer Safaris Timings-
Morning Safari Entry- 06:00 am & Exit- 09:30 am
Evening Safari Entry- 03:00 pm & Exit- 007:00 pm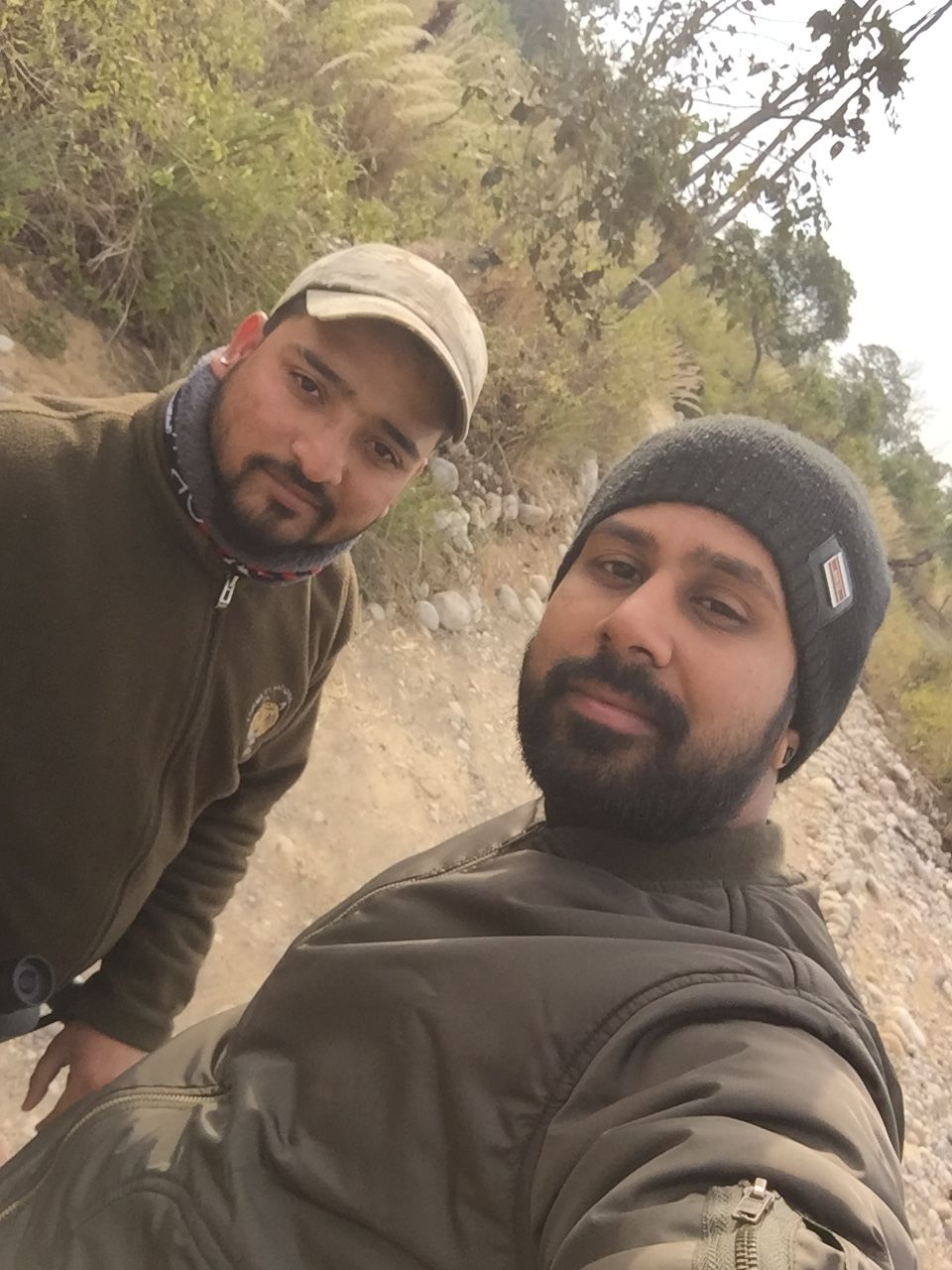 For the extensive information regarding the Bijrani Safari zone, please contact them, & thanks me later, they provide the complete package of Corbett Safari Tours which includes Safari Entry Permit, Safari Jeep, Guide/Naturists and the Accommodation at hotels and resorts outside of the Bijrani zone or at the forest rest house in the Bijrani zone. Also You can contact him his name is Fahim +919719137942 to book Jeep safari for day visit or stay he is really kind and humble will help you.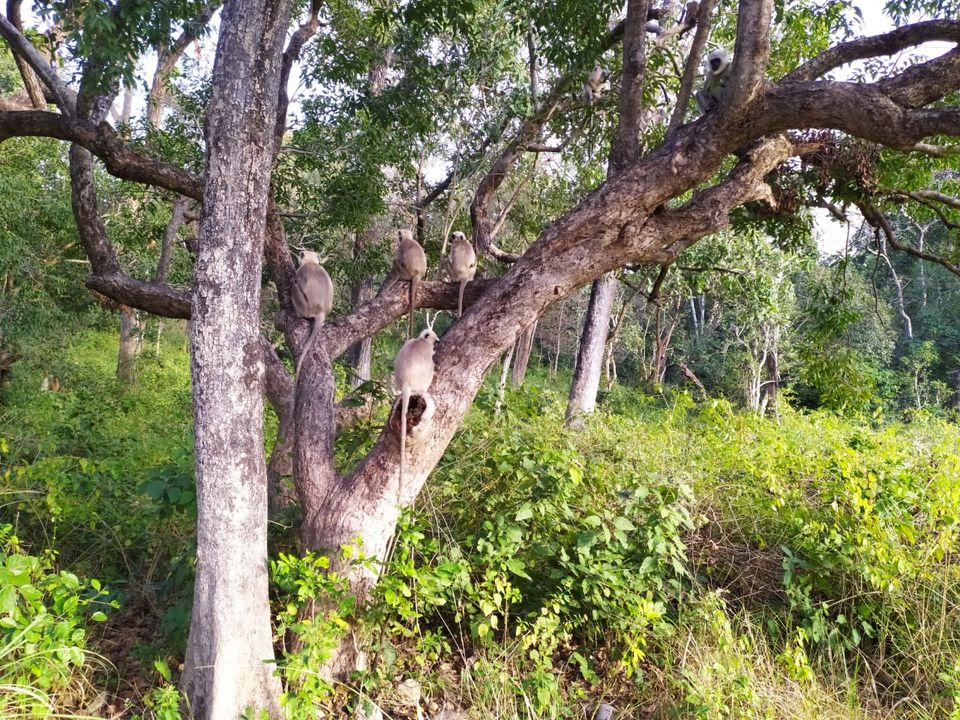 If you love bird watching then Corbett is virtual haven for such tourists. Corbett and its adjoining area is a home to more than 650 species of residents and migratory birds. Particularly Dhikala is fine place to look for birds of prey, more than over 50 species of raptors alone shows the healthy biodiversity of the area. Their multiplex behavior is intriguing and their varied songs are very much pleasing to the ear. In a nutshell, this finest national park of India is well known for rich and varied wildlife including royal Bengal tiger, elephant, four to five species of deer and rich birdlife.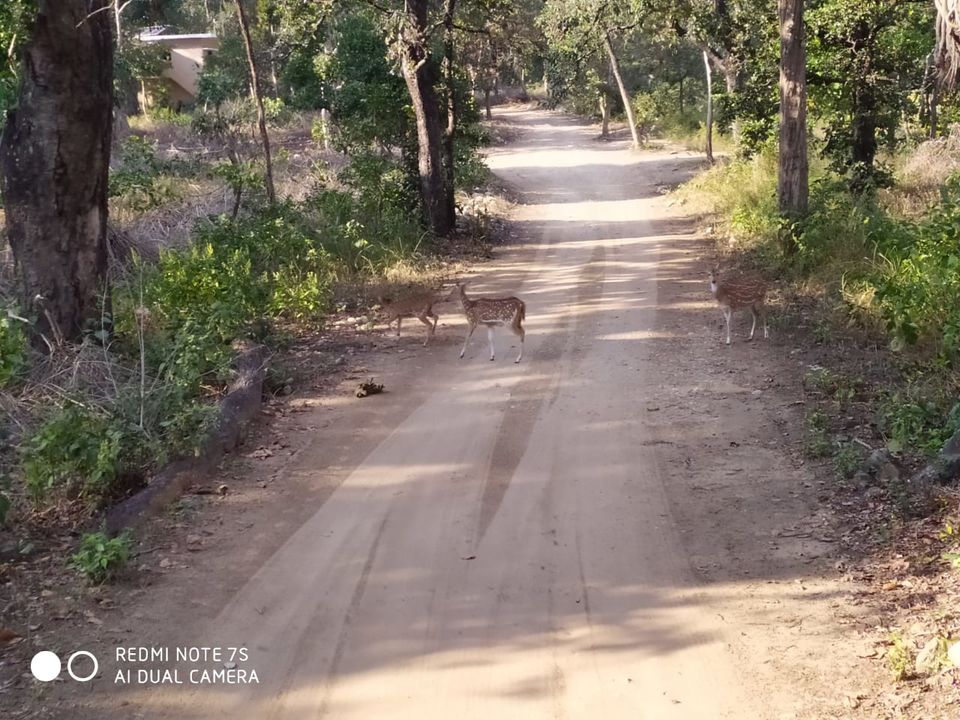 The Tourist Zones: In order to promote tourism in the region Corbett National Park has been divided into five different zones. These are the marked buffer or core area of the park where visitors can be part of wildlife safari and can enjoy the intriguing behavior of the animals with bare eyes at proximity.
Bijrani Safari Zone - Jhirna Safari Zone - Dhela Safari Zone - Dhikala Zone - Durga Devi Zone - Sitabani Buffer Zone.
How to Reach Corbett: Ramnagar is perhaps the best approach to the Corbett National Park which forms the headquarters of CTR. This small city is well connected by road and rail network with major cities of India like Delhi, Moradabad, Nainital and Bareilly. Once you reach Ramnagar, then it takes only half an hour to reach Corbett National Park. The park is around 15 Kms from Ramnagar railway station.
By Road: Ramnagar has a very good network of road that connects the different cities. The Corbett National Park is situated at an approximate surface distance of 260 Kilometer from India's national capital Delhi. The state government of Uttarakhand plies buses at a short interval of time from Delhi, Moradabad, Haldawani, and Nainital that reaches Corbett directly.
By Rail: The railway station in Ramnagar receives trains from different major cities of India like Delhi, Moradabad and Bareilly. A direct train to Ramnagar runs from Delhi. You can check out for Ranikhet Express, Corbett Link Express and Kathgodam Express that takes you directly to Ramnagar.
Distance from Major Cities:
Delhi: Delhi - Moradabad - Kashipur - Ramnagar (260 Kms)
Nainital: Via Kaladhungi to Ramnagar (62 Kms)
Lucknow: Lucknow - Bareilly - Kicha - Rudrapur - Kashipur - Ramnagar (436 km)
Dehradun : Dehradun - Ramnagar (232 km)
Kainchi Dham
Apple, Facebook, & Google bosses all came to India to find enlightenment from Guru Neem Karoli Baba at Kainchi Temple. Now I'm going there to see what Steve Jobs & Mark Zuckerberg found there.
Steve Jobs came here in 1974 looking for enlightenment from a guru named "Neem Karoli Baba", but the baba had died 3 months prior, but he still said that his time here and, Neem Karoli Baba's favorite fruit, apples inspired the Apple logo. Then in 2008 Mark Zuckerberg came here on advise from his mentor which was, you know Steve Jobs and Steve said to mark: come here and you can. Facebook was going through from rough patch, so Mark went to his mentor Steve Jobs and said, you know what should i do? And Steve said' come to this temple come to Kainchi Dham and contemplate the direction of your company' so Zuckerberg came here and stayed for two nights and people say that it put his company to the right track after his visit. Larry page from Google has been here and Jeff Skoll from eBay has been here, too......
A small quaint place-17 km from Nainital and 9 km from Bhowali. The place derives it's name from a local Kumaoni word 'Kainchi' which means 'two sharp hairpin bends' that is seen on the Nainital-Almora road. 'Kainchi' means 'Scissors' in English and though i have been to the place a zillion times, the bend never looked or looks the 'Scissor' part! although one cannot deny the fact that, the town is actually situated between two hills that intersects and crosses each other to form the shape of a scissor from where the name may have also originated.
The concept of this place came into existence in 1942 when Maharaj Neem Karoli (Neeb Karori Baba or Maharajji as He is more popularly known, is one of the greatest saints of the 20th century. He is among the very few true 'sadhus' (saints) that India has had in the recent times. He is also called Neem Karoli Baba. Among the most well known of Neem Karoli Baba's disciples were, spiritual teacher Ma Jaya, Ram Dass, the author of Be Here Now, teacher/performer Bhagavan Das, Lama Surya Das and the musicians Jai Uttal and Krishna Das. Other notable devotees include humanitarian Larry Brilliant and his wife Girija, Dada Mukerjee (former professor at Allahabad University, Uttar Pradesh, India), scholar and writer Yvette Rosser, and Daniel Goleman author of Emotional Intelligence.
Kainchi Dham became popular in late 60s because American author known as baba RAM Dass. He wrote a book about Neem Karori Baba and that really sparked the interest of foreigners in this place. and so they all started coming here to receive Neem Karori Baba's blessing's. Inside the temple is the Hanuman temple but all the is action around white timber and this house is a statue of Neeb Karori Baba. behind these temple is an ashram where devotes stay and i couldn't go and check out the ashram because only guest can go visit the ashram. and if you want to be a guest at the ashram. You've got to be recommend by another member of the ashram. Kainchi Dham isn't really that much of interesting place to visit, you should only really visit, if you're a follower of Neem Karori Baba.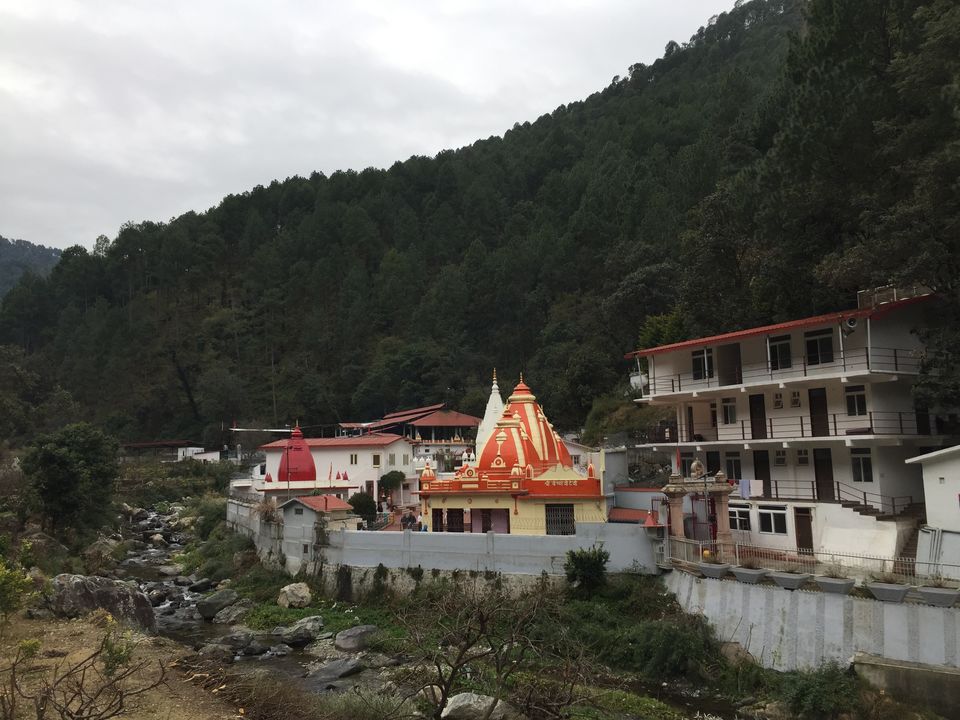 As you walk around the premises, right in the corner there is a bed in which Maharaj Ji used to sit and give blessings to his many followers. Just opposite to that is where the life-size statue of Maharaj Ji is installed and mind you what a grand sight that is, one can find people sitting in a deep meditative state or singing beautiful renditions of 'The Hanuman Chalisa'
It's Steve Jobs, Mark Zuckerberg and the rest: they are not Hindus. So i don't think these people are going there for the spiritual side of this ashram. They are going there for peace and quite and when you have that peace and quite and when you practice yoga and when you meditate you are able to contemplate. Ancient Indian Philosopher like Buddha, for them contemplation was finding truth and for that they had to leave their family to leave their lives behind and they went wondering in the forest because this is where they could contemplate this. This is where they could think best, we also live in societies which restrict our ability to think in a new ways and to see new perspectives. So these is an another reason to came out to these places to get away from society and the way everybody think in the way society want you to think.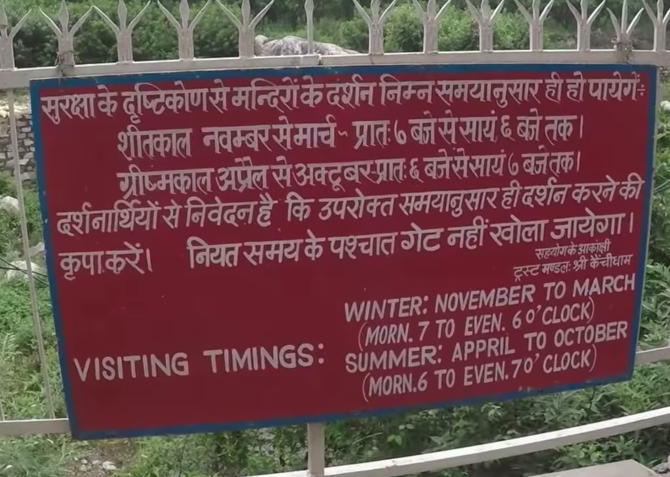 On the way back,one cannot forget to take the 'Chana' which is offered as a prasadam, However, a must for a person visiting the temple, once when out of the gate have some delicious 'Pakodas' or a 'Neembu Paani' in the shops right next to the temple! It's a treat for the taste- buds!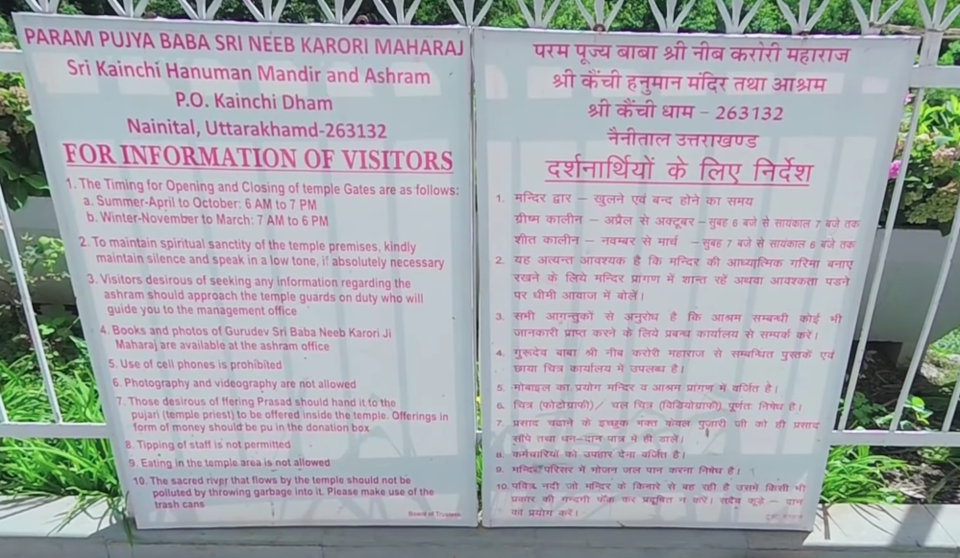 When Babaji left his physical body in the night of 10 September 1973. The Kalash containing His ashes was already installed in Shri Kainchi dham. Then, without any plan and design the construction work of Baba's temple began in 1974. All His devotees cooperated (voluntarily).The artisans and masons engaged in the construction work has an early bath and wearing clean clothes began work, reciting Hanuman Chalissa and chanting "Maharajji Ki Jai" (glory to Maharaj Ji). When the construction work was on, the devotees also recited Hanuman Chalissa and did Kirtan by singing (Shri Rama - Jai Rama - Jai Jai Rama), Mothers also writing "Ramnam" on the bricks passed them on to the workers. The whole atmosphere vibrated with the chanting of "Baba Neem Karoli Maharaj Ki Jai". Influenced by the ardent devotion of the Mothers for Babaji, the workers also developed the same feeling of devotion, faith, reverance and love. It was Babaji's lila that he infused these workers with the qualities of Vishwakarma (the architect of Gods) and they remained busy with the construction work.
A very important event-'The Kainchi Dham Fair' and communal feast is held on the 15th of June every year, where devotees from nearby regions and far off places come and pay their respects to Maharaj Ji. Thousands are fed on that day and people voluntarily offer their services and come weeks before the commencement of the fair. However, special permission from the office (within the premises) is required to stay there.