"The Mountains are calling and i must go". ~John Muir.
The line is quite true. A call from heart always come which takes us and forces us to mother nature at whatsoever the situation is. This winter i was in a snowland of Uttarakhand. R u admiring where it is ??
On hearing about Snowland of Uttarakhand various names comes into mind like Auli, Chopta, Mussorie. But my snowland is not so common. It is a bit offbeat.
Journey began from Dehradun. We reached Dehradun at 4:00 a.m. from Delhi. We went near Mussorie Bus Stand (Parvatiya Bus Stand Dehradun) taking a auto from ISBT. It was 4:30 in the clock . We were waiting for the bus to Sankri. At around 6:00 a.m. we took private bus from a distance ahead of the bus stand as the govt. Bus was quite late in morning.
The bus took the road of vikasnagar and then started climbing the hills towards Damta. Yes we are ascending on the road towards Yamuntori. We did our journey for around 6 hours and stopped at Damta for some lunch.
After lunch the journey continued thorugh lush greenery. Turn by turn the bus climbed up towards Purola. We left the Yamunotri Road. And took the Naugaun-Purola Road. The day was pathetic. Our target Sankri was still far. The bus journey was of 10 hours. We slowly crossed the villages of Naugaun, Purola, Jarmola and Naitwar and reached Mori.
It was a break of half an hour at Mori before the final push. We came down had some snacks and again moved on further. The road became a bit bad. We moved past Mori and Kotgaon and reached Sankri. The bus journey ends. But our day was tiring and unending was our homestay as booked at Balveer's Home(Himalaya Home) , saur, Sankri Range. It was near about 500 m from Sankri. The walk did some acclimatization . But the load in our back screwed us.  It was totally dark when we reached Saur at evening.
Balveer Ji greeted us with Chai and Pakoda. We made our fireplace and enjoyed with some other mumbai guys and our team from Kolkata. It was a nice time. Meanwhile Balveer's wife (aunty ji) came and said "khana lag gya" . We ran towards the kitchen as we were quite hungry. The kitchen was quite warm with a central furnace. She served rice,roti, sabji , a local pahadi green leaf preparation, pickle and papad. It was heavenly. The warmest behaviour touched our heart.
When we went out we felt the chill temperature was subzero (-4 degrees). We slept a sound sleep night.
Next morning my sleep broke with the call of chirping birds. I came out of the room and was surprised to see a Black Lored Tit in a perfect perch. Beautiful !!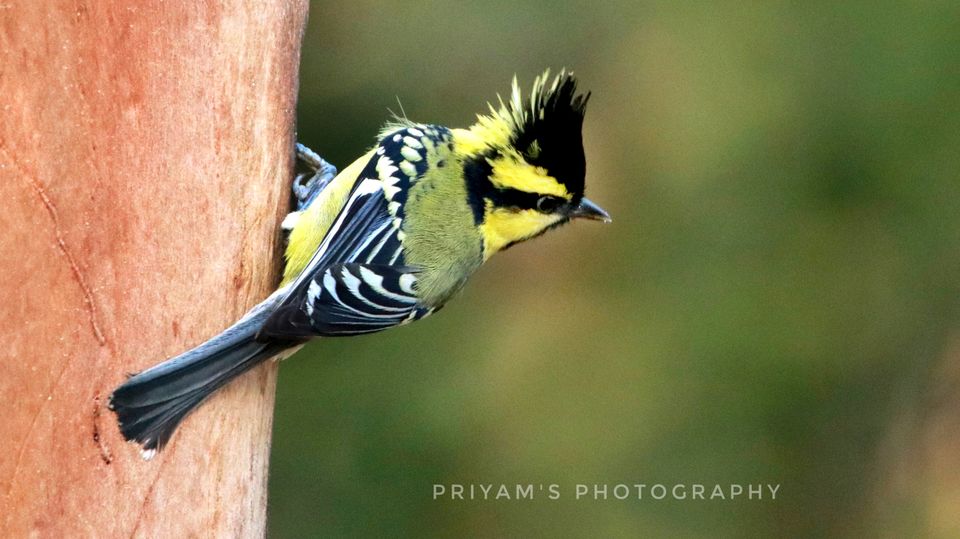 The day was a bit gloomy but then the sun came out from the clouds over the village of Saur. One can see the beauty of Swargarohini and har ki dun peaks sitting outside. A bit of photo session and then preparation began for our trek.
The beauty of the sleepy hamlet of Saur was beyond the world. Pine trees, small houses and distant views of snow capped peaks and moreover the beauty of the girls out there are something which needs a mention .
At around 10:30 we did our breakfast and moved towards the road head above. The ascent was of 100 m.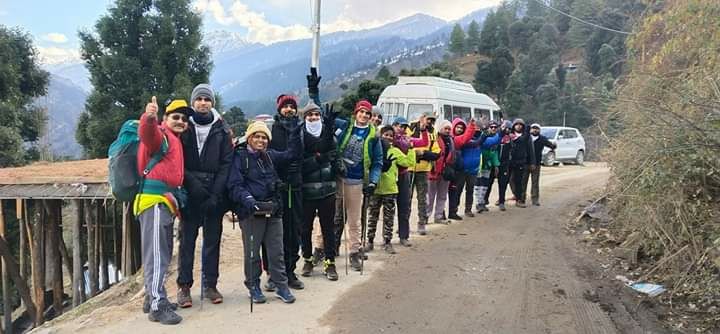 Suddenly just before the climb starts a news came in our ear the western disturbances are again entering Himalayas. Our heart broke by the news as it will make circumstances more challenging. The trek started through the pine trees up! Up! Up and up!.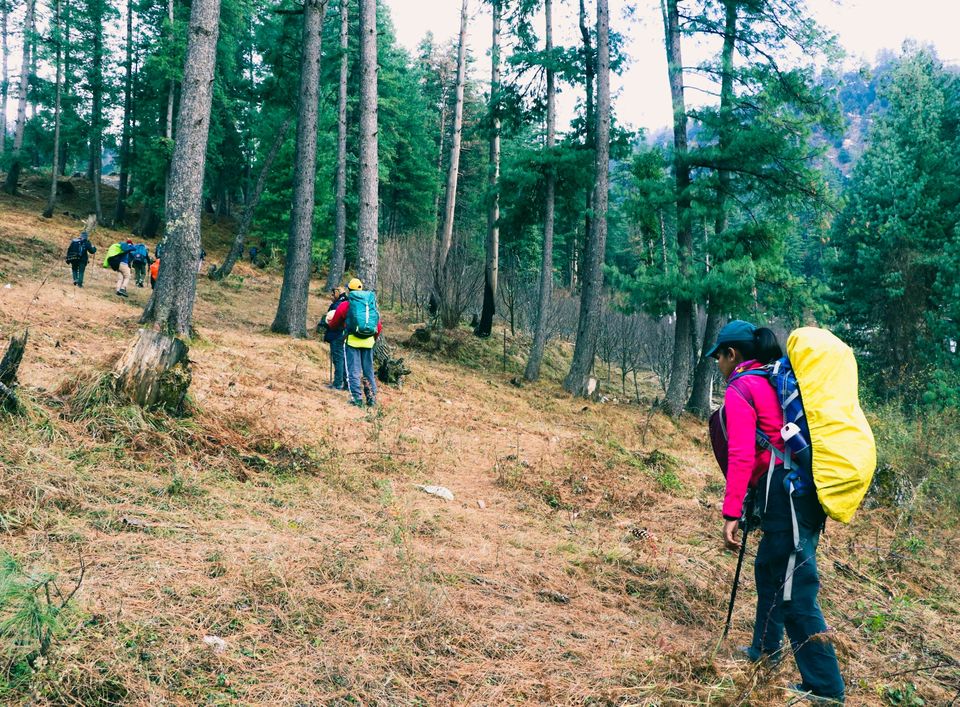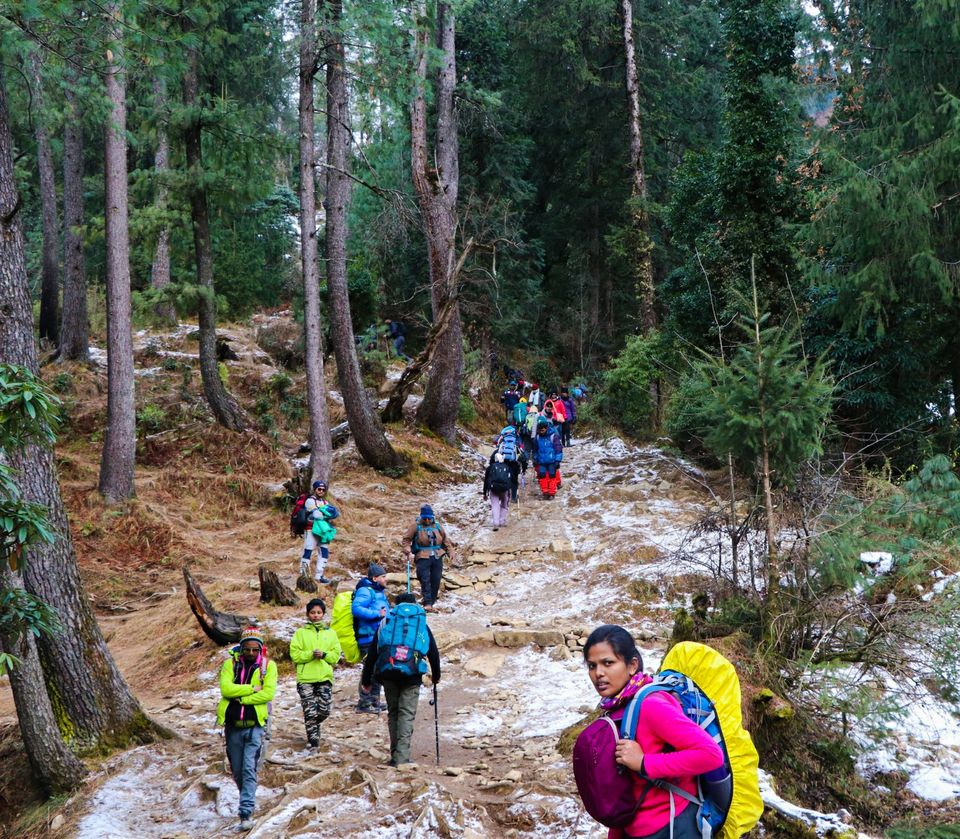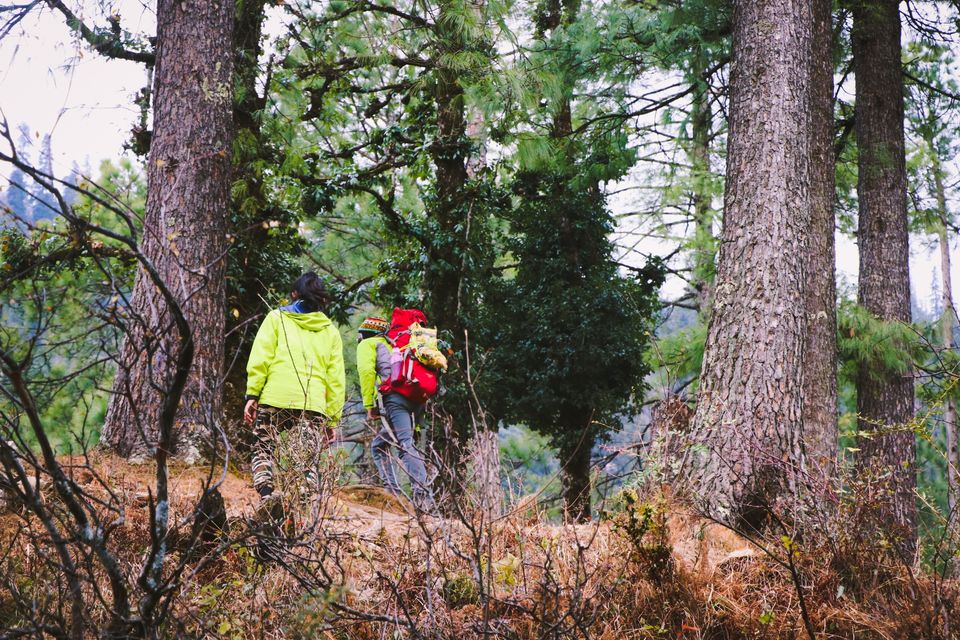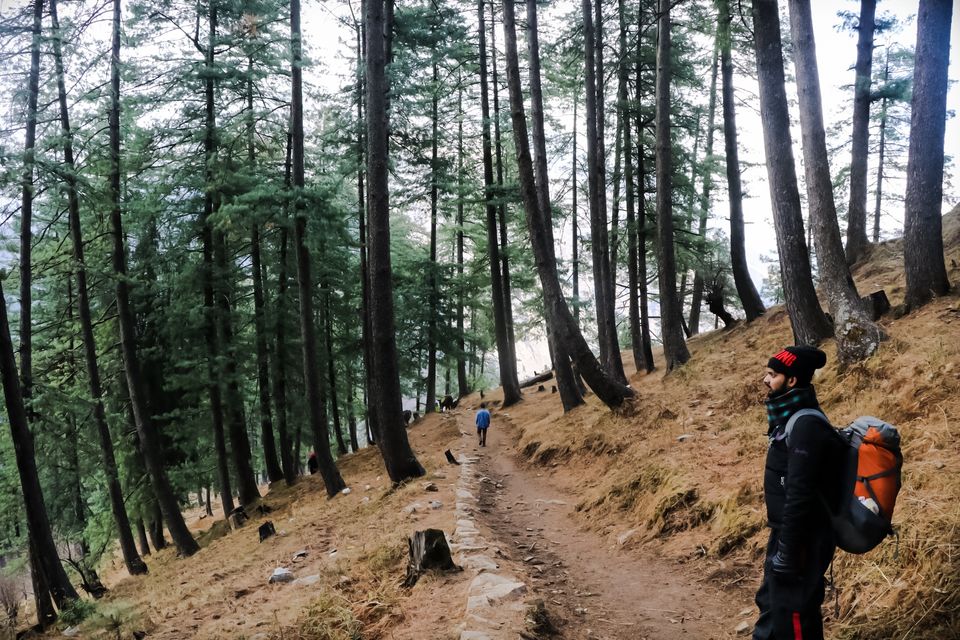 After climbing sometime the scene changed the beauty doubled as the green pine trees changed into Christmas Tree ... Yes snowladden. The walk over snow started. The sound of " cruch! Cruch! ". What a feeling it is, one cannot explain it. It needs a experiance.
          After sometime snow storm started with tremendous snowfall and a biting wind over the face. We were expecting it and was thinking that western disturbances screwed the trek. Now the beauty seemed painful as our legs were dipping inside snow. And there was whipping of snow over our face and eyes. It was pathetic. The visibility was gone.
          We proceeded through all this perils for our campsite. The climb was steep at the end . Just a kilometer was left for the Juda Ka Talao Campsite. We forced ourselves up. The trek was easy one but snowfall made it challenging. At last reached the campsite at arround 3:30 pm in afternoon.
           I realised the saying of John Muir is quite true:
"Thousands of tired, nerve-shaken, over-civilized people are beginning to find out that going to the mountains is going home; that wildness is a necessity".
The way felt its the way to the "Snowland".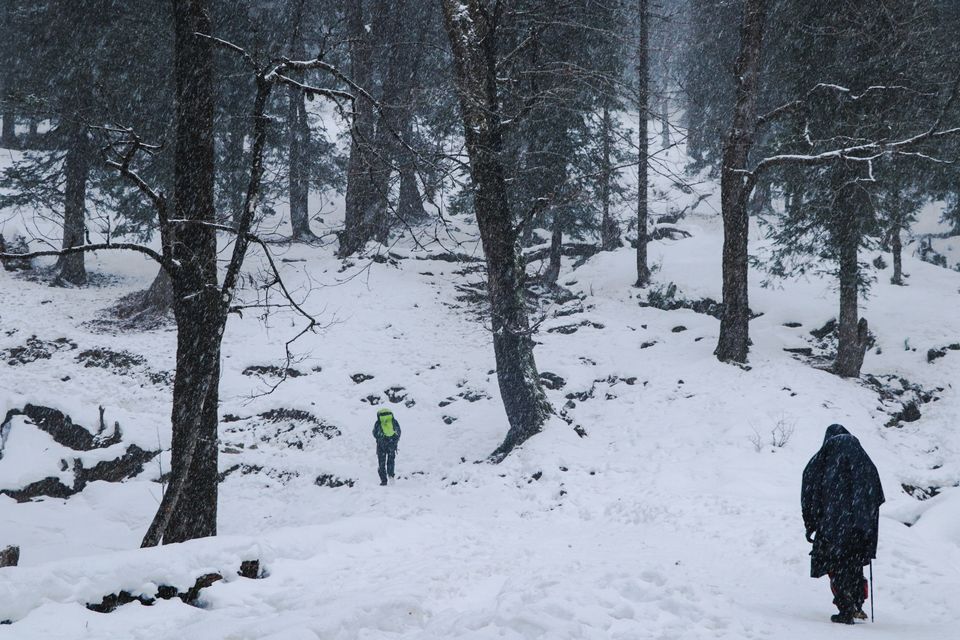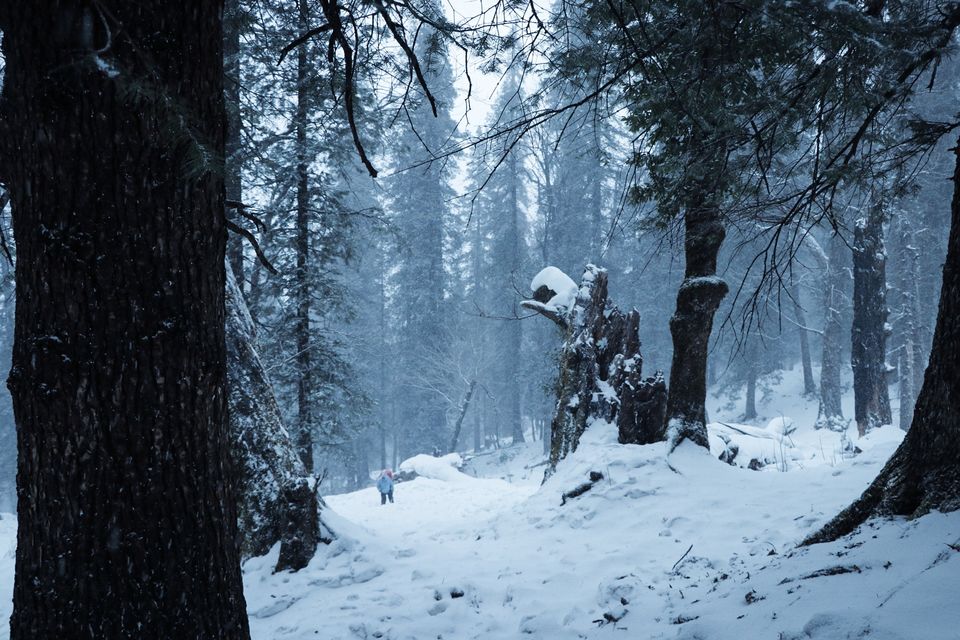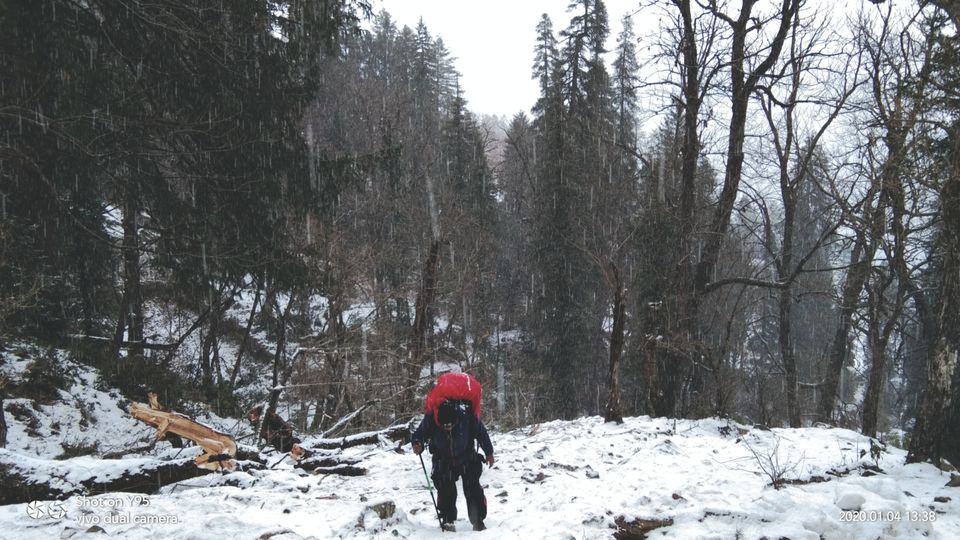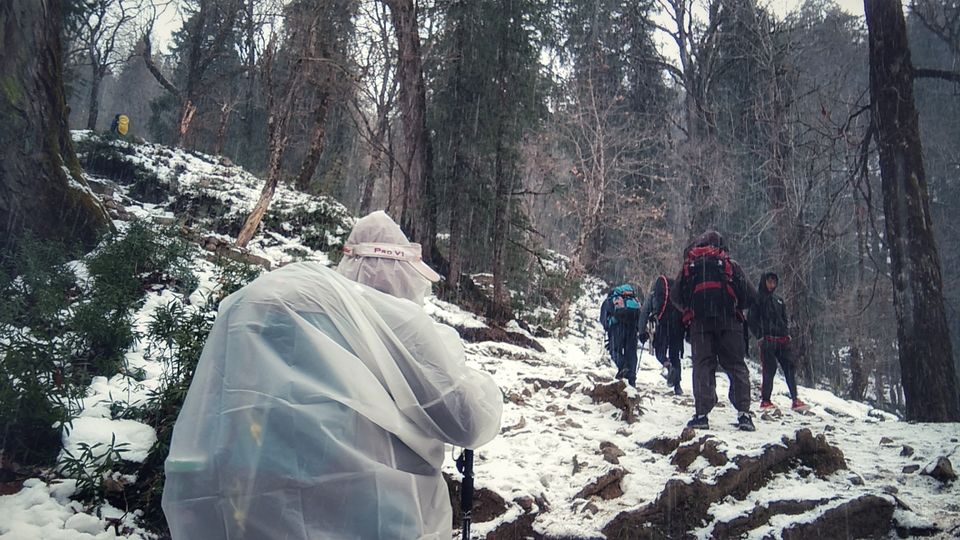 We reached our campsite kept our heavy backpacks and went to the dining tent for some food. A sumptous food was waiting for us. My friend Jayeeta helped me with a plate and i prepared my platter with Rice, dal and Sabji with a tasty pickle. The food was too good.
Our supportive team welcomed us with a sweet smile to the campsite and said that night we will make it non veg. A smile came in everyones face. As past two days we were in a veg diet. Everyone went inside their tents but i was outside in the snow storm. Suddenly snowfall became low and a beautiful sunset was in front of mine. I was speechless seeing and admiring the beauty.
"I only went out for a walk and finally concluded to stay out till sundown, for going out, I found, was really going in" ~John Muir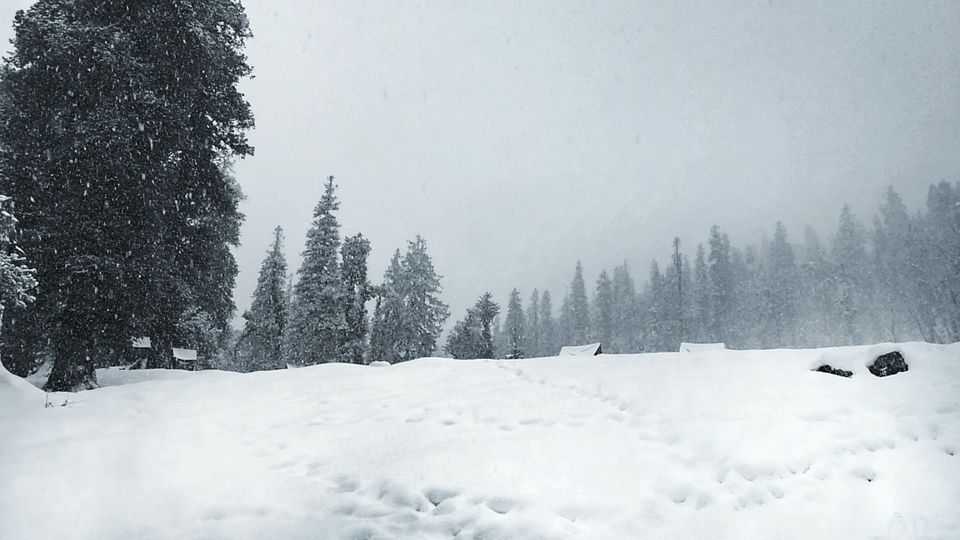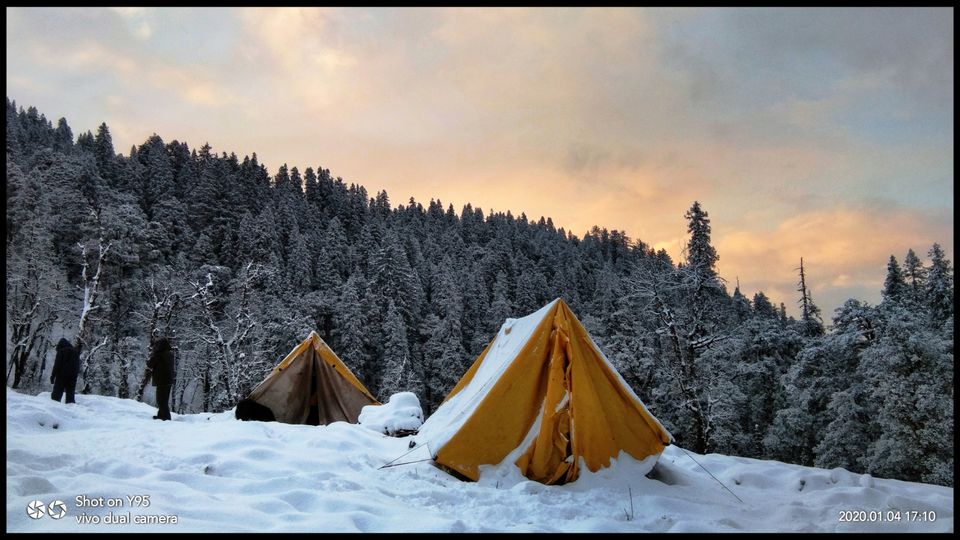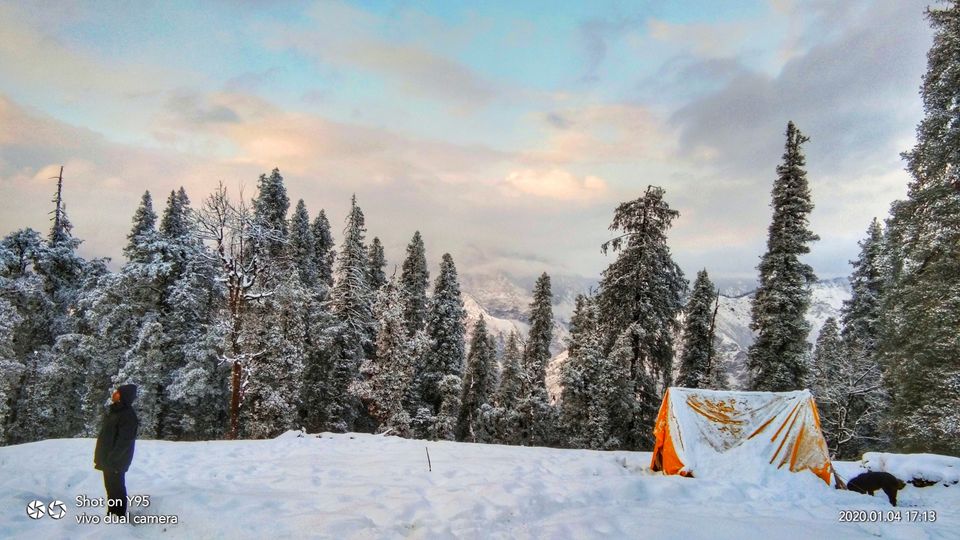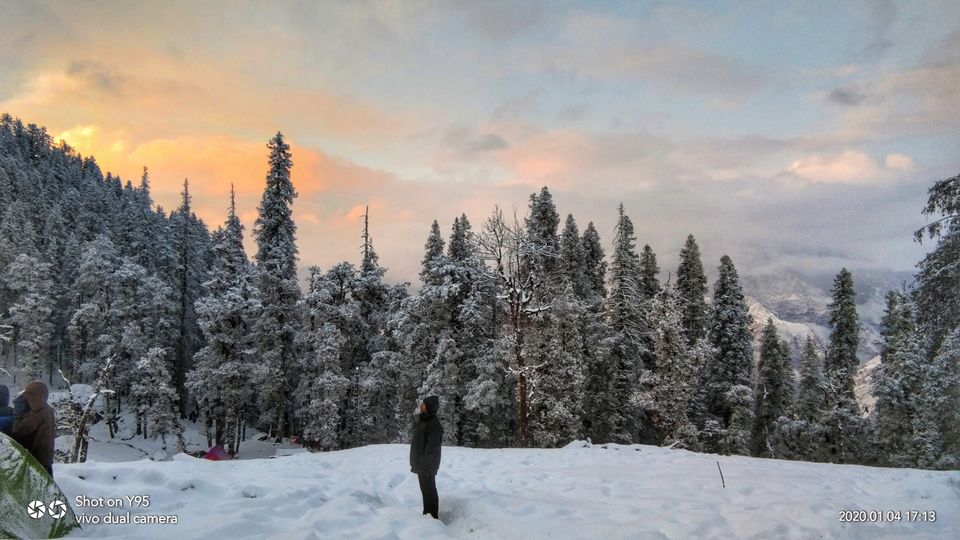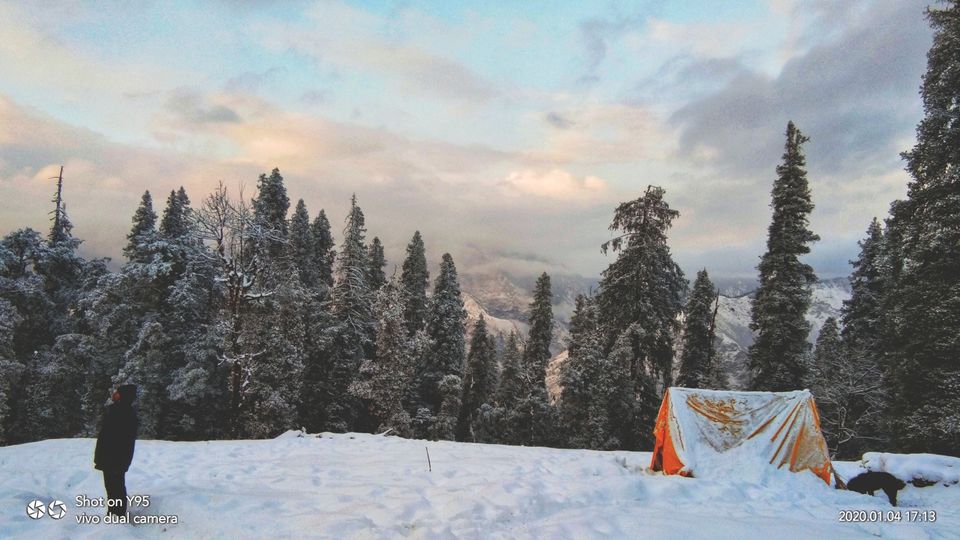 The day ended with a beautiful sunset and the chilled environment became more cold. We took out our down jackets and wore it to survive the night. Temperature dipped to (-12 degrees). It was too cold to sleep in the tent. While i was resting with two of my friend. And the most worst thing was to hit the tent after each 2 mins due to heavy snow.
This killed a lots of time and us talking and laughing at our conditions. Suddenly Abdul said that he wants to quit and wants to go down. I understood his issue, it was his first trek and he is a bit tensed. I said next morning we will move down.
The night went on in gossips. And suddenly Pradeep came and gave a call for Dinner. We all came out slowly from our camps put our shoes on and moved towards our dinning tents. The night was clear with innumberable stars in sky. A crescent moonlight hit the icy slopes. It was a wonderland. Members screamed : " Woooooo!!! Wowwwww! What a view". The snowfall was not there. But the whole route was vanished in thick blanket of snow.
We moved to our dinning tent. Ate our kingly food which was Rice, sabji, egg curry, dal and a pahadi sweet dish named Sinni. Everyone was talking among them to return as soon as the sun rises. As from tomorrow the weather forcast was 100% snowfall for next five days.
After food we slept.
The day began with a great day which gave us hope. It was totally sunny but clouds were also there . I saw that weather can change anytime. We packed our bags and came out of tent. Photo session started at campsite. It was flawlessly picture perfect surroundings outside. The photo session went on for hours and atlast we proceeded down for sankri at around 11:00 a.m after breakfast. This time going down was difficult so we took out our crampons and wore them.
        We prepared ourselves well for any challenges on way. Now its time to return from the Snowland towards the base. The hike was worth remembering. We all enjoyed the hike.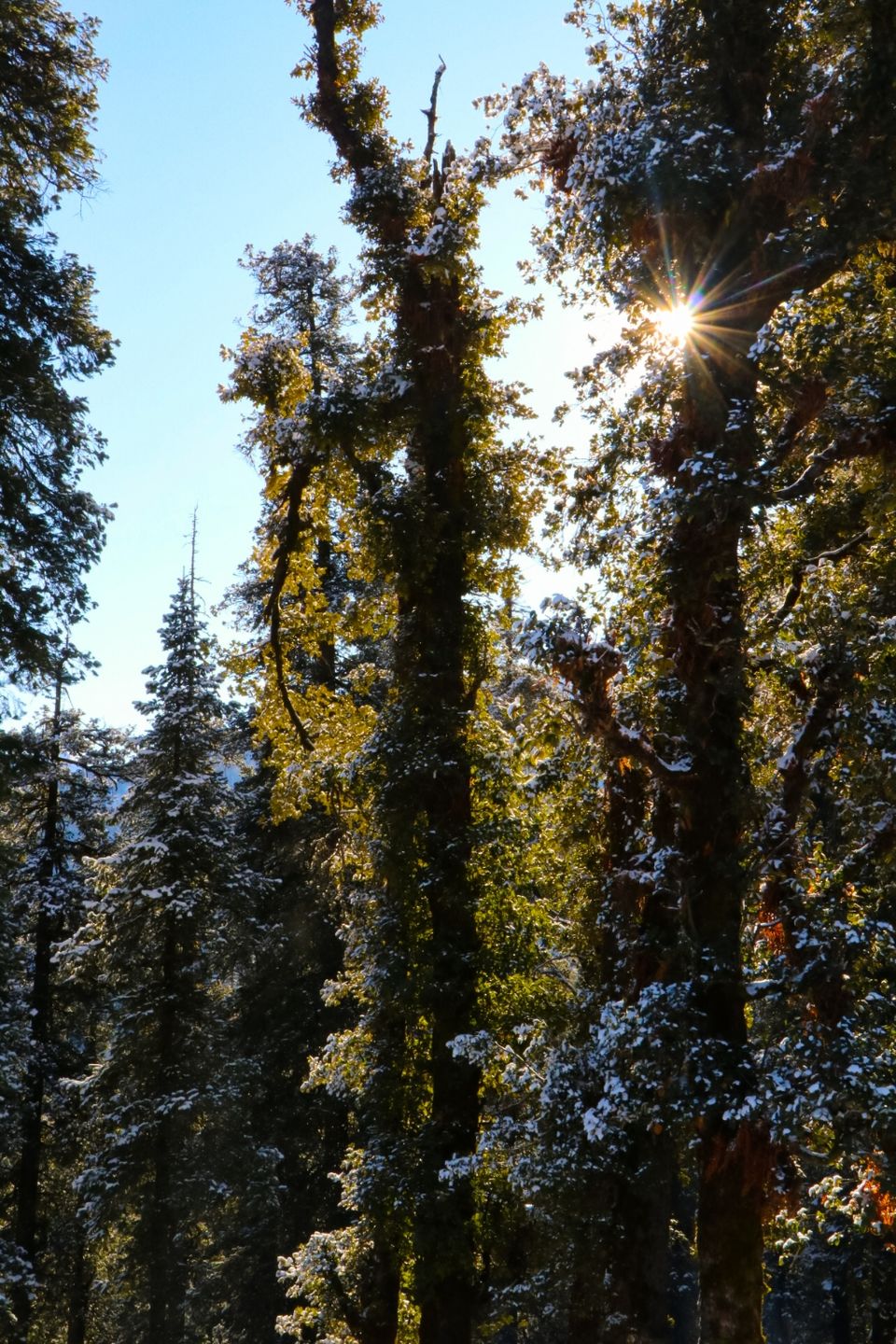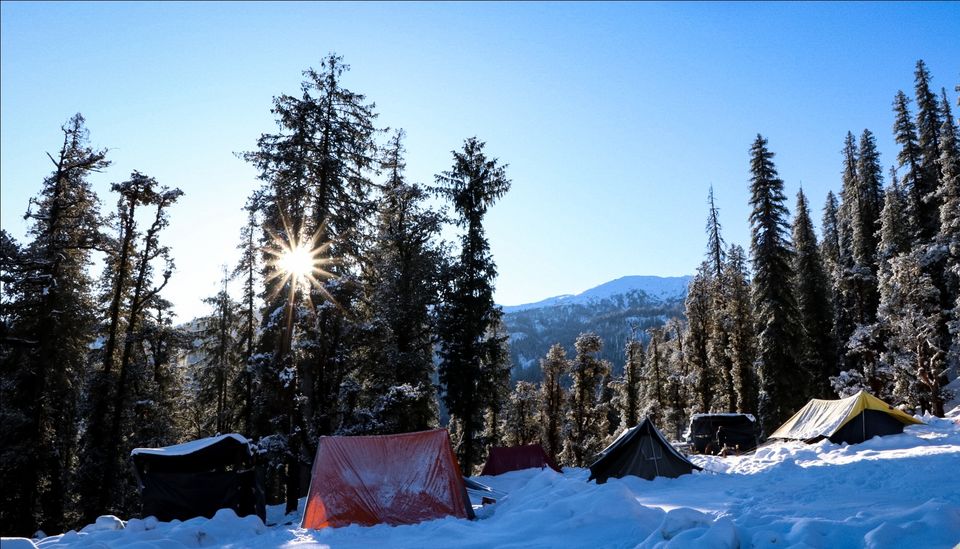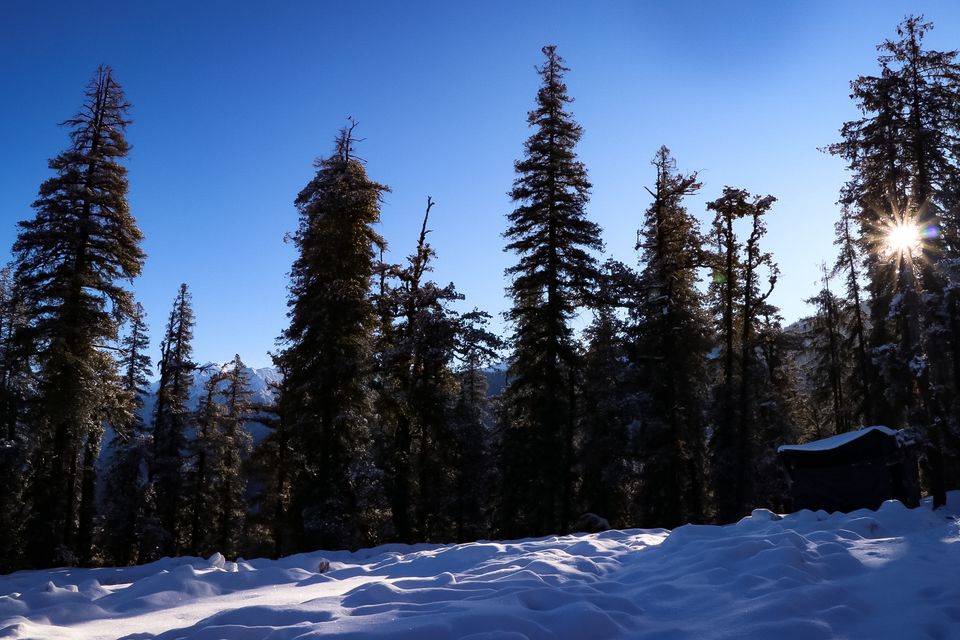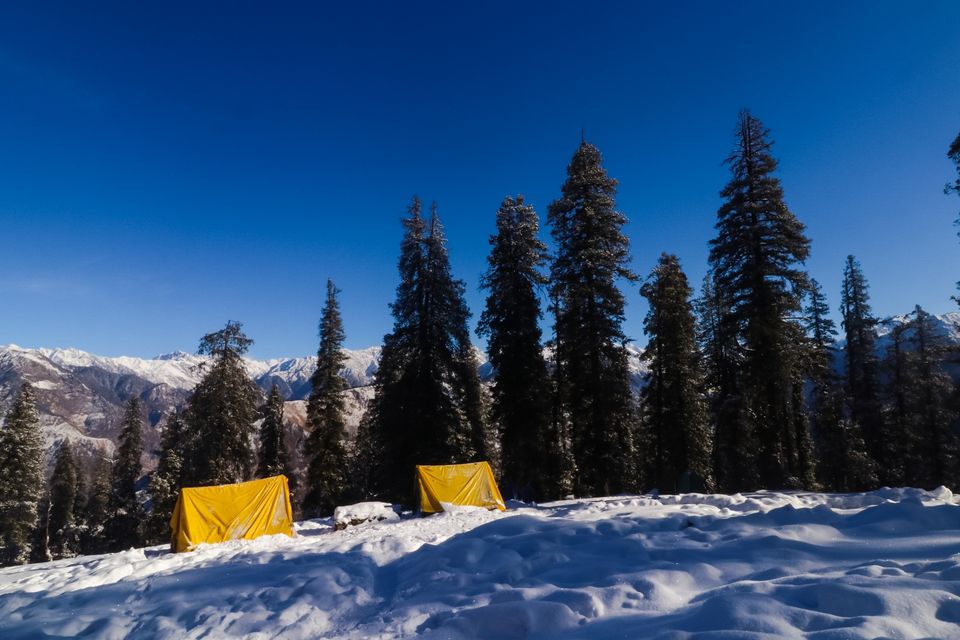 We moved slowly in a queue downwards but me and Tanaya Di was a bit first walker in downhill. We ran down and down ahead of our team and stopping at preferable sites . Enjoying the beauty and clicking pictures. The Supin ranges were majestic peeping through the pine trees.
The day made it a photographer's dream. The beauty of nature and all made my day too. We reached Sankri at 3:00 p.m. I ❤ed the trek. And i must pursue peoples to go and experiance once.
Other Treks nearby:
1) Kedarkantha Trek
2) Har-ki-dun Trek
3) Dev Kyara Trek
4) Maldaru Lake Trek
5) Borasu Pass Trek
6) Bali Pass Trek
Best Season for Juda Ka Talao:
All year round except monsoon. Winter makes it a snowland.
Itinerary:
Day 1: Dehradun - Sankri
Day 2: Sankri - Juda Ka Talao
Day 3: Juda Ka Talao - Sankri
Day 4: Sankri - Dehradun.
Nice short hike for a day out for city peoples out in mountain air.
For any queries drop a comment below. Or mail me at nath.priyam2011@gmail.com.